"Don't bother with churches, government buildings or city squares; if you want to know about a culture, spend a night in its bars" – Ernest Hemingway
Located somewhere on Thorp Street, 18/81 is a brand new cocktail bar headed up by Brum drinks legend, Robert Wood. With a menu that focuses around pre-batched cocktails (where the very best ingredients are combined ahead of time, perfectly diluted, then poured out over huge blocks of branded 18/81 ice within moments), alongside shaken classics and contemporary classics – if you've not yet been to this awesome new bar, then definitely put it next on your 'to visit' list.
The bar doesn't broadcast its location, merely stating it is somewhere on Thorp Street – finding it is all part of the cocktail adventure. So check out these 8 mouth-watering cocktail photos, read all about these glorious tipples, and then go find 18/81 and ring the doorbell. Inside, glorious pleasure in the form of cocktail perfection awaits.
Bankers Punch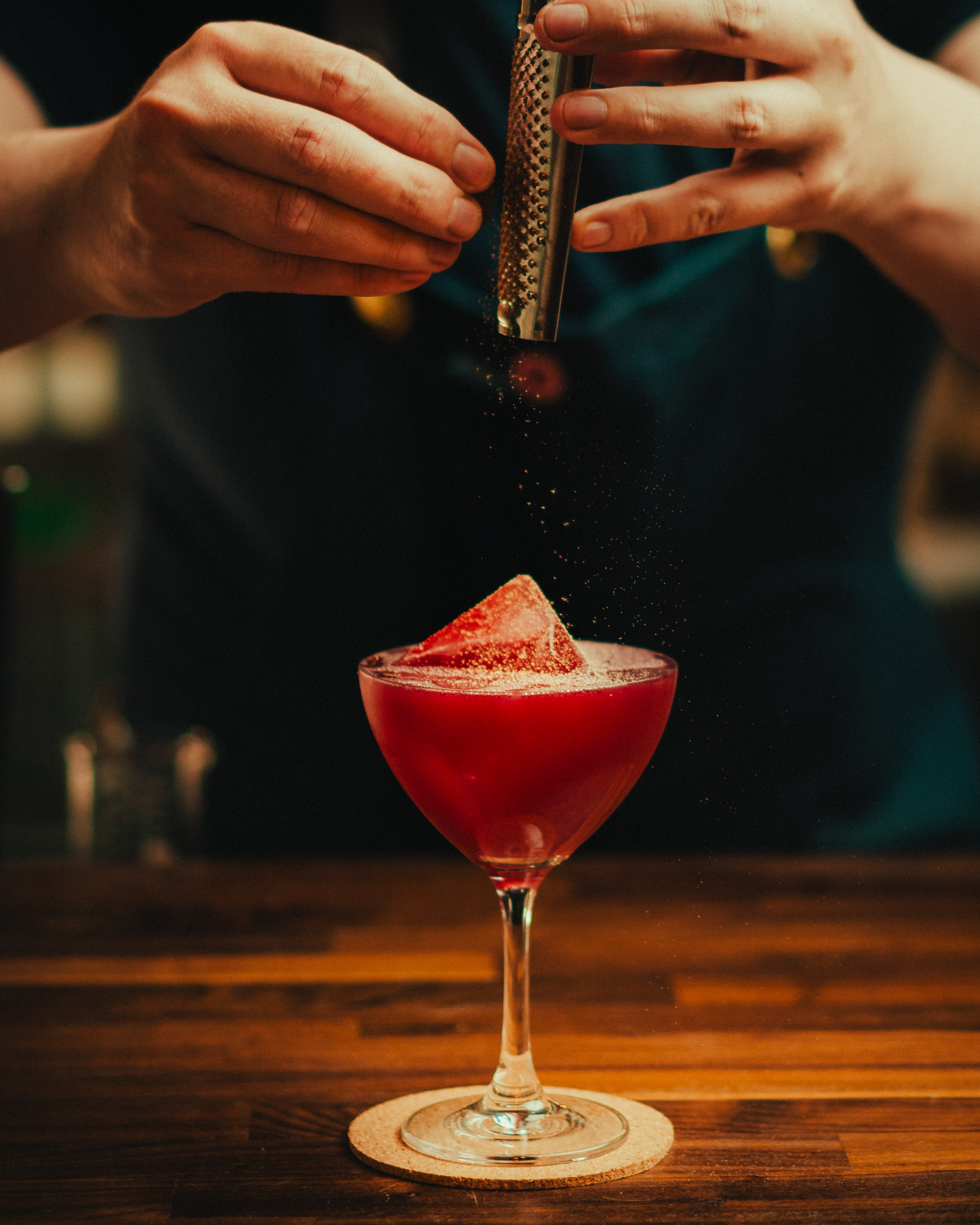 A dangerously-drinkable combination of rum, port, raspberry, lime and Orinoco Bitters, finished off with grated nutmeg, the Bankers Punch is everything you could ever hope for in a cocktail – and more. Vibrant, complex, and seriously easy drinking.
French Cuban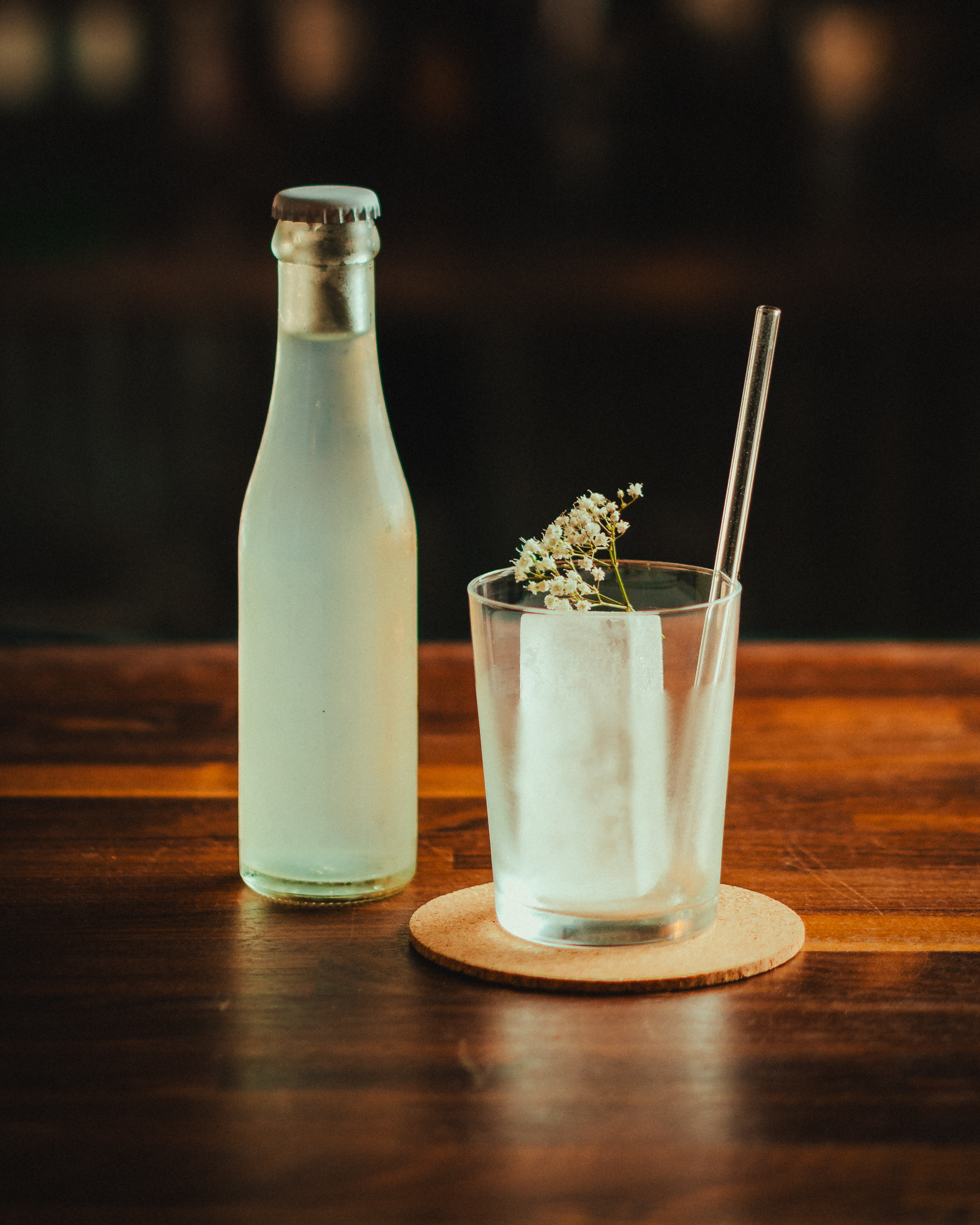 Reminiscent of the Cuban-style Rum Collins popularised in the early 1930's bars of Havana; the French Cuban is a wonderful combination of white rum, elderflower, lemon and lavender – garnished with wild elderflower. A light and refreshing tipple, bursting with fresh, summery flavours.
Old Mulata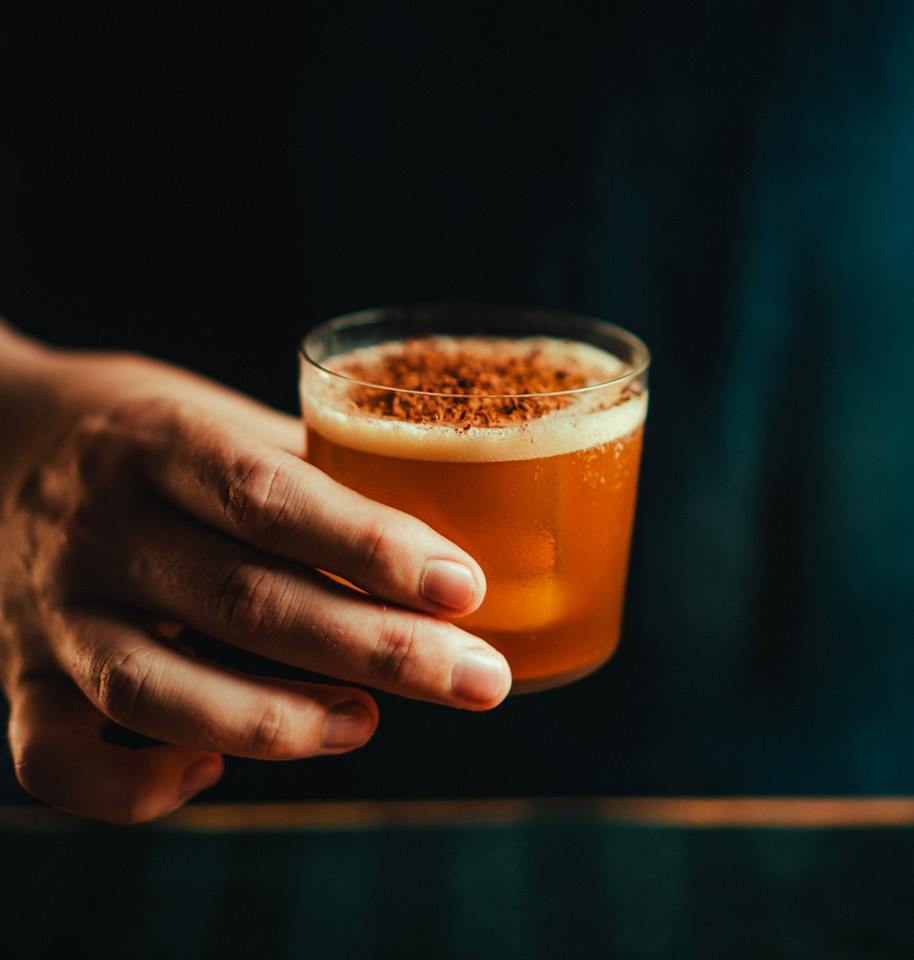 This is an Old Mulata and you NEED it in your life. A mix of rum, Elixir, dark chocolate liqueur, lime and cocktail bitters, finished off with freshly-grated 100% chocolate. Delicious, decadent, and dashingly-handsome. Your next move: head to 18/81 and order 3 (one for you, one for your mate, and another one for you because they're that good!). We like your moves.
Snow Storm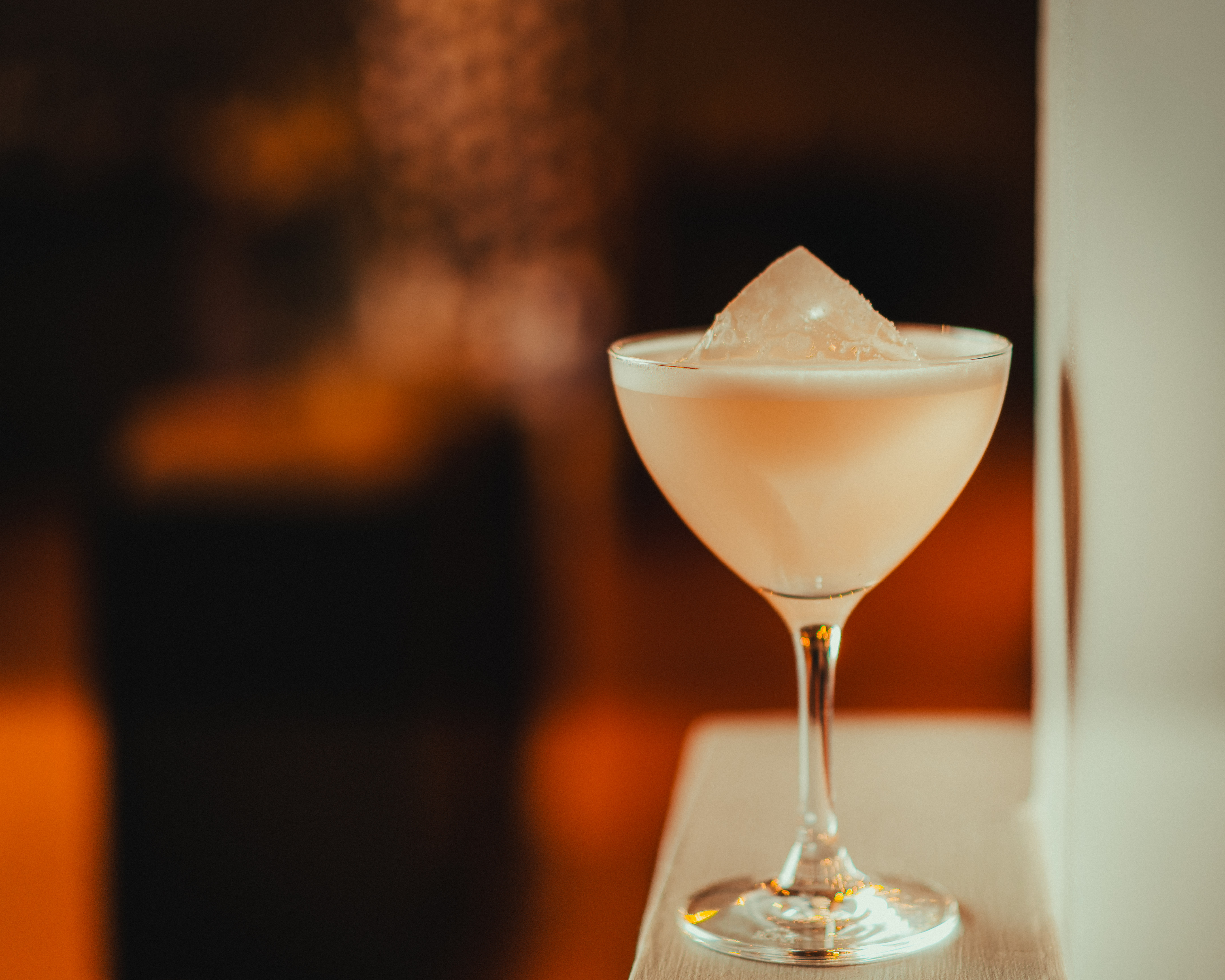 Rum, Yuzu sake, coconut and pickled ginger make up the Snow Storm, and trust us folks – this drink goes down a storm.  Served over a block of transparent ice to keep it cool from first sip until last (yes, it does look like an iceberg), 18/81's Snow Storm is the answer to all of your questions. If those questions are: what should I drink next? Go drink many.
Mojito Criollo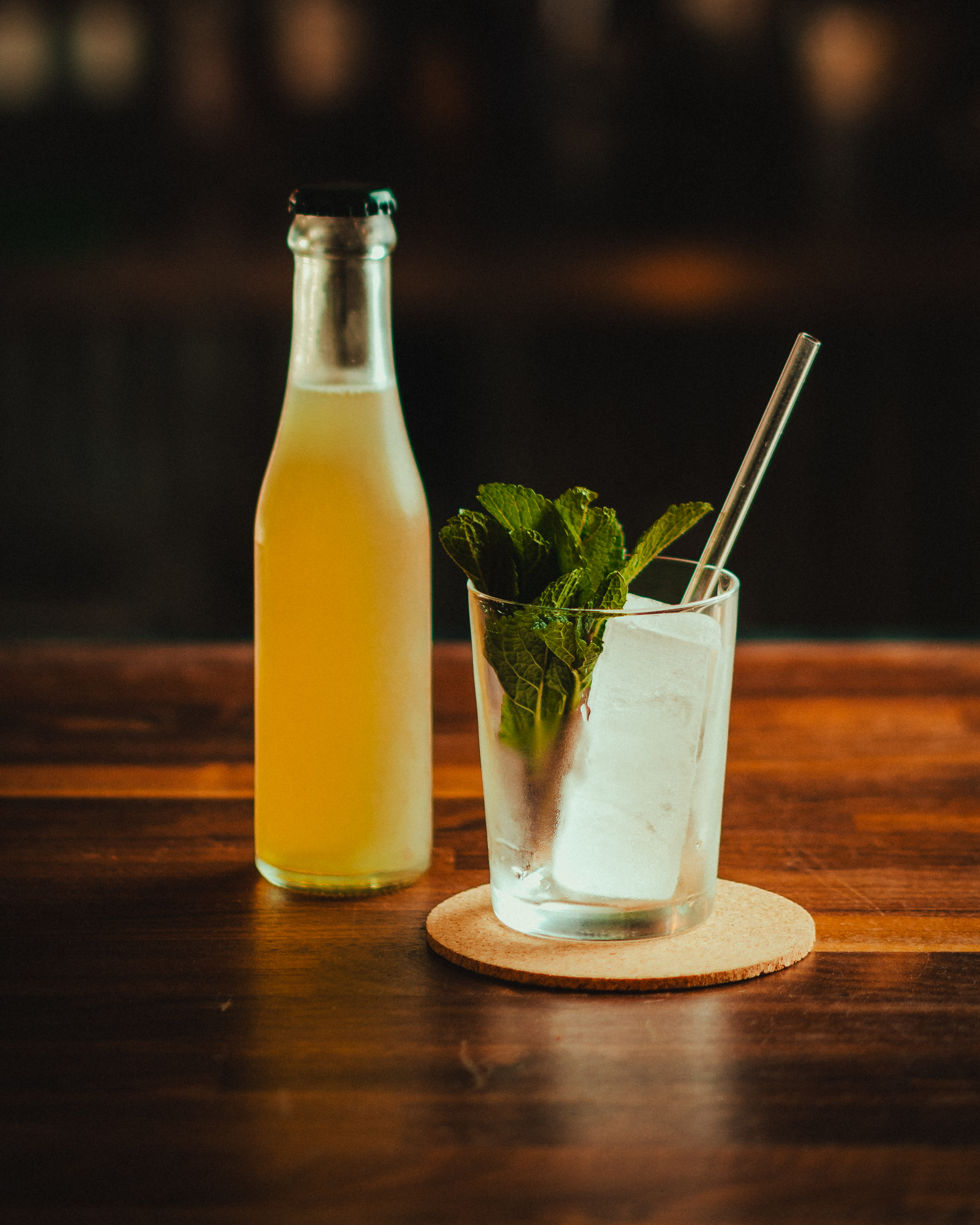 The mojito is one of our personal all-time favourite cocktails. If you're a big fan (like us) of the classic collision of rum, mint and lime, then you'll love the Mojito Criollo. Like a mojito, yet subtly different – 18/81 uses 2 white rums, lime 4 ways (lime juice, oil extracted from the peels, sherbet made from the pulp, and stock made from the husks) and mint iced tea (wow!) to create this sensationally-sippable tipple. Take a sip, and pretend you're in Havana for the next few minutes, then repeat.
El Ritual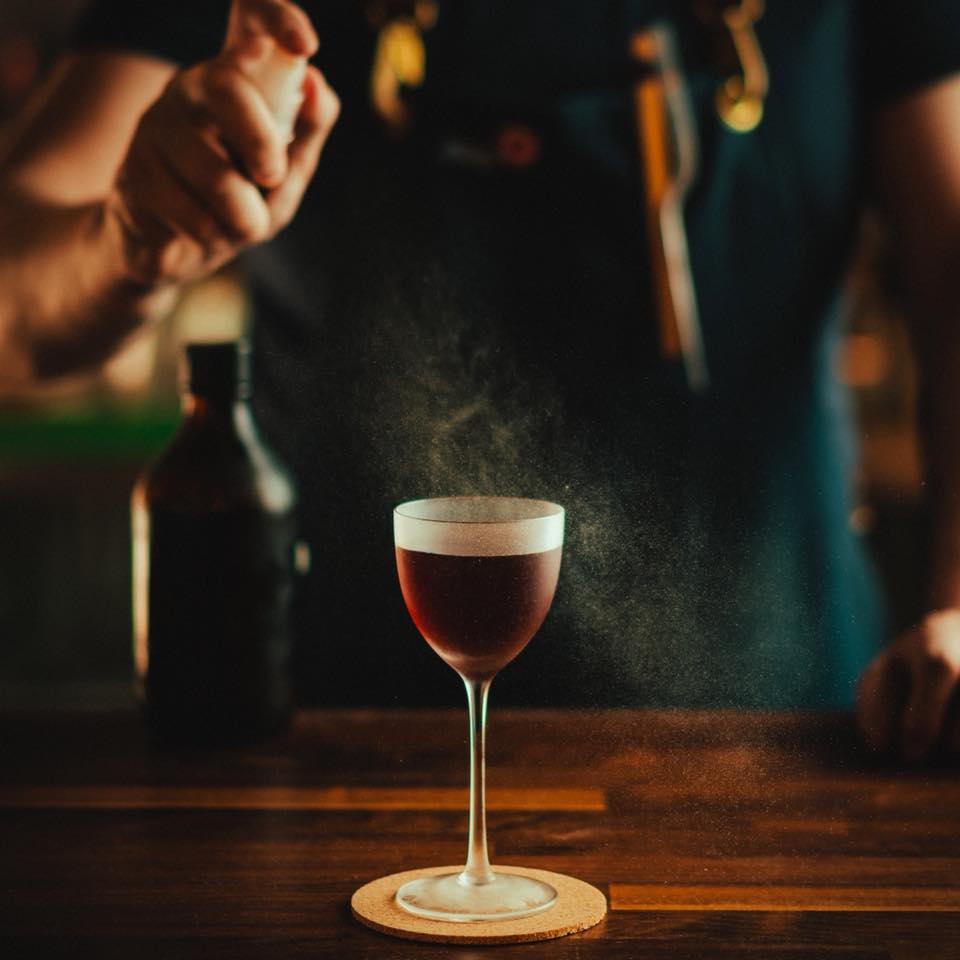 Inspired by a Venezuelan tradition bearing the same name, whereby locals sip aged rum while eating an orange wedge dipped in demerara sugar and ground coffee – El Ritual is a delightful collision of aged rum, vermouth, coffee and burnt orange. The drink is finished off with an espresso and Campari spray (creating an aroma of bitter orange and coffee), which aids to evolve the cocktail over the first few sips and completes El Ritual.
Painkiller No. 2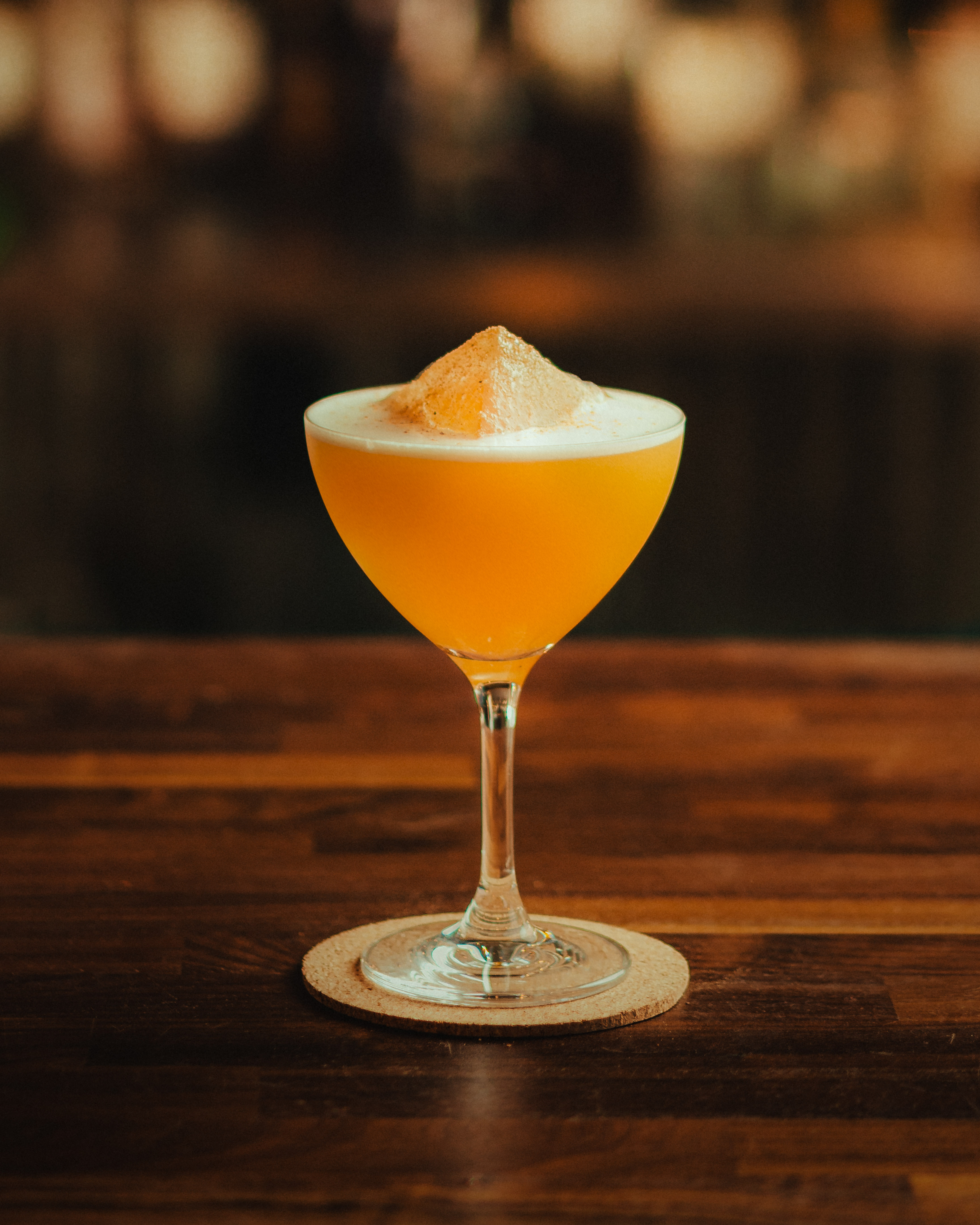 When coconut and rum combine, only good things come of it. 18/81's Painkiller No. 2 is a wonderful combination of coconut and navy rums, fresh orange and pineapple. Think tropical flavours, found in the heart of Birmingham. Easy drinking, damn photogenic (for your Instagram feed) and soon to be your taste bud's new best friend.
Five Card Charlie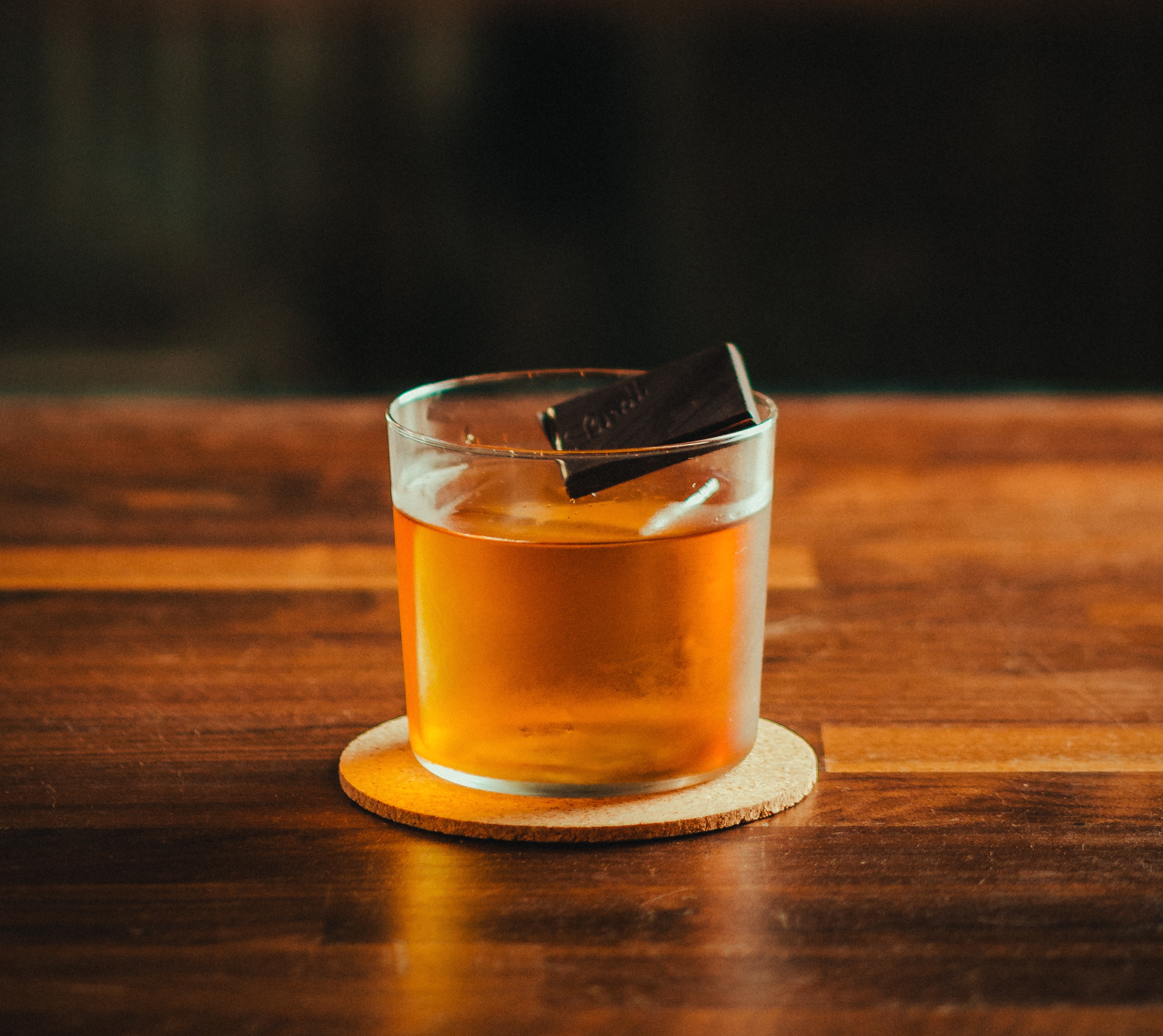 18/81's Five Card Charlie is the final tipple in this incredibly mouth-watering article of cocktail porn. Aged rhum, banana, fig, walnut, and dark chocolate – all your favourite flavours found in one drink. Understated, with a simple garnish of 70% dark chocolate, the Five Card Charlie packs punch after punch of unbelievable flavour. Highly drinkable, say hello to your new favourite cocktail.
If you like the look of these, make sure to follow 18/81 on Instagram here – then get planning your next visit.
IB Deal: Seasonal Prix Fixe Menu For Just £20 (Instead Of £25) [Wednesday and Thursday Only] OR An Exclusive Off-Menu IB Cocktail Of The Month For Just £7.50 (Anytime)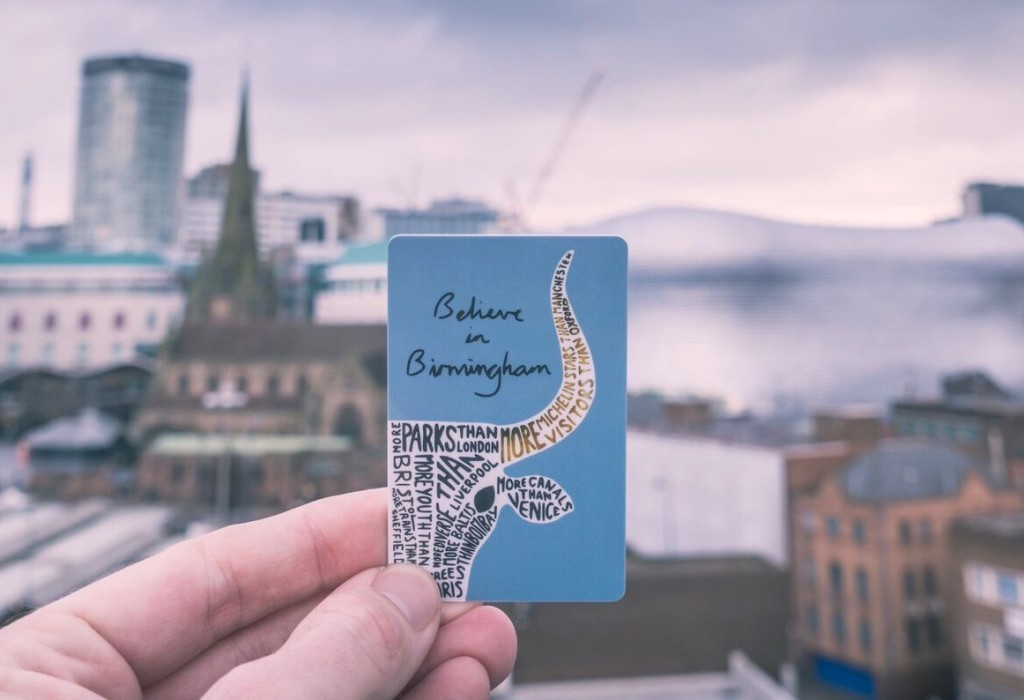 Join over 18,500 Brummies and grab yourself an Independent Birmingham Membership Card. Enjoy fantastic year-long discounts and deals at over 110 of the very best independent cafes, bars, restaurants, pubs, theatres and shops in Birmingham – including: Digbeth Dining Club, The Electric cinema, Simpsons, The Wilderness, Carters, Lasan, Birmingham Hippodrome, Adam's, 18/81, Zindiya, The Meat Shack, Harborne Kitchen, BoneHead, Purnell's Restaurant, Bodega Bar Y Cantina, Wayland's Yard, Purnell's Bistro, Buffalo and Rye, mac Birmingham, Gaijin Sushi, Fiesta del Asado, 40 St Paul's, The Plough, Hare and Hounds, Birmingham Repertory Theatre, The Lord Clifden, The Jekyll And Hyde, The Church, Bourne and Co., The Rose Villa Tavern, Cherry Reds, The Prince of Wales, The Loft, Laghi's Deli, Medicine Bakery, The Paper Duck, Town Hall Symphony Hall, The Clean Kilo and many more.
To grab your key to the city for just £15 (or at the amazing price of two for £20), click here.