Christmas is such a wonderful time of the year and gives us a chance to be with our loved ones and show them how much we care about them with thoughtful gifts.
We know that all of you wonderful supporters of Independent Birmingham also care about the incredible local businesses we have here in Brum, so we've lovingly compiled a list of some of the best alternative Christmas gifts you can buy in the city. Instead of heading to those big chains this year to do your Christmas shopping, give the gift of local. It will be a more unique gift (winning you extra brownie points – who doesn't love a surprise on Christmas day?) and it will support the independent businesses who add such a vibrant character to our city and deserve a special place in your hearts.
Prepare to get Christmassy, here's our round-up of the best gifts in Brum.
Christmas Cards – Provide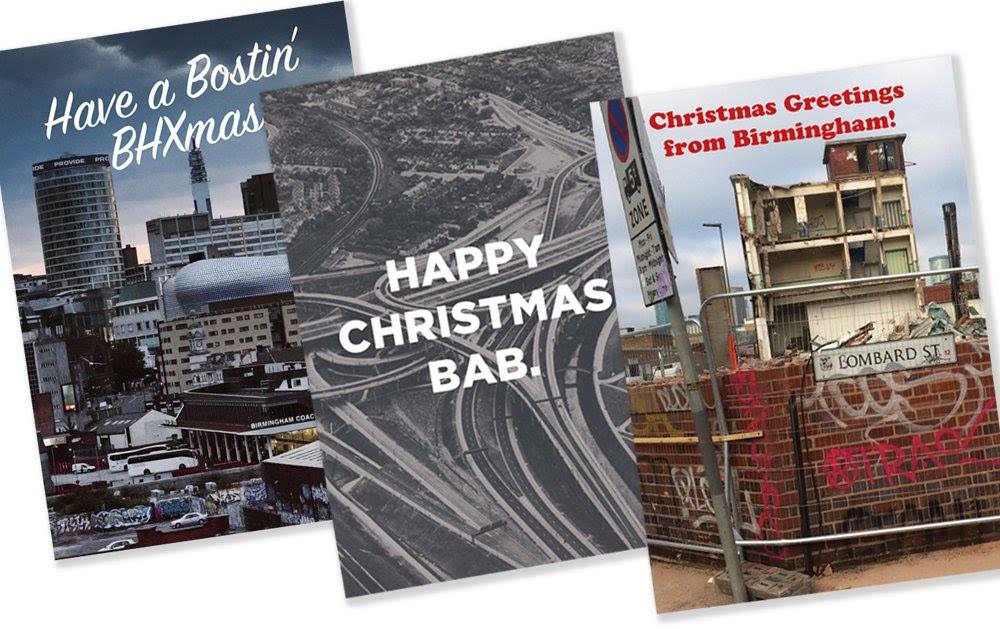 So, starting off with cards. Don't generic Christmas cards all just look so samey and boring? Break the mould and send a memorable card to your loved ones this year. These cards from Provide are the best antidote to boring cards and remind everyone that you live in the best city in the UK of course.
Grab yours here.
Christmas Cards – Milan Topalović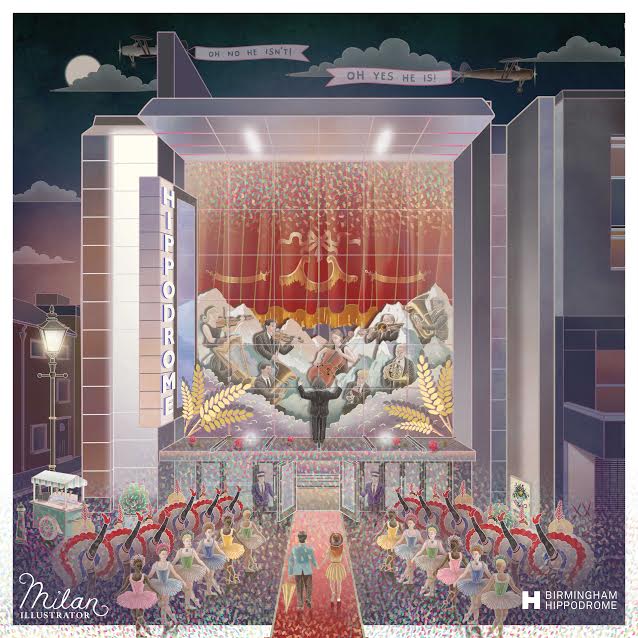 If the previous cards are a little too alternative for your tastes, these gorgeous vintage-looking cards give a subtle hint of Birmingham, but are stunning enough to put on the mantelpiece. There are several beautiful designs to choose from, featuring some independent icons of Brum.
Grab yours here.
Gift Vouchers – The Electric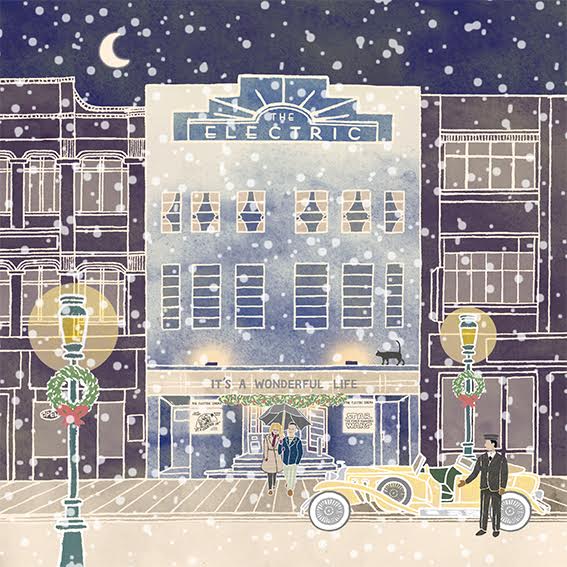 Stuck for something for that film buff in your life? Well, look no further than everyone's favourite independent icon of Brum, The Electric cinema. Grab them a gift voucher and the next film they go to see will be on you. They even come in a beautiful card designed by Milan Topalovic. Winning!
Available to purchase here.
2018 Calendar – Verity Milligan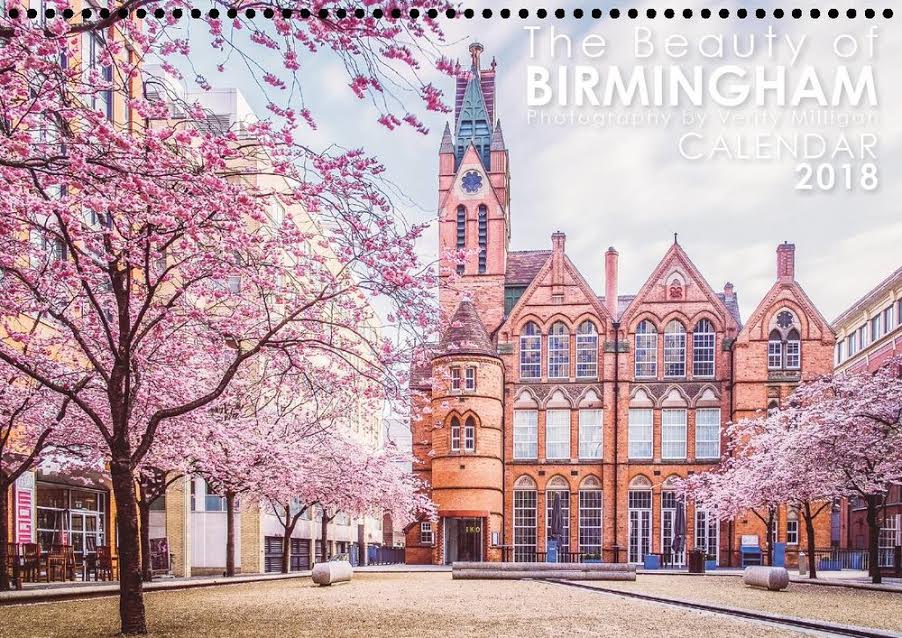 What could be better than a beautiful photograph taken by a talented local photographer? 12 beautiful photos in calendar form! Verity's calendar will brighten up your loved one's wall space and help them to keep track of all of their appointments and meetings. Perfect gifting, and then on top of that you're helping to support local talent. Nice one.
Grab yours here.
Jewellery – Working Clasp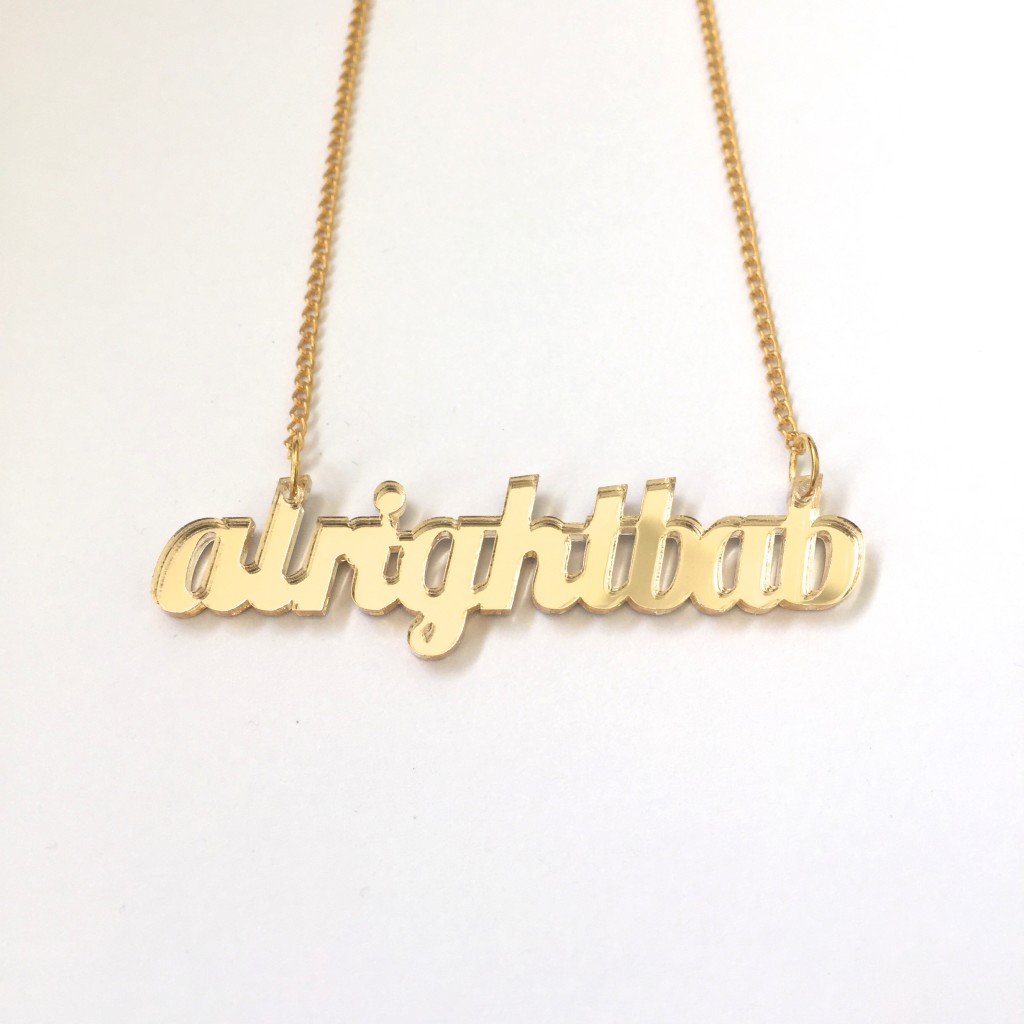 For that special lady in your life, why not treat her to some jewellery designed and created by a local artist. This 'alright bab' necklace is sure to please your friends and loved ones this Christmas and gives a little nod to our home city.
Purchase yours here bab.
Birmingham Prints – Brumhaus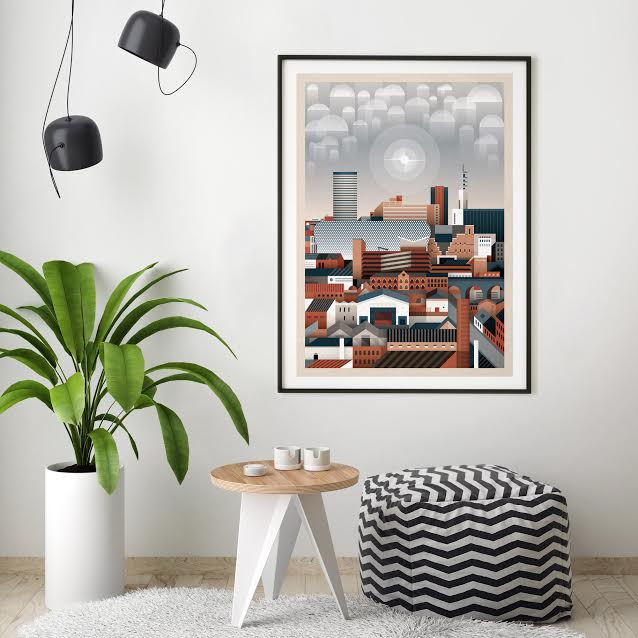 Local graphic designer Brumhaus produces a stunning array of prints, so you'll be spoilt for choice when it comes to choosing some artwork for your gifts. His designs can also be found on other products such as tote bags, mugs and, this year, even a Christmas card! Merch up and spread the Brumhaus love.
Merch up here.
Lapel Pins – Pin Game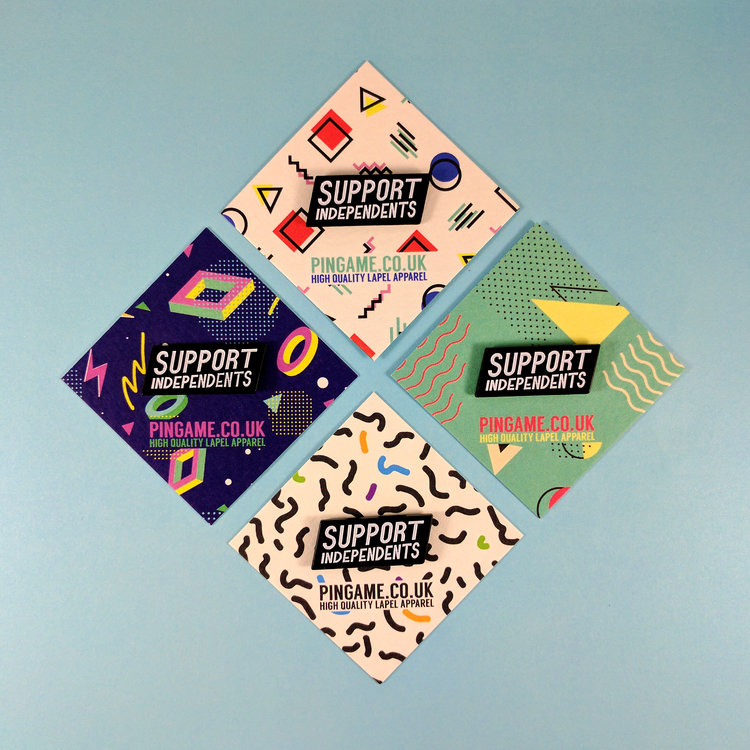 If you're in need of a little extra something to add to your gifts, or a cute little stocking filler then a pin from the uber-talented Pin Game is sure to hit the spot. We love this 'Support Independents' pin, but there's a whole range to choose from.
Spruce up your lapel here.
Independent Birmingham Membership Card – Us, Of Course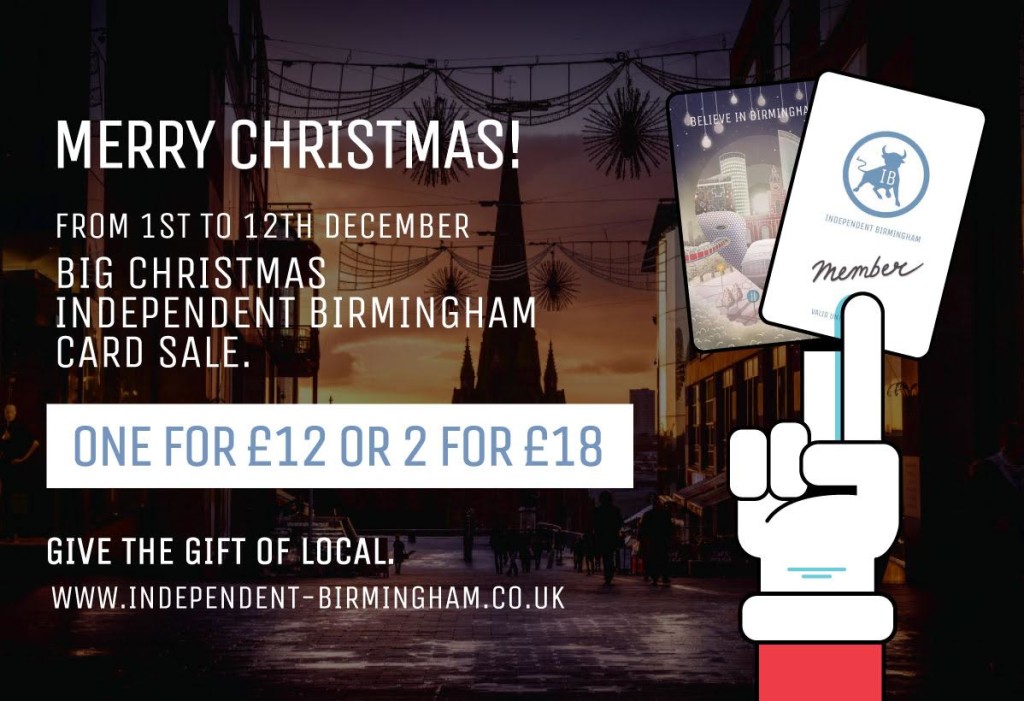 Because we had to, right? If you really (like REALLY) want to treat your friends and family this Christmas, get them an Independent Birmingham Membership Card. With over 100 awesome independents offering amazing year-long discounts and deals, your loved ones will be saving money all year. It really is the gift that keeps on giving! Join over 17,000 Brummies and grab your key to the city today – then get out there and rediscover Birmingham, one hidden gem at a time.
You can buy them in person in Urban on Church Street or online here.
Fine Wine – Loki Wine or Connolly's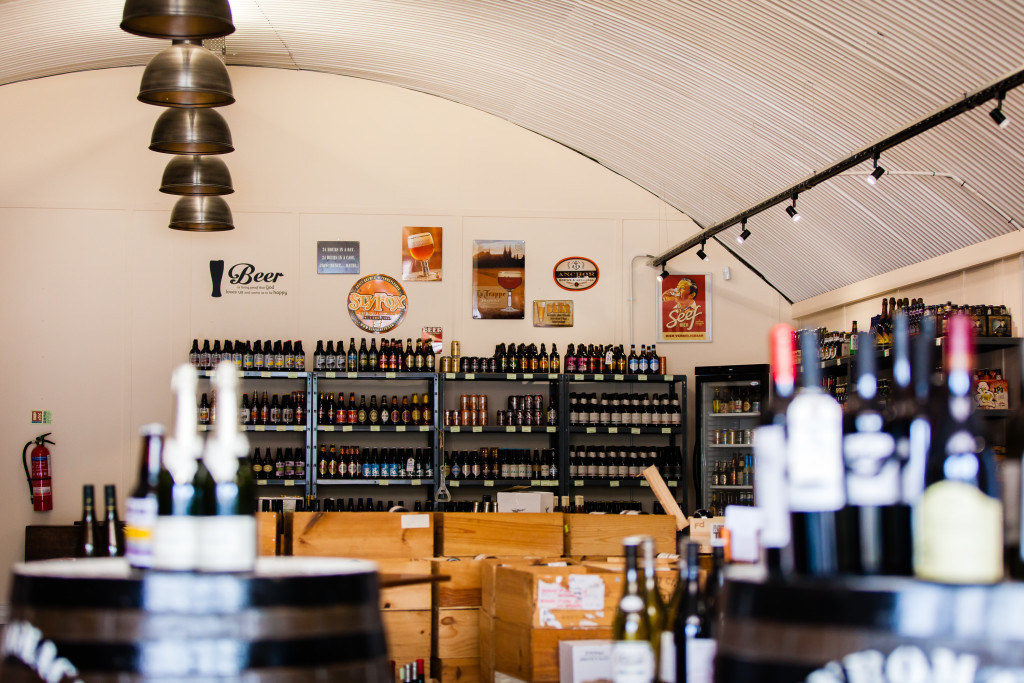 Looking for a great wine to wow everyone at the Christmas table, or looking to give a bottle as a gift? Head to either Loki Wine or Connolly's and you'll have the pick of the bunch (pun intended), plus the friendly staff can give you advice and help you pick the winning wine.
Pop in to Loki Wine in the Great Western Arcade or Connolly's on Livery Street. Both are excellent establishments and stock some awesome vinos. Remember, if you've got a nifty IBcard you can enjoy 10% off a mixed case of any 6 bottles of wine or 12 bottles of beer, and 5% off any single bottle of spirits, at Connolly's. 
Cheese – Anderson And Hill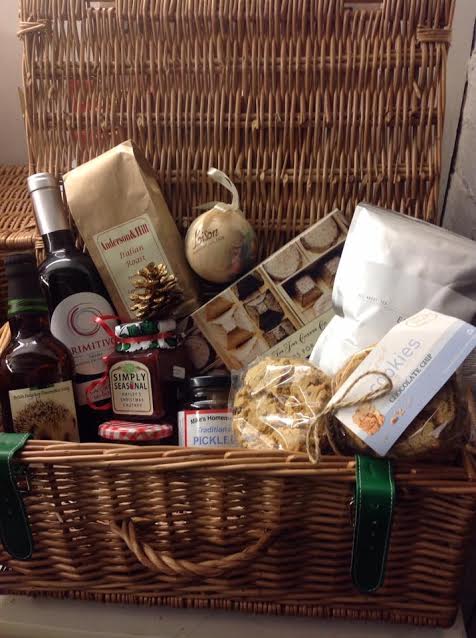 If you're looking for something to go with that beautiful wine you've just chosen, head over (literally) to Anderson and Hill and pick out a delicious cheese. You could even go all out and pick out a whole hamper of goodies, from delectable cured meats to crackers, to accompany your cheese. That way you'll win at Christmas and everyone will think you're the best present-giver (presenter?…) ever. Go you.
Head to their store in the Great Western Arcade to reserve your hamper and stock up on all the cheese. If you bring your IBcard with you, you'll get a lovely 10% off purchases too. 
Homeware – Minima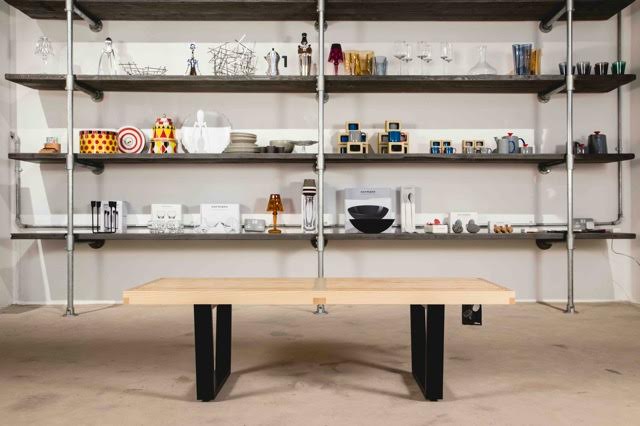 Located in the heart of Birmingham's Jewellery Quarter, Minima is a contemporary homeware shop where innovative, design-driven products embody that quintessential 'labour of love' mantra that our creative and enterprising city was built upon. Their pizza cutters and cheese graters are wonders to behold (and would make the perfect 'new home' Christmas gift). Increase the awesomeness of your loved one's home by a factor of 100 with purchases from Minima and you'll have won at life.
10% off purchases with your IBcard makes this even more awesome. Like seriously awesome.
Candles – Honest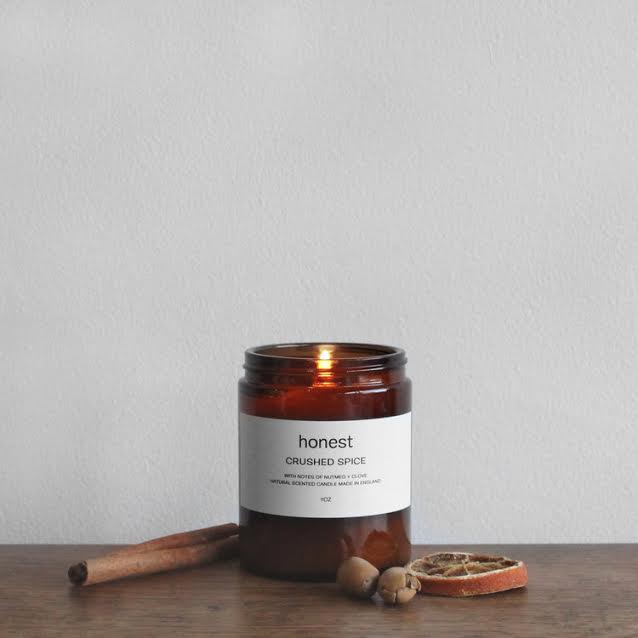 Everyone loves a scented candle. The candles from Honest are made with all natural ingredients and smell amazing. This Christmas candle is the perfect gift for any home-lover this year. They also do a brilliant array of natural skincare products, soaps, scent mists, handwash and much more. All beautifully packaged in simple, sustainable packaging, there's bound to be something for everyone on your list. Head to their stores in the Great Western Arcade and Kings Heath and take your beloved IBcard with you for 10% off purchases. 
Chocolates – The Chocolate Quarter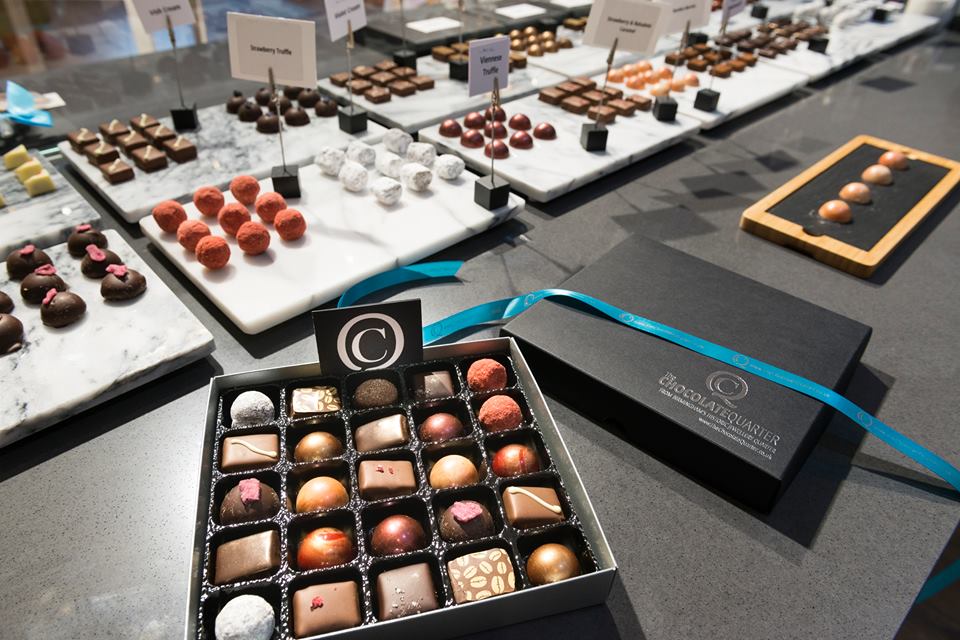 Who doesn't love to receive a tempting box of chocolate delight on Christmas morning (and then eat them all before Christmas dinner)? Instead of reaching for that standard box of supermarket chocolates (yuk), make it an extra special and thoughtful gift by getting some luxury, handmade chocolates from The Chocolate Quarter (yay). Head to their shop in the Jewellery Quarter and go nuts (unless you don't like nuts, that is). Remember your IBcard and they'll give you 10% off purchases when you give it a waggle. 
Stationery – Sparrow And Wolf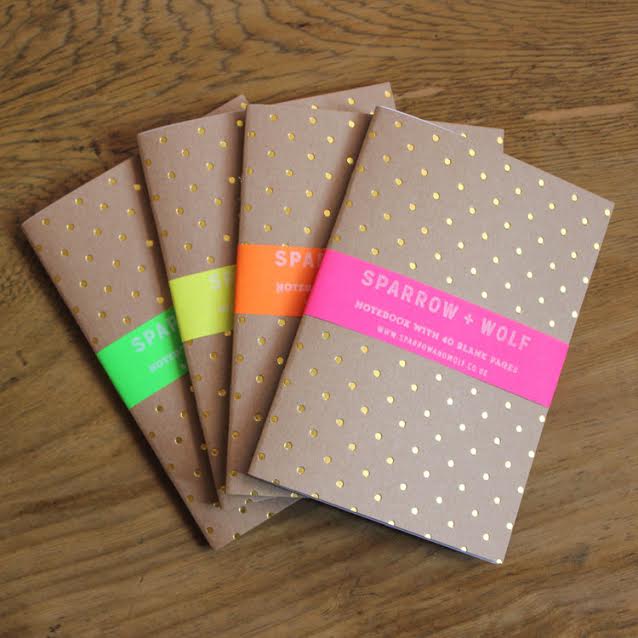 Cute stationery makes even the toughest meetings or school projects bearable. So give the gift of awesome stationery this year and help your friends and family beat those back to work (or school) blues come January. There's a whole host of fantastic products from Sparrow and Wolf to choose from, go wild!
Grab yours here.
B13 Newsboy Hat – Frederick Cameron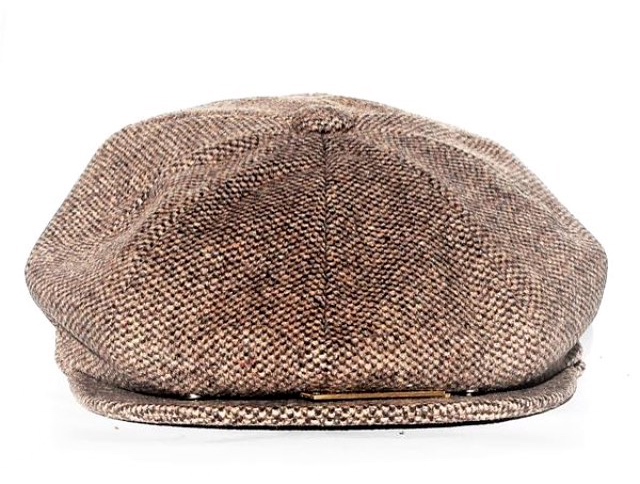 Frederick Cameron are an up-and-coming fashion brand in Birmingham, designing and hand-making a range of hats, scarves, bowties and more. Grab one of their distinctive Moseley newsboy hats and then walk around Moseley in it (maybe even the rest of Birmingham too, if you like to break the rules). Wear your hat, visit a pub, hang out, never take it off again. Nicely done.
Purchase yours here.
Brooches – Frilly Industries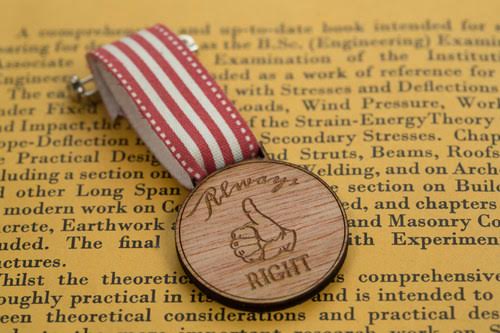 We love the brooches and accessories from Frilly Industries. There's a whole host of quirky designs to choose from, so give the gift of something truly unique to the person who has everything. Our favourite is this 'Always Right' medallion, for the know-it-all in your life. Such a fun idea.
Purchase yours here.
Birmingham Tea Towels – Dot Moth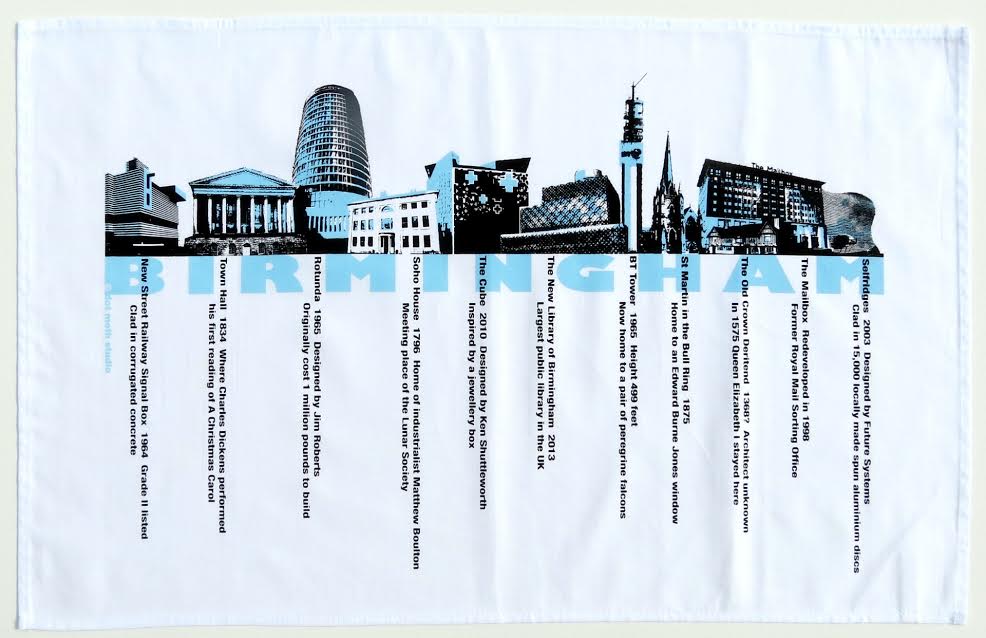 Everyone needs tea towels and these tea towels from Dot Moth Studios are perfect for your Brummie friends. Featuring a variety of different designs including this architecture one, another with facts about Birmingham, or simply the Birmingham bull, there's a design for everyone.
Clean out the entire Dot Moth collection here.
Jewellery – Kate Gilliland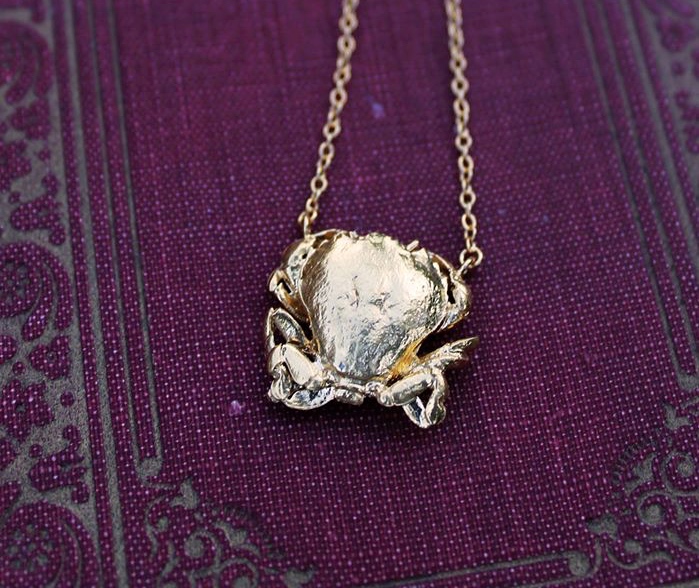 The gift of beautiful jewellery is sure to put a smile on the face of that special someone come Christmas morning. These unique and stunning designs from Kate Gilliland will make a wonderful gift, and they are all made from tiny remains of creatures that Kate and her friends find in the countryside. Each piece is unique and has a story to tell.
Purchase something truly special here.
Coffee Beans – Quarter Horse Coffee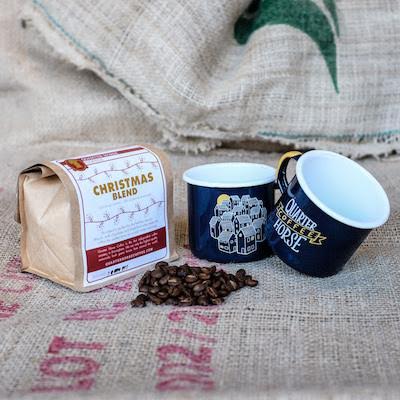 For that caffeine addict in your life there's no greater gift than a delicious blend of coffee. Quarter Horse are here to provide you with the best coffee-related gifts, from individual bags of coffee (including a special Christmas blend), to gift sets and even coffee subscriptions.
Head to Quarter Horse and take your IBcard with you, it gets you £1 off bags of freshly ground coffee. You can thank us for the savings later. 
House Plants – Marimo Adrift
Your home and everyone you know needs a Marimo Adrift plant in their life. Seriously. From succulent kokedamas that dangle from your ceiling, wall, and just anywhere you can dangle things from, to ace plants housed inside beautiful glass jars, lovingly compiled together to make a beautiful arrangement that pleases the heart and mind. Handcrafted, long-lasting and the perfect gift for the green-fingered loved one in your life.
Go wild and grab all the plants here.
Men's Grooming Products – The Barber House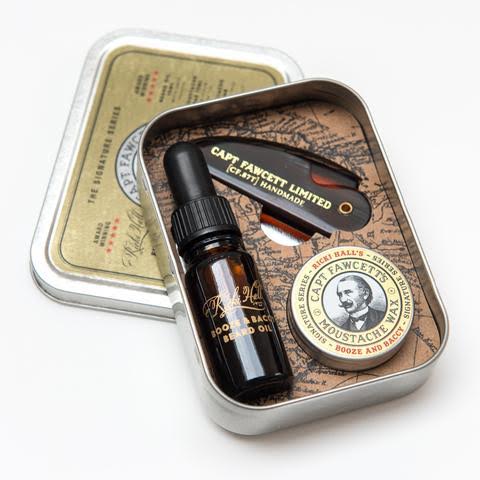 For that difficult-to-buy-for man in your life, why not treat him to some grooming products from The Barber House. They stock a whole range of own-brand products from beard oils to moustache wax, styling clay and shampoo, alongside other fine brands and gift vouchers too. They even sell stylish washbags and other accessories to complete the gift.
Merch up here.
Birmingham Skyline Prints – Ross Jukes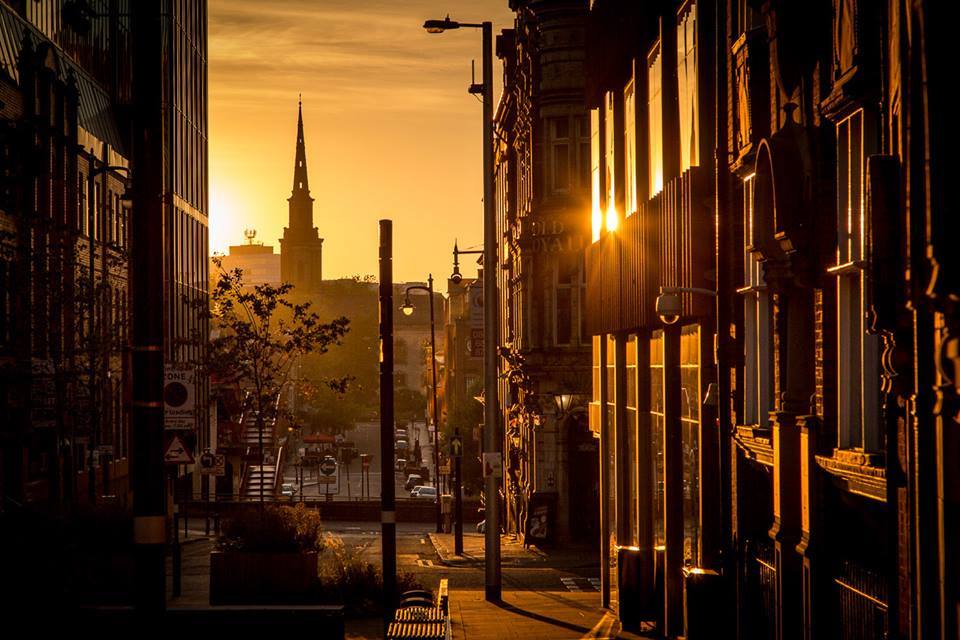 Give someone an extra special gift this year with a beautiful print by talented local photographer Ross Jukes. This will be something to cherish and hang in pride of place in their home. Plus, every time they walk past it they'll be reminded of how awesome you are at gifting. Nice work.
Show Ross some love and grab multiple prints here.
Whisky – Hard To Find Whisky
If you know a whisky lover, then grab them the perfect gift from Hard to Find Whisky. Selling a whole host of different whiskies of various ages and from different distilleries, you're sure to find one here to impress. Pop into their store in the Jewellery Quarter or have a browse online.
Get tipsy here.
Clothes – Liquor Store Or No. 50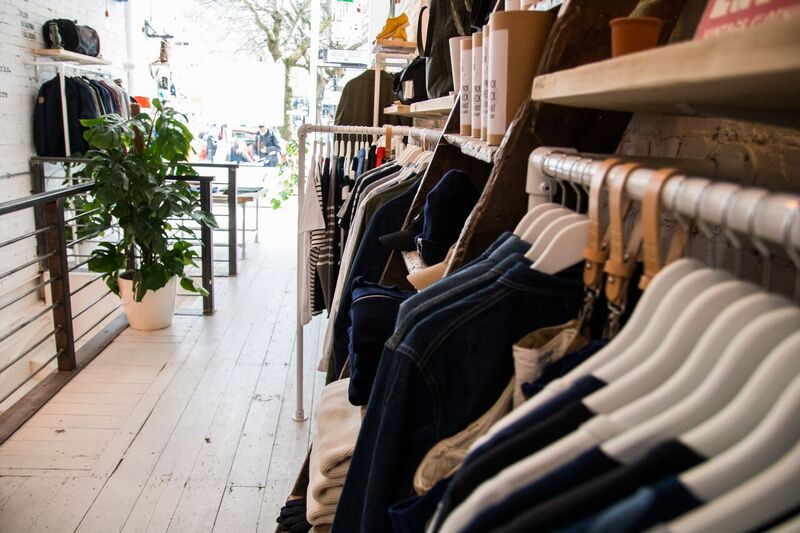 If you have a fashion fiend on your list to buy for then head to one of our fantastic independent clothing stores to pick up some fashionable new items for their wardrobe. Both No.50 (on Pinfold Street) and Liquor Store (at The Grand Hotel) stock a great range. Pop into both stores and remember your IBcard for discounted savings at each. 
Cult Movie Posters – Vincent Van Doodle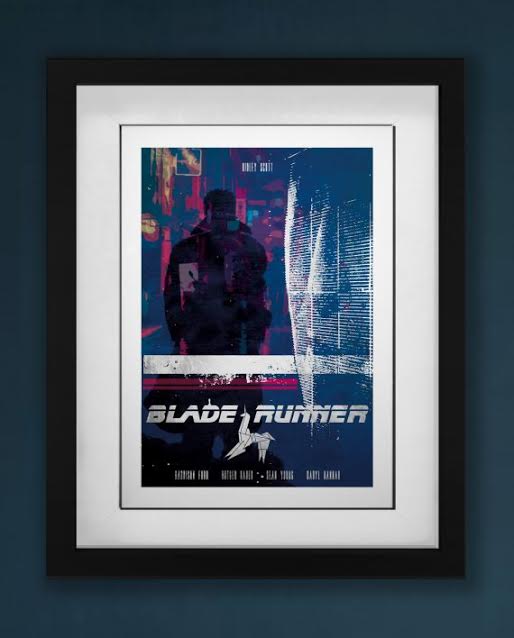 For a film fan or someone who loves vintage artwork for their wall, head over to Vincent Van Doodle to browse the collection of awesome artwork there. If you prefer to shop online, head to their website. But there's nothing quite like seeing it all in real time, and that way you can make all the impulse purchases you desire. We got you.
Head to Link Street and waggle your IBcard for 10% off purchases.
Skincare And More – The People Shop
In need of a little extra something to fill a stocking or looking for some great skincare products? Check out The People Shop for some great gifts including this lip balm duo. They also do candles and homeware too. And 10% off purchases with the IBcard, that too. 
Birmingham Wall Clock – Blue Phoenix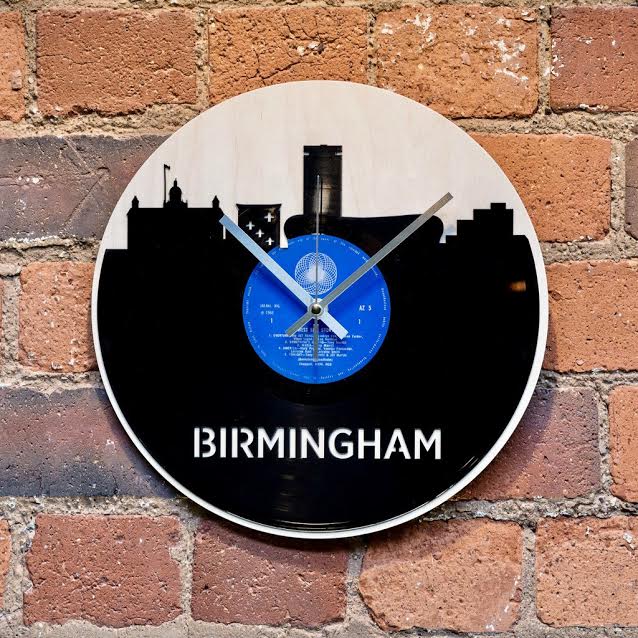 These stunning wall clocks are made from old vinyl records and feature landmarks of Birmingham. There are a couple of different designs to choose from and they will look ace as the centrepiece on anyone's wall. Plus they'll make sure they're never late again.
Time to purchase yours here.
Hot Sauce – Pip's Hot Sauce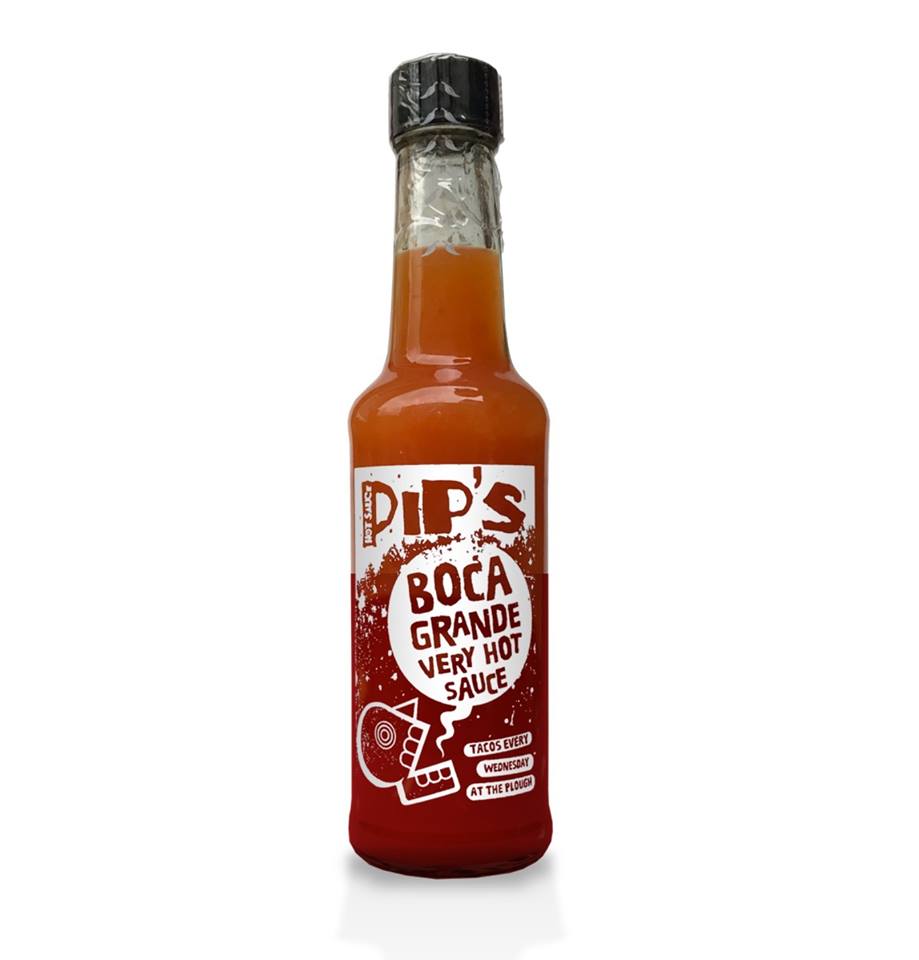 For that chilli lover in your life, help to spice up their Christmas with some of Birmingham's favourite hot sauce. Locally made, this is a winning gift of award-winning sauce for those who like it hot. Head to their website now to stock up.
Grab yours here.
Jam Jar Lights – The Workshop Below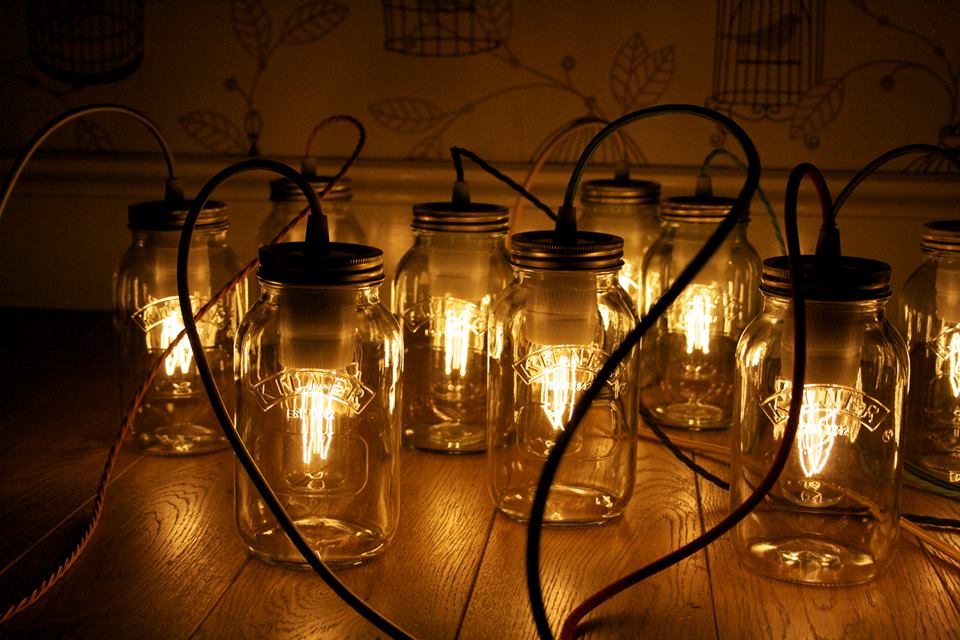 Light up someone's Christmas with one of these super cool jam jar lights. Coming in all different fixtures with different coloured cords, there's one to suit every home colour scheme. Not only do they look really awesome (and will look great on your Instagram), they're functional too! Grab one for a loved one, and then another for yourself. 
Head there with your IBcard for 10% off purchases and upgrade your home by a factor of 14.
Art Books – Ikon Gallery Bookshop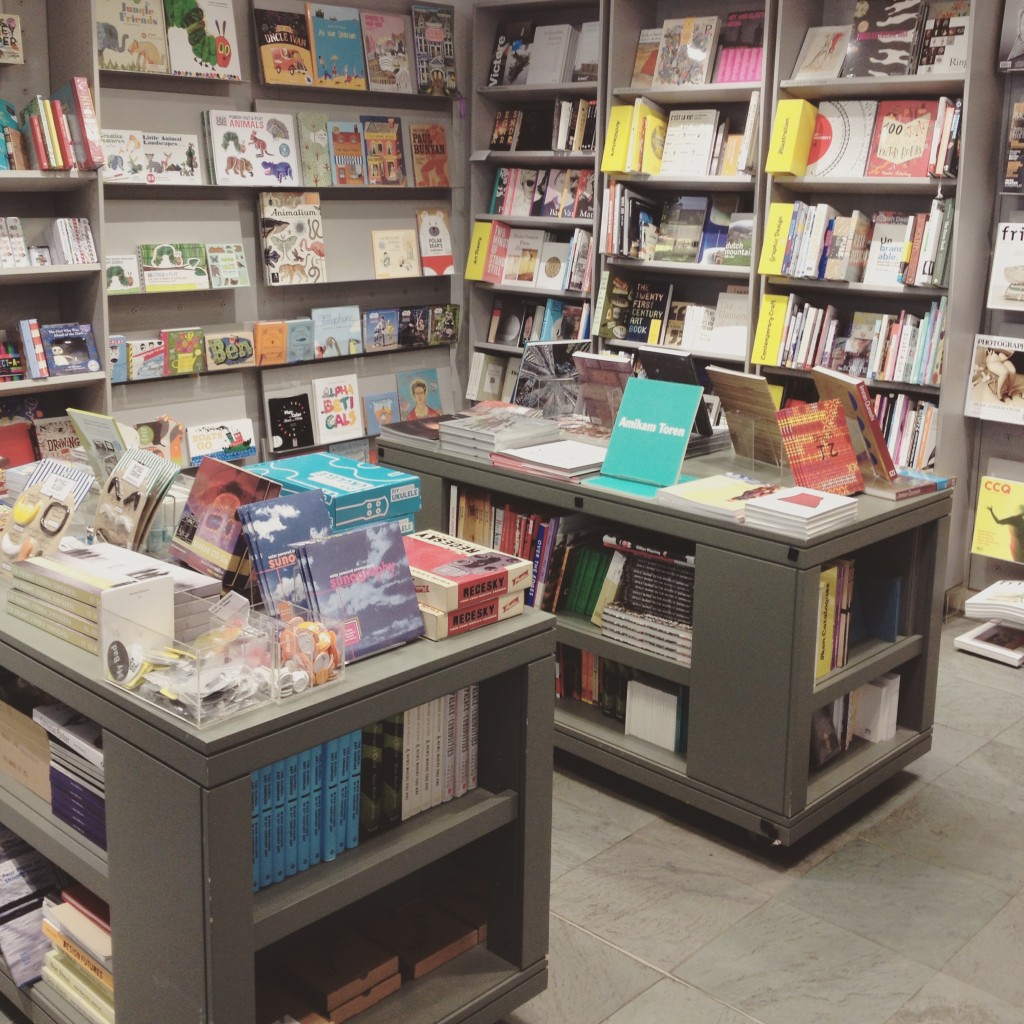 If you need a gift for an art lover, then the perfect place to go is the bookshop at Ikon Gallery. In their shop they sell a range of gifts including jewellery, homeware and, of course, books. Pick up something in store (where you get 10% off with your IBcard) or shop online.
Shop until you drop here.
Miscellaneous – Smithsonia Gifts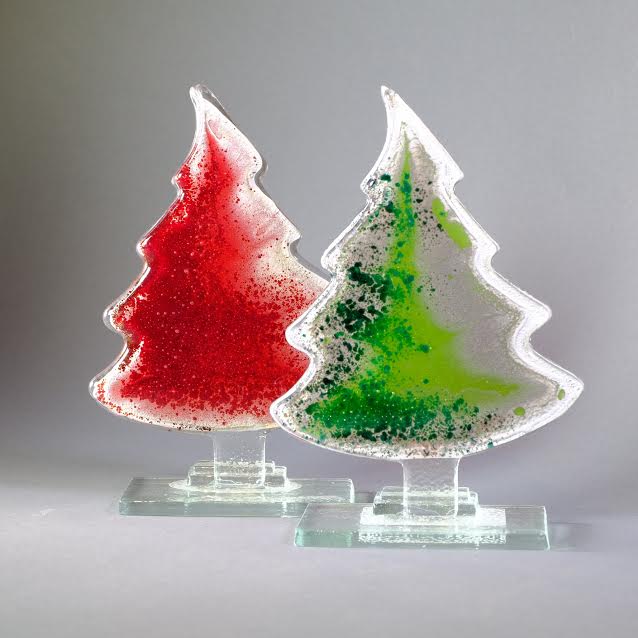 For all of those miscellaneous gifts and for cards and gift wrap too, head to the awesome Smithsonia in Piccadilly Arcade. This shop is a haven for all of those special little gifts you didn't know you needed. We like these glass Christmas trees as a lovely addition to the decorations. Pop in to the store and show off your IBcard for 10% off purchases. Go you.
Aaaaaand, there you have it. You can't possibly be stuck for present ideas after all of this. So get out there, shop local, celebrate the unique and have a very Merry Christmas!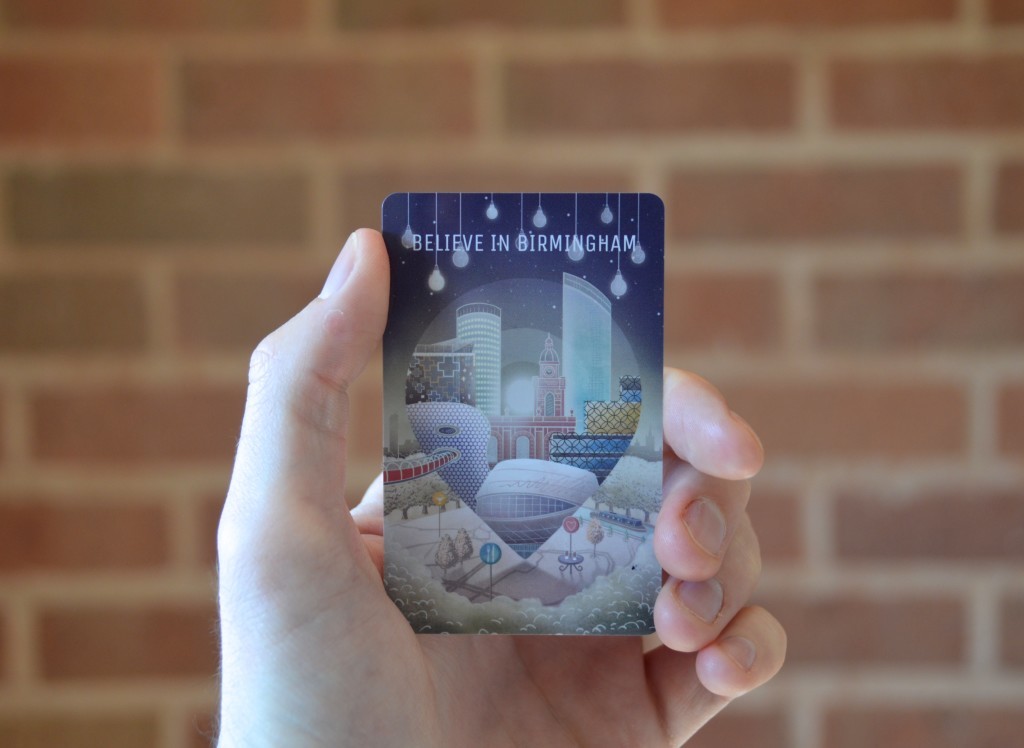 Shop local, celebrate the unique and rediscover your city!
Join over 17,000 Brummies and grab yourself an Independent Birmingham Membership Card. Enjoy fantastic year-long discounts and deals at over 100 of the very best independent cafes, bars, restaurants, pubs, theatres and shops in Birmingham – including: Digbeth Dining Club, The Electric cinema, Simpsons, The Wilderness, Carters, Lasan, Birmingham Hippodrome, Adam's, Zindiya, The Meat Shack, Harborne Kitchen, Smultronställe, Bodega Bar Y Cantina, Purnell's Bistro, Buffalo and Rye, mac Birmingham, Fiesta del Asado, 40 St Paul's, Turners at 69, The Plough, Hare and Hounds, Birmingham Repertory Theatre, The Lord Clifden, The Jekyll And Hyde, Nosh & Quaff, The Church, Bourne and Co., The Rose Villa Tavern, Cherry Reds, The Prince of Wales, The Loft and many more.
To grab your key to the city for just £15 (or at the amazing price of two for £20), click here.