ALL HAIL THE BRAND NEW INDEPENDENT BIRMINGHAM MEMBERSHIP CARD!
More canals than Venice. More Michelin Stars than Manchester. More parks than London. The message has always been to Believe in Birmingham and nothing says it more than our brand new membership card.
Born from a desire to shine a light on Birmingham's marvellous independent culture, and champion the city as a whole, the Independent Birmingham Membership Card was the natural progression for the fledgling project that was Independent Birmingham. It transformed a website that celebrates all things independent in Brum into a movement that actively encourages the people of Birmingham (and beyond) to fall in love with their city all over again and support the diverse and energetic independent businesses that define Birmingham.
With a readership of 90,000-95,000 unique visitors a month and a highly-engaged social media platform of over 75,000 followers across Facebook, Twitter and Instagram – with mentions in national newspapers (The Guardian, The Independent), named by Twitter UK as one to follow to discover Birmingham, and named by The Birmingham Post as one of the 250 most influential people in the region – Independent Birmingham has helped pave the way for new independent businesses to blossom in the city and championed a revolution of local.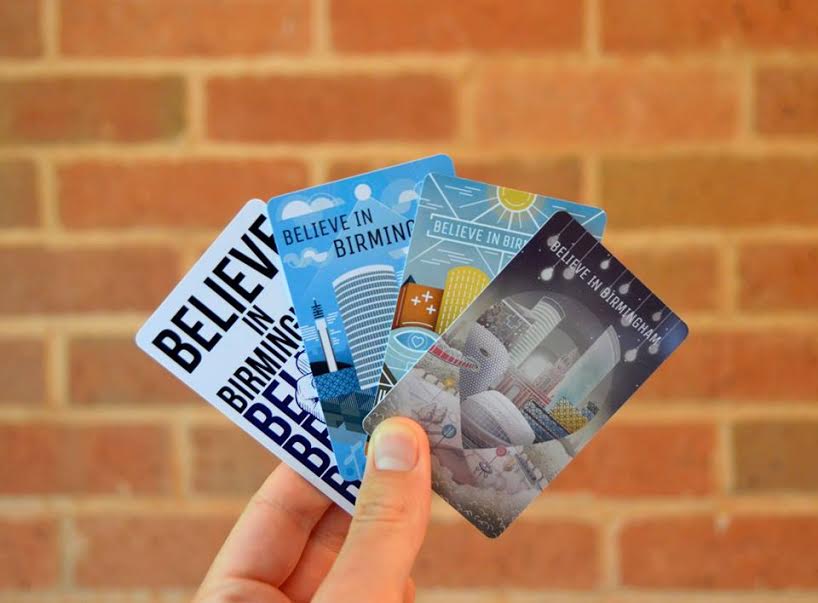 The Independent Birmingham Membership Card is now owned by over 18,500 people eager to support and champion local, independent businesses. Entitling you to amazing discounts and deals at over 100 of Birmingham's very best independent cafes, bars, restaurants, theatres, pubs, cinemas, experiences and shops, the IBcard is your wallet's best friend and your key to the city. It allows you to rediscover your city, one hidden gem at a time – while making you remember why you fell in love with Birmingham in the first place.
More than just a discount card, Independent Birmingham is a movement, a revolution of local – and a way of giving back to the city in which we work and live. Not only is it a fantastic piece of artwork for your pocket (which just so happens to entitle you to amazing discounts and deals at over 100 of Birmingham's very best independents), it celebrates the city as a whole and champions the beauty of Birmingham.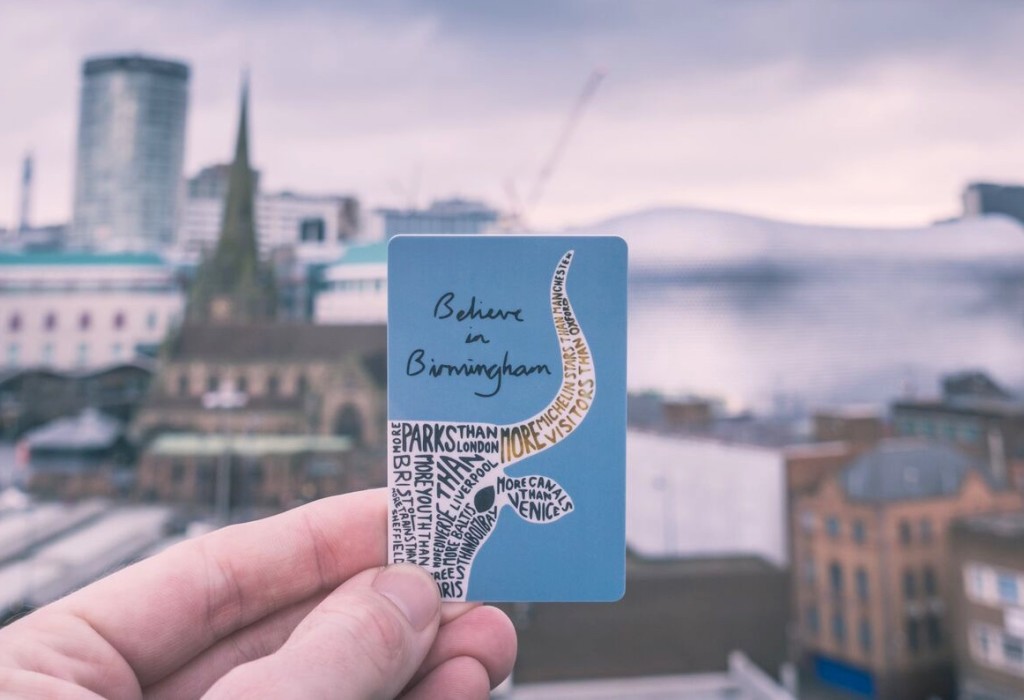 Photo by: Ross Jukes
4 years on and here is the brand new Independent Birmingham Card. Isn't she a beauty? Designed by Faith Pope, the design embodies the ethos of Independent Birmingham in that it celebrates and champions our city (in both a fun and engaging way), as well as being a true piece of Brummie artwork for your pocket – it's safe to say that we are very much head over heels with this new design, and the moment it arrives in the post you'll be in love with it too.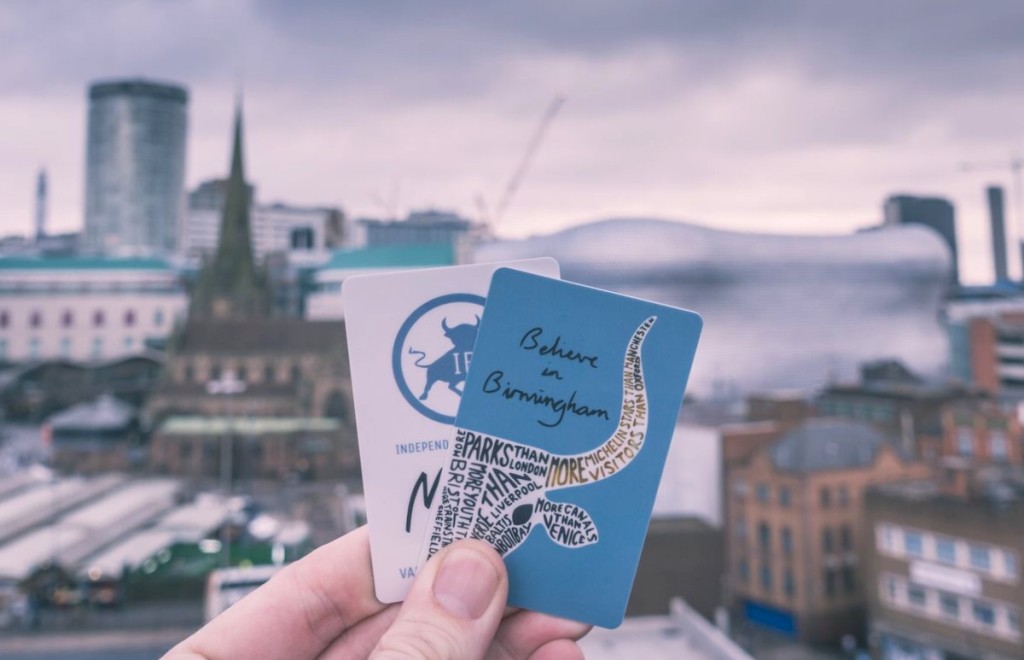 Photo by: Ross Jukes
Prominent on the design is our tagline 'Believe in Birmingham'. A tagline coined on the first day that Independent Birmingham began it's journey – a dig at those on the outside who have, over the years, shot our city down in magazines and newspapers and on social media. Once perceived as a concrete jungle where no innovation took place, our city is now home to an incredibly exciting food and drink scene, spearheaded and championed by our independents, and all eyes are on us. Independent culture is coming to the forefront. Now, more than ever, we are starting to believe in Birmingham.
The IBcard is THE best product of its kind in the city, entitling you to amazing year-long discounts and deals at a carefully curated list of over 100 of the very best independents in Birmingham. For a full list of all 100+ independents on the IBcard, categorised by area, click here.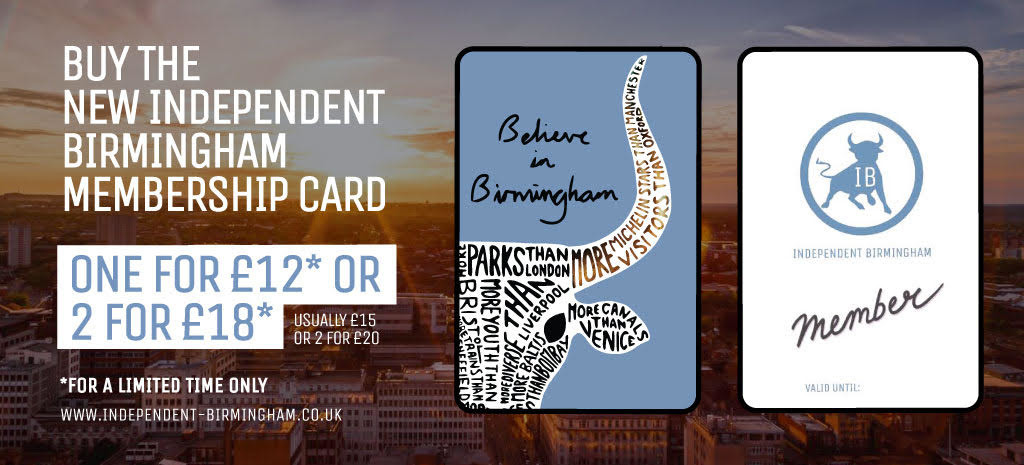 The new Independent Birmingham Membership Card is now available to purchase.
For a limited time only, you can purchase the new IBcard for just £12 (instead of £15) or at two for £18 (instead of £20) – that's just one pound a month for a whole year of discounted discovery at over 100 of Birmingham's very best independents, including: Digbeth Dining Club, The Electric cinema, Simpsons, The Wilderness, Carters, Lasan, Birmingham Hippodrome, Adam's, Zindiya, The Meat Shack, Harborne Kitchen, Smultronställe, Bodega Bar Y Cantina, Purnell's Bistro, Buffalo and Rye, mac Birmingham, Fiesta del Asado, 40 St Paul's, The Plough, Hare and Hounds, Birmingham Repertory Theatre, The Lord Clifden, The Jekyll And Hyde, Nosh & Quaff, The Church, Bourne and Co., The Rose Villa Tavern, Cherry Reds, The Prince of Wales, The Loft, The Mockingbird Cinema and Kitchen, The Vanguard at 1000 Trades, Medicine Bakery and many more.
We want to help you to explore Birmingham's lesser-known aspects, fall in love with your city all over again and save a bit of money along the way.
To purchase your key to the city for just £12 (or at the incredible price of two for £18), click here.
Go forth and conquer Brum with your IBcard!
For bulk purchase enquiries (the IBcard would make the perfect reward or gift for your team/employees), please email hello@independent-birmingham.co.uk
Note: Your IBcard may take up to 6-10 working days to arrive, due to high volumes of orders during our sale period.