Birmingham is booming, no one can deny it.
Over the past year we've seen a whole host of new bars opening up in our fair city amidst fanfare and delight. Indeed, with so much excitement around Birmingham of late surrounding our bold new bars and snazzy new restaurants, a tangible electricity in the air, often, caught up in the search for the new, we forget the old. We forget those who have paved the way for Birmingham's newcomers, the golden oldies who were flying the flag for our city's independents before the independent scene even took off. They who were the original innovators, the original game-changers. Ever stalwart and ever-deserving of a special place in our hearts.
Don't get us wrong, it's great for Birmingham that so many brilliant independents are opening up by the score (we love it, the new and the intriguing), however, amidst the excitement of a new and bold Birmingham, we must also remember to support and celebrate those independents who have stood the test of time and who have been with us through thick and thin.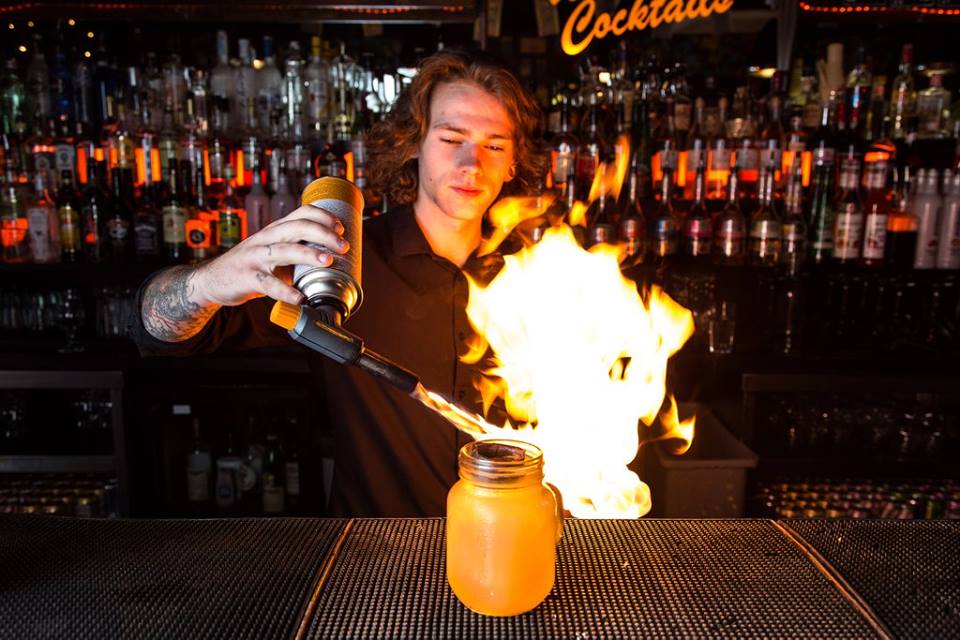 Island Bar, one such golden oldie and Birmingham's bastion of tropical fun and potent juice, approaches a landmark 10th birthday this September. A vibrant and bustling bar that has been there through the laughter, the spilled drinks, the late nights and the great nights. An institution of Birmingham and a rite of passage for all. Formerly a Rock 'n' Roll dive bar, the years have seen Island Bar transform from indie and blues into a tropical paradise where cocktails are set alight at an alarming rate, fun and rum collide in the tastiest of fashions and drinks are served in funky vessels adorned with all manner of flamboyant garnishes.
However, throughout the years and throughout the transformations, what has remained and been a constant is quality. Quality mixed with a dash of fun, a spritz of rum and a light-hearted garnish of friendly vibes. Indeed, well-known as the place where those working in the food and drink industry come to party, Island Bar has not only amassed a cult following but has cultivated a proud reputation for being a true Birmingham hangout – where those living and working in our fair city can come and enjoy a relaxing (or perhaps wild) evening of tiki cocktails and great music, and dance long into the night.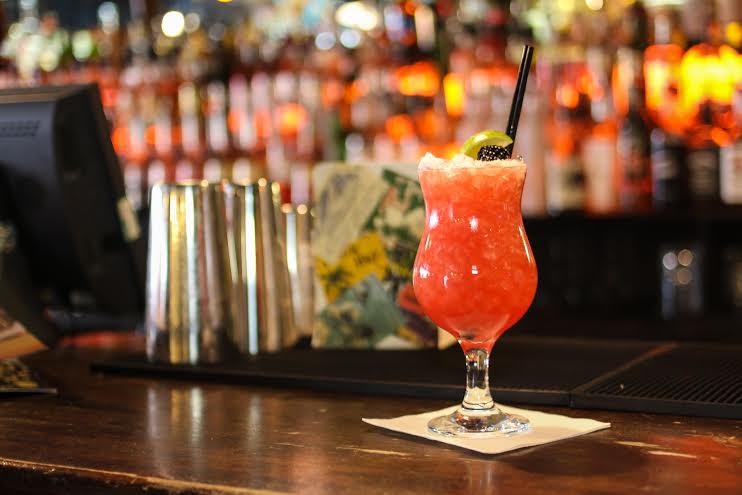 So what's new then? Island Bar approaches its 10th year as an independent Birmingham bar, are they still looking to innovate or are they resting comfortably on their laurels? They're innovating, of course. Did you really have to ask? Despite being safe in the knowledge that their bar works, and works very, very well – masses of people visit each week, they drink the drinks, have fun and are left with a memorable (depending on how much they drank) and lasting nostalgia for this cult cocktail bar – innovation is the only way to stay relevant in an ever-changing city. And whilst Island Bar has concocted a winning formula of rum cocktails and tiki antics, they've decided that the time is ripe to introduce some new blood (not literally, that's be weird) to the mix.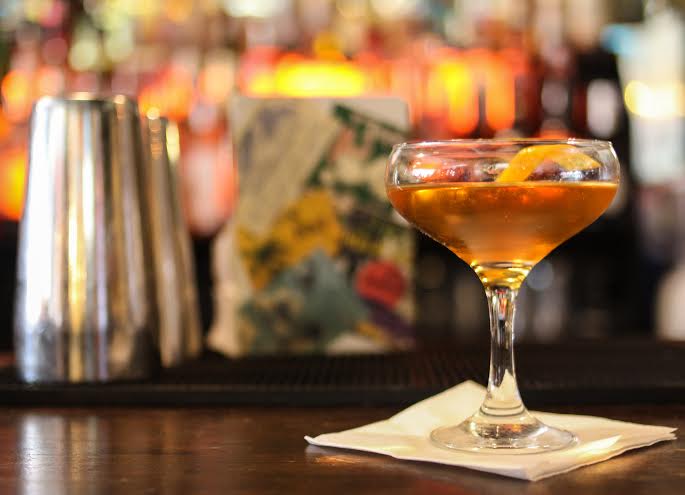 Tiki cocktails. Everywhere! It's what the people have called for, and Island Bar have responded to their avid pleas of more flames, more funky vessels, yet more flames and yes, a Smirnoff Ice-topped sharing cocktail. Because everyone loves that cheeky alcoholic Lemonade pop, right? Right!
Forging two differing (yet connected) paths of cocktail creation, Island Bar has decided that more tiki equals more fun – a sentiment we heartily agree with. However, amidst the tiki cocktail delights, a collision of rum and fun, Island Bar have also taken note of the growing cadre of cocktail connoisseurs in our fair city and their yearning for high-end cocktails shaken and stirred with intriguing spirits and bold ingredients. In a proverbial doth of the cap to the forbearers of the cocktail industry, Island Bar have curated a range of classical cocktails, alongside a number of their own creations. Their 'Hip Flask' inspired cocktails consist of 5 bonafide classics: Martinez, Rob Roy, Boulevardier, Negroni and Vesper Martini – a nod to the classic and to the connoisseur. We like these moves. Indeed, the combination of tiki and classics in this potent form means that any and all cocktail enthusiasts can find a favourite tipple at this time-honoured independent bar.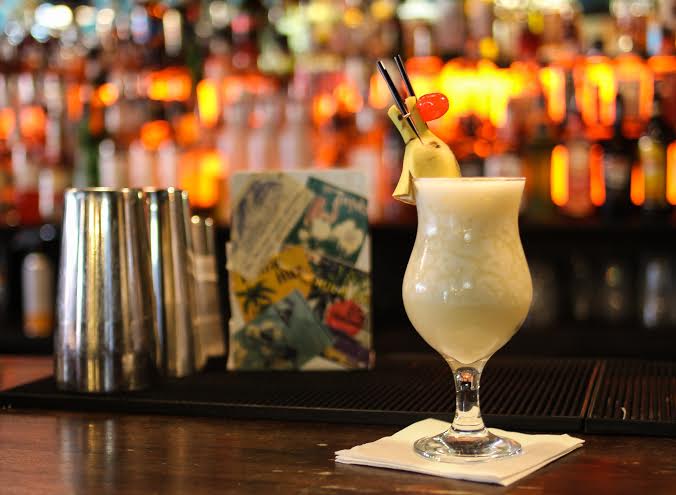 Now, let's talk tiki. One of the most infamous tiki cocktails of all time is The Zombie. Yet where did this brilliantly-boozy collision of juice and potency originate? Shrouded in deep mystery and intrigue, The Zombie was a creation of Donn Beach, the so-called 'Godfather of Tiki', in 1934, with its secrets jealously guarded by the founding creator. Using coded bottles containing mystery ingredients, The Zombie was concocted by other bartenders in blissful ignorance and blind faith – trusting the formula of coded bottles and measurements set out before them. Years upon years later, the mystery behind this tiki-masterpiece was carefully deconstructed and discovered by a dedicated cadre of talented mixologists and cocktail aficionados – meaning this marvellous and most potent cocktail could return to the grand stage to much fanfare and the general delight of all.
In an ode to this master of tiki, this true ambassador of a beloved cocktail subculture, The Zombie, is to be revered above all else at Island Bar. A mix of three Plantation rums, apricot brandy, Falernum, lime and pineapple juice topped off with absinthe and then, as you'd expect from Island Bar, set aflame with reckless abandonment and sheer glee – this is tiki culture at its finest. Furthermore, new (or old, perhaps) to the menu is the 'Banana Colada' which, you can probably all guess, is a banana-based take on the classic cocktail of the tropics. In addition to this, the 'Miami Vice' sharing cocktail has taken on a new and (in our humble opinion) brilliant identity – a tipple topped with everyone's favourite alcoholic Lemonade, Smirnoff Ice, because it turns out that there really is nothing this glorious soda pop cannot improve. FACT!
So Island Bar, resting not upon their laurels but on the firm belief that innovation and forward-thinking are the roots from which greatness rises, have re-invented their tiki concoctions and reinvigorated their passion and true love for cocktail culture. Approaching their 10th year as an independent in Birmingham, flying the flag for independence long before the independent scene took hold in Birmingham, this stalwart of our city's bar scene has gone from strength to strength over the years. A cult bar, a tiki bar, an Island Bar.