Everyone needs to believe in something. I believe I'll have another beer.
Beer and Pizza. Pizza and beer. Has there ever been a greater combination throughout all history? We think not. Everyone loves a delicious, freshly-baked, sourdough pizza, smothered in the most incredible toppings. And what better way to wash that delicious, cheesy-tomatoey goodness down than with a nice, cold pint of beer. We can't think of a more perfect way to spend an afternoon than devouring mouthful after mouthful of pizza and sipping on a thirst-quenching beer. 
Introducing Dig Brew Co.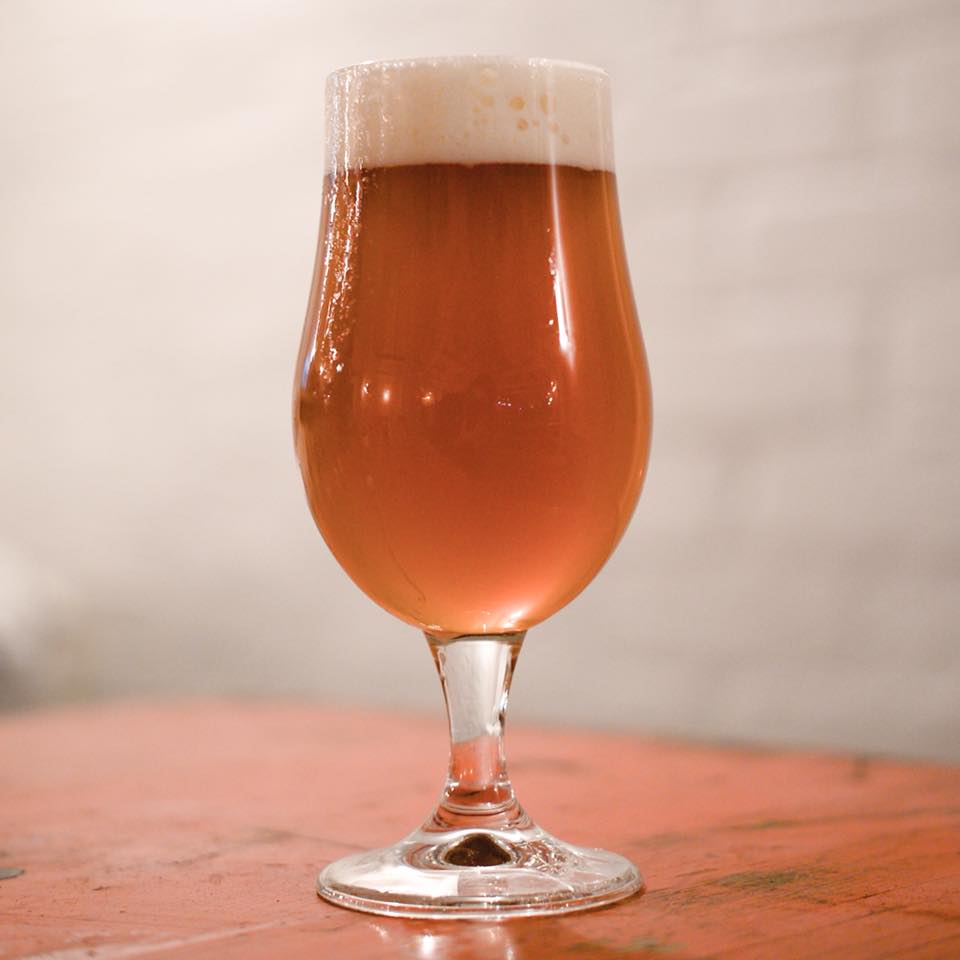 Located on River Street (Digbeth), Dig Brew Co. is an independent brewery and kitchen, providing you with the winning combination of excellent beer and fantastic pizzas. 
Dig Brew Co. is the very definition of a hidden gem. Tucked away in the backstreets of Digbeth, it may be a little off the beaten track but it's well worth the journey through the quiet streets (and around the odd abandoned sofa and pavement-parked car, here and there). When you spot the board outside and enter the building, you find yourself wondering 'Is this the right place? Am I meant to be here?', as you're confronted with what appears, at first glance, to be a factory. Faced with giant plastic strip curtains and huge industrial stainless steel tanks, you're reminded that first and foremost, this is a working brewery. But your intrigue gets the better of you and you pull back those curtains…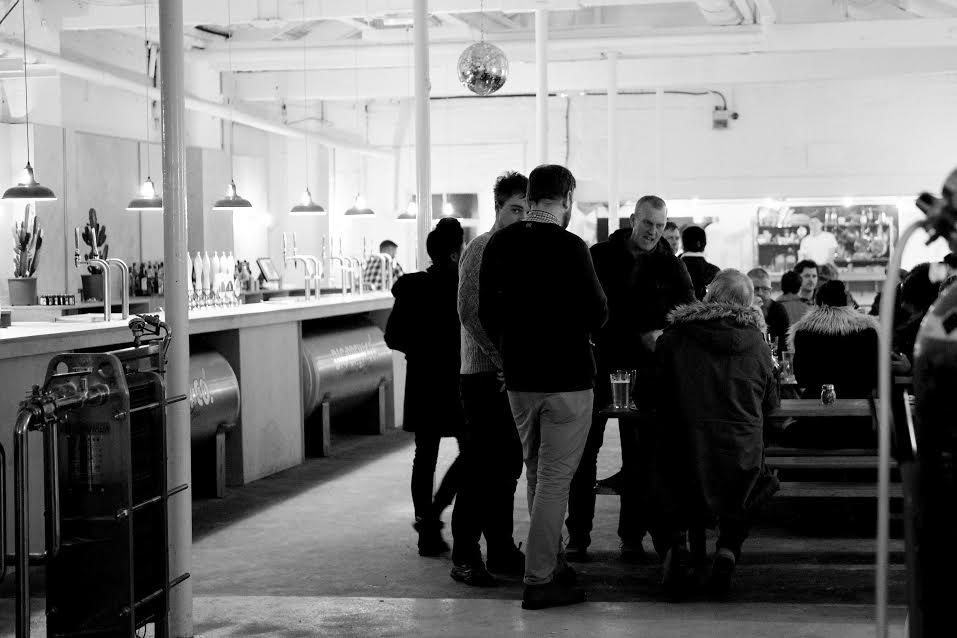 As you venture further in you stumble upon the bar and seating area (and right at the back, the Practise Pizzeria). With a minimalistic look, featuring the white-washed walls of a giant warehouse, you feel oddly at home in such a stark room. The ultra minimal bar and simple tables and benches showcases that the main focus here is the beer. And my, what glorious beer!
Over the past year, a score of brilliant micro-breweries have popped up all over Birmingham – brewing ace local beers, drunk by ace local people. We're a big, big fan of these establishments and tip our hats to all who are helping to improve Birmingham's already marvellous independent beer scene. Dig Brew Co. are such fellows, and for this, we salute them. As a working brewery, they do, of course, brew their own beer – and the best part is, you get to try these magnifique beers before anyone else in the city does. From real ale to craft beer, and a few German lagers thrown into the mix, there's ample opportunity to while away a few good hours with your friends sampling a whole host of different (and amazing) beers.
Discover new beers, rediscover old favourites – Dig Brew Co. is your proverbial beer-infused oyster.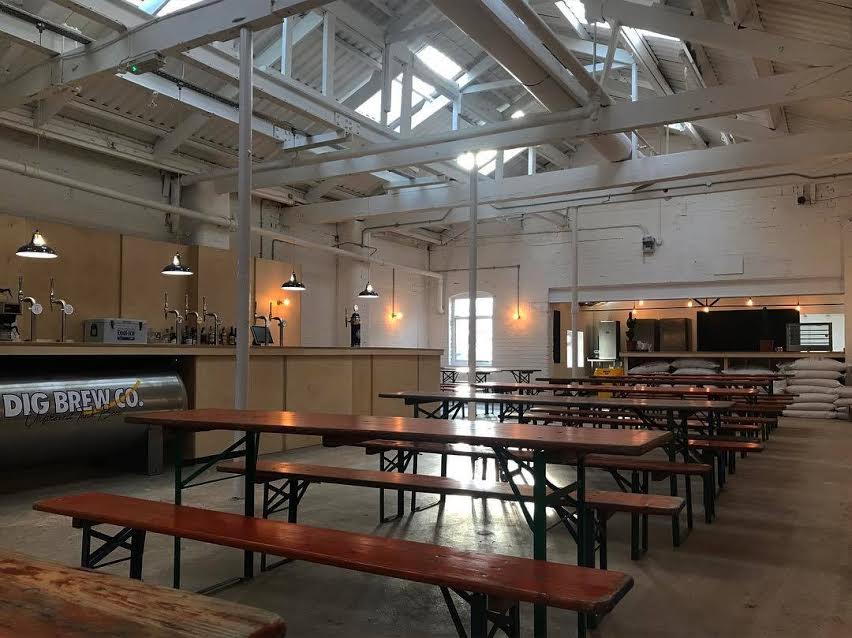 What's more, for those who are especially interested in the processes behind the beautiful drinks, Dig Brew Co. also offer tour experiences. This is something we highly recommend – you learn a little, you drink a little, then maybe you drink some more. Grab a group of mates and get a behind-the-scenes look at where (and how) the magic happens. Maybe even purchase some ultra cool Dig Brew Co. merch too, you know, to commemorate your visit and all. Because everyone loves branded glassware and hoodies. Are we right?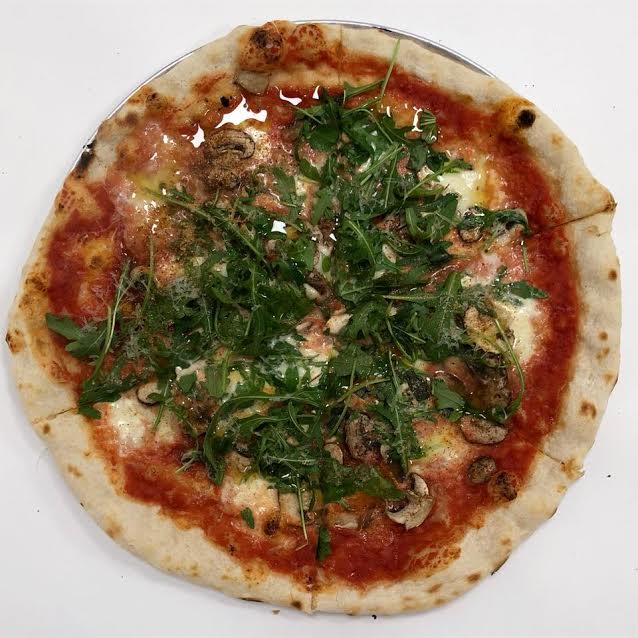 To accompany those delicious beers, Dig Brew Co. are serving artisan sourdough pizzas. Rejoice! Pizza is beer's best friend, and now Dig Brew Co. are your best friends for bringing you this champion of combinations. There's a 'house pizza' menu, with pizzas from £6, and then there's the 'Practise Pizza' menu – featuring the more 'boujie' options. One bite of these heavenly creations and we're sure you'll be planning your second visit there and then. Maybe even your third… As the newest spot to get your pizza fix, we predict that Dig Brew Co. will develop a serious cult following with their magical combination of pizza and beers. We're already huge fans, and we know you will be too. 
Just don't tell everyone about them, ok? We'll never be able to get a table otherwise…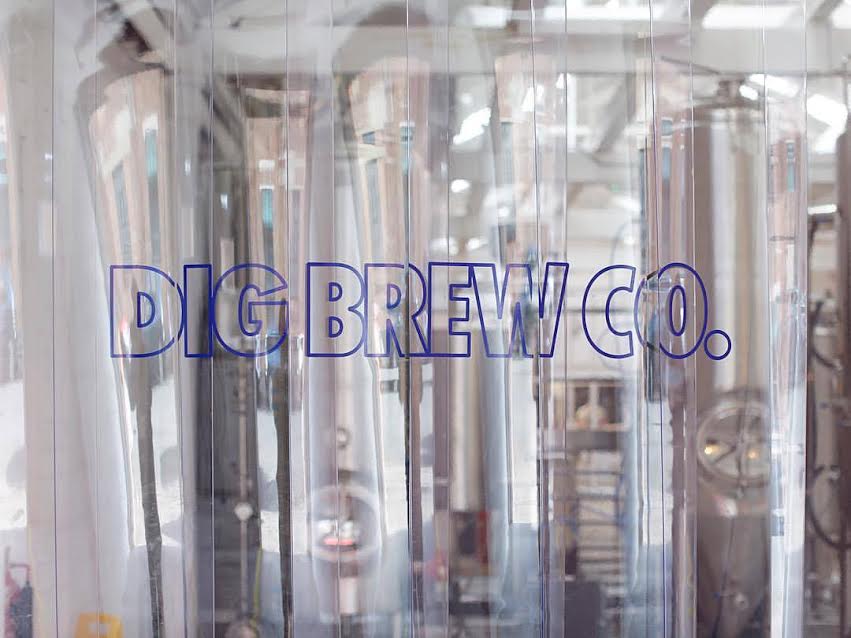 Now offering Independent Birmingham Membership Card holders 2-for-1 on all pizzas AND 20% off all merchandise, for more information you can follow them on Facebook and Twitter