It's one of the most British things to exist, along with Fish and Chips, apologising for everything, queuing, and talking about the weather. We're talking about the Sunday Roast.
Whether it's gathered around the family table each week, or cosied up in a country pub on a blustery day, we Brits can't get enough of that good old traditional Sunday Roast. It's pretty easy to see why – it's comfort food at it's finest, like a warm hug from your nan on a plate. Succulent roast meats, crispy, fluffy roasties, seasonal veggies, lashings of rich gravy, and huge Yorkshire puddings – we like ours with all the trimmings. If you too like a damn fine roast, then read on because we've rounded up 20 of the very best most mouth-watering Sunday roasts you can enjoy in Birmingham.
Note: This is not a list of every single place in Birmingham who offer a Sunday roast, just our pick of the very best.
Baked In Brick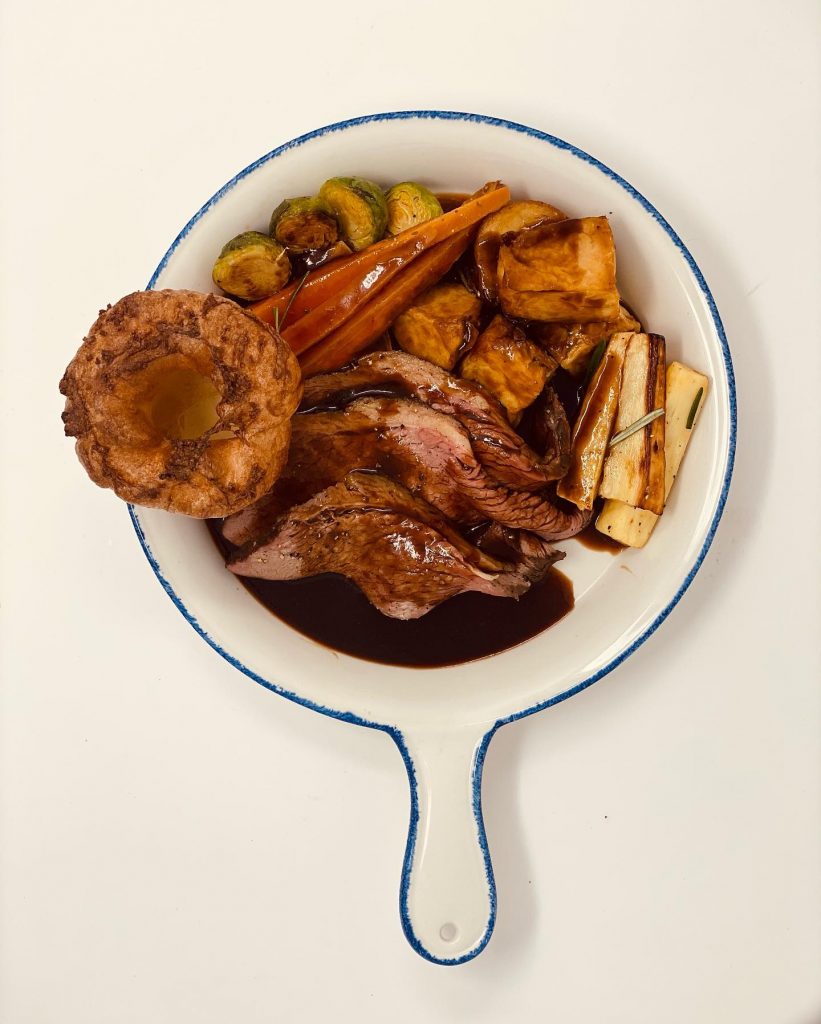 Location: The Custard Factory, Gibb Street, Digbeth, B9 4AA
Quite simply, this is one of the very best Sunday lunches you will find in Birmingham (and anywhere). They cook their meat over open fire to give it that extra depth of flavour that sets their epic roasts apart from the rest. The sides are just as delicious as the "main event" as all of their roasts are served with the likes of rosemary garlic roast potatoes, woodfired hispi cabbage, mashed swede, charcoal celeriac, BBQ carrots, incredible Yorkshire puds and, of course, amazing gravy. If you're yet to enjoy a Sunday lunch at Baked In Brick, it's a foodie must.
IB Deal: 15% off the bill
Pulperia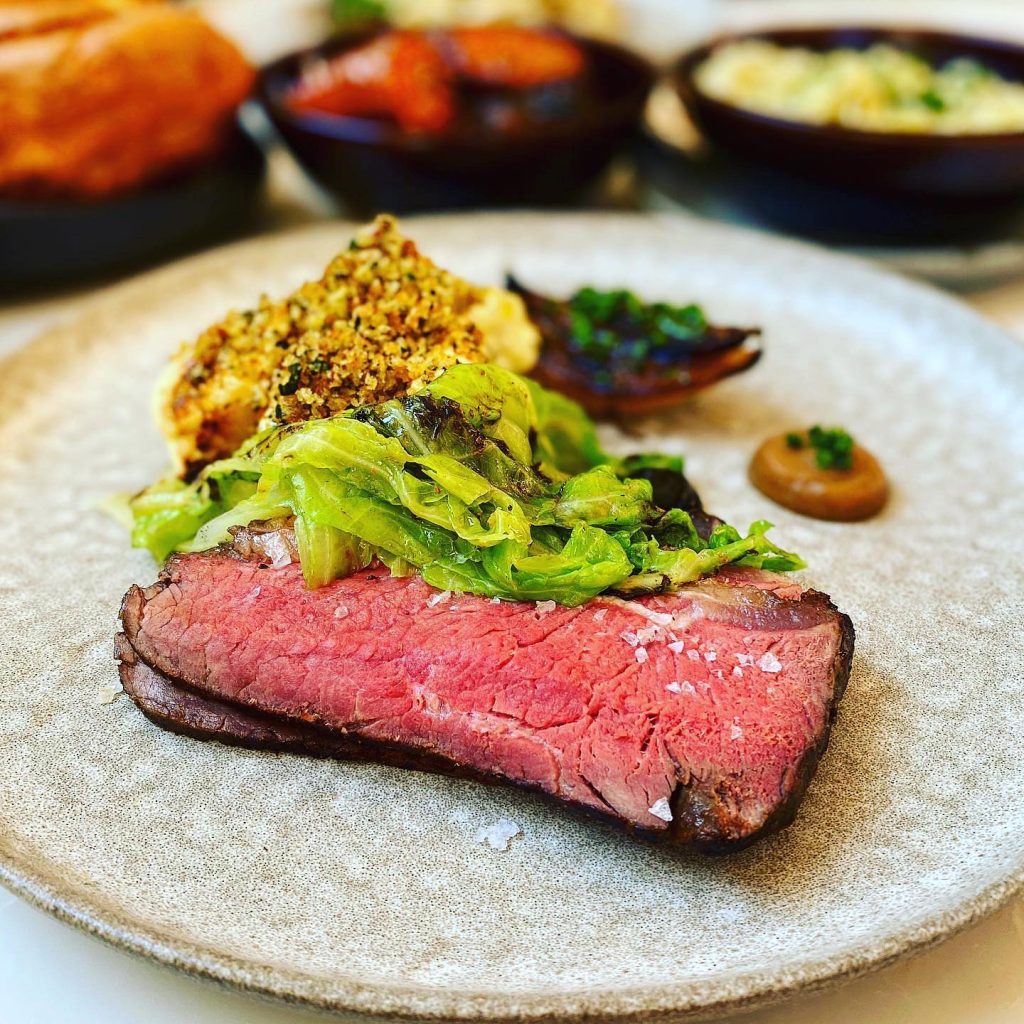 Location: 3 Brindleyplace, B1 2JB
Best known for their incredible steaks, this fantastic Argentinian-style restaurant by Aktar Islam also do amazing Sunday Roasts. Naturally, the roast beef is their speciality – they only use premium dry aged sirloin for their roasts, perfectly cooked and cut to order. If beef isn't your thing, you can also enjoy roasted whole spring chicken instead. They are just as proud of their sides as they are of their meats, so to accompany your chosen meat you'll enjoy roast potatoes, Yorkshire puddings, honey glazed parsnips, beef fat roasted carrots & truffled cauliflower cheese, creamed cabbage, and leek with bone marrow and Malbec sauce. Delicious!
IB Deal: 15% off the bill when dining on the A La Carte Menu (excluding Saturdays) [Mention the IB App when booking and show your valid IB App on arrival to redeem the offer]
The Plough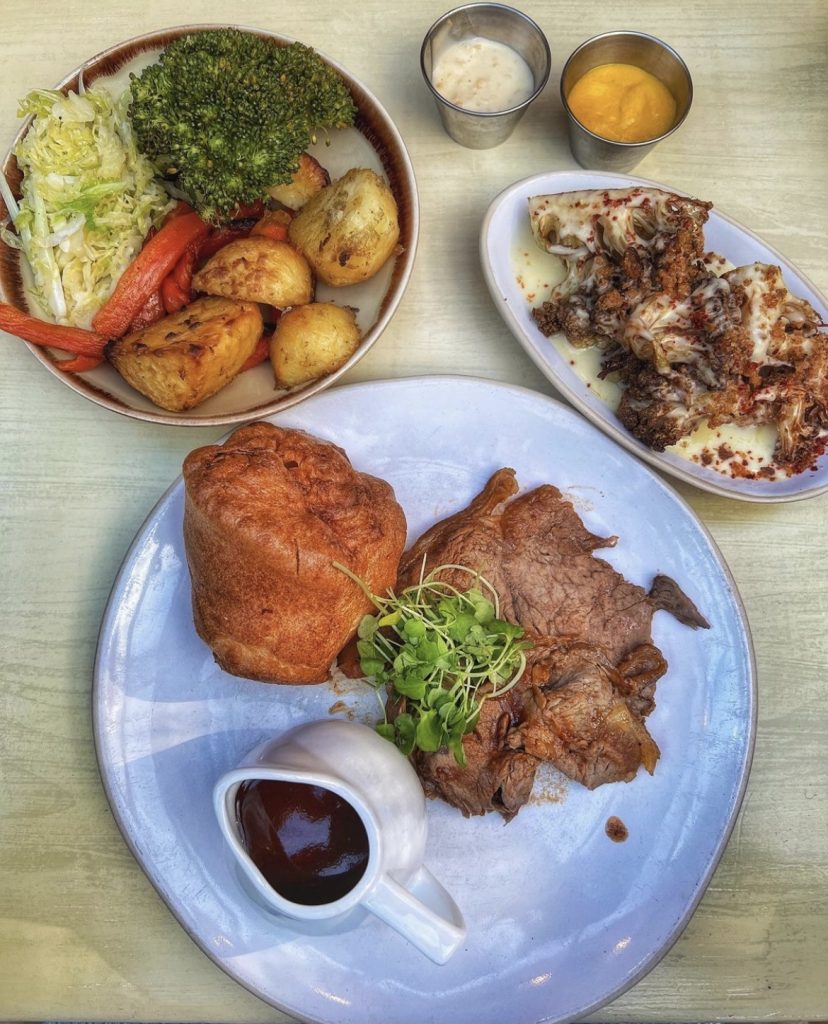 Photo Credit: IG@alex_tz78
Location: 21 High Street, Harborne, B17 9NT
This crowd-pleasing local favourite serves up delicious dishes all week long. From their brunch to their pizzas, you can't go wrong with a meal at The Plough. Naturally, this applies to their delicious Sunday Roasts too. Settle in to this cosy neighbourhood pub and tuck into classic roast sirloin of beef (or tasty mushroom and courgette wellington for veggies) with all the trimmings (we're talking Yorshire puds, roast potatoes, cauliflower cheese, vegetables, and homemade gravy). Yum! We'll see you there!
IB Deal: 10% off food
The Oyster Club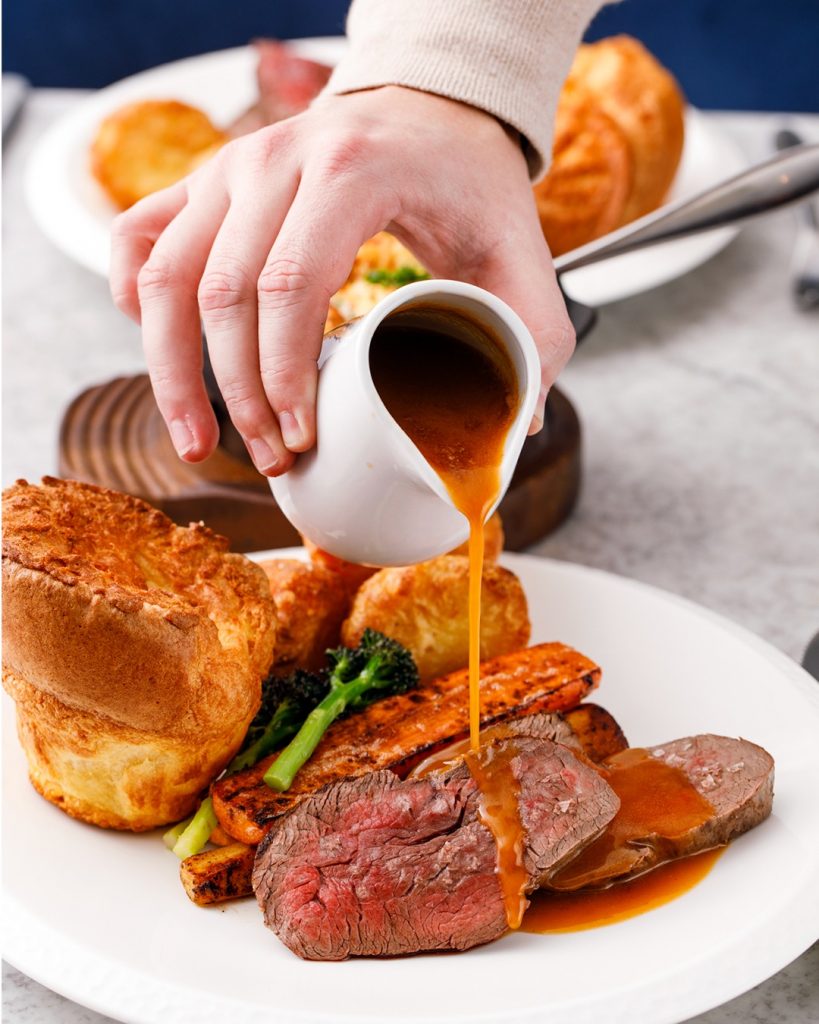 Location: 43 Temple Street, B2 5DP
The Oyster Club might not be your first thought when looking for somewhere to enjoy a delicious Sunday Roast in Birmingham, but let us tell you this – it's one of the best. Although they do specialise in cooking glorious seafood dishes, the chefs also know their way around a good roast. Enjoy incredible Chateaubriand of Wiltshire Beef served with Yorkshire pudding, roast potatoes, orange and honey carrots, tenderstem broccoli, truffled cauliflower cheese, and gravy. One bite and you'll be in foodie heaven.
IB Deal: 15% off the bill (excluding caviar and set menus)
Upstairs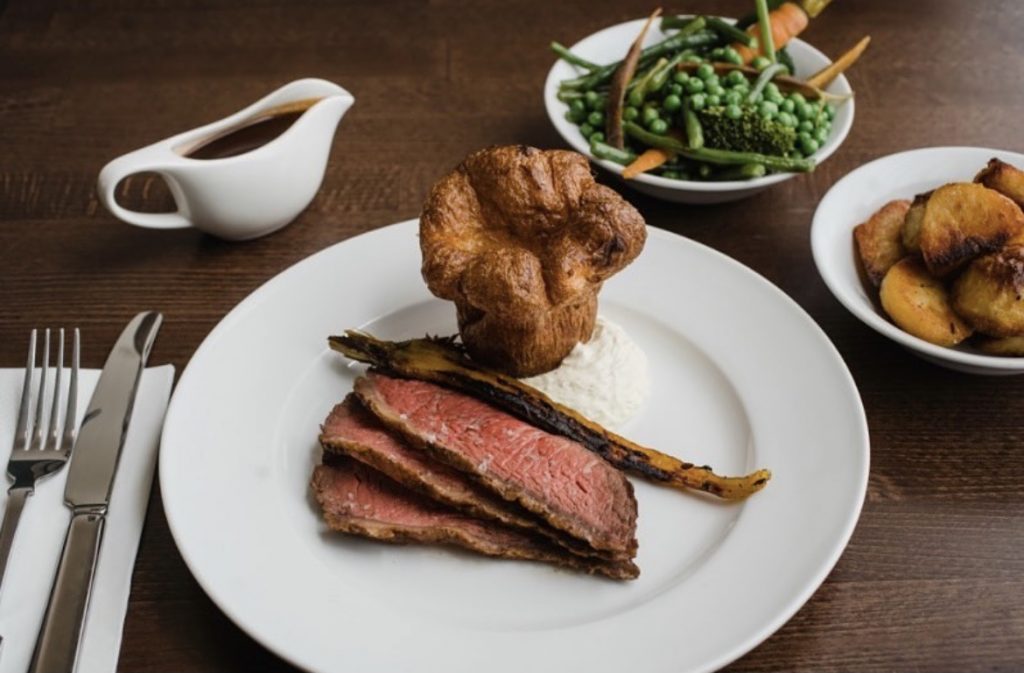 Location: 25 York Road, Kings Heath, B14 7SR
Relative newbie Upstairs, located above Grace + James, has been making waves on the foodie scene thanks to their delicious brunch and evening menus. But plot twist, it might be their Sunday Roast that makes you fall in love with this place the most. They have worked hard to create their version of the perfect roast, sourcing and using the best quality ingredients. The menu changes regularly but expect the likes of Dunwood Farm roast beef rump cap with Yorkshire pudding, roast heritage carrot, horseradish creme fraiche, seasonal veg, aged beef fat roasties, and gravy. A dreamy Sunday lunch to add to your list.
Low 'N' Slow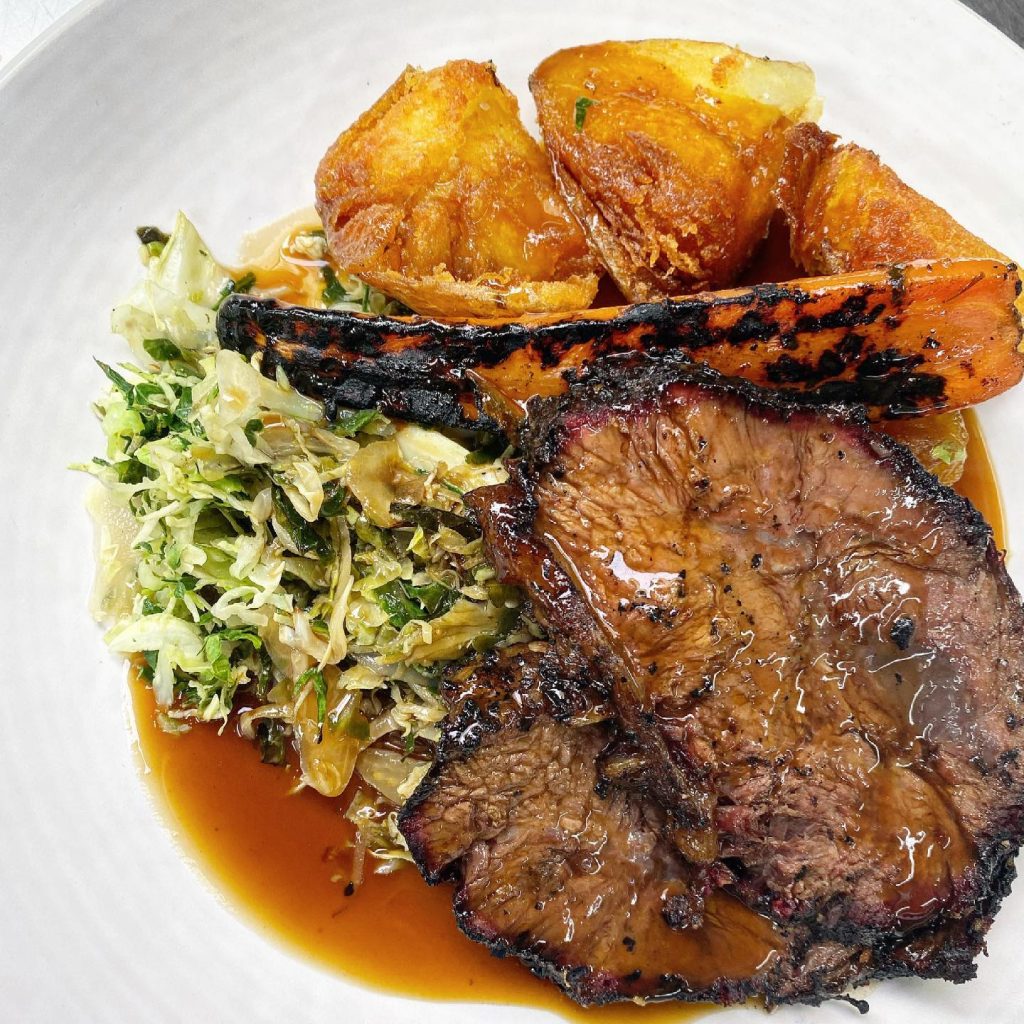 Location: Hockley Social Club, 60 Hampton Street, B19 3LU
Specialising in all things BBQ, street food trader Low 'N' Slow have acquired themselves a cult following over the years. In their permanent home at Hockley Social Club they serve up their usual BBQ delights, but on a Sunday the magic happens and you can get your hands on their highly coveted Sunday Roasts. Enjoy wood-fired native breed meats accompanied by equally flavourful sides, from the gravy which is a true labour of love, to the BBQ veg and perfectly crispy roast potatoes. Chilled vibes, insanely delicious food – what more could you want from a Sunday?
Purecraft Bar & Kitchen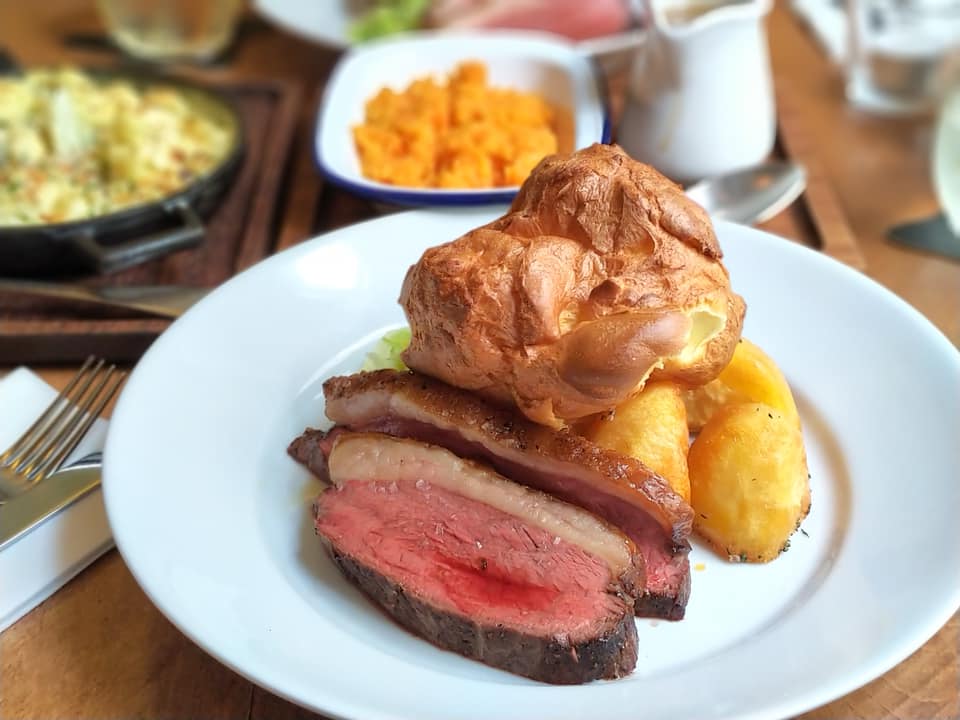 Location: 30 Waterloo Street, B2 5TJ
This modern city centre pub is all about good food and great beer. Their Sunday lunch offering comes with two choices: BBQ'd half chicken or BBQ'd onglet of beef. Both are served with garlic and parsley butter, beef dripping potatoes, buttered hispi cabbage and honey roasted carrots. If you like proper food cooked well and you love craft beer, go grab Sunday lunch at this brilliant pub and you'll be in for a real treat.
IB Deal: 10% off the bill (Sunday – Thursday)
Smoke at Hampton Manor
Location: Hampton Manor, Shadowbrook Lane, B92 0EN
Since Smoke opened, they have been delighting customers with their incredible dishes, cooked over fire, and packed full of incredible flavours. Headed up by local chef (and Masterchef The Professionals 2019 winner) Stuart Deeley, this restaurant has recently started offering Sunday lunch and it's a winning move. Think amazing meats cooked over coals, THOSE boulangere potatoes (if you know, you know), cauliflower cheese and delicious veg. All served alongside some great tunes and a delightful wine list, this is one epic Sunday lunch.
Qbox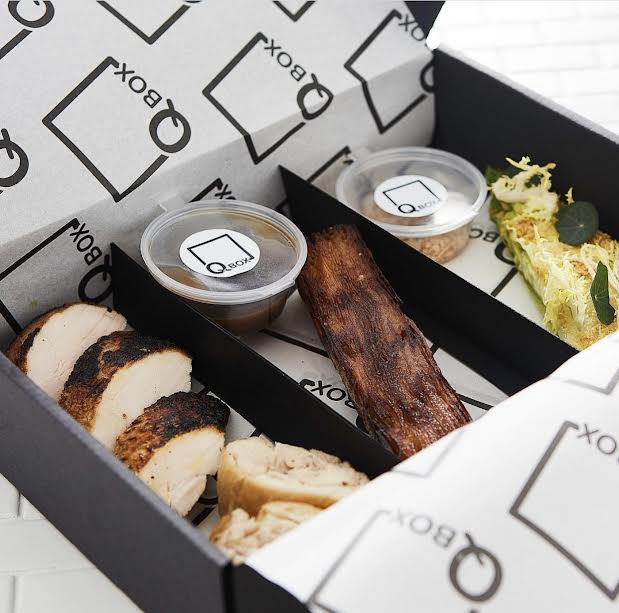 Location: 49 High Street, Harborne, B17 9NT
If you fancy a delicious Sunday lunch and don't feel like cooking, but also enjoy the comfort of your own home, then Qbox is the one for you. This brilliant fine-dining takeaway offers delicious takeaway meals made using the best seasonal ingredients for restaurant quality dishes at home. The best news is that they offer a Sunday lunch box where you can enjoy dishes such as slowly roasted chicken with crispy skin served with creamy potato puree, carrots cooked with star anise, creamed cabbage, and beautiful rich gravy. Order your Sunday roast, collect it, and enjoy. It's as simple as that.
IB Deal: A FREE 'Brazil, Yellow Bourbon' Espresso when you purchase lunch
Urban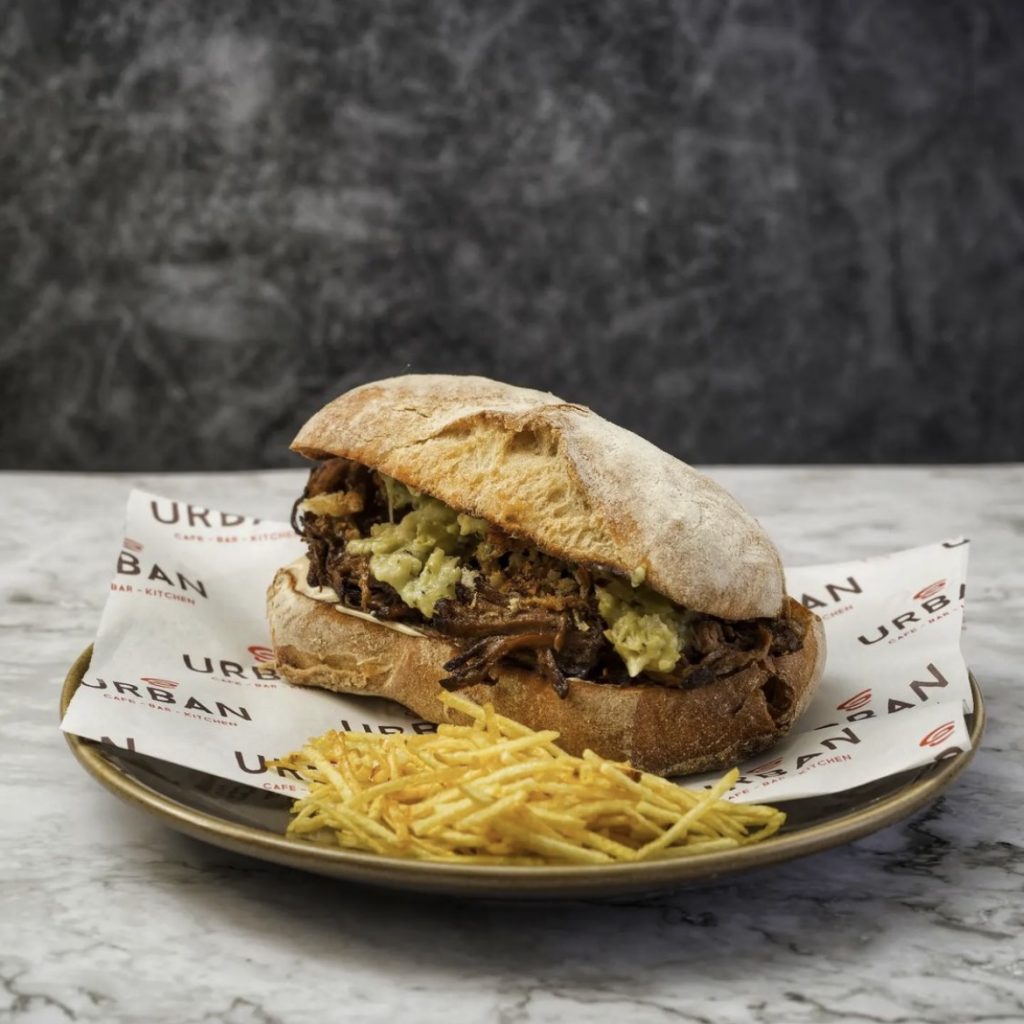 Location: 30 Church Street, B3 2NP
What's better than a Sunday roast? A Sunday roast in a sandwich! That's what. Luckily, Urban have stepped in to bringing us just such a delight. Served on toasted Baked In Brick ciabattas with a side of shoestring crisps, these are some serious sandwiches. Choose from pulled garlic and lemon chicken, pulled peppercorn beef brisket, pulled pork shoulder or smoky vegan meatballs. Served with all the trimmings including onion gravy mayo, apricot, sage and mixed nut stuffing, and smoked cheddar cauliflower and broccoli cheese puree, you need to get your hands on one of these asap. And in utterly game-changing news, these epic sandwiches are available all week so if you're craving a roast on a Tuesday, you can get your fix without waiting until the weekend! We like your style, Urban.
IB Deal: Any medium hot drink and cake for £4.50 (Church Street and JQ)
Chapter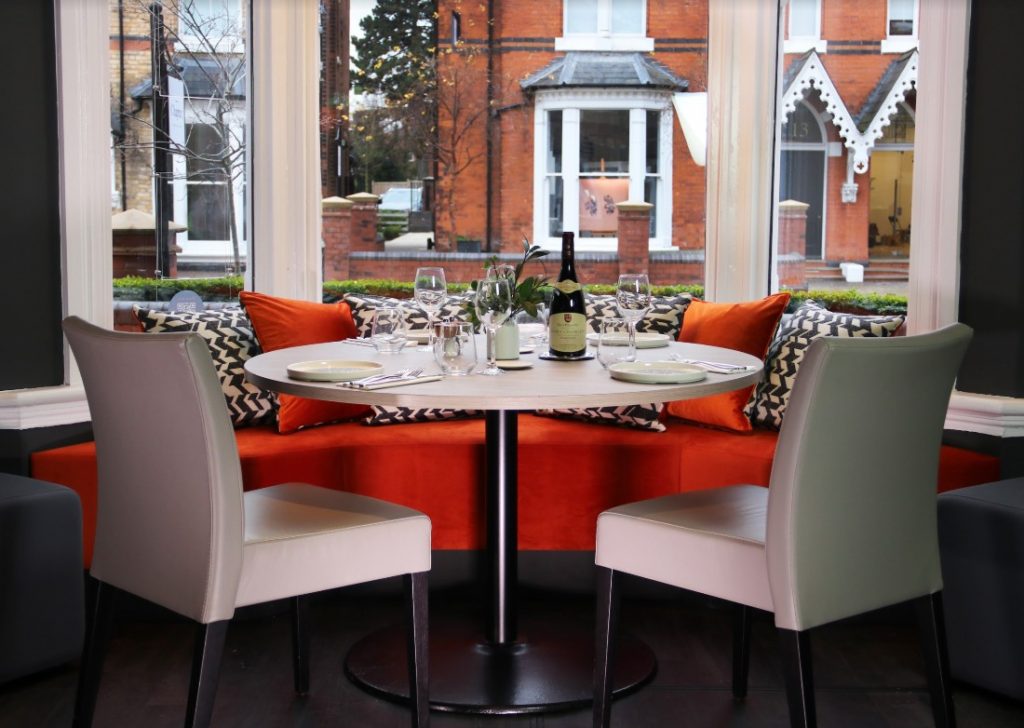 Location: 5 Greenfield Crescent, Edgbaston, B15 3BE
This neighbourhood bar and restaurant, found in the lovely suburb of Edgbaston, serves some truly delicious food. Perhaps better known so far for their brunch (including THAT skillet dish), they also offer a sensational Sunday roast option. Choose between roast beef (dry aged rump, Yorkshire pudding, shallot confit), market fish (fillet, parsley puree, fish red wine sauce), mushroom (Jerusalem artichoke, crispy cavolo, truffle oil) or the weekly butchers special with seasonal garnish. All are served with roast potatoes and seasonal vegetables and there are a selection of delicious starters and puddings available to choose from too.
IB Deal: 10% off the bill (excluding the tasting menu)
The Wolf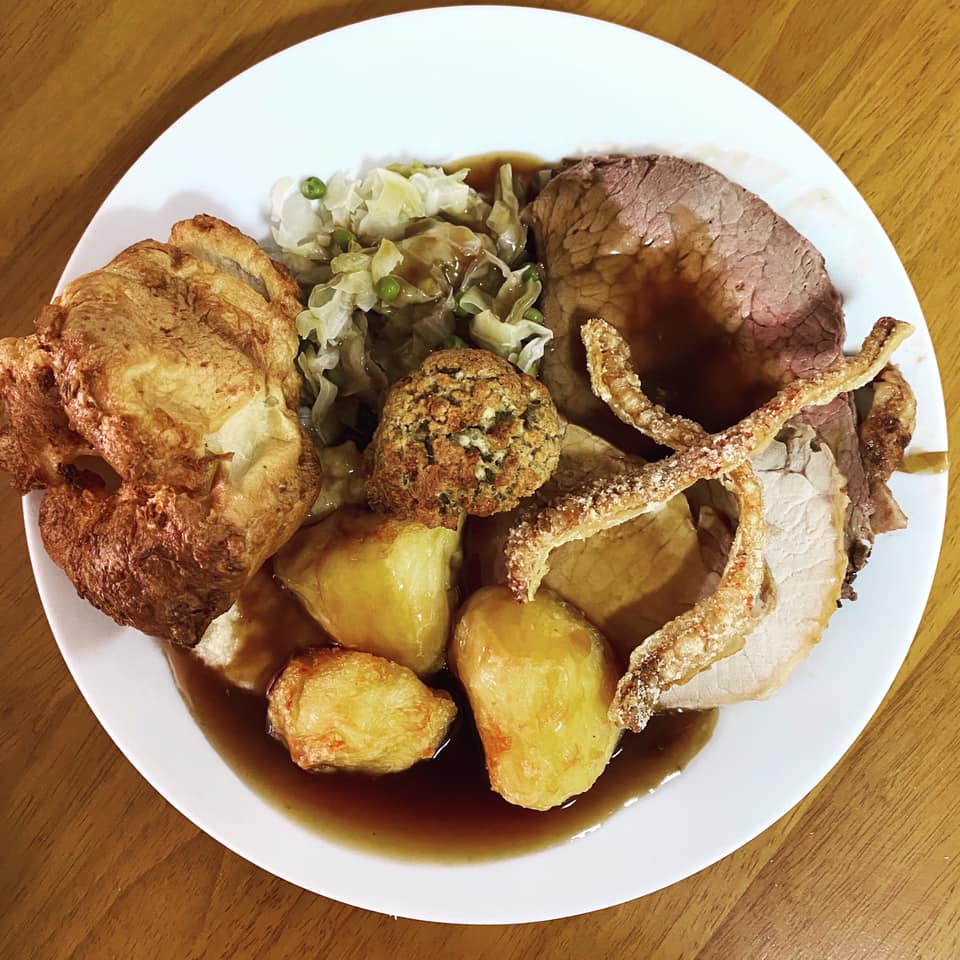 Location: 2 – 10 Constitution Hill, B19 3 LY
One of the things we love about Sunday Roasts is the pure comfort they bring us. Sometimes you just need a good, traditional roast, nothing fancy, just comfort on a plate. One of the best places to enjoy a proper, traditional roast like your nan used to make is at The Wolf. Choose from beef, pork, veggie or vegan, and enjoy a hearty roast with all the trimmings. Order an amazing craft beer to accompany said heart-warming roast and you have the Sunday of dreams. Well done you.
IB Deal: 15% off the bill
1000 Trades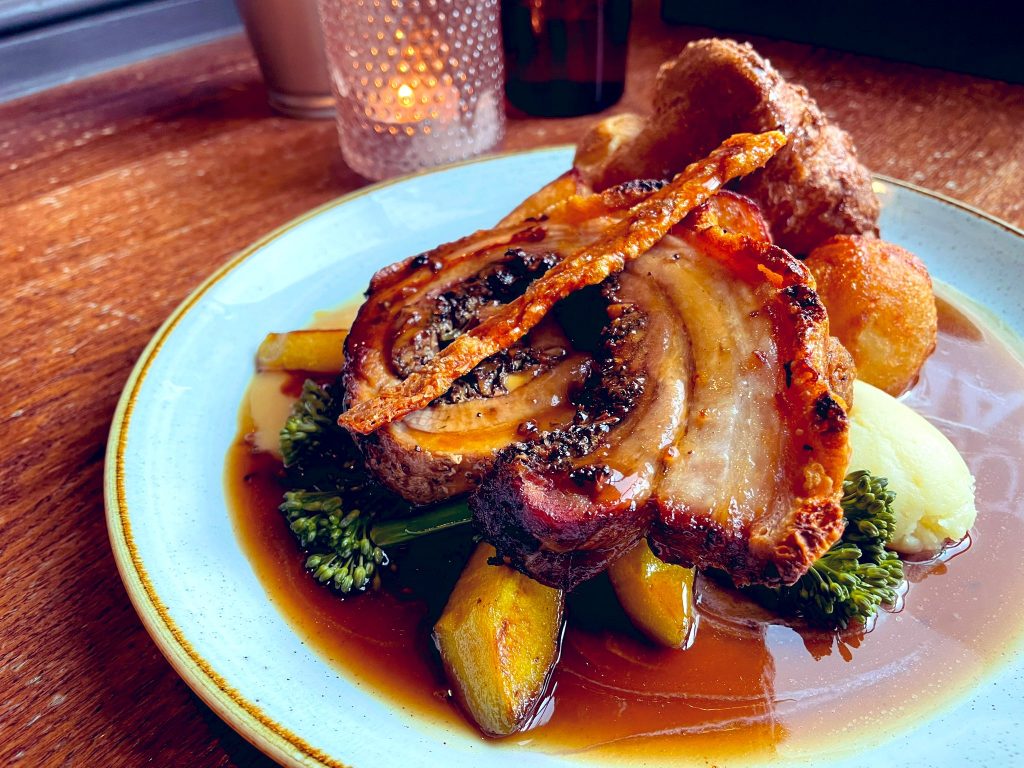 Location: 16 Frederick Street, Jewellery Quarter, B1 3HE
With the return of Autumn comes the return of the 1000 Trades Sunday Roast menu, and Birmingham rejoices. This wonderful JQ pub serves their delicious roasts throughout the chillier months and they are some seriously heart-warming plates of roastie goodness. Enjoy the likes of slow roasted saddle of Gower salt marsh lamb, Packington Farm roasted loin of pork on the bone, or vegetable wellington, or to share enjoy roasted Welsh Black 35 day dry-aged rib of beef or whole roast free range chicken. Whichever you choose, they're all served with red wine-braised red cabbage, glazed heritage carrots, Maris Piper roasts, greens, Yorkshire pudding, creamed leeks, herb and onion stuffing, and proper gravy.
IB Deal: 10% off drinks (excluding Friday and Saturday evening, after 6pm)
Jacques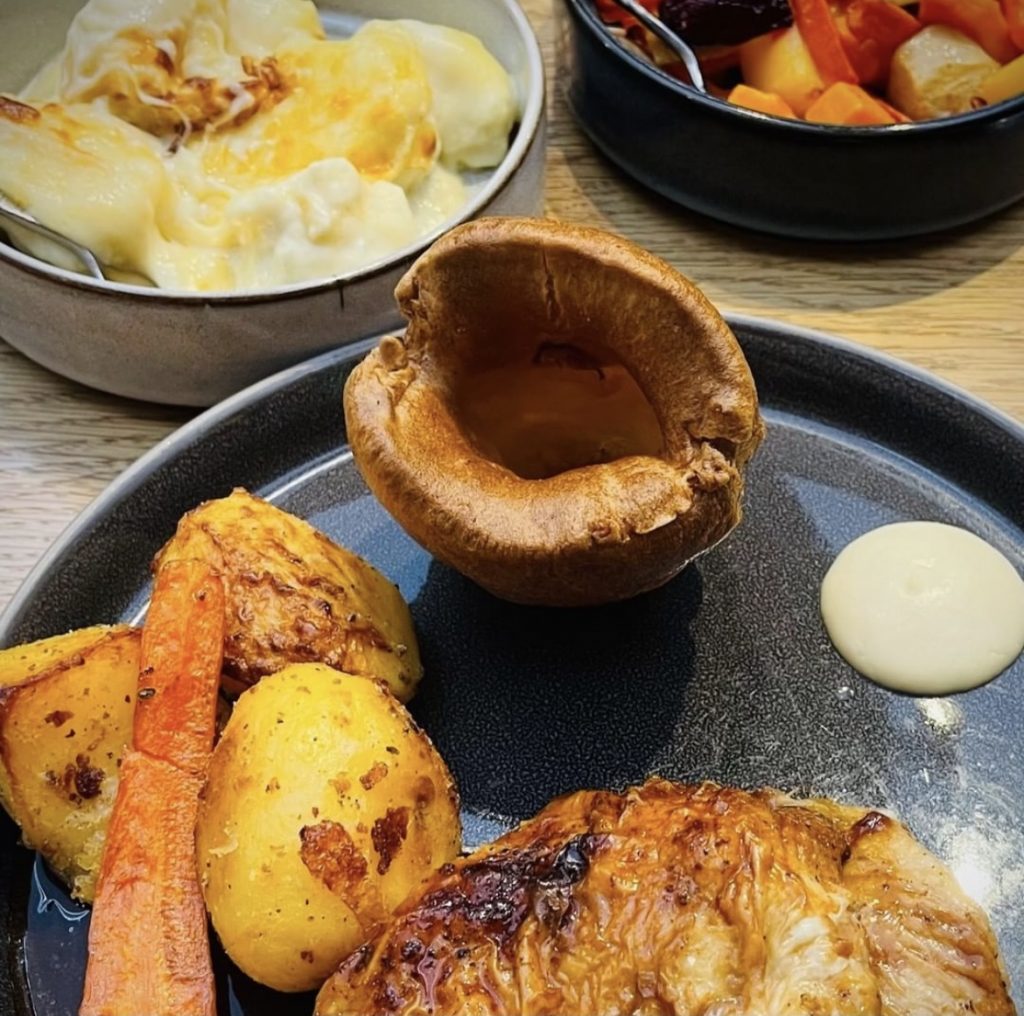 Location: 1630 High Street, Knowle, B93 0LB
This stunning restaurant (found in a picturesque building on the lovely Knowle High Street) is all about indulging in the finer things in life, and their Sunday lunch menu is no exception. With the options to start with oysters or caviar, and a wonderful grass-fed, 32 day dry-aged Wagyu steak on the menu, you can definitely indulge here. But just as delicious is their traditional Sunday roast (with your choice of pork belly, British roast beef or roast chicken served with roast potatoes, Yorkshire pudding and seasonal vegetables).
IB Deal: 2 FREE cocktails (one for you, one for a friend) when both guests are dining for lunch or dinner (excluding Friday and Saturday evenings)
The Loft Bar & Kitchen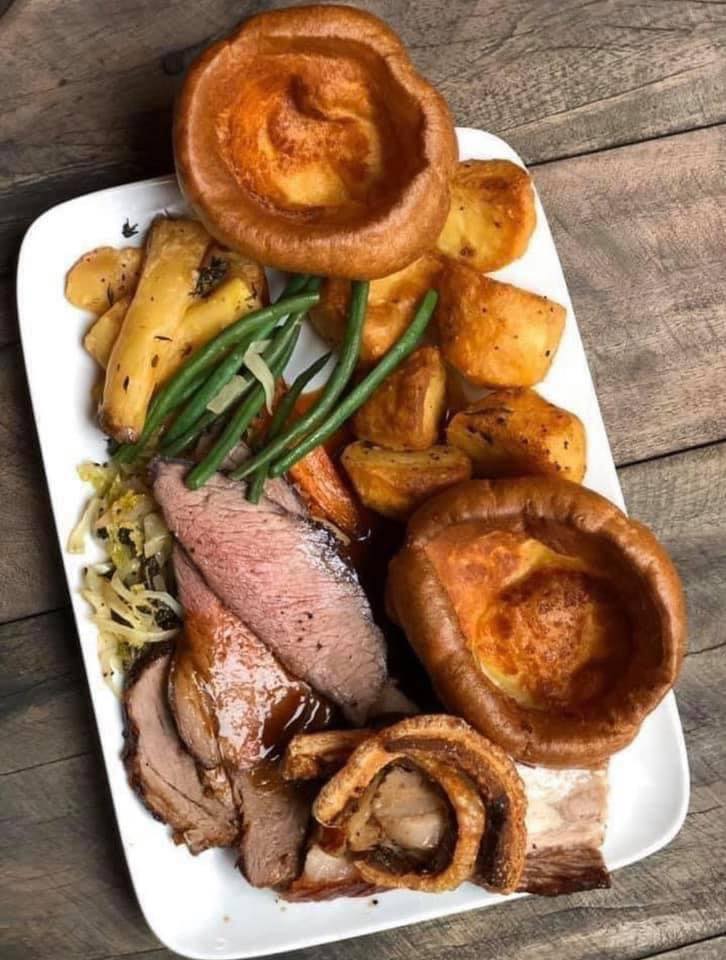 Location: 143 Bromsgrove Street, B5 6RG
This lively bar is best known for its night life, but we're here to tell you that they also do a brilliant Sunday roast. This is home-style cooking with generous portions in a friendly restaurant/bar. Choose from roast rump cap of beef, Cotswold chicken, roast leg of lamb, pork belly or Chef's nut roast and enjoy with all the trimmings (a giant Yorkshire pudding, beef fat potatoes, butter braised hispi cabbage, roasted parsnips, green beans, crushed swede and real gravy). If you're feeling extra peckish, they offer the option to 'go large' where you can enjoy all of the above but with your choice of three meats, an extra Yorkshire pudding and extra potatoes!
IB Deal: 25% off food
The Butchers Social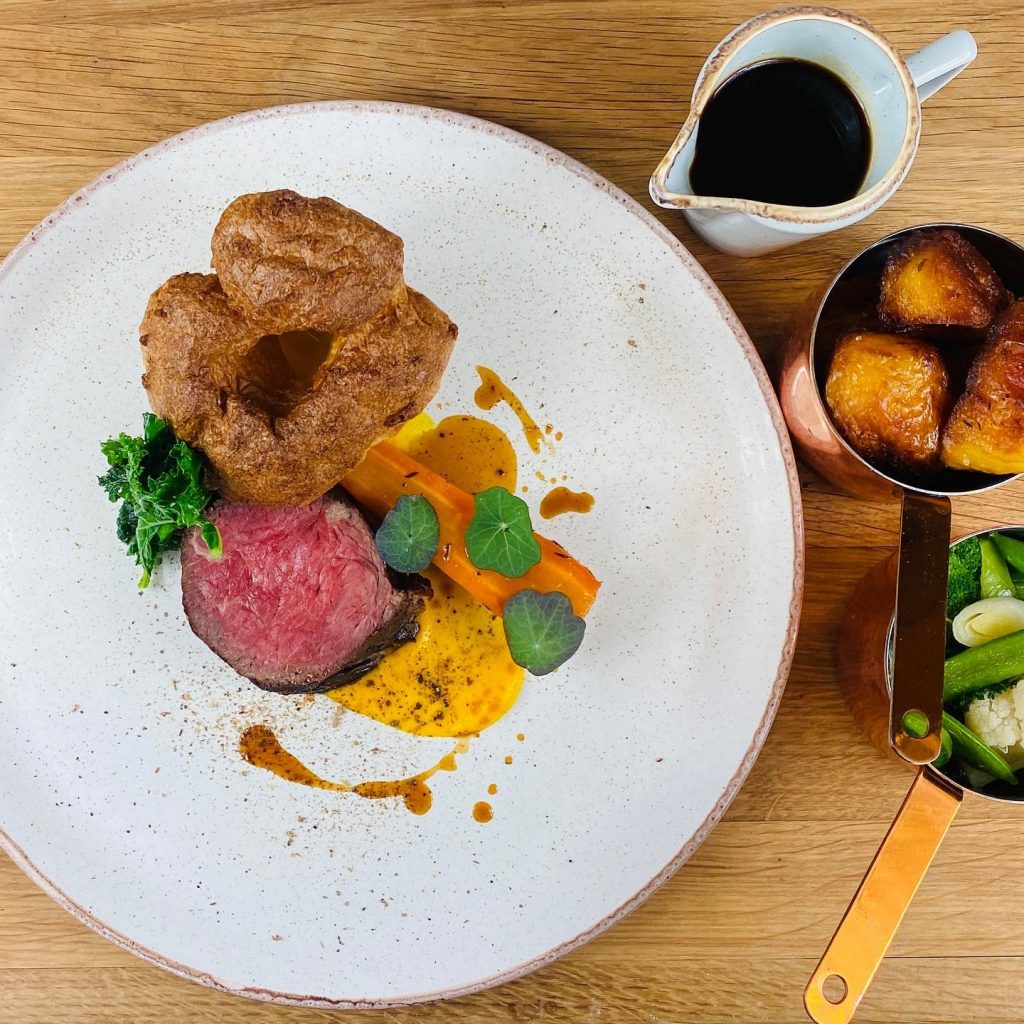 Location: 25 Station Approach, Dorridge, Solihull, B93 8JA
The Butchers Social operates out of The Forest Hotel in Dorridge, where they serve some of the most delicious plates of food around. Their Sunday roast is unmissable, featuring high quality cuts of meat (as well as fish and vegetarian options) along with mouth-watering sides (think goose fat roast potatoes, seasonal veg, carrots and parsnips, cauliflower cheese and lashings of red wine jus). The menu changes every so often but you can expect the likes of roast rump cap of beef, corn fed chicken breast or BBQ shoulder of Dunwood Farm lamb. Delish! We highly recommend you start off with a portion of their famous chicken wings too – you won't regret it!
BA-HA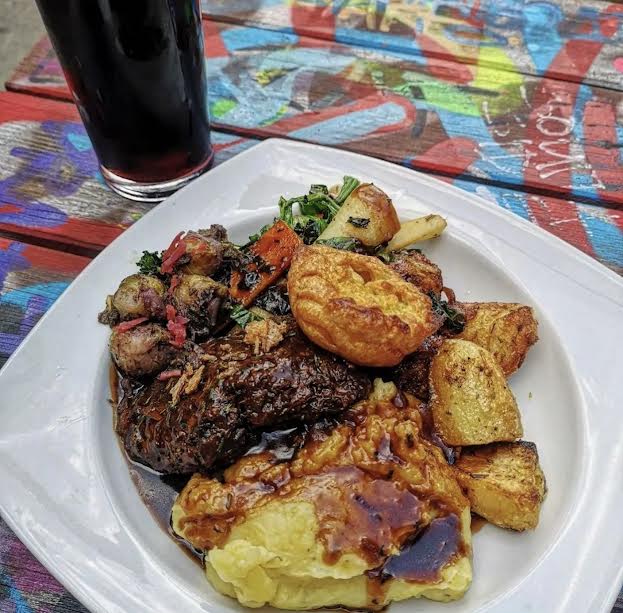 Location: The Rainbow Pub, 160 High Street, Digbeth, B12 0LD
Vegan foodie legends BA-HA have been popping up all over Birmingham for the last few years, serving their ridiculously tasty plant-based food. They've built up somewhat of a cult following thanks to their delicious plant-based eats and have now found a permanent home in the newly re-opened The Rainbow Pub. Their roasts usually feature the likes of slow-marinated jack and seitan slice in Guinness and onion gravy, crispy golden fried king oyster mushroom with garlic herb butter, or lentil and mixed vegetable loaf with herb crust, all served with creamy mash, sautéed greens, charred vegetables, stuffing balls, roasties and gravy. Yum!
The Boot Inn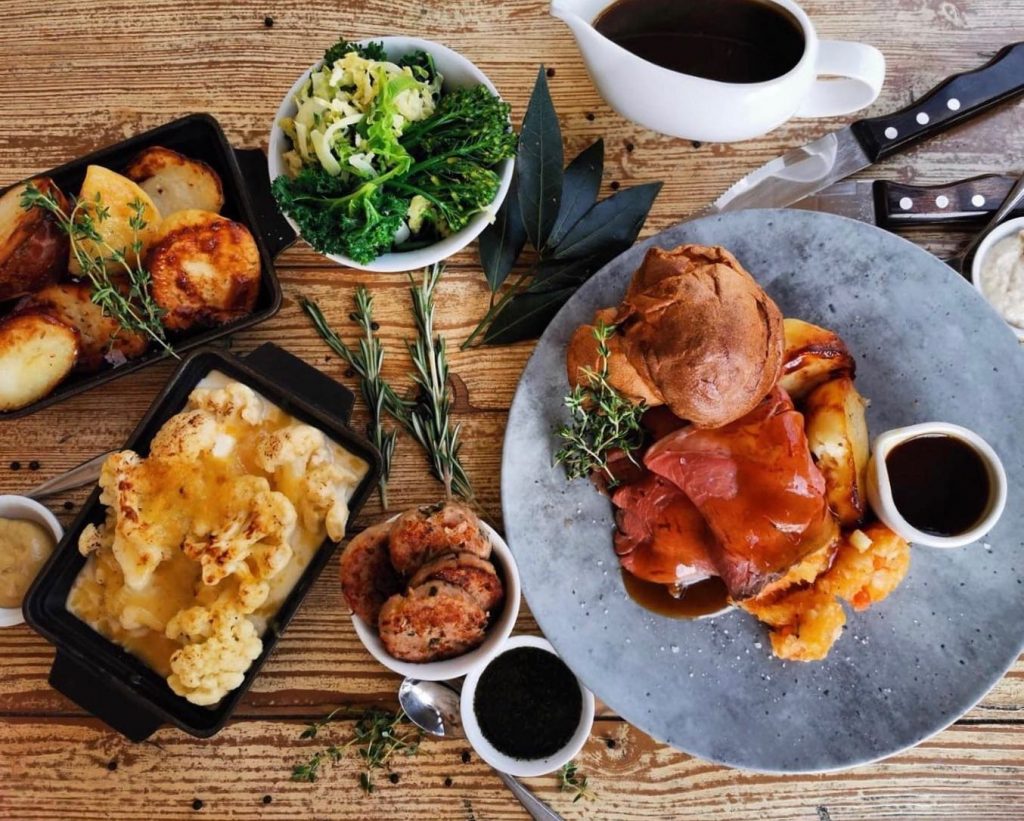 Location: Old Warwick Road, Lapworth, B94 6JU
Sunday lunch is best enjoyed in a country pub: fact. This canal-side pub is a firm favourite, and their Sunday lunch is one of the best. Served with all the trimmings, this brilliant gastro pub knows how to do a great roast. Whether you go for a walk along the canal before or after your lunch is up to you (or both if you're feeling wild) but we highly recommend you take in the scenery and the fresh air to accompany your pub lunch and make that Sunday truly relaxing.
The Malt Shovel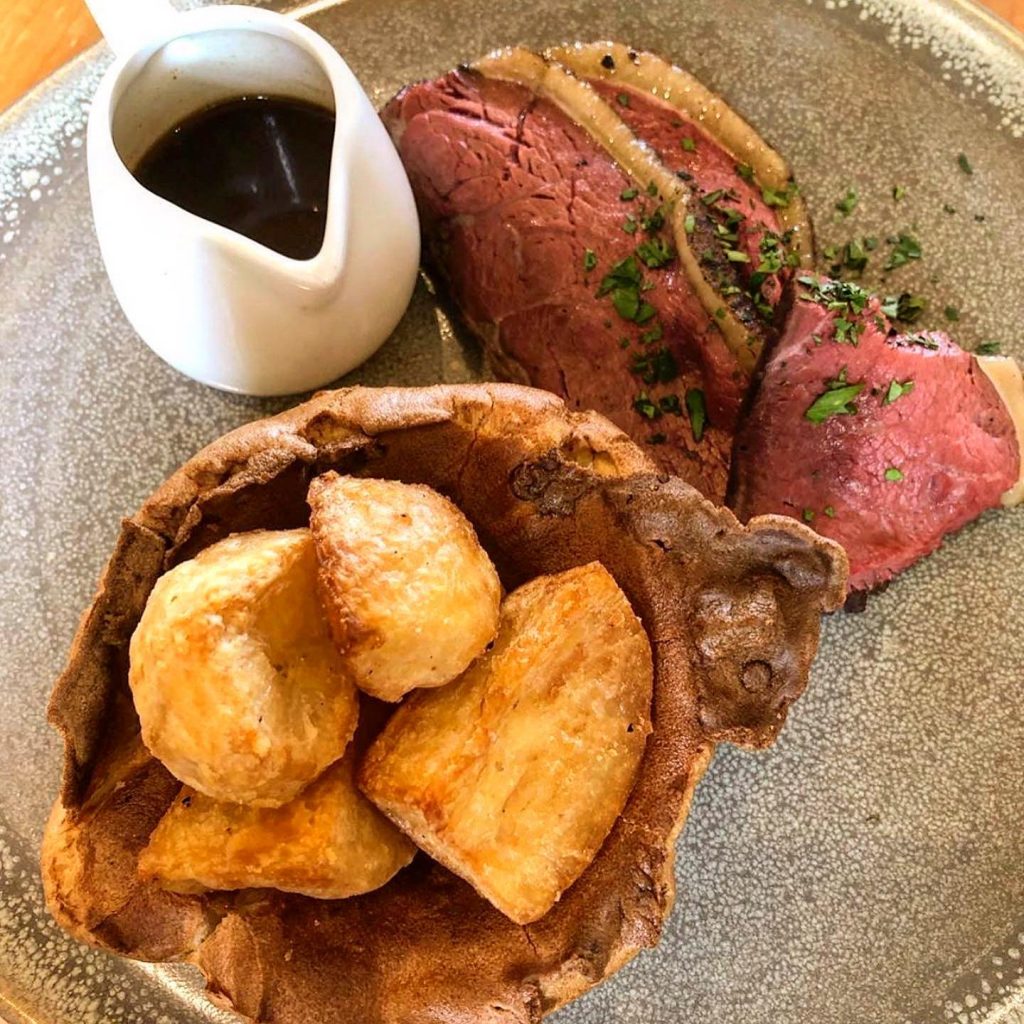 Location: Barston Lane, Solihull, B92 0JP
This brilliant gastro pub in Soihull is the perfect place to enjoy a delicious lunch or dinner, whether casual or celebratory and their Sunday lunch is just as good as the rest of their tasty menu. Choose from roast beef with Yorkshire pudding, free range roast pork with stuffing and apple chutney or free range roast chicken with stuffing. All of their roasts are served with rosemary and thyme potatoes, seasonal vegetables and jus, and all are utterly delicious and will leave you feeling very content.
Verbena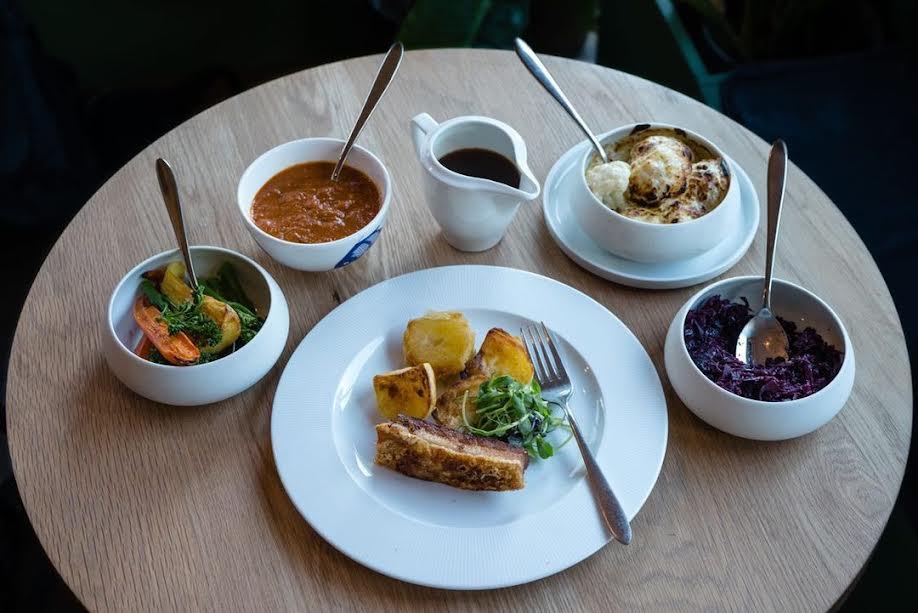 Photo Credit: IG@babbshootsit
Location: 1474 Pershore Road, Stirchley, B30 2NT
Stirchley favourite Verbena specialise in seasonal, modern British dishes. They take the very best seasonal ingredients (often foraged from within just a couple of miles of the cafe) and turn them into delicious plates of food, packed full of flavour. Their menu changes regularly but their Sunday roast is always delicious. Choose between pork belly with apple sauce and crackling or rare beef rump with Yorkshire pudding (both served with roast potatoes, carrots and tenderstem broccoli, cauliflower cheese, gravy, and their house vindaloo). If you still have room after all that, a dessert is a must, especially with options like the sticky toffee pudding with caramelised pineapple and sticky toffee sauce. Head to Stirchley for one of the tastiest roasts around, you can thank us later.
The Best Of The Rest
There are so many great options for your Sunday lunch in Birmingham, and we couldn't possibly list them all. Whilst we have chosen 15 of the very best to showcase in this article, there are so many more that deserve an honourable mention too. So in no particular order, here are some other excellent options for your Sunday Roast:
The Village, Saint Paul's House, Ju Ju's Cafe, The Navigation, The Punchbowl, No.1 Dovehouse Parade, Kitchen Garden Cafe, The Ruin, Tarragon Bistro, Platform Three, The Sun on the Hill, The Bull's Head in Barston, Al-Qamar Restaraunt.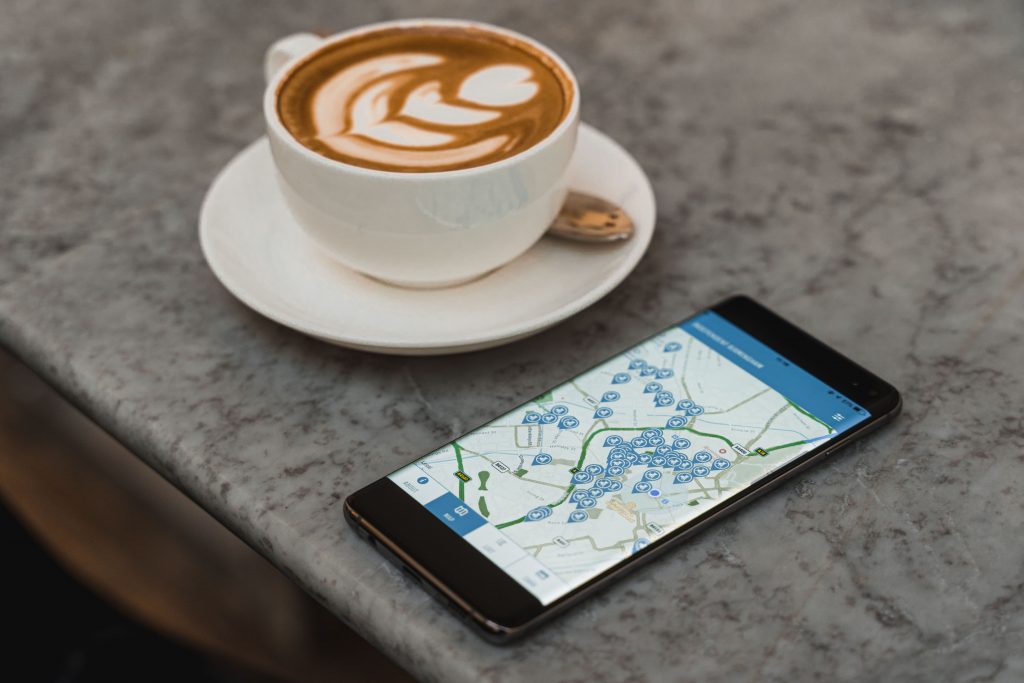 Download the Independent Birmingham App now and enjoy up to 25% off (alongside exclusive 2-for-1 offers, freebies, and more) at over 150 of the very best independents across Birmingham and Solihull – all for just £1.99 a month!
Download the IB App here.
The IB App features a list of over 150 terrific independents across Birmingham and Solihull for you to discover and support (with more added all the time), alongside an interactive map, filters (so you can filter by category, day, and area) and a Wish List so you can create your very own bespoke 'to visit' list. IB Membership is just £1.99 a month and it helps to keep this vital platform alive and allows us to keep doing what we do best – supporting Brum's marvellous independents, and shining a light on our wonderful city.