It's one of the most British things to exist, along with Fish and Chips, apologising for everything, queuing, and talking about the weather. We're talking about the Sunday Roast.
Whether it's gathered around the family table each week, or cosied up in a country pub on a blustery day, we can't get enough of that good old traditional Sunday Roast. It's pretty easy to see why – it's comfort food at it's finest, like a warm hug from your nan on a plate. Succulent roast meats, crispy, fluffy roasties, seasonal veggies, lashings of rich gravy, and huge Yorkshire puddings – we like ours with all the trimmings. If you too like a damn fine roast, then read on because we've rounded up 25 of the very best most mouth-watering Sunday roasts you can enjoy in Birmingham.
Note: This is not a list of every single place in Birmingham who offer a Sunday roast, just our pick of the very best.
The Plough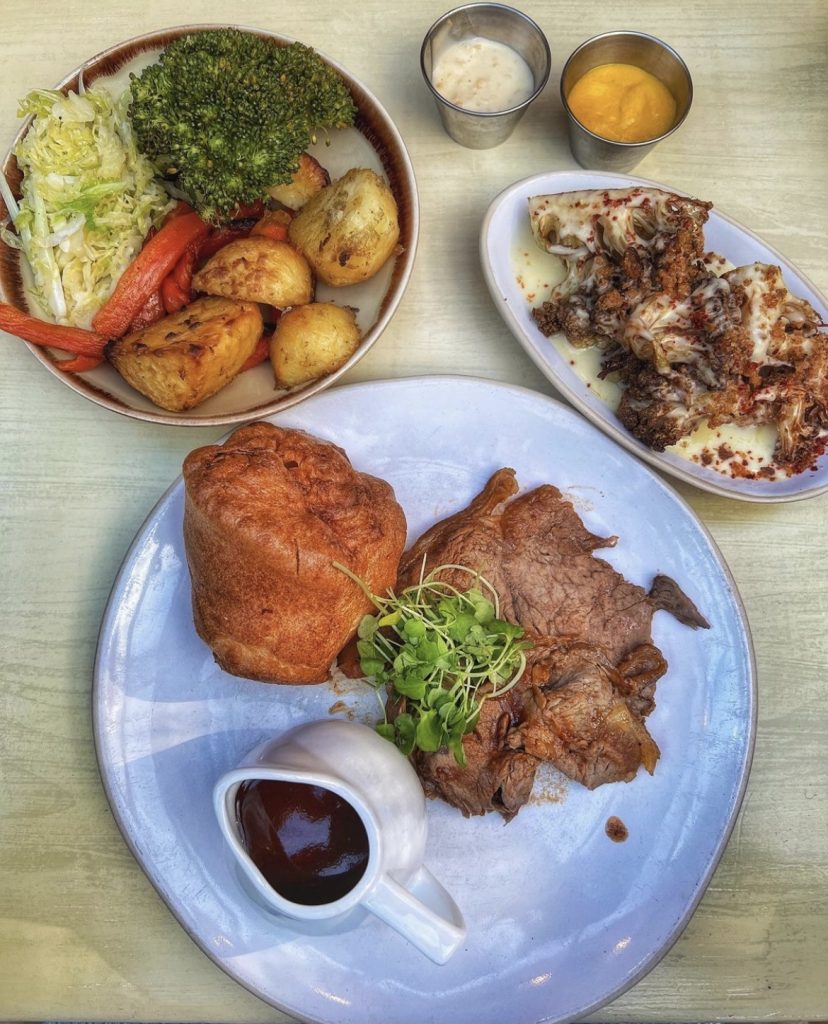 Photo Credit: IG@alex_tz78
Location: 21 High Street, Harborne, B17 9NT
This crowd-pleasing local favourite serves up delicious dishes all week long. From their brunch to their pizzas, you can't go wrong with a meal at The Plough. Naturally, this applies to their delicious Sunday Roasts too. Settle in to this cosy neighbourhood pub and tuck into classic roast sirloin of beef (or tasty mushroom and courgette wellington for veggies) with all the trimmings (we're talking Yorshire puds, roast potatoes, cauliflower cheese, vegetables, and homemade gravy). Yum! We'll see you there!
IB App Deal: 10% off food
The Oyster Club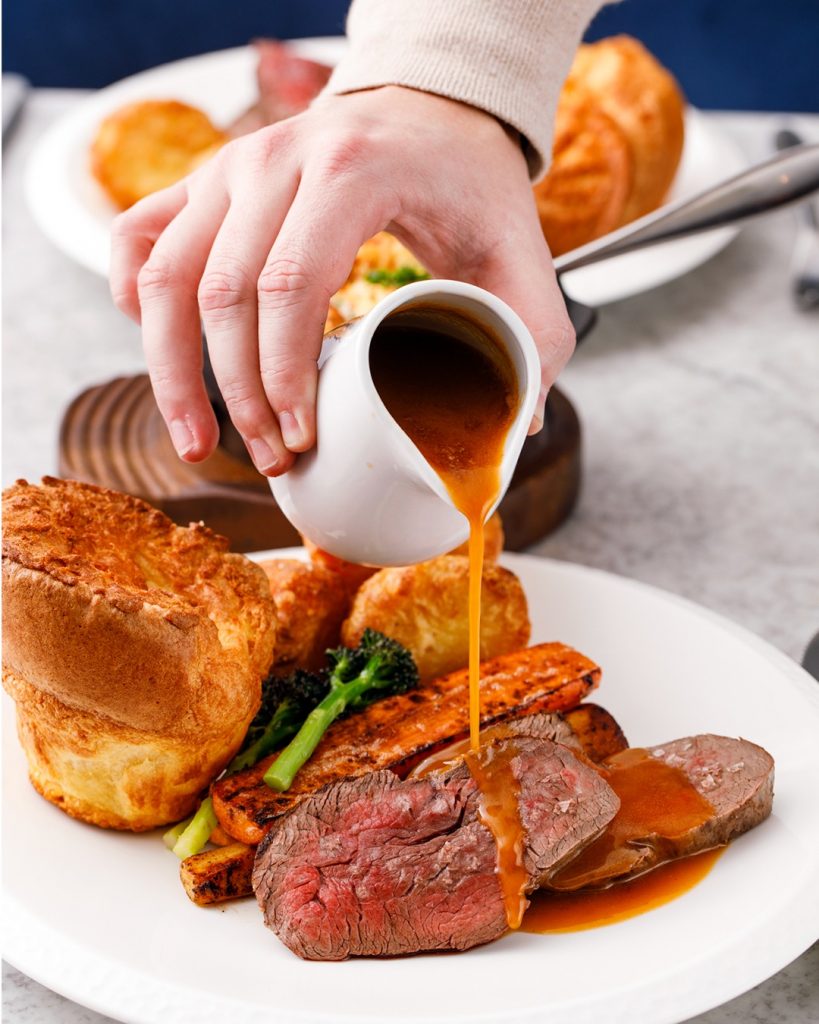 Location: 43 Temple Street, B2 5DP
The Oyster Club might not be your first thought when looking for somewhere to enjoy a delicious Sunday Roast in Birmingham, but let us tell you this – it's one of the best. Although they do specialise in cooking glorious seafood dishes, the chefs also know their way around a good roast. Enjoy incredible Chateaubriand of Wiltshire Beef served with Yorkshire pudding, roast potatoes, orange and honey carrots, tenderstem broccoli, truffled cauliflower cheese, and gravy. One bite and you'll be in foodie heaven.
IB App Deal: 15% off the bill (excluding caviar and set menus)
Upstairs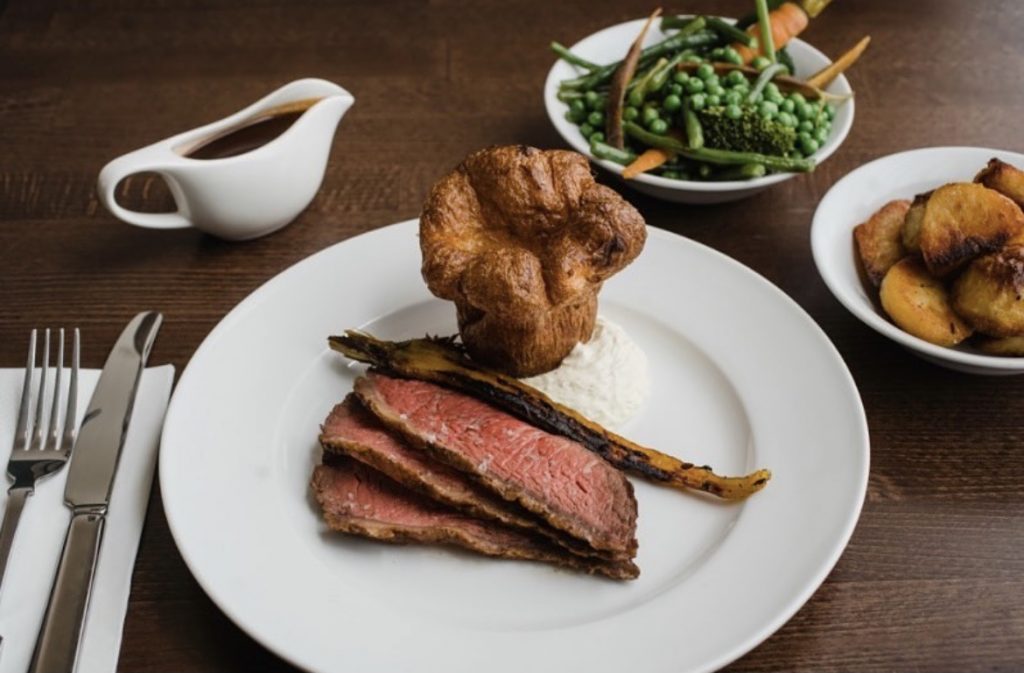 Location: 25 York Road, Kings Heath, B14 7SR
Sensational neighbourhood eatery Upstairs, located above Grace + James, has been making waves on the foodie scene. But plot twist, it might be their Sunday Roast that makes you fall in love with this place the most. They have worked hard to create their version of the perfect roast, sourcing and using the best quality ingredients. The menu changes regularly but expect the likes of Dunwood Farm roast beef rump cap with Yorkshire pudding, roast heritage carrot, horseradish creme fraiche, seasonal veg, aged beef fat roasties, and gravy. A dreamy Sunday lunch to add to your list.
Purecraft Bar & Kitchen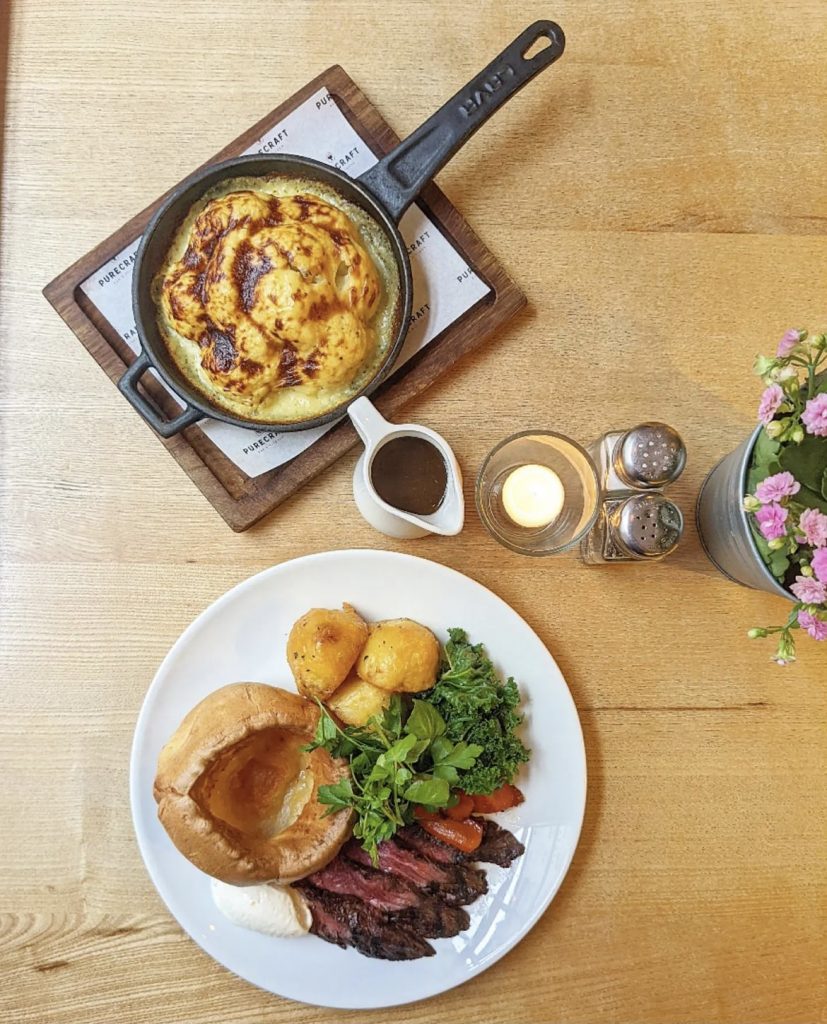 Location: 30 Waterloo Street, B2 5TJ
This modern city centre pub is all about good food and great beer. Their Sunday lunch offering comes with two choices: BBQ'd half chicken or BBQ'd onglet of beef. Both are served with garlic and parsley butter, beef dripping potatoes, buttered hispi cabbage and honey roasted carrots. If you like proper food cooked well and you love craft beer, go grab Sunday lunch at this brilliant pub and you'll be in for a real treat.
IB App Deal: 10% off the bill (Sunday – Thursday)
Smoke at Hampton Manor
Location: Hampton Manor, Shadowbrook Lane, B92 0EN
Since Smoke opened, they have been delighting customers with their incredible dishes, cooked over fire, and packed full of incredible flavours. Headed up by local chef (and Masterchef The Professionals 2019 winner) Stuart Deeley, this fantastic restaurant also offers Sunday lunch and it's a winning move. Think amazing meats cooked over coals, THOSE boulangere potatoes (if you know, you know), cauliflower cheese and delicious veg. All served alongside some great tunes and a delightful wine list, this is one epic Sunday lunch.
IB App Deal: 10% off food (Wednesday – Thursday)
The Church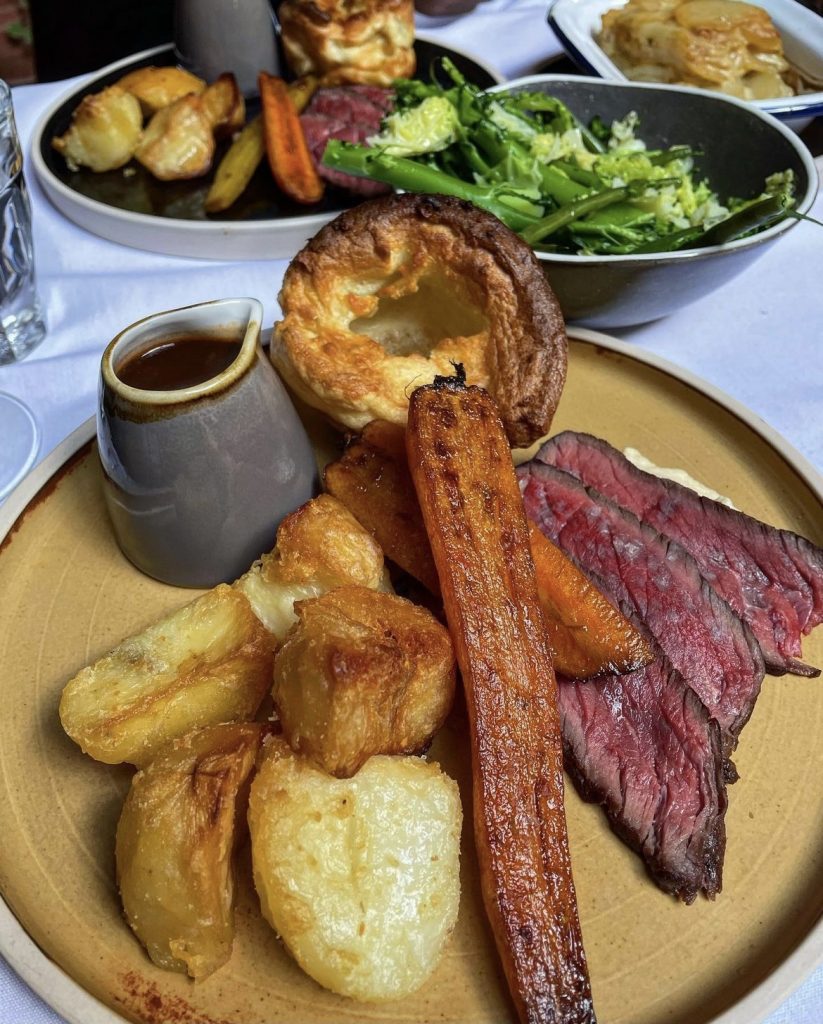 Photo: Bite Your Brum
Location: 22 Great Hampton Street, B18 6AQ
Newly refurbished The Church has been taken over by the incredible team behind Tiger Bites Pig, Trentina and Tierra and as you can imagine, this local favourite is being given a new lease of life. Their food menu is full of delicious takes on modern British pub classics and naturally, they serve an epic Sunday roast. Choose from the likes of honey-roasted ham hock, chicken supreme and lemon and herb butternut squash, all served with the tastiest trimmings. We're so happy to see one of our favourite pubs in such good hands, and a Sunday roast here is an absolute foodie must.
IB App Deal: 2 cocktails for £10 (when purchasing the same cocktail)
Brúm Mì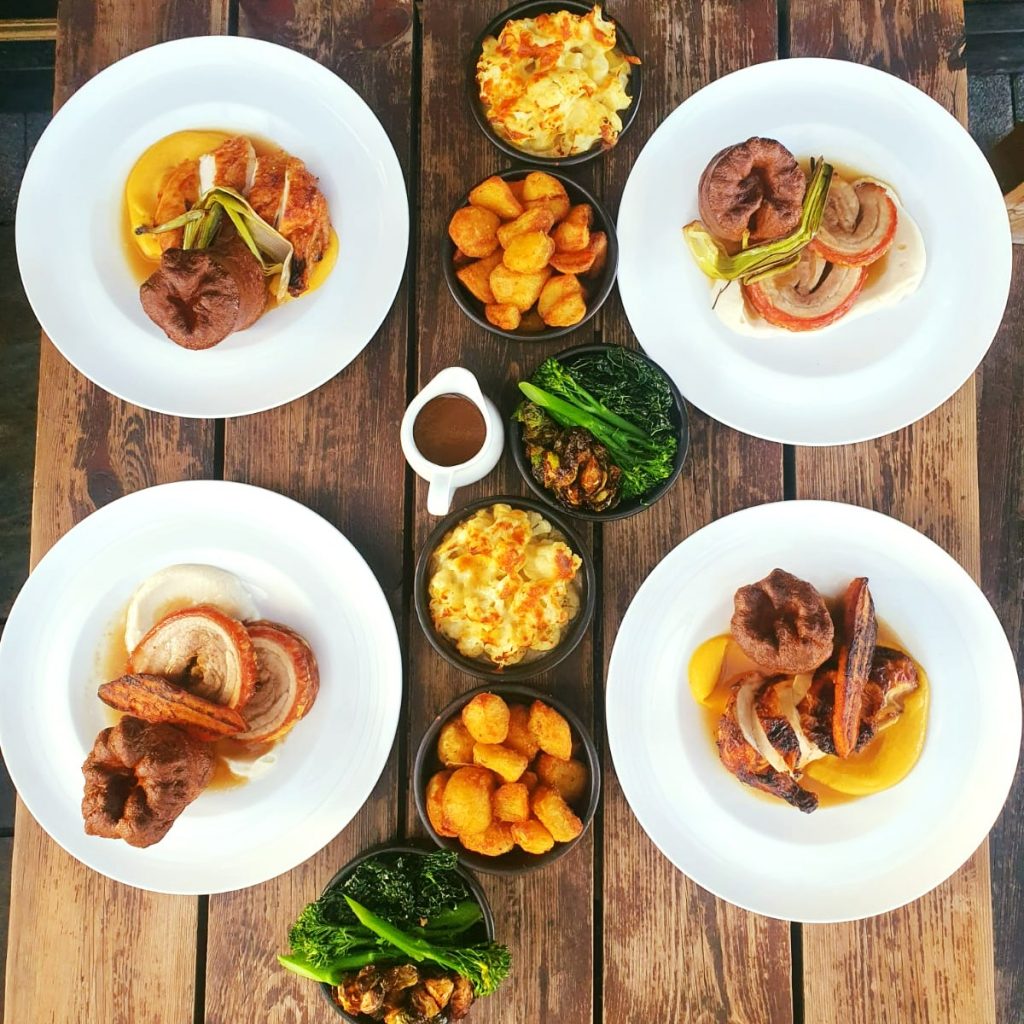 Location: The Dark Horse, 145 Alcester Road, Moseley, B13 8JP
Operating out of The Dark Horse's kitchen, Brúm Mì are best known for slinging their amazing Bánh Mì (Vietnamese street food sandwiches), but we're here to tell you they also do a bangin' Sunday roast – with their own Brúm Mì twist of course! They have corn fed chicken supreme and lemongrass stuffed porchetta as well as a new roast beef option, with a side of creamy miso cauliflower cheese (as well as crispy roasties, seasonal veg and MORE). You can also get their usual street food style dishes if you're not in the mood for a roast (but if you're not, we're really not sure why you've made it this far down an article all about roasts). Either way, the food is terrific, the drinks are by The Dark Horse (and just as good as the food) and you're sure to have a winning Sunday.
IB App Deal: 15% off food (excluding Wing Wednesdays) at Brúm Mì + 15% off craft beer at The Dark Horse
Chapter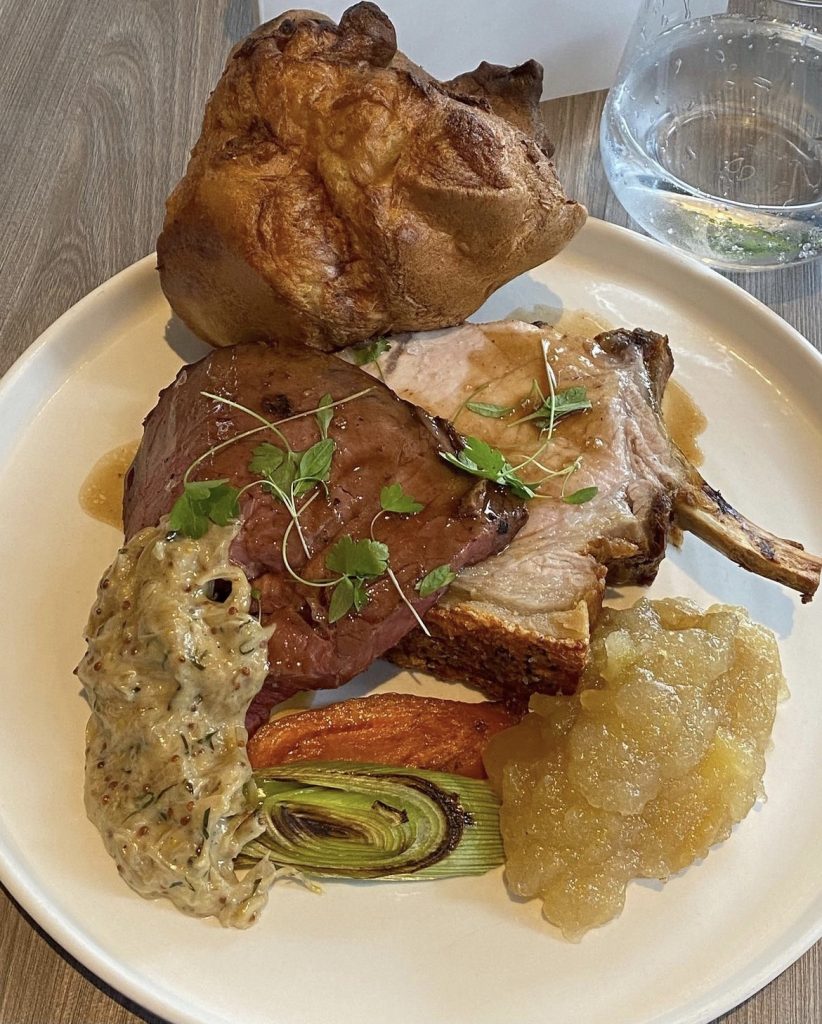 Photo: IG:@matty_bowater
Location: 5 Greenfield Crescent, Edgbaston, B15 3BE
This neighbourhood bar and restaurant, found in the lovely suburb of Edgbaston, serves some truly delicious food. Perhaps better known so far for their brunch (including THAT skillet dish), they also offer a sensational Sunday roast option. Choose between roast beef (dry aged rump, Yorkshire pudding, shallot confit), market fish (roasted squash puree, toasted seeds, fish red wine sauce), spiced roasted squash 'pie' (toasted seeds) or roast pork (Jimmy Butler rack, apple compote, crispy crackling). All are served with roast potatoes and seasonal vegetables and there are a selection of delicious starters and puddings available to choose from too.
IB App Deal: 10% off the bill (excluding the tasting menu)
The Wolf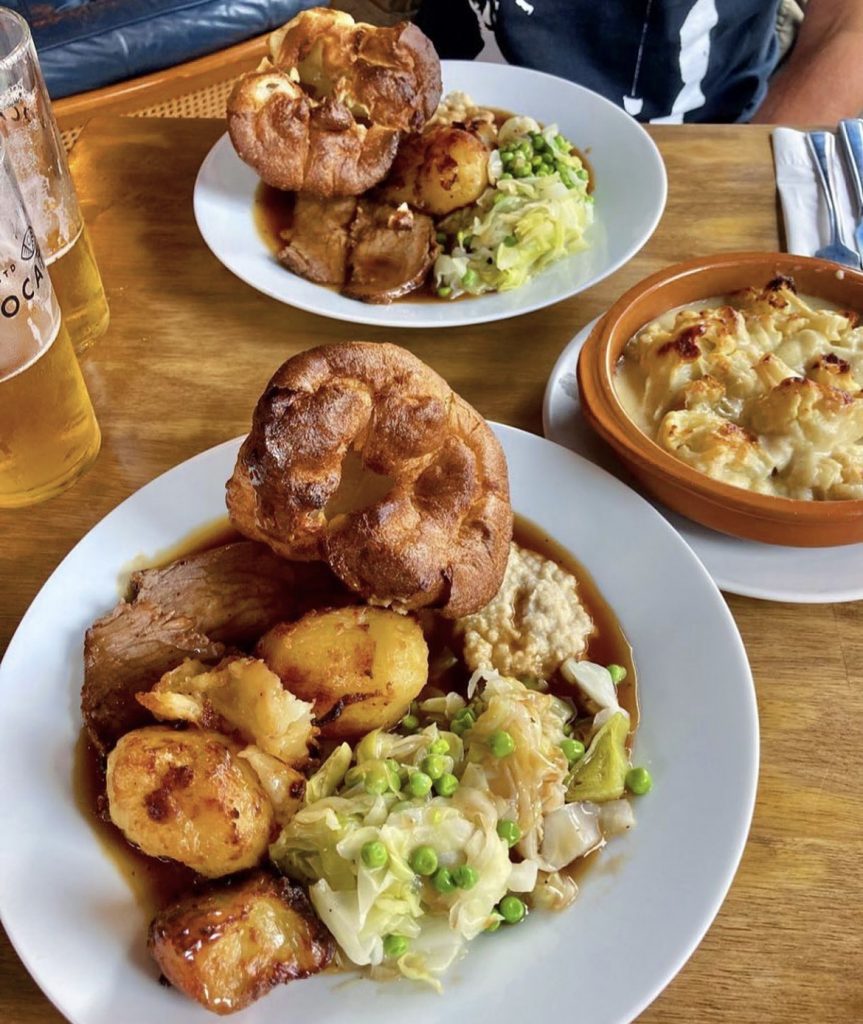 Photo: Bite Your Brum
Location: 2 – 10 Constitution Hill, B19 3 LY
One of the things we love about Sunday Roasts is the pure comfort they bring us. Sometimes you just need a good, traditional roast, nothing fancy, just comfort on a plate. One of the best places to enjoy a proper, traditional roast like your nan used to make is at The Wolf. Choose from beef, pork, veggie or vegan, and enjoy a hearty roast with all the trimmings. Order an amazing craft beer to accompany said heart-warming roast and you have the Sunday of dreams. Well done you.
IB App Deal: 15% off the bill
1000 Trades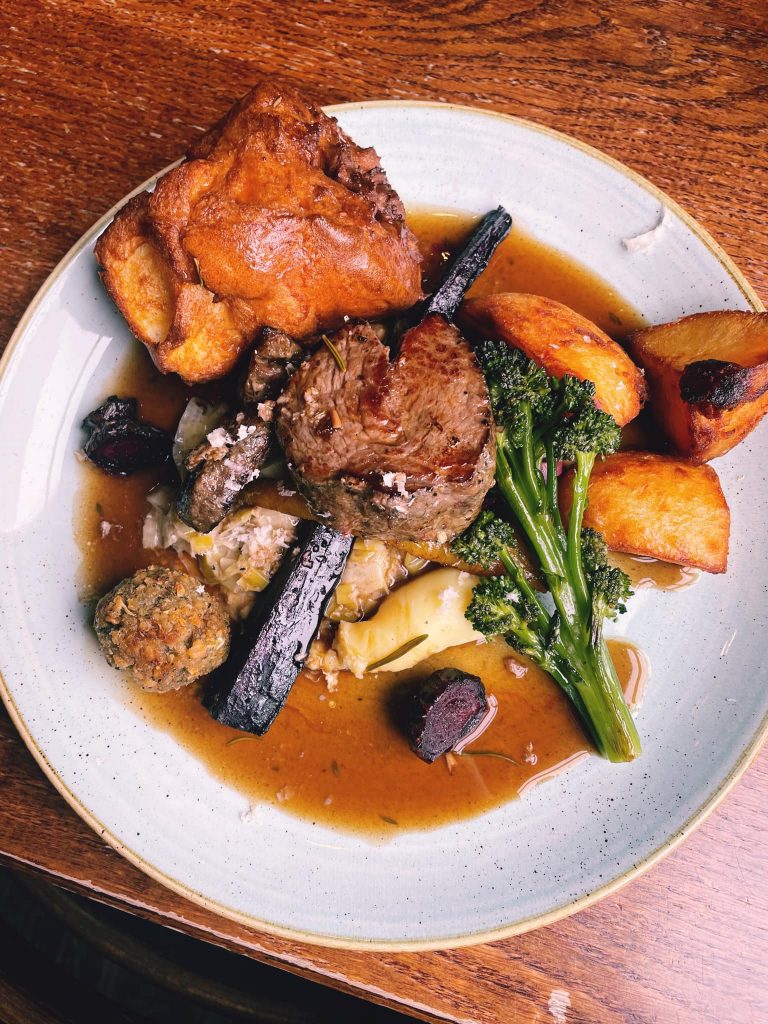 Location: 16 Frederick Street, Jewellery Quarter, B1 3HE
With the return of Autumn comes the return of the 1000 Trades Sunday Roast menu, and Birmingham rejoices. This wonderful JQ pub serves their delicious roasts throughout the chillier months and they are some seriously heart-warming plates of roastie goodness. Enjoy the likes of free range roast chicken (lemon and thyme roasted chicken, caramelised onion puree), Packington Farm belly of pork (cider braised, pressed and roasted pork belly, roasted baby fennel, apple sauce), vegetable wellington (mushroom duxelles, spinach and beetroot), garlic stuffed portobello mushroom (garlic béchamel, thyme, celeriac puree, panko) or roasted Welsh Black 35 day dry-aged sirloin of beef (with horseradish, roasted baby beetroots and celeriac puree). Whichever you choose, they're all served with red wine-braised red cabbage, creamed leeks, heritage carrots, Maris Piper roasts, mash, tenderstem, homemade Yorkshire pudding, herb and onion stuffing, and proper gravy.
IB App Deal: 10% off drinks (excluding Friday and Saturday evening, after 6pm)
The Ruin
Location: 92 Floodgate Street, Digbeth, B5 5SR
If you fancy a traditional roast, they don't come much more classic than this, but here at The Ruin they're served in the settings of a fun and quirky pub with slightly less-than-traditonal decor. For your heart-warming roast, choose from topside beef, garlic, thyme and lemon roast chicken, apple and onion roast pork belly or vegetable wellington (kale, leek, squash and beetroot in puff pastry) all served with garlic and herb roast potatoes, honey roast carrots and parsnips, balsamic glazed beetroot, green beans, Yorkshire pudding and red wine gravy. A vegan wellington option is also available and served without Yorkshire pudding and with syrup glazed carrots and parsnips instead of honey glazed. Finish with a delicious homemade sticky toffee pudding and custard for the perfect end to a tasty Sunday lunch.
IB App Deal: 2 flatbreads and a bottle of house wine for £20
Simpsons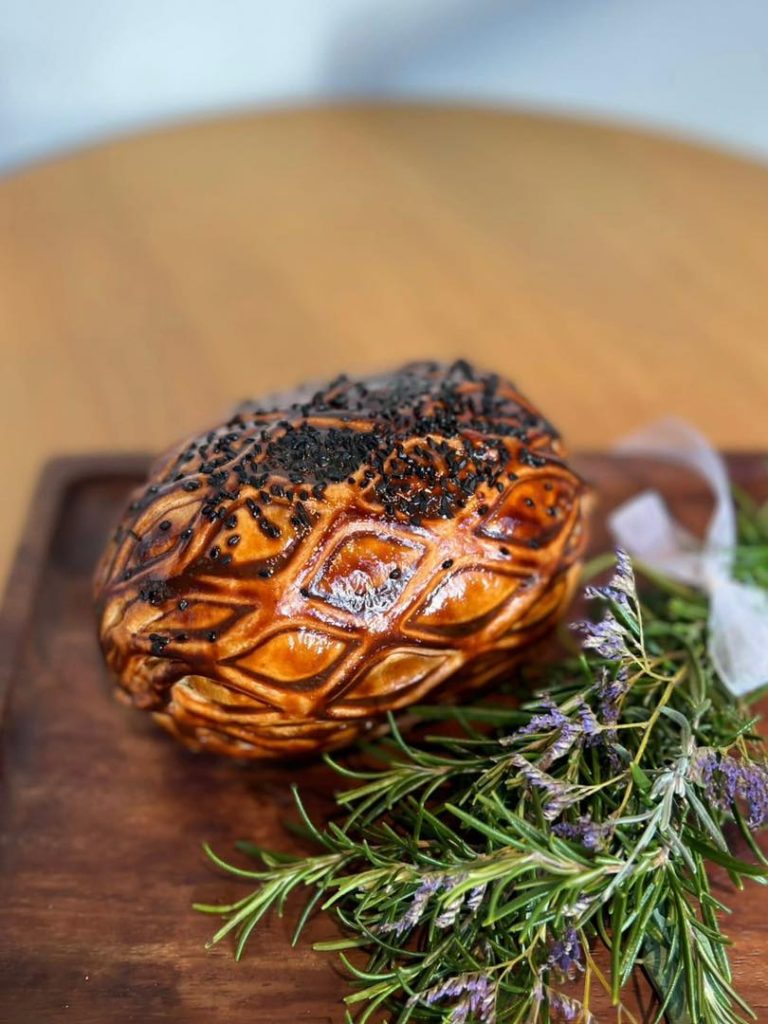 Location: 20 Highfield Road, Edgbaston, B15 3DU
If you fancy going swanky for your Sunday lunch, then a trip to the fabulous, Michelin-starred Simpsons is a must. Opt for their famous beef wellington for the ultimate indulgence on a Sunday afternoon. As you might expect, the cookery and skills on show here are unmatched and you will be dining on one of the most amazing Sunday lunch you could imagine. A great choice for a celebration or a special treat for someone you love, this is a Sunday lunch that needs to be added to your Birmingham foodie bucket list right away.
Chakana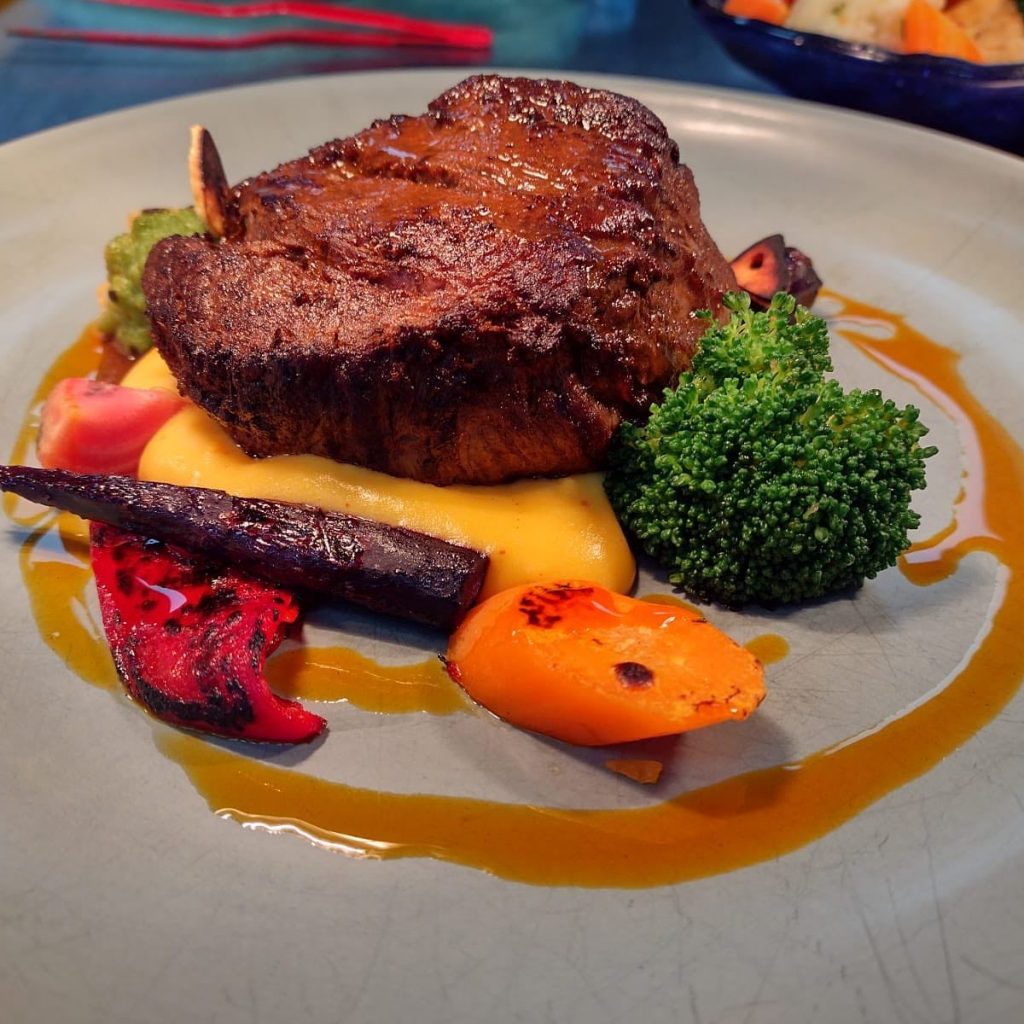 Location: 140 Alcester Road, Moseley, B13 8HT
This brilliant neighbourhood restaurant in Moseley is best known for their delicious Peruvian-inspired menu and fabulous cocktails. But, they also do an amazing roast (with a Peruvian twist of course). On the Sunday menu at Chakana you'll find a choice of meats including suckling pig, seared cod fillet, roasted duck breast and beef sirloin and a vegetarian option of miso aubergine. All of their roasts are served with Andean roast potatoes, seasonal mixed vegetables, Yorkshire pudding and onion gravy. This is a great option if you're looking for something a little different to the traditional roast.
IB App Deal: 10% off the bill (excluding Friday and Saturday evenings, after 6pm)
Fox, Hampton Lane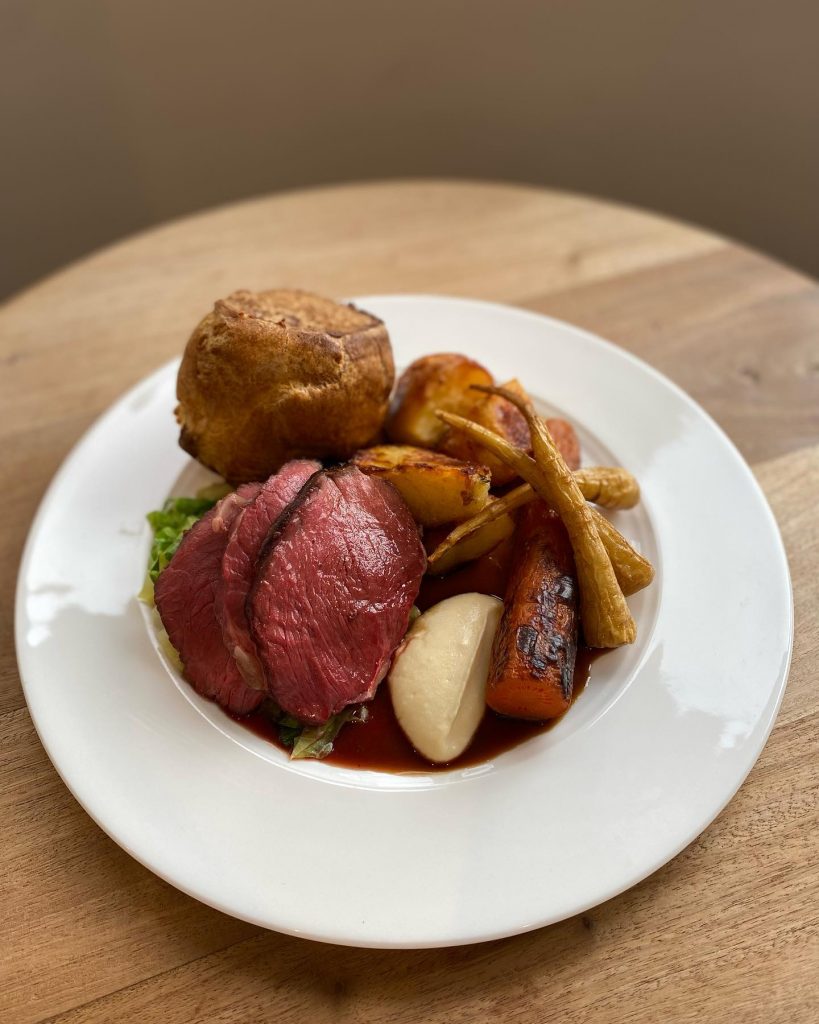 Location: 255 Hampton Lane, Solihull, B91 2TJ
This lovely little neighbourhood restaurant in Catherine-de-Barnes, Solihull serve their delicious Sunday roasts each week, where you can choose from a couple of traditional options as well as a couple of alternative dishes if you're not feeling roasty. If you're going traditional choose from roast rump of beef (with Yorkshire pudding, roast potatoes, roast parsnips, roast carrot, hispi cabbage and pan gravy) or roast loin of pork (with crackling, roast potatoes, parsnips and carrot, hispi cabbage, pan gravy and caramelised apple puree). Or, if you're feeling a little unconventional choose from tasty options such as cod Kiev with curried tartar sauce and fries or celeriac risotto with hazelnut pesto. The dishes change with the seasons, but the traditional roasts usually stay the same (and just as delicious) each week.
Verbena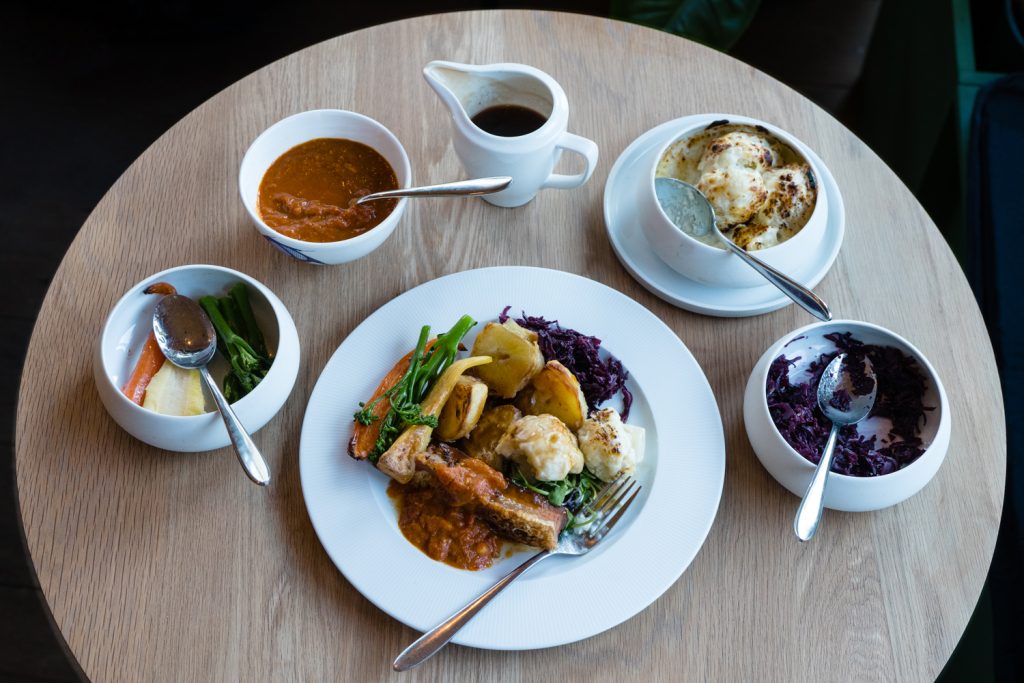 Location: 143 Bromsgrove Street, B5 6RG
Once a month, Verbena offer their delicious Sunday lunches and it is more than likely to become the highlight of your month. The Verbena roast club takes place on the last Sunday of each month, and you'll find a delicious roast awaiting you at this brilliant neighbourhood restaurant which focuses on seasonal, local food. Expect perfectly cooked roast meats with all the trimmings and you won't be disappointed. Not wanting veggies to be left out or have to face a disappointing after thought, Verbena have put just as much effort into their veggie option as the meat choice, with a delicious buttery shortcrust pastry pie available. The filling changes but expect the likes of puy lentil and cheddar (with vegan options available too).
BA-HA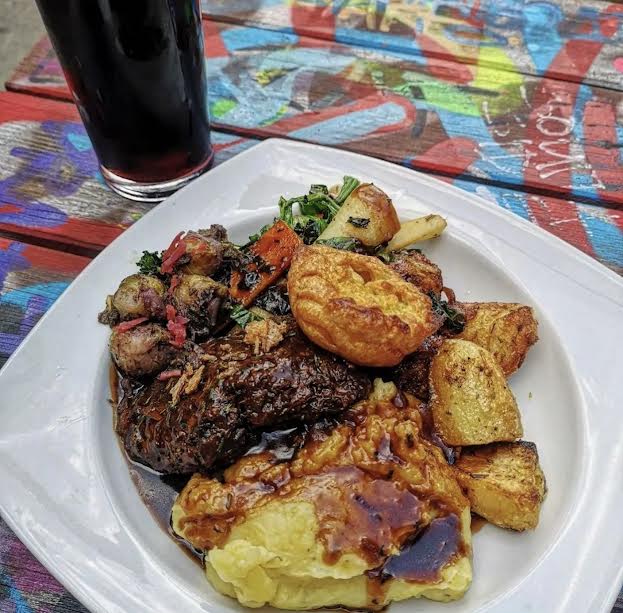 Location: The Rainbow Pub, 160 High Street, Digbeth, B12 0LD
Vegan foodie legends BA-HA have been popping up all over Birmingham for the last few years, serving their ridiculously tasty plant-based food. They've built up somewhat of a cult following thanks to their delicious plant-based eats and have now found a permanent home in The Rainbow Pub. Their roasts usually feature the likes of slow-marinated jack and seitan slice in Guinness and onion gravy, crispy golden fried king oyster mushroom with garlic herb butter, or lentil and mixed vegetable loaf with herb crust, all served with creamy mash, sautéed vegetables, homemade stuffing balls, roasties and gf Yorkie. Yum!
The Boot Inn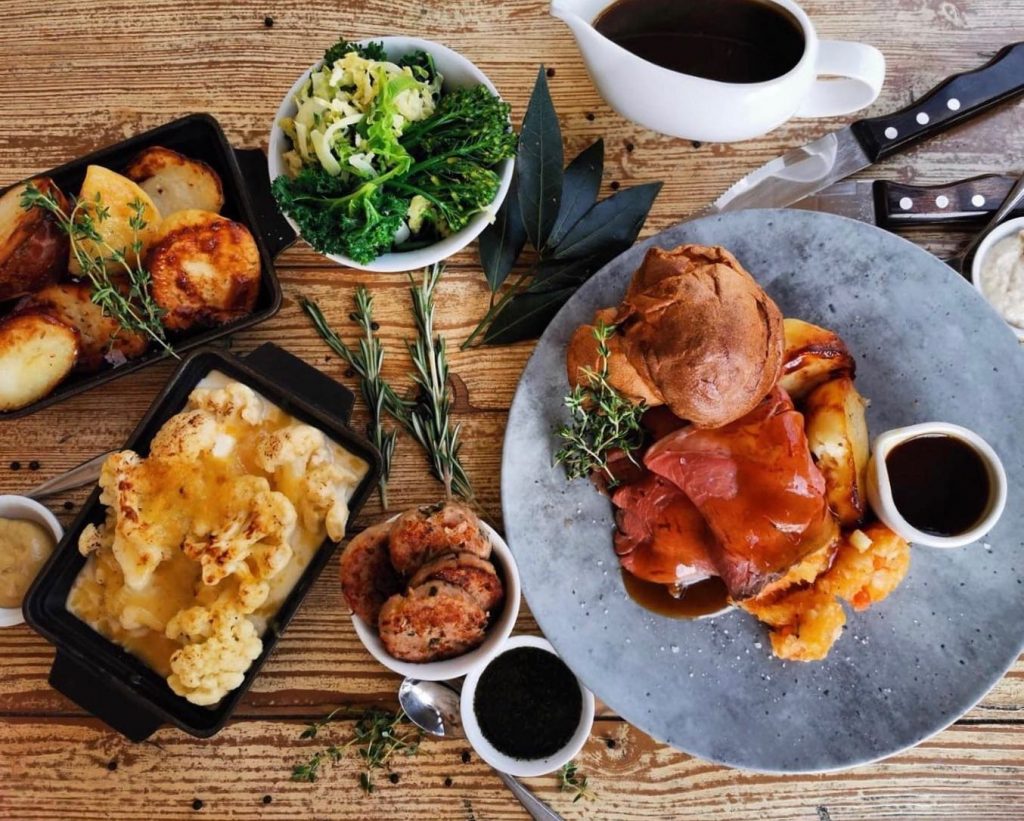 Location: Old Warwick Road, Lapworth, B94 6JU
Sunday lunch is best enjoyed in a country pub: fact. This canal-side pub is a firm favourite, and their Sunday lunch is one of the best. Served with all the trimmings, this brilliant gastro pub knows how to do a great roast. Whether you go for a walk along the canal before or after your lunch is up to you (or both if you're feeling wild) but we highly recommend you take in the scenery and the fresh air to accompany your pub lunch and make that Sunday truly relaxing.
The Old Crown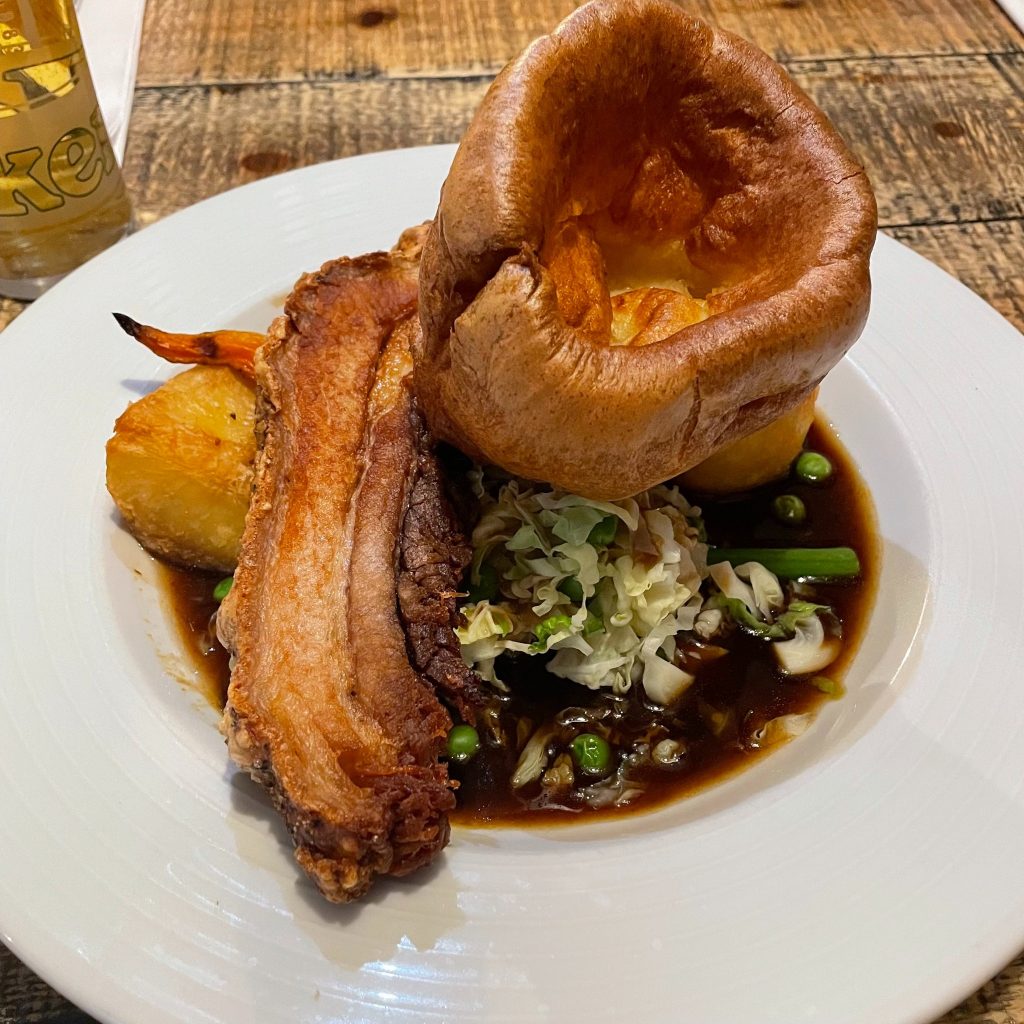 Location: 188 High Street, Deritend, Digbeth, B12 0LD
Birmingham's oldest pub sounds like a great place to devour a delicious, traditional Sunday roast, right? Right! Head to The Old Crown for a tasty Sunday roast in this historic pub and you'll be doing Sunday the right way. Choose from topside of beef, roast pork belly, lemon and herb half roast chicken or roast celeriac, all served with roasted potatoes, maple glazed carrots and parsnips, seasonal greens, braised red cabbage, homemade yorkie and 48-hour gravy. Level up your roast by adding a side of cauliflower cheese, pigs in blankets, sage and onion stuffing or extra roasties (or all of the above!) for the ultimate comfort food feast.
The Loft Bar & Kitchen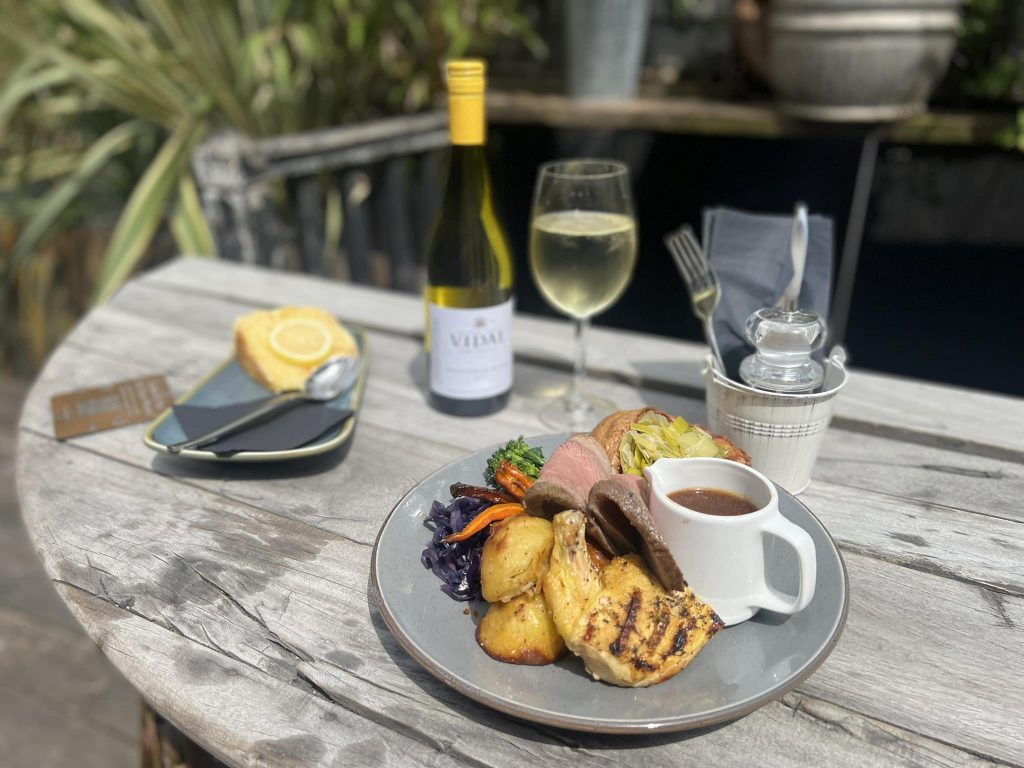 Location: 143 Bromsgrove Street, Digbeth, B5 6RG
This fun and lively party bar is perhaps best known for their vibrant atmosphere and late night events, but let us tell you that they are just as good for a weekend comfort-food feast. For their delicious roasts, you have the choice between pork belly, roast leg of lamb, chef's nut roast, Cotswold chicken or roast rump cap of beef (served pink). All are served with a giant Yorkshire pud, beef fat potatoes, butter braised hispi cabbage, roasted parsnips, green beans, crushed swede and proper gravy (veggie potatoes and veggie gravy available). Their Sunday roasts are the perfect antidote to the revelry of the night before (especially as you have the option to go large and choose three meats along with extra roast potatoes and Yorkshire pudding) and will put a spring back into your step in no time.
The Malt Shovel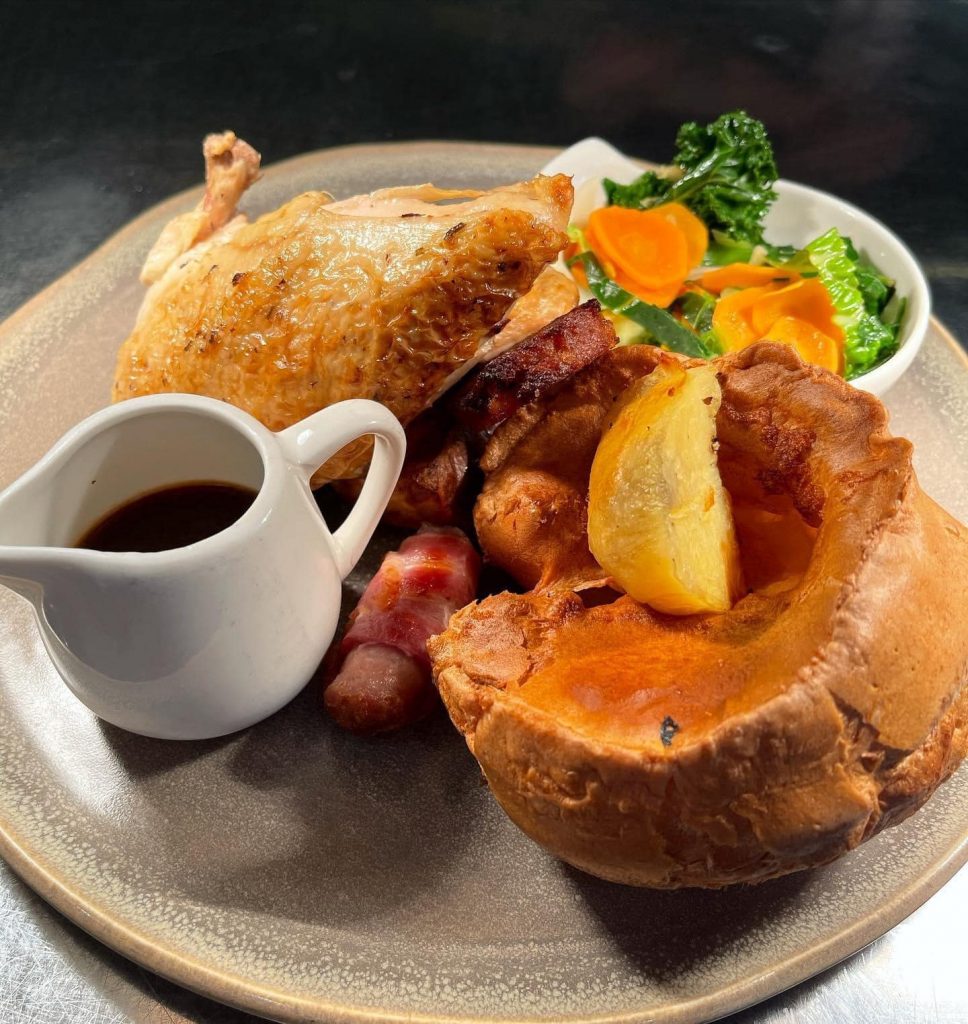 Location: Barston Lane, Solihull, B92 0JP
This brilliant gastro pub in Solihull is the perfect place to enjoy a delicious lunch or dinner, whether casual or celebratory and their Sunday lunch is just as good as the rest of their tasty menu. Choose from roast Herefordshire sirloin of beef with Yorkshire pudding, roast Herefordshire loin of pork with sage, onion and pork stuffing and apple sauce, or free range half roast chicken with pigs in blanket. All of their roasts are served with duck fat roast potatoes, Yorkshire pudding, seasonal greens and red wine jus, and all are utterly delicious and will leave you feeling very content. They have a great veggie option too of nut roast with olive oil roast potatoes, apple sauce and seasonal greens.
The Bournbrook Inn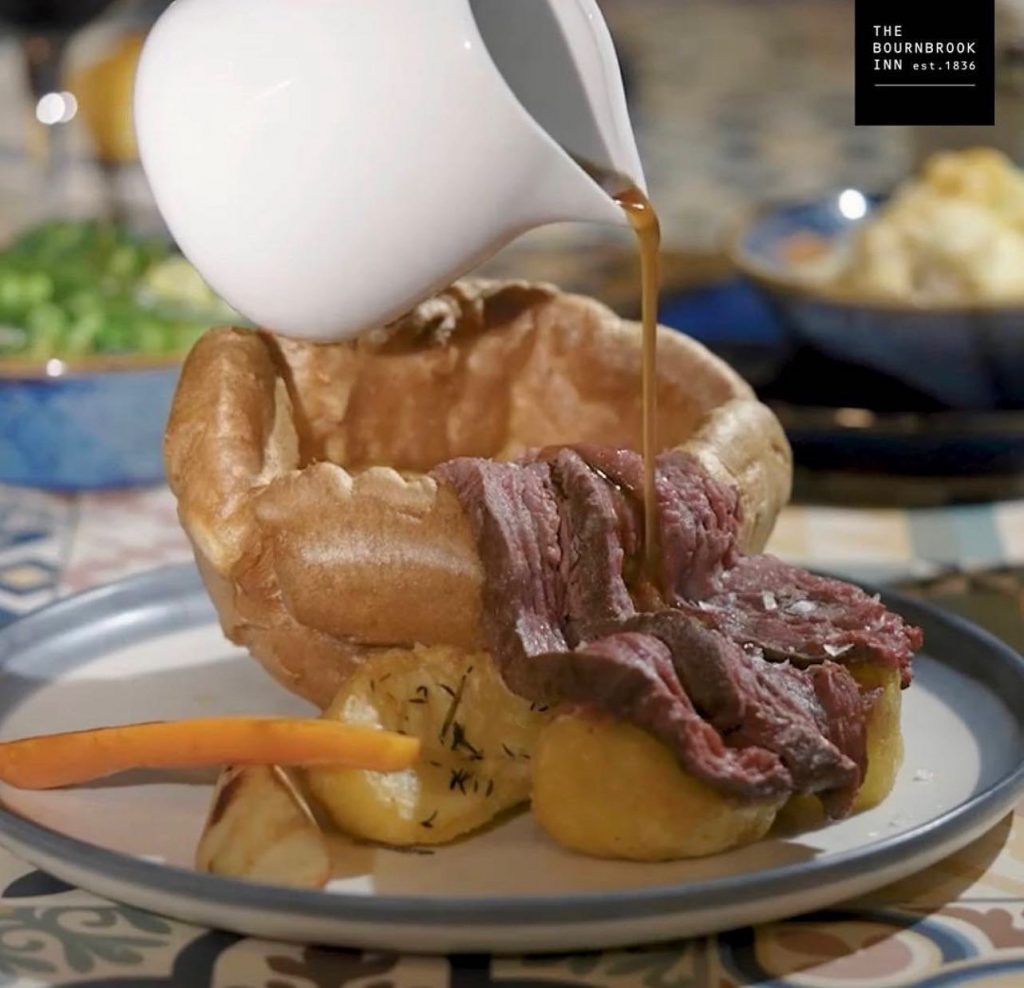 Location: 1273 Pershore Road, Stirchley, B30 2YT
This Stirchley pub serves up a classic roast with all the trimmings (Yorkshire pudding, garlic and rosemary roast potatoes, maple glazed roots, buttered greens, cauliflower cheese and pan gravy). Choose from lemon, garlic and thyme half roast chicken, crispy slow cooked pork belly, rolled rump of beef and Mediterranean vegetable and mushroom wellington. They have a delicious selection of small plates to start (think mac n cheese bites, chicken wings or cauliflower wings) if you've come with a big appetite, and of course there's always room for a tasty dessert, right?
Le Petit Bois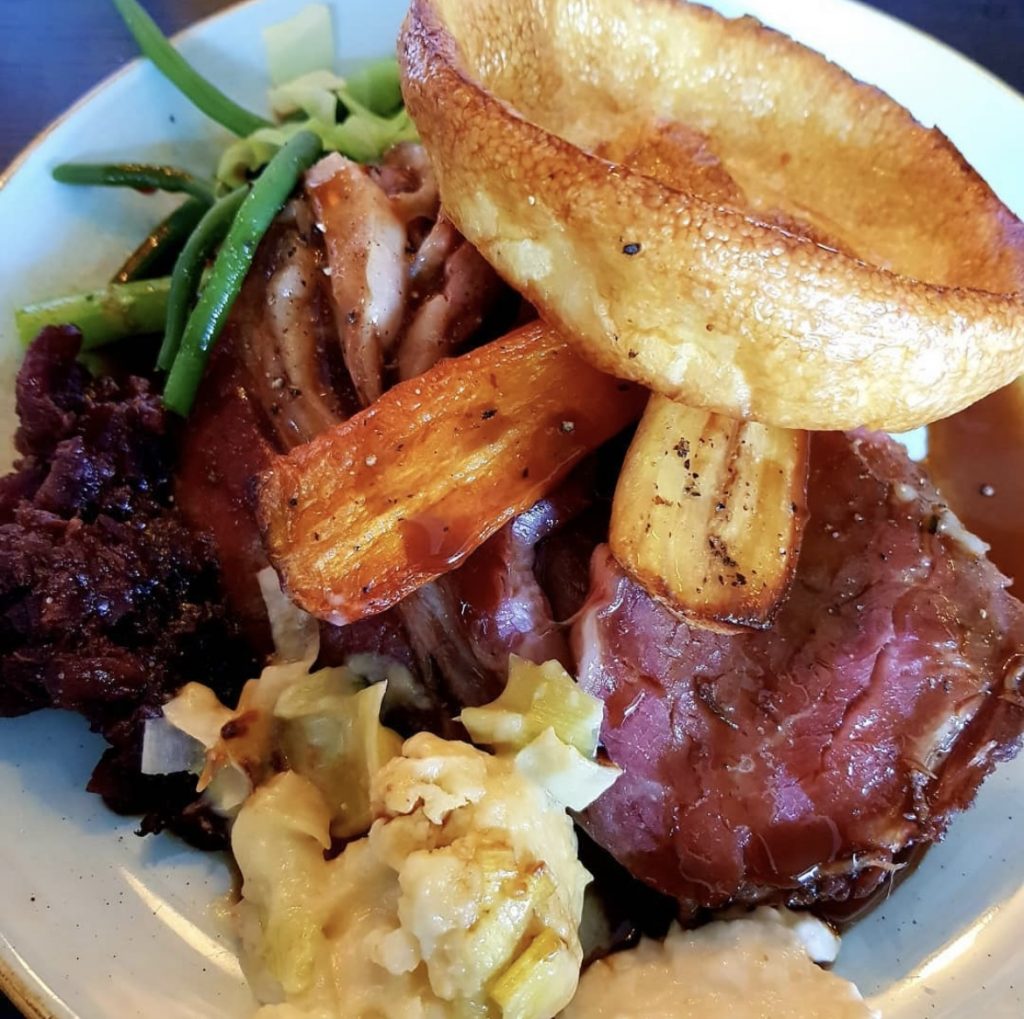 Photo: Breaking Bread Podcast
Location: 145 Alcester Road, Moseley, B13 8JP
Cometh autumn, cometh Le Petit Bois with their fantastic Sunday roast offering. All of their delicious roasts are served with duck fat roast potatoes, panache of green vegetables and comte cauliflower cheese. You can choose from roast sirloin of beef (with black garlic, roast shallot and celeriac puree), corn fed chicken supreme (with crispy leg bonbon, celeriac puree and stuffing), roasted fillet of sole (with green beans and almond beurre noisette) or butternut and quinoa nut roast (with roast shallot and celeriac puree). Follow up with a delicious dessert (such as raspberry rum baba or chocolate mousse with chocolate crumb and finished with cream) for the ultimate Sunday indulgence. That's how you do it.
The Rolling Mill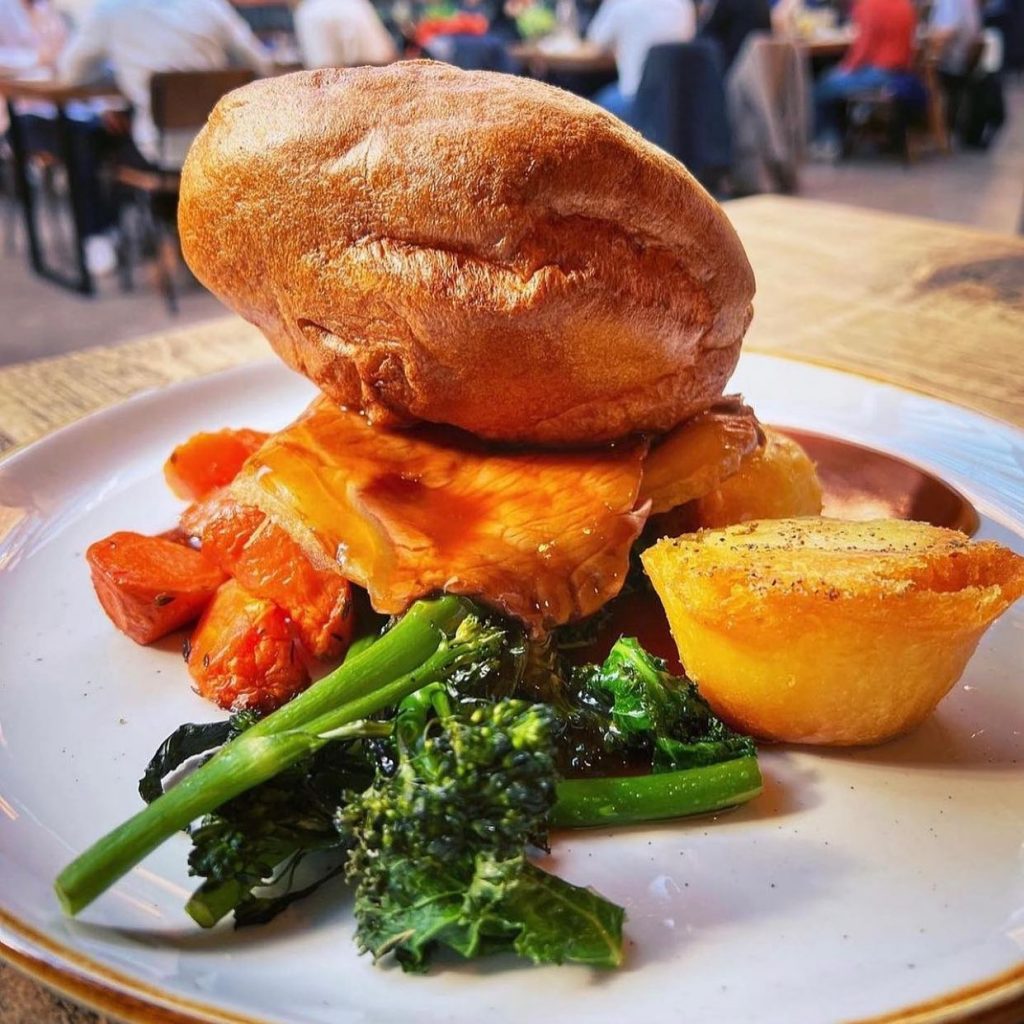 Location: 25 Hall Street, Jewellery Quarter, B18 6BS
This JQ-based, 1920's-themed bar and restaurant serves up some tasty grub, and their Sunday roast is no exception. Choose from 35 day dry aged sirloin, roast leg of lamb, lemon and thyme half roast chicken or roast vegetable wellington, all served with roast potatoes, Yorkshire pudding, gravy, carrots and seasonal greens. Sit back and enjoy the cool, industrial interiors as you tuck into your tasty lunch. It's what Sundays are all about.
Saint Paul's House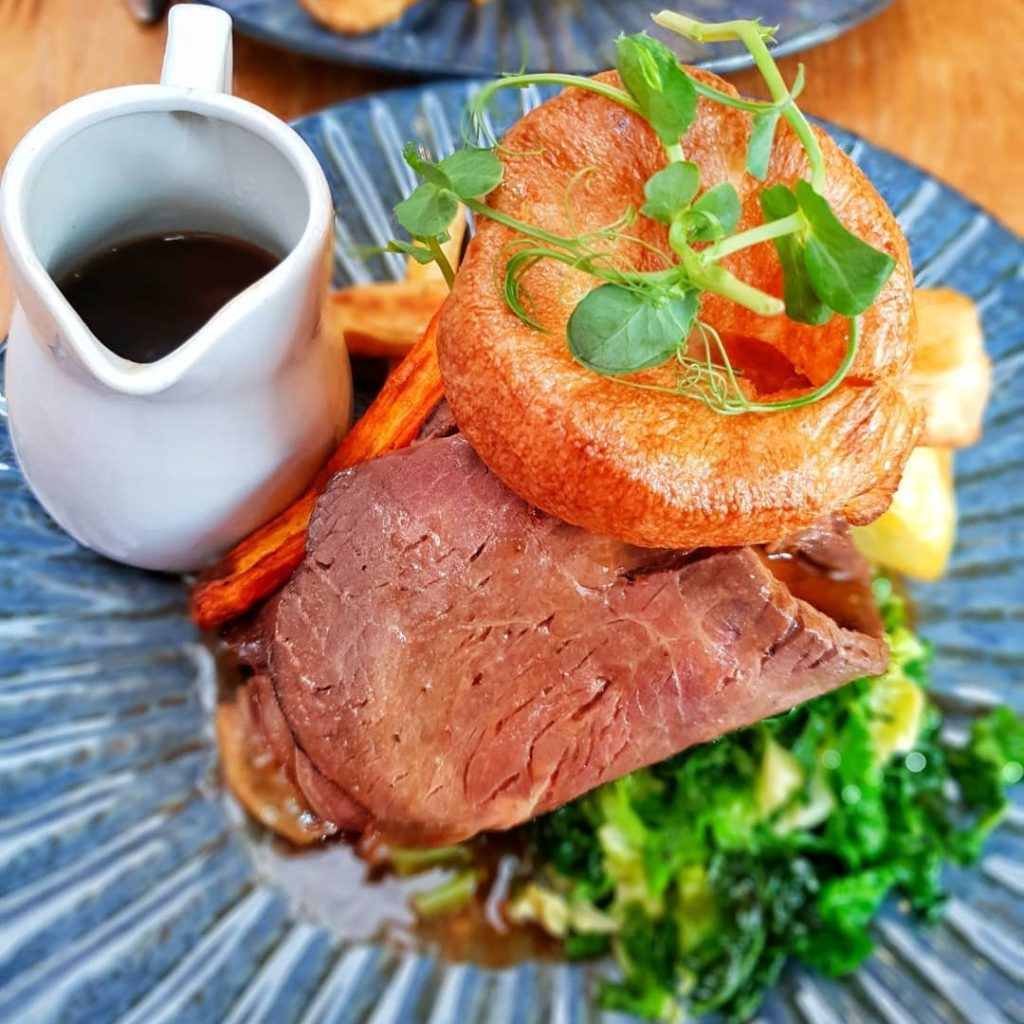 Location: 15-20 St Paul's Square, Jewellery Quarter, B3 1QU
You've heard of Sunday roasts. You've heard of Bottomless Brunch. In utterly game changing news, Saint Paul's House bring you… Bottomless roasts! Sadly this doesn't mean unlimited gravy and roasties, but what it does mean is you can upgrade your roast dinner experience by a factor of 10,000 and enjoy either 2 or 3 courses from the Sunday roast menu alongside unlimited Prosecco, Pinot Grigio, Merlot or Bloody Marys! What a winning idea. Choose from beef striploin, corn-fed chicken supreme, pork belly or vegetable wellington and enjoy with all the trimmings AND unlimited boozy tipples. Banish those Sunday blues for good and book your table immediately.
IB App Deal: 20% off food (Sunday – Thursday)
Bonus: Caneat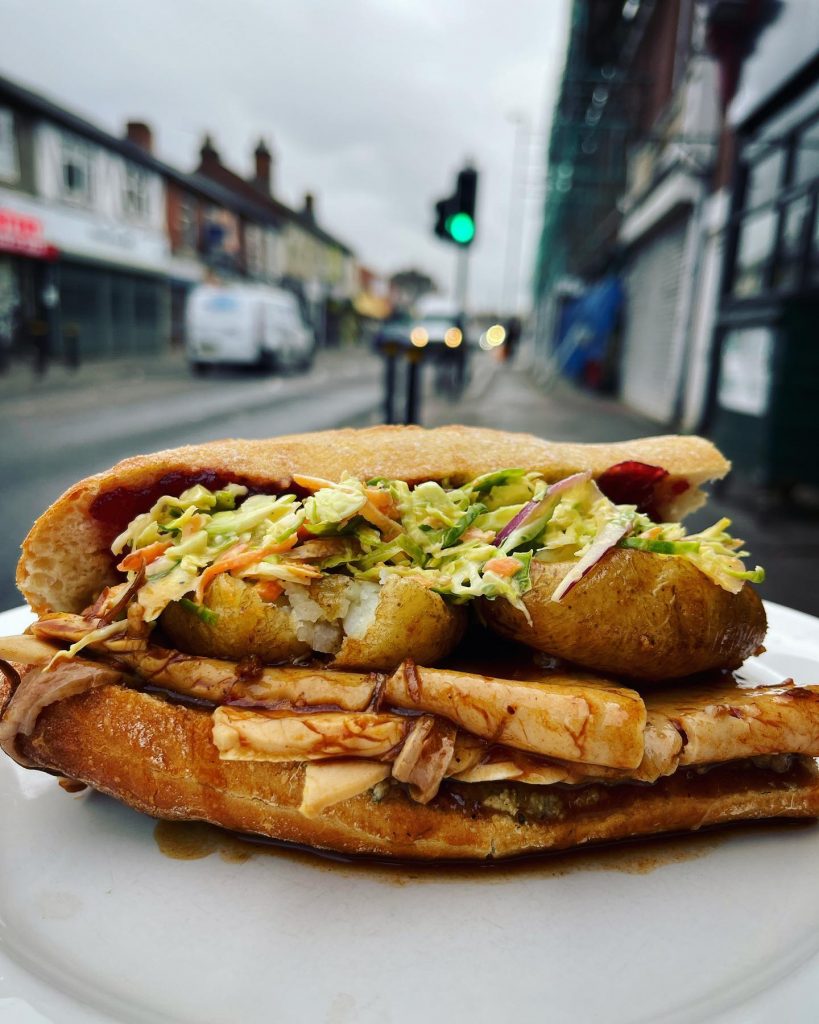 Location: 1397 Pershore Road, Stirchley, B30 2JR
How to level up your roast even further: stick it in a sandwich! That's right, the legends over at Caneat have made the move of all moves and created an epic roast sandwich! Filled with roast turkey, smoked ham gravy, fried potatoes, cranberry, sage and onion stuffing, and sprout slaw, this festive creation needs to be at the tippity top of your 'to eat' list. They also have a vegan AND a veggie version too. Yum! Go devour.
And keep your eyes peeled…
Other fantastic options that aren't a regular feature but are well worth keeping an eye open for include: Caneat and Eat Vietnam (who don't offer regular Sunday lunches but both occasionally do a one-off – be quick though, these will sell out faster than you can say "pigs in blankets") and Low 'N' Slow (who casually slings out one of the most delicious and most coveted Sunday roasts in the city, but is currently in the hunt for a permanent restaurant location – do keep an eye on their socials for any Sunday Lunch pop-up news though!).
The Best Of The Rest
There are so many great options for your Sunday lunch in Birmingham, and we couldn't possibly list them all. Whilst we have chosen 25 of the very best to showcase in this article, there are so many more that deserve an honourable mention too. So in no particular order, here are some other excellent options for your Sunday Roast:
The Village, Edwardian Tearooms at BMAG, Ju Ju's Cafe, The Navigation, The Punchbowl, No.1 Dovehouse Parade, Kitchen Garden Cafe, Tarragon Bistro, Platform Three, The Sun on the Hill, The Bull's Head in Barston, Al-Qamar Restaraunt.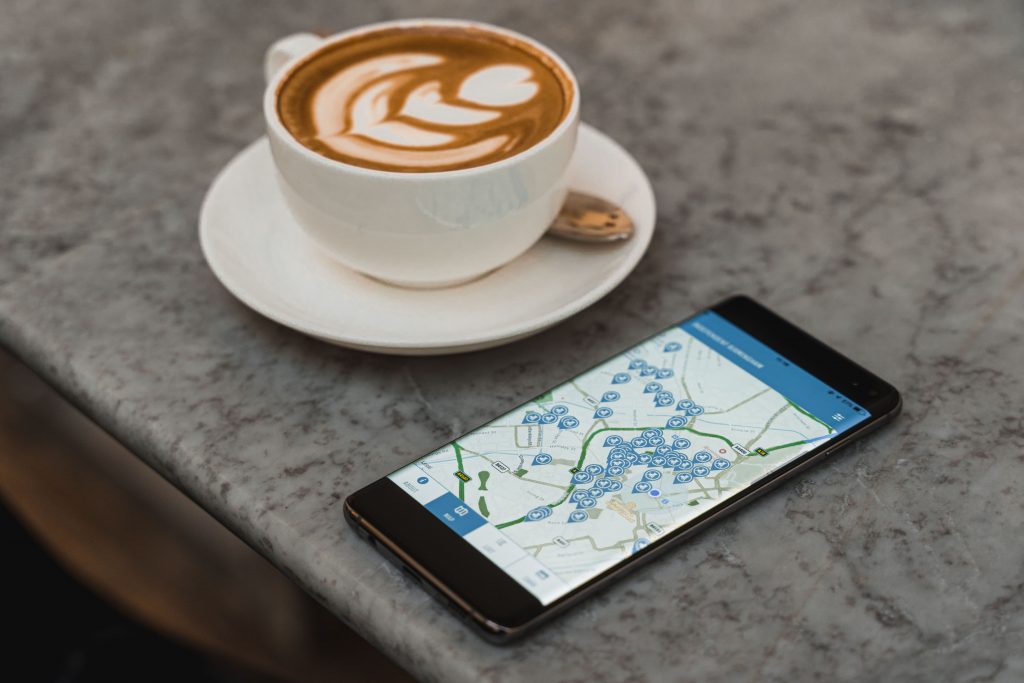 Download the Independent Birmingham App now and enjoy up to 25% off (alongside exclusive 2-for-1 offers, freebies, and more) at over 170 of the very best independents across Birmingham and Solihull – all for just £1.99 a month!
Download the IB App here.
The IB App features a list of over 170 terrific independents across Birmingham and Solihull for you to discover and support (with more added all the time), alongside an interactive map, filters (so you can filter by category, day, and area) and a Wish List so you can create your very own bespoke 'to visit' list. IB Membership is just £1.99 a month and it helps to keep this vital platform alive and allows us to keep doing what we do best – supporting Brum's marvellous independents, and shining a light on our wonderful city.