The clocks have gone back, the nights are drawing in, and the cold weather has returned.
It must be November. While some people's attentions are turning to Christmas (we're allowed to say the C-word after Hallowe'en, that's the rule), others are looking to hold off any thought of the festive season for as long as possible. So if you're on the hunt for something fun to do without being bombarded with festive tunes and glühwein just yet, then read on for our top picks for November.
Women Power Protest Exhibition At BMAG – 10 November 2018 – 31 March 2019
To mark 100 years since women first won the right to vote in the UK, BMAG is hosting a new exhibition called Women Power Protest. This exhibition will bring together works from celebrated female artists who have explored the themes of protest, social commentary and identity through their works. This new exhibition will bring together artworks from the Arts Council Collection to inspire discussion and debate and question how much has really changed for women. If you like the sound of this, don't miss the Women Power Protest Celebration Day on 17 November. This free event will celebrate the collection with live music, poetry, interactive performance art, tours, talks and more.
Find out more here, and then head to BMAG for your monthly dose of culture.
Nocturnal Animals – Early November
From the whacky and outrageous team at Birmingham's rising culinary star, The Wilderness, comes the eccentric new restaurant-bar, Nocturnal Animals. Promising funky '80s décor, fine dining, exciting cocktails and the best afternoon tea in the city (you heard it here first), this new addition to Bennett's Hill is sure to be one of the most exciting new independents for a very long time. Opening 7 November, head to Nocturnal Animals and check out this ridiculously-exciting, neon light-adorned venue. Go for dinner, stay for drinks, and then book yourself in for afternoon tea to complete the hat-trick.
Star Wars And Beyond: A Sci-Fi Spectacular At THSH – 9 November
Huge Sci-Fi fan? Can't get enough of those epic soundtracks? Well, you're in luck – THSH are hosting a Sci-Fi Spectacular featuring all of the best tunes from your favourite sci-fi blockbusters. Grab your tickets and head to Symphony Hall to enjoy an evening with the London Concert Orchestra performing all of your favourite tracks, accompanied by stunning light displays, dazzling lasers and even indoor fireworks! Celebrate the iconic scores from Alien, Star Trek, Jurassic Park, Star Wars, E.T., Back to the Future and loads more. This is not to be missed. Grab your tickets here.
The Full Monty At Birmingham Hippodrome – 5 – 10 November
The Full Monty is one of the most acclaimed British films ever, and this stage adaptation is just as brilliant. The story of six out-of-work, impoverished steelworkers from Sheffield with nothing to lose has taken the world by storm, and you can enjoy it right here in Brum. This hilarious, heart-warming show is an absolute must see. Featuring an all-star cast (who've appeared in everything from Casualty to Coronation Street) and songs from the likes of Tom Jones and Hot Chocolate, this production will have you in stitches and smiling all the way home. Grab your tickets now. 
Bohemian Rhapsody AIDS Awareness Screening At The Mockingbird – 14 November
The Mockingbird Cinema and Kitchen are hosting a special screening of the brand new Bohemian Rhapsody film about the rise of Queen and lead singer Freddie Mercury. This special screening is dedicated to the main man himself and honouring his incredible story and music. Head to The Mockingbird for the very best Queen tracks playing in the bar all evening, to watch the film, and to take part in the moustache competition (oh yes, there will be a prize for the best chevron moustache). Plus, with 10% of ticket and bar takings going to support the charity NAT (National AIDS Trust), you can have a good time, knowing you're also doing a good thing. Find out more, and grab your tickets, here.
Heart Of Darkness At Birmingham REP – 20 – 24 November
Joseph Conrad's original novel, Heart of Darkness, was written over 100 years ago, but this thrilling adaptation has been brought into the present. Re-sited in a forsaken Europe, lost to the destructive lust for power, this new re-imagining of the classic novel still centres on the original tale of lies and brutal greed and the dark heart that beats within us all. Digital theatre-makers 'imitating the dog' are the masterminds behind this visually rich version, which incorporates live performance coupled with digital technology. This production will be unlike anything you've seen before, and is an absolute must for theatre buffs. Find out more, and grab your tickets, here.
SHOUT Festival – 8 – 18 November
SHOUT Festival of Queer Performing Arts is back for its 9th year, with 10 days of the best in queer live performance, theatre, visual arts, comedy, music, and film at over 14 venues across the city. The festival this year is celebrating queer relationships and features a programme of internationally-renowned artists, alongside local, Midlands-based artists. From a winner of RuPaul's Drag Race to a documentary on lesbian activism in the UK and loads more, SHOUT 2018 celebrates Birmingham's LGBT and queer identities, voices and histories. The festival is kicking off with an unmissable opening on 8 November featuring Le Gateau Chocolat and his incredible show Icons at the Royal Birmingham Conservatoire. Find out more, and grab your tickets, here.
Be A Part Of History
Be part of history and make something amazing happen in Birmingham. Local street food king Andy Stubbs (of Low 'N' Slow fame) is looking to settle down in the streets of Birmingham and build his own bricks and mortar restaurant. If you have ever been lucky enough to munch on the delicious barbecue meats that Andy lovingly cooks up at the best street food events in the city, then you'll know just what a spectacular thing for the city this restaurant will be. The great news is, you can help make this happen (and win yourself some super-duper rewards in the process). Pledge to help Andy with his kickstarter campaign to raise the vital funds he needs and your donation will be matched by an outside investor, as well as Andy himself. Plus you can bag yourself a snazzy, one-off prize (there are loads of amazing ones to choose from). Click here to help make Birmingham great again.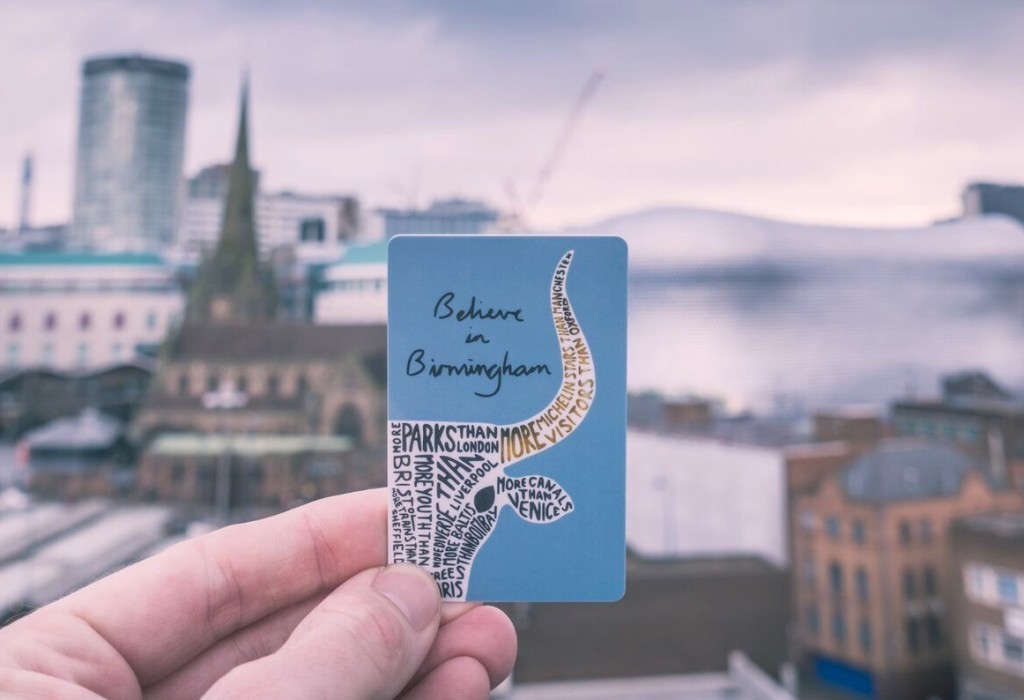 Join over 18,500 Brummies and grab yourself an Independent Birmingham Membership Card. Enjoy fantastic year-long discounts and deals at over 110 of the very best independent cafes, bars, restaurants, pubs, theatres and shops in Birmingham – including: Digbeth Dining Club, The Electric cinema, Simpsons, The Wilderness, Carters, Lasan, Birmingham Hippodrome, Adam's, 18/81, Zindiya, The Meat Shack, Baked In Brick, Harborne Kitchen, BoneHead, Purnell's Restaurant, Bodega Bar Y Cantina, Wayland's Yard, Purnell's Bistro, Buffalo and Rye, mac Birmingham, Gaijin Sushi, Fiesta del Asado, 40 St Paul's, The Plough, Hare and Hounds, Birmingham Repertory Theatre, The Lord Clifden, The Jekyll And Hyde, The Church, Bourne and Co., The Rose Villa Tavern, Cherry Reds, The Prince of Wales, The Loft, Laghi's Deli, Medicine Bakery, The Paper Duck, Town Hall Symphony Hall, The Clean Kilo and many more.
To grab your key to the city for just £15 (or at the amazing price of two for £20), click here.