And just like that, summer comes to an end.
September is full of the promise of new beginnings, a new season, a new school year, the nights drawing in. But there's also usually the promise of a few more days in which we can squeeze out the very last of the Summer sunshine, and sit outside in the evenings without needing coats and scarves and hats. We love Autumn, so we relish this time of year. But if you're pining over the Summer, let us ease your pain with our pick of the very best things to do this September in Birmingham (and you'll forget all about your troubles).
The Lovely Bones At Birmingham REP – 6 – 21 September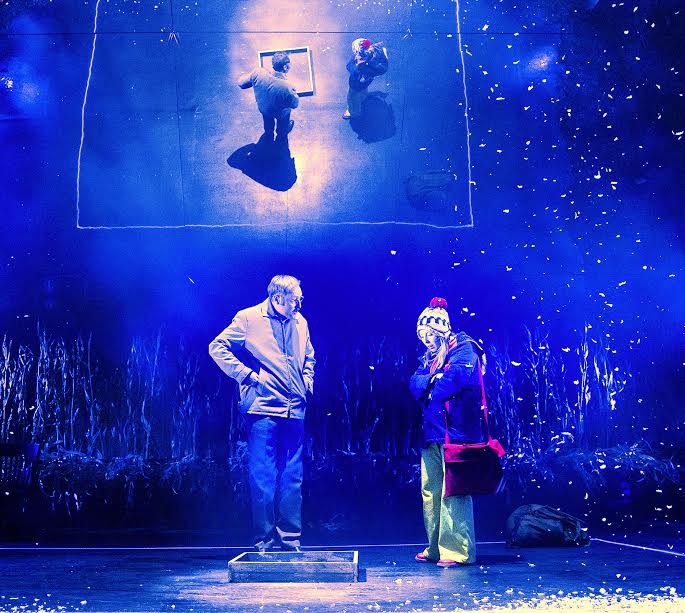 Photo: Sheila Burnett
The Lovely Bones lands at Birmingham REP on 6-21 September and we're hailing it as a 'must see'. Adapted by the Tony-nominated Bryony Lavery, and directed by the Olivier award-nominated Melly Still, The Lovely Bones is a unique coming-of-age tale that captured the hearts of readers throughout the world.
The Lovely Bones tells the story of Susie Salmon, who is just like any other girl. There's one big difference though – Susie is dead. Now she can only observe while her family manage their grief in their different ways. Her father Jack is obsessed with identifying the killer. Her mother Abigail is desperate to create a different life for herself. And her sister Lindsey is discovering the opposite sex with experiences that Susie will never know. Susie is desperate to help them and there might be a way of reaching them…
Throw in a great cast, an incredible set design, and a killer 70s soundtrack, and you've got the makings for a truly unmissable show.
Grab your tickets now here – and get ready to feel some major feels.
Blakesley Hall Ale & Cider Festival – 7 September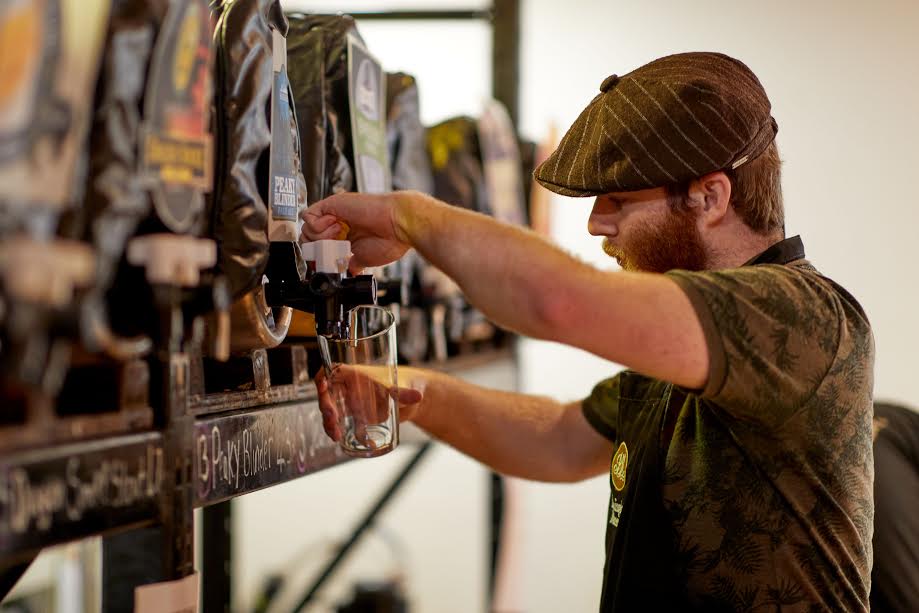 The brilliant Blakesley Hall Ale & Cider Festival returns on Saturday 7 September. The rules are simple: grab a friend, grab some tickets, and then spend the day at the beautiful Blakesley Hall drinking craft beer, ale and cider, listening to live music, and eating glorious pizza – all for just £5!
Sample brews from: Barbourne Cider Company, Snails Bank Cider, Two Towers Brewery, Church End Brewery, Beowulf Brewing Company, Dig Brew Co., Sadler's Brewing Co. and more.
Grab your tickets now here, and go have a fun day out.
The Sheik at Midlands Arts Centre – 12 September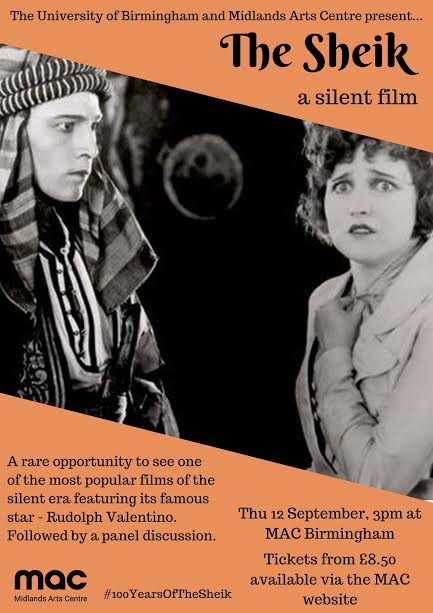 A rare opportunity to see an iconic silent movie. As part of an event marking the centenary of E.M. Hull's novel, The Sheik (published in 1919), MAC are screening the 1921 silent movie of the same name, based on the book. One of the most popular films of the silent era, starring Rudolph Valentino, The Sheik is a whirlwind romance following brave, boyish Lady Diana Mayo as she is kidnapped by Sheik Ahmed Ben Hussein and whisked away into the desert. The Sheik is one of the most popular films of its time and one of Rudolph Valentino's most iconic roles, cementing his status as a sex symbol. This screening will be followed by a panel arranged by the University of Birmingham discussing the film and a drinks reception which the audience is invited to join. More information, and tickets, here.
Harborne Night Markets – 6 September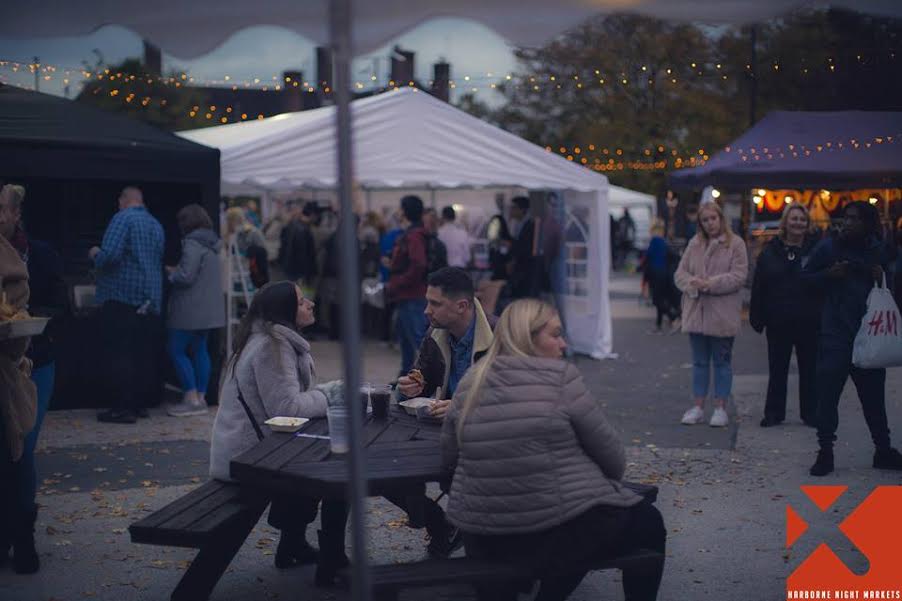 On the first Friday of each month, the leafy suburb of Harborne plays host to their very own Night Market – a hub of street food, pop-up bars, local retailers, artists and more. This September you can enjoy mouth-watering offerings from the likes of Fat Snags, Dick's Smokehouse, Toastie The Difference, Phata Phat and The Treat Truck. You can also find a range of local, non-food traders there selling their wares, including local legend: Pip's Hot Sauce . So head down to The Green Man pub from 4pm to enjoy all of this, plus live music and more.
Disco Brunch At The Night Owl – 21 September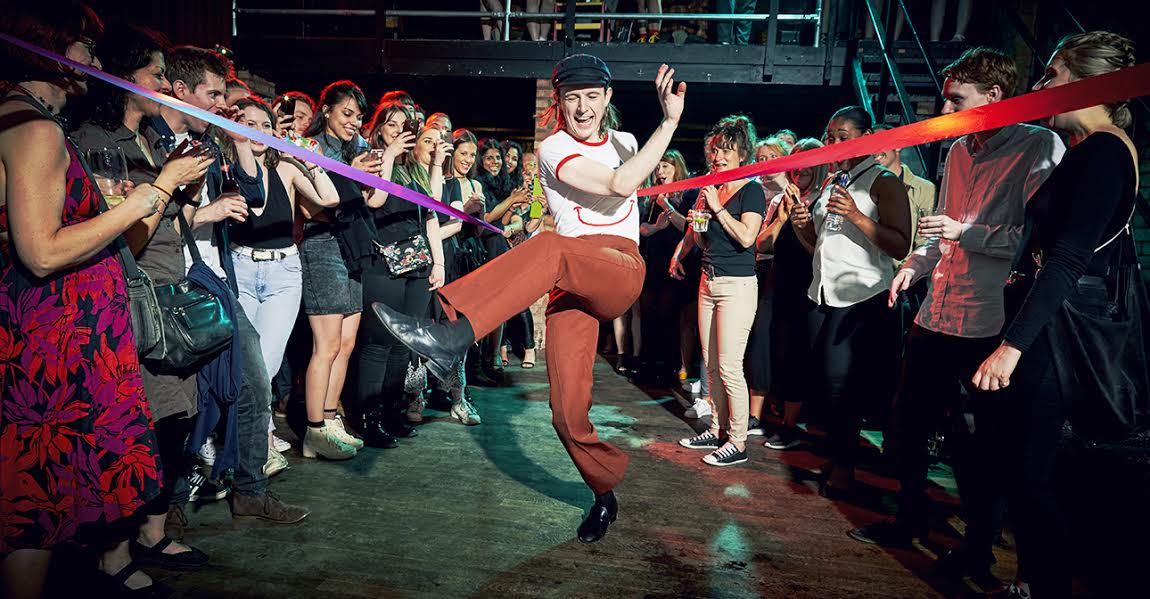 The Night Owl is known as the home of soul, funk and disco in Birmingham and famous for its brilliant club nights, live music performances and chic retro vibes. Now they're branching out into… brunch! On 21 Septemer you can enjoy a Disco Brunch, and quite frankly we think this sounds like an epic idea. Your ticket includes unlimited beer, prosecco or rum punch for the first hour (12 – 1pm) and food from Rudo Taco. While you munch on your food and sip on your drinks, enjoy the best tunes in disco, funk, soul and boogie. Eating brunch and having a boogie – is there a better way to spend a Saturday afternoon? We think not! Details here.
Day Of The Pig At El Borracho de Oro – 20 September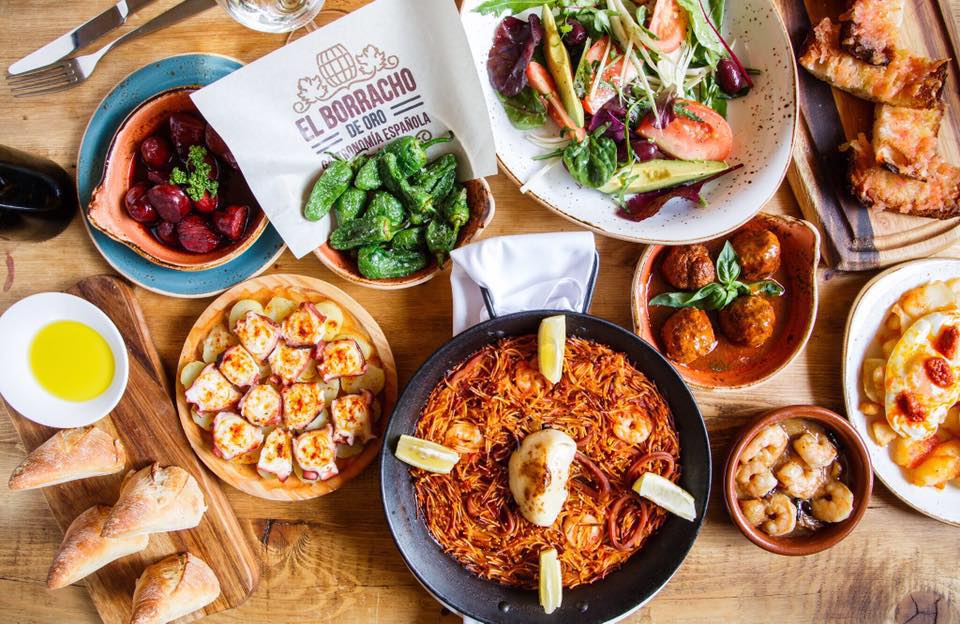 Foodies of Brum, get your napkins at the ready – it's time to get your feast on. The wonderful Spanish restaurant and tapas bar that is El Borracho de Oro are hosting a rather exciting event that we think you'll want to know about. For one night only they will be cooking and serving delicious roasted whole suckling pigs. Enjoy a range of tapas to share, including padron peppers, tomato salad with shallots, basil and olive oil dressing, and grilled scallop with black pudding and piquillo sauce, followed by the main attraction: that suckling pig with panderas potatoes. Maybe one for the veggies to miss out, but for those of you who enjoy your meat, this is unmissable. Book here.
Celebrate The New Brunch Menu At Wayland's Yard – 8 September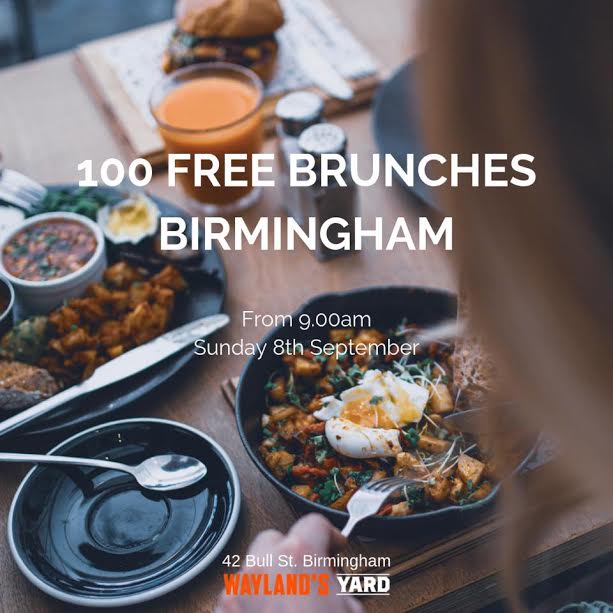 Brunch legends Wayland's Yard are known for serving up some of the darn tastiest breakfast-come-lunch dishes in the city. They've had foodies flocking to their city centre coffee shop to devour their Brum-famous eggy crumpets for a good while. Now they're launching a brand new brunch menu, and we can't contain our excitement. The best part is they're giving away 100 brunches for FREE! All you have to do is get to Wayland's Yard and be one of the first 100 people through their doors on Sunday 8 September – they're feeding the first 100 people for free. Drinks aren't included, but you should definitely buy a couple to say thanks for the free brunch and to support an ace independent. Race you there?
Enjoy The Weather At The Edgbaston – September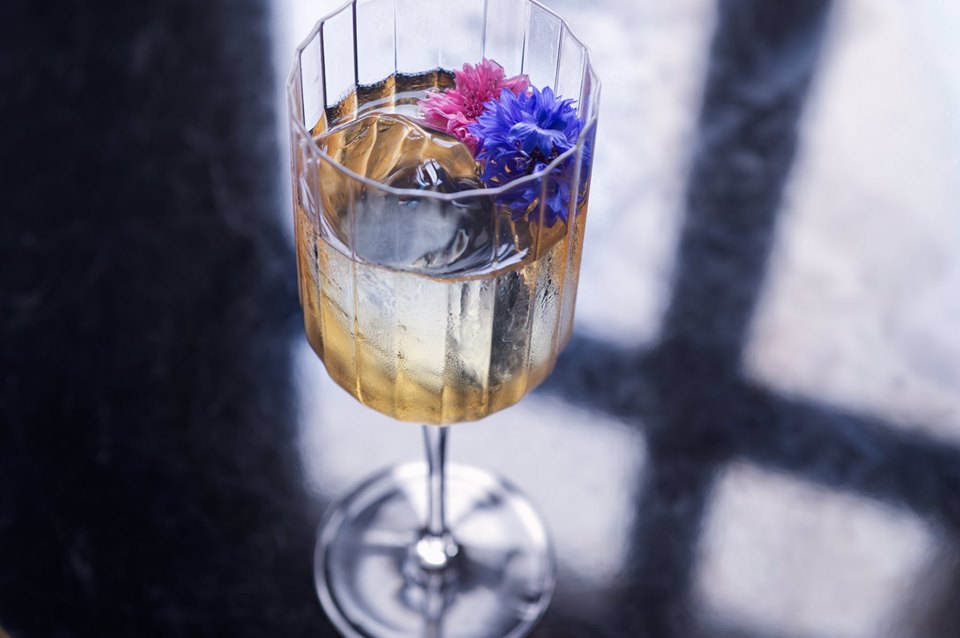 If, like us, you feel as though Summer went by in a flash (and just where did that sunshine go?), then we recommend making the most of the weather while you can. Whilst we love cosying up in our warmest jumpers and sipping on hot chocolate in Autumn, we also love to enjoy the sunshine while it lasts. So spend the last few days of warm-enough-not-to-wear-a-jacket weather by making the most of sitting al fresco. Our top pick is enjoying the outdoor terrace-garden area at The Edgbaston. Sip on some beautiful cocktails, or scoff the most delectable of Afternoon Teas with a loved one, and soak in the last of those late Summer rays – bliss.
Drink Wine And Get Quizzed At Loki Wine And Deli Edgbaston – 12 September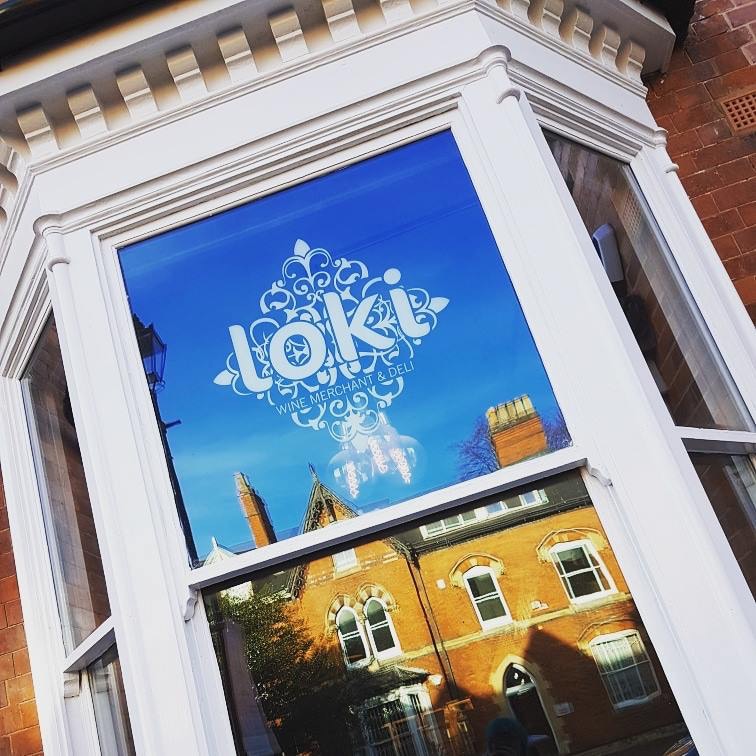 Consider yourself somewhat of a wine expert? Well put your knowledge to the test by joining Loki Wine for a Wine Quiz with Dr. Loosen Wines at their Edgbaston wine bar and see if you can come away victorious. In this fun, competitive wine tasting quiz you will go head-to-head with other teams, whilst learning all about different wines. You will be taught to distinguish new-world from old-world wines, and then have your palate put to the test to see if you can tell the difference between various pairs of wines. The winning team will receive a prize in this fun and casual tasting event. Only a handful of tickets left, so be quick and grab yours here.
After Edinburgh At Hare And Hounds – 5 September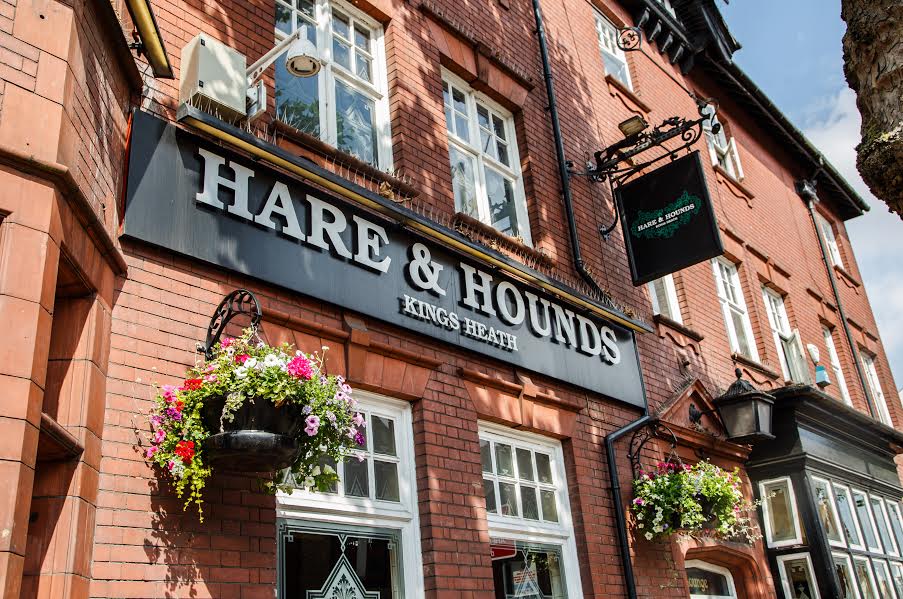 Love comedy but couldn't make it up to Edinburgh for the Fringe Festival? We hear you. Luckily for you Hare & Hounds are hosting a post-Edinburgh Fringe comedy night, so you can get your giggle on without travelling for miles. Enjoy Too Pretty To Punch – a spoken word comedy show about gender, the media, and not fitting any of the boxes, from banjo-wielding, trans warrior Edalia Day. Also on the bill is The Legacy of William Ireland – a historical comedy drama from Stage D'Or and acclaimed playwright, Tim Connery. A night of laughter awaits you – grab your tickets here.
Next Noun's On Me At Digbeth Dining Club – 13 September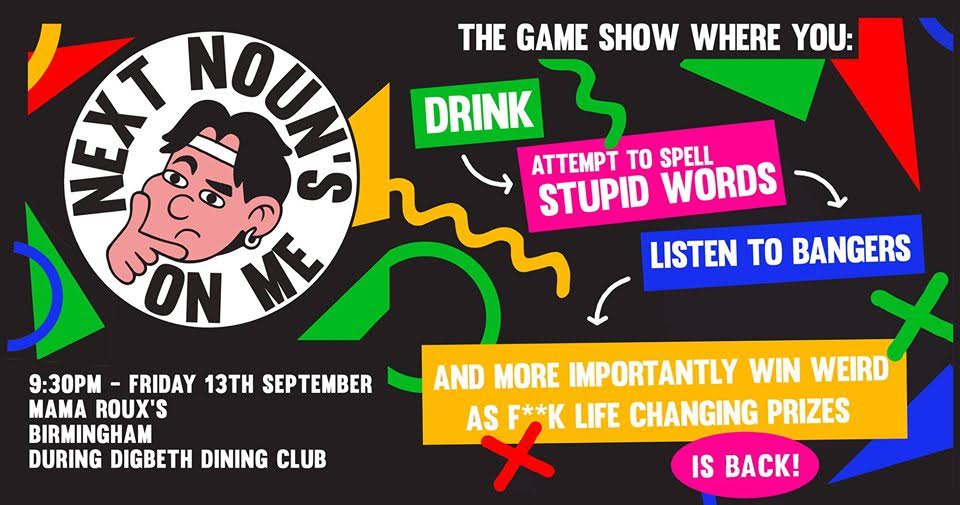 What's your ideal way to spend a Friday night? Drinking beers? Check. Listening to banging tunes? Check. Eating award-winning street food? Check. Attempting to spell stupid words? Che.. wait, what?! A spelling quiz might not be your first choice of Friday night activity, but trust us when we say you won't want to spend it any other way. The country's favourite (read: only) Spelling Bee Gameshow is back at DDC and you NEED to be there. In this crazy event, expect to be summoned on stage to spell words you've never heard of in an attempt to win ridiculous prizes (past prizes include a tamagotchi, an inflatable Mr. Blobby costume, and your height in lager). £1 entry to DDC and no extra cost to play. You'd be mad not to. Deets here.
Harry Potter And The Philosopher's Stone In Concert At Symphony Hall – 11 September
Witches and wizards, assemble and head to the Great Hall (Symphony Hall) on Wednesday 11 September for a magical and mystical night of music and film. For all you Potter-heads, get your fix of The Boy Who Lived as you watch the first film in the beloved, famous franchise. This is no ordinary screening however, as The Czech National Symphony Orchestra will be performing the score live, to picture. Relive the magic, on the (very) big screen while hearing John Williams' unforgettable score performed live by a talented orchestra. Grab your compulsory tickets here.
Visit A Beloved Independent – September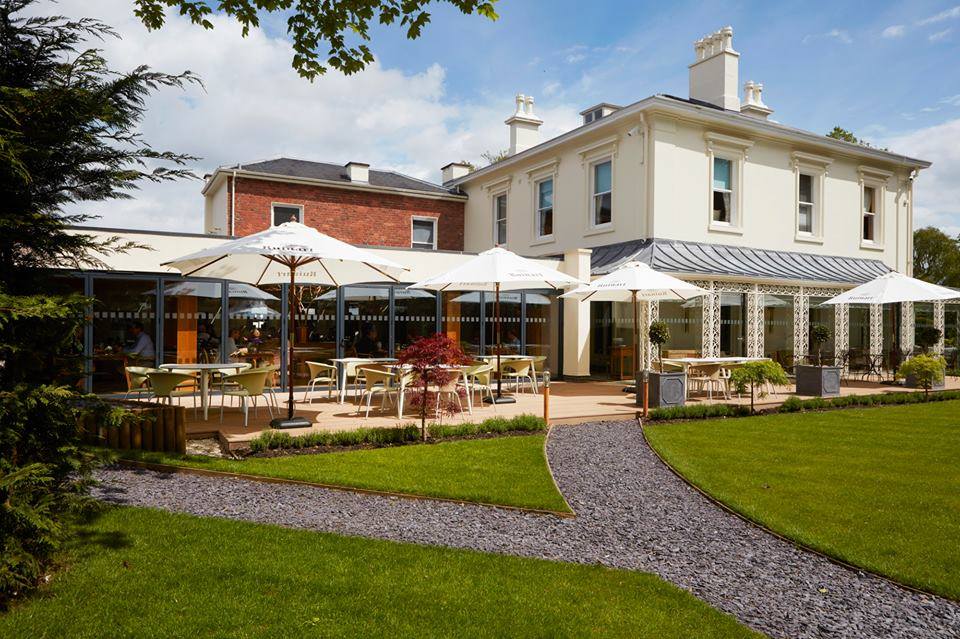 Has it been a while since you last visited some of the best independents in Birmingham? We know how it is, you always say "we must go back" to some of these places, and time inevitably runs away with you. So this September, why not book in a date night, a mate night, or a family night, and go somewhere you've been meaning to go back to for a while. The brilliant Simpson's is a fantastic, Michelin-starred restaurant in Edgbaston, just a short jaunt from the city centre. Serving some of the most incredible dishes, this is a wonderful place for a celebration or, you know, just a Wednesday night. If you've never been, book a table. If you have been and haven't got around to going back – also book a table. Have your mind blown by some exquisite dishes, you can thank us later.
Book a table now here.