Introducing the winners of the first ever Independent Birmingham Awards!
Following a rigorous peer-review process, whereby independents were nominated in each category by the general public (indeed, we had over 800 nominations – which shows just how much love and support there is for Brum's indie scene), our panel of 14 Shortlist Judges, hand-picked to represent a variety of business backgrounds, voted for their top 5 choices in each category to create our Shortlist. From this list, our Finalist Judges made the tough final decision on who would win each category in the IB Awards.
We'd like to take a moment to thank all of our judges for their hard work and careful deliberation in picking the winners for the first ever Independent Birmingham Awards. Our Finalist Judging Panel comprised of 8 well-respected and talented individuals. So, in no particular order, thank you to: Katy Drohan (deputy editor of I Choose Birmingham), Jodie Cook (founder of JC Social Media, and co-author of Clever Tykes), PJ Ellis (co-founder of Love Brum, and director of Lightbox Digital), Catherine Webber (founder of Brum Beer Babs), Rosie Ginday MBE (founder of Miss Macaroon), Adam Cartwright (co-founder of Out In Brum), Immy Kaur (co-founder of Impact HUB Brum and TEDxBrum) and Conrad Brunton (founder of Tonic Talent and C.H.E.F.).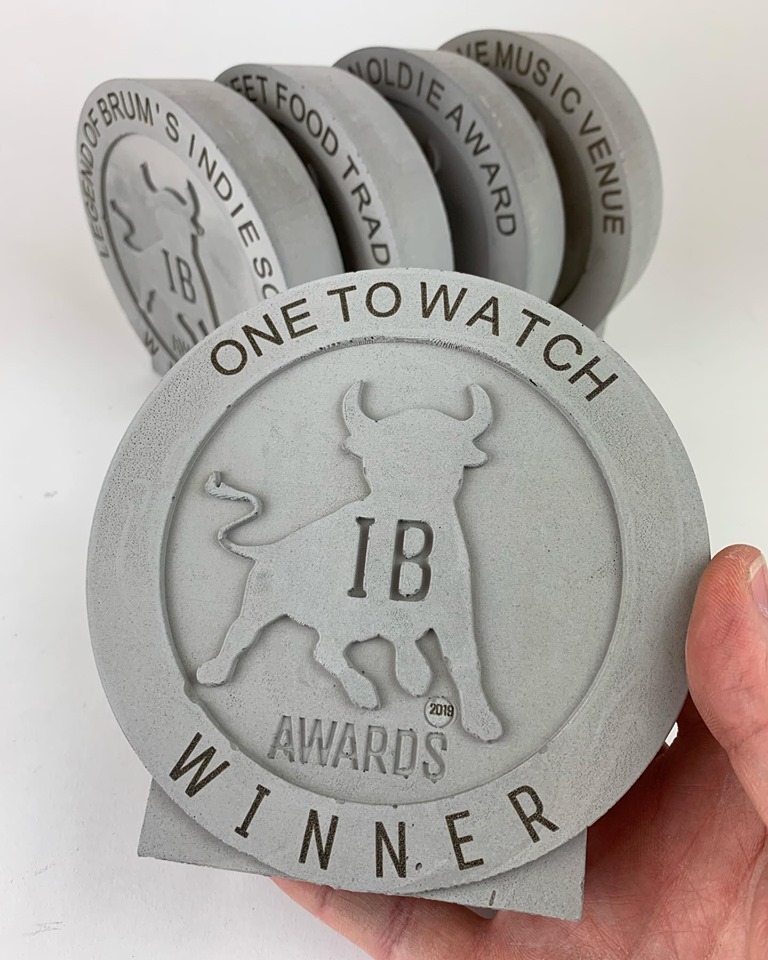 We'd also like to take a moment to thank the incredible Space-Play for creating the magnificent IB Awards trophies. Made from concrete and laser-engraved, they're a nod to the Brutalist architecture of Brum, and we can't wait to hand-deliver them to the winning independents.
The competition was fierce, and there are so, so many incredible independent businesses in Birmingham doing amazing things for this city, but there can only be one winner in each category. So without further ado, here are the winners of the Independent Birmingham Awards 2019: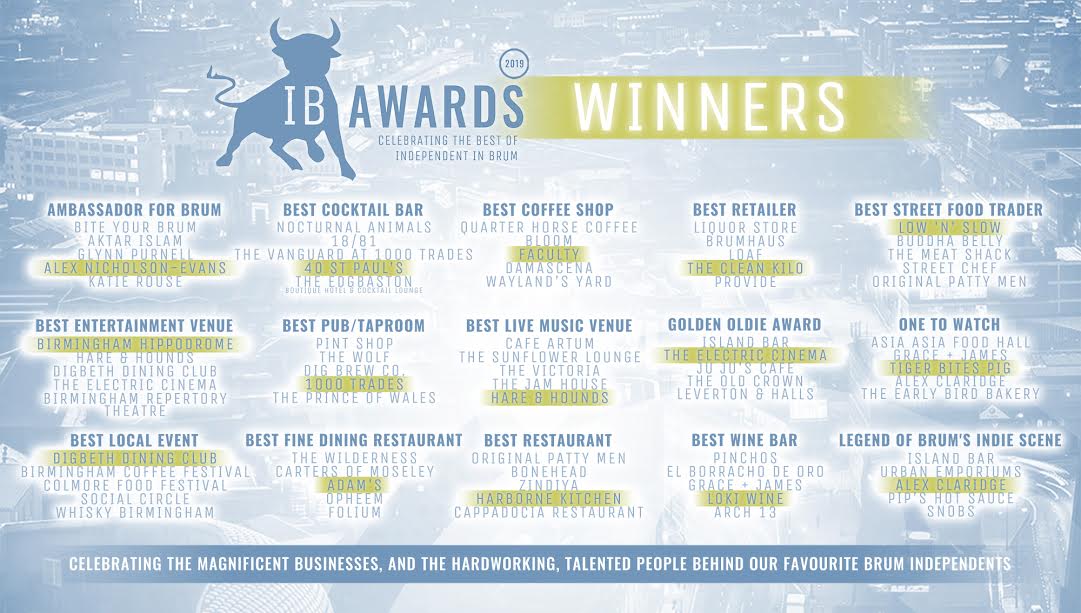 AMBASSADOR FOR BRUM AWARD
Alex Nicholson-Evans
BEST RESTAURANT
Harborne Kitchen
BEST COCKTAIL BAR
40 St. Paul's
BEST RETAILER
The Clean Kilo
BEST COFFEE SHOP
Faculty
BEST STREET FOOD TRADER
Low 'N' Slow
BEST ENTERTAINMENT VENUE
Birmingham Hippodrome
BEST WINE BAR
Loki Wine
BEST FINE DINING RESTAURANT
Adam's
BEST LIVE MUSIC VENUE
Hare And Hounds
GOLDEN OLDIE AWARD
The Electric Cinema
BEST LOCAL EVENT
Digbeth Dining Club
ONE TO WATCH
Tiger Bites Pig
BEST PUB/TAPROOM
1000 Trades
LEGEND OF BRUM'S INDIE SCENE
Alexander Claridge
BRUM'S BEST DISH
Bacon Cheese Burger – Original Patty Men
BRUM'S BEST SOCIAL MEDIA ACCOUNT
The Fat Foodie UK
BRUM'S BEST COCKTAIL
Strawberry Fields – The Night Owl
BRUM'S BEST BEER
Pale Brummie: Citrus Pale Ale – Birmingham Brewing Company
BRUM'S BEST SCOTCH EGG
Pint Shop
Congrats to all of the winners! Make sure you all go and visit them over the next couple of days to congratulate them in person – they're doing superb things for Birmingham and our independent scene.