Burgers come in all shapes and sizes, but they all have one thing in common – they're damn tasty.
Sometimes all you need in life is a filthy burger, smothered in melted cheese, condiments and sauces galore that drip through your fingers as you bite into that delicious hunk of goodness. Beef burgers, chicken burgers, veggie burgers – we love them all. There's nothing quite like a burger when you're craving the ultimate comfort food. So we thought it was about time we gave you the lowdown on where to get your ultimate burger fix in Brum.
Read on, for burgers and for glory.
The Meat Shack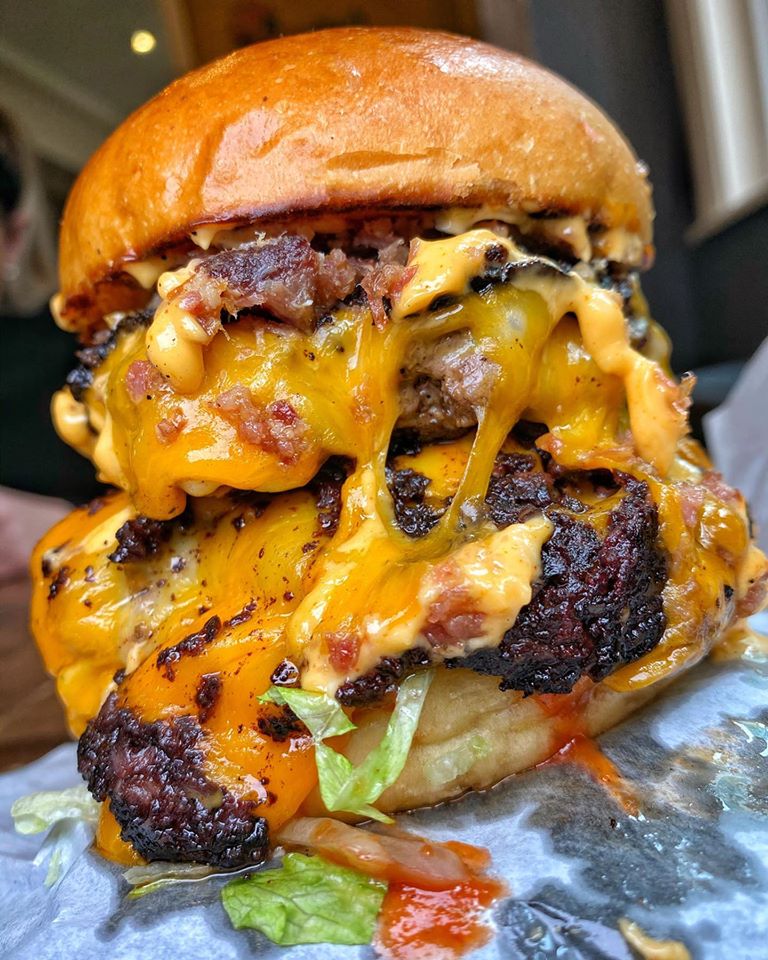 PHOTO: THE FAT FOODIE UK
Dripping, filthy burgers. Need we say more? The Meat Shack is where all of your burger dreams will come true. Having gained cult status as a stalwart of local street food events, The Meat Shack found themselves a permanent home – and folks, it's a burger haven. While simple in style, the burgers are what you've come for and they certainly do all the talking. Inside your burger of choice comes a 5oz hand-smashed (yeah, you heard correct – smashed) patty which is crisp on the outside and dripping with filthy goodness on the inside. Topped with anything from blue cheese and buffalo sauce, to streaky bacon, to Rib Man Holy F**k hot sauce, you really, really need these burgers in your life. Add in some immensely tasty sides (big, juicy, crispy onion rings – yes please!) and you're all set. Next time you need some filth in your life (right now?), head to The Meat Shack. Oh, and keep a look out for their specials. They're life-changingly good.
Original Patty Men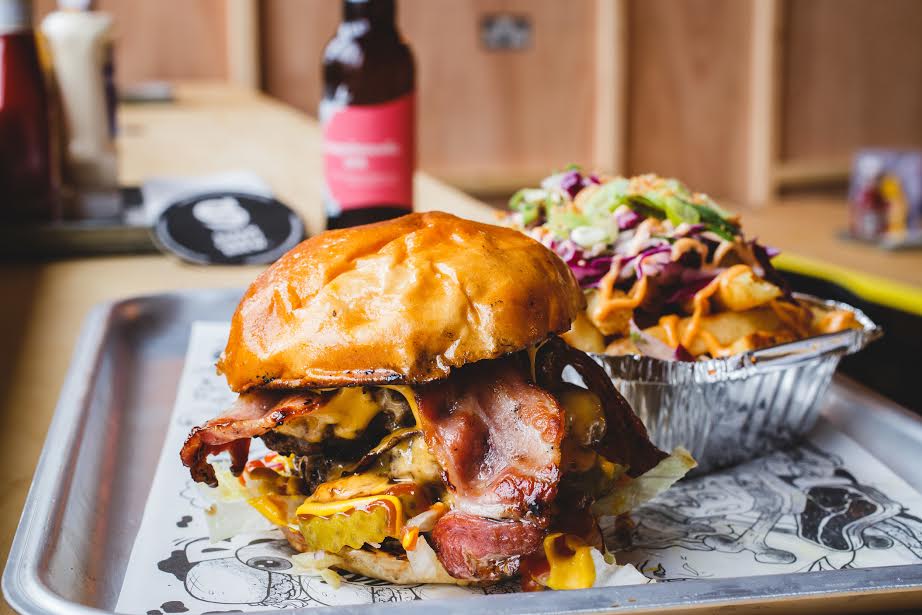 If we're talking about burgers, we NEED to talk about OPM. Known as the 'Purveyors of Filth', they've gained themselves somewhat of a cult status in the Birmingham food scene, and quite rightly so. Their epic burgers will definitely help satisfy your foodie cravings. But, seriously, their burgers are sensational and you need them. They have classics like the Cheezy-E (their take on a classic cheeseburger) and the Bacon Cheese (a classic bacon cheeseburger with all the trimmings), but they also have their own creations and unreal specials too. All of their beef patties are made with aged Longhorn beef for the most delicious beef patty, but they also have a seriously tasty fried chicken burger on the menu and a vegan tofu burger too. One of our favourite things about OPM is the fact they do chicken nuggets as a side. What could possibly go better with a cult burger than a side of nuggz? If you've never had an OPM burger, why not?!
BONEHEAD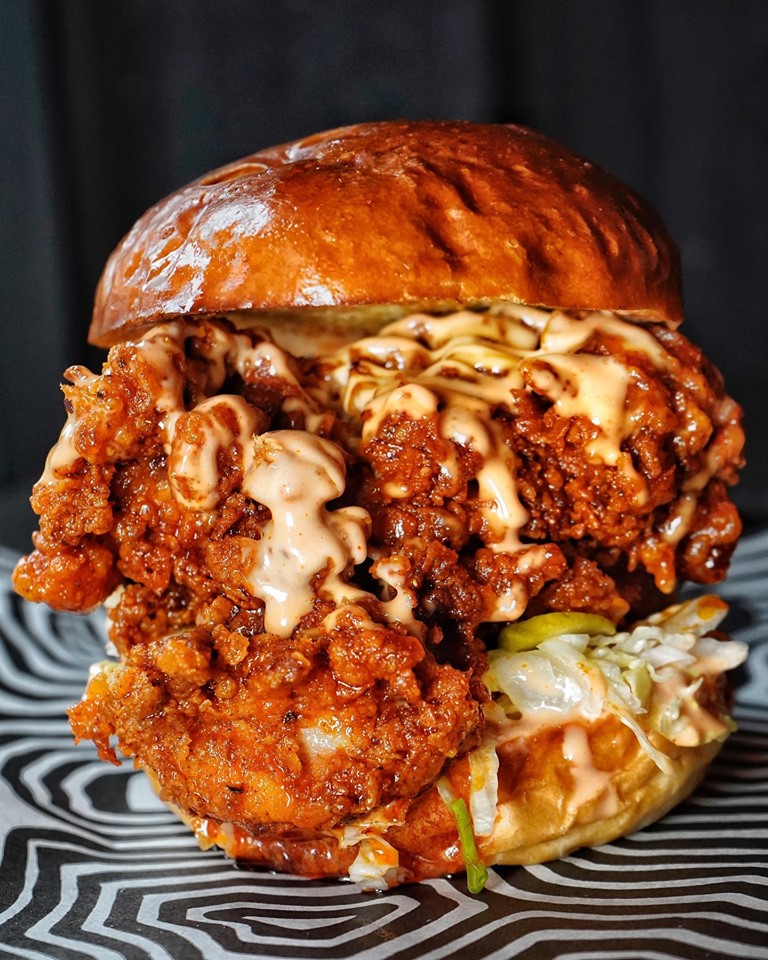 PHOTO: JAKE'S FOOD BIBLE
If you've never heard of BONEHEAD, we're not quite sure where you've been hiding. Since opening up just a few short years ago, they have quickly become a cult favourite thanks to their INSANE fried chicken. Whilst they do strips, wings, and pieces (all equally epic and an absolute must eat), we're here to talk about burgers. We could talk about BONEHEAD fried chicken burgers until the cows (or rather chickens?) come home, because they're seriously epic. The perfectly crispy batter on their ridiculously tasty buttermilk fried chicken encases the most succulent, juicy, tender chicken thighs you've ever sunk your teeth into. This is arguably the best fried chicken burger around, and it needs to be tasted to be believed. From the classic BONEHEAD burger to the Buffalo Soldier and the cult favourite HotHead burger, whichever one you choose you'll be in fried chicken heaven from the very first bite. Oh, dang, now we've drooled on our keyboard…
IB Deal: 10% off the bill
Low 'N' Slow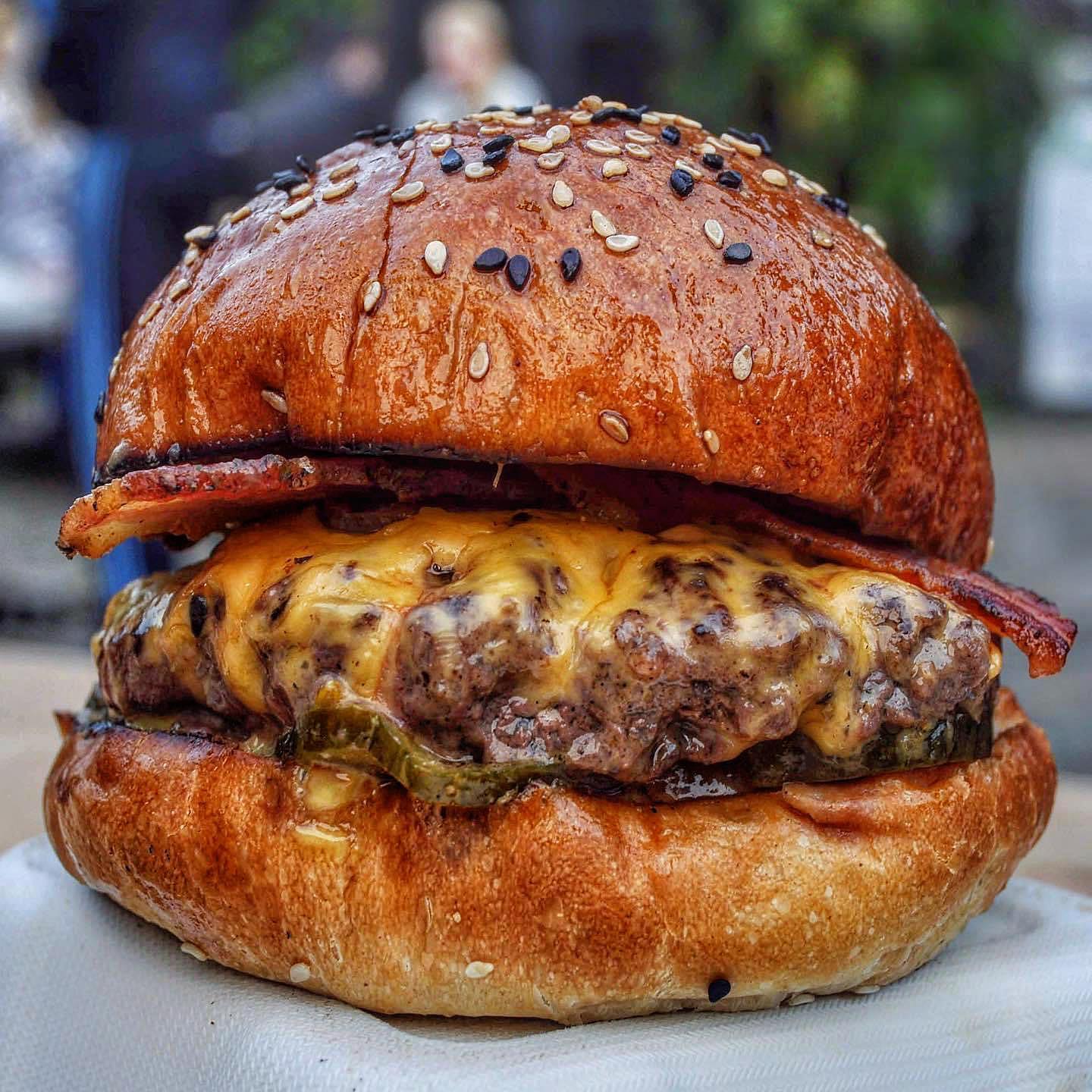 Digbeth Dining Club regular, Andy Stubbs (more commonly known as Low 'N' Slow) has made a name for himself by cooking up some of the most delicious barbecued meats around. Drawing inspiration from Texas BBQ and modern Mexican cuisines, but using native British meats, he has become known for the likes of his pulled pork, pork belly, lamb barbacoa, 15 hour smoked beef brisket and more. Regularly gracing the best street food events across the country to delight hungry revellers with tasty, meaty feasts, Andy has been known to sling some seriously epic burgers. Think 42 day aged Longhorn patty, topped with dry aged pork belly rashers, ox cheek barbacoa, cheese, pickles, homemade B-Mac sauce and mustard ranch, served in a buttermilk bun. Hubba hubba!
IB Top Tip: With many street food events currently unable to take place, Andy has opened an online shop where you can order DIY burger kits to re-create his ridiculously tasty burgers at home (alongside smoked meats, DIY Sunday Lunches, taco kits are more).
IB Deal: 50p off each street food dish at all traders at Digbeth Dining Club
The Old Crown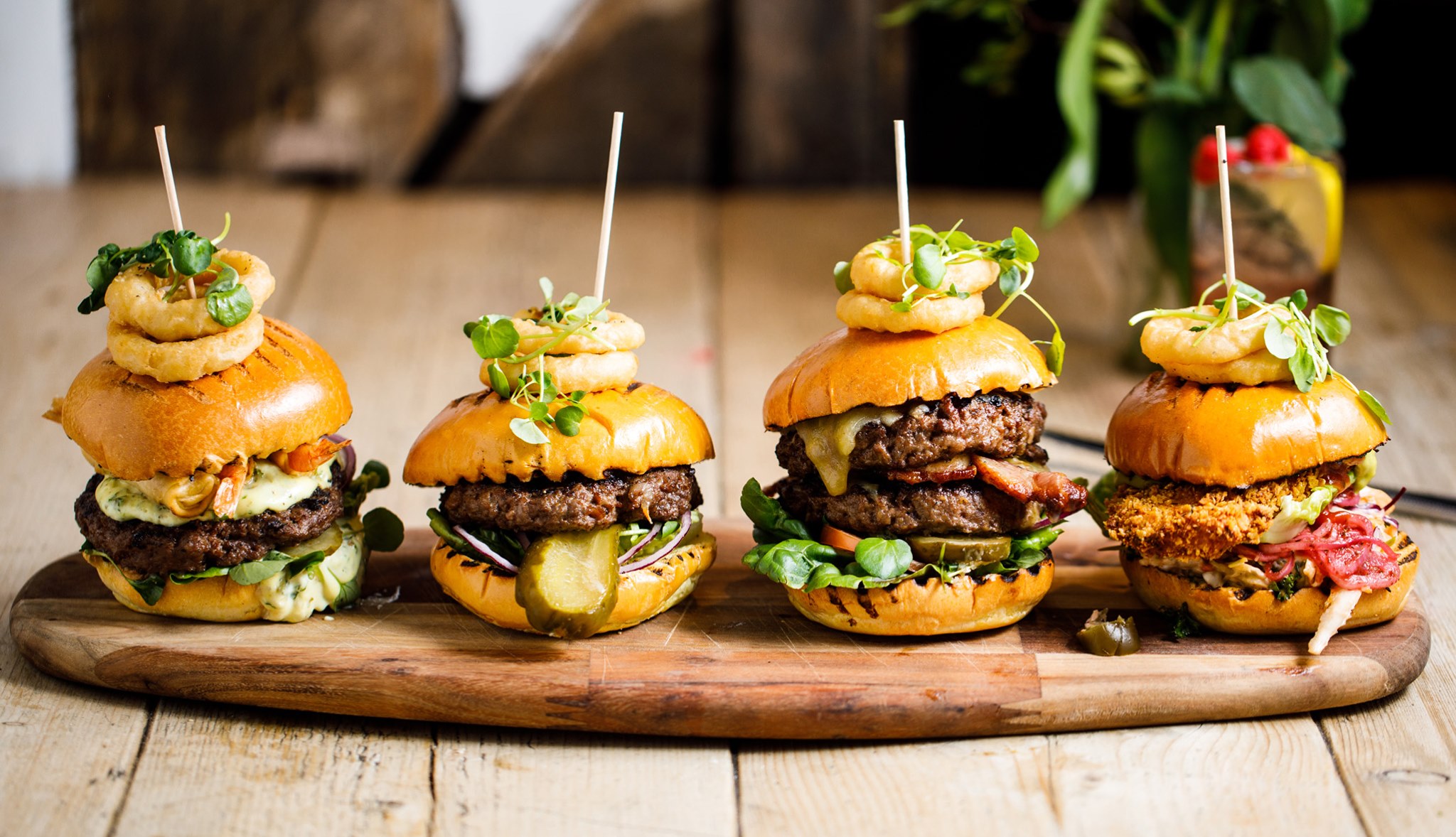 Birmingham's oldest pub serves some serious grub. There's a winning headline for you. But, in all seriousness, the food menu at The Old Crown is full of proper pub classics and favourites. They have a number of delicious burgers on their menu – each a worthy choice to satisfy your burger cravings. The OC Burger features 2 smashed beef patties, American cheese, streaky bacon, shredded lettuce, onion, pickle, burger sauce, brioche bun. The DFC chicken burger is packed with a Digbeth Fried Chicken thigh, American cheese, shredded lettuce, Cajun sauce and brioche bun. And for something meat free, the Beyond Meat Burger is fully loaded with all kinds of vegan goodness including vegan cheese and spicy ketchup and served in a pretzel bun. Go get your burger on at The Old Crown!
IB Deal: 15% off all food
Flamin' Patties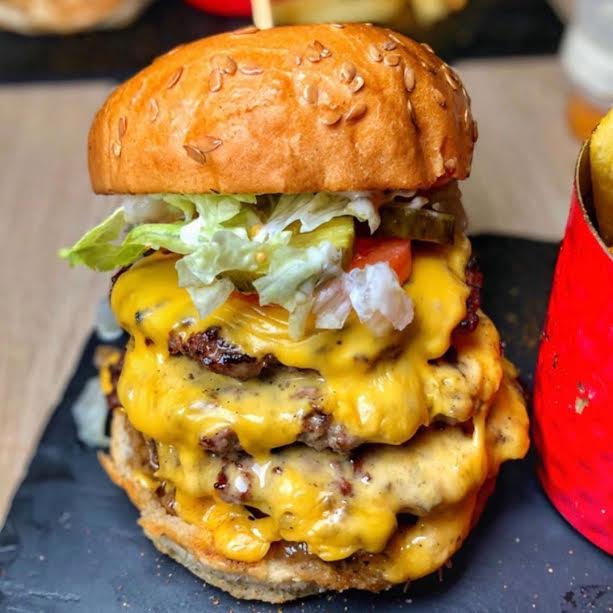 Photo: London Foodee
This burger restaurant is somewhat of a hidden gem, so they may not have popped up on your burger radar yet. At Flamin' Patties they aim to provide every customer with the ultimate burger experience, so they use freshly-sourced, high quality ingredients to create their seriously tasty burgers. No airs and graces here, this place is all about the quintessential burger experience – proper beef burgers and cheese burgers with a side of fries – the way burgers are meant to be enjoyed. Best of all, you can create your very own bespoke burgers (with a whopping 16 different toppings to choose from!). Plus they do amazing shakes, wings, chicken strips, and more if you need that little extra naughtiness. If you're yet to discover them, definitely go check them out.
Stripclub Streetfood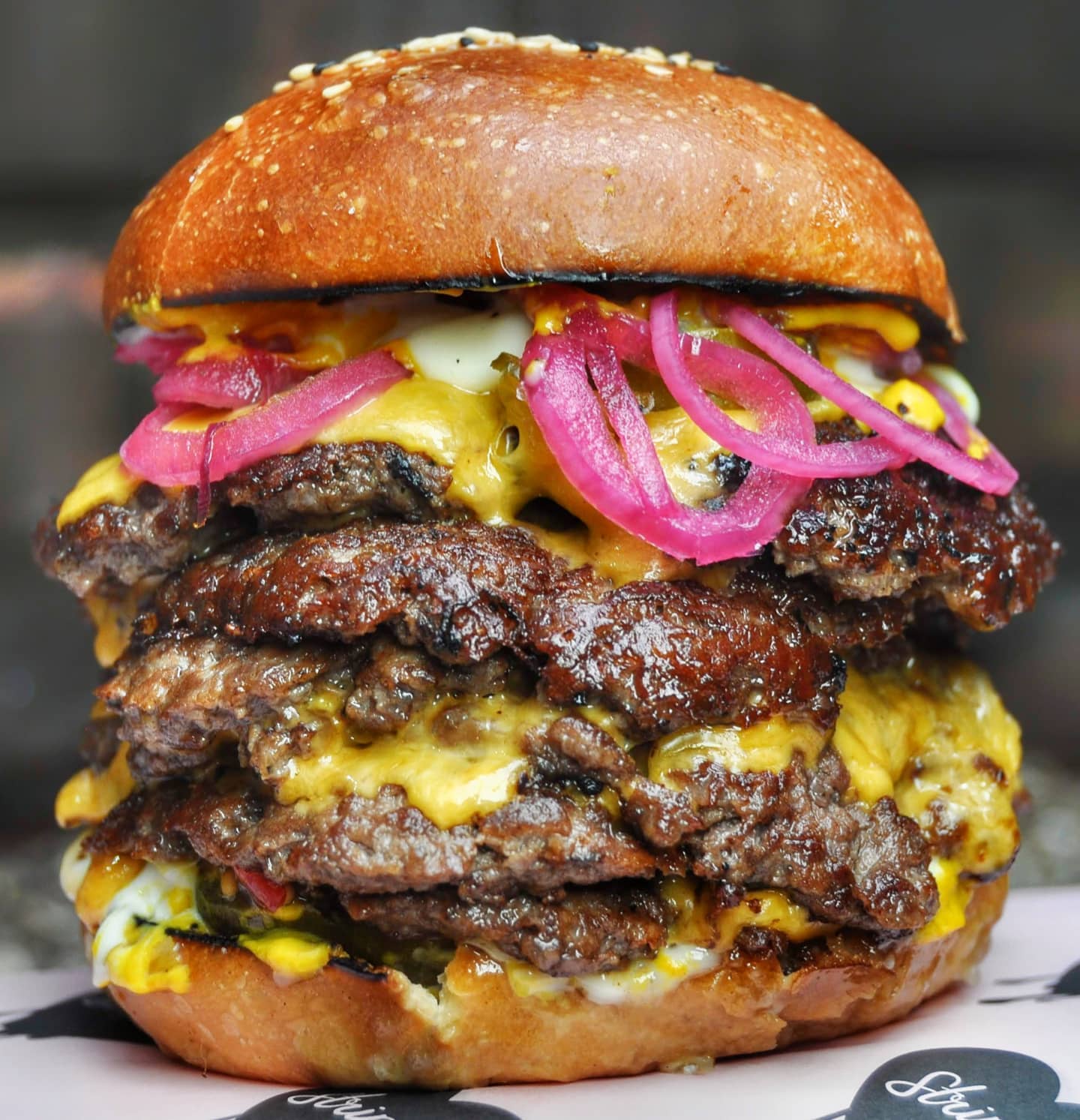 Photo: Patty Master
They have a naughty name and some even naughtier burgers! Stripclub Streetfood are all about the filthy burgers and when you're looking for the ULTIMATE indulgence you need to go seek them out. Expect the likes of the Smoke 'n' Yolk, featuring a smashed smoked cured bacon patty, Burford Brown fried egg, double American cheese, hangover sauce, and a butter dipped brioche bun; or the Striptease – packed with rare roast beef slices, double smashed aged beef patties, double American cheese, truffle mashed potatoes, horseradish cream, steamed seeded brioche bun and beef dripping gravy. If these outrageously, deliciously naughty burgers sound like your kind of thing (and they definitely should) head to Stripclub Streetfood's social media pages to find out where this awesome street food trader is popping up.
IB Deal: 15% off the bill.
The Indian Streatery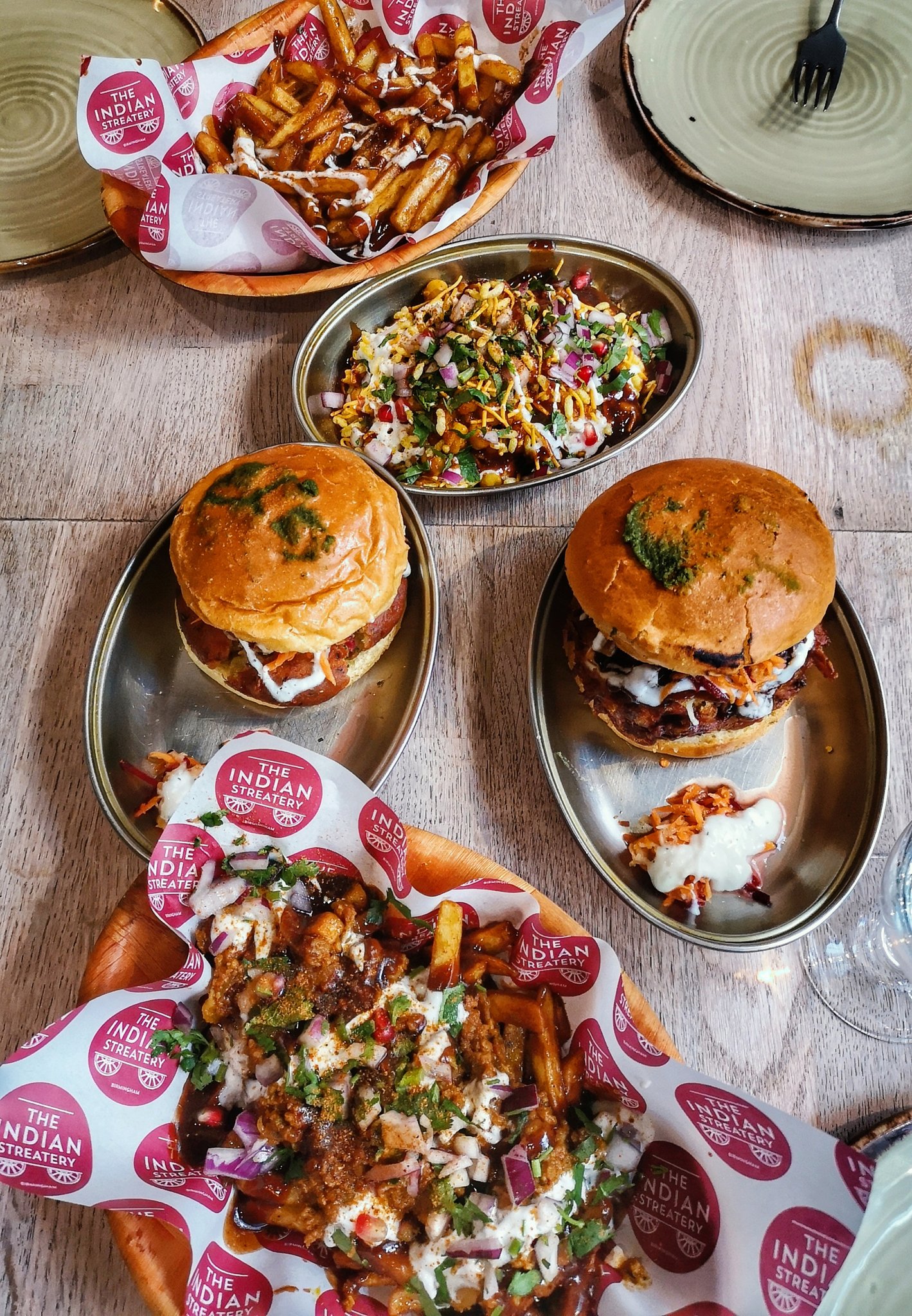 Photo: Bab About Town
The Indian Streatery have done it again! They've taken one of our favourite things to eat (burgers) and taken it to the next level. Combining the incredible flavours of Indian street food with everyone's favourite comfort food to bring us something seriously new and exciting to the burger world. They have three burger options on the menu and they are all equally delicious and packed with maximum flavour. The Minted Lamb Pakora Burger features a succulent Indian spiced lamb patty topped with crispy pakora bites. The Pakora Fried Chicken Burger is packed with a juicy chicken burger fried and wrapped in pakora batter (made from spinach and onion). And finally the Lentil & Chickpea Burger is filled with a lightly grilled lentil and chickpea patty – and all three burgers are topped with chilli cheese, tamarind and mint yoghurt sauces, and Streatery slaw. If you fancy a burger with a twist, get yourself down to The Indian Streatery right away for one of these delicious burgers.
IB Deal: 25% off the bill or 2 cocktails for £9 (Monday – Thursday) OR 10% off the bill or 2 cocktails for £9 (Friday – Saturday)
Wayland's Yard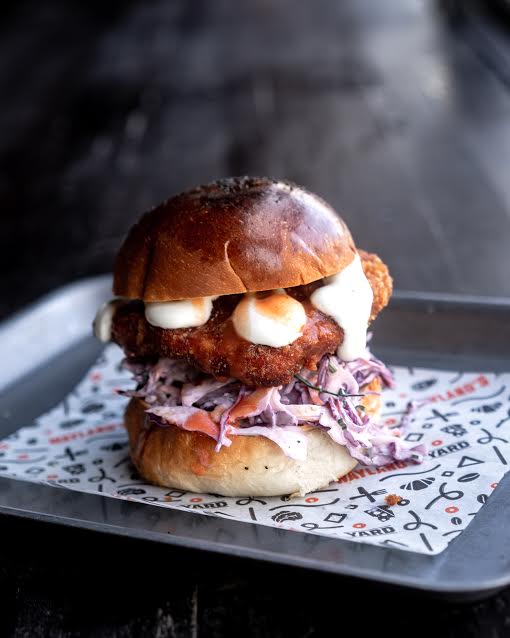 Wayland's Yard have made a name for themselves by serving some of the best brunch in Birmingham, but did you know they also do fried chicken burgers? Well, they do – and they're seriously cluckin' good. The Wayland's Chicken Burger features a cornflake fried chicken breast, pink buttermilk slaw, hot sauce and smokey garlic mayo, all housed in a brioche bun, and The Yard Burger is filled with a cornflake fried chicken breast, Swiss cheese, crispy bacon, pickled slaw, gherkins and Yard sauce, served in a brioche bun. We can't decide which of these is our favourite so we think the only way forward is to order both, devour them both, and then take a vote. Who's in?
IB Deal: 10% off the bill
The Flying Cows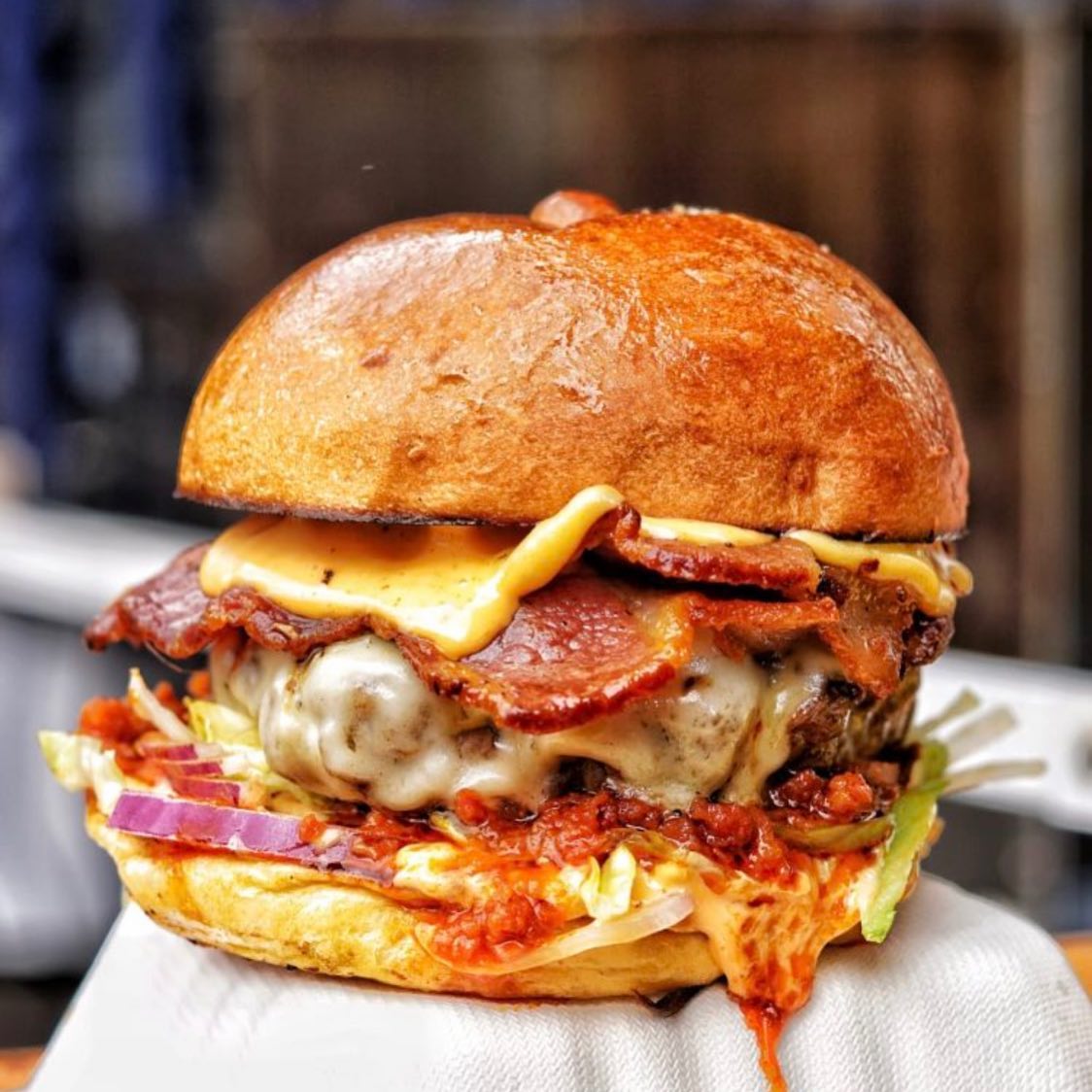 PHOTO: JAKE'S FOOD BIBLE
The Flying Cows have made a big name for themselves on both the local and national street food scene thanks to their incredible burgers. They don't come much better than this and there's something about burgers in a street food setting that you just can't quite replicate in a restaurant. Don't get us wrong, we love a burger in a restaurant but it's an ever so slightly different experience to grabbing a juicy, filthy burger from a street food truck. Owner, Dan, previously worked in Michelin-starred restaurants so he has a wealth of experience in the kitchen and has used this to produce some of the most delicious burgers around. They've won numerous awards for their epic burgers (including Britain's Best Street Food Burger in 2017 and 2019). If you've never got your hands on a Flying Cows burger, it's an absolute must – find them popping up at street food events across the city and at Digbeth Dining Club.
IB Deal: 50p off each street food dish at all traders at Digbeth Dining Club
The Patty Freaks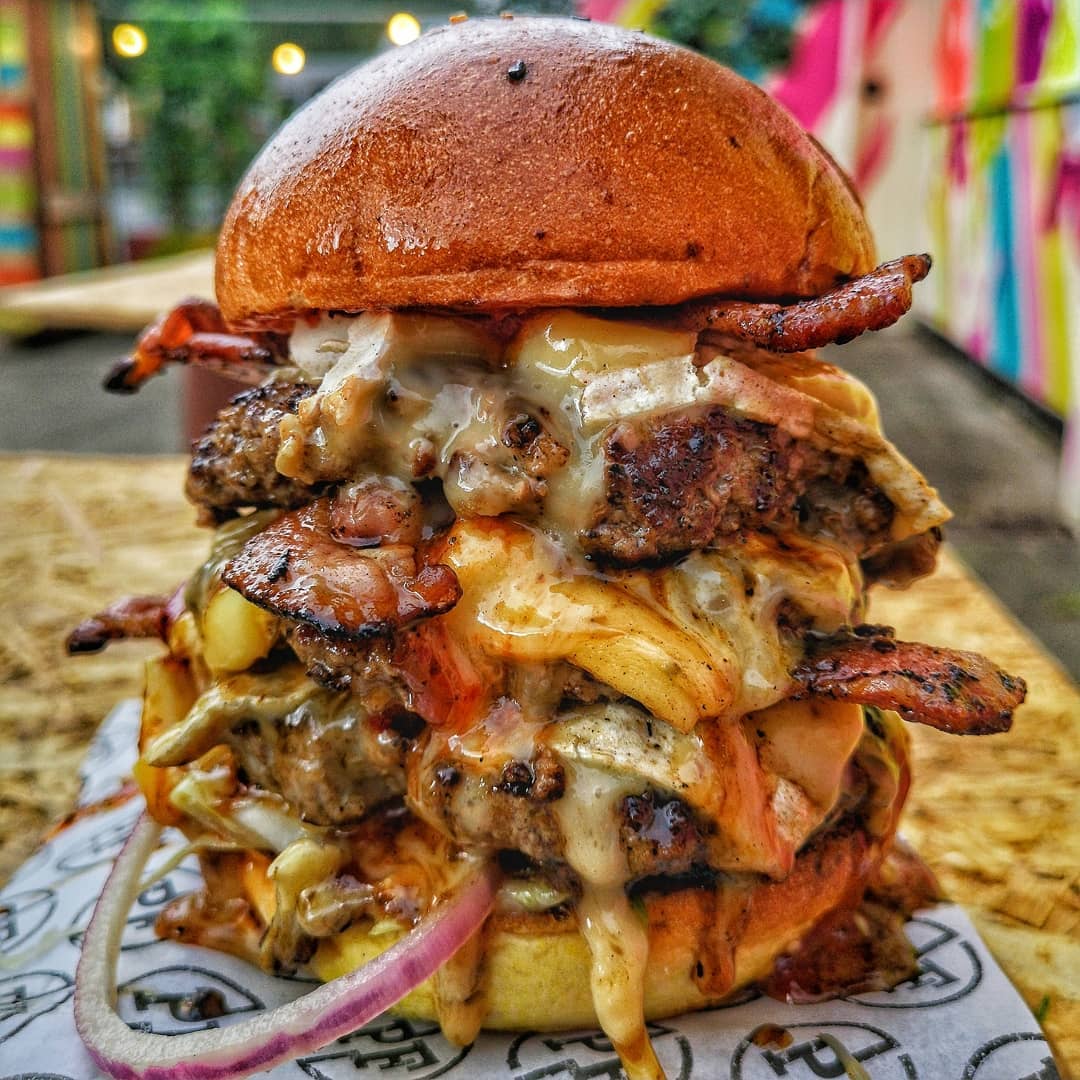 Photo: Omega Eats
Another incredible, award-winning, street food trader hailing from Birmingham, The Patty Freaks are burger pros. Another regular at DDC and local (and national) street food events, you know you're in for a treat when you get your hands on a Patty Freaks creation. Known for their mouth-watering patties and their freaky creations, such as The Sweet Freak – beef patty, cheese, bacon, caramel waffle, sweet chilli jam, peanut butter, brioche bun. It sounds freaky but it works – the combination of sweet and savoury is perfectly balanced. If you're not quite ready to take your burger to the next level with peanut butter and caramel waffles, they have classic options too (and they're goooood). So if you've never tried a Patty Freaks creation – it's high time you go right that wrong. Get out there and get your freak on!
IB Deal: 50p off each street food dish at all traders at Digbeth Dining Club
BA-HA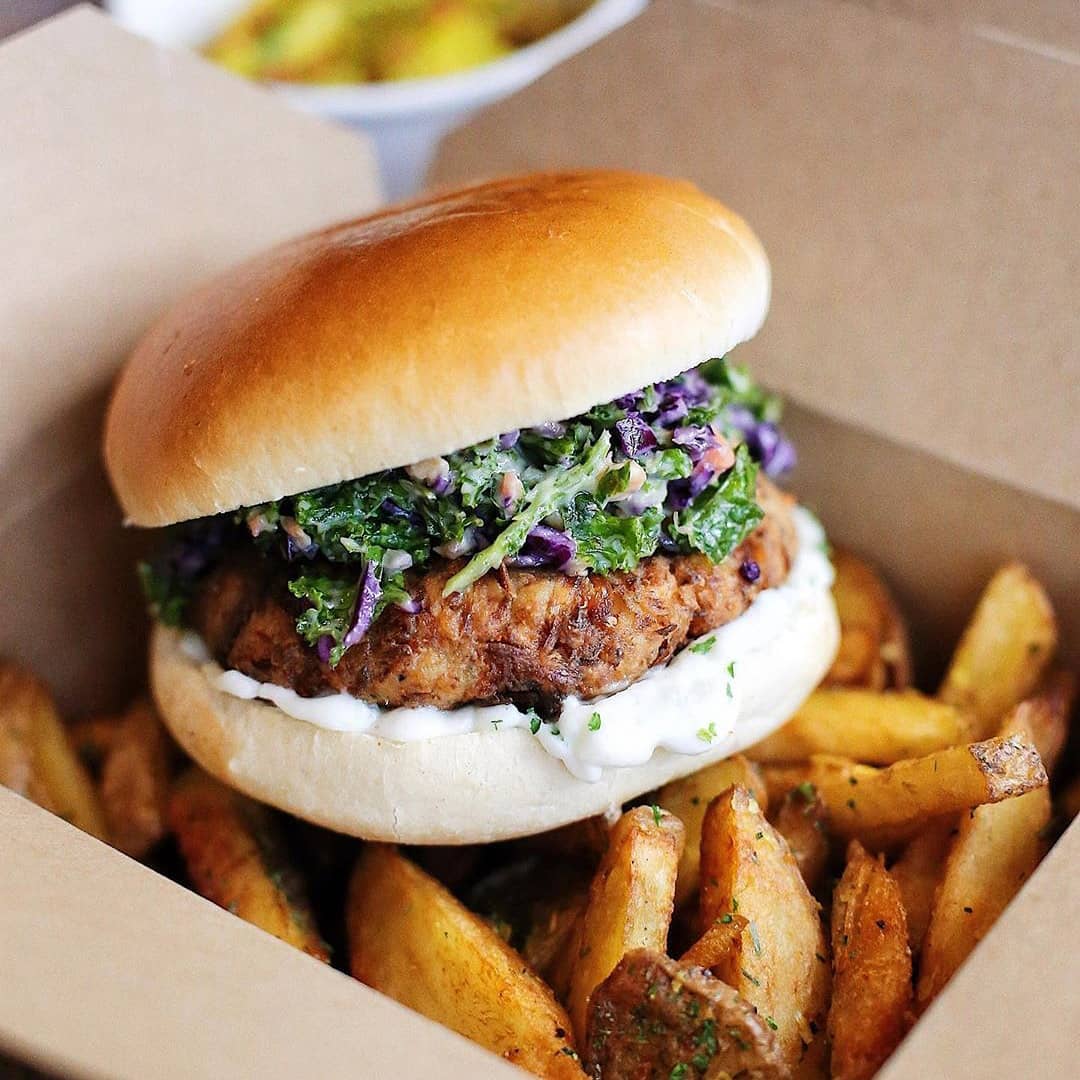 Photo: Birmingham Eats
Burgers don't have to just mean meat. Veggies and vegans can enjoy a naughty burger too, and they don't get much better than BA-HA's crowd-pleasing, plant-based creations. We're not talking about a sad little veggie patty like the token veggie burgers of old. We're talking full on flavour to make even the most hardened carnivores consider giving up the meat. From their BBQ Jack Burger (shredded jackfruit patty in a BBQ marinade, cheese sauce, garlic mayo and onion rings) to the Bish Burger (shredded jackfruit Bish patty in a breaded crumb, cheese, pea puree, lettuce and tartare sauce), and their famous King Kentucky Burger (king oyster mushroom, crispy golden breading, garlic and sriracha mayo and fresh salad) there are loads of great options. If you're looking for a plant-based burger fix, go and find BA-HA (currently slinging vegan eats at the ace Stag Digbeth in The Custard Factory).
IB Deal: 10% off all drinks at Stag Digbeth
Plant + Pulse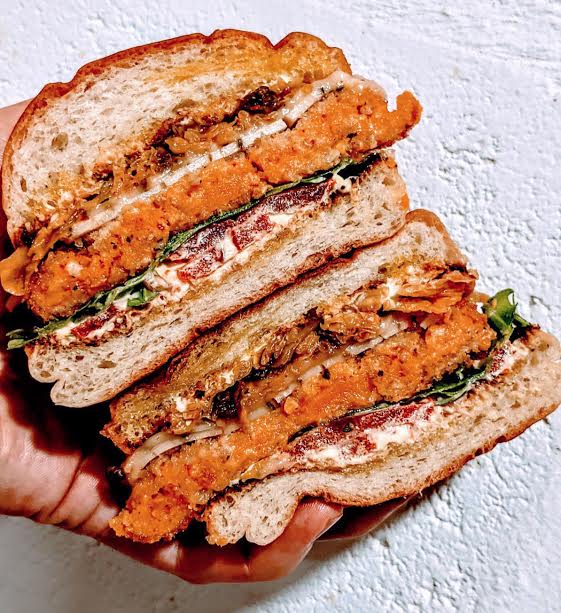 Another fantastic plant-based option is the wonderful Plant + Pulse (found in The Minories). This sustainable food establishment creates some of the most delicious plant-based dishes in the city and are a great option for a tasty and healthy lunch. All of their food is seasonal, plant based and made fresh in house so you know its the good stuff and they have some tasty vegan burger options available to order and collect. The Pakora features a veg pakora patty, pickled aubergine, mustard chillis, mint 'yogurt' and rocket. The Lentil is filled with a smokey lentil patty, red haricot bean tempeh, smoked cheese, pickles, onion, gherkins and burger sauce. And our favourite, The Katsu, is packed with a katsu croquette, kimchi, wasabi mayo, tomato and rocket. Whichever of these tasty options you choose, it'll be a winner for sure.
IB Deal: 25% off the bill (valid on pre-orders for collection only, quote IB"% to redeem – October only, see IB profile for full details)
The Oyster Club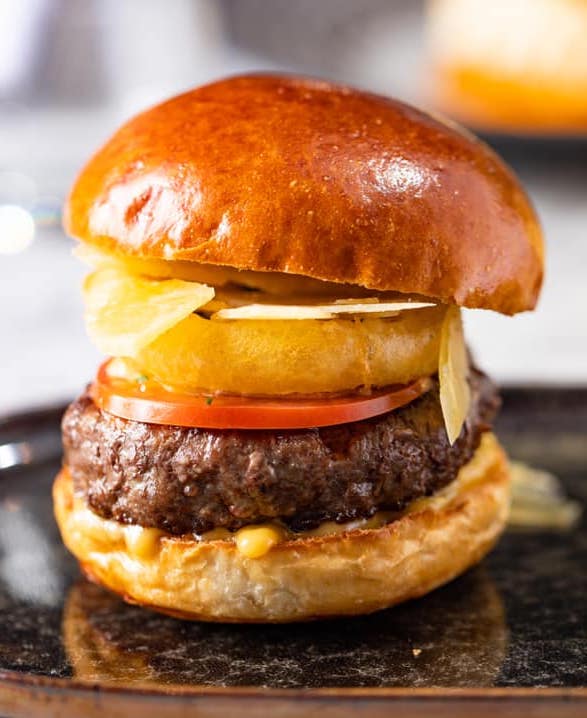 The Oyster Club (sister venue to the brilliant Michelin-starred Adam's) may be known for their amazing seafood dishes, but did you know they have a seriously incredible burger on the menu? This isn't just any burger – this is a delicious burger featuring some of the finest ingredients around. Featuring a Wagyu beef patty with roasted foie gras, truffle mayonnaise and Ogleshield cheese, this is one fabulous burger. We highly recommend that you drop everything you're doing right now and go and devour one of these burgers. While you're there, why not order a side of oysters too, because you know – it is The Oyster Club after all.
IB Deal: 15% off the bill (excluding caviar and set menus)
Purecraft Bar & Kitchen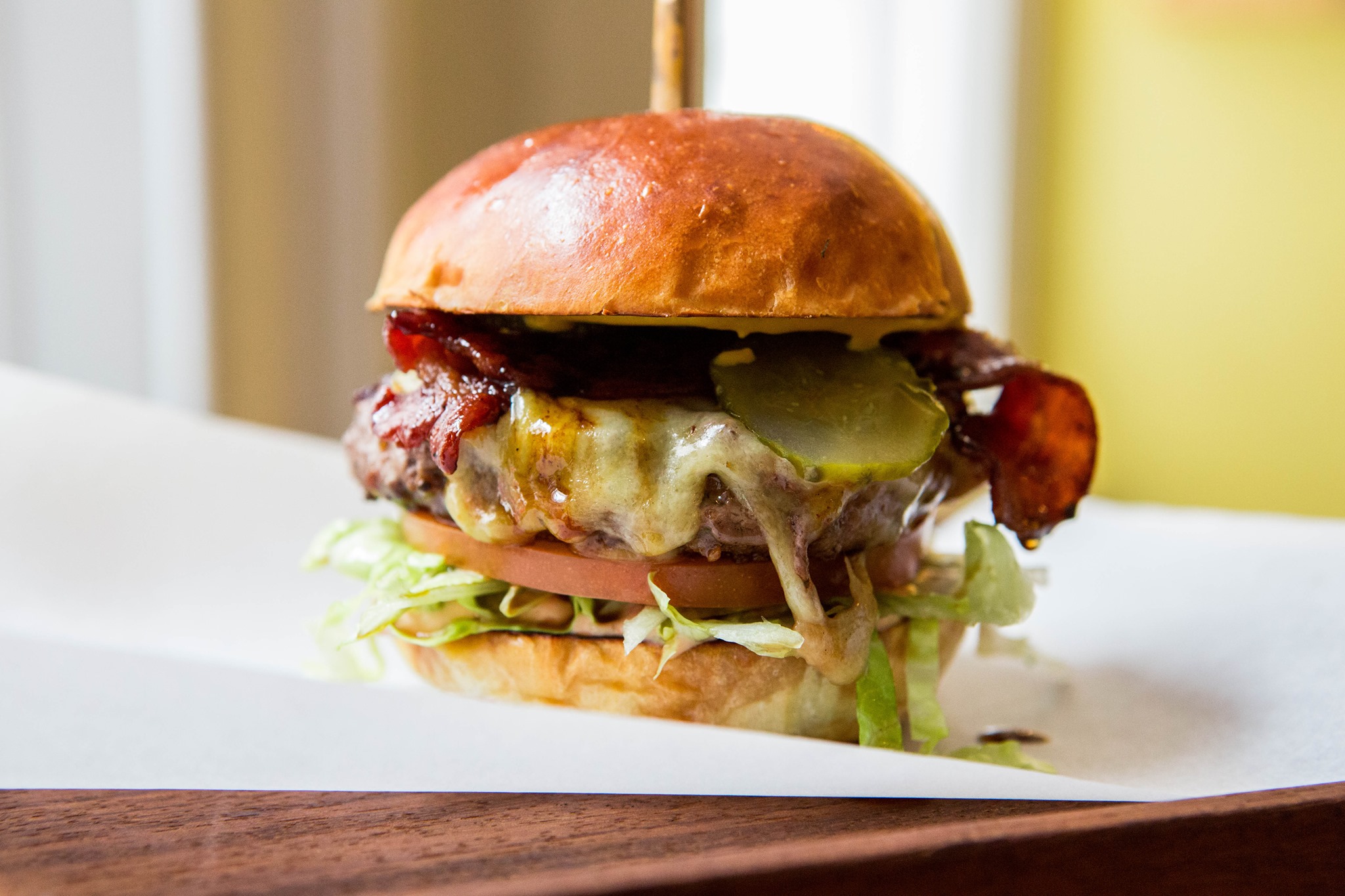 What goes perfectly with a delicious burger? Craft beer! So, where better to get your burger fix than the brilliant Purecraft Bar And Kitchen. First, choose your craft beer (they have 8 cask and 16 craft on draught, and around 60 different internationally-renowned bottled craft beers to choose from). Second, decide on whether to enjoy it with the Cheese Burger (topped with saddleback glazed bacon, pickles, and Russian dressing, served in a brioche bun) or the Fried Chicken Burger (featuring Japanese mayo, sweet and sour pickled cucumber, gochujang, and a brioche bun). Finally, order said craft beer and burger and revel in your marvellous decision to enjoy beer and a burger at this fine establishment. That's how you do it.
IB Deal: 10% off the bill (Sunday – Thursday)
Zindiya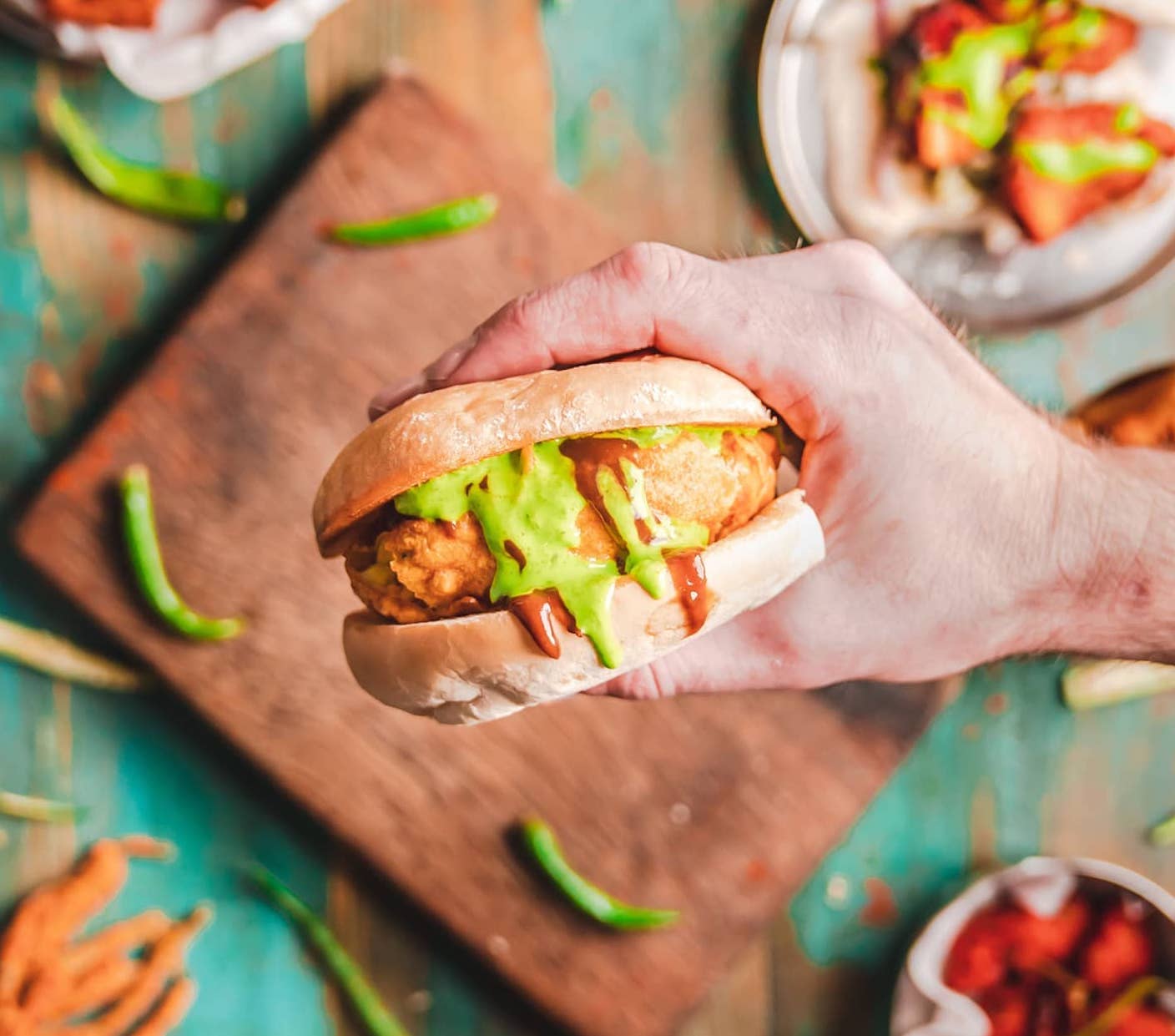 Moseley-based Zindiya are experts in serving delicious Indian street food dishes from their vibrant restaurant. Taking traditional Indian flavours and dishes and putting a modern, street food spin on them, they produce some seriously flavourful food. On their fantastic menu are three Indi Burgers and you might just need to try them all to find your favourite. The Vada Pav features a potato patty, garnished with hot, tangy and sweet chutneys; the Chicken Tikka Burger is packed with succulent pieces of spicy, grilled chicken topped with mint and coriander chutney, and a sprouting lentil salad; and the Soya Tikka Burger is filled with soya chunks marinated in soya yoghurt and fragrant spices, and cooked in the tandoor, topped with mango chutney and a sprouting lentil salad. If you've still never visited Zindiya, go and visit them for your burger fix.
IB Deal: 20% off the bill (Tuesday – Thursday).
The Plough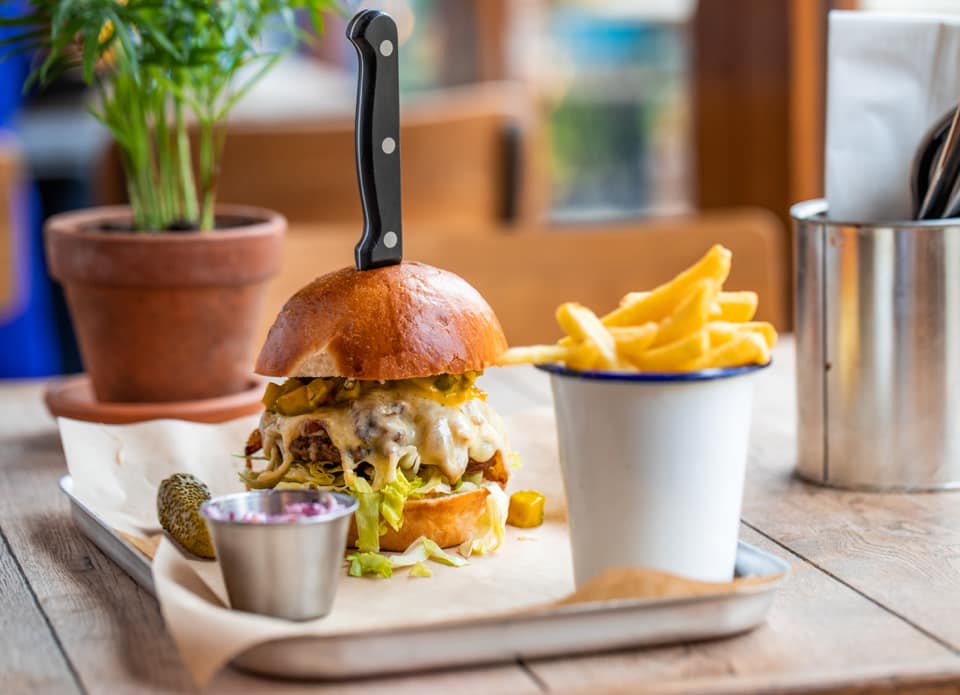 Sometimes in life you just need a classic burger. We love trying new things, and we love all of the crazy specials you can find from lots of burger places, but sometimes you just need the classics – they're classic for a reason. The Plough in Harborne is a wonderful neighbourhood gastro pub, and like all good gastro pubs they serve a classic burger. The Bar Burger features a homemade beef patty, Plough burger sauce, iceberg lettuce, red onion, cheese, crispy bacon and sliced pickles, served in a homemade brioche bun. Served with purple slaw and skinny fries, it doesn't get much more classic than that – and we're here for it. Your next move: head to The Plough and order the 'Bar Burger', order a suitable drink to go with said burger, then sit back and bask in your awesomeness. Go you!
IB Deal: 10% off food, 8am – 5pm (Monday – Friday)
Gas Street Social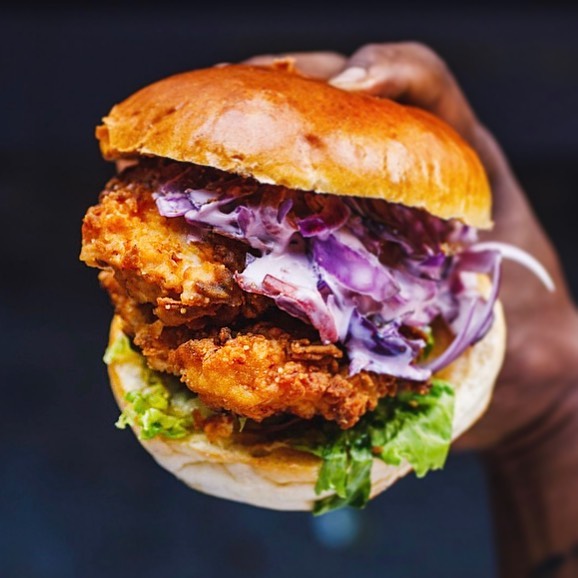 Gas Street Social are all about the crowd-pleasers. Whilst they are known for their brilliant bottomless brunch, the rest of their menu is pretty spectacular too. At Gas Street Social they know that you just can't beat a tasty burger. That's why they have 6 awesome burgers on the menu. If you like your burgers beefy then choose The Classic or The Bacon & Cheese. If you prefer a chicken burger then choose from The Cajun, The Chicken Reuben, or The Dirty South. Or if you fancy something plant-based, go for the The Hells Kitchen (which features a sweet potato and chickpea patty, with five bean chilli and 'cheeze' sauce). The best part? On Wednesdays you can enjoy 2-for-1 burgers all day. Whether you choose The Classic, Bacon and Cheese, The Cajun or The Chicken Reuben, the cheapest is free. What better excuse to get out for a mid-week feast than a free burger?!
IB Deal: a FREE cocktail, craft beer or glass of wine when purchasing any main course (three social plates is equivalent to a main course) – see IB profile for a list of drinks included in this offer
Digbeth Dining Club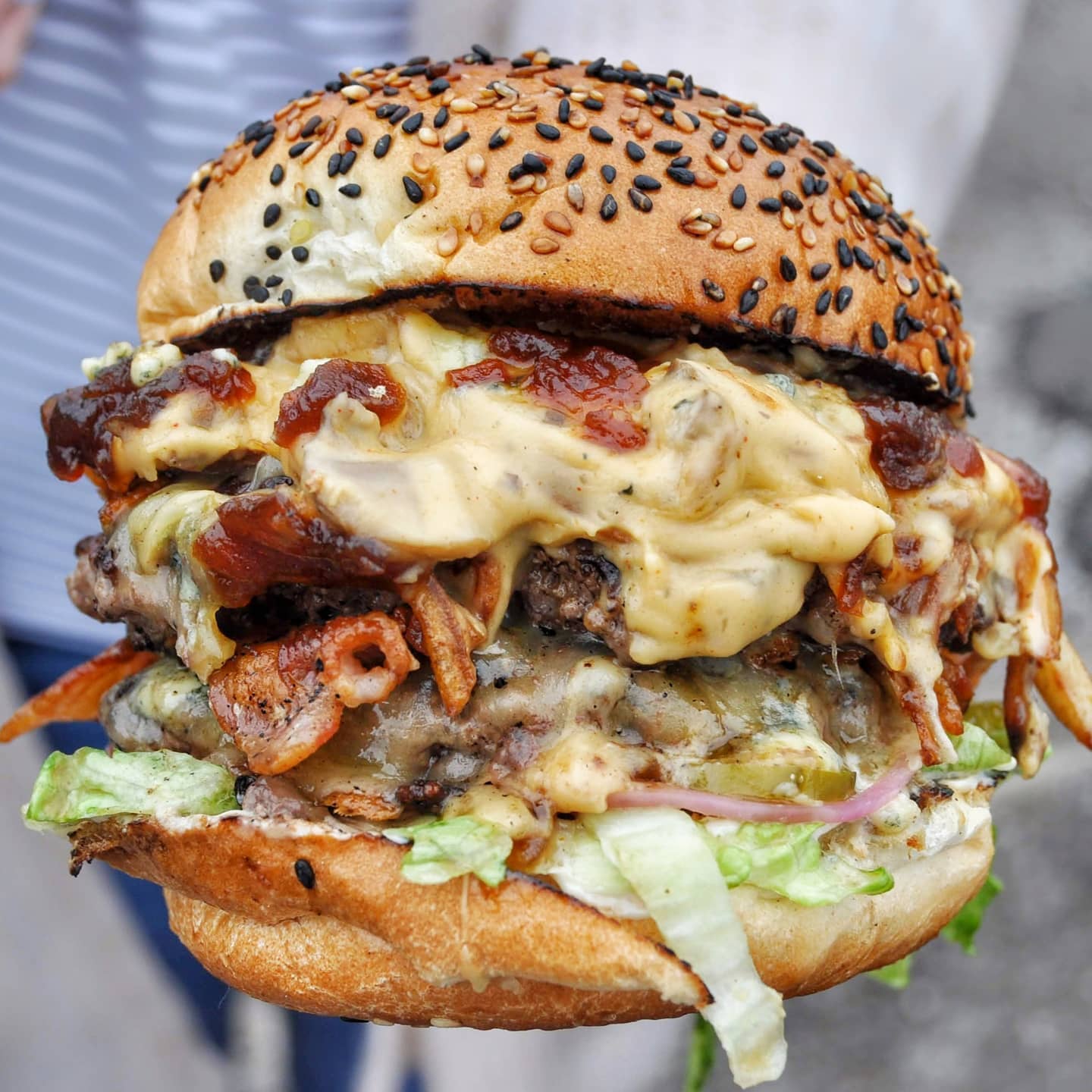 Photo: Patty Master
Where better to enjoy a proper burger than the home of street food? Though the line-up of traders changes each week, there's usually always at least one burger option at DDC and they're served the way burgers were meant to be enjoyed – from a street food truck. There's nothing like getting your burger fix from an amazing street food trader. Half of the fun is queuing up with the incredible smoky, meaty smells filling your nostrils, and then waiting for your name to be called and that moment of joy when you can finally tuck into the delicious, juicy burger you've been waiting in eager anticipation for. Check the DDC line-up via their social media pages, then go grab yourself a delicious, filthy burger.
Note: Due to Covid-19, Digbeth Dining Club is yet to re-open. Keep an eye out on their social media pages for more information.
IB Deal: 50p off each street food dish at all traders
Buddha Belly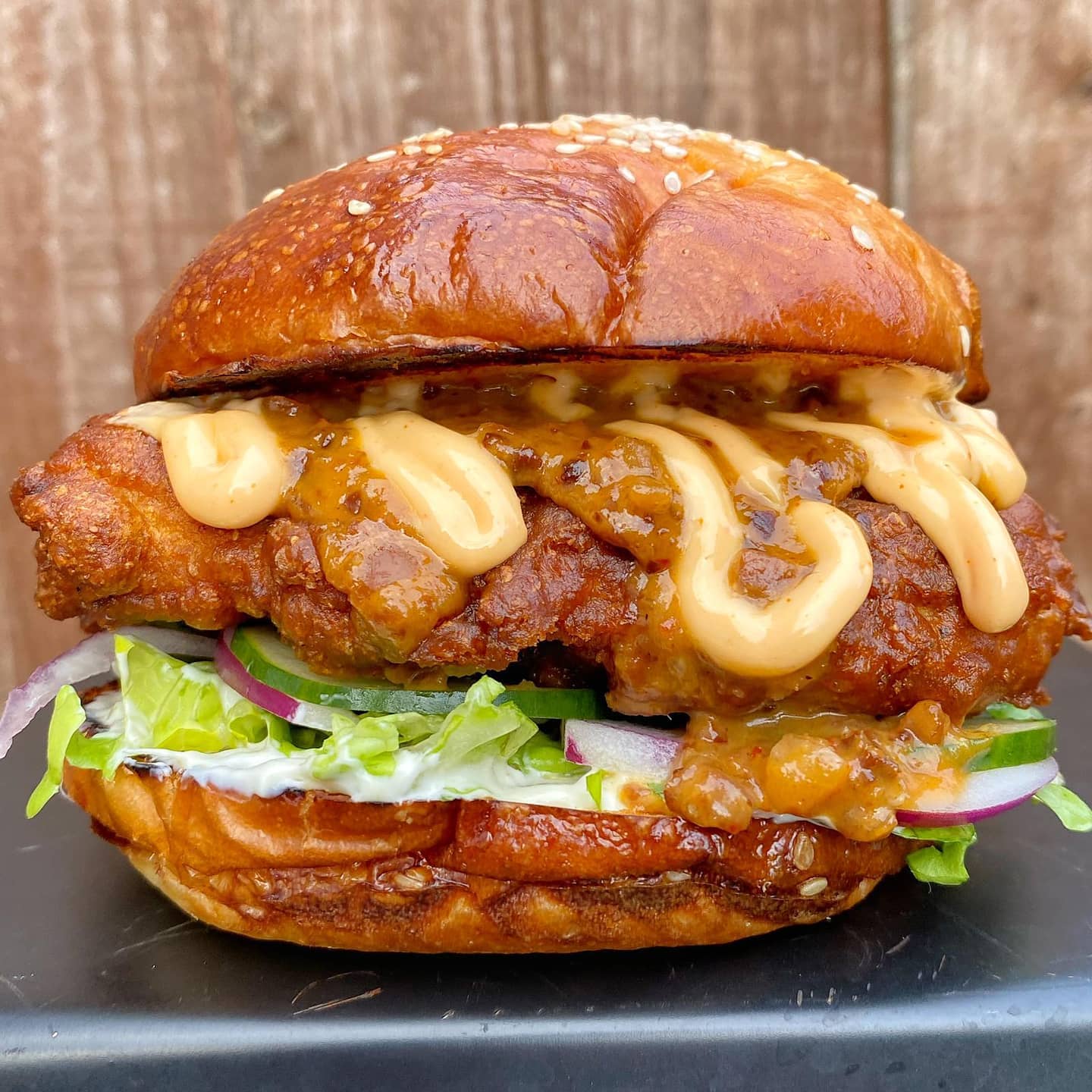 PHOTO: THE FAT FOODIE UK
If you've never heard of Buddha Belly, then quite frankly we don't know where you've been all this time? They've built up a cult following of loyal fans who can't get enough of their incredible Thai street food (us included!). One of their original (and best) dishes is their Crispy Chicken With Noodles, and it's a dish we go back to time and time again. So when they launched their Crispy Chicken Satay Burger… well let's just say it was a game changer. Marinated crispy fried chicken breast, covered in homemade peanut sauce, topped with sriracha mayo and served on a bed of veg soaked in their own pickling liquor, sandwiched in a brioche bun. We think we might just have died and gone to burger heaven.
Look out for Buddha Belly in both their permanent residency at Digbeth Dining Club, and at street food events across the UK, or order one of their DIY kits on their online shop to get your hands on this very special burger.
IB Deal: 50p off each street food dish at all traders at Digbeth Dining Club
Fargo's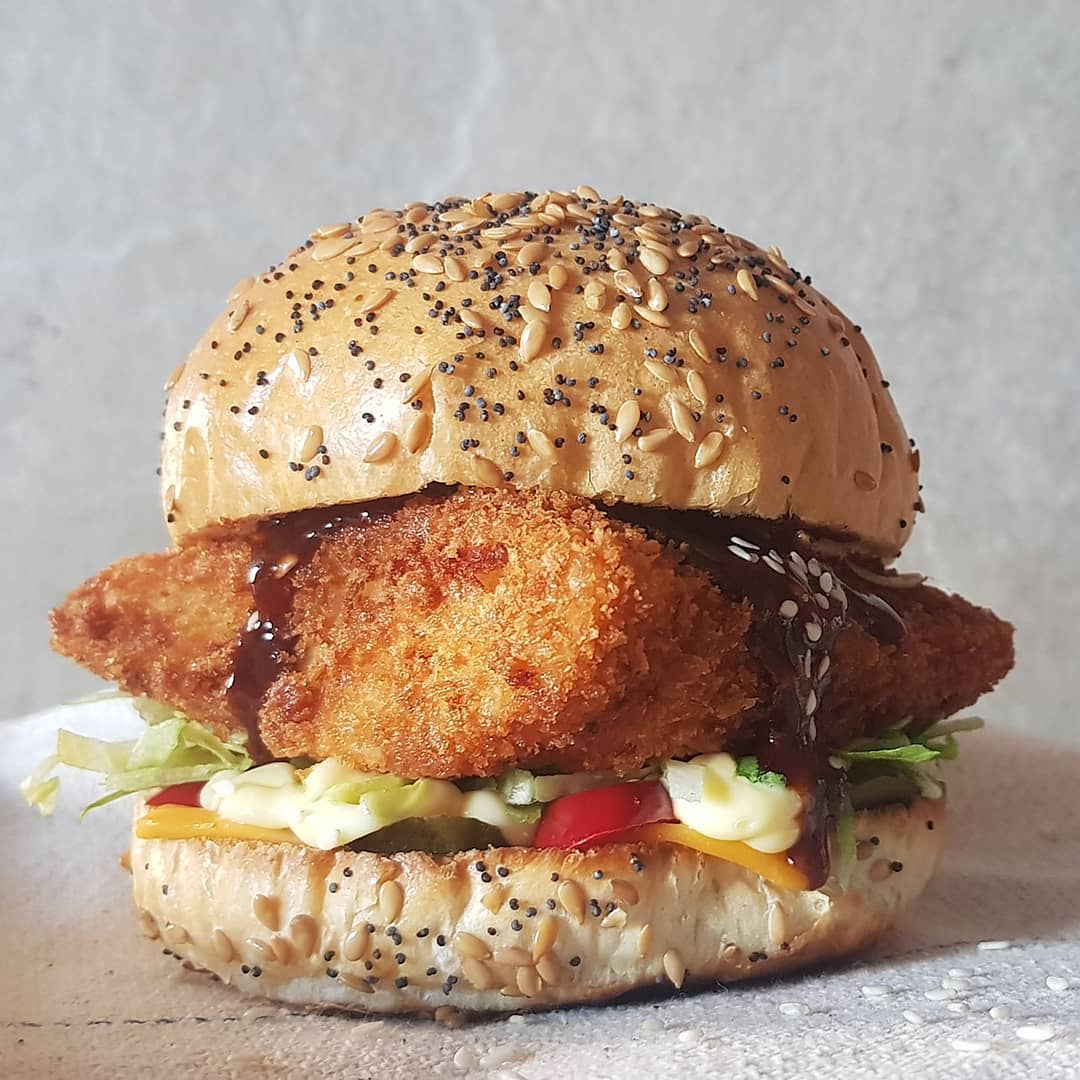 If you're looking for a classic, American diner-style burger, then you can't go wrong with Fargo's. Whether you prefer a beef burger or a chicken burger, they have a great selection to choose from. All of their beef burgers are made with Aberdeen Angus smashed beef patties and topped with a range of toppings. From classics such as Bo's Beef Classic (2 patties, American cheese, Bo's burger sauce, lettuce, tomato) to the fully loaded Chilli Rib Steak (patty, shaved Aberdeen Angus ribeye steak sautéed with diced onions and mixed peppers, American cheese, mozzarella, sweet pepper relish, avocado and roast garlic mayo, roquito peppers, pickled jalapeños, lettuce, tomato). Equally tasty are their chicken burgers, and they even have a wild card option in their Firecracker Fish Fillet burger. Nice.
Cherry Reds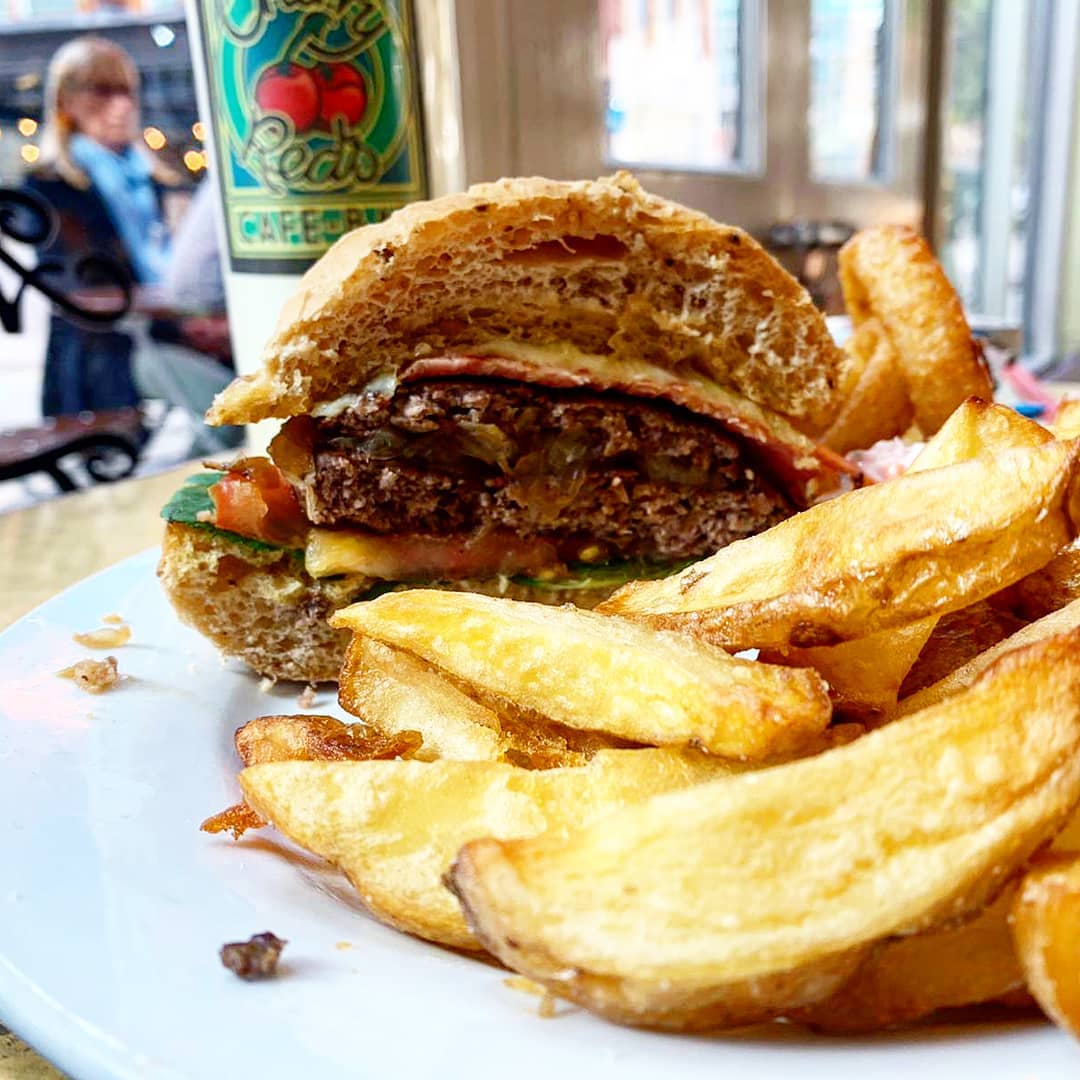 Cherry Reds is the home of comfort food. They're all about feeding the hungry revellers of Brum with good, honest food made from fresh using quality ingredients. So, naturally, they have some delicious, wholesome burgers on their menu. This is how it works. First, choose whether you would like said burger to be beef, chicken or falafel. Second, choose whether to have your burger simple or add extra toppings. Third, order your chosen burger and wait for it to arrive at your table for you to devour whilst making 'mmmmmm' noises. Simple. With options like the Blue Cheese (2 handmade beef patties, bacon, red onion chutney, lettuce, gherkin); the Mexican (panko-coated fried free range chicken, jalapeños, guacamole, sweetcorn salsa); and the Vegan Junkie (homemade lightly spiced falafel patty, houmous, fried mushrooms, beer battered onion rings) you'll just have to keep coming back to decide on a favourite.
IB Deal: a FREE pint of cask ale, lager, cider, or draught soft drink with your main meal
The Rose Villa Tavern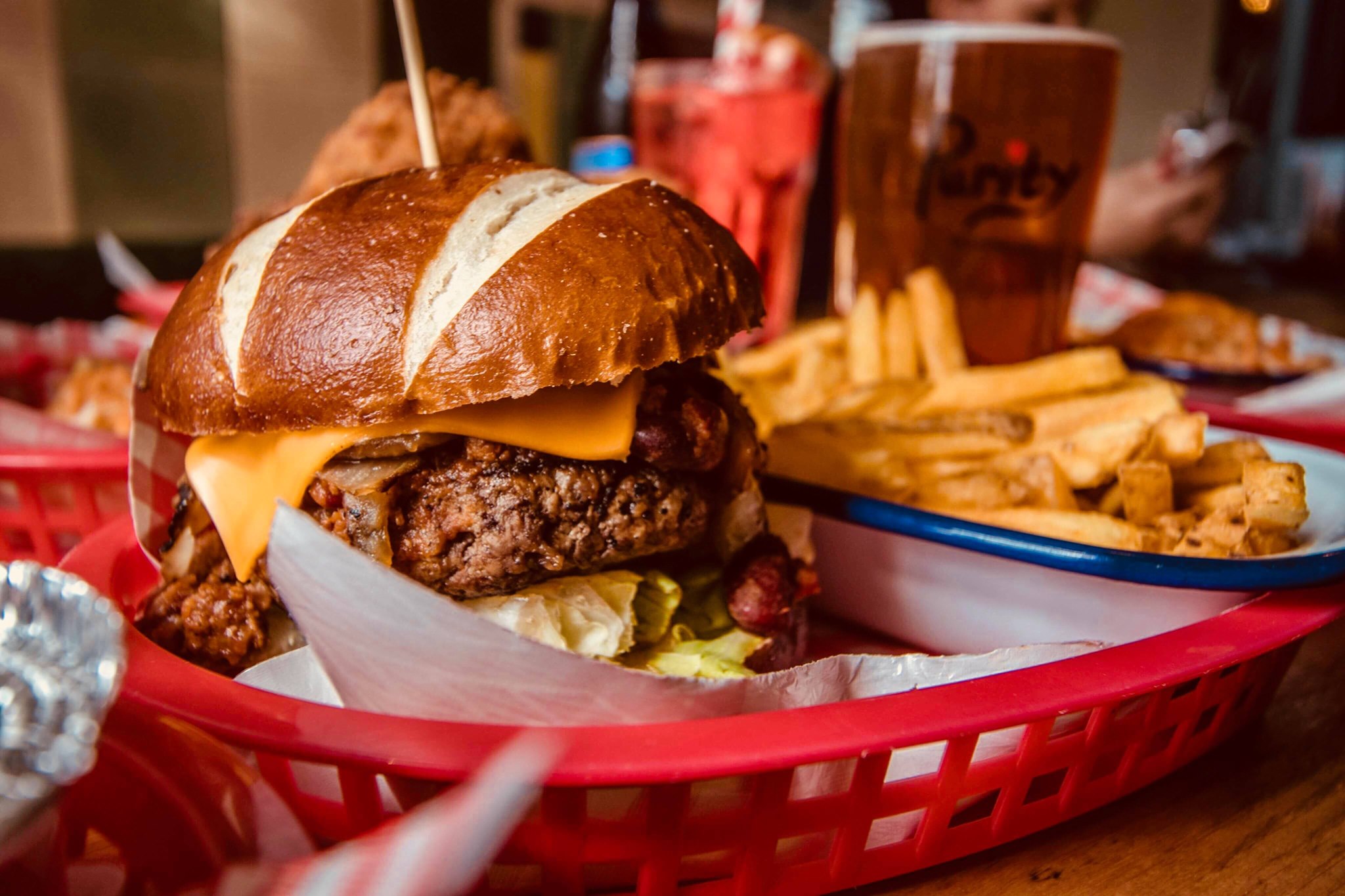 Over in the JQ, The Rose Villa Tavern are serving up some proper pub food. They have a food menu filled with firm favourites, so naturally that includes a burger or three! Enjoy their Homemade Beef Burger (handmade minced beef patty, pretzel bun, fresh lettuce, juicy tomatoes, red onion, and burger sauce); the Chicken Breast Burger (lightly spiced grilled chicken breast, pretzel bun, lettuce, tomato, red onion, mayo); or the Spicy Flat Mushroom Burger (flat mushrooms hand battered in crispy tempura batter, Frank's Red Hot sauce, jalapeños, pretzel bun, lettuce, tomato, red onion, vegan mayo). Whichever burger you choose, it's sure to satisfy that pesky burger craving.
IB Deal: 20% off food (Monday – Thursday)
Ju Ju's Cafe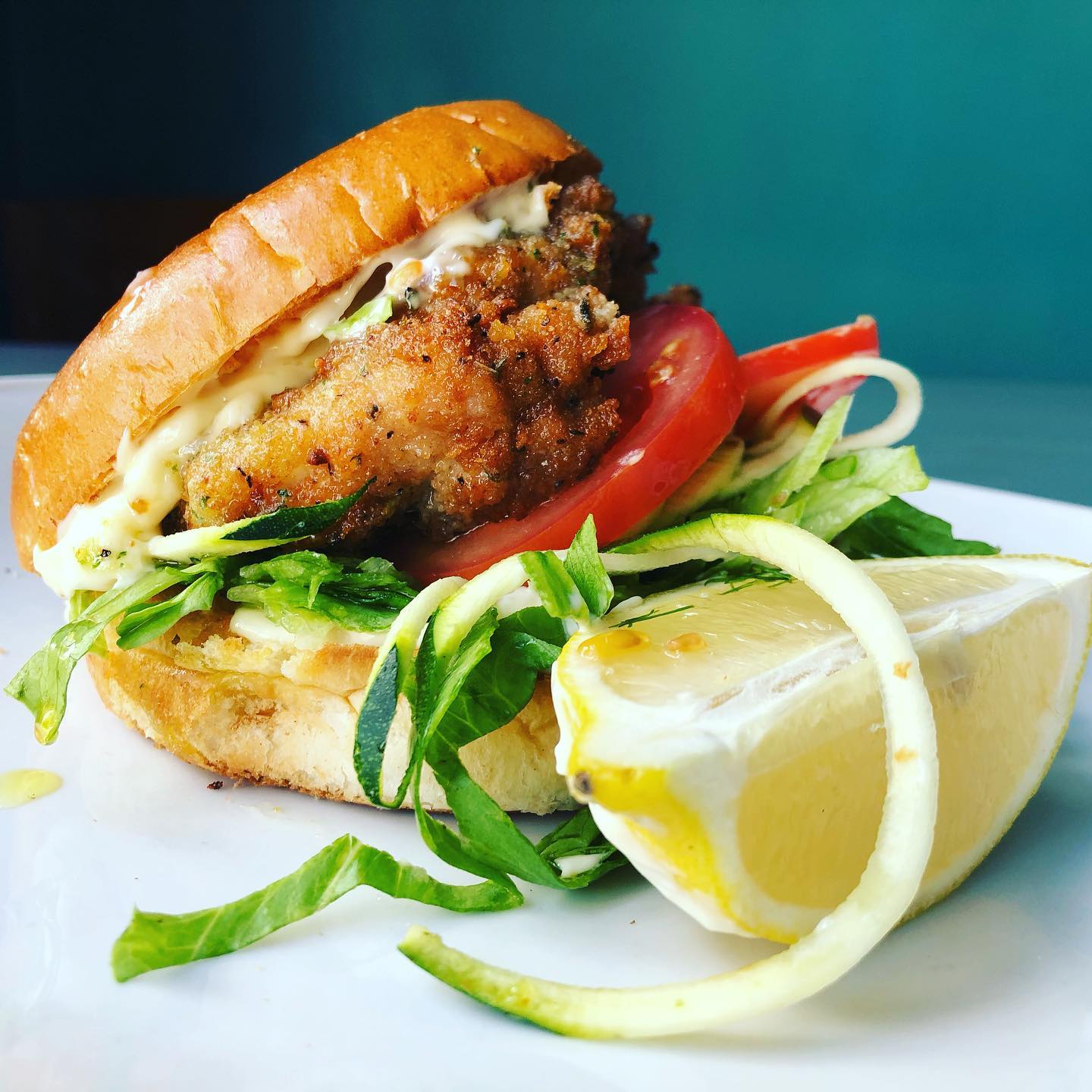 This casual, canal-side dining spot is all about the home-cooked, comfort food dishes. If you're looking for a good, honest, heart-warming burger to satisfy your cravings, then look no further. At Ju Ju's they have four equally delicious burgers to choose from: the Filthy Kiev Burger, the Big Irish, the Cheesy Veggie Burger, and the Classic Welsh Lamb Burger. The Big Irish features a beef patty, blue cheese sauce, and home-made apple and Guinness chutney; the Cheesy Veggie is packed with Mediterranean veg, sweet tomato sauce and lots of cheese; and the Classic Welsh Lamb Burger features a lamb patty, goats cheese, onion rings, cranberry, and caramelised onions. All are utterly delicious, but our favourite is the Filthy Kiev Burger – crispy fried chicken thigh, slathered with garlic butter (with some token greens) – what's not to love?!
The Dark Horse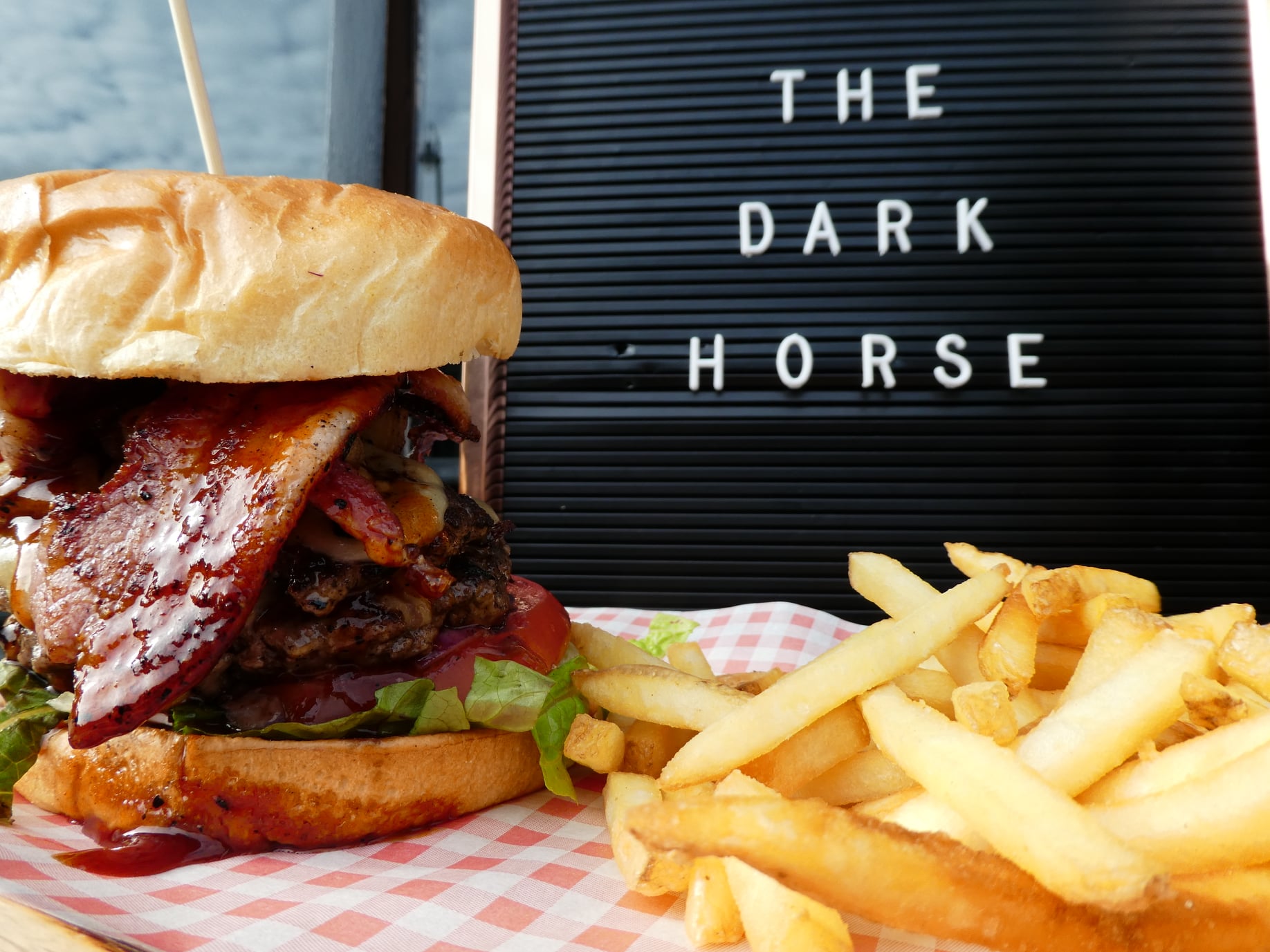 Down in the leafy suburb of Moseley, The Dark Horse has recently started playing host to street food pop-ups galore. Whilst there isn't a burger offering every time, they have had some seriously good burger specials from the traders who have been taking over the kitchen. Expect the likes of West Midlands Jerk Centre and Seitanic Bites, with many more to come. Keep your eye on The Dark Horse's social media pages to see who's popping up next, then head to Moseley to grab a delicious bite and a tasty craft beer.
IB Deal: 15% off craft beer and food
Saint Pauls House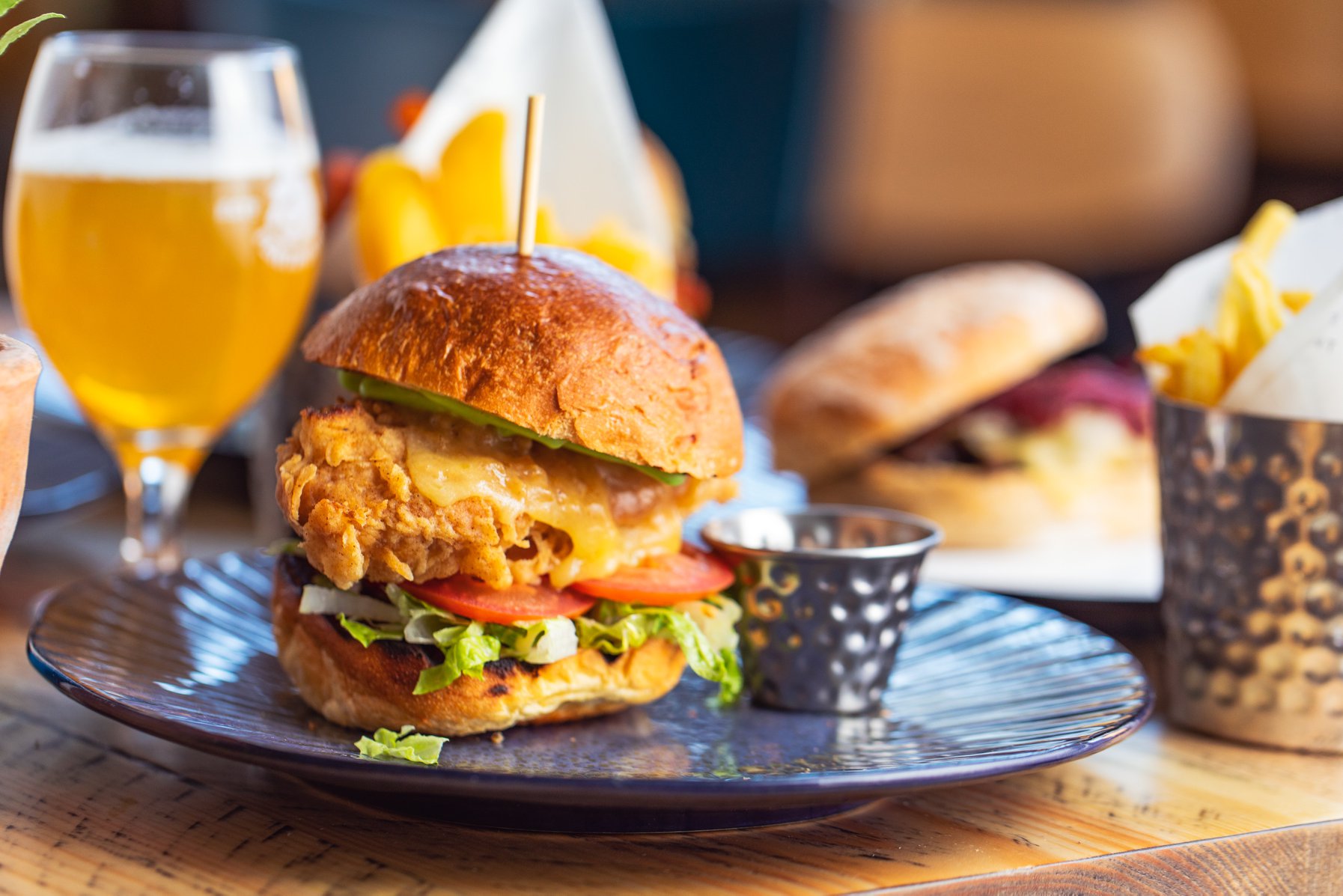 This stylish yet cosy boutique hotel, restaurant and bar serves some delicious food in a comfortable and casual setting. They have lots of delicious dishes on their all-day food menu, including a small selection of beautiful burgers. From the SPH Cheese & Bacon (a classic bacon cheeseburger with the added twist of tequila lime mayo), to the Chicken Katsu (breaded chicken, katsu mayonnaise, and kimchee), and the Vegan BBQ Jackfruit And Mushroom (with vegan mozzarella, roasted peppers, and BBQ sauce) – these are some fantastic burgers. If you haven't visited Saint Pauls House before, go grab yourself one of these tasty burgers and enjoy it with a refreshing cocktail.
IB Deal: 20% off food (Sunday – Thursday)
Dough & Bun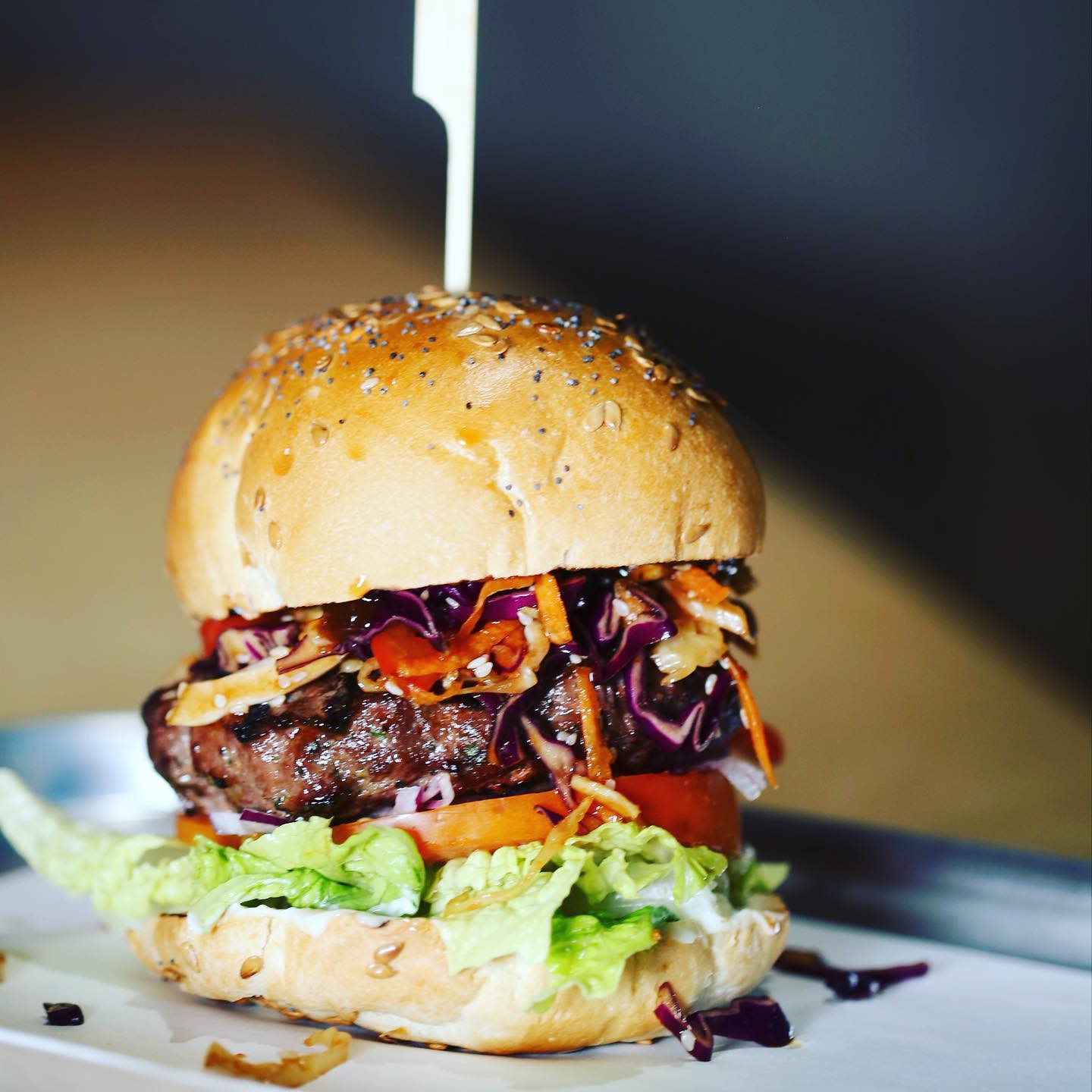 North East of the city centre is a burger restaurant doing great things. Dough & Bun are (as their name might suggest) all about pizzas (dough) and burgers (bun). Whilst their pizzas are great, we're here to talk about burgers. They have an extensive menu packed with loads of different beef and chicken burgers, and a few alternatives too. They've kept some of their burgers classic, and others are inspired by flavours and cuisines from all over the world (think Korean, Mexican, Cajun and more). If you're looking to branch out from the classics, go check out Dough & Bun and discover a new favourite burger.
Bun & Steak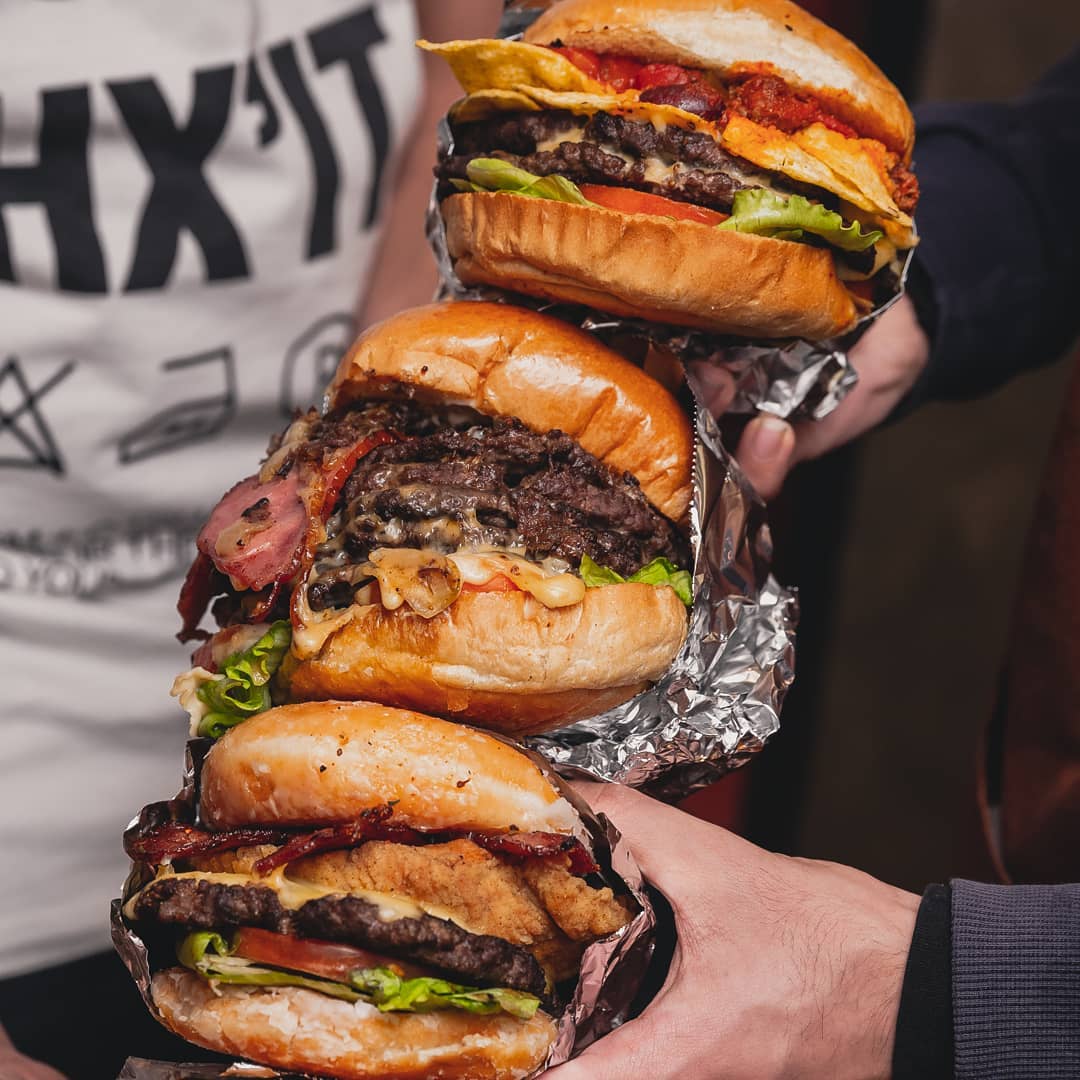 No prizes for guessing what these guys specialise in – burgers and steak. They have a varied menu packed with loads of different burger flavours (beef, chicken, and veggie options available). All of their beef burgers are hand-crafted from prime beef mince and come with a double patty as standard (we like their style). If you like your burgers classic then there are several very worthy options to choose from. But, if you like to push the boundaries, then you must try one of their crazy bun creations. From the Double Donut (a burger served between two doughnuts), to The Jaw Breaker (a monster creation stuffed with not two, not three, not four, but FIVE patties, layered with cheese and topped with pulled beef and all the trimmings – not one for the faint hearted), and The Whammer (2 beef patties, lettuce, ketchup, mayo, hash brown, onion rings, fried egg, and turkey bacon) – there are some crazy options for when you're feeling adventurous. If you've never been, go and check them out for the ultimate burger fix.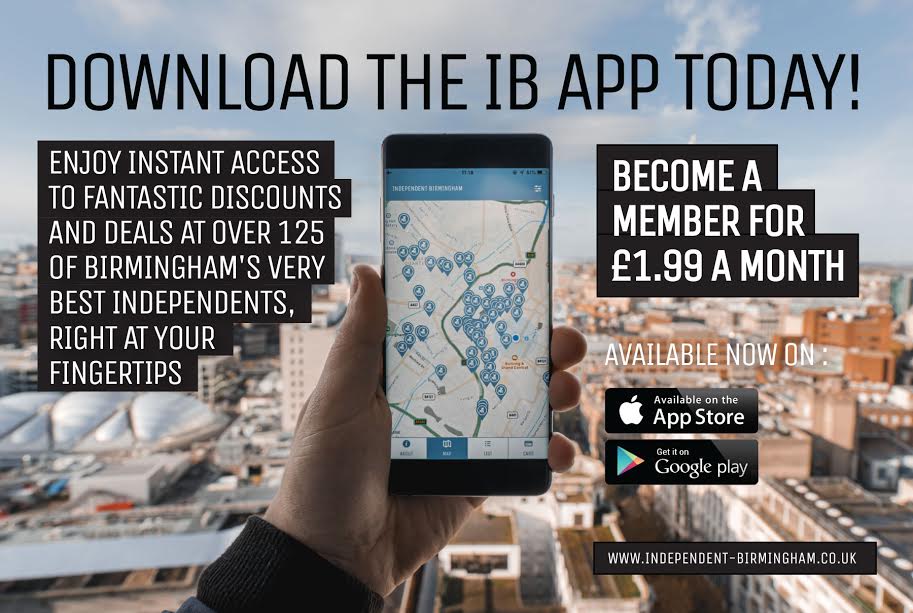 If you like to discover new hidden gems and support local, download the Independent Birmingham App.
Enjoy up to 25% off (alongside exclusive 2-for-1 offers, freebies and more) at over 125 of the very best independent cafes, bars, restaurants, pubs, theatres, cinemas, hotels, shops and experiences in Birmingham – including: Digbeth Dining Club, The Electric Cinema, Carters, Indian Brewery Snowhill, Birmingham Hippodrome, Adam's, Zindiya, Baked In Brick, BoneHead, Purnell's Restaurant, Chakana, Tiger Bites Pig, Bodega Cantina, Stirchley Wines And Spirits, Wayland's Yard, Purnell's Bistro, Midlands Arts Centre, 40 St Paul's, The Plough, Hare and Hounds, Birmingham Repertory Theatre, The Jekyll And Hyde, The Rose Villa Tavern, Cherry Reds, The Prince of Wales, The Loft, Laghi's Deli, Medicine Bakery, The Paper Duck, The Clean Kilo, The Early Bird Bakery and many more.
To download the IB App for just £1.99 a month on Apple, click here. 
To download the IB App for just £1.99 a month on Android, click here.