Hey you. Yes, you. You need a little bit more awesome in your life. Well, take a look at this.
An extremely talented freelance artist (by the name of Dave Draws) has been creating these incredibly detailed 'doodle maps' of different cities across the UK and beyond for a few years. And, guess what? He's created one of our beloved Birmingham.
Not only does the map feature many of our iconic landmarks from the city centre, such as New Street, Moor Street and Snow Hill railway stations, Birmingham Children's Hospital, The Mailbox and The Library of Birmingham, it also includes some of our famous buildings and areas from slightly further afield, including: Cadbury World, University of Birmingham, Edgbaston Cricket Ground and even Spaghetti Junction!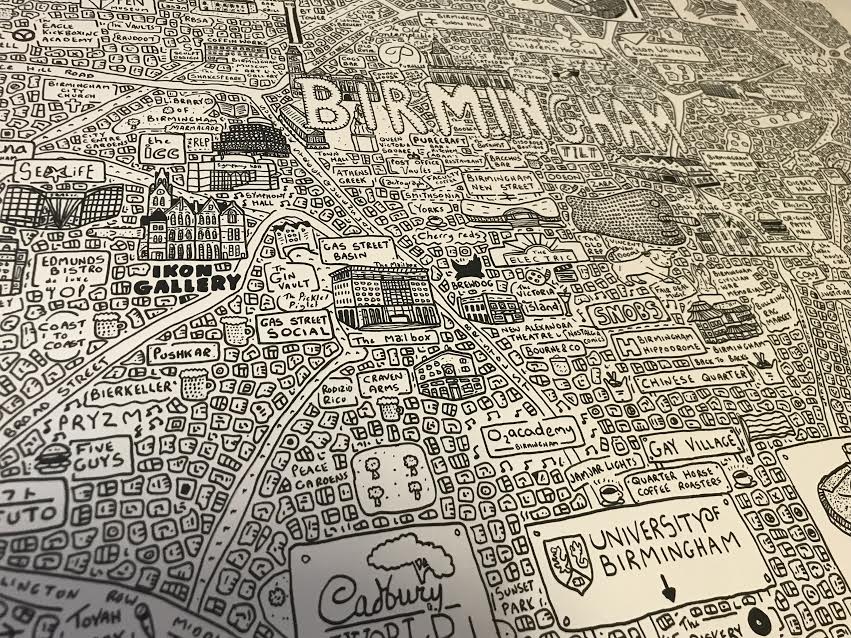 But the best news is, this intricate map also includes a whole host of our fantastic independents. We've spotted so many from the IBcard, including: Gas Street Social, Bourne and Co., Island Bar, Quarter Horse Coffee, Tilt, Cherry Reds, The Electric Cinema, The Wolf, Lasan, The Warehouse Cafe, Birmingham Hippodrome, Adam's, Loki Wine, The Jekyll and Hyde and many more.
Dave's inspiration behind these pieces is to try and capture each city in a quirky way. He likes to include a mixture of well-known landmarks and favourite local places that make each city unique. Dave's friends in Birmingham kept telling him about more and more places he had to include, and each time he came to visit he became more aware of just how much there was to fit into one piece of artwork.
This map showcases some of the very best places that Brum has to offer and shows just how much us Brummies have to be proud of in our city. In fact, there were so many amazing places to include that in the end, Dave was unable to fit them all on to one map! With this in mind, he is hoping to start work on maps of different areas of the city (Kings Heath, Moseley, Jewellery Quarter to name a few) and we can't wait to see them if he does. Take a look for yourselves and see how many of the 100 amazing independents on the IBcard you can spot.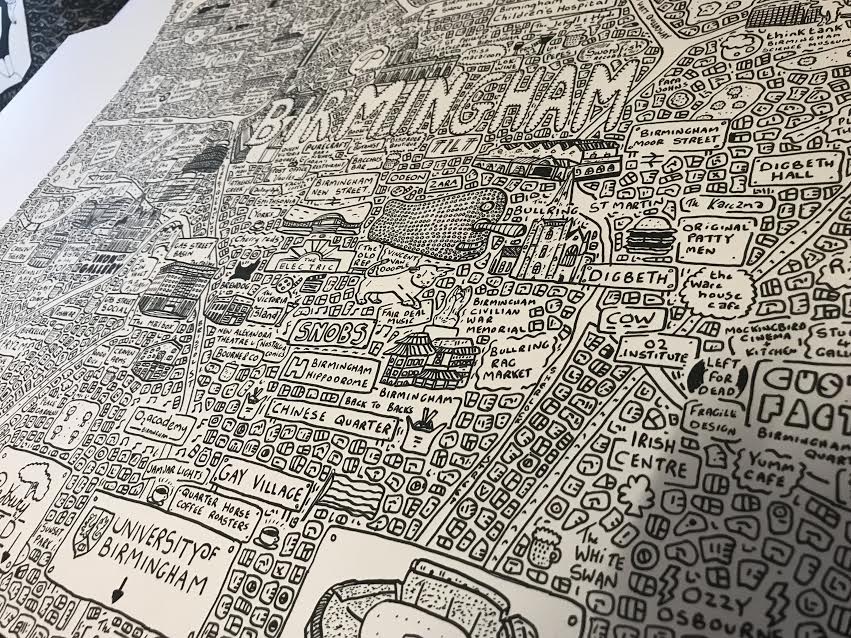 Even better news is that this beautiful piece of artwork is available to buy as prints of different sizes (A1, A2, A3 and A4) so you too can pay homage to the unique and vibrant city that we call home. These would make great gifts for friends, or the perfect piece to fill that gap on your wall.
Purchase a print and upgrade your wall here.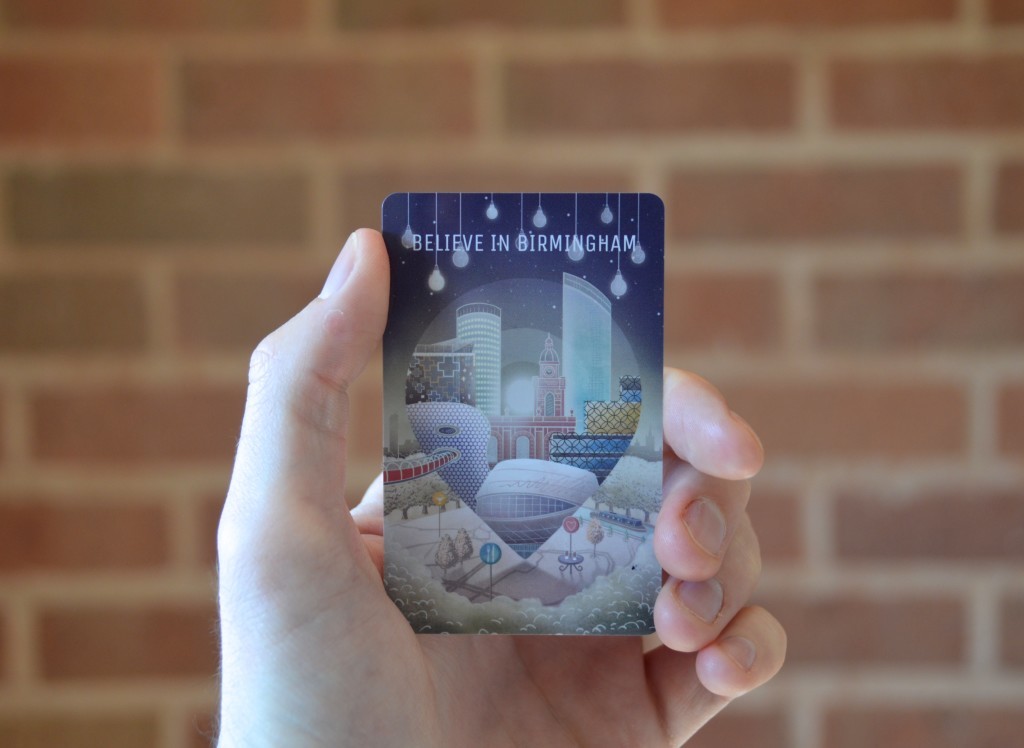 Shop local, celebrate the unique and rediscover your city!
Join over 18,000 Brummies and grab yourself an Independent Birmingham Membership Card. Enjoy fantastic year-long discounts and deals at over 100 of the very best independent cafes, bars, restaurants, pubs, theatres and shops in Birmingham – including: Digbeth Dining Club, The Electric cinema, Simpsons, The Wilderness, Carters, Lasan, Birmingham Hippodrome, Adam's, Zindiya, The Meat Shack, Harborne Kitchen, Smultronställe, Bodega Bar Y Cantina, Purnell's Bistro, Buffalo and Rye, mac Birmingham, Fiesta del Asado, 40 St Paul's, Turners at 69, The Plough, Hare and Hounds, Birmingham Repertory Theatre, The Lord Clifden, The Jekyll And Hyde, Nosh & Quaff, The Church, Bourne and Co., The Rose Villa Tavern, Cherry Reds, The Prince of Wales, The Loft and many more.
To grab your key to the city for just £15 (or at the amazing price of two for £20), click here.