Pizza is life. FACT!
There's just something rather special about the circular, doughy, cheese-laden masterpiece of the culinary arts that is the pizza. Our preference is (as the Italians take it) straight-up Margherita. It's the pinnacle of pizza-dom (in our eyes), and a true showcase of the dough, the culinary ability and fresh produce of any pizzeria. However you take your pizza (whether it's fully-loaded, or just the simplistic, yet unbelievable, combination of fresh tomato, mozzarella and basil), we can all agree that pizza is the best thing on Earth and just leave it at that yeah? And talking of pizza…
Introducing Baked In Brick.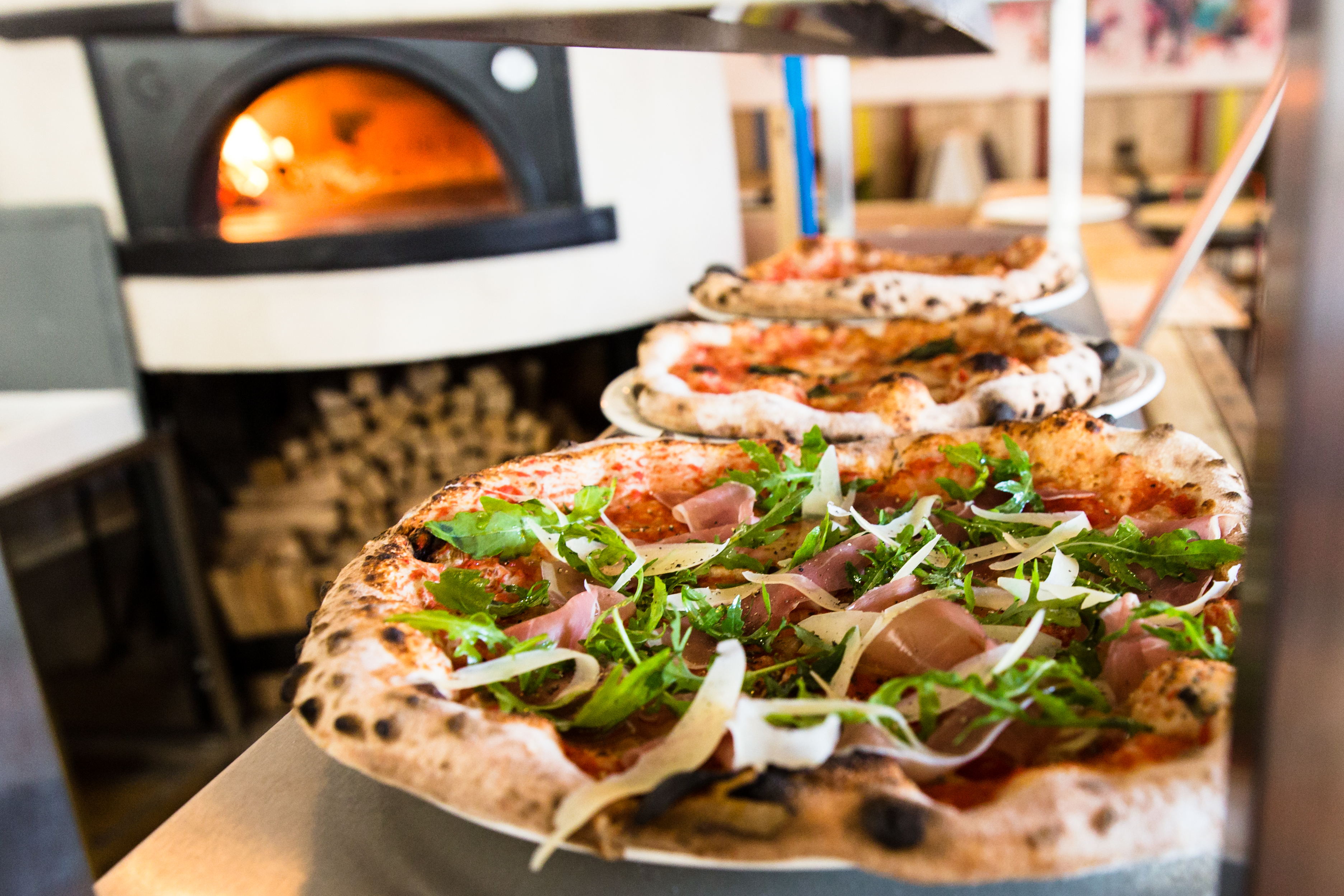 Located in The Custard Factory (the epicentre of Birmingham's creative quarter, Digbeth), Baked In Brick is the self-titled restaurant from the multi-award winning street food legend, Baked In Brick. Having won so many awards that even his awards have awards, the crowning moment (so far) in the wonderful street food oddessy of BIB is when they were proclaimed King of Street Food (*that didn't actually happen, but you know, artistic licence and all…*) and received the highly-coveted 'Best Street Food Trader' and 'Best Main Course' awards at the European Street Food Awards 2017.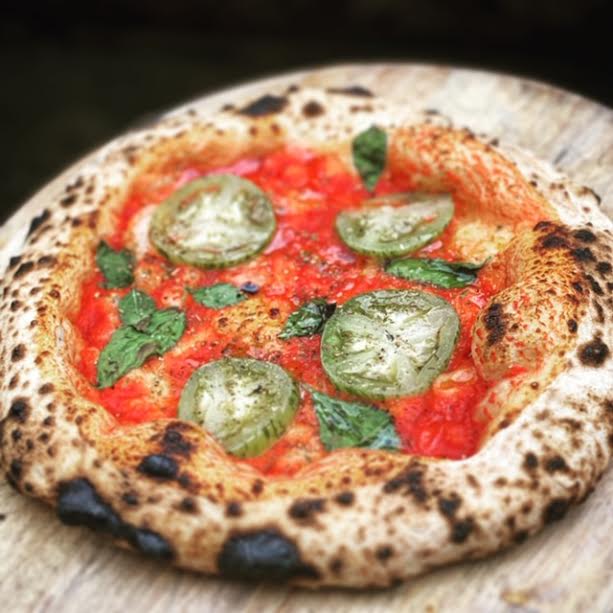 Fresh off the back of that huge success, Lee (owner-operator of Baked In Brick) decided the time was right to lay down his own bricks and mortar (see what we did there?…) and bring his new child into the world – Baked In Brick, the restaurant. And folks, it's sensational.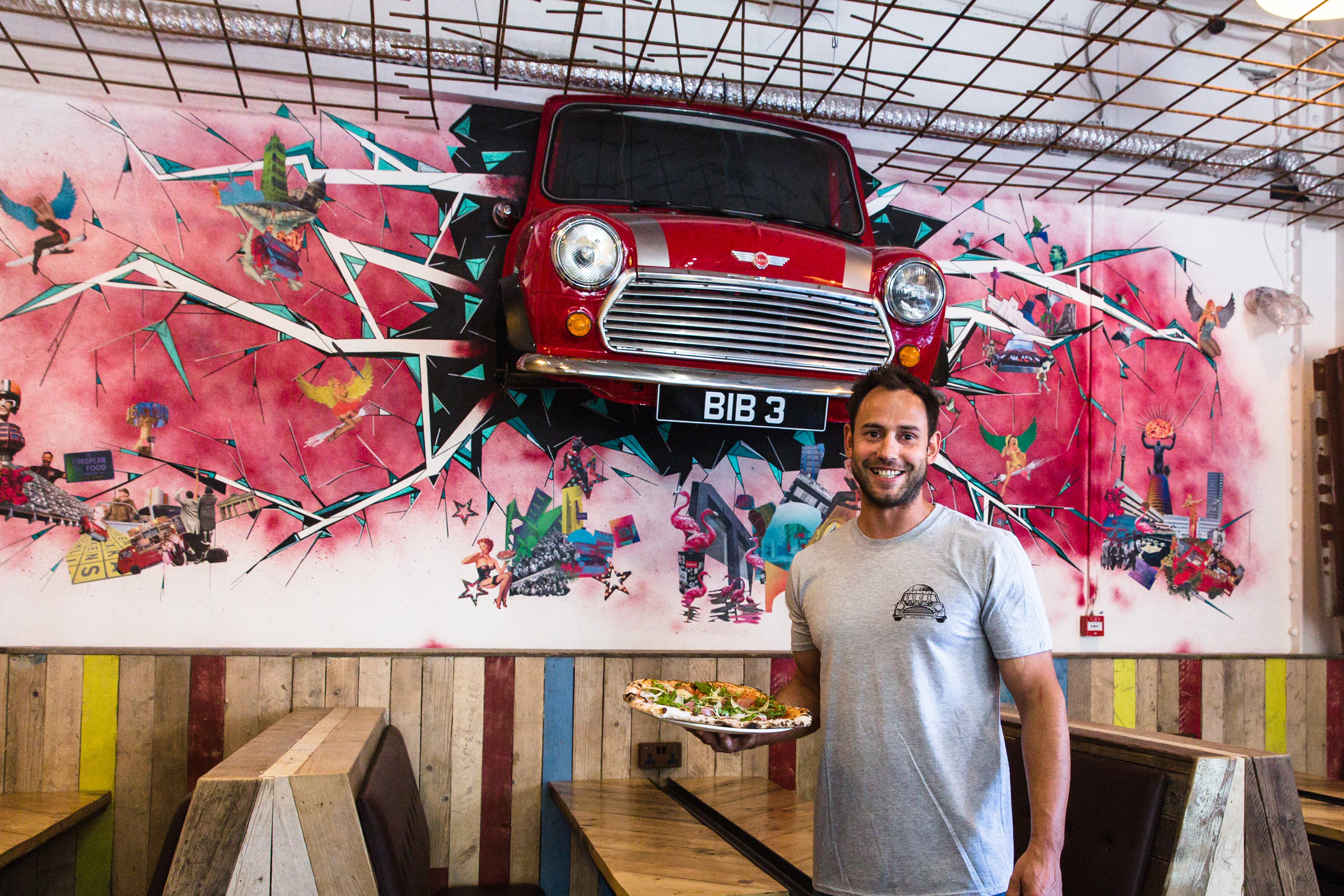 From our intro you may have gleaned that we like pizza, just a little bit. And if it wasn't apparent, we'll clear things up by boldly proclaiming that we LOVE pizza. And anyone who doesn't is a heathen. There, we said it. Pizza is life, and for a long time Birmingham's pizza scene was lacking. Now, there's a strong base (pun definitely intended) of pizzerias in Brum, all very different, and all serving up happiness in circular form.
Question: does Baked In Brick serve amazing pizzas? Answer: hell yes! Not only can you enjoy whole pizzas to yourself (just how nature intended it to be – just don't ever let us catch you sharing, ok?), but a key attribute of BIB is their pizza by the slice offering. Pop in for a quick on-the-go lunch, choose a few slices of pizza (maybe even a craft beer, if you're feeling wild), and then get back to work. Alternatively, if you've got longer than just a quick lunch-time snack, make a thing of it – bring some friends, choose different slices from different pizzas, have a few bevvies, and all nod your head while making appreciative noises to show your love for these ace pizzas. We like your moves.
Pro Tip: Order the Shire Meadows Beef Shin Ragu and Wild Mushroom Calzone, with Colston Bassett Stilton. It won 'Best Main Course' at the European Street Food awards and it's truly sensational. Enter BIB, boldly shout your order out at the top of your lungs, look around at the faces of people who know you're in the know, and then sit down and feast on this ridiculously mouth-watering ode to the pizza gods. You can thank us for the top tip later.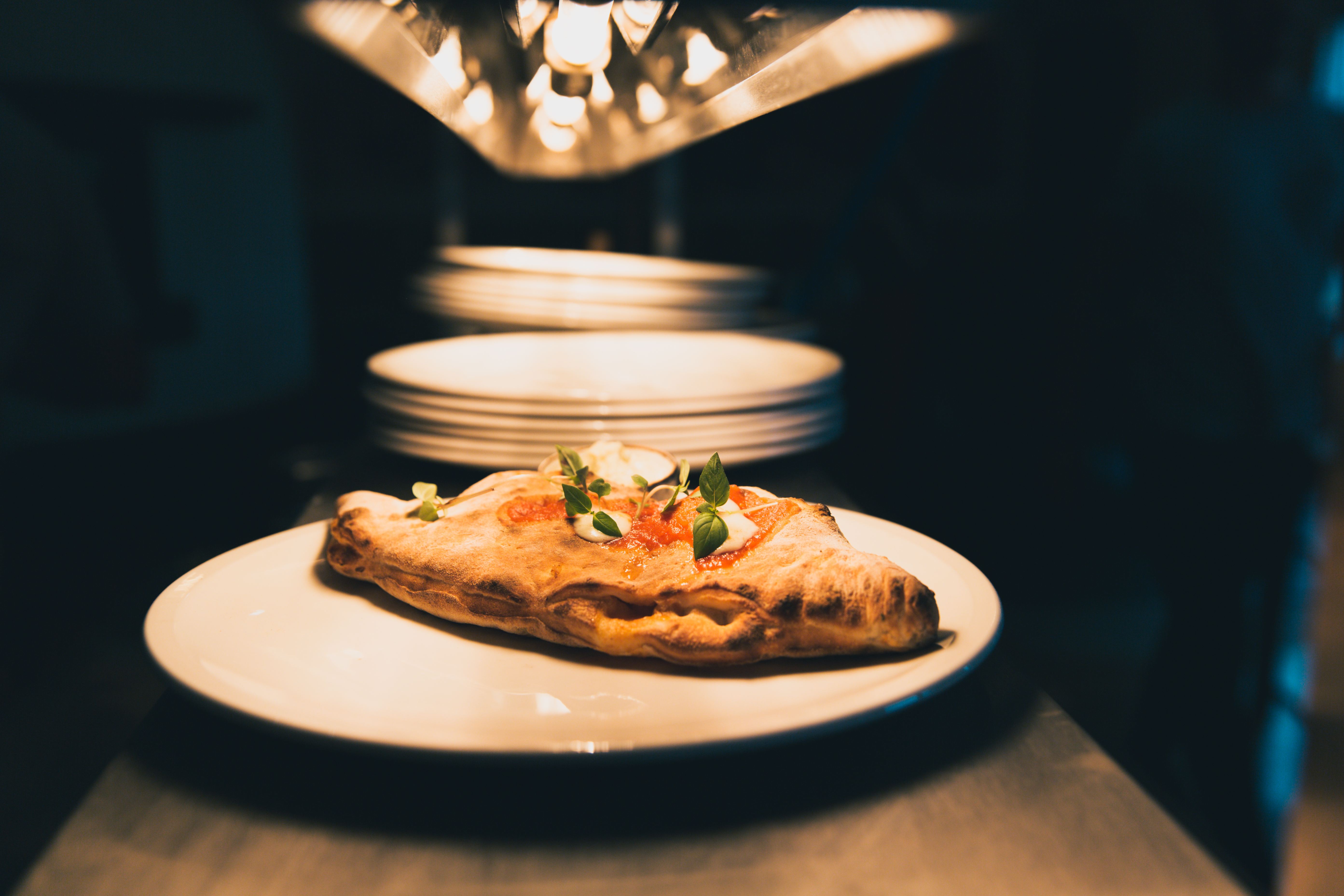 We'd be making a grave error if we gave you the impression that Baked In Brick is only about the pizza. It's not. While they serve up some of the very best pizzas in Brum (probably The Midlands), they also serve up an extremely diverse (and rather special) lunchtime menu. From salt beef sandwiches and chicken tikka wraps (a signature dish for Baked In Brick) to charcuterie boards, Lamb Rogan Josh, mac 'n' cheese, mouth-watering salads, and whatever else Lee can dream up in his talented mind, while pizza is life, it's the lunchtime specials that really capture our attention and which will firmly cement this restaurant as one of the very best in the city. Guaranteed.
The restaurant itself is preeeeeetty darn cool. Decals on the window, a huge wood-fired pizza oven in the foreground, and towards the back – a Mini smashing its way through the wall… Yep, they went there. A tip of the hat to the Mini that Baked In Brick used to cook their way to the top of the street food ladder (and one you've no doubt seen gracing many a Brum foodie event: from DDC to our very own Independent Birmingham festivals), its wonderful to see the restaurant pay homage to the legacy of BIB's street food days. Quirky, inventive, eye-catching – the Baked In Brick restaurant is awesome. And they just so happen to serve some of the very best dishes of food in Birmingham.
Your next move: drop everything you're doing and visit them at your earliest convenience (now?). We like your moves.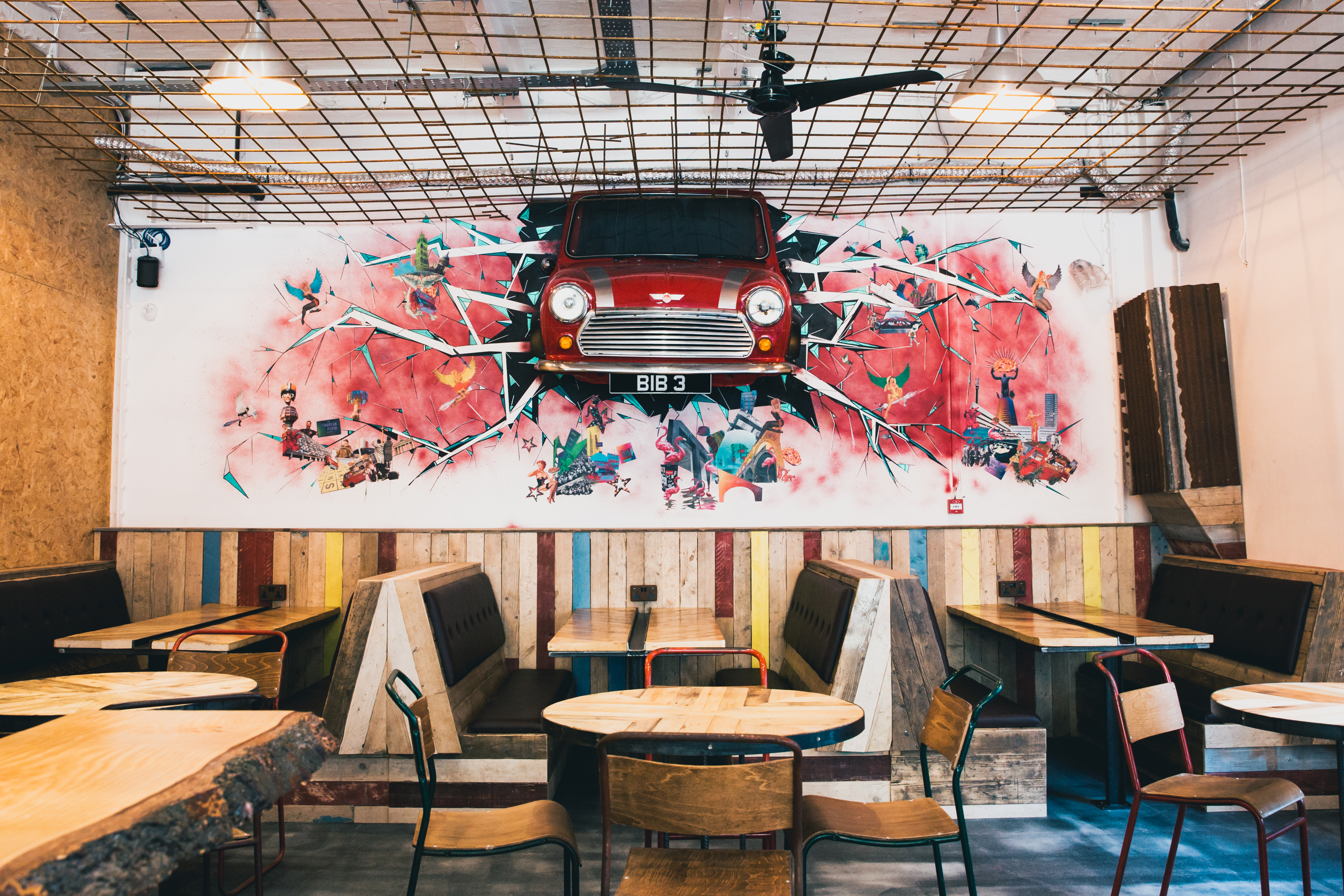 Now offering Independent Birmingham Members: 15% off the bill