'HE WAS A WISE MAN WHO INVENTED BEER' – PLATO
Now that lockdown is drawing to a close (hopefully for good!) and we are beginning to emerge, bleary-eyed, into the big wide world once again, many are seeking a shred of the old normality we so often took for granted. What could be more normal than a trip to the local? We know that things aren't normal – not in the way they used to be, but we have to grasp the positives (and the beers) with both hands and not let go at the moment. So a socially distanced pint from the pub is a novel and exciting event. The ideal place for a socially distant drink with your pals is the glorious beer garden.
And so, the last remaining hurdle to overcome before the beer shall flow and the good times can roll is choosing your hallowed beer haven, your Fortress of Cider-tude. Luckily, Independent Birmingham is here to help you make the right choice and, through extensive research and countless hours spent in the pub (it's a tough job but someone's got to do it!), we've compiled a most glorious list of the very best beer gardens in Birmingham. Set phasers to chug.
Note: Whilst many businesses have now reopened, some are yet to do so. Social distancing is still in place and very important, please check each individual business' website for their up-to-date opening times and safety measures prior to visiting. Some businesses may require you to make a booking in advance.
The Prince of Wales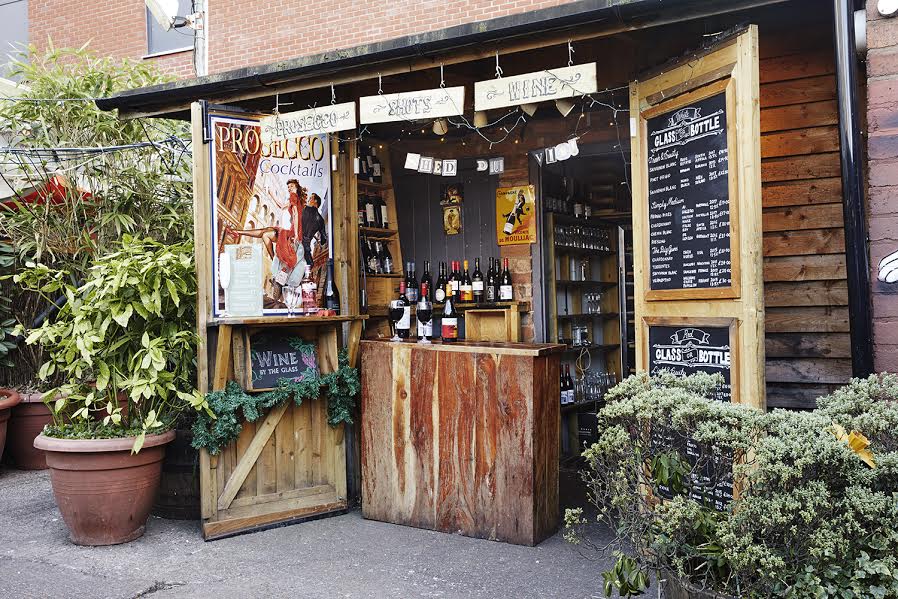 We heard you like flaming cocktails. Like, really big flaming cocktails. And skulls filled with potent potions – them too. Well, good news all round, a trip to The Prince of Wales will satisfy your quirky vessel fixation and more as you explore their incredibly popular ode to beer gardens. Including a wacky Mo-Tiki bar, The Prince of Wales' beer garden is full of wild antics and wonderful events to keep you entertained all summer long – and long into the winter too!
IB deal: £1 Off Cocktails At The Mo-Tiki Bar (Anytime, Before 9pm) AND Buy Any 3 Tacos And Get The 4th Free At Taconistas (Thursday – Sunday, Before 9pm).
The Wellington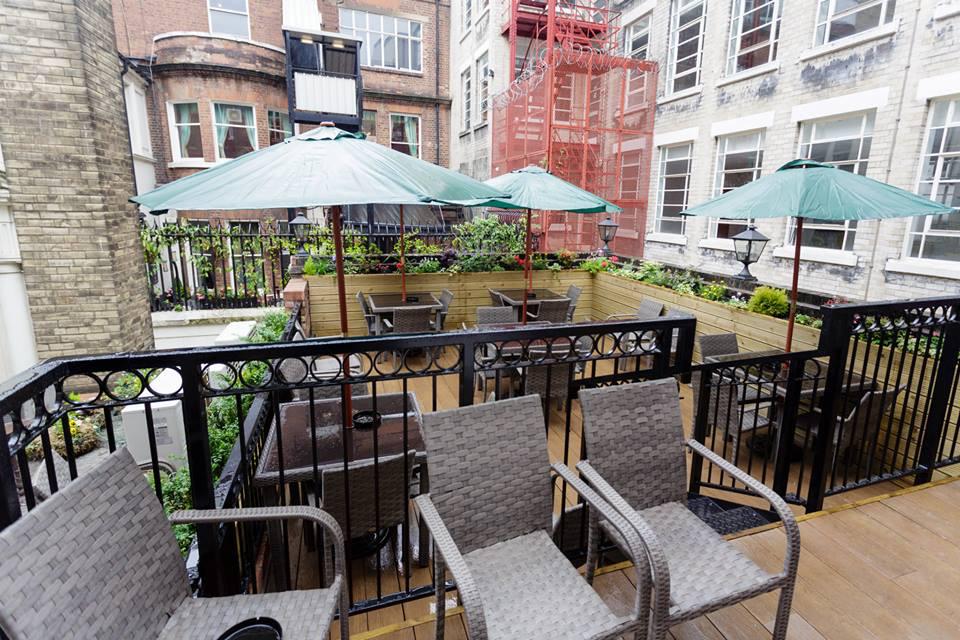 The Wellington. Home to one of the largest collections of craft beer and cask ale in Birmingham and, unbeknown to the majority of those living and working in the city, a most marvellous beer garden tucked away in the back. It's a genuine hidden gem in the very heart of Birmingham (although not so hidden now we've exposed it to the masses…no, the irony is not lost on us). In any case, grab yourself a funky beer from the bar and head on through to the other side for a relaxing terrace complete with umbrellas and plenty of seating for all. Huzzah!
The Jekyll and Hyde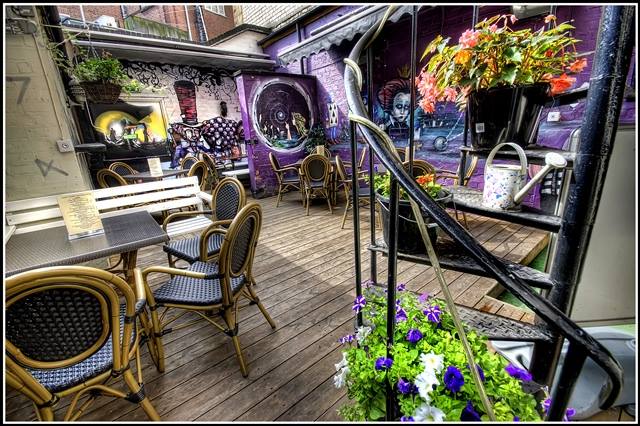 The Jekyll and Hyde is a decidedly quirky bar wherein cocktails are served in bathtubs and only gin can reveal the madness within. Alongside boasting a magnificent Victorian gin parlour (complete with over 90 different gins for the juniper-distilling aficionados amongst you), The Jekyll and Hyde is also home to an Alice in Wonderland themed beer garden dubbed 'The Wonderland Courtyard'. So grab yourself a gin cocktail and let your imagination reign free as you bask in the warmth of the summer evening's sun in this wacky backyard.
IB deal: 10% off drinks (Monday-Thursday).
The Old Crown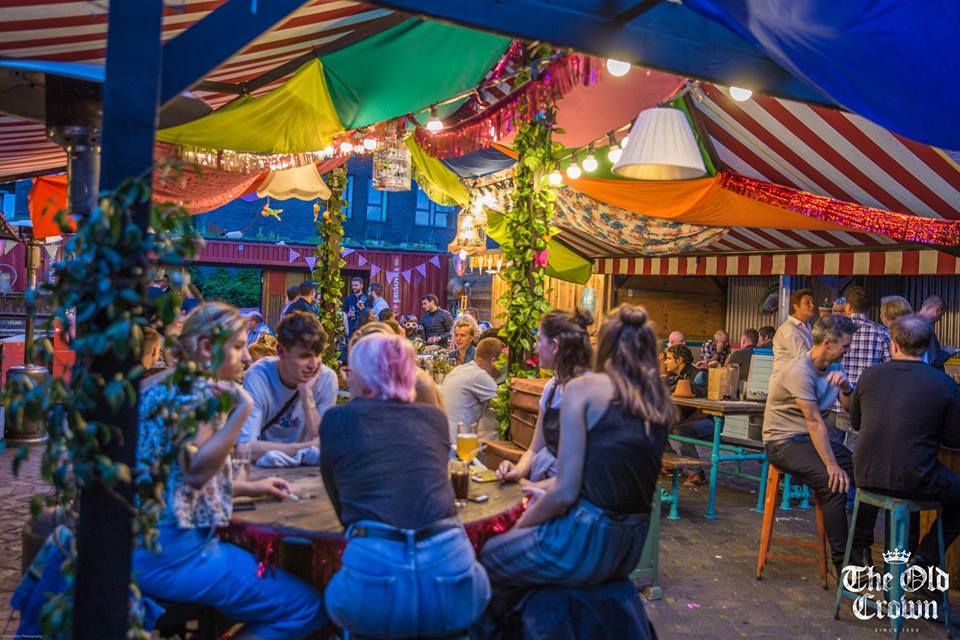 The jewel in Digbeth's crown, or even a whole crown unto itself, The Old Crown is one of Birmingham's longest standing pubs and a beacon to all beer garden connoisseurs across the city. Emerging from its recent transformation, The Old Crown beer garden is certainly one of the coolest hangouts in the city – with regular DJ's, secluded booth seating for just you and your posse, and a pretty canopy adorned with fairy lights. Your move Birmingham!
IB deal: 15% off food.
The Plough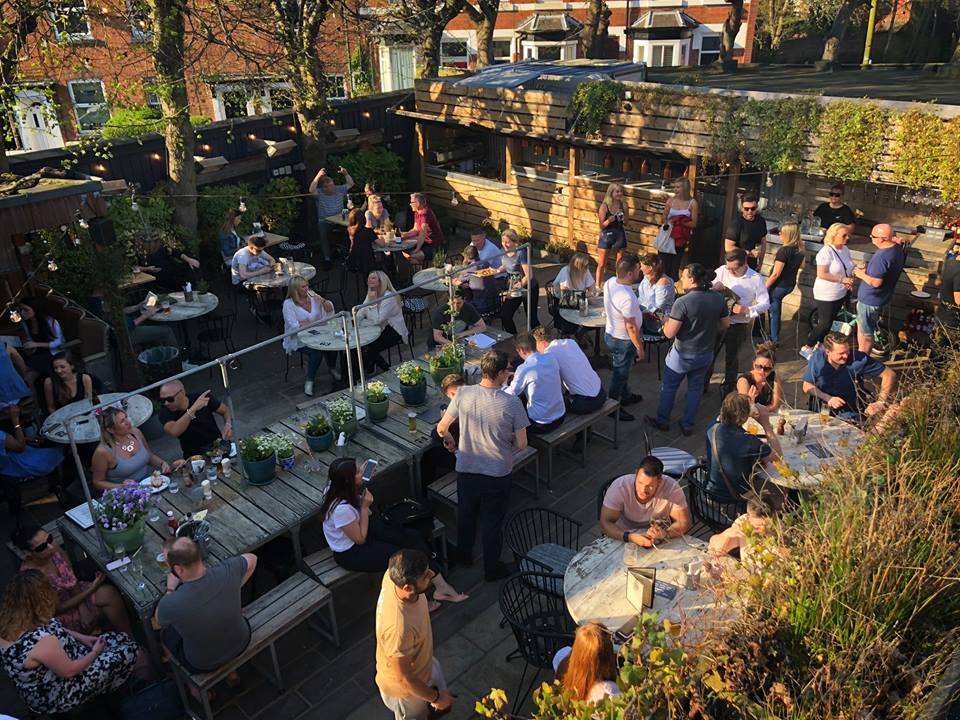 Within the suburbs of Birmingham lies a fabulous pub by the name of The Plough. And within this fabulous pub lies an even more fabulous beer garden – yes, it's Inception all over again. But this time we brought beer!
In any case, the beer garden in The Plough is a peaceful sanctuary away from the hustle and bustle of daily life in the city. Enjoy an extensive range of whiskies, cocktails, beers and ales with your chosen companions in the sunshine – and, if you're feeling a little peckish, they have their awesome tacos that you can devour to stave off the hunger and keep you drinking long into those summer nights.
IB deal: 10% off food 8am – 5pm (Monday – Friday).
The Edgbaston Boutique Hotel And Cocktail Bar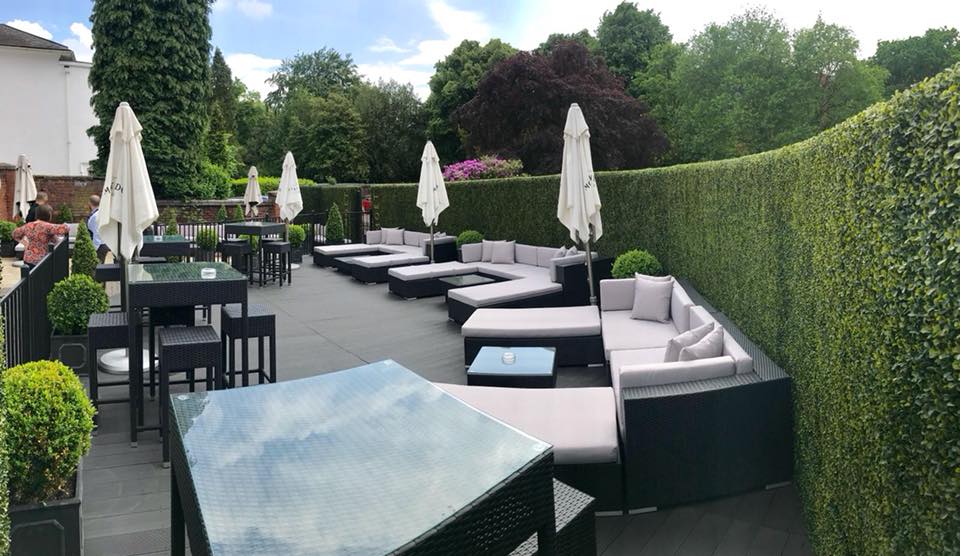 The Edgbaston is known for its swish interiors, delightful cocktails and scrumptious Afternoon Tea. But did you also know they have a beautiful outdoor space too? Well, they do and it's just as swanky as you might expect from this chic hotel bar. The perfect space to live out those hazy summer days and balmy evenings, with comfy outdoor sofas to perch on, this is one cool drinking garden. Order your favourite cocktails and enjoy them al fresco whenever the weather is remotely nice enough and you'll be winning at life.
Digbeth Dining Club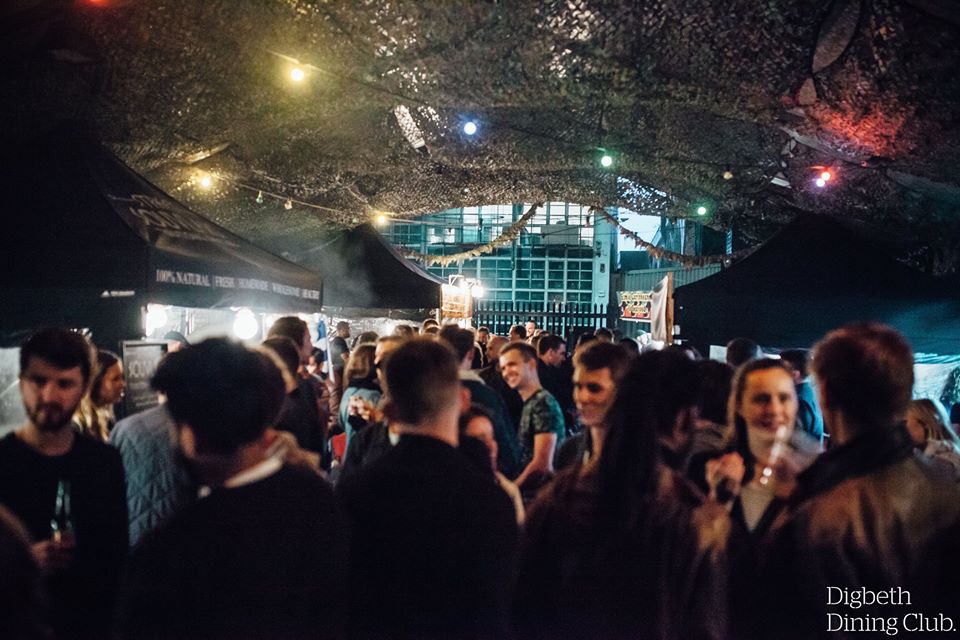 Not technically a beer garden, but at DDC they have plenty of outdoor space so we just had to include them. DDC is a great place to hang out with your mates and enjoy the fresh air of all of the courtyard space available. Handily there are also lots of undercover areas just in case that unpredictable British weather decides to take an unexpected turn for the worse, so you can still enjoy your drinks without being drizzled on. Oh, and of course there's ridiculous street food available too, so make a day of it and enjoy some tasty grub too.
IB deal: 50p off each street food dish at all vendors.
The Paper Duck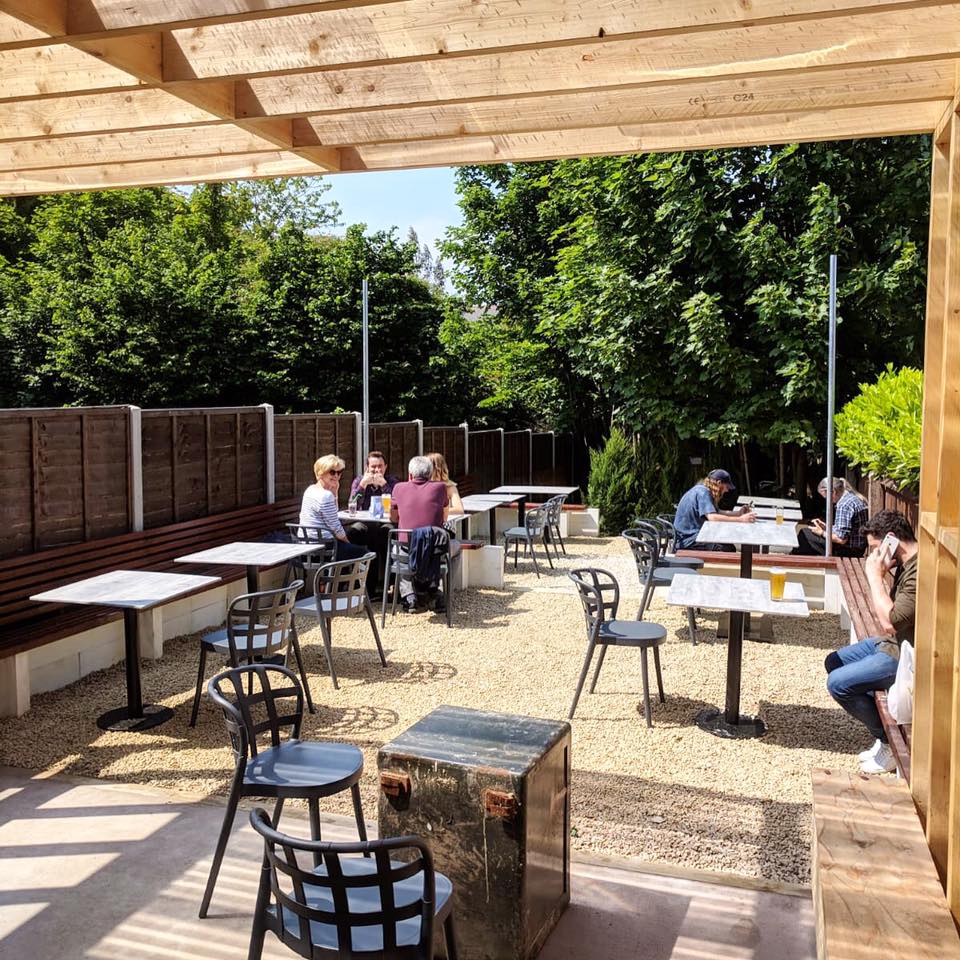 Harborne's resident craft beer haven is known for their excellent beer offering. But did you know they also have a beer garden? Well, they do. This neighbourhood boozer is a great place to while away those glorious sunny days, frosty beer in hand. If you live in Harborne, this is the ideal hangout for those sunny days, and if you don't – well, it's only a short hop from the city centre. Their beer offering is one of the best, so if you're a beer buff then this is the one for you.
IB deal: 2 Cocktails For £12 (Sunday – Wednesday)
The Ruin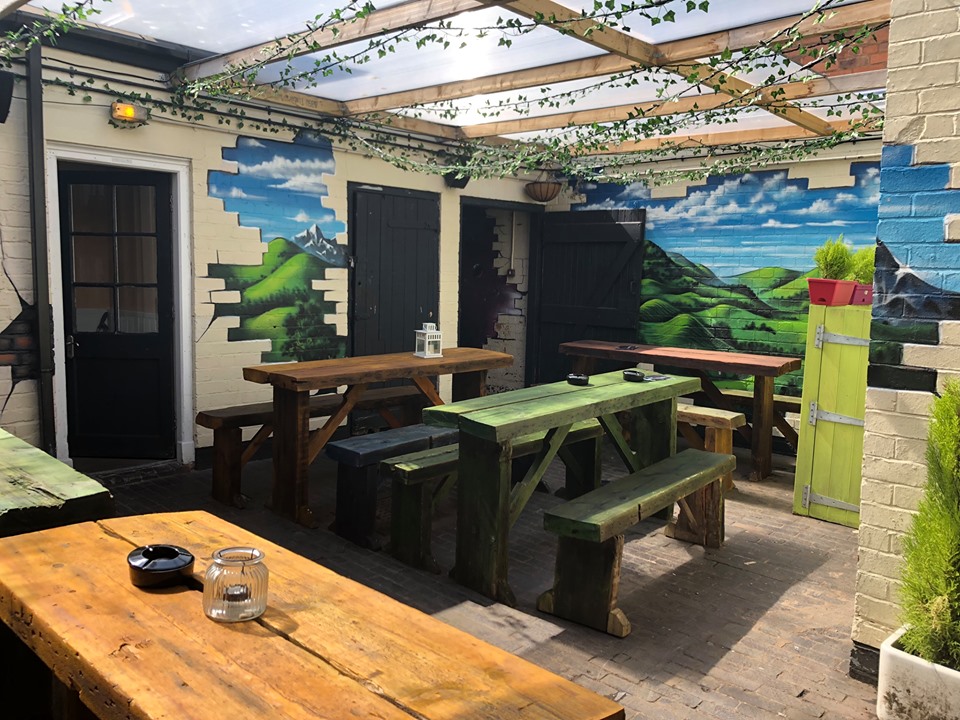 This Digbeth pub is the epitome of quirky. From their eclectic décor, to their unusual food menu, featuring goulash, meatballs, koftas and flatbreads, this isn't your average local boozer. Harnessing the character of the historic building they call home, yet putting their own stamp on it, the Ruin is a handsome spot for a pint. What's more, they have a beer garden! The thing we love most about this beer garden is the fun murals painted on the walls. This "garden" is more of a courtyard, rather than your typical grassy garden, so to give you even more of a feeling of the great outdoors, there are murals of rolling countryside hills and, best of all, a painting of a blazing summer sunshine high in the blue sky. It's so realistic that even on those not-so-glorious summer days (of which we have quite a few) you will feel as though you're basking in those rays.
IB deal: 2 Flatbreads And A Bottle Of House Wine For £20
The Anchor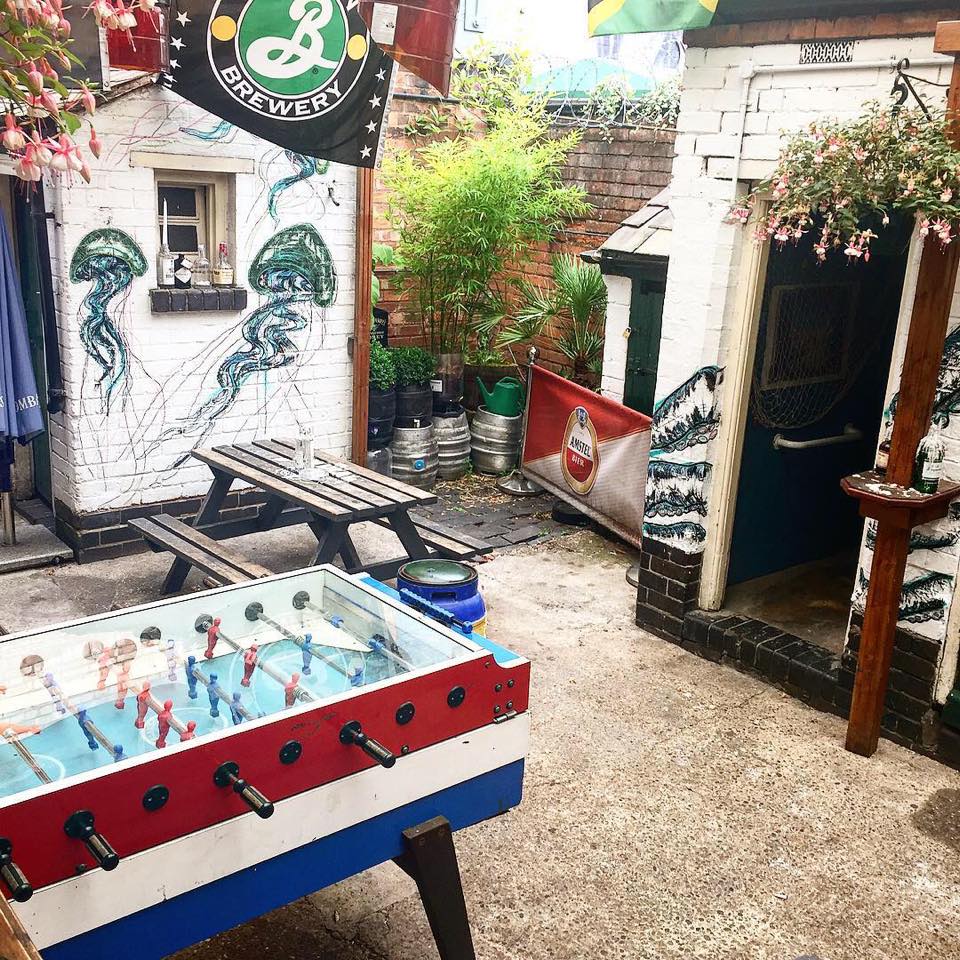 With fun, nautical-themed wall art, traditional wooden picnic tables and, best of all, a Fussball table (yes, that's right!) this is a beer garden we know you'll love. The Anchor is known as a cosy and comfortable place to enjoy real ale, ciders, craft beers, wines and more. Think modern drinking in a traditional pub, and their beer garden is no different. No frills, nothing too fancy, just great drinks in a welcoming space. Mermaids, jellyfish and octopuses adorn the walls of the courtyard garden (a nod to the maritime name of the pub), which is itself a great little hide-away from the hustle and bustle of the city, in which to sink a pint or two with your shipmates.
IB deal: 12.5% off all drinks.
The Blue Piano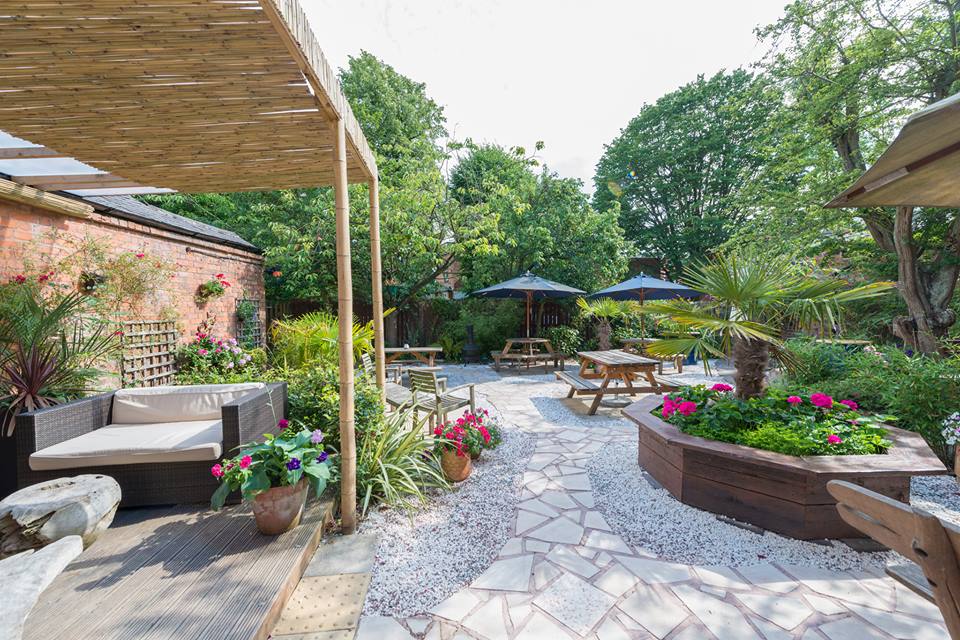 The Blue Piano, Edgbaston, is an independent guesthouse, restaurant and bar and happens to occupy a stunning Edwardian building. Equally stunning is their beautiful courtyard garden. With plenty of outdoor seating, well cared for stone and gravel paths and surrounded by an array of beautiful plants and flowers, this is the perfect spot to relax in on those wonderful sunny days. During the summer, they even have an outdoor cocktail bar (so no more fighting over who has to head inside for the drinks, winner). If you're looking for somewhere a little fancier for your al fresco boozing, this is it.
The Loft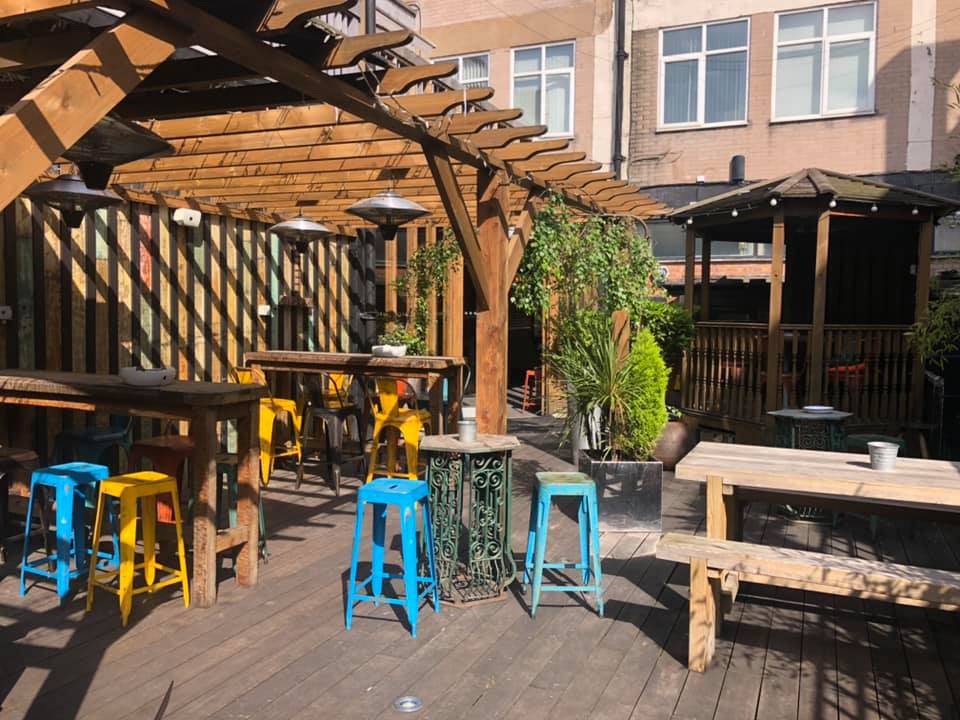 Whether you're looking for craft beer or cocktails, The Loft have it all. Sip on a speciality gin or grab your favourite cocktail, but whatever you choose, drink it in the garden. Whether it's a casual, after-work meet up or a full on Saturday night out, this is the place to be. Their garden is heated too, so if it gets a little chilly, you won't even notice. This decking-clad garden is the perfect little sun trap, just don't forget the suncream!
IB deal: 25% off food.
Saint Paul's House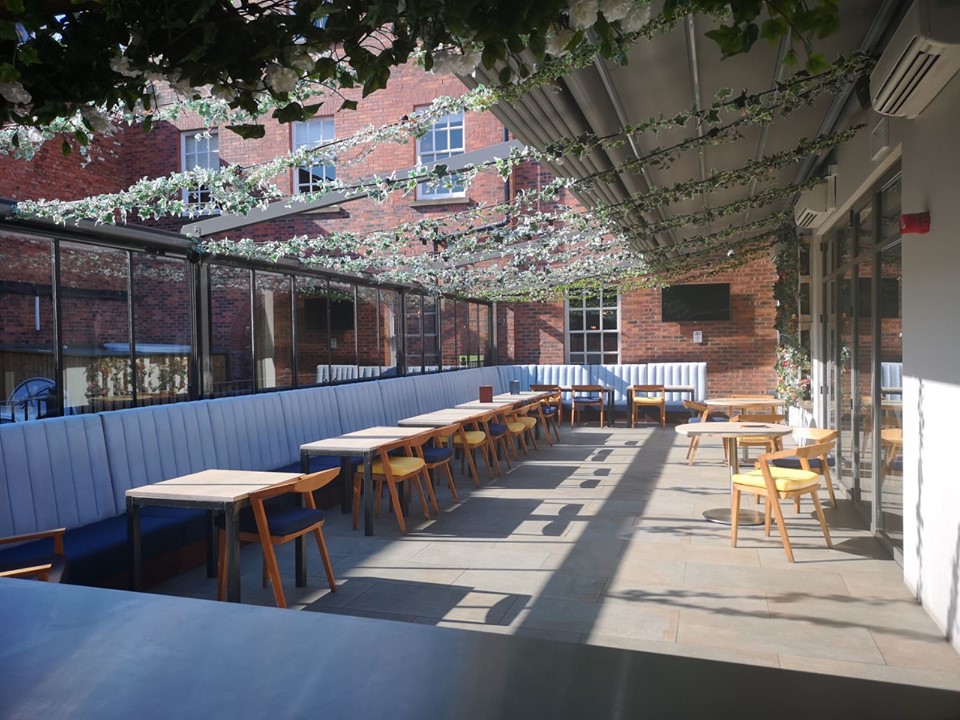 This restaurant, bar and hotel can be found right at the heart of the Jewellery Quarter, on (as the name might suggest) Saint Paul's Square. With a cosy, yet stylish interior, naturally their outdoor space reflects this tastefulness too. The understated, chic outdoor terrace is a great spot for a sun-soaked drink, but can actually be enjoyed whatever the weather, thanks to the retractable roof (a bonus with our unpredictable weather, of course). Grab some tasty drinks with friends and enjoy the glorious weather while it lasts.
IB deal: 20% off food (Sunday – Thursday).
The Duke Inn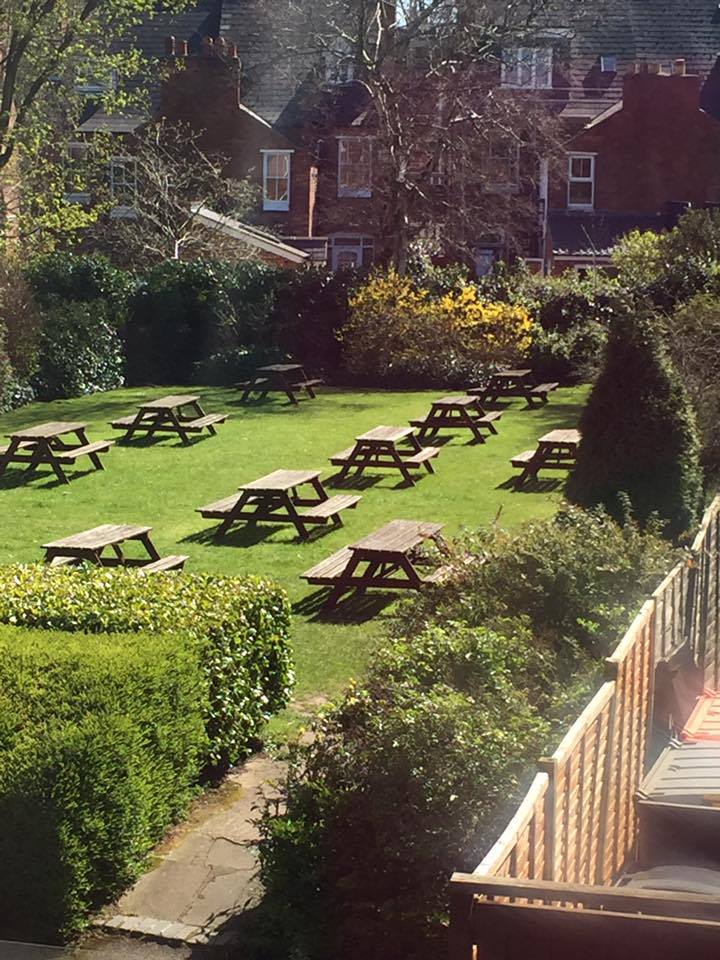 A modern take on the traditional British pub. That classic pub feel but with great drinks and a great atmosphere, if you live in Sutton Coldfield then this is the beer garden for you. This one is a classic, grassy garden with picnic style benches and plenty of space to hang out. The grass is kept neat, inviting you to sit down and soak in those rays, as if in the comfort of your own back garden. Plus, the outdoor bar means you won't need to venture inside for drinks as you can grab a cold, refreshing brew from the sanctuary of the garden (we hear they even serve ice creams too – that's it, we're moving in for the summer).
The Village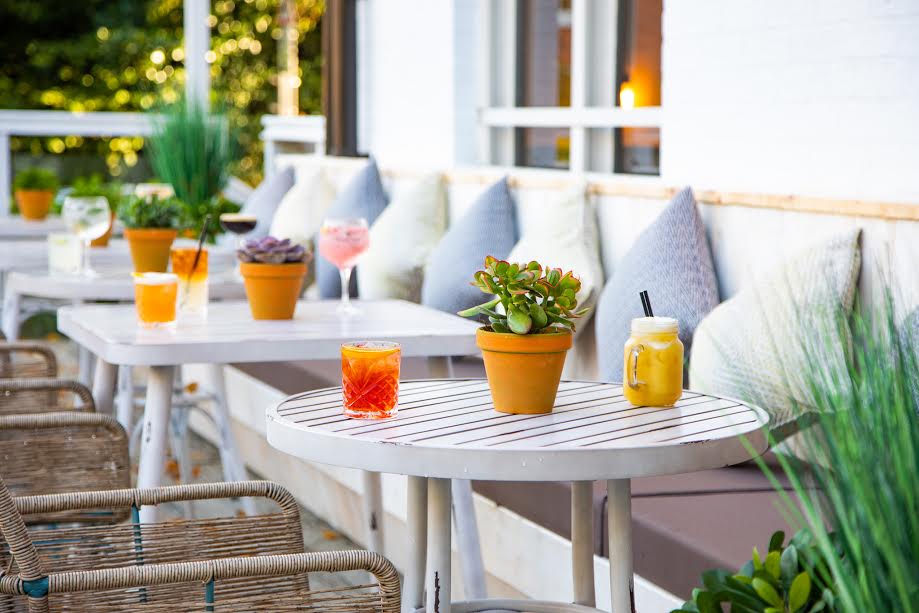 Fresh from a major refurbishment, The Village has re-opened its doors to the residents of Moseley and beyond, offering a considered drinks offering and a food menu packed full of comfort food classics. The interior is cosy, perfect for chilly days, but they also have a stunning outdoor space with plenty of seating, which is ideal for those glorious days of sunshine and heat. Grab your chosen beverage (craft beer, gin goblets, cocktails and wine are all on offer) and head outside to make the most of that elusive sun.
IB deal: 10% off food (Monday – Friday)
Hop Garden Harborne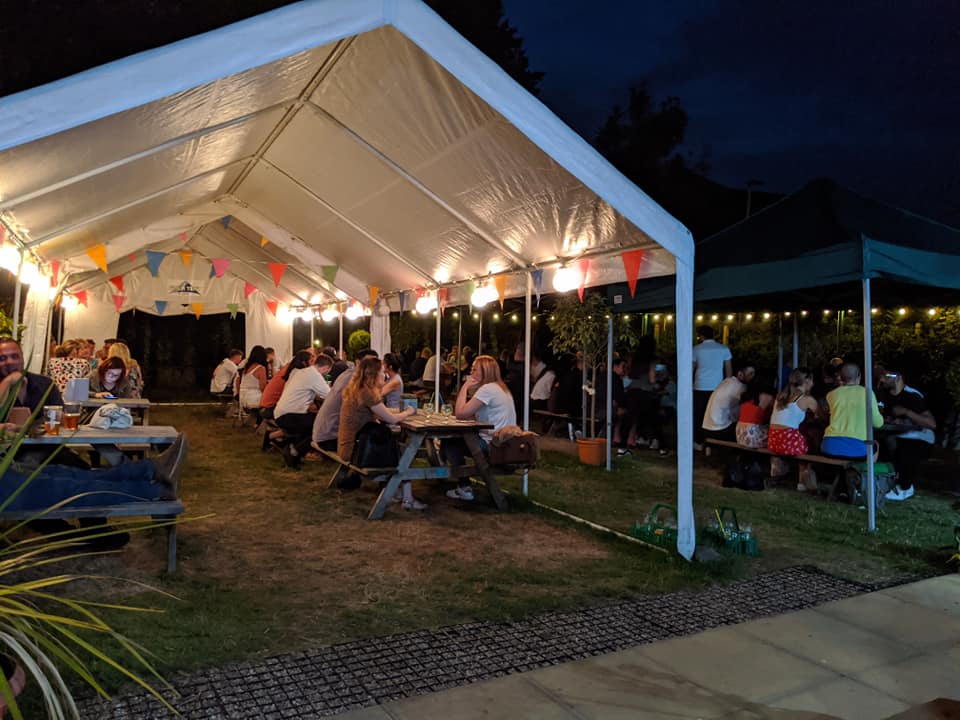 This fantastic pub based in Harborne has a lot going for it – including their beer garden. A decent sized garden with classic wooden picnic benches and covered marquees so you can enjoy your chosen beverages outside whatever the weather (very useful in the unpredictable British summer), this is a great place for an outdoor pint or two. They even have a 'Doggy Social' area so you can bring your best buds along safe in the knowledge they will have just as much fun as you. With the brilliant Otto serving up their incredible pizzas, this is one heck of a beer garden experience. Beer, pizza, dogs – what more could you want? Quick, to Harborne!
40 St Paul's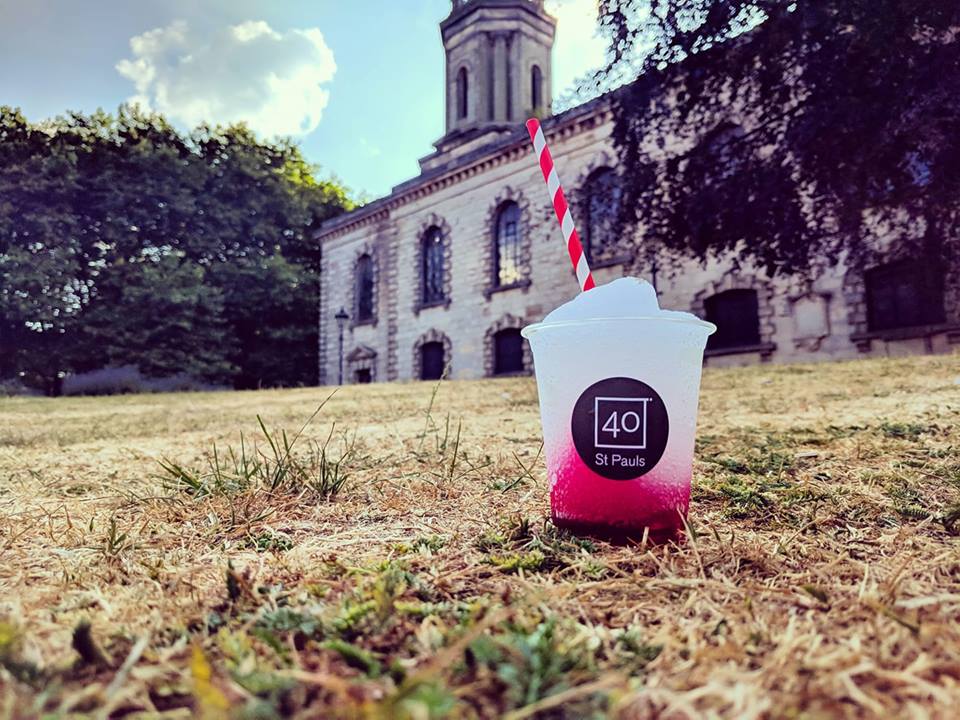 Photo: Vikki Szymanski
No, you're not going mad, 40 St Paul's definitely doesn't have a beer garden, but hear us out for this one. If you love gin, and you love the fresh air of the great outdoors then this is somewhat of a game changer. Head to 40 St Paul's, request one of their incredible gin slushies to go, and then camp out in the beauty of Saint Paul's Square, which we are boldly going to declare as nature's own gin garden! We can't think of a more beautiful place to slurp on a gin slushie.
IB deal: 2 Cocktails For £15 On Selected Cocktails
Maison Mayci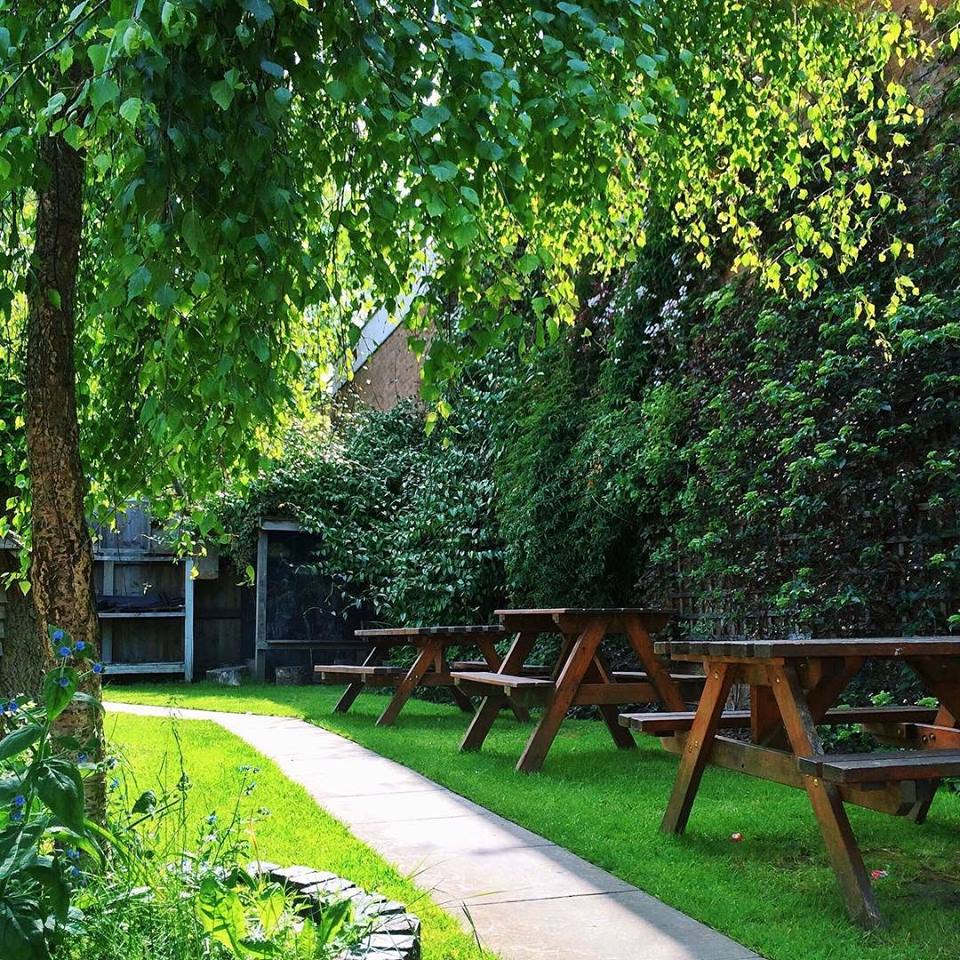 Aside from their truly delicious fig bread, we love Maison Mayci for a great number of reasons. Their coffee, their pastries, their beer garden. What? A beer garden? How did we not know about this? Well you do now, good folk of Brum. You do now. Head to this wonderful French coffee shop and grab yourself a beer (or cider) and then head out into their wonderful (and rather large) beer garden and soak up those rays. Or, alternatively, grab yourself a coffee and a croissant and do this whole beer garden thing Continental style. It's a bold move, one we're sure will pay off. And then once you're done with your coffee, then you can grab a beer. Right? Right! Bon temps.
IB deal: 10% Off The Bill (Anytime) OR 2-For-1 Cocktails When You Purchase A Main Meal (Per App Member, Friday And Saturday Evenings (Moseley Only)).
Kilder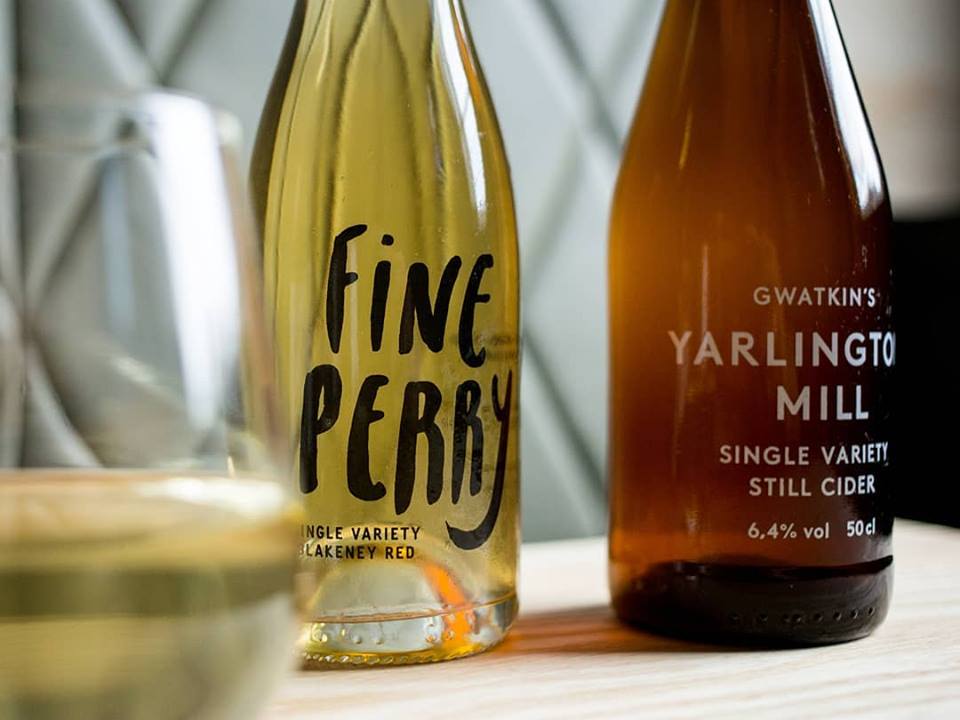 Less of a beer garden and more of a shaded outdoor space, Original Patty Men have opened a sister craft beer and wine bar next door to their burger haven – and it's just the shady setting to enjoy a cold one while escaping the heat. Head there with a spring in your step as the wonderful aroma of burgers wafts through the air, you're close to your destination. When you get there you have the choice, go into OPM and order a burger and sit outside under their railway arch, or head into Kilder, order a few tinnies (or a glass of natural wine) and then sit outside under their railway arch. It's a tough choice. We recommend doing both. You won't see much sun, but it's outside and there are burgers and beer and natural wine. Winning.
The Station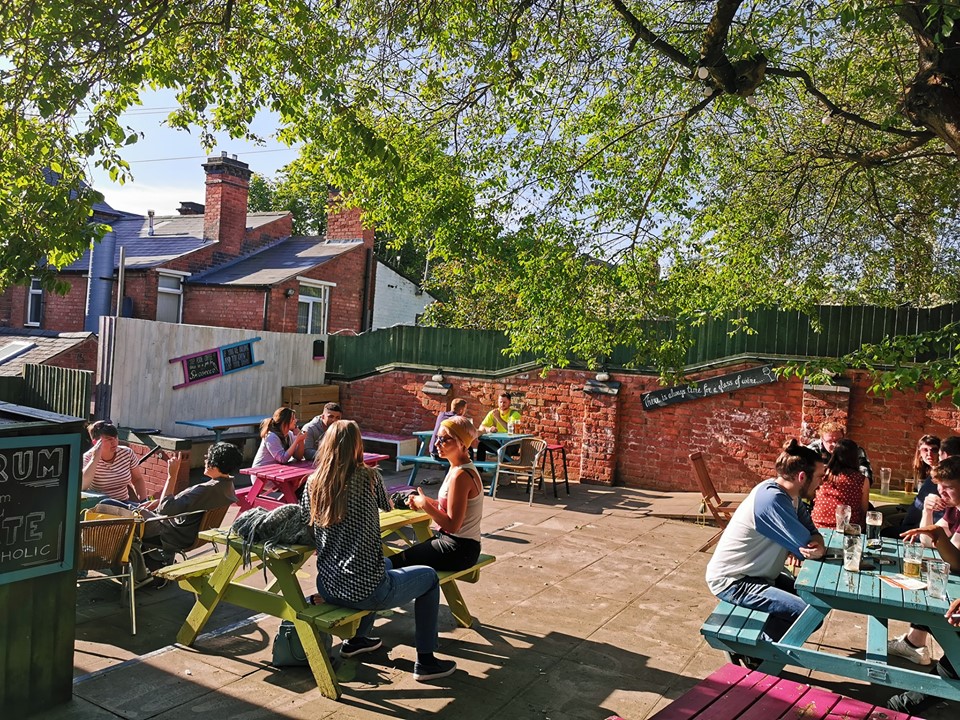 Weary, light-headed and in need of fluid? Spent way too many hours at work which would have been better spent down at the pub? Well, luckily for you, we know just the place to solve all these problems – The Station.  With it's spacious beer garden split into two different sections to suit your outdoor needs – one housing a mounted television and a fun Lego-inspired mural and the other brimming with benches and containing a fantastic view of the surrounding chimney tops, there really is no better way to spend your sunny summer afternoons than chowing down on some wonderful pub food and enjoying a nice, cold beer with your friends at this fantastic pub.
The Spotted Dog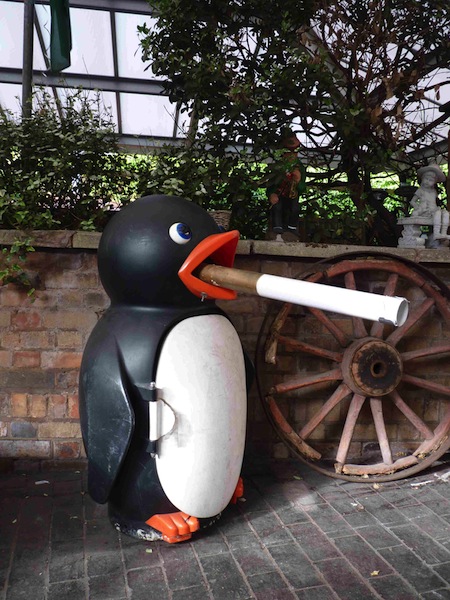 Photo: Richard McComb
Ready to spot the weird and wonderful? The Spotted Dog, Digbeth's faithful hound and firm favourite to a core of faithful followers, contains within it one of the most unusual beer gardens you will most likely ever lay eyes upon. No, you're not drunk – that is a penguin smoking a giant cigarette and yes, those are mannequins dressed in a rogue assortment of ill-fitting garments. But that's the charm of this wonderful pub. It's wacky and eccentric, with every turn of the head revealing a new wonder to behold. So head on down to Digbeth, grab a pint at The Spotted Dog and prepare to be bemused.
The Rose Villa Tavern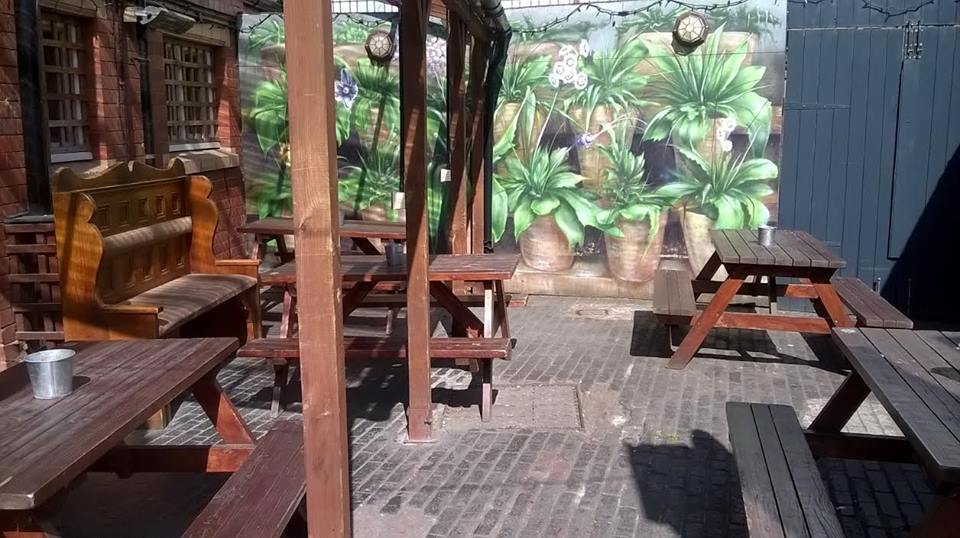 Now, quite often the word 'quirky' is casually thrown about without a care in the world for doing justice to this stalwart of the English language, however, when it comes to The Rose Villa Tavern – there's just no escaping the fact that this is one hell of a quirky pub. With a phone booth situated within the pub itself, it's no real surprise then that in its beer garden you'll find an eclectic array of seating and a backdrop of some funky artwork to make your foray into The Rose Villa Tavern's beer garden definitely one to remember. Swig cocktails and beer whilst stuffing your face with a pile of chicken wings and you know you've just won at summer!
IB deal: 20% off food (Monday – Thursday).
Marmalade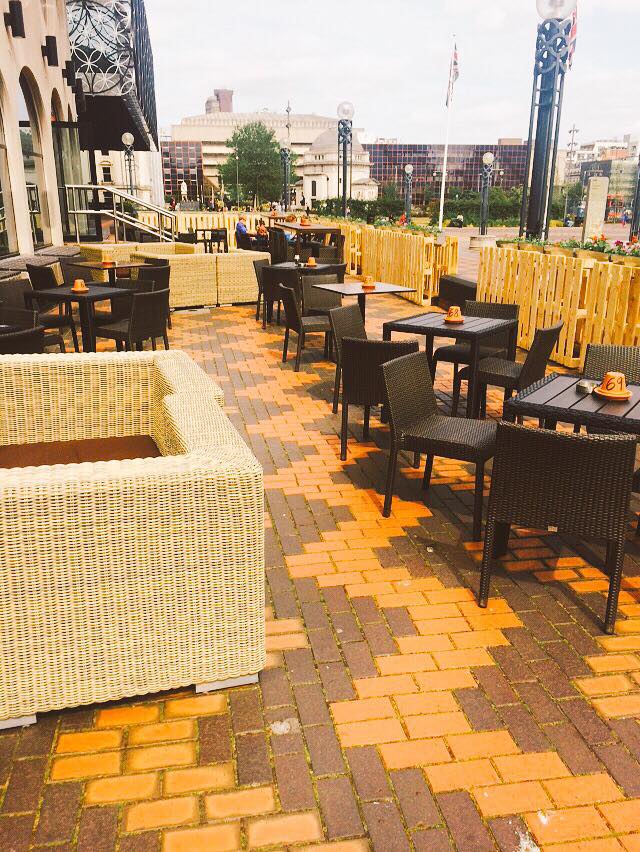 More of a sizeable terrace rather than an actual beer garden, Marmalade offers outdoor aficionados the chance to bask in the rays whilst overlooking the newly re-vamped Centenary Square and enjoying a good old spot of people watching. Grab yourself a friend (or go Han Solo if you're that way inclined) and then grab a good seat for this most glorious of spectator sports to come (see what we did there? Because you spectate…moving on). Best part: Marmalade serve some pretty darn tasty cocktails and food, so you'll not be going hungry during your occupation of their terrace. In fact, you could (and probably should) just stay there all day. It is sunny after all…
IB deal: 10% off the bill
British Oak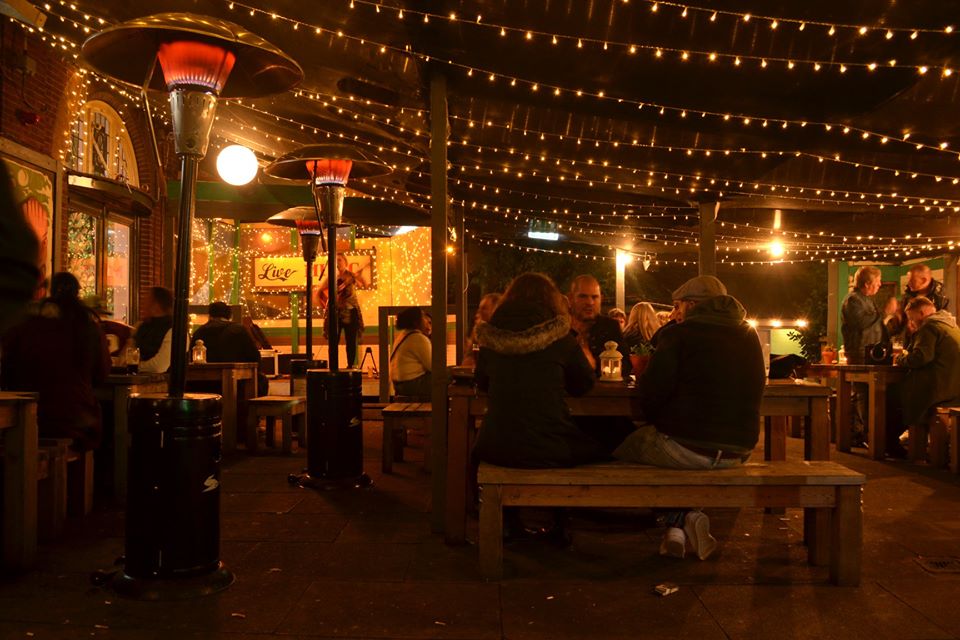 British Oak is another delightful addition to the beer scene and is the perfect neighbourhood hangout for Stirchley residents. A traditional boozer with a twist, expect beer (and lots of it) and a rather large and splendid outdoor seating area for catching those ever-essential rays. Top up your pint and then go top up your Vitamin D levels. We've heard the food there is pretty ace too. Just saying. Onwards, for beer and for glory!
IB deal: £1 off cocktails
Bonus Beer Garden: The Boot Inn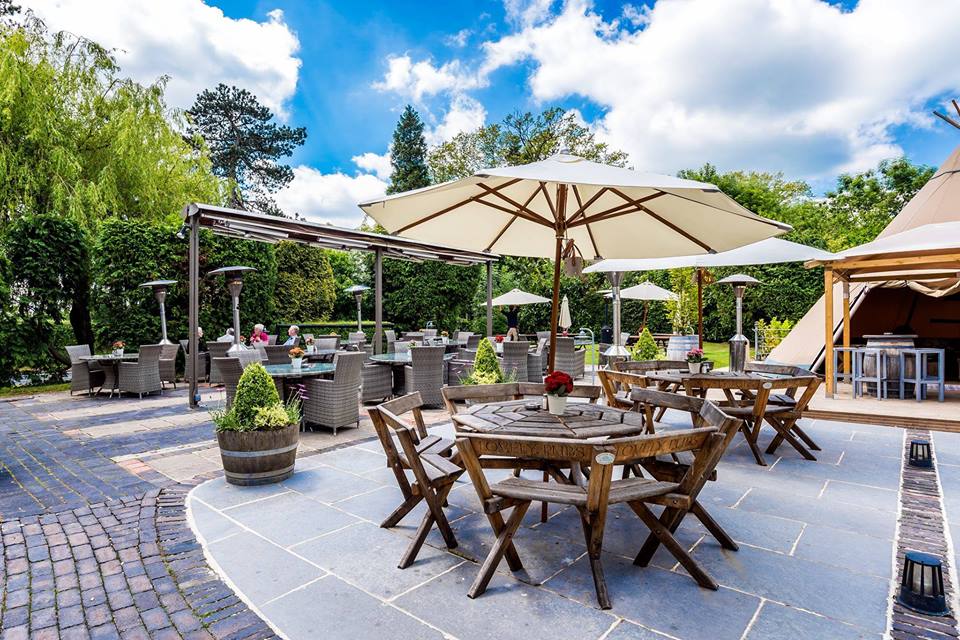 Ok, so this one is just outside of Birmingham, but it's a glorious spot in which to soak up those sunny rays and we just HAD to include it. We had to, ok? Situated in Lapworth, right next to a beautiful canal, The Boot Inn is a wonderful, rural pub doing things right. What we love most about them though, apart from their impressive food offering, is the substantial beer garden. Head there, soak up some rays, drink some beer (or wine), and then go for a nice long walk along the canal after. Our pro tip: order a sharing board. They're perfect for sharing, but also perfect for pretending you're going to share, but then scoffing all the goodies yourself. Nicely done.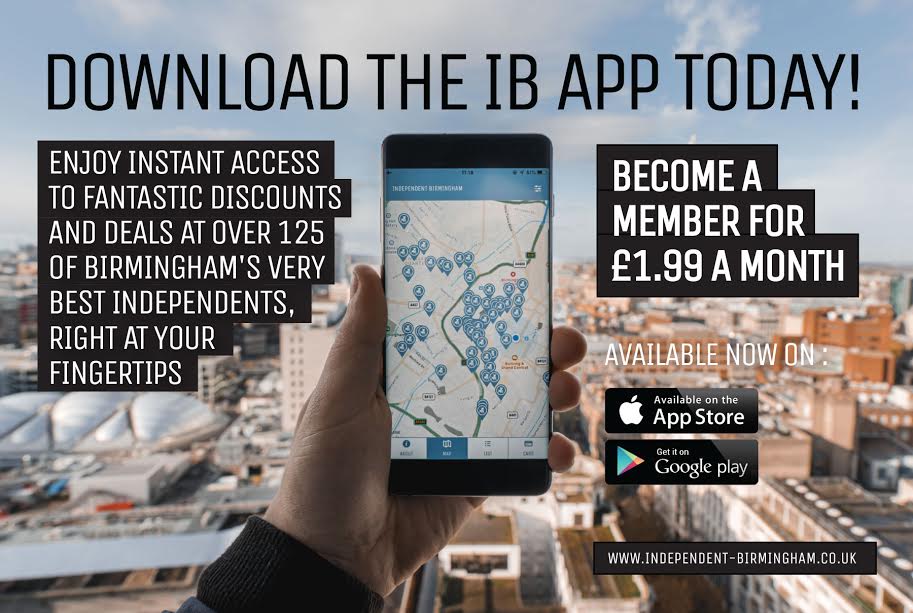 If you like to discover new hidden gems and support local, download the Independent Birmingham App.
Enjoy up to 20% off (alongside exclusive 2-for-1 offers, freebies and more) at over 125 of the very best independent cafes, bars, restaurants, pubs, theatres, cinemas, hotels, shops and experiences in Birmingham – including: Digbeth Dining Club, The Electric Cinema, Carters, Indian Brewery Snowhill, Birmingham Hippodrome, Adam's, Zindiya, The Meat Shack, Baked In Brick, BoneHead, Purnell's Restaurant, Chakana, Tiger Bites Pig, Bodega Cantina, Stirchley Wines And Spirits, Wayland's Yard, Purnell's Bistro, Midlands Arts Centre, 40 St Paul's, The Plough, Hare and Hounds, Birmingham Repertory Theatre, The Jekyll And Hyde, The Rose Villa Tavern, Cherry Reds, The Prince of Wales, The Loft, Laghi's Deli, Medicine Bakery, The Paper Duck, The Clean Kilo, The Early Bird Bakery and many more.
To download the IB App for just £1.99 a month on Apple, click here.
To download the IB App for just £1.99 a month on Android, click here.