Is there anything that screams 'Great British Summer' like sipping a cold pint in a sunny beer garden?
We love a beer garden. It takes the classic British pub and the great outdoors and mashes them together into one glorious, blissful escape from every day life. Beer gardens come in all forms, from a classic grass garden behind a rural pub, to a concrete courtyard in front of a local microbrewery's taproom, or a city centre rooftop, and we love them all. We think there's no better way to while away a few lazy hours on a summer day than by enjoying a leisurely lunch or a few cool drinks in a hot and sunny beer garden. Just don't forget your sun cream!
And so, the last remaining hurdle to overcome before the beer shall flow and the good times can roll is choosing your hallowed beer haven, your Fortress of Cider-tude. Luckily, Independent Birmingham is here to help you make the right choice and, through extensive research and countless hours spent in the pub (it's a tough job but someone's got to do it!), we've compiled a most glorious list of the very best independent beer gardens across Birmingham and Solihull. Set phasers to chug!
Many of the independents featured in this guide also feature on the Independent Birmingham App – where you can enjoy up to 25% off (alongside exclusive 2-for-1s, freebies, and more) at 170+ of the very best independents across Birmingham and Solihull – all for just £1.99 a month! Download the IB App here.
All that's left to do now is to scroll down this list, pick a beer garden that takes your fancy, enjoy the glorious sunshine with your mates, support local, and then bask in your awesomeness!
The Prince of Wales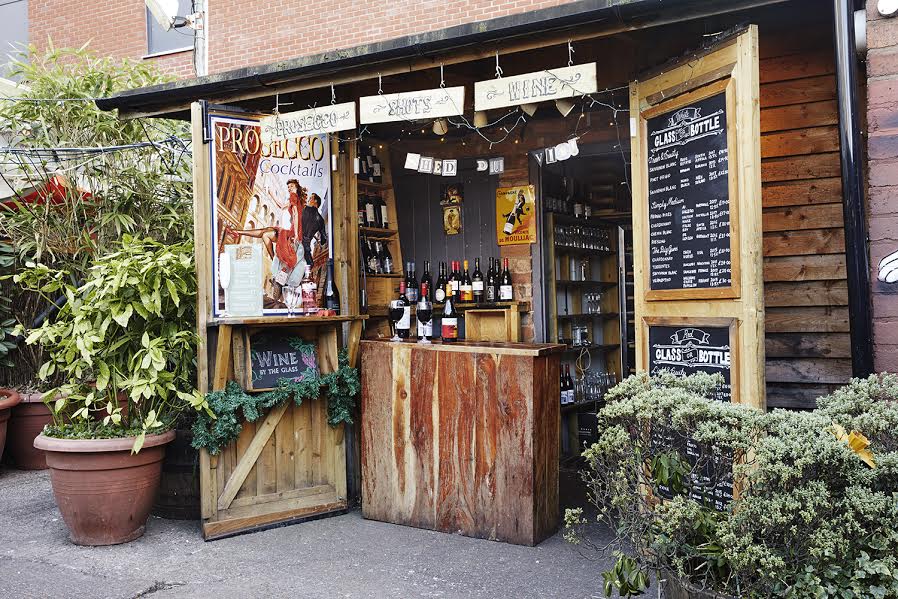 Location: 118 Alcester Road, Moseley, B13 8EE
We heard you like flaming cocktails. Like, really big flaming cocktails. And skulls filled with potent potions – them too. Well, good news all round, a trip to The Prince of Wales will satisfy your quirky vessel fixation and more as you explore their incredibly popular ode to beer gardens. Including a wacky Mo-Tiki bar, The Prince of Wales' beer garden is full of wild antics and wonderful events to keep you entertained all summer long – and long into the winter too!
IB deal: £1 Off Cocktails At The Mo-Tiki Bar (Until 9pm).
The Plough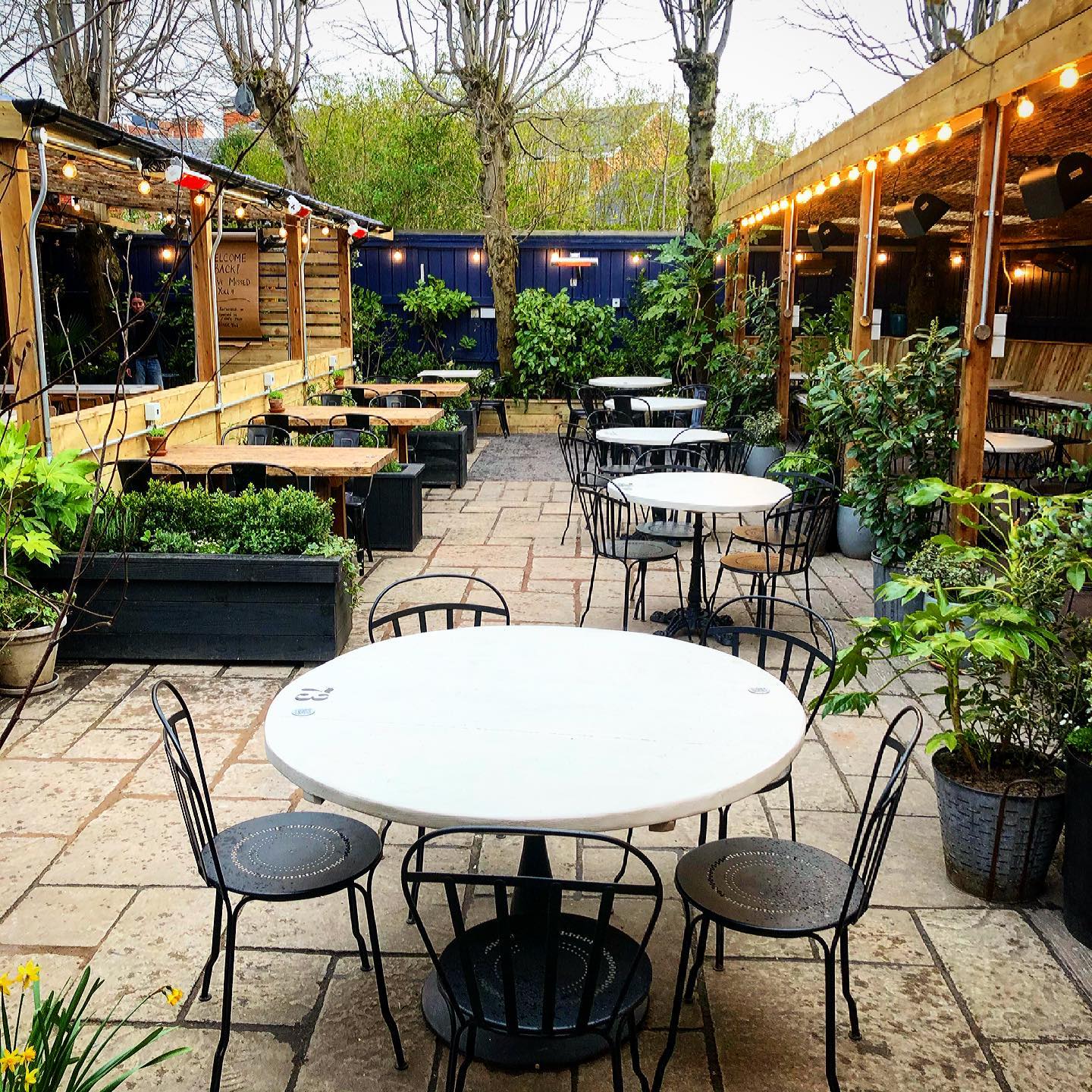 Location: 21 High Street, Harborne, B17 9NT
Within the suburbs of Birmingham lies a fabulous pub by the name of The Plough. And within this fabulous pub lies an even more fabulous beer garden – yes, it's Inception all over again. But this time we brought beer!
In any case, the beer garden in The Plough is a peaceful sanctuary away from the hustle and bustle of daily life in the city. Enjoy an extensive range of wine, beer, gin, soft drinks and more with your chosen companions in the sunshine – and, if you're feeling a little peckish, they have a menu packed with delicious pub grub (including homemade pizzas) that you can devour to stave off the hunger and keep you drinking long into those summer nights.
IB deal: 10% off food
Burning Soul Brewing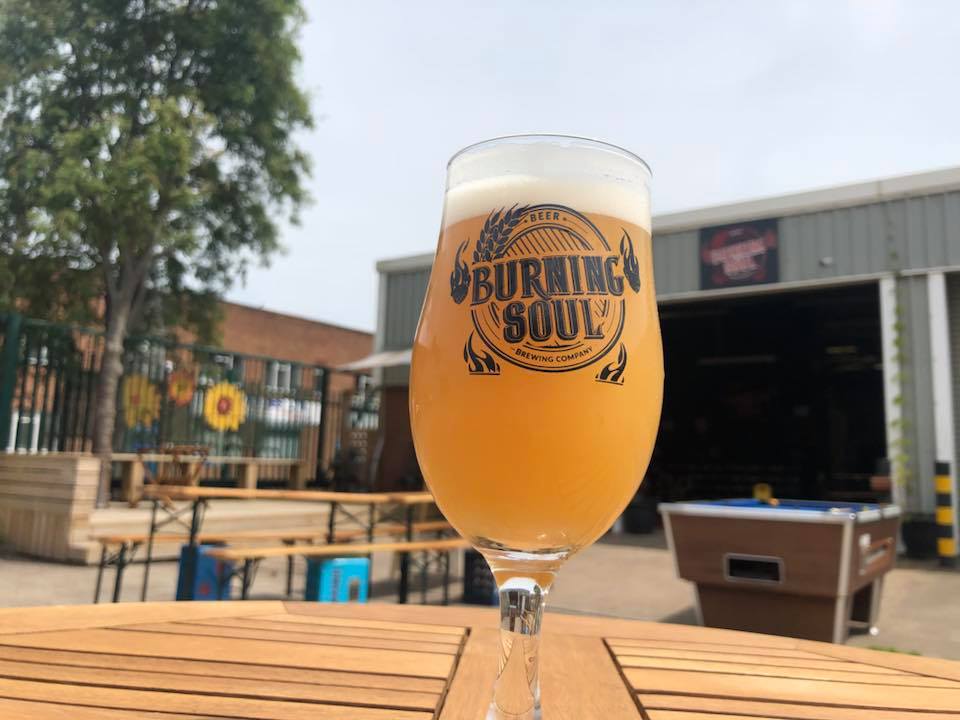 Location: Unit 1, Mott Street, Jewellery Quarter, B19 3HE
We love a traditional beer garden as much as the next person, but the new way to enjoy drinks in the great outdoors is at your favourite taproom. Burning Soul Brewing have just such a place, complete with plenty of outdoor seating so you can enjoy an al fresco beer just the way nature intended – with the shortest possible journey from brewery to your hands. Enjoy Burning Soul's tasty craft beers (like their ridiculously drinkable Ice Cream Pale Ale) in their JQ-based taproom for ultimate enjoyment. You can thank us later.
IB Deal: 10% off takeaway craft beer cans
The Ruin Bar & Kitchen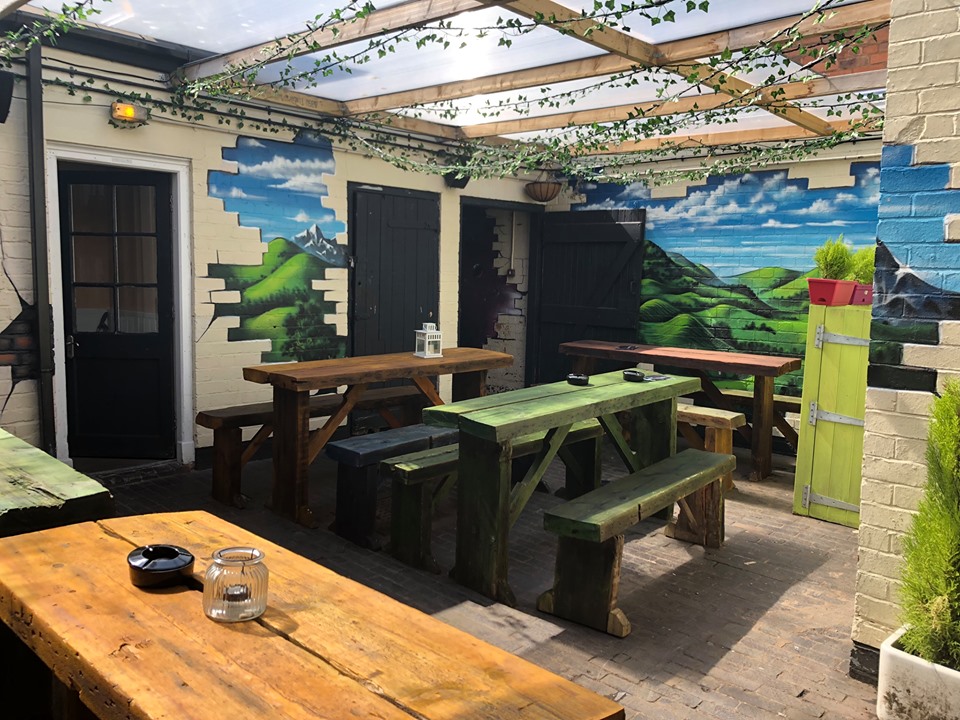 Location: 92 Floodgate Street, Digbeth, B5 5SR
This Digbeth pub is the epitome of quirky. From their eclectic décor, to their unusual food menu, featuring goulash, meatballs, koftas and flatbreads, this isn't your average local boozer. Harnessing the character of the historic building they call home, yet putting their own stamp on it, the Ruin is a handsome spot for a pint. What's more, they have a beer garden! The thing we love most about this beer garden is the fun murals painted on the walls. This "garden" is more of a courtyard, rather than your typical grassy garden, so to give you even more of a feeling of the great outdoors, there are murals of rolling countryside hills and, best of all, a painting of a blazing summer sunshine high in the blue sky. It's so realistic that even on those not-so-glorious summer days (of which we have quite a few) you will feel as though you're basking in those rays. Oh, and they have a rooftop garden… did we mention that? Maybe we should have led with that… ROOFTOP GARDEN!
IB deal: 2 Flatbreads And A Bottle Of House Wine For £20
Attic Brew Co.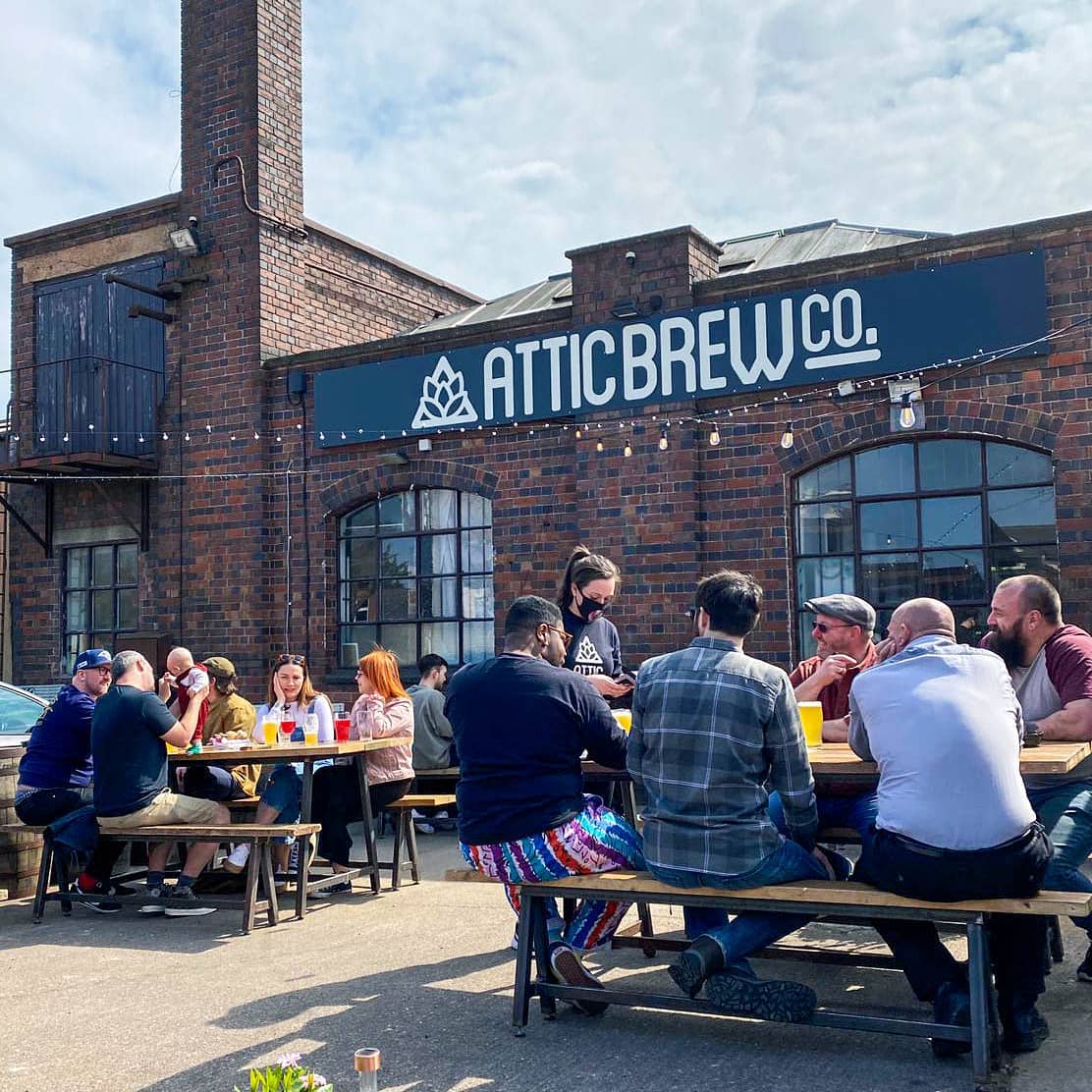 Location: 29B Mary Vale Road, Stirchley, B30 2DA
One of Stirchley's many brilliant beer havens, Attic Brew Co. is a fantastic micro-brewery who create tasty, 100% vegan beers. As with all craft beer, it is at its absolute best when enjoyed at the source, so a visit to their taproom is an absolute must. Thankfully they have a wonderful outdoor space at their taproom where you can enjoy that elusive sunshine, when it decides to make an appearance, and sip on an excellent brew. And if you don't want the beer-fuelled fun to end when you leave, you can grab some cans to take-away with you too.
IB Deal: 25% off all take-away cans purchased in the taproom
Purecraft Bar and Kitchen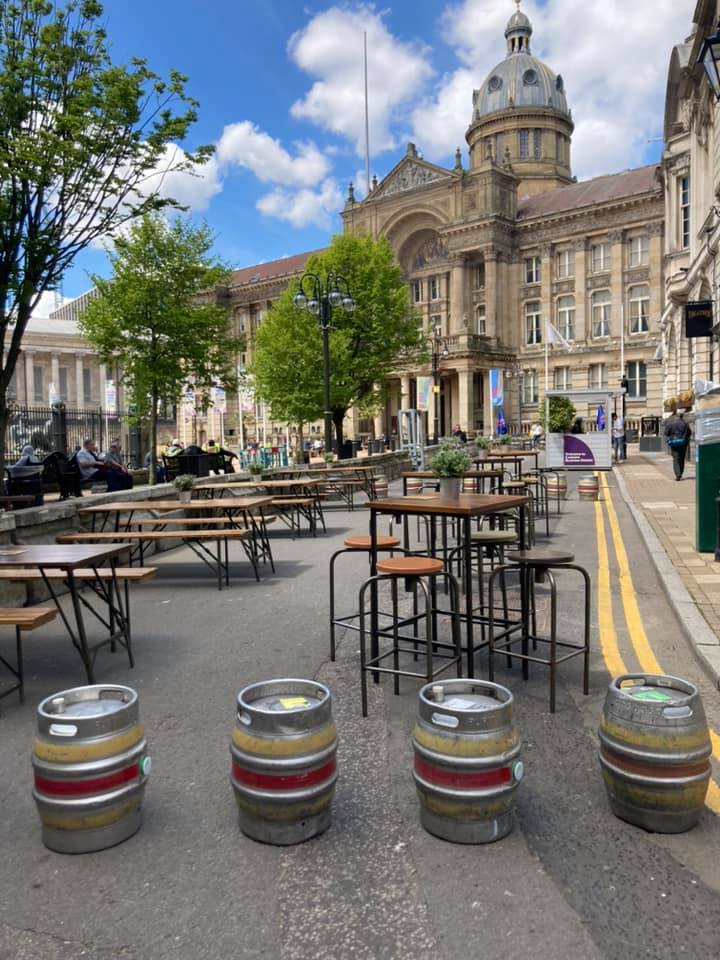 Location: 30 Waterloo Street, B2 5TJ
This modern pub can be found in the city centre, where they're known for their craft beer selection and delicious gastro pub food. Due to the pandemic, they've opened a pop-up beer garden in front of the pub which boasts arguably one of the best views in the city, overlooking Victoria Square. This is the ideal place to grab a lunchtime pint and enjoy the view, or make the most of the sunny weather and enjoy some delicious pub grub.
IB Deal: 10% off the bill (Sunday – Thursday)
The Anchor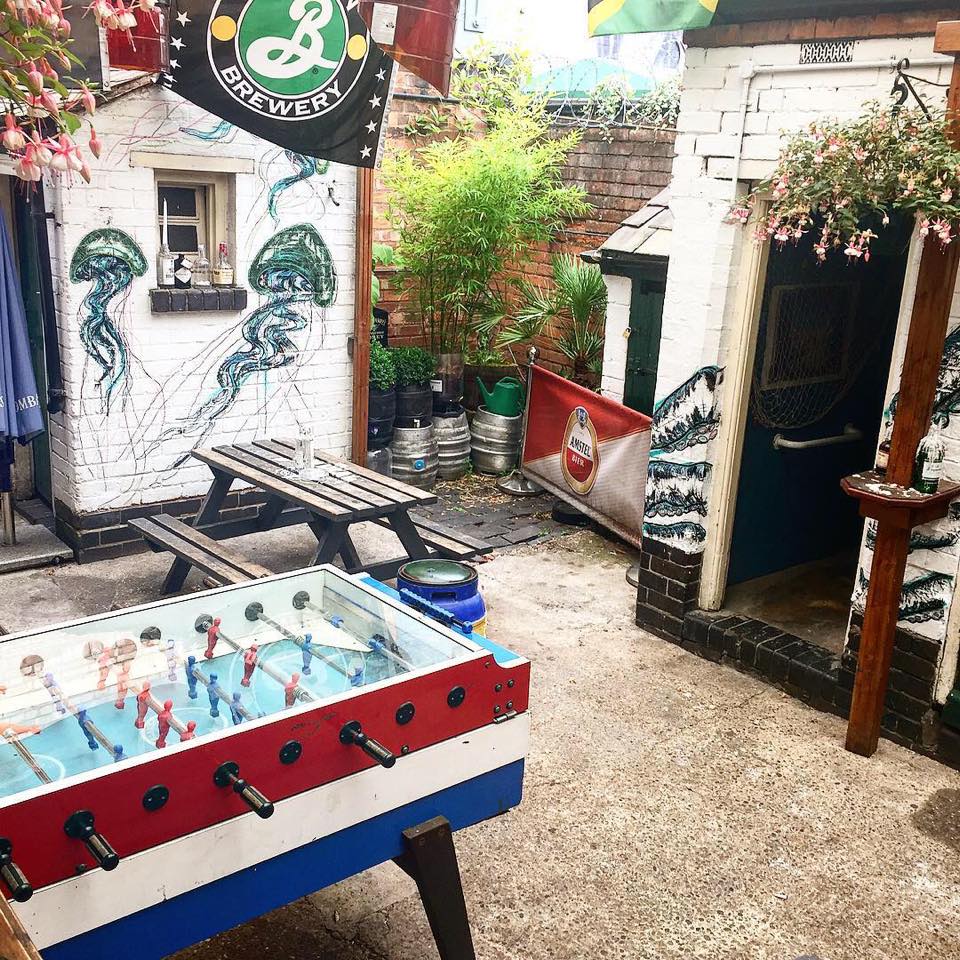 Location: 308 Bradford Street, Digbeth, B5 6ET
With fun, nautical-themed wall art, traditional wooden picnic tables and, best of all, a Fussball table (yes, that's right!) this is a beer garden we know you'll love. The Anchor is known as a cosy and comfortable place to enjoy real ale, ciders, craft beers, wines and more. Think modern drinking in a traditional pub, and their beer garden is no different. No frills, nothing too fancy, just great drinks in a welcoming space. Mermaids, jellyfish and octopuses adorn the walls of the courtyard garden (a nod to the maritime name of the pub), which is itself a great little hide-away from the hustle and bustle of the city, in which to sink a pint or two with your shipmates.
IB deal: 12.5% off all drinks.
Mama Roux's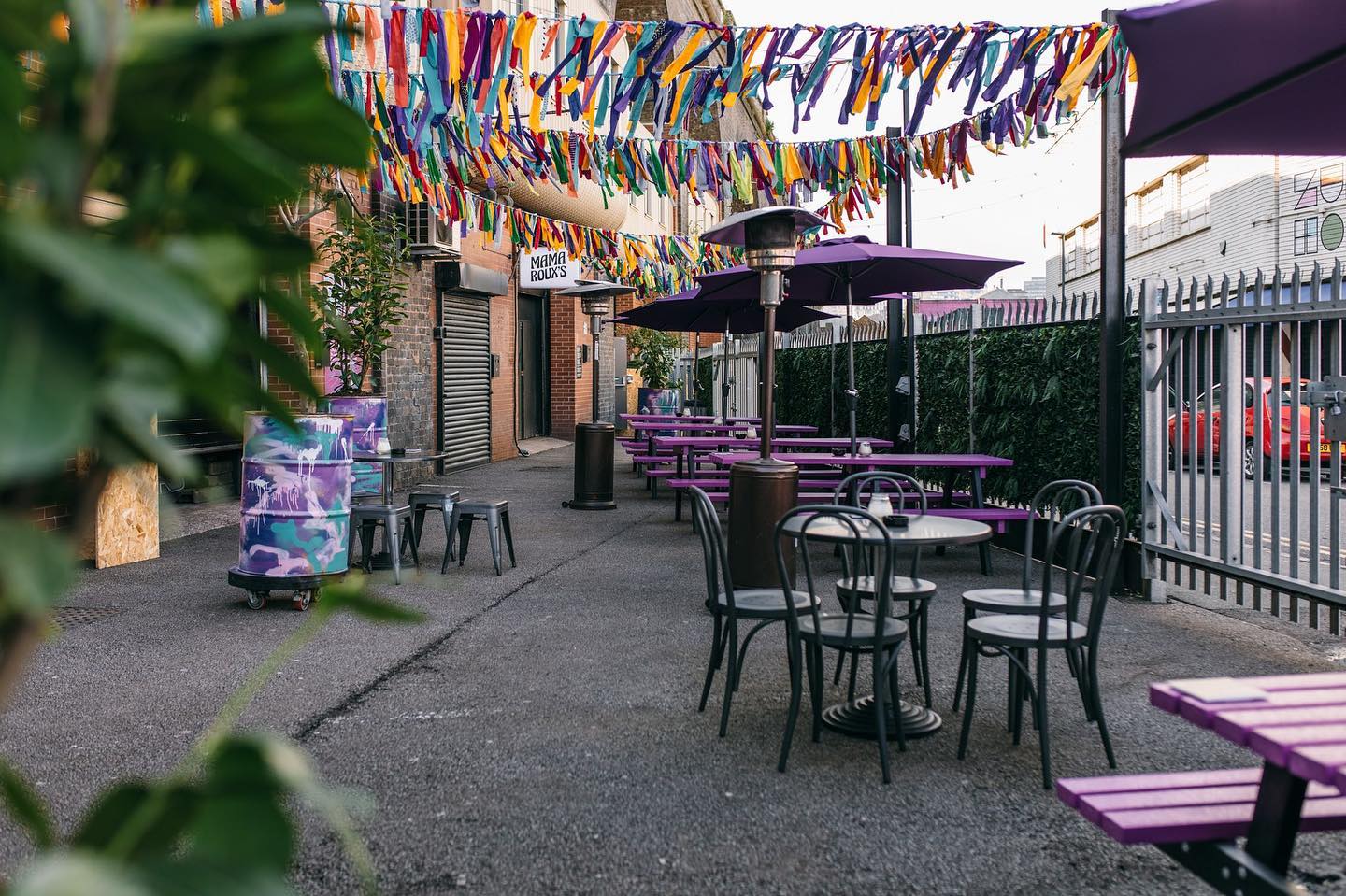 Location: 2 – 3 Lower Trinity Street, Digbeth, B9 4AG
This Digbeth hotspot is all about the party vibes. If you like your beer garden with a buzzing atmosphere, then this is the place for you. They have regular DJs playing wall to wall groovers to get you in the mood, delicious street food from the legendary Only Jerkin' and a great selection of drinks. Summer party vibes all day long. We'll see you there.
IB Deal: 2 cocktails for just £10 (instead of £19 – Wednesday, Thursday, and Sunday)
Birmingham Brewing Company
Location: Unit 17, Stirchley Trading Estate, Hazelwell Road, B30 2PF
Another of Strichley's magnificent breweries, Birmingham Brewing Company are known for producing some of the finest beers across the city. Thankfully, they also have a taproom, complete with outdoor space, where you can pop in and enjoy a few of their delicious beers in person. They even have their own Brummie Gin (distilled from the mash of their Pale Brummie with six botanicals) and have created a range of 'Beer-Tails' – cocktails born from beer. Amazing!
IB Deal: 10% off beer in the taproom + 10% off online purchases (see IB App for online code)
The Pig & Tail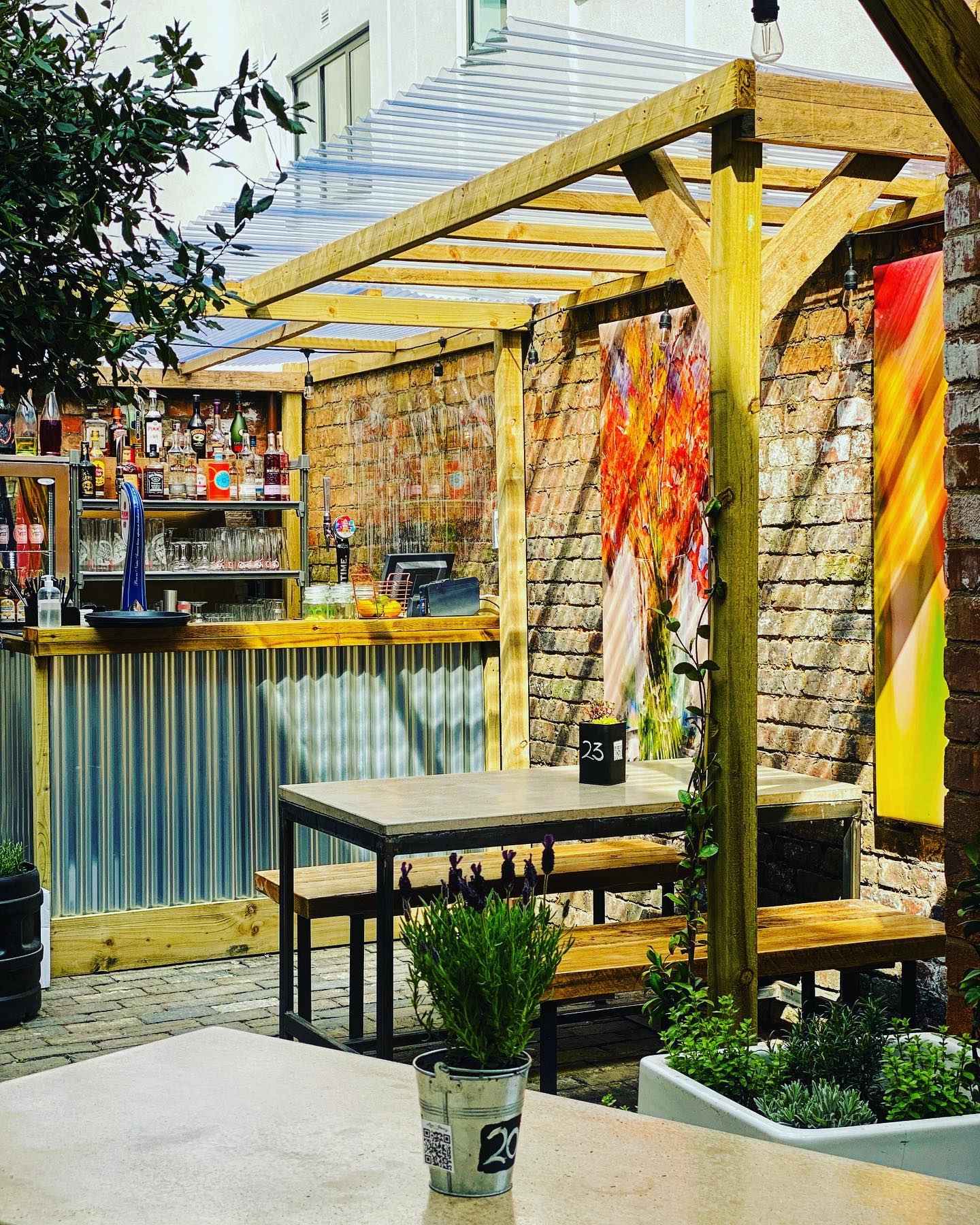 Location: 12-13 Albion Street, Jewellery Quarter, B1 3ED
JQ's neighbourhood gastropub, The Pig & Tail, is the perfect escape from the bustle of the busy streets of Birmingham. They have a beautiful interior, but the real magic is in the secluded beer garden at the rear of the pub. This courtyard beer garden, complete with its own bar (so you never have to venture far from your seat for the next round), is a lovely little hide-away in which to enjoy some drinks in the fresh air. Partially covered for when the weather turns, this is an ideal spot for a quiet drink or two.
IB Deal: 10% off brunch + 10% off draught beer and craft beer cans.
The Loft Bar & Kitchen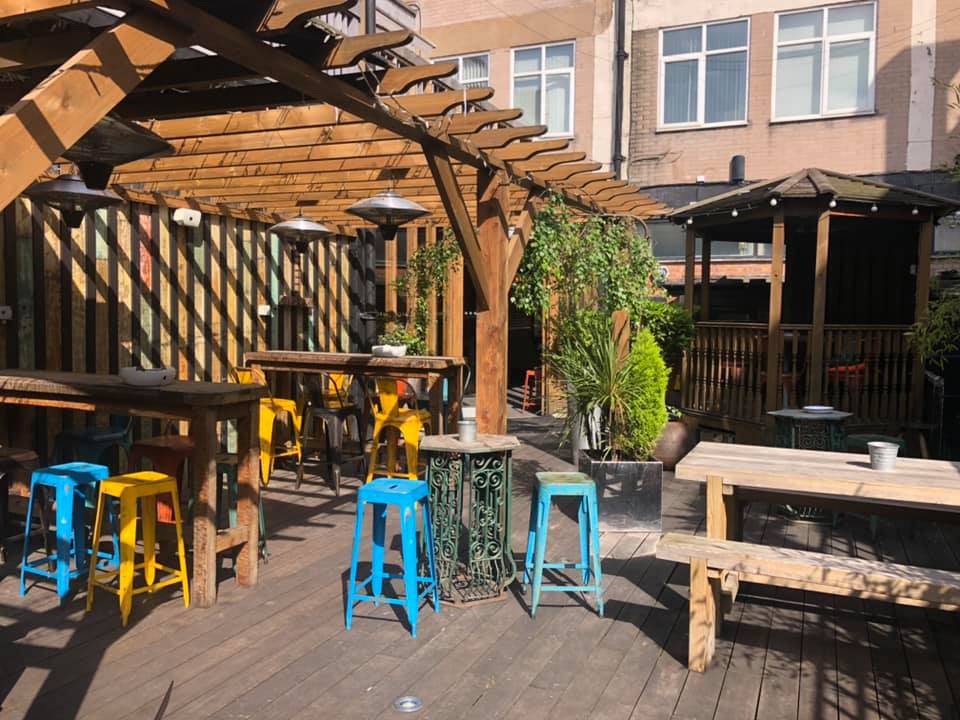 Location: 143 Bromsgrove Street, B5 6RG
Whether you're looking for craft beer or cocktails, The Loft have it all. Sip on a speciality gin or grab your favourite cocktail, but whatever you choose, drink it in the garden. Whether it's a casual, after-work meet up or a full on Saturday night out, this is the place to be. Their garden is heated too, so if it gets a little chilly, you won't even notice. This decking-clad garden is the perfect little sun trap, just don't forget the suncream!
Halton Turner Brewing Company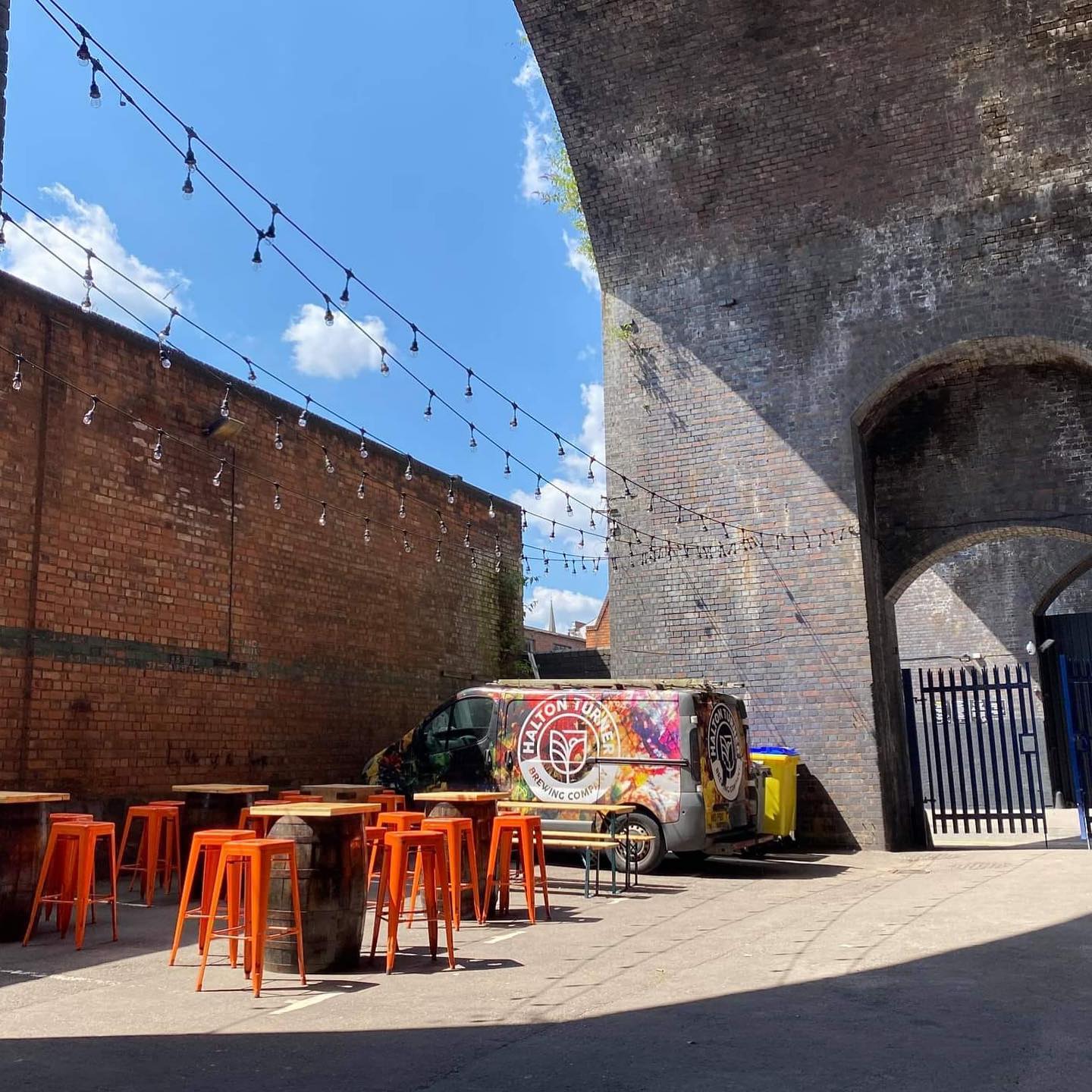 Location: Rea Court, 40 Trent Street, Digbeth, B5 5NL
Nothing screams "Digbeth" more than the iconic railway arches and colourful street art that this creative quarter of Brum has become known for. So, this little urban courtyard is oozing Digbeth style and also happens to be a wonderful place to grab a pint. If you like your beer gardens to be less 'garden' and more stripped back then this is the one for you. Some damn tasty beers await you (along with some delicious Korean fusion dishes for when you're peckish – the ideal companion for your pint).
IB Deal: A FREE pint when you spend £5 or more on food.
At The Kingsway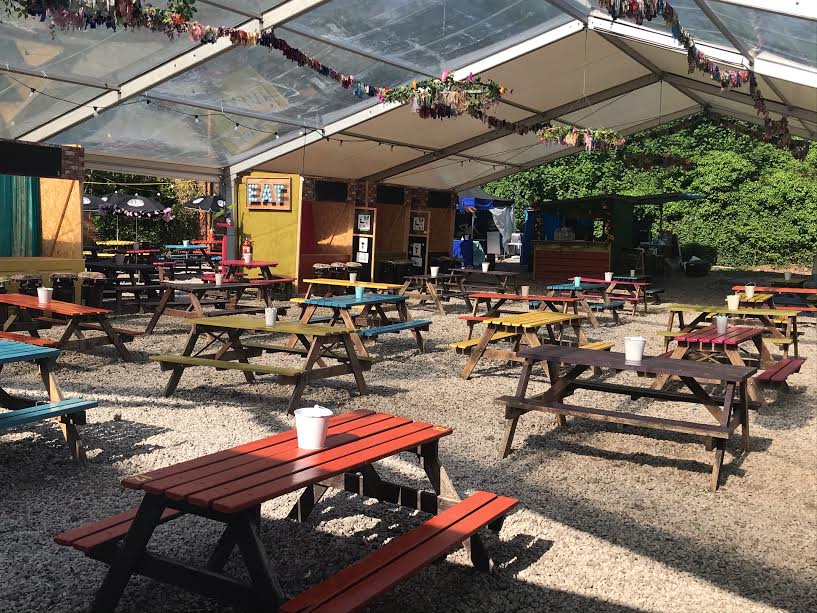 Location: 73 High Street, Kings Heath, B14 7BH
This beer garden is hidden away behind the stunning facade of the former Kingsway Cinema in Kings Heath. After a fire gutted the building, just the frontage remains, and the space behind provides the perfect location for this pop-up beer garden. Street food stalls and bars provide the refreshments in this covered garden, which is also home to a weekly independent market on Saturday and Sunday. A wonderful place to discover and support local, as well as to enjoy a drink or two in the sunshine.
IB Deal: FREE entry + 10% off drinks at the bar + 20% off purchases at Off The Scale Vintage Clothes Bus.
Saint Paul's House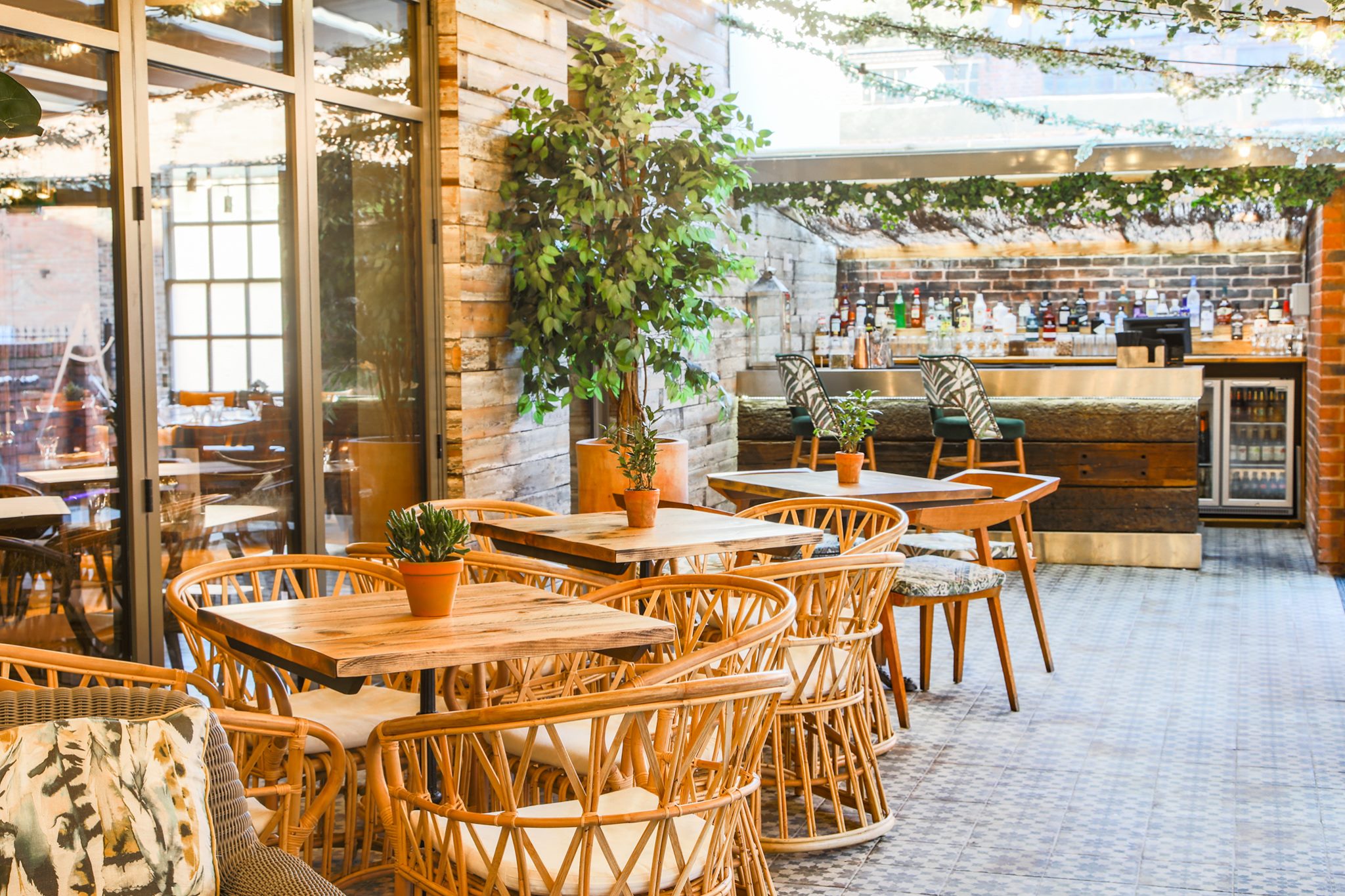 Location: 15-20 St Paul's Square, Jewellery Quarter, B3 1QU
This restaurant, bar and hotel can be found right at the heart of the Jewellery Quarter, on (as the name might suggest) Saint Paul's Square. With a cosy, yet stylish interior, naturally their outdoor space reflects this tastefulness too. The beautiful, chic outdoor terrace is a great spot for a sun-soaked drink, but can actually be enjoyed whatever the weather, thanks to the retractable roof (a bonus with our unpredictable weather, of course). Grab some tasty drinks with friends and enjoy the glorious weather while it lasts. We hear they do an excellent bottomless brunch too. Just saying…
IB deal: 20% off food (Sunday – Thursday).
Indian Brewery Taproom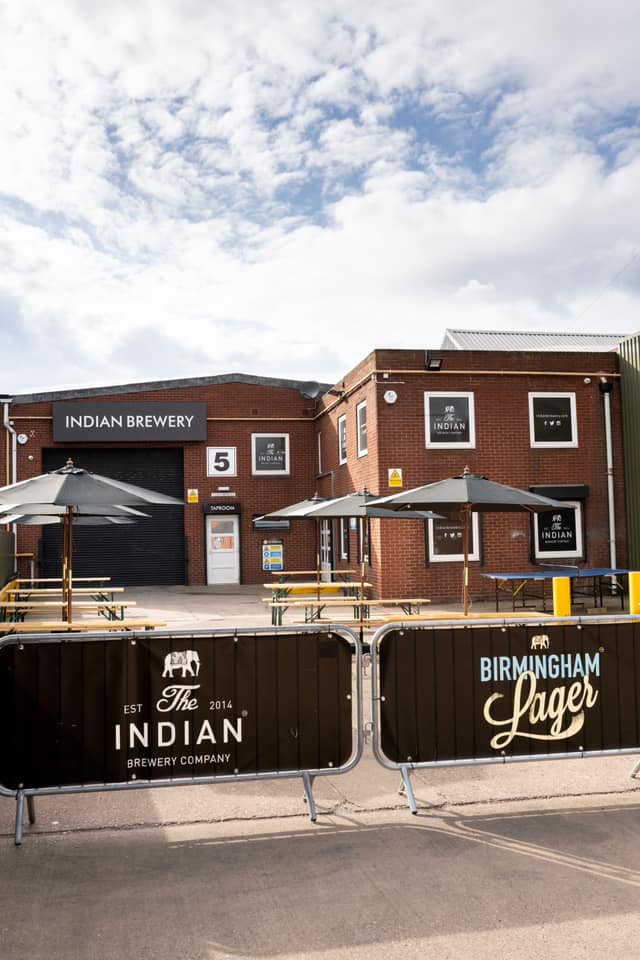 Location: Unit 5, Aston Expressway Industrial Estate, Pritchett Street, B6 4EX
Just a short hop, skip and a jump from the city centre is the marvellous Indian Brewery Taproom. That's right folks, you can enjoy their Brum-famous Birmingham Lager in the very location in which it is brewed at their brilliant taproom. They have plenty of outdoor seating here and as well as their tasty brews, you can also grab some of their legendary street food style dishes (Indian Fish and Chips in the sunshine with a beer? Yes, please!), catch the latest matches on their big screen AND play ping pong, pool and darts. What are you waiting for?!
IB Deal: 20% off all Indian Brewery beers and street food.
The Village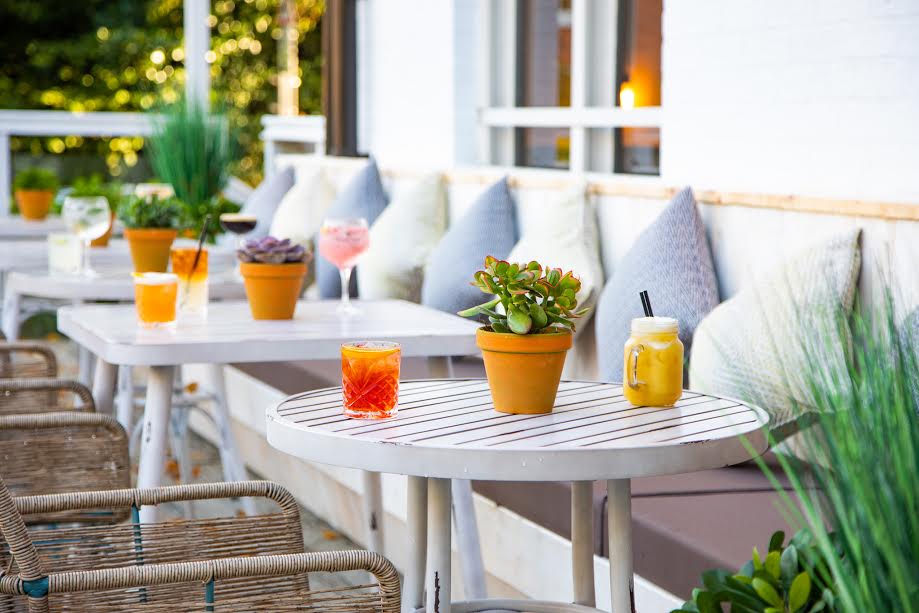 Location: 179 Alcester Road, Moseley, B13 8JR
Neighbourhood gastropub, The Village, has a considered drinks offering and a food menu packed full of comfort food classics. The interior is cosy, perfect for chilly days, but they also have a stunning outdoor space with plenty of seating, which is ideal for those glorious days of sunshine and heat. Grab your chosen beverage (craft beer, gin goblets, cocktails and wine are all on offer) and head outside to make the most of that elusive sun.
IB Deal: 10% off food (Monday – Friday)
The Blue Piano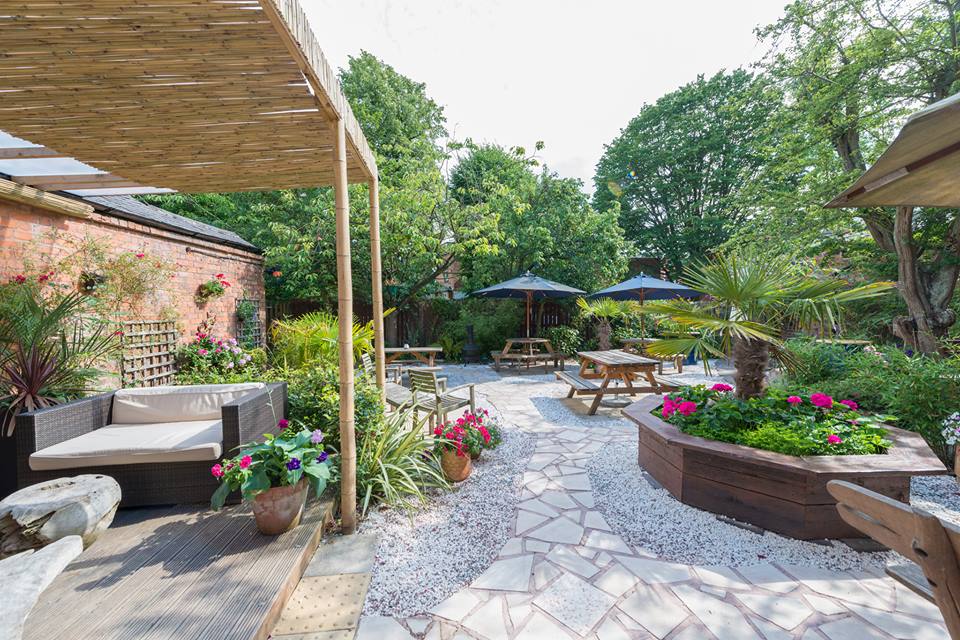 Location: 24-26 Harborne Road, B15 3AA
The Blue Piano, Edgbaston, is an independent guesthouse, restaurant and bar and happens to occupy a stunning Edwardian building. Equally stunning is their beautiful courtyard garden. With plenty of outdoor seating, well cared for stone and gravel paths and surrounded by an array of beautiful plants and flowers, this is the perfect spot to relax in on those wonderful sunny days. During the summer, they even have an outdoor cocktail bar (so no more fighting over who has to head inside for the drinks, winner). If you're looking for somewhere a little fancier for your al fresco boozing, this is it.
Glasshouse Beer Co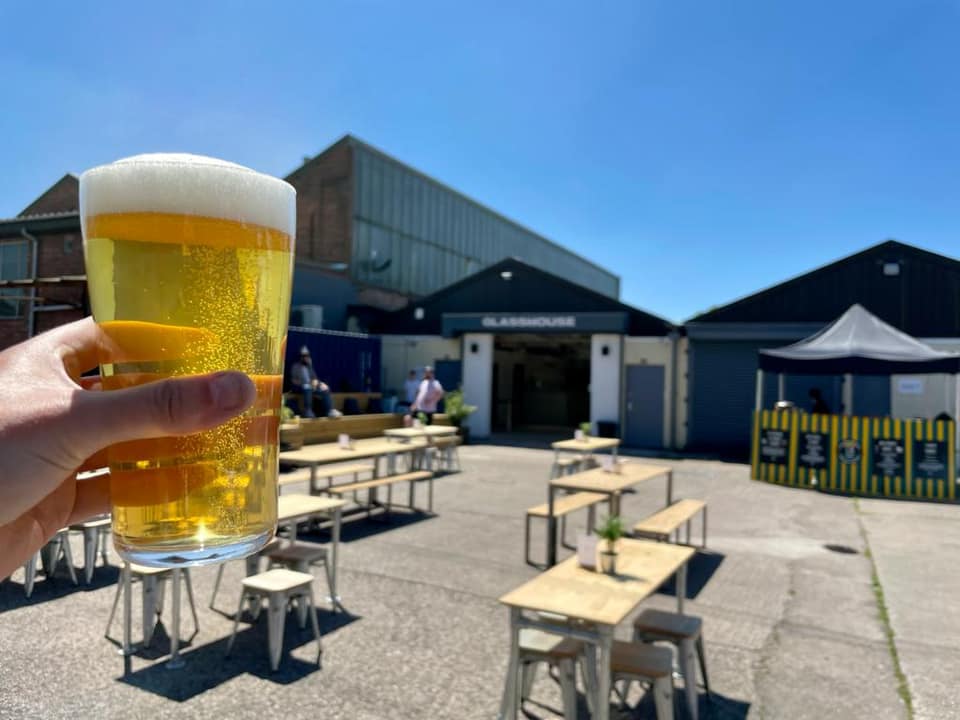 Location: Unit 6B Waterside Business Park, 1649-1652 Pershore Road, B30 3DR
Yet another fantastic brewery and taproom, Glasshouse Beer Co is part of the new wave of beer gardens that we're dubbing as 'the taproom courtyard'. This particular taproom courtyard has plenty of seating, street food pop-ups and that all important (and ultra tasty) Glasshouse beers. When the weather is hot and the beer is cold, life just seems that extra bit better.
IB Deal: 10% off all draught beer + 10% off all takeaway cans purchased in the taproom
Couch
Location: 1466 Pershore Road, Stirchley, B30 2NT
Stirchley's neighbourhood cocktail bar is one of the best places to enjoy a refined and ridiculously drinkable cocktail in Birmingham. Whilst the interior provides a chic setting in which to imbibe these most delicious of drinks, we're here to let you know that they also have a (heated and covered) garden at the rear of the bar. This lovely little garden allows you to enjoy your favourite cocktails in the great outdoors. We likey.
Cherry Reds
Location: 88-90 John Bright Street, B1 1BN
Everyone's favourite 'home from home', Cherry Reds is all about the home comforts. Think home cooked food, a great selection of drinks and a cosy cafe-bar in which to enjoy them. But Cherry Reds also have a small, but lovely, outdoor space where you can enjoy your chosen beverage (and/or snack) and do a spot of people watching. If you want to snag an outdoor seat, we recommend you get there nice and early though as there aren't a huge number of tables in this delightful little urban sun trap.
IB Deal: A FREE pint of cask ale, lager, cider or draught soft drink with your  main meal.
The Night Owl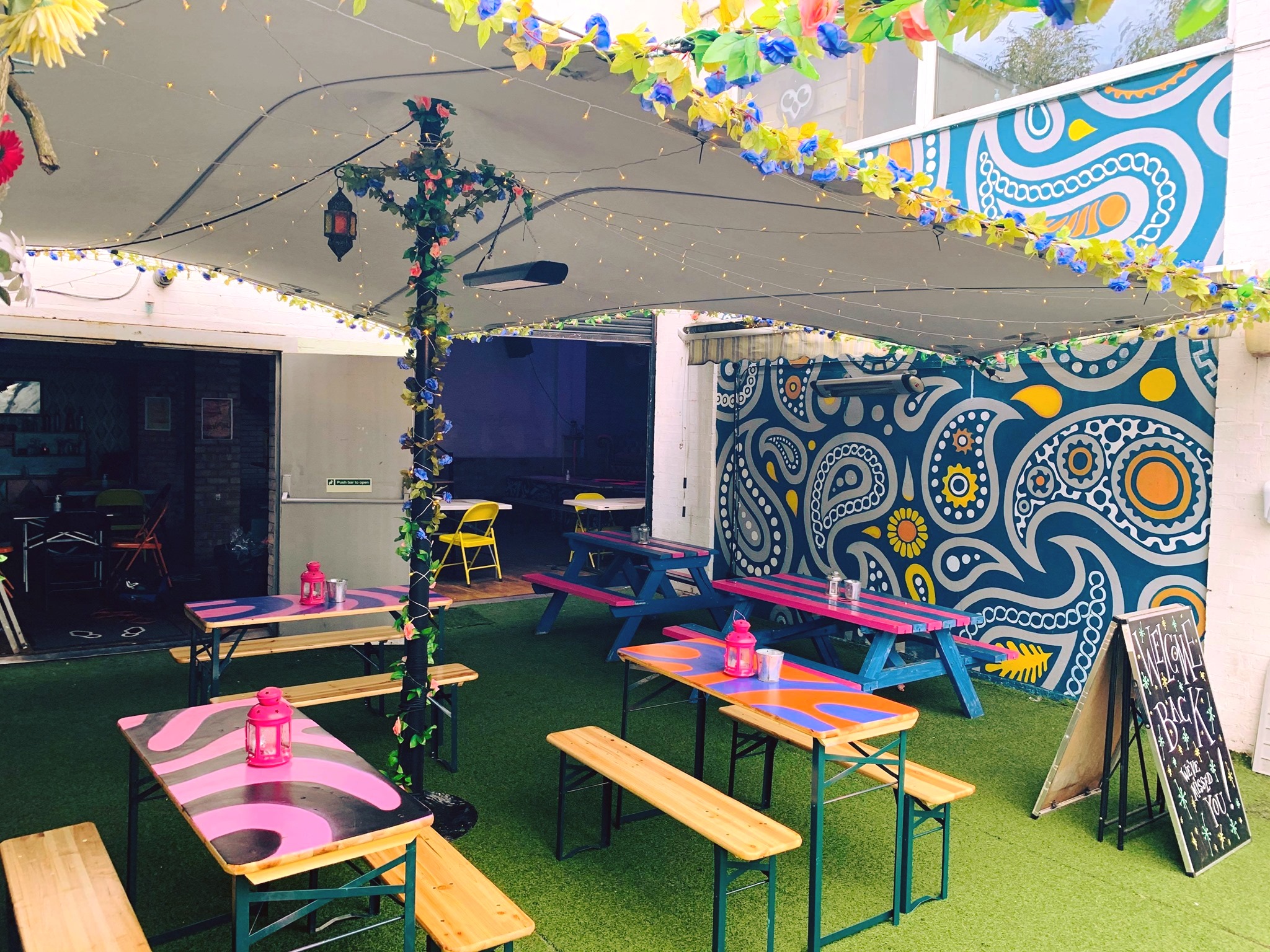 Location: 17-18 Lower Trinity Street, Digbeth, B9 4AG
Home of Northern Soul in Birmingham, The Night Owl is a retro club, playing all the best tunes. Whilst they're known for their club nights, this is also a great place to grab a drink or two, surrounded by some excellent soul and retro sounds. They have a covered outdoor seating area, perfect for enjoying an al fresco cocktail or two. Come for a drink, stay for the tunes.
IB Deal: 2 cocktails for £10 and £1 off entry
The Church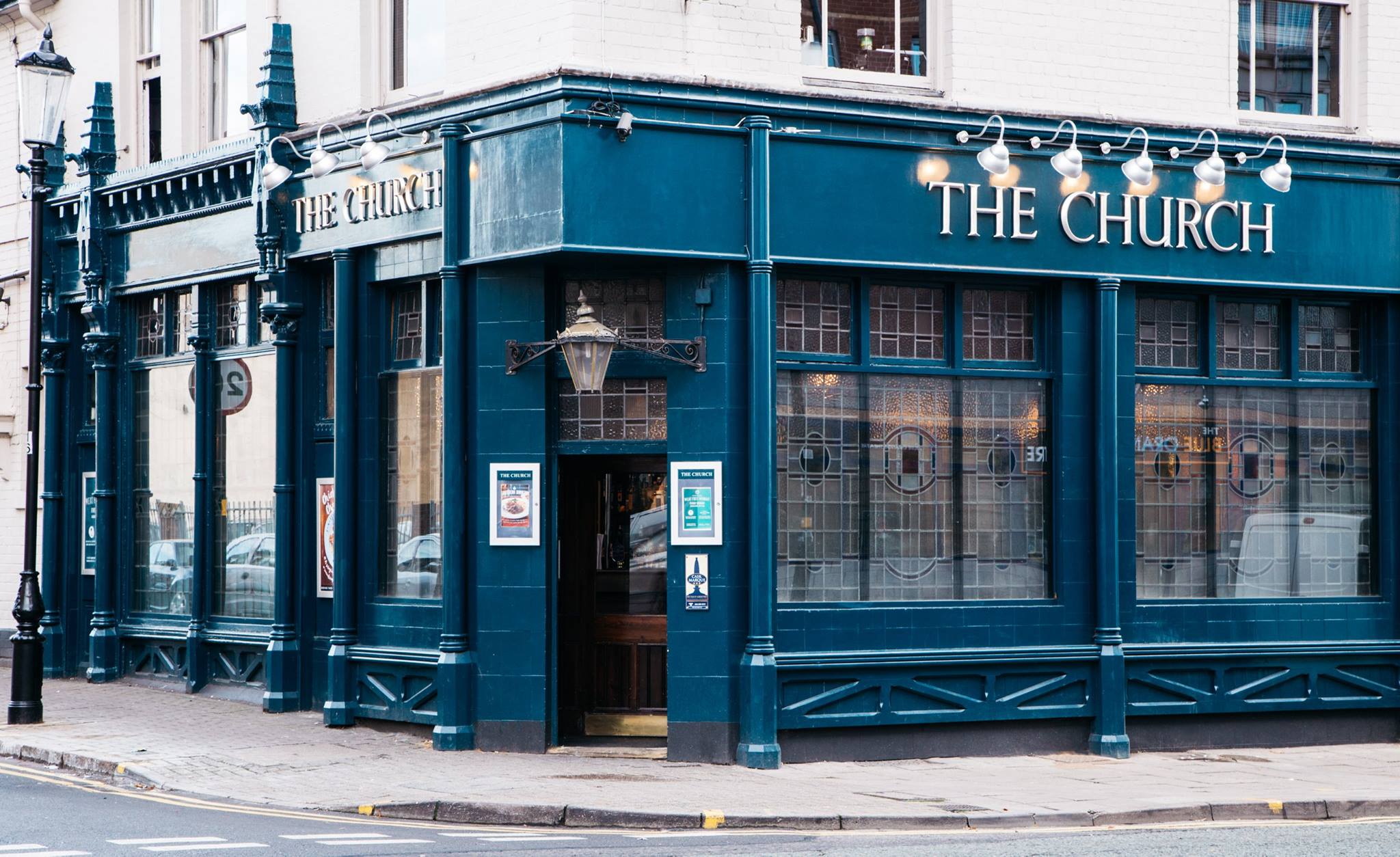 Location: 22 Great Hampton Street, B18 6AQ
This fantastic neighbourhood pub is the perfect place to grab a pint when you're out and about in the Jewellery Quarter. The Church not only has an awesome outdoor space, but it's that rarest of spaces… a rooftop garden! That's right, a fun rooftop where you can sip pints and cocktails and nibble on small plates as you bask in the glorious light of the sun. It's what summer dreams are made of and you must make a pilgrimage there as soon as the sun graces us with its warming presence. We'll see you there!
IB Deal: 2 cocktails for £10 (when purchasing the same cocktail)
The Rose Villa Tavern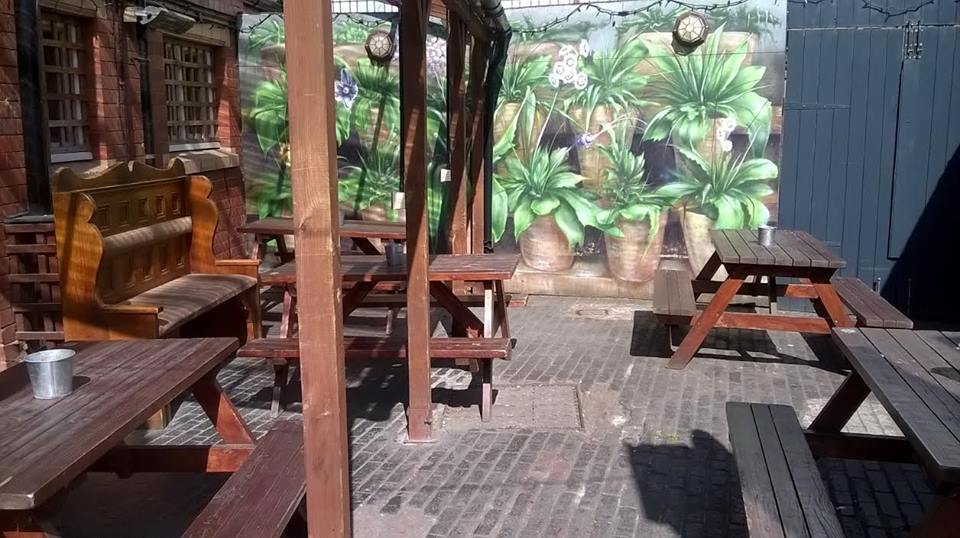 Location: 172 Warstone Lane, Jewellery Quarter, B18 6JW
Now, quite often the word 'quirky' is casually thrown about without a care in the world for doing justice to this stalwart of the English language, however, when it comes to The Rose Villa Tavern – there's just no escaping the fact that this is one hell of a quirky pub. With a phone booth situated within the pub itself, it's no real surprise then that in its beer garden you'll find an eclectic array of seating and a backdrop of some funky artwork to make your foray into The Rose Villa Tavern's beer garden definitely one to remember.
IB Deal: 10% off drinks (Sunday – Thursday)
Silver Tree Bakery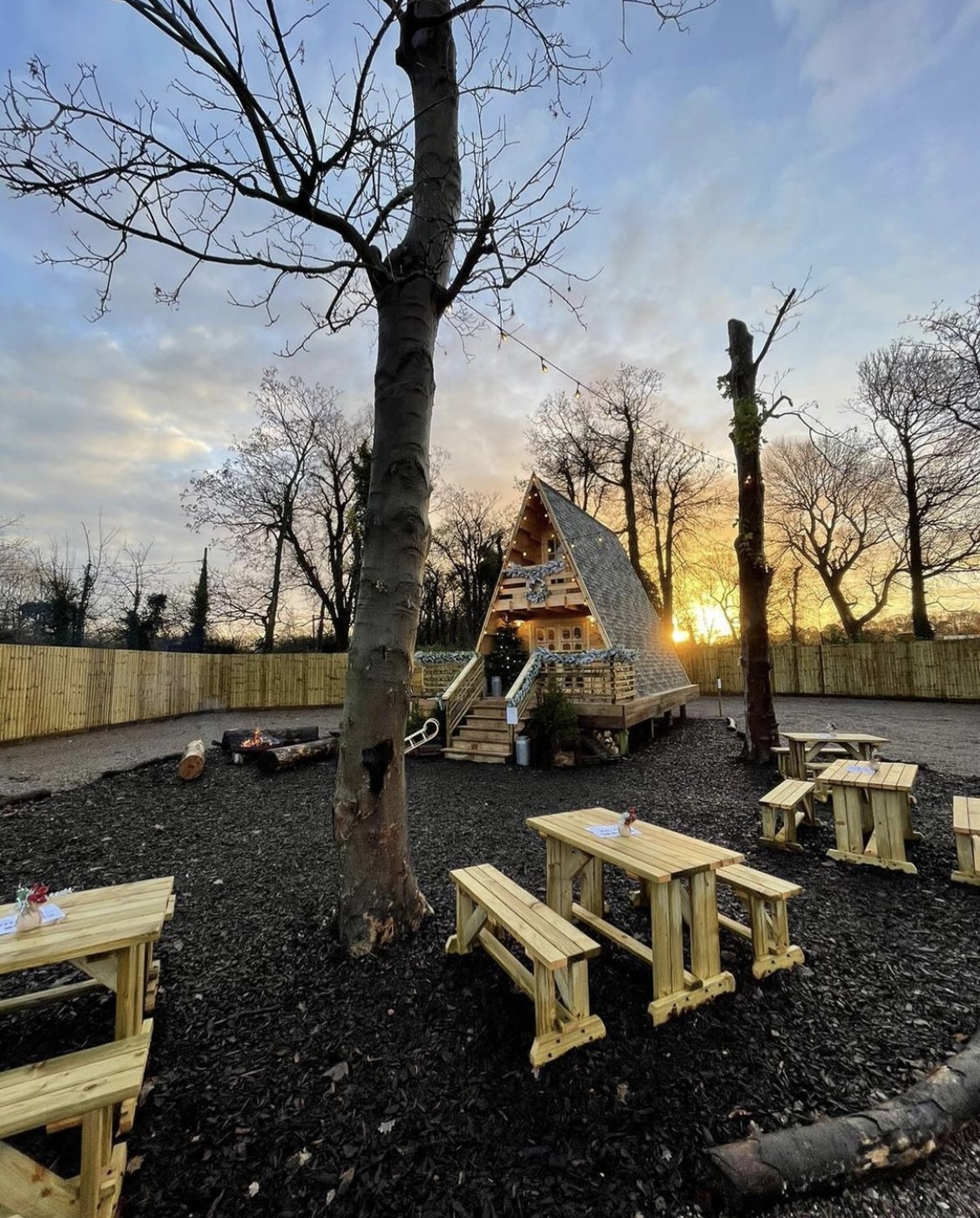 Location: Mill House, Water Orton Lane, Sutton Coldfield, B76 9BG
Ok, this is a sliiiiight tangent and not technically a 'beer' garden, but we couldn't talk about cool outdoor spaces without mentioning the awesome Silver Tree Bakery. This beautiful bakery is set in a little woodland clearing and is housed in a treehouse-esque building giving off some seriously magical vibes. Grab yourself a hot drink and a delicious pastry and sit at one of the wooden outdoor tables to soak up the fairytale feeling at this fantastic bakery (and then grab some more pastries to take home with you – you know its the right thing to do).
IB Deal: Any hot drink and pastry/bun for just £4.50 (Wednesday – Friday) + 10% off the bill (Saturday – Sunday)
Maison Mayci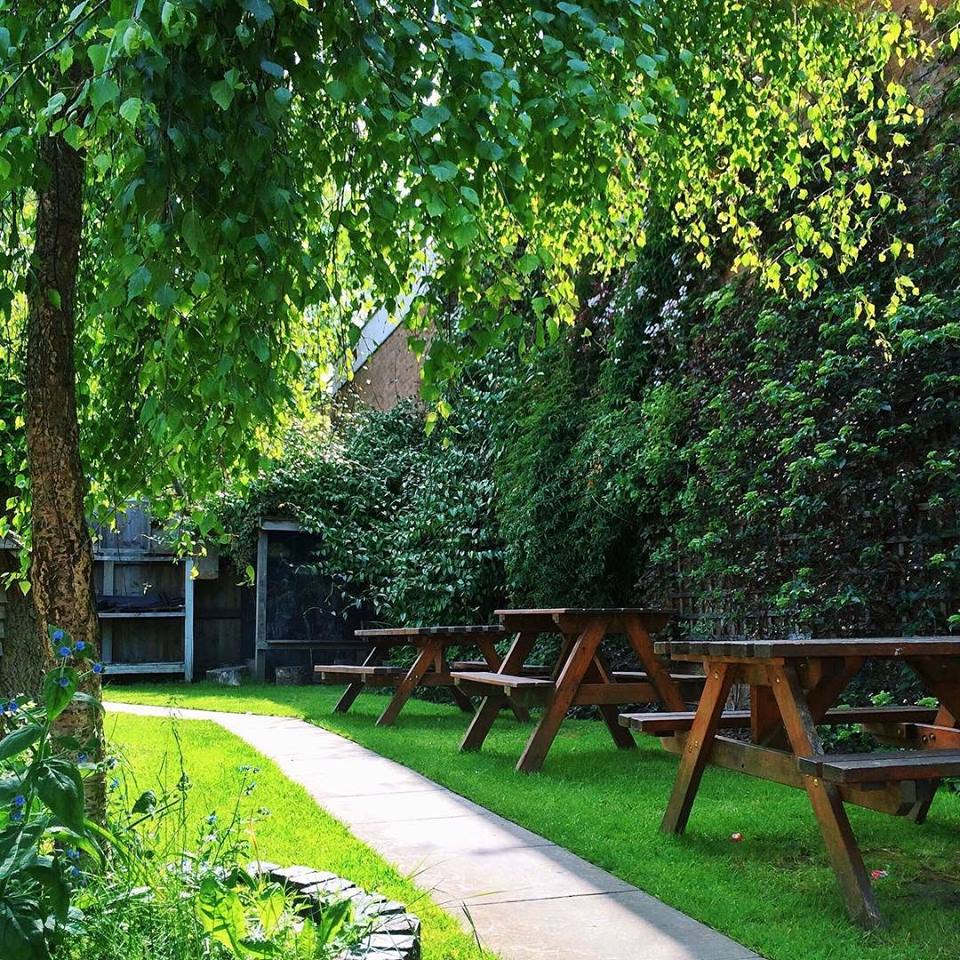 Location: 148 Alcester Road, Moseley, B13 8HS
We love Maison Mayci for a great number of reasons. Their coffee, their pastries, their beer garden. What? A beer garden? How did we not know about this? Well you do now, good folk of Brum. You do now. Whilst we're on our slight detour from true beer gardens, it would be remiss of us not to mention the fantastic Maison Mayci. Head to this wonderful French coffee shop and grab yourself a coffee and a croissant and do this whole beer garden thing Continental style. It's a bold move, one we're sure will pay off. And then once you're done with your coffee, then you can grab lunch. Right? Right! Bon temps.
IB deal: 15% Off The Bill.
Winterbourne House and Garden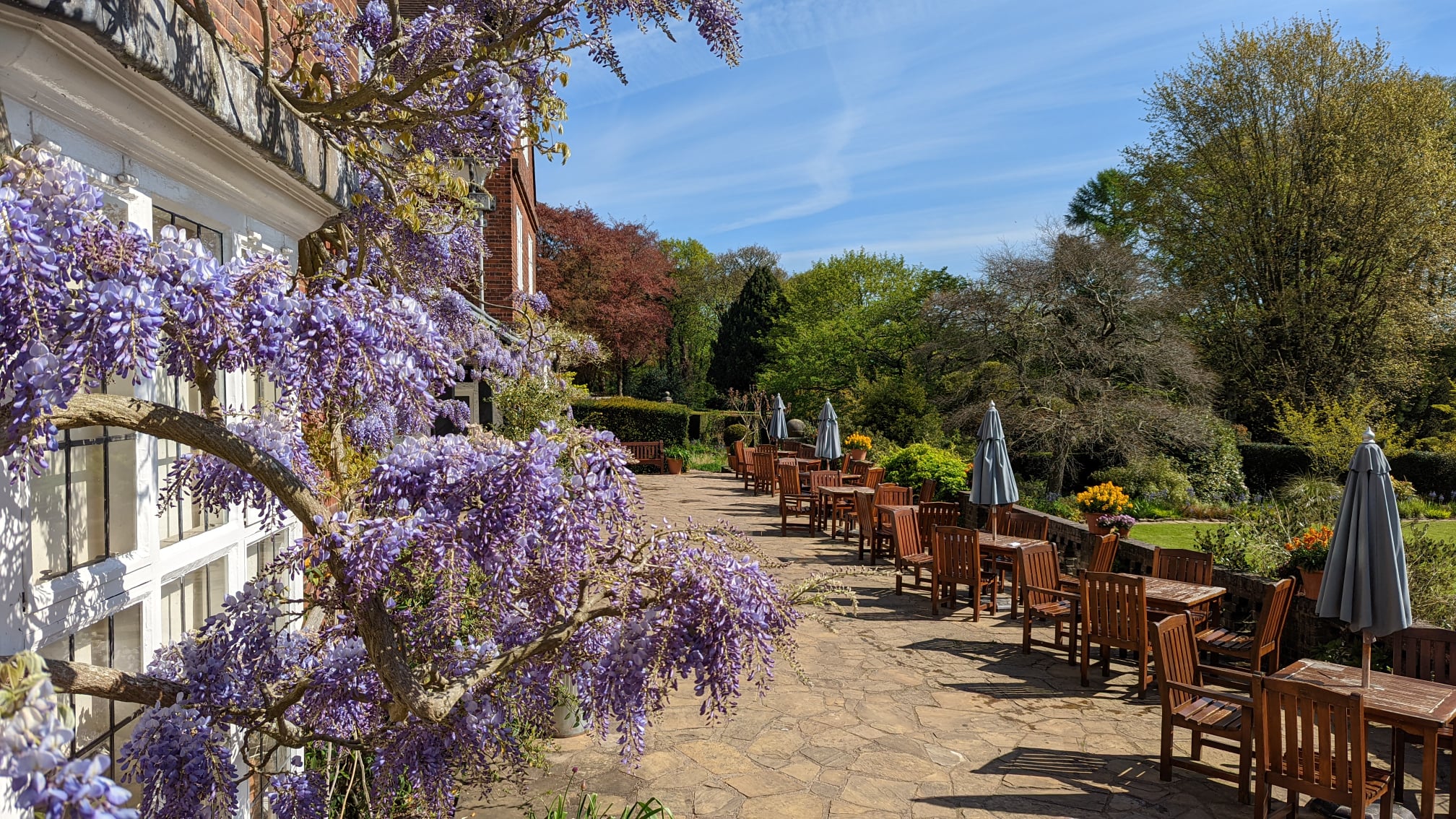 Location: 58 Edgbaston Park Road, Edgbaston, B15 2RT
One last stop on our 'not technically a beer garden but an awesome outdoor space' detour, is the fantastic Winterbourne House and Garden. Their terrace is a glorious little sun-trap, perfect for when the weather is at its best. Enjoy a coffee and a slice of cake in the sunshine and then have a wander around the beautiful gardens and soak up the summer sunshine whilst admiring the beauty of nature.
The Dark Horse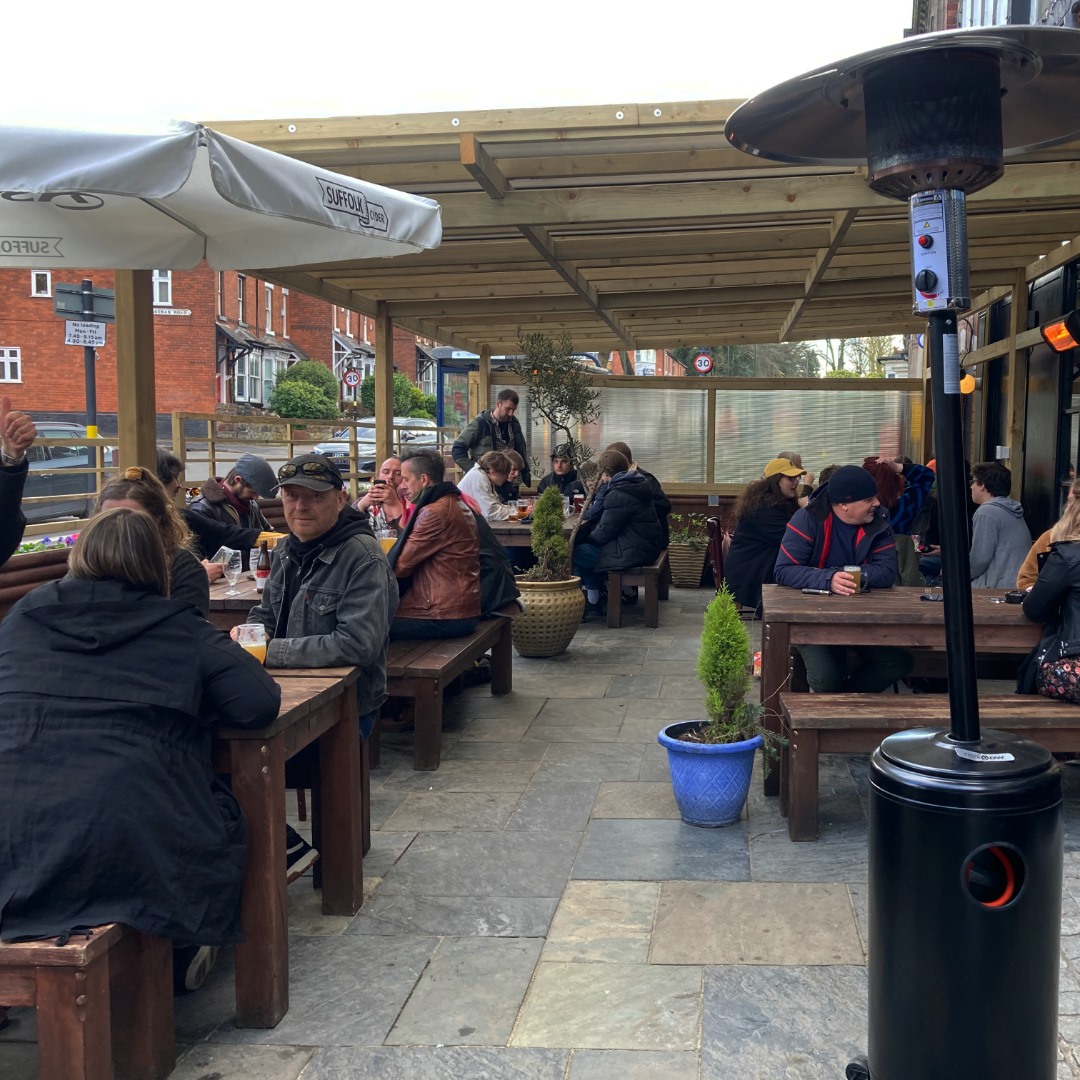 Location: 145 Alcester Road, Moseley, B13 8JP
The Dark Horse is a classic neighbourhood pub combining the traditional with the contemporary. Craft beer in the bar, street food take-overs in the kitchen and a brilliant beer garden in which to enjoy them in. This is a great shout for a bustling and lively pub where you can enjoy an al fresco beer or two.
IB Deal: 15% off craft beer (please ask for a member of staff to redeem) + 15% off food from Brum Mi
British Oak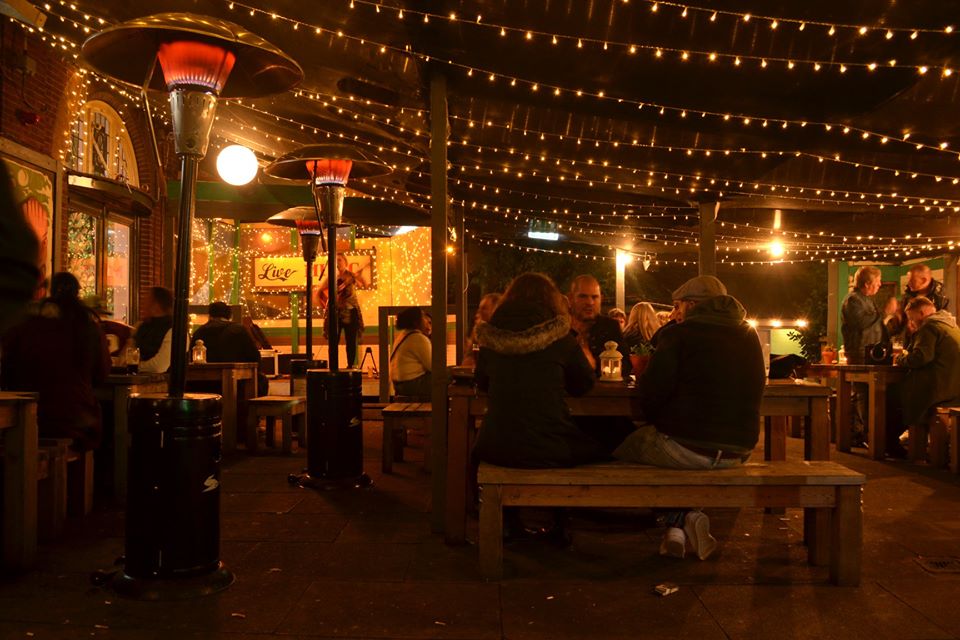 Location: 1364 Pershore Road, Stirchley, B30 2XS
A traditional boozer with a twist, British Oak is the perfect neighbourhood hangout for Strichley residents and those venturing out into the suburbs from the city centre. Expect beer (and lots of it), delicious cocktails, and a rather large and splendid outdoor seating area for catching those ever-essential rays, with a covered area for when the weather inevitably takes a turn for the worse (oh Britian, you do spoil us). Top up your pint and then go top up your Vitamin D levels. Onwards, for beer and for glory!
IB deal: £1 off cocktails
Fletchers Bar and Eatery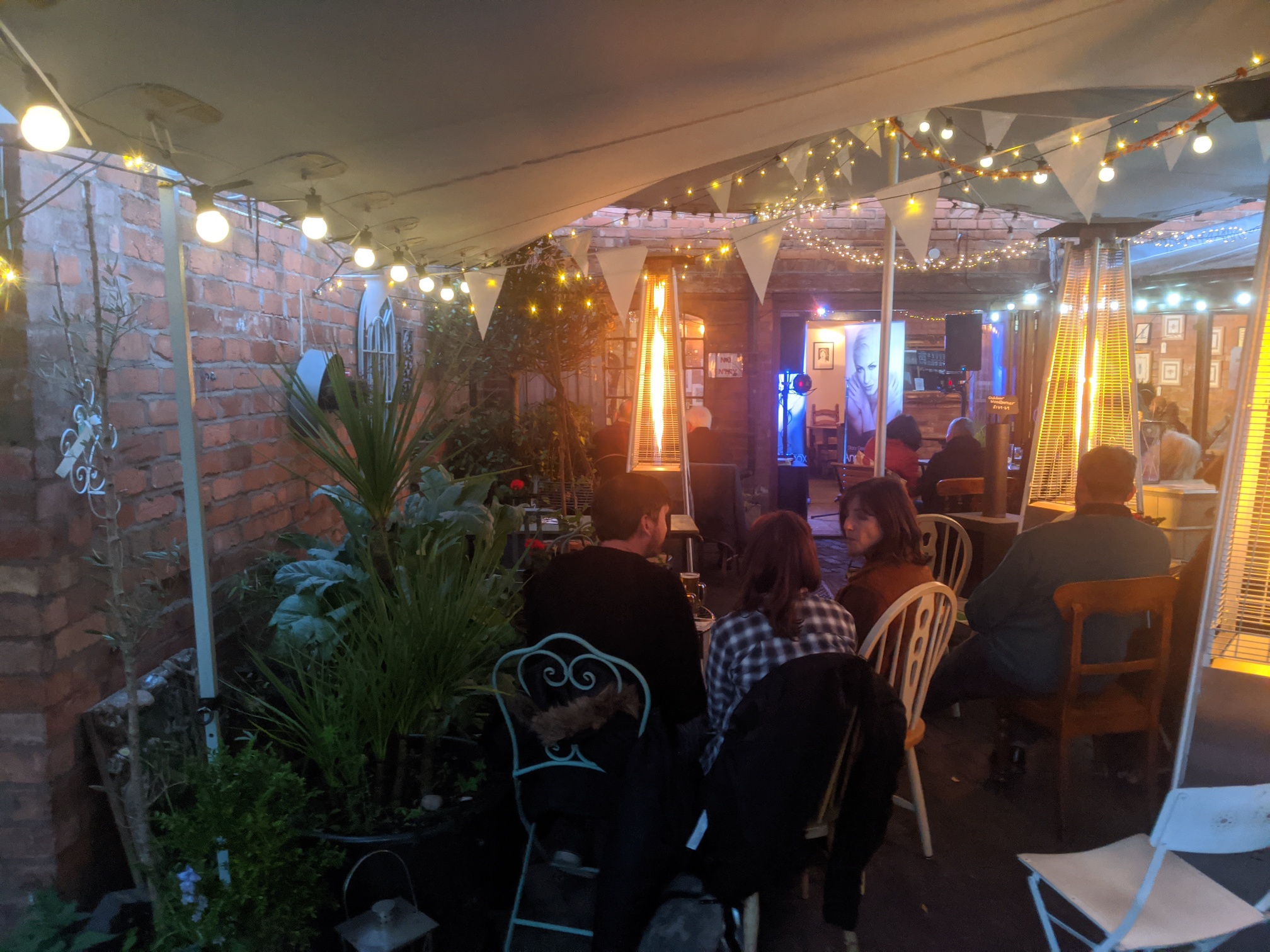 Location: 7 York Road, Kings Heath, B14 7SA
Fletchers Bar is a bistro-bar and small live music venue found in Kings Heath. They have a small and eclectic beer garden, providing a warm and relaxing venue for socialising. They serve a selection of wines, bottled beers and cocktails and have a small plates menu ideal for sharing or for grazing on as you enjoy a few drinks in the garden. You might almost start to think you're somewhere in the Mediterranean. Almost…
IB Deal: 10% off the bill when dining.
Stir Stores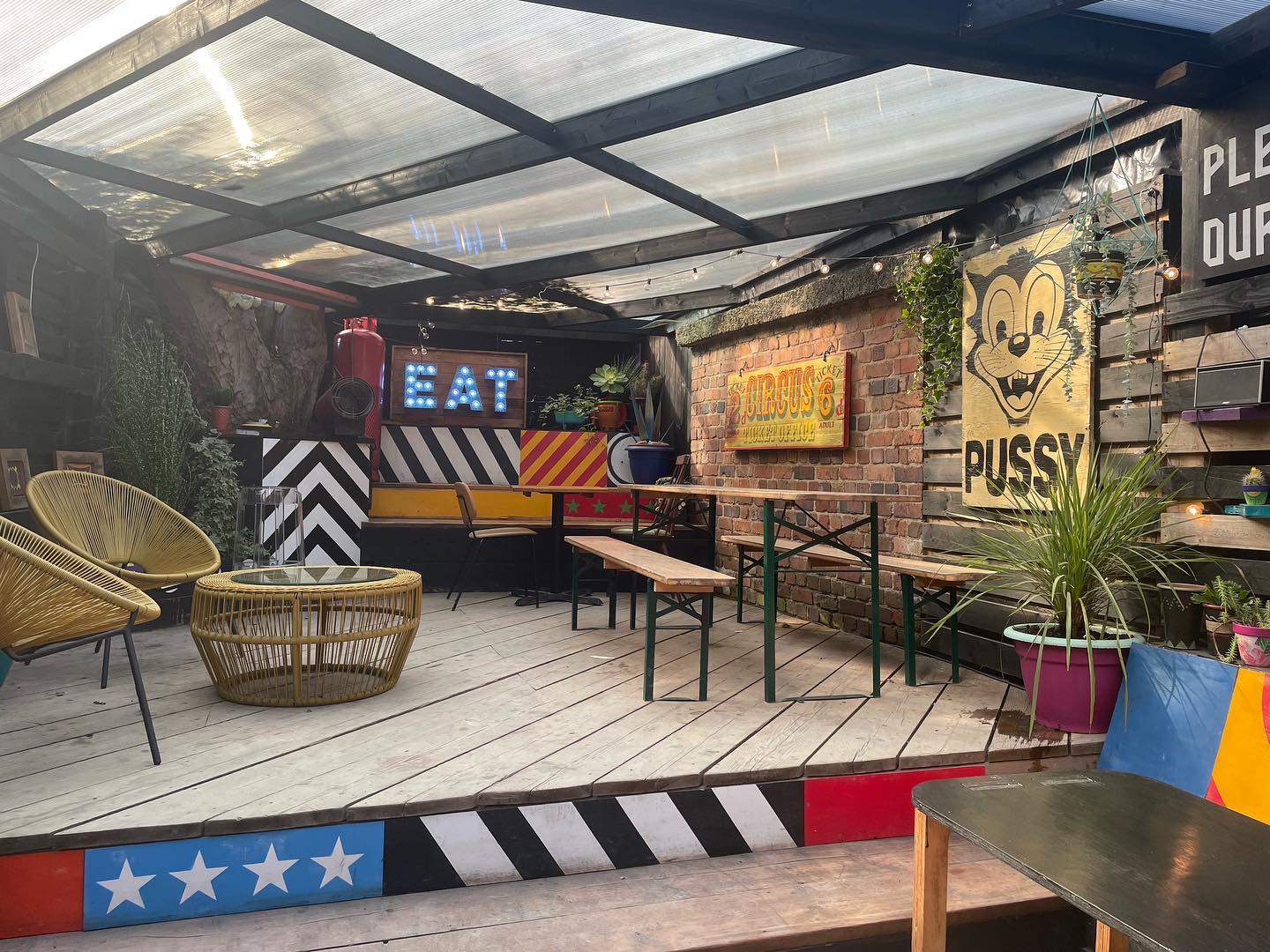 Location: 1469 Pershore Road, Stirchley, B30 2JL
This quirky bar and furniture shop is filled with bright prints, neons and funky furniture, making it a unique and fun place to grab a pint. They also happen to have a covered, heated beer garden, dubbed the 'neon lodge'. Unsurprisingly this beer garden is one of the coolest around with lots of neons and bright, colourful artwork giving it an edge. They also play host to some seriously amazing street food kitchen pop-ups, so you'll be able to grab a tasty bite to eat while you're there too. Perfect!
The Wellington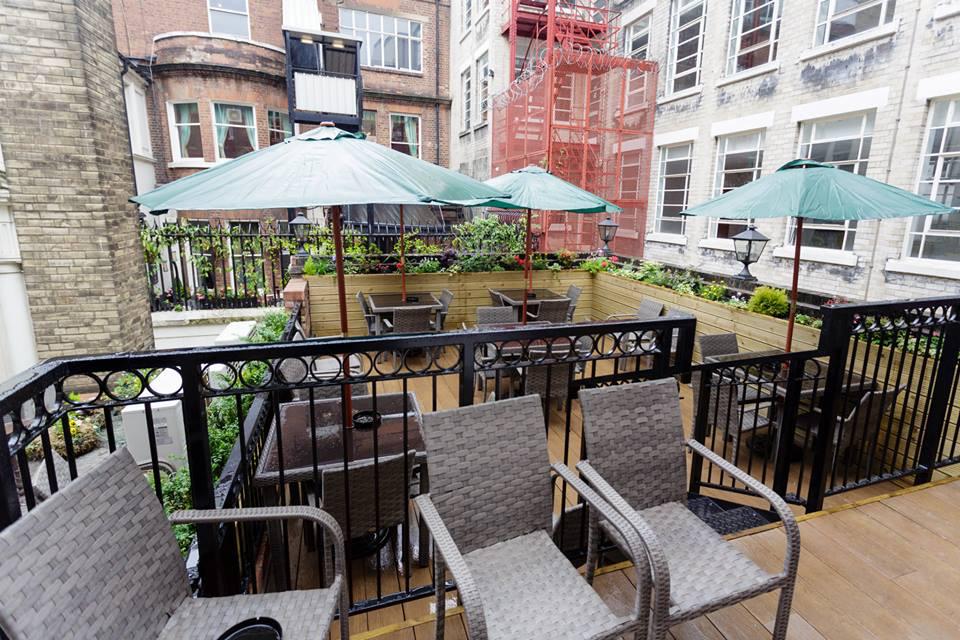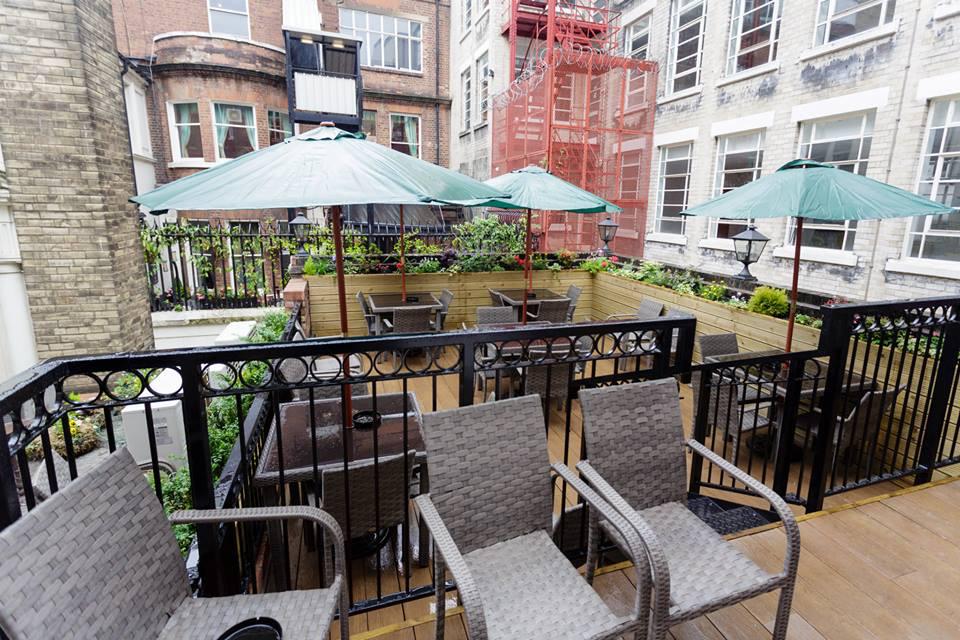 Location: 37 Bennetts Hill, B2 5SN
The Wellington. Home to one of the largest collections of craft beer and cask ale in Birmingham and, unbeknown to the majority of those living and working in the city, a most marvellous beer garden tucked away in the back. It's a genuine hidden gem in the very heart of Birmingham (although not so hidden now we've exposed it to the masses…no, the irony is not lost on us). In any case, grab yourself a funky beer from the bar and head on through to the other side for a relaxing terrace complete with umbrellas and plenty of seating for all. Huzzah!
The Old Crown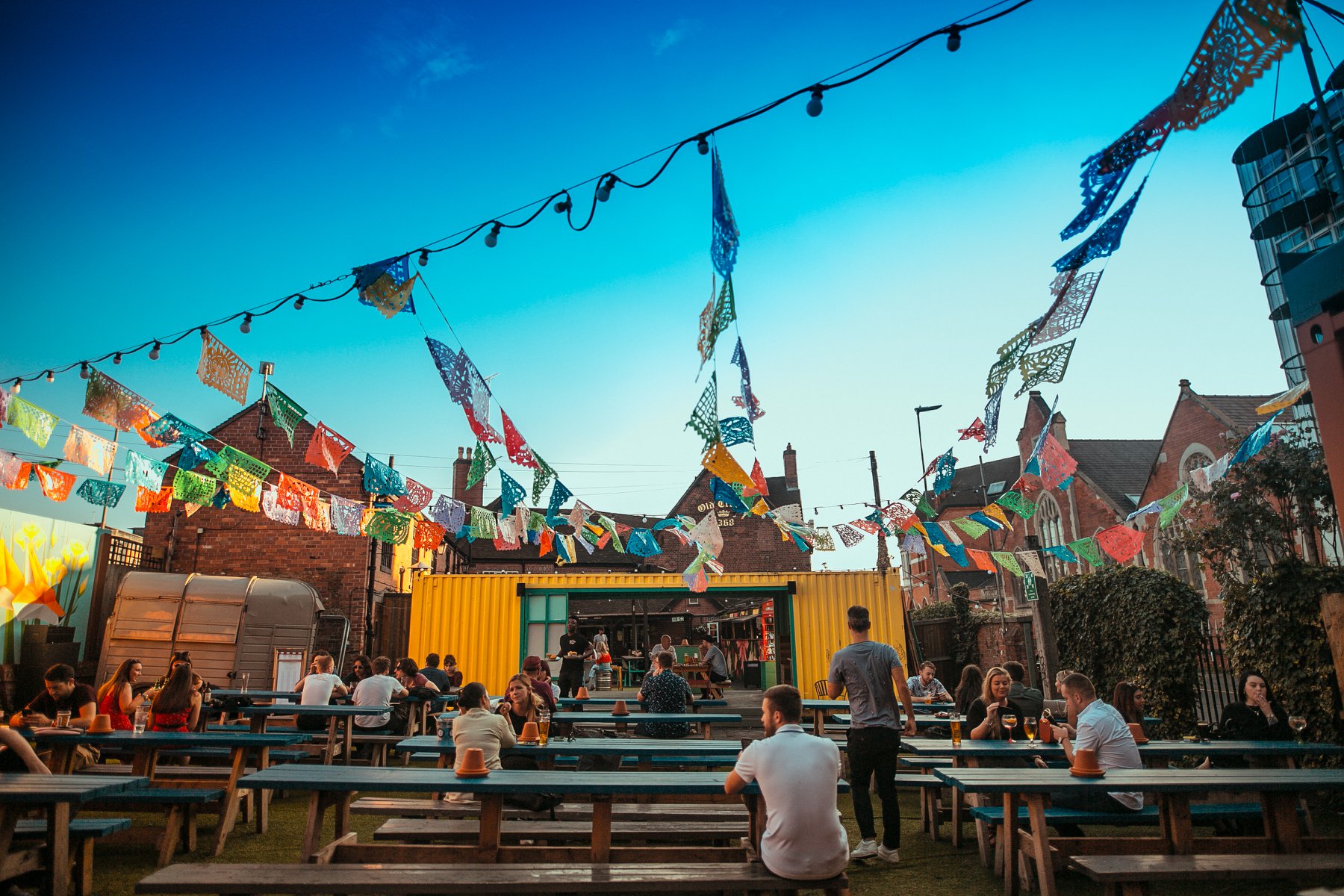 Location: 188 High Street, Digbeth, B12 0LD
The jewel in Digbeth's crown, or even a whole crown unto itself, The Old Crown is one of Birmingham's longest standing pubs and a beacon to all beer garden connoisseurs across the city. A fun and colourful space, adorned with bunting, picnic benches and colourful shipping containers, The Old Crown beer garden is certainly one of the coolest hangouts in the city – perfectly mixing the traditional with the contemporary. With some seating open to the elements for when the sun decides to show his face, and other tables sheltered beneath a pretty canopy adorned with fairy lights (and heaters!) you can enjoy this beer garden all year round. Your move Birmingham!
The White Lion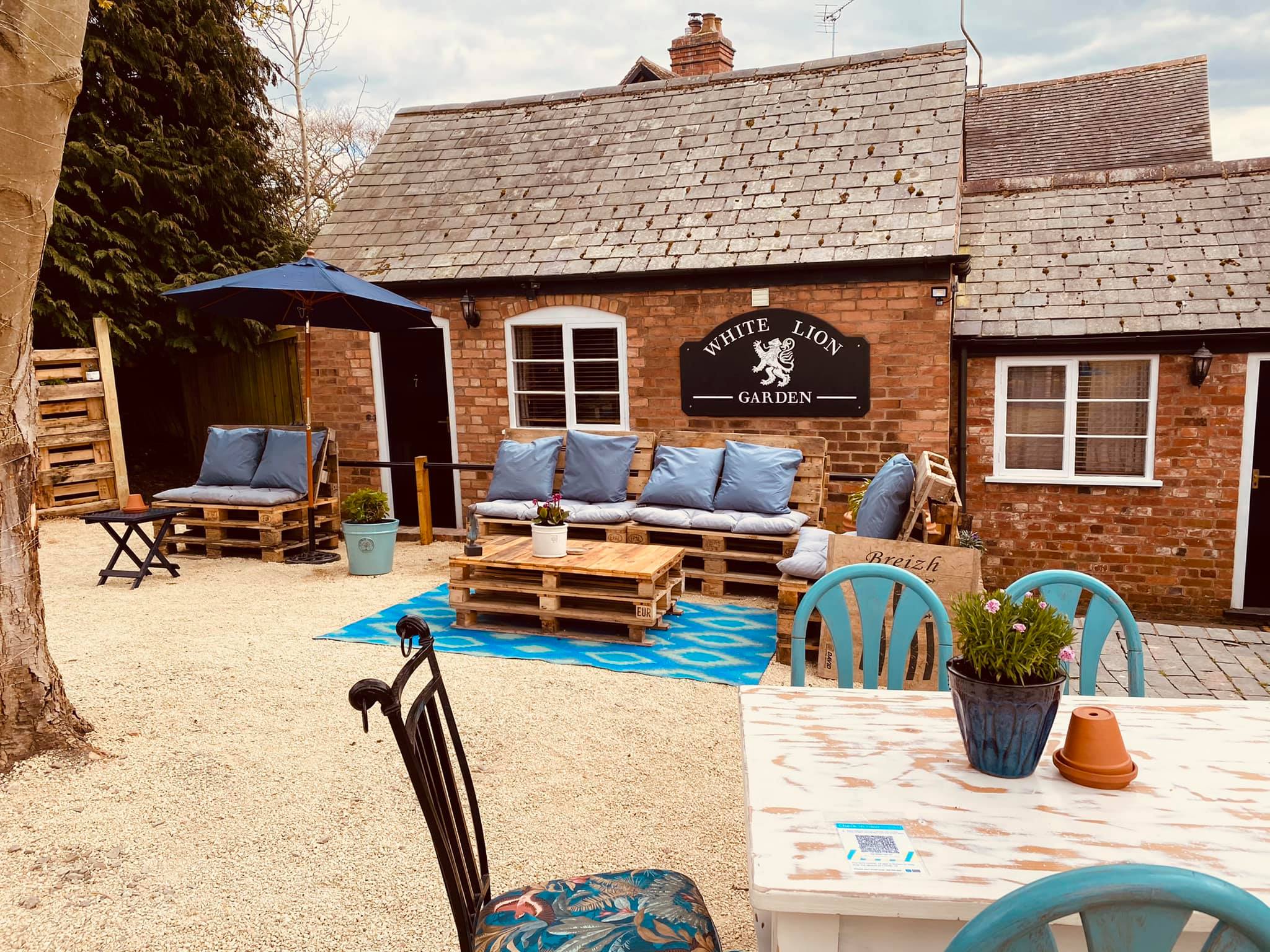 Location: 10 High Street, Hampton-in-Arden, B92 0AA
Found in sleepy little Hampton-in-Arden, The White Lion is a brilliant gastropub where you can enjoy delicious bistro style food and considered drinks. They have recently updated their outdoor space to provide a new and improved seating area, perfect for the summer. This quaint courtyard area has a number of tables where you can enjoy this little garden. They also have street food pop-ups including wood-fired pizzas to enjoy in the garden, alongside your drinks.
The Station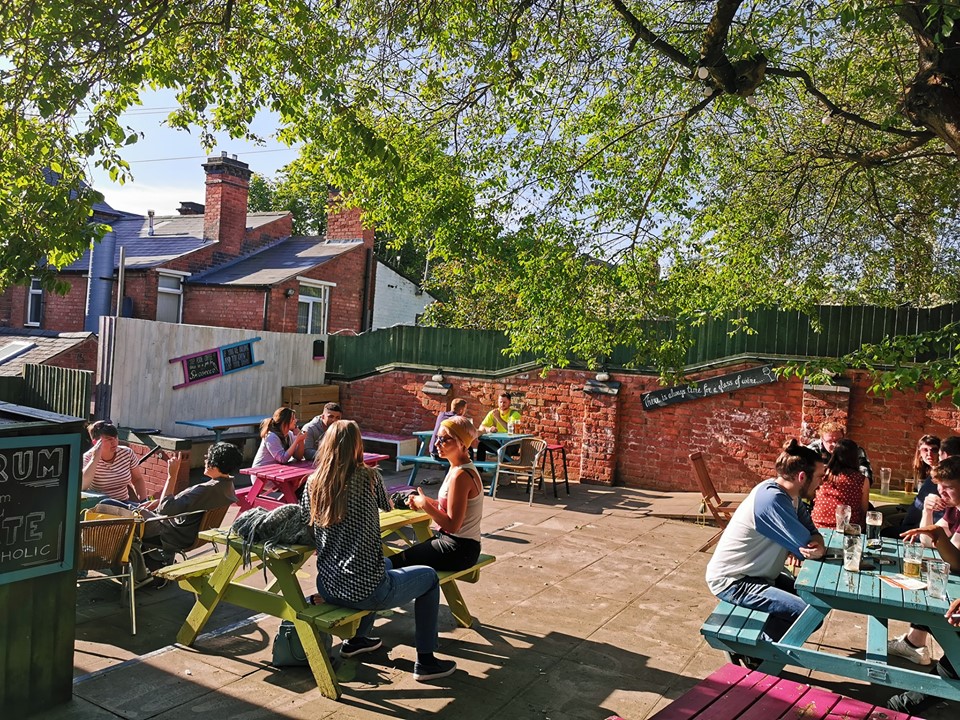 Location: 7 High Street, Kings Heath, B14 7BB
Weary, light-headed and in need of fluid? Spent way too many hours at work which would have been better spent down at the pub? Well, luckily for you, we know just the place to solve all these problems – The Station.  With it's spacious beer garden brimming with benches and containing a fantastic view of the surrounding chimney tops, there really is no better way to spend your sunny summer afternoons than chowing down on some wonderful pub food and enjoying a nice, cold beer with your friends at this fantastic pub.
The Rainbow Pub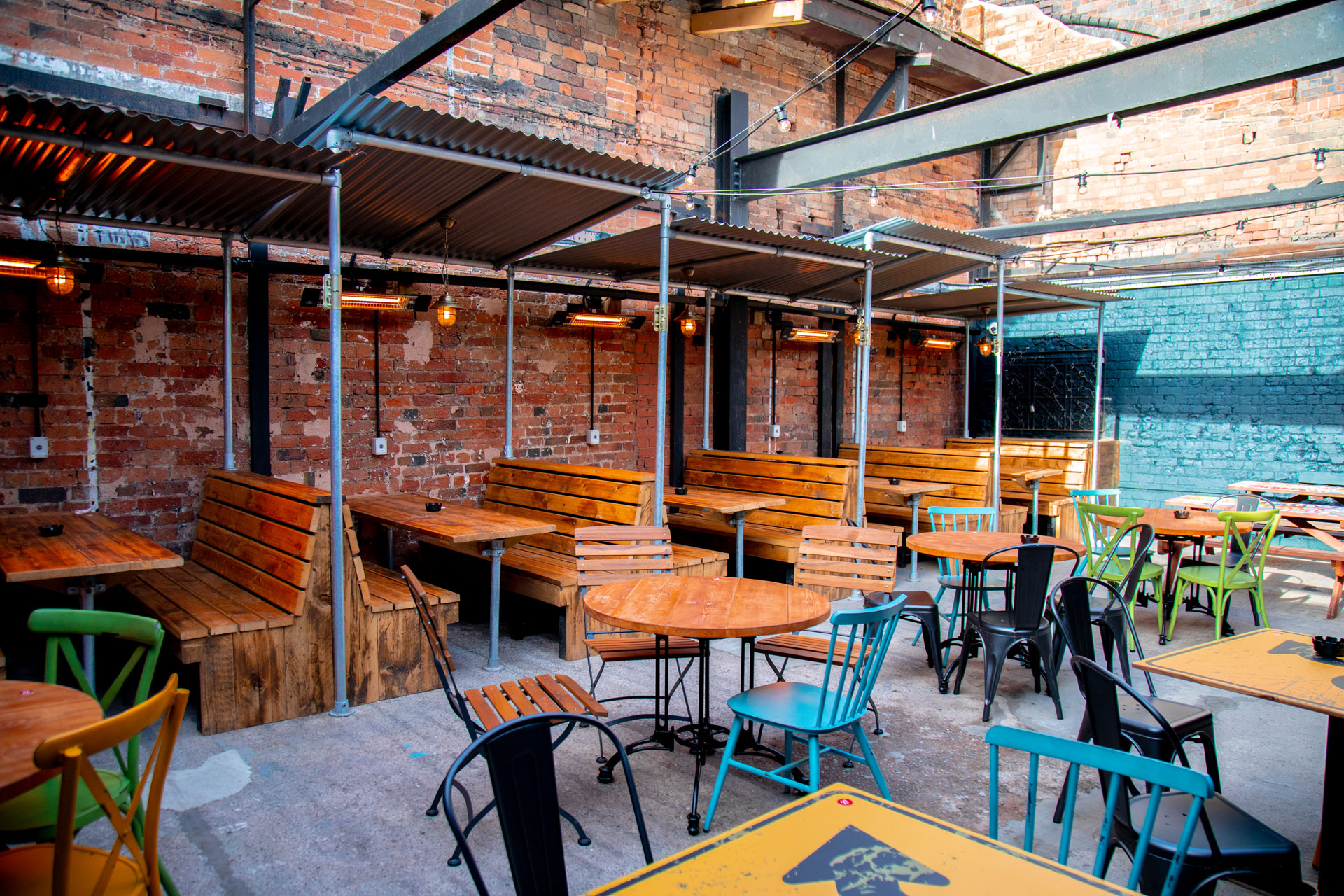 Location: 160 High Street, Deritend, Digbeth, B12 0LD
This iconic Digbeth pub has been lovingly restored in recent times, adding to the vibrant nightlife scene in Birmingham's creative quarter. This brilliant boozer has a semi-covered courtyard for enjoying your beverages al fresco. With space for 150 people and featuring comfortable, heated seating booths, this is a great spot for gathering with friends. They also have not one, but two big screen TVs (perfect for catching the big games) and a fully stocked bar in the courtyard, so you never have to miss any of the action.
Fox, Hampton Lane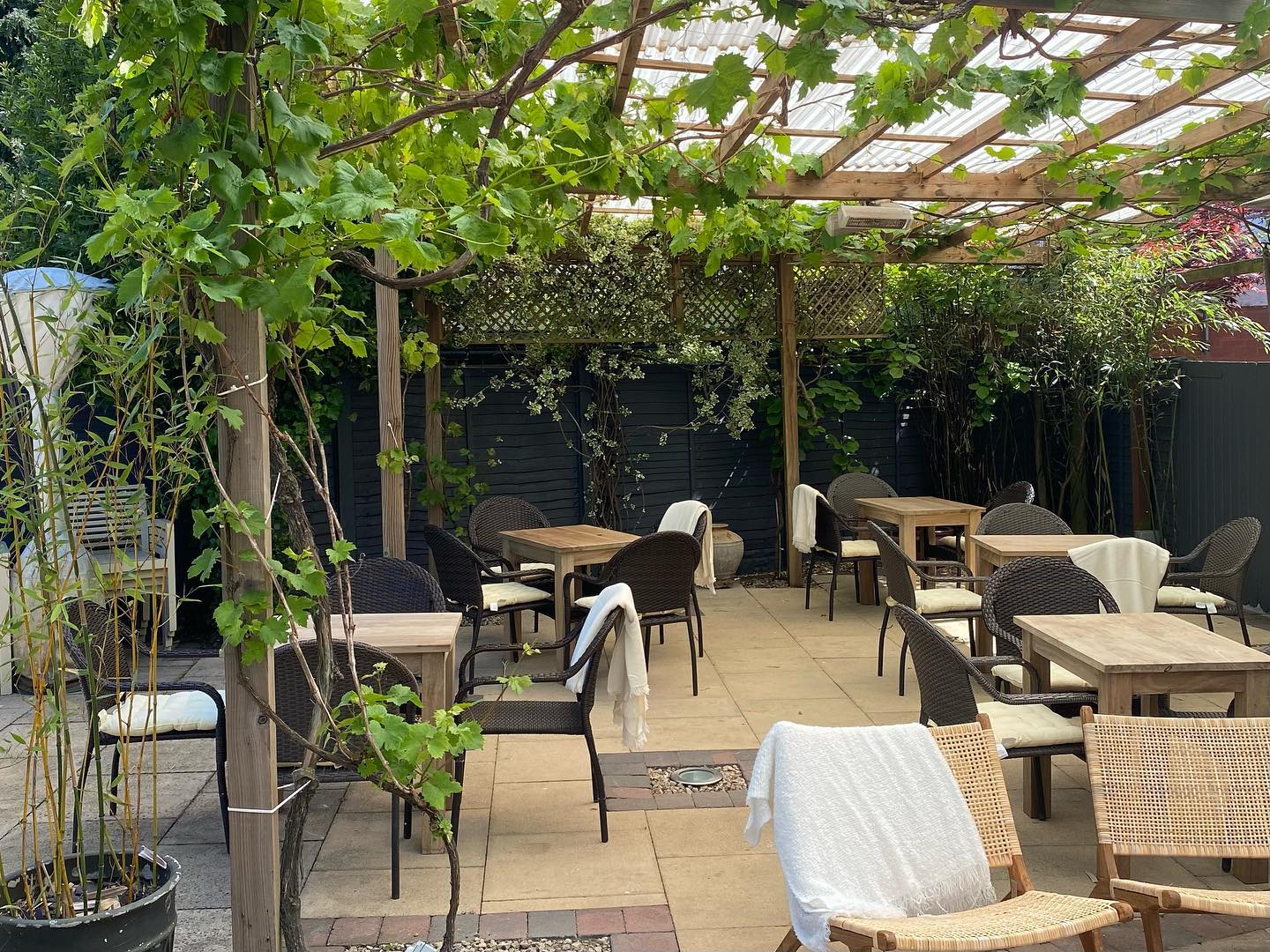 Location: 255 Hampton Lane, Solihull, B91 2TJ
This Solihull based restaurant and bar is all about their ethos of: simple, seasonal, sustainable. They're open for coffee, lunch, dinner and drinks and they have a lovely outdoor space where you can drink or dine in the sunshine. With both a covered  terrace and a sunny garden, you have the choice of sunshine or shade (and a place to shelter if it's not ideal weather). A lovely place to grab some food with a loved one or a drink or two with friends and the grape vines creeping over the terrace give a hint of Mediterranean vibes.
The Spotted Dog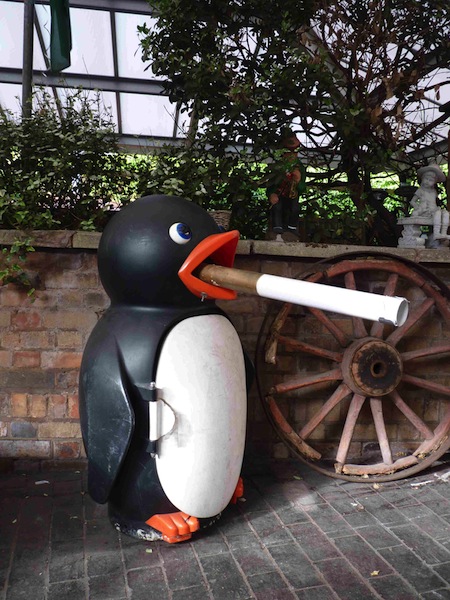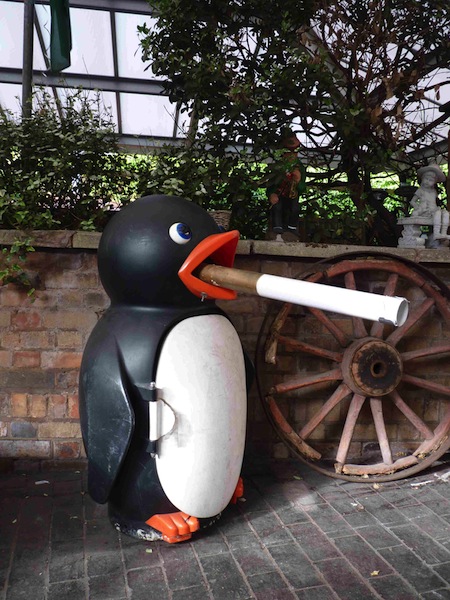 Photo: Richard McComb
Location: 104 Warwick Street, Digbeth, B12 0NH
Ready to spot the weird and wonderful? The Spotted Dog, Digbeth's faithful hound and firm favourite to a core of faithful followers, contains within it one of the most unusual beer gardens you will most likely ever lay eyes upon. No, you're not drunk – that is a penguin smoking a giant cigarette and yes, those are mannequins dressed in a rogue assortment of ill-fitting garments. But that's the charm of this wonderful pub. It's wacky and eccentric, with every turn of the head revealing a new wonder to behold. So head on down to Digbeth, grab a pint at The Spotted Dog and prepare to be bemused.
Tap & Tandoor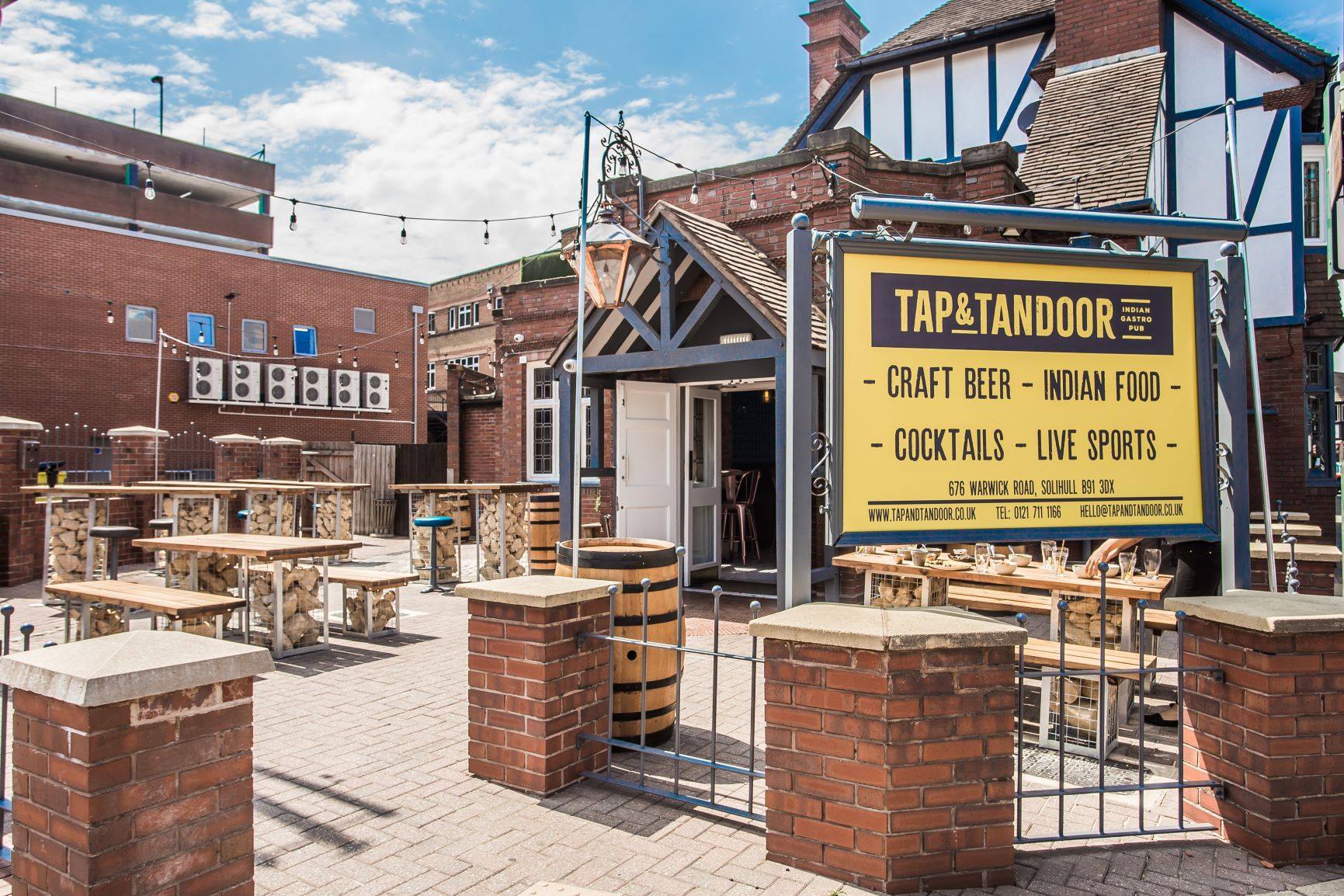 Location: 658 Warwick Road, Solihull, B91 3DX
This Indian gastropub combines two of our favourite things: craft beer and Indian food – a match made in heaven. Their Indian eats are scrumptious (think small plates, home-style curries, mixed grill and tandoori dishes), their craft beer menu changes weekly to keep things fresh and they show live sports. If that's not enough, they have a lovely outdoor seating area where you can catch up with friends while you catch those rays.
The Boot Inn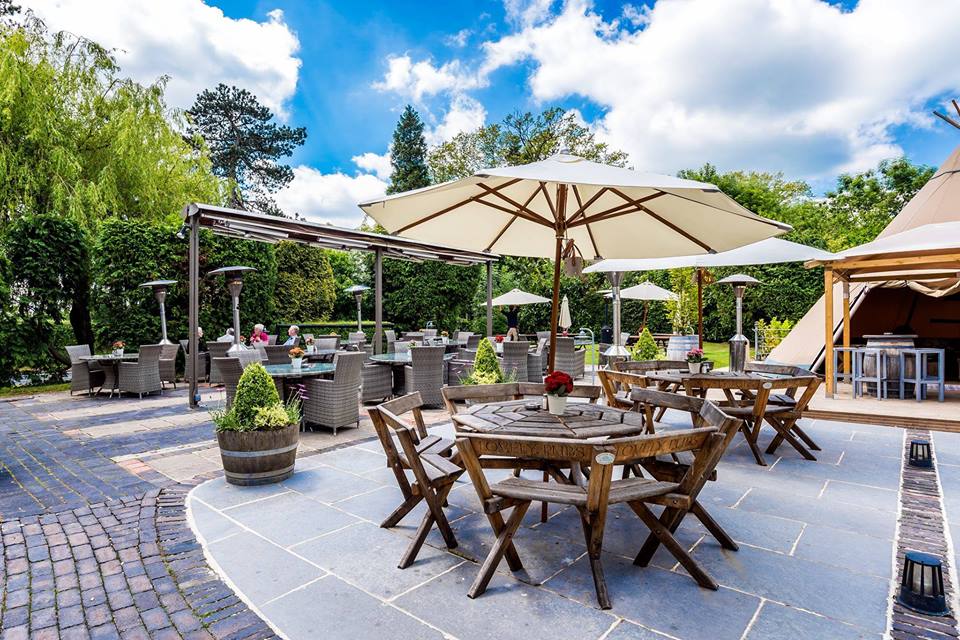 Location: Old Warwick Road, Lapworth, B94 6JU
Situated in Lapworth, right next to a beautiful canal, The Boot Inn is a wonderful, rural pub doing things right. What we love most about them though, apart from their impressive food offering, is the substantial beer garden. Head there, soak up some rays, drink some beer (or wine), and then go for a nice long walk along the canal after. Our pro tip: order a sharing board. They're perfect for sharing, but also perfect for pretending you're going to share, but then scoffing all the goodies yourself. Nicely done.
Henman & Cooper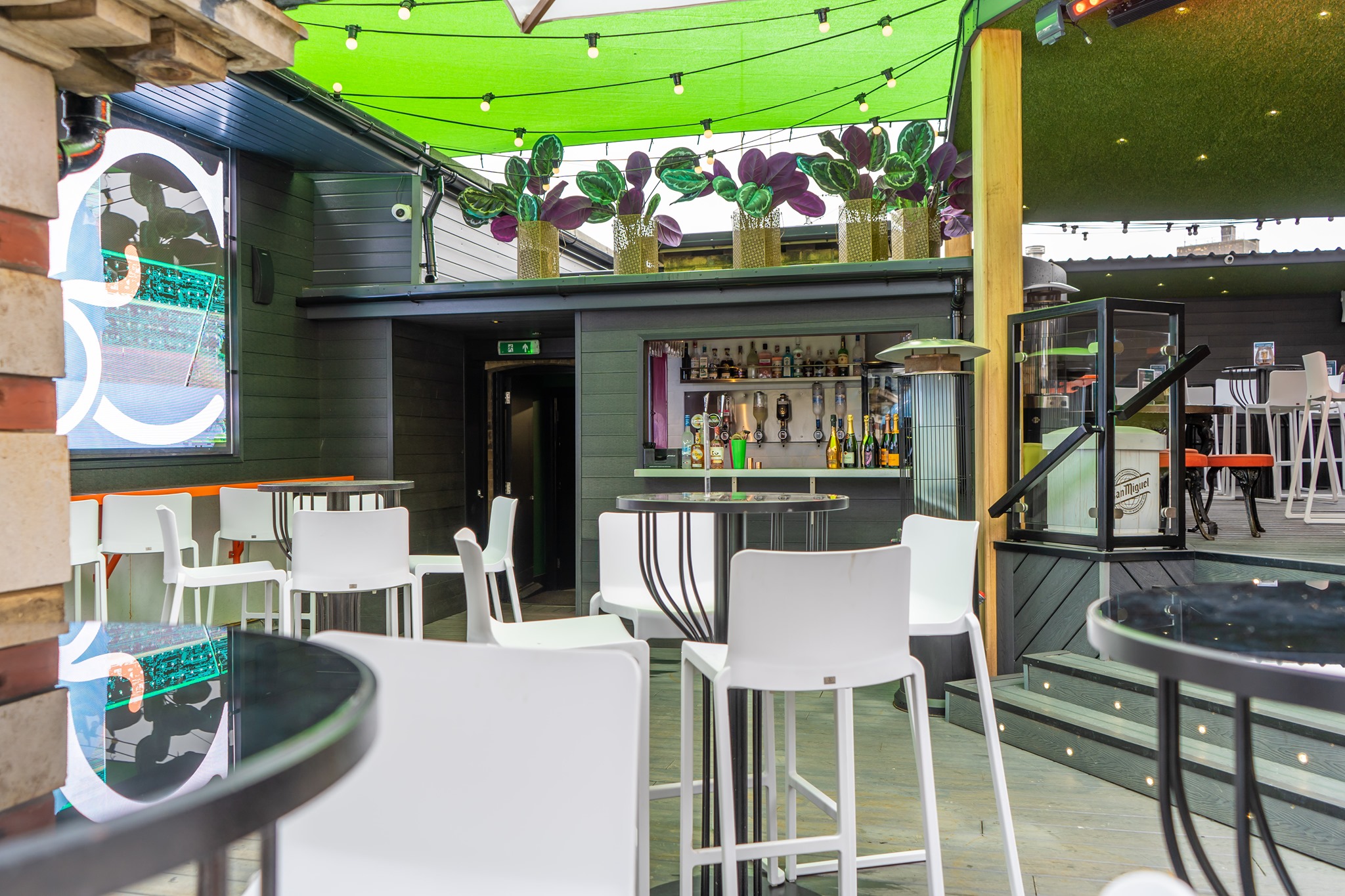 Location: 110 Colmore Row, B3 3AG
Not a beer garden in the traditional sense, but an awesome outdoor space nonetheless, Henman & Cooper is home to a spectacular rooftop terrace, perfect for all of your al fresco drinking and partying needs. Based in the city centre, this rooftop terrace is the ideal place to grab a drink and soak up some sunshine with some pals.
Leviathan Brewing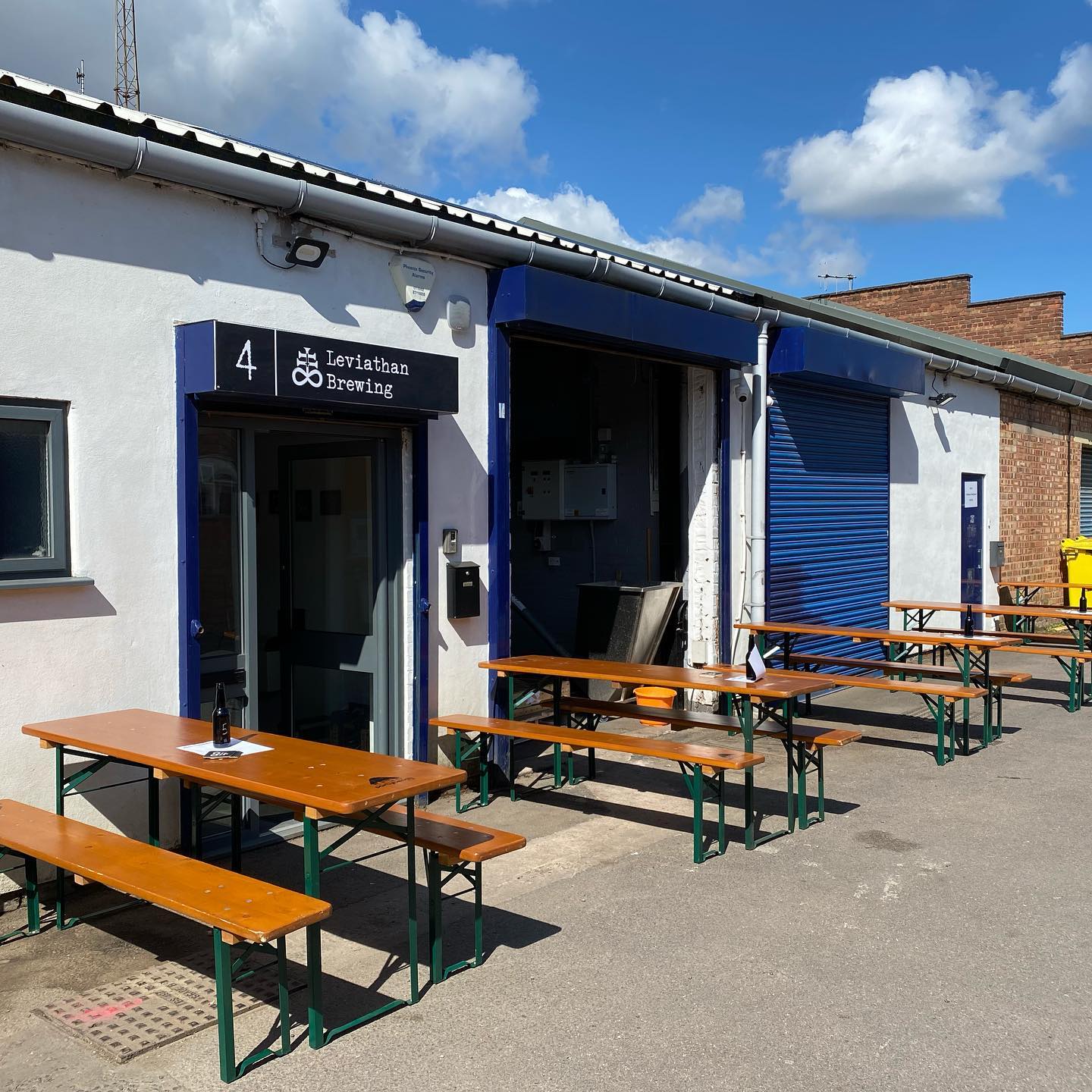 Location: Unit 4, 17 Reddicap Trading Estate, Sutton Coldfield, B75 7BU
This craft beer brewery and taproom can be found in Sutton Coldfield. If you like your beer garden to be less of a garden and have more of an industrial, urban feel then this ones for you. If you don't care where the beer garden is located as long as the beer is fantastic then we hear you! Head on down to Leviathan for some seriously tasty brews that are well-balanced, bold and full of flavour. Perfect for drinking al fresco!
Butlers Arms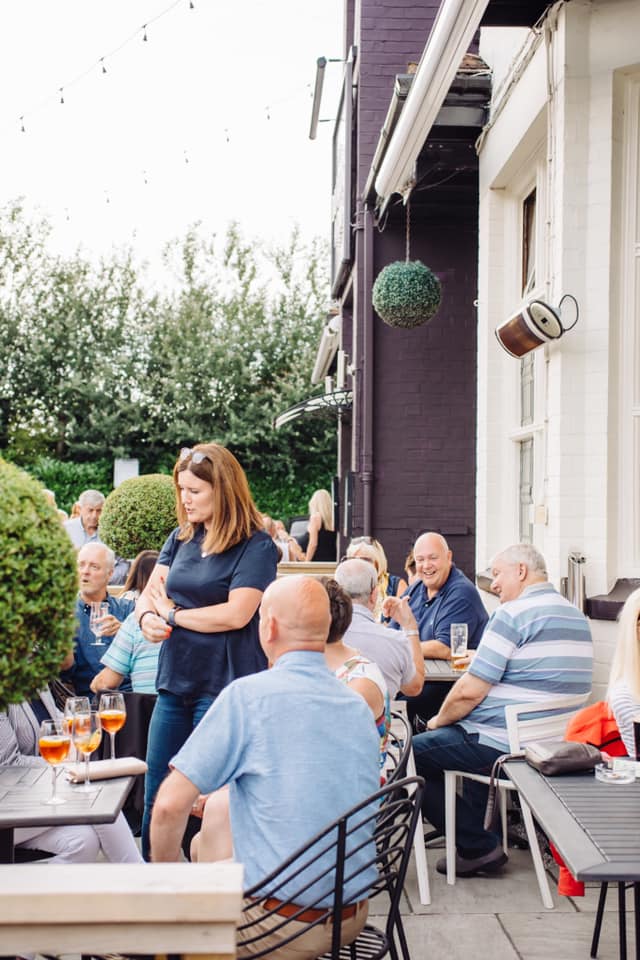 Location: 444 Lichfield Road, Sutton Coldfield, B74 4BL
This brilliant local pub found in Sutton Coldfield is a great neighbourhood hangout, complete with picturesque beer garden. With a delicious outdoor dining menu full of tempting bites to eat, this is a beautiful place to grab a tasty lunch outdoors. To accompany your food, you'll definitely want a pint or two. Come for lunch, stay for some drinks and you'll soon find that a few hours have flown by.
Alam Restaurant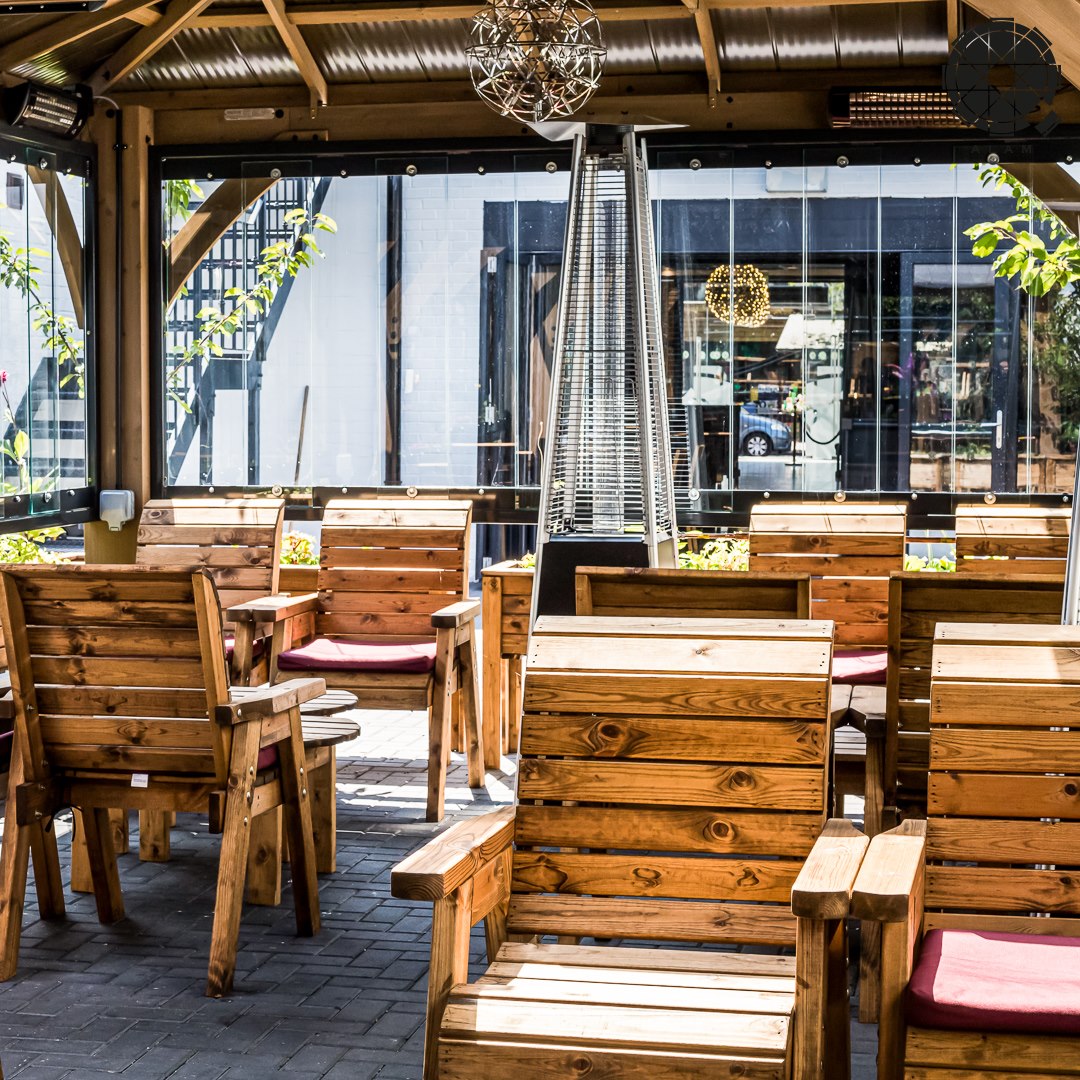 Location: 356 Coventry Road, Small Heath, B10 0XE
This restaurant on the Coventry Road has one of the most beautiful gardens in the whole of Brum. Their garden is a true hidden gem in the city, and from there you can enjoy a range of tasty drinks and some delicious food. Serving a range of dishes from different cuisines, the true stars are their authentic curries. Hot curry on a hot day in a beautiful garden? Sounds like a winner in our books.
The Forest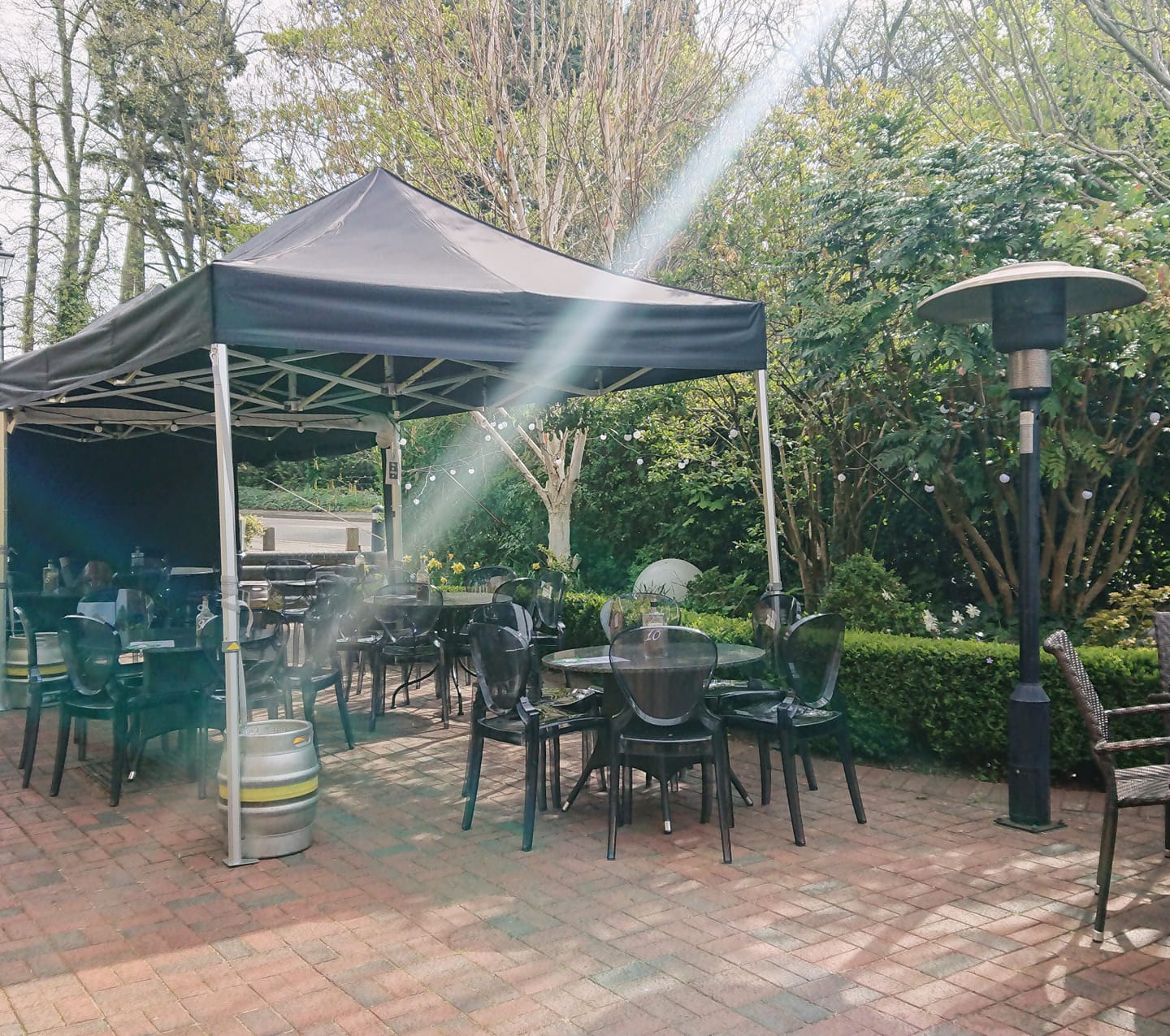 Location: 25 Station Approach, Dorridge, B93 8JA
The Forest is a wonderful neighbourhood gastropub which has recently been bought and taken over by the team behind The Butcher's Social. They are bringing their delicious, refined and elegant dishes to this fantastic neighbourhood pub, along with their amazing Sunday roasts and more! As with all great food, we think its best enjoyed outdoors and luckily they have a lovely beer garden too. Keep your eyes peeled to see what the team get up to next!
Birdies Bar & BBQ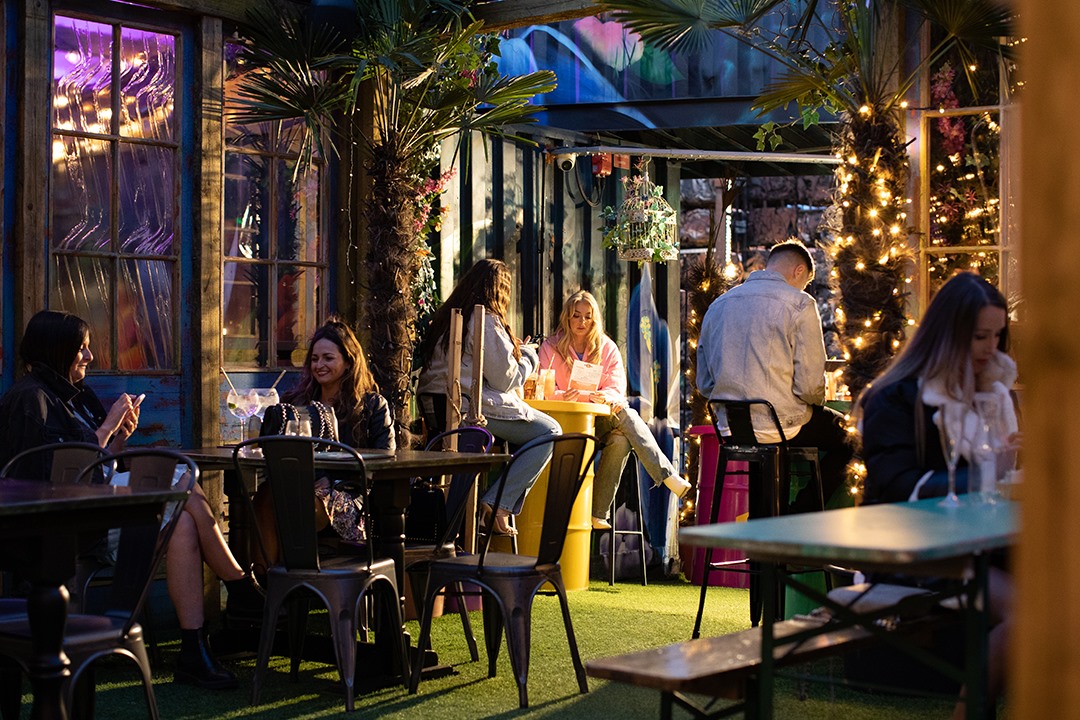 Location: The Custard Factory, Digbeth, B9 4AA
Digbeth-based Birdies is a tropical oasis in the heart of urban Digbeth. This cocktail bar and street food garden is a little slice of paradise within the city, complete with tropical plants, fairy lights and tropical-themed murals adorning the walls. If you want to enjoy those island vibes without leaving the city, a trip to Birdies is a must.
The Boat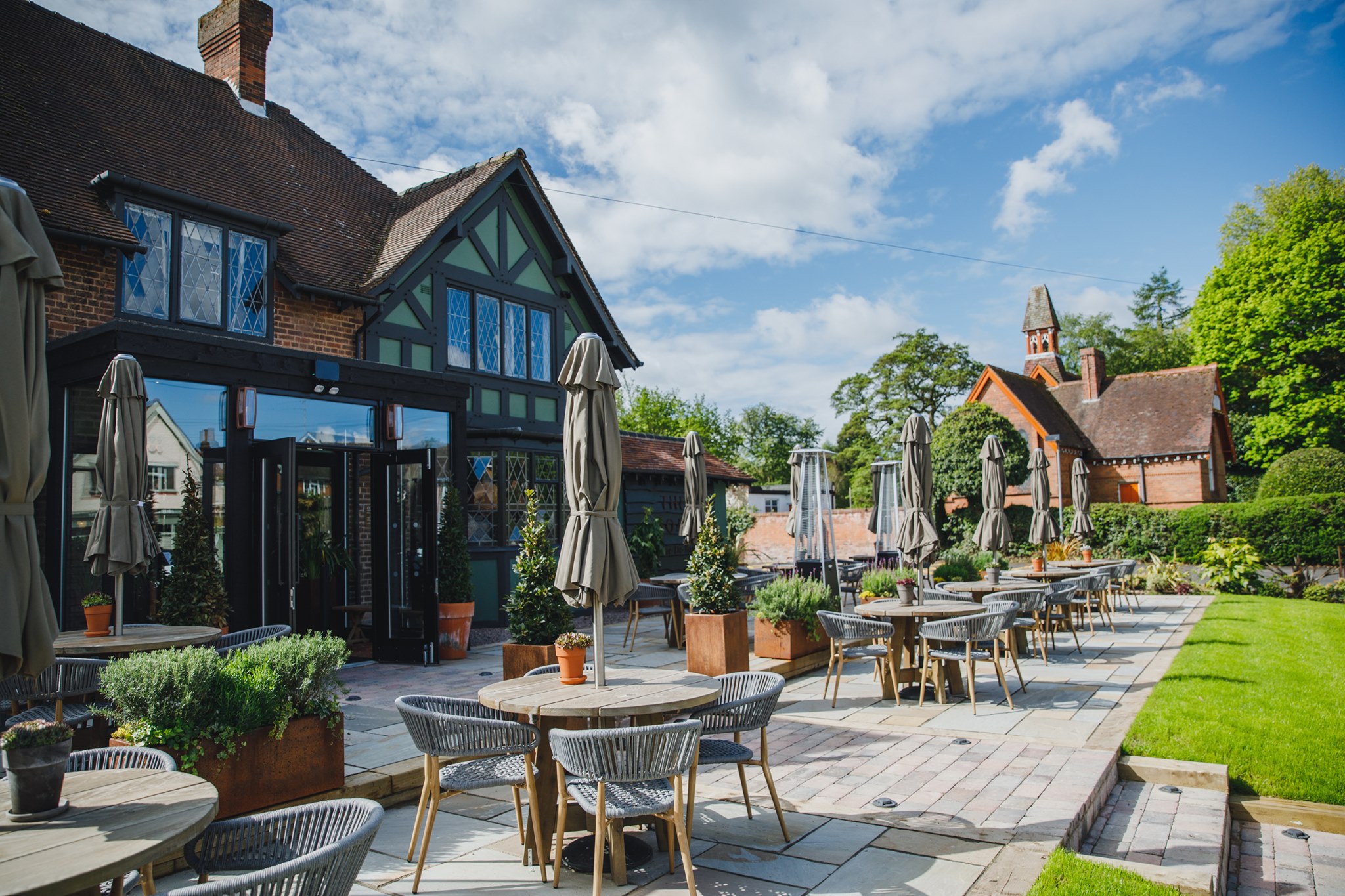 Location: 222 Hampton Lane, Solihull, B91 2TJ
This canal-side pub can be found in Catherine-de-Barnes, Solihull and is the epitome of your quintessential countryside gastro pub. With cosy corners next to roaring fires to curl up in through the winter months, and a splendid garden to enjoy when the sun shines. With a covered pergola and heaters, you can enjoy this garden when the weather is a little less than ideal (which it so often is in the British summer time) but there are also plenty of tables on the grass to enjoy when the sun does decide to make an appearance. Enjoy delicious food and great drinks, then set off for a stroll along the canal. Perfect.
The Floodgate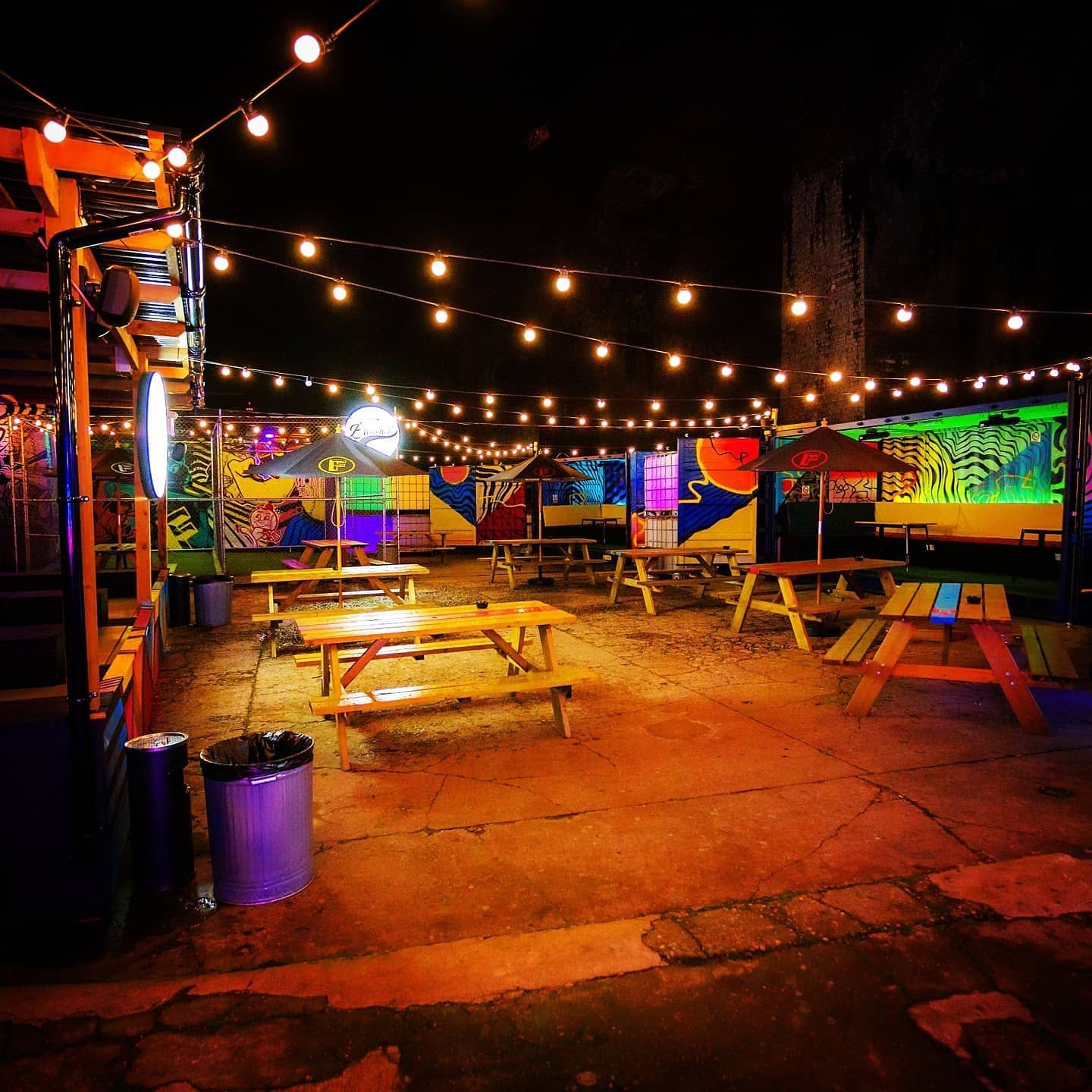 Location: 104 Floodgate Street, Digbeth, B5 5SR
This activity bar in Digbeth has all the makings of a great time – plenty of games and activities to enjoy whilst getting a little competitive, cocktails, craft beer, street food and of course, a beer garden! Chill out in the beer garden while you wait for your turn, or simply pop in for a few drinks and a bite to eat.
Hennessey's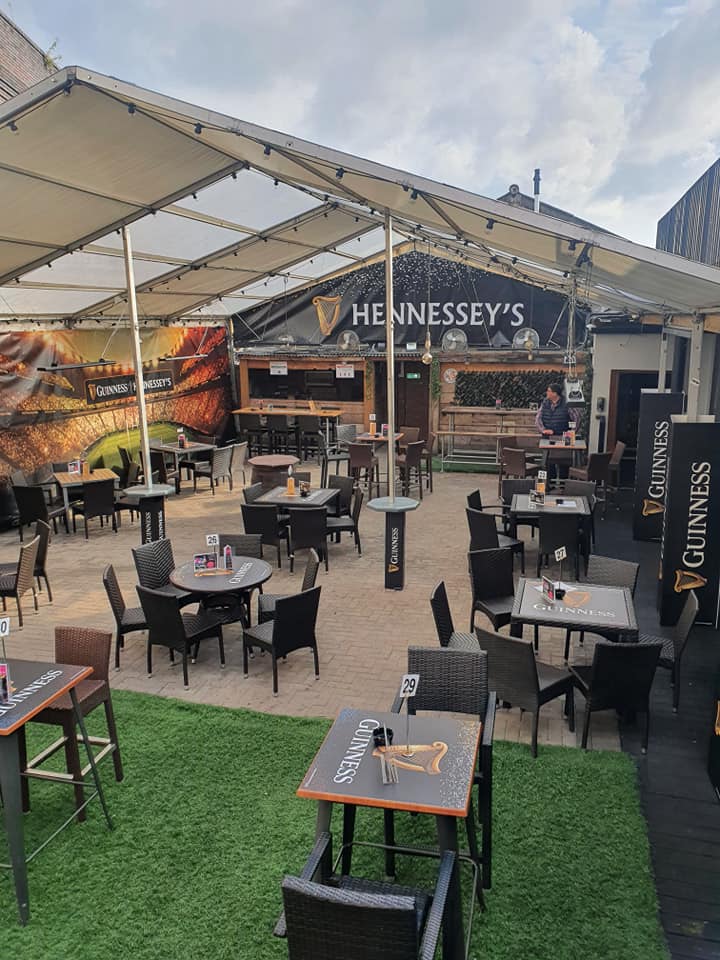 Location: 30-31 Allison Street, Digbeth, B5 5TJ
Hennesseys Bar is a family-owned bar found in Digbeth, with a sizeable beer garden. Perfect for all the sports fans out there, Hennessey's beer garden comes complete with big screen, showing all the big games. There are plenty of tables, which you can book ahead to guarantee you have a seat for the important sporting events, plus there's a bar in the beer garden so you don't have to miss any of the action while you grab a drink.
Naviagtion Inn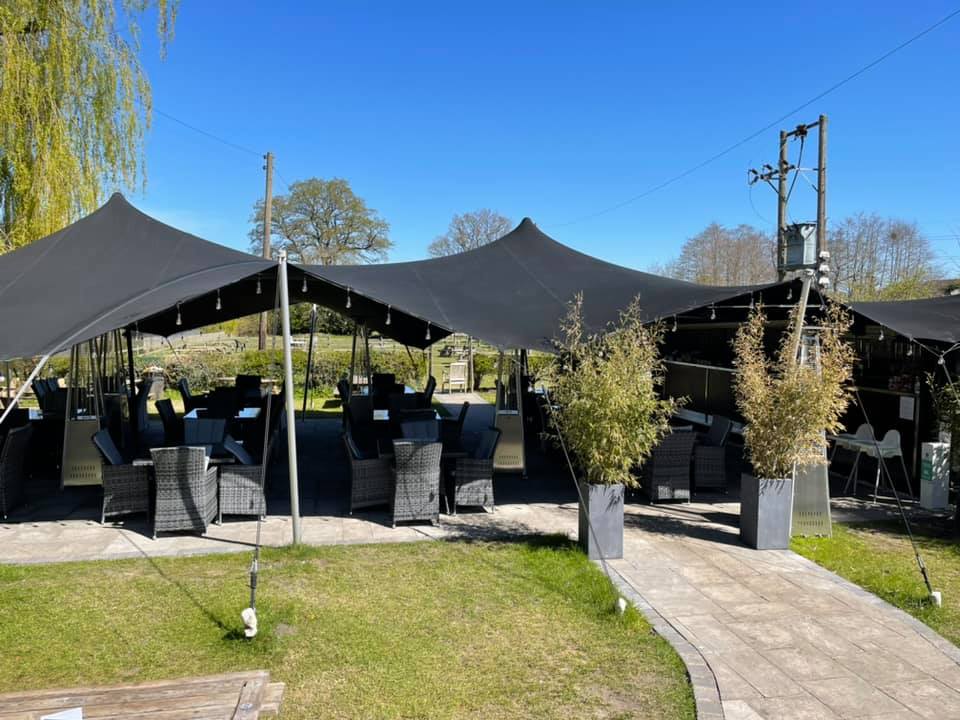 Location: Old Warwick Road, Lapworth, B94 6NA
The beautiful rural location of Lapworth, just outside Solihull, is the setting for this brilliant pub. Boasting a spectacular canal-side location, this beer garden is worth it for the picturesque setting alone. But throw in some delicious food and great drinks and you have yourself the perfect place to spend the summer months.
Nortons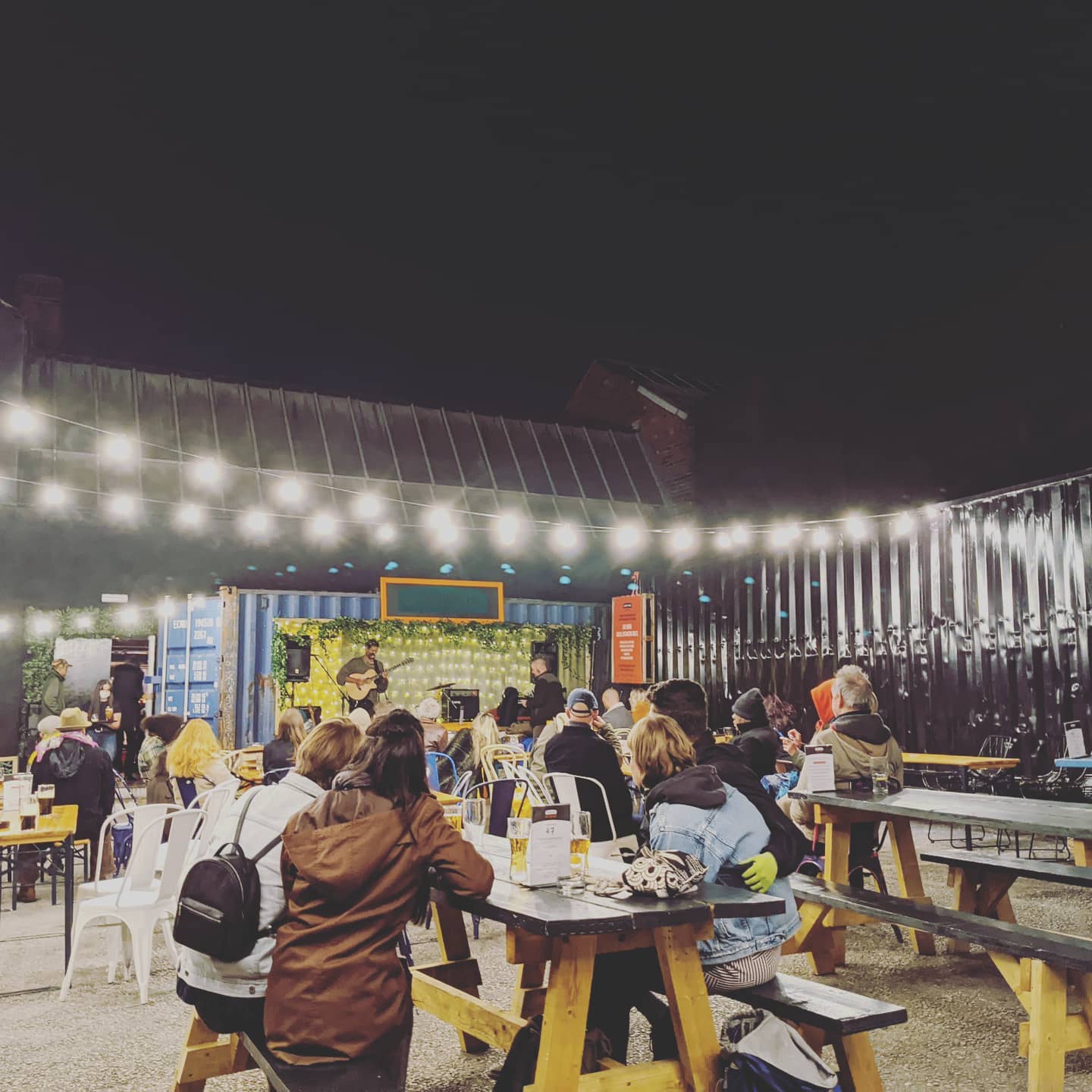 Location: 43-45 Meriden Street, Digbeth, B5 5LS
Digbeth's most contemporary Irish pub, Nortons, is an Irish bar like no other. They serve craft beer alongside homemade pizzas, and they show BT Sports and Sky Sports, and they host regular live music events. And, of course, they have a beer garden where you can enjoy your pint outdoors. Whether you're catching the big game, just grabbing a quick pint, or settling in for an evening of live music, the beer garden at Nortons is calling you.
Punchbowl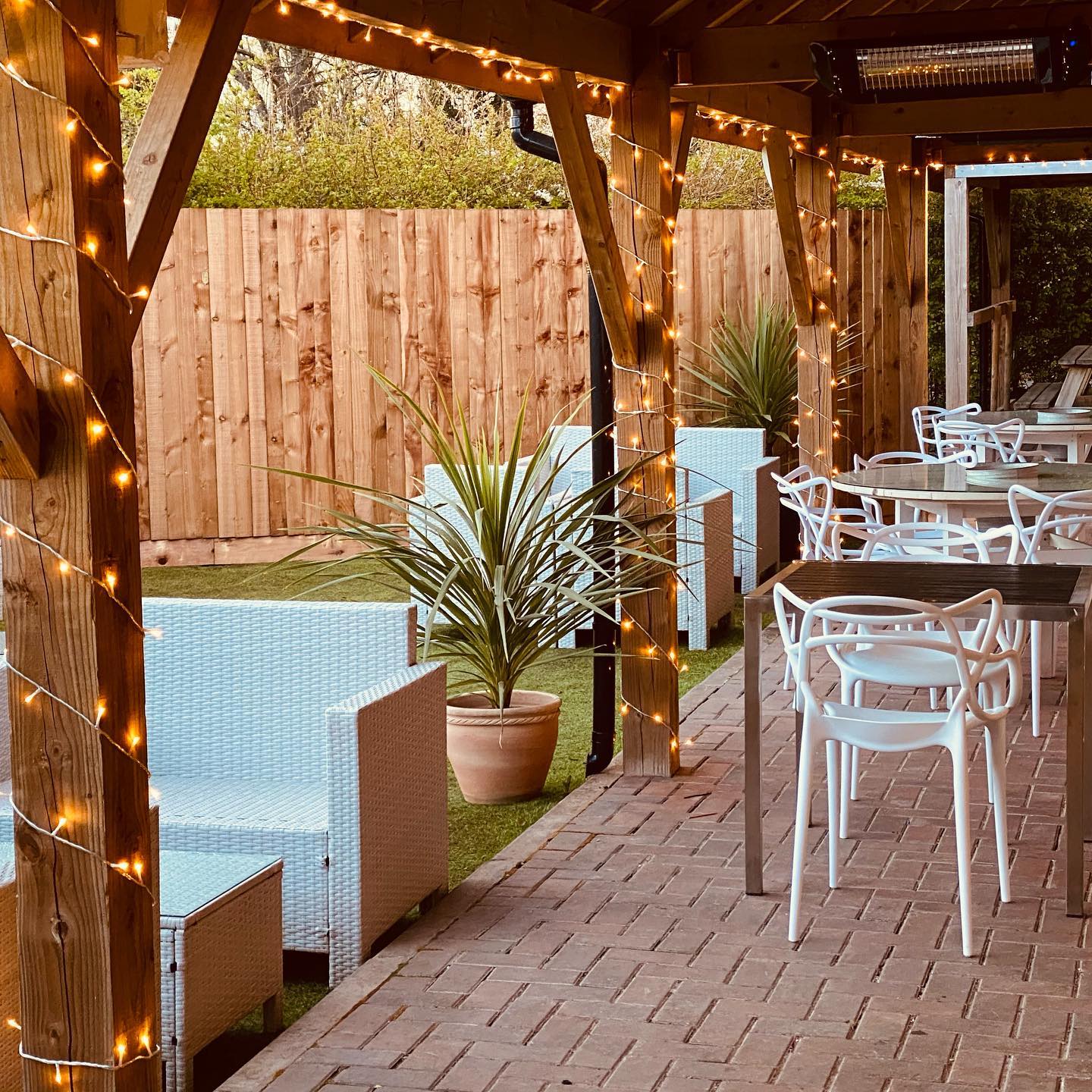 Location: Mill Lane, Lapworth, B94 6HR
This rural gastropub is worth the short jaunt into the countryside for their tasty food and beautifully refurbished garden. Pretty as a picture, this beer garden is the ideal place to take in the fresh country air and spend a few lazy hours sipping drinks and nibbling on yummy food. There are plenty of tables in this chic country pub's beer garden, surrounded by the beautiful Lapworth countryside.
The Malt Shovel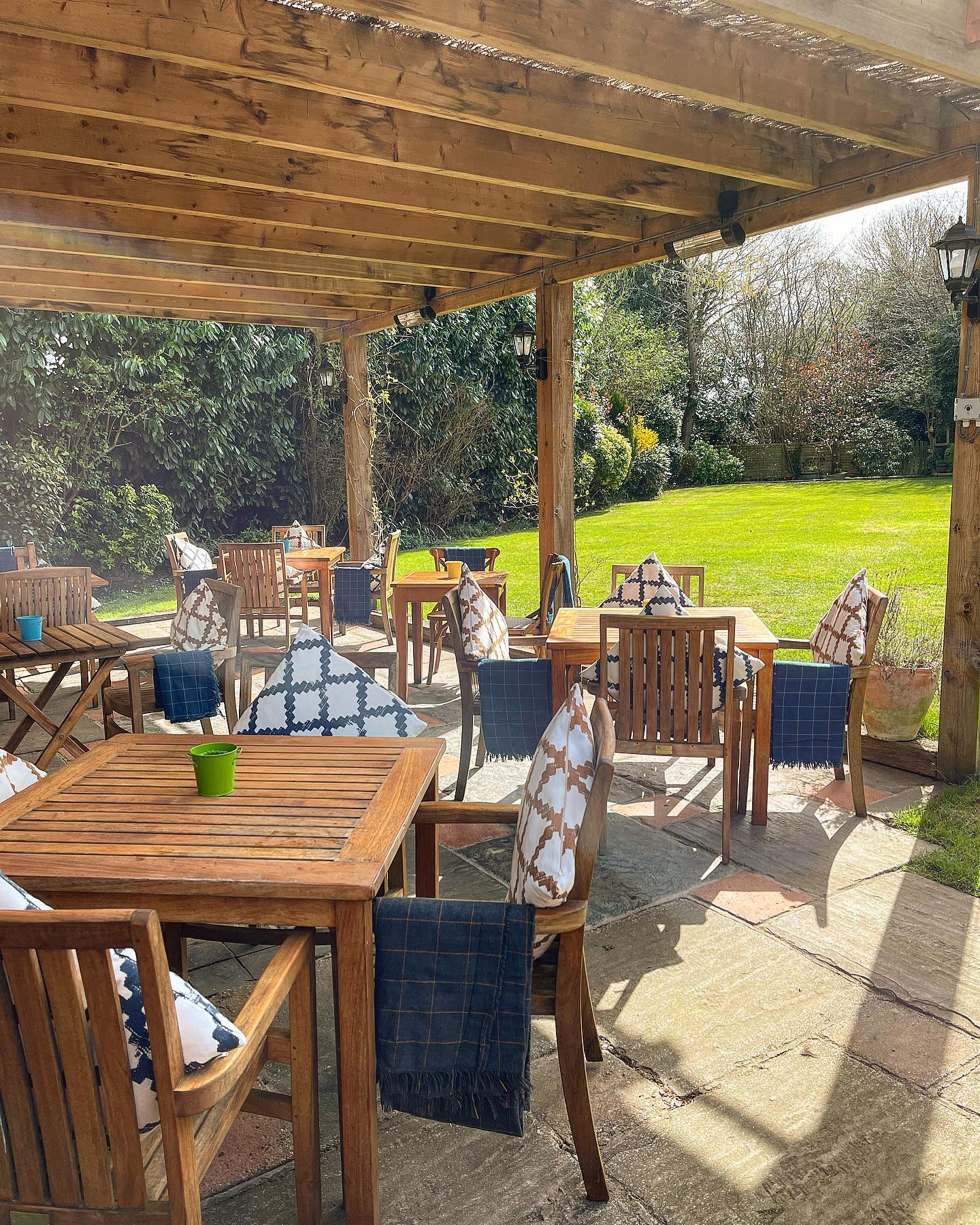 Location: Barston Lane, Solihull, B92 0JP
This countryside gastropub is all about elevated pub food, considered drinks and a relaxed but refined dining room. The best part is, you guessed it… they have a beautiful garden too. So you can enjoy their delicious food and carefully selected drinks in their wonderful outdoor space. Whether it's a hearty Sunday roast, their fresh seafood specials, or just a chilled glass of wine, this is the perfect setting for it all. This truly is a fantastic pub and well worth putting on your 'to visit' list.
The Flapper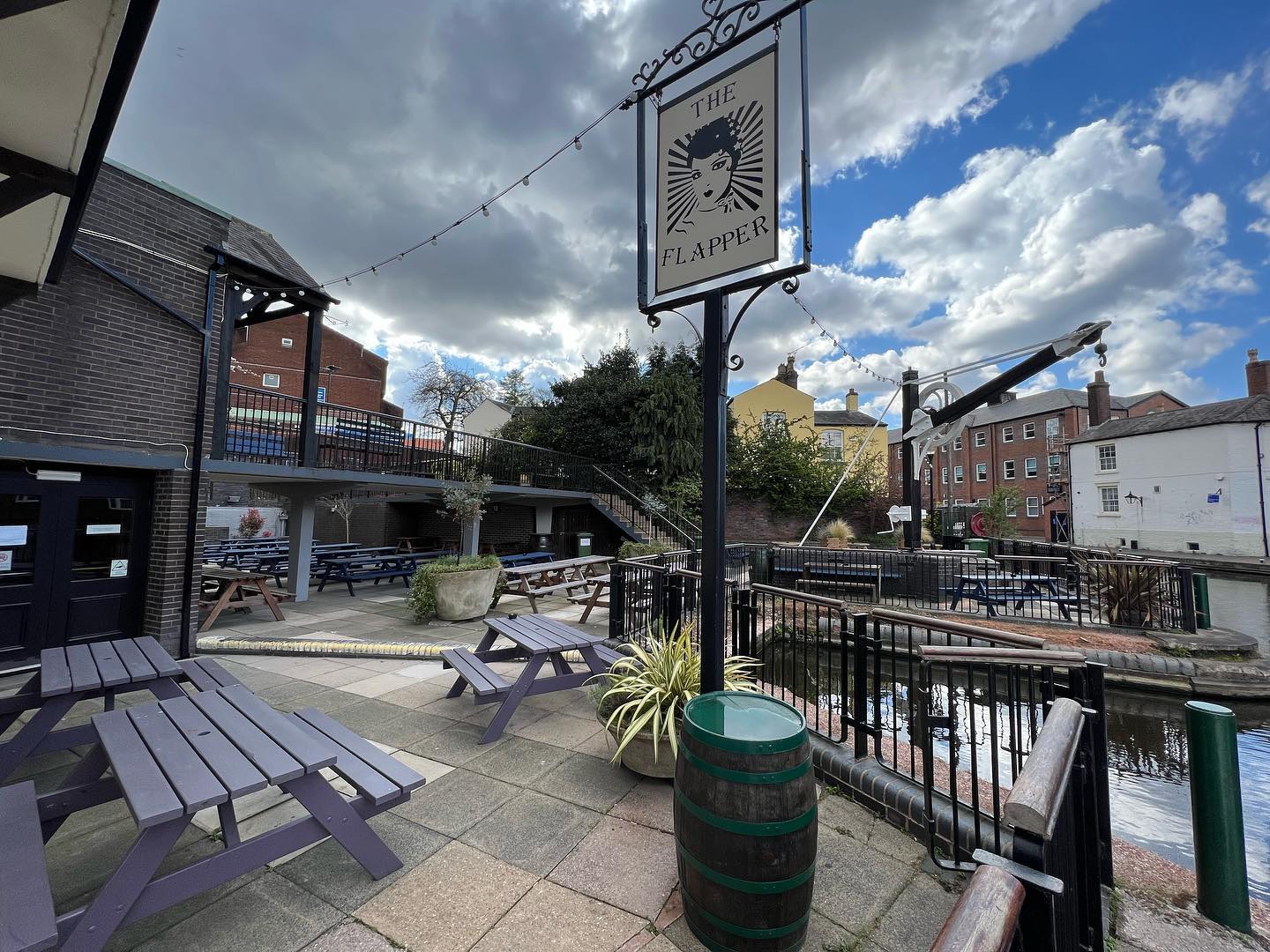 Location: Cambrian Wharf, Birmingham, B1 2NU
The iconic rock 'n' roll live music venue and canal-side pub, The Flapper, boasts a rather glorious beer garden which is an absolute sun trap. Hang out with your mates, soak up the sun canal-side, drink tasty beers, line your stomach with delicious burgers, and have the best of times. Catch some live music while you're there too. You've smashed it!
The Duke Inn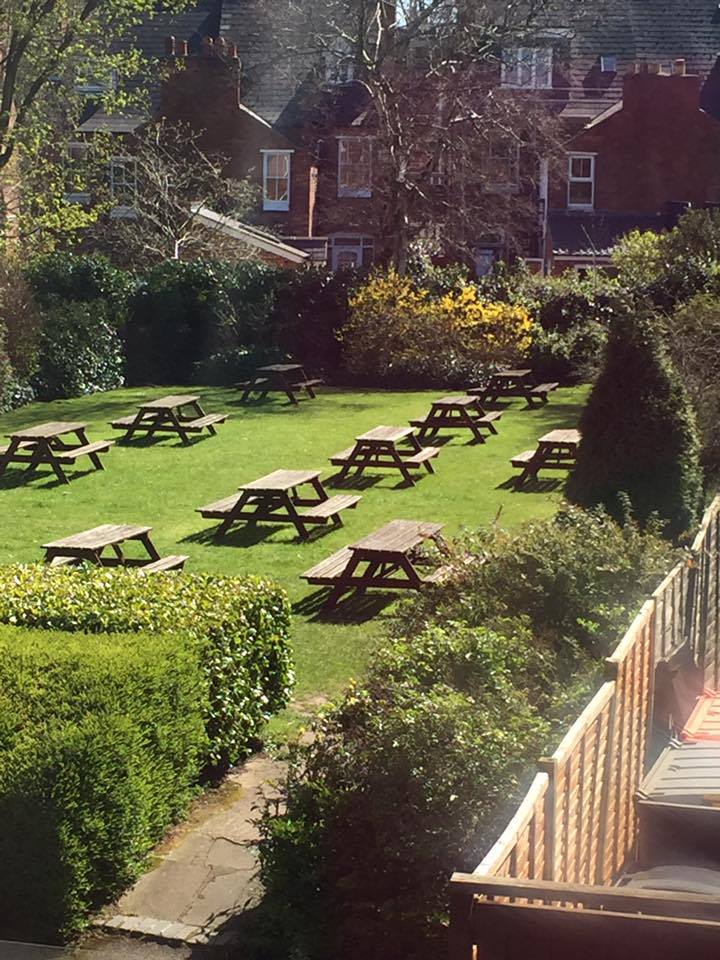 Location: 12 Duke Street, Sutton Coldfield, B72 1RJ
A modern take on the traditional British pub. That classic pub feel but with great drinks and a great atmosphere, if you live in Sutton Coldfield then this is the beer garden for you. This one is a classic, grassy garden with picnic style benches and plenty of space to hang out. The grass is kept neat, inviting you to sit down and soak in those rays, as if in the comfort of your own back garden. Plus, the outdoor bar means you won't need to venture inside for drinks as you can grab a cold, refreshing brew from the sanctuary of the garden (we hear they even serve ice creams too – that's it, we're moving in for the summer).
Hockley Social Club
Location: 60 Hampton Street, Jewellery Quarter, B19 3LU
The new home of Digbeth Dining Club, Hockley Social Club, has a beer garden where its all about the food. Grab some delicious dishes from the selection of brilliant street food traders, grab a drink from the bar and bask in the Jewellery Quarter's sunny rays, or huddle under the fairy light-adorned canopy, as you happily munch away to your hearts content.
Gunmakers Arms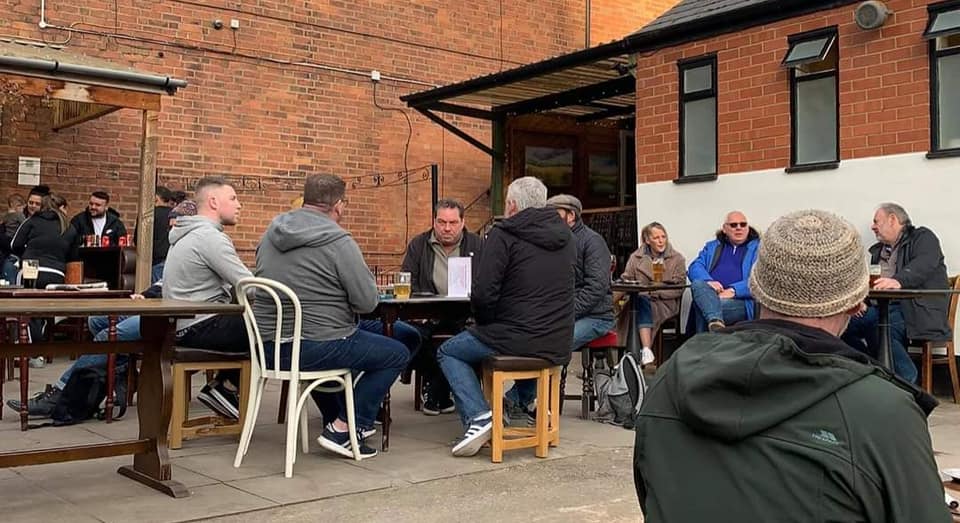 Location: 93 Bath Street, B4 6HG
This classic, old-style city pub is also the taphouse for the locally-famous Two Towers Brewery. They are known for their proper, traditional real ales from the Two Towers Brewery of course (as well as some guest ales), but also offer other beers, lagers, wines, spirits and soft drinks. Whatever your chosen tipple, head out into their courtyard beer garden to enjoy it al fresco.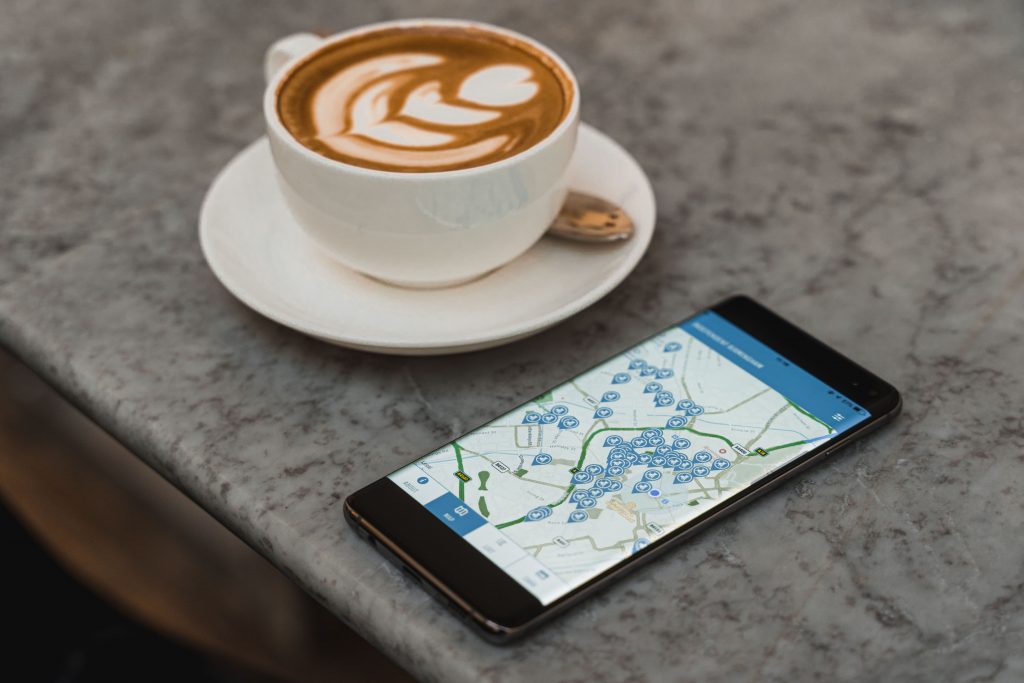 Download the Independent Birmingham App now and enjoy up to 25% off (alongside exclusive 2-for-1 offers, freebies, and more) at over 170 of the very best independents across Birmingham and Solihull – all for just £1.99 a month!
Download the IB App here.
The IB App features a list of over 170 terrific independents across Birmingham and Solihull for you to discover and support (with more added all the time), alongside an interactive map, filters (so you can filter by category, day, and area) and a Wish List so you can create your very own bespoke 'to visit' list. IB Membership is just £1.99 a month and it helps to keep this vital platform alive and allows us to keep doing what we do best – supporting Brum's marvellous independents, and shining a light on our wonderful city.