Each year we compile the ULTIMATE guide to completing your Christmas shopping in Birmingham.
We write the most extensive gift guide you've ever seen to show you that there is something for every single person on your list that can be bought from a local shop, artist, creative or small business. Birmingham is bursting at the seams with talent and personality, and your money is so much more valuable to these small businesses than it is to the big corporations who multiply their profits at this time of year. After a difficult couple of years, it is more important than ever to shop local and celebrate everything that is great about our city.
Each year we add more and more independents to our gift guide to give you the most thorough and extensive list we can possibly pull together. We have tried to include as many different independents across Birmingham and Solihull as we possibly can, and choices at as many different price points as we can, to give you as many gift options as possible.
This year we have split them into categories to make it even easier to discover the perfect gift for every single recipient on your list.
Settle in with a cuppa and a mince pie because this is going to be a long one – it's a bumper edition.
Without further ado, here's Independent Birmingham's Ultimate Christmas Gift Guide 2021…
FOR THE FOODIE
We all have that special someone in our lives who is obsessed with food. Always going out to the best restaurants, taking Instagram snaps of their food, and cooking up a storm in their own kitchen trying to recreate their favourite dishes from their favourite restaurants. If this sounds familiar, then you'll want to get them one of these gifts.
THE GREAT BRITISH STAYCATION AT

HAMPTON MANOR

– FROM £395 PER PERSON
If you REALLY want to treat the foodie in your life, give them the gift of an incredible two-night staycation at the superb Hampton Manor, featuring dinner at Smoke, wine tasting, dinner at Michelin-starred Peel's and more, all in a truly stunning location.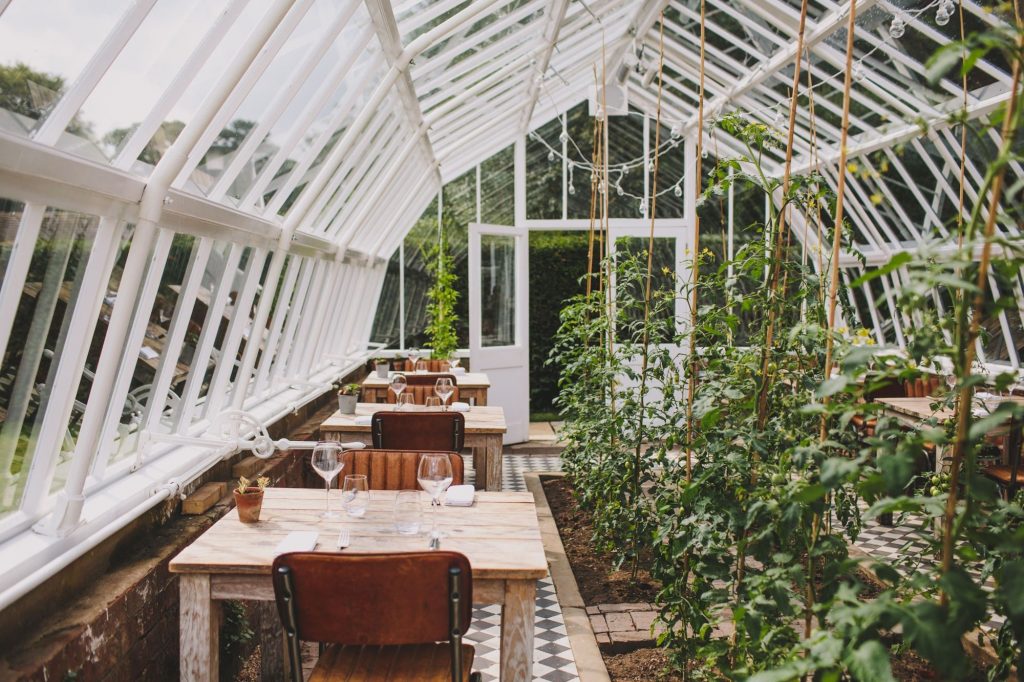 The Edgbaston is well-known for their delicious and decadent Afternoon Tea, which makes a great gift.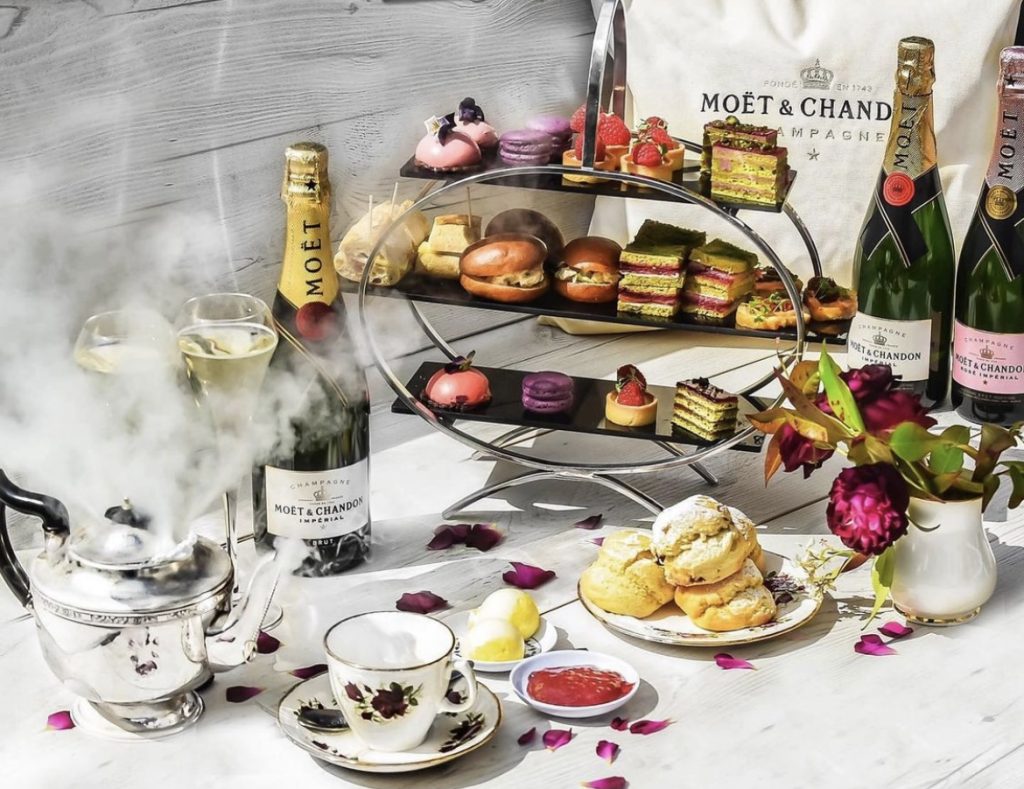 THE GO-WITH EVERYTHING:
PIP'S HOT SAUCE

TASTER GIFT SET – £15

The legendary Pip's Hot Sauce is the perfect gift for those who like all things spicy. And, what better way to discover a new favourite than by taste testing them all in this gift set.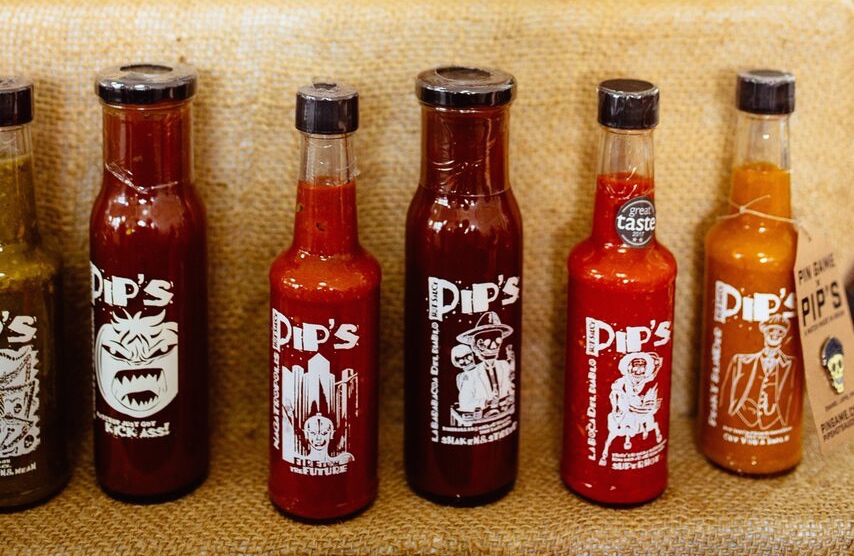 BOX OF 9 CINNABUFFINS:

PAUSE

– £30
If you know someone who is obsessed with the Cinnabuffins at Pause, this is the perfect gift! Available in festive flavours or just the classic OG Cinnabuffins, the choice is yours. Other gift bundles are available too! Top tip: you can freeze your Cinnabuffins and reheat them on Christmas morning for an epic breakfast (if you can wait that long)!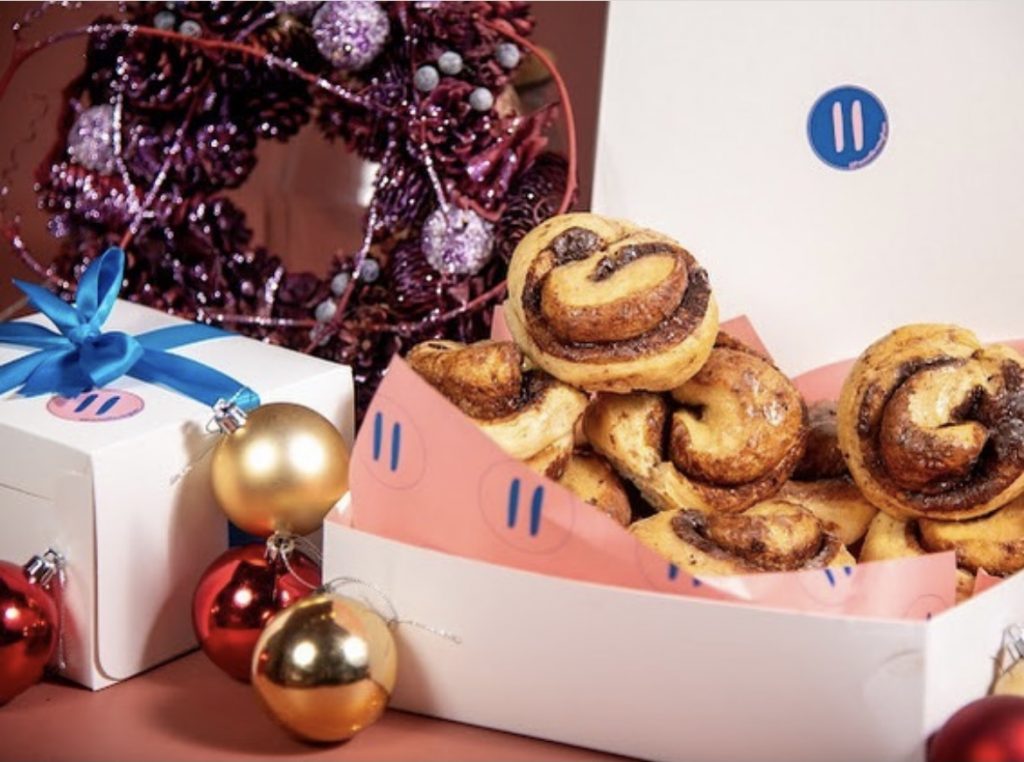 MEAT, CHEESE AND WINE HAMPERS FROM

GRACE & JAMES

– £60
Meat, cheese and wine in a hamper is the perfect foodie gift all wrapped up and ready to go – so you can sit back and relax, knowing you've smashed it.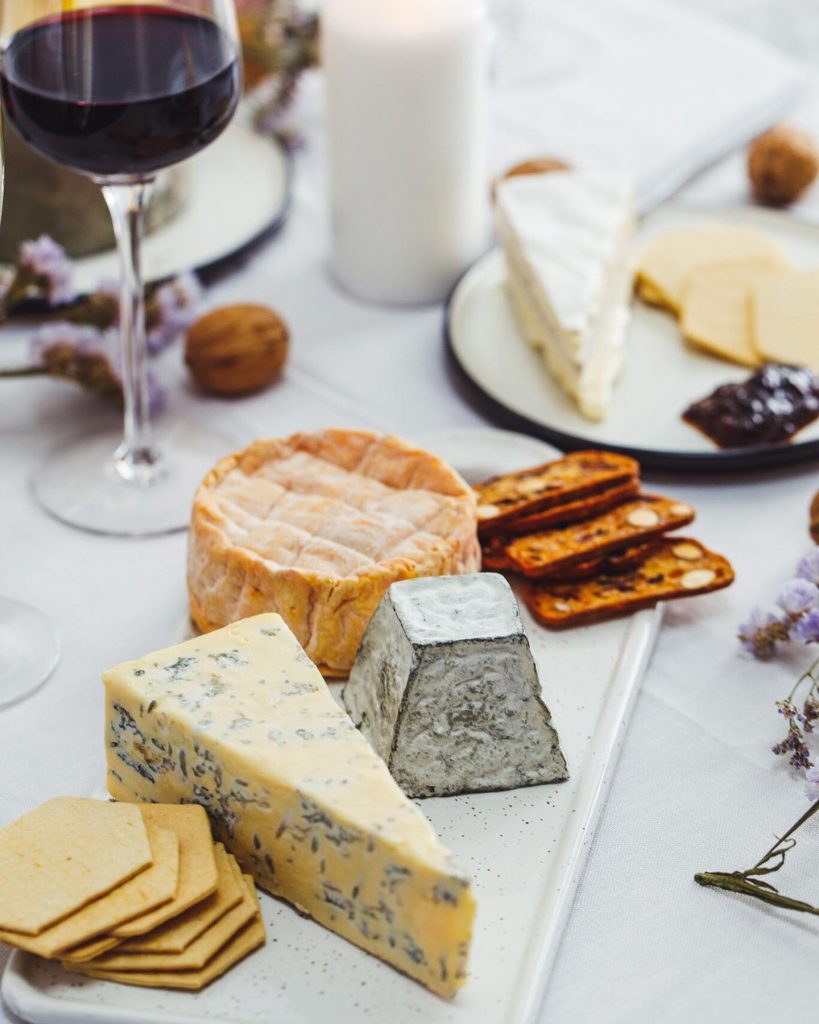 Give the gift of bao this Christmas with one of Tiger Bites Pig's amazing at-home DIY kits. Choose from beef, pork or vegan, and the best part is they will send an e-voucher for you to pass on to the recipient which can be redeemed against the bao kit – so they can choose when to enjoy their delicious gift themselves!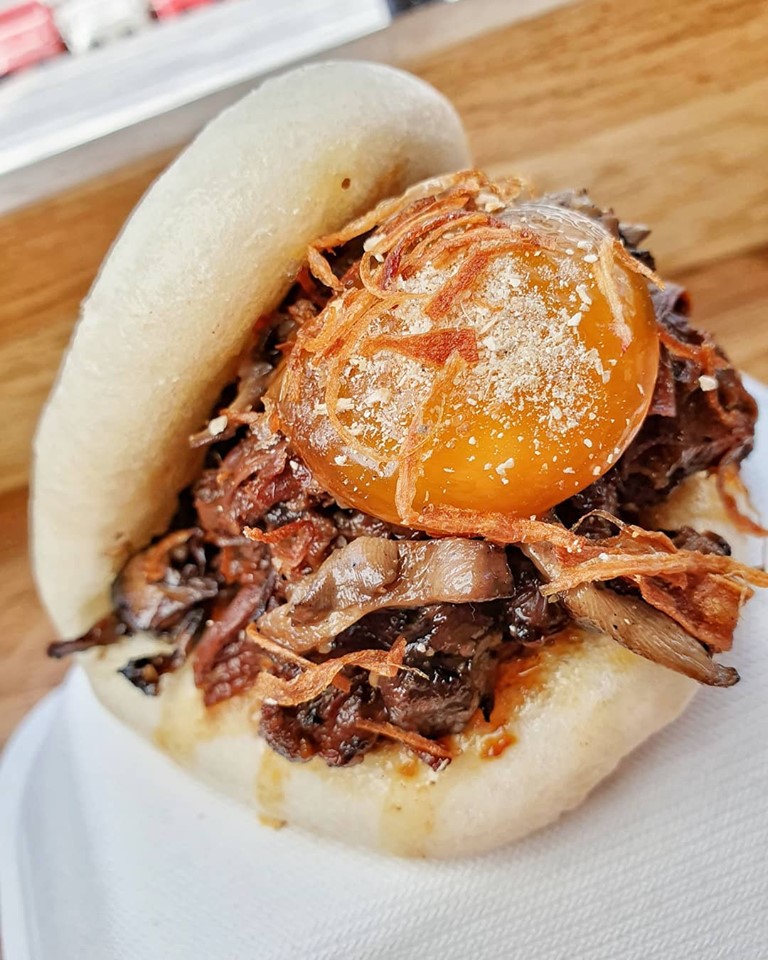 Photo: @thefatfoodieuk
CHEESE, MEAT AND WINE GIFT PACKAGES FROM

ARCH 13

– FROM £30
Arch 13 are known for their amazing cheeseboards, so for the cheese lover in your life this is a no-brainer of a gift.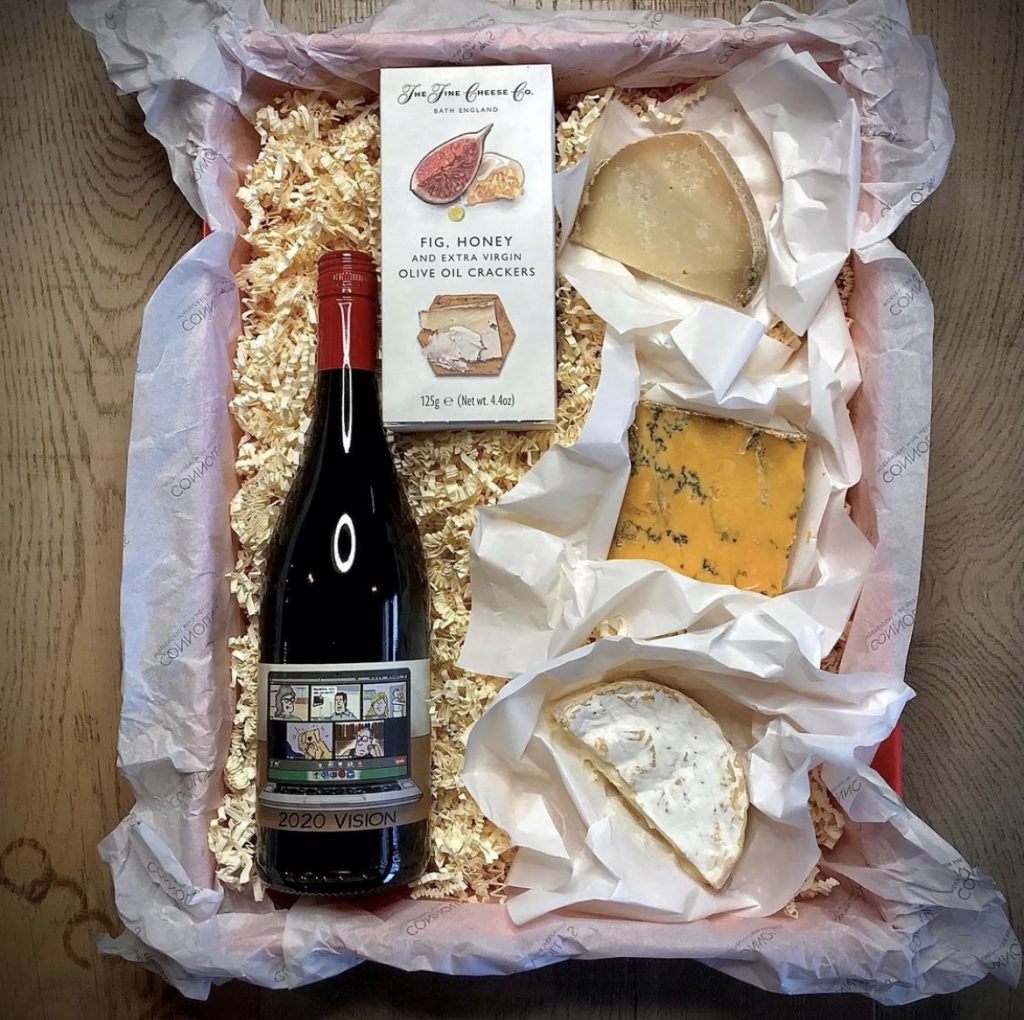 CRACKING YOLKS AND PIG TALES:

GLYNN PURNELL

– £12.50
Glynn Purnell (of the brilliant Purnell's Restaurant) shares his secrets in this cookbook, packed with 110 recipes alongside mischievous anecdotes from behind the closed kitchen doors. A wonderful gift for a budding home cook.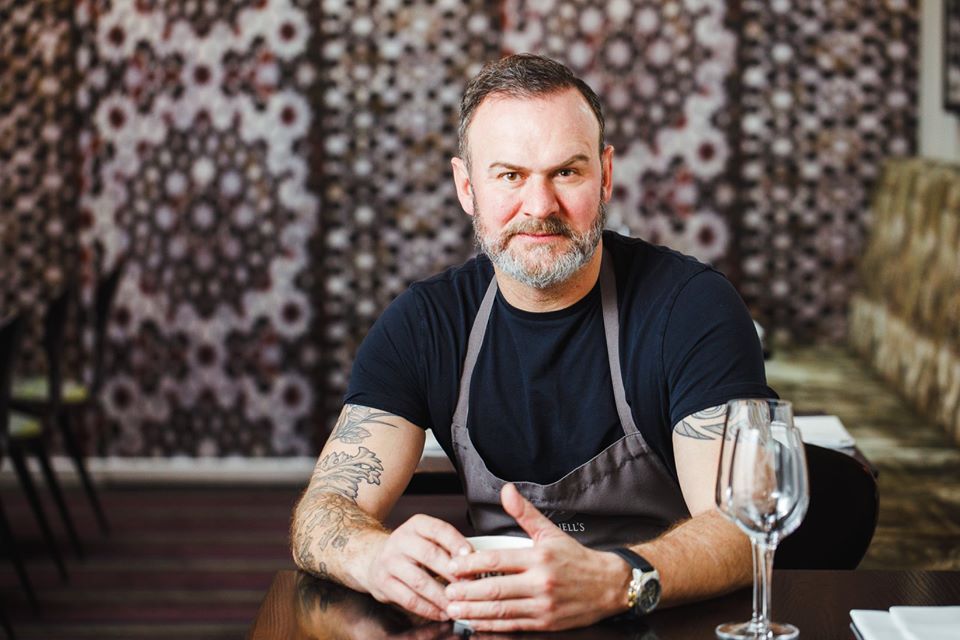 The first run sold out quickly, so chef Brad Carter (of Michelin starred Carter's fame) has created a limited edition deluxe version of his cook book Staff. Staff – Expanded B-sides features extra recipes, extra artwork and extra photographs. A must for foodies everywhere.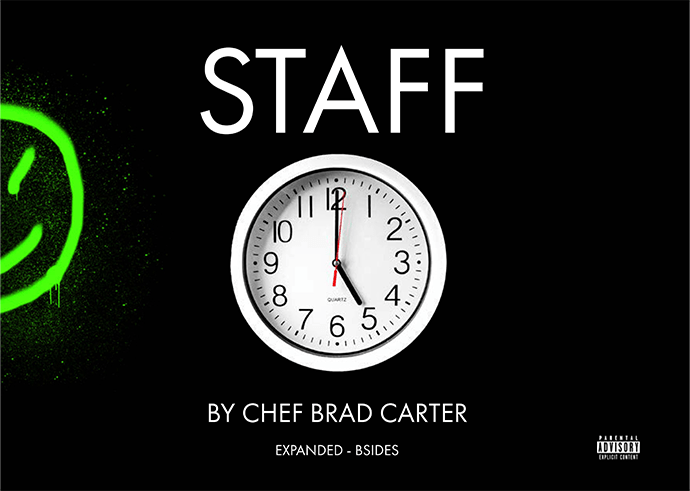 SMALL BATCH SAUCE GIFT PACK:

EPICURIOSITY

– £17
Know someone who loves to add condiments to every meal? One of these gift packs from Epicuriosity would be a fantastic gift. Choose from three different sets: Big Hitters, Pickle Lovers or Spice Lovers.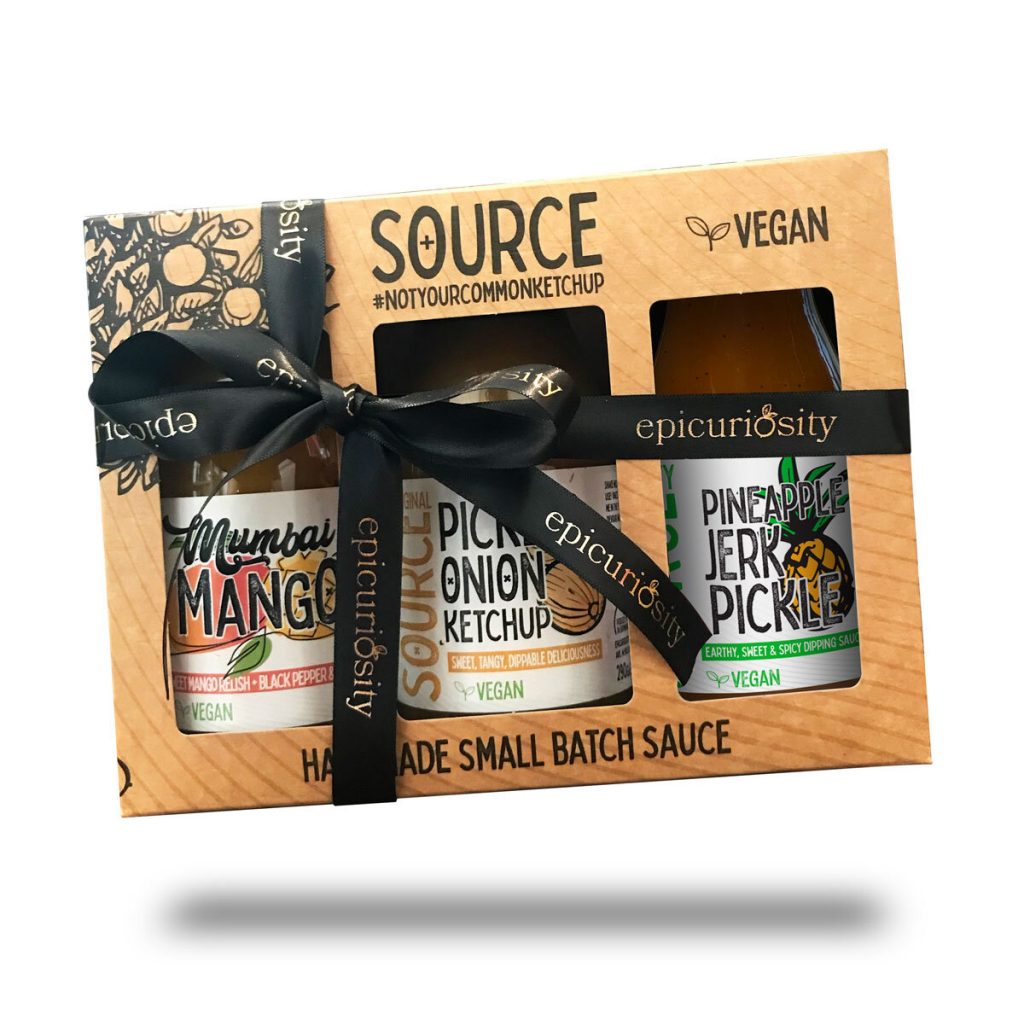 CHOCOLATE MAKING EXPERIENCE AT

THE CHOCOLATE QUARTER

– FROM £26 PER PERSON
For the chocaholic – what could be better than your very own chocolate making experience. Packages for both kids and grown-ups are available.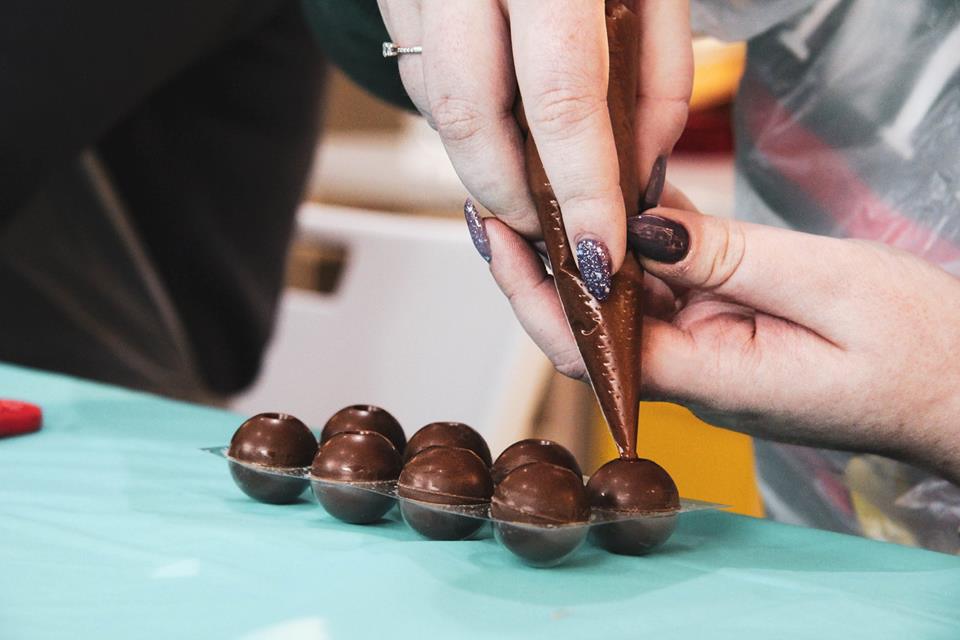 Everyone's favourite fried chicken dive bar also happens to sell some seriously cool merch. For the BoneHead fan in your life.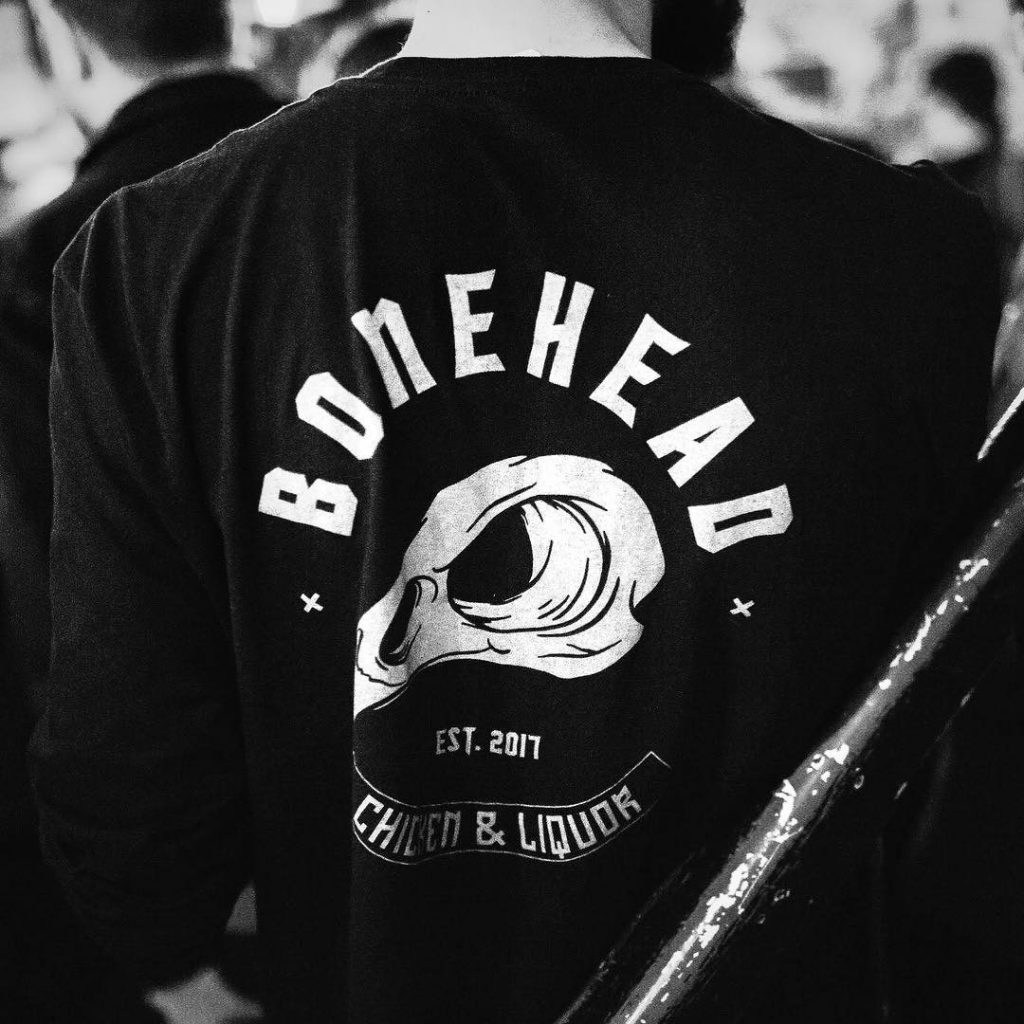 PHOTO: IG: @GREGMILNERPHOTOGRAPHY
ON IT LIKE A SCOTCH BONNET:

SAUCY SEAN'S

– £9.95
Small batch, craft hot sauce – the perfect stocking filler for the daredevil in your life.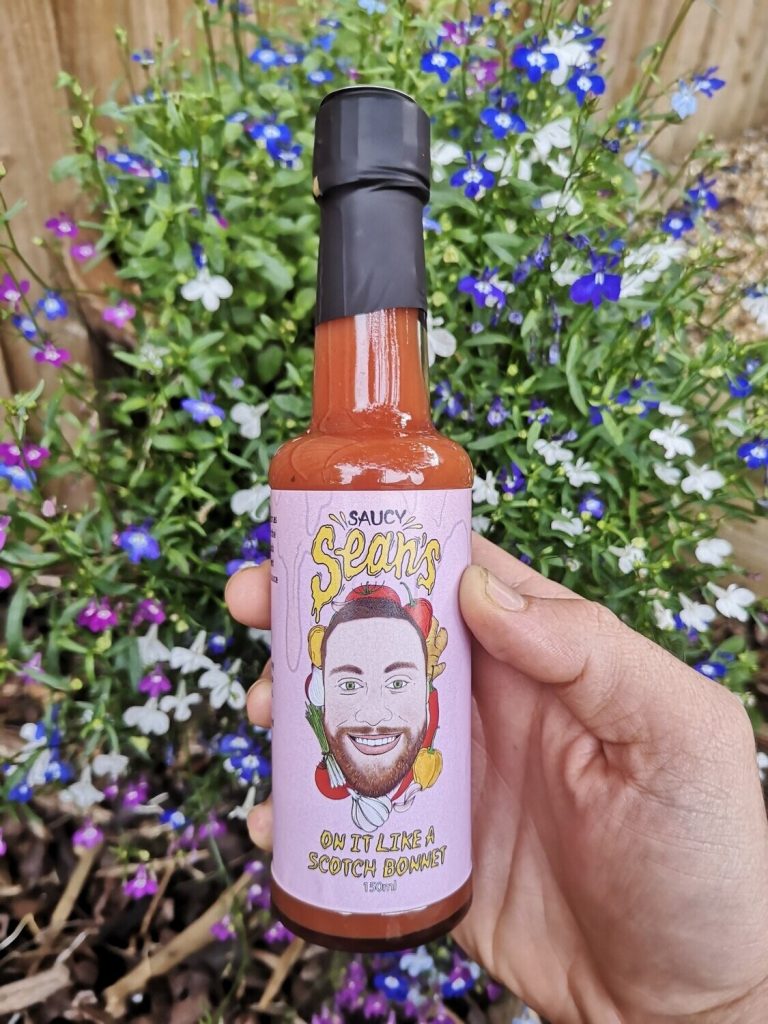 LIL'S PARLOUR

CHRISTMAS RECIPE BOOK – £19.99
This recipe book is a love letter to Christmas. Filled with 15 festive recipes alongside memories of growing up as a working class kid in Birmingham in the 80s and 90s, this is a fun recipe book for a budding baker.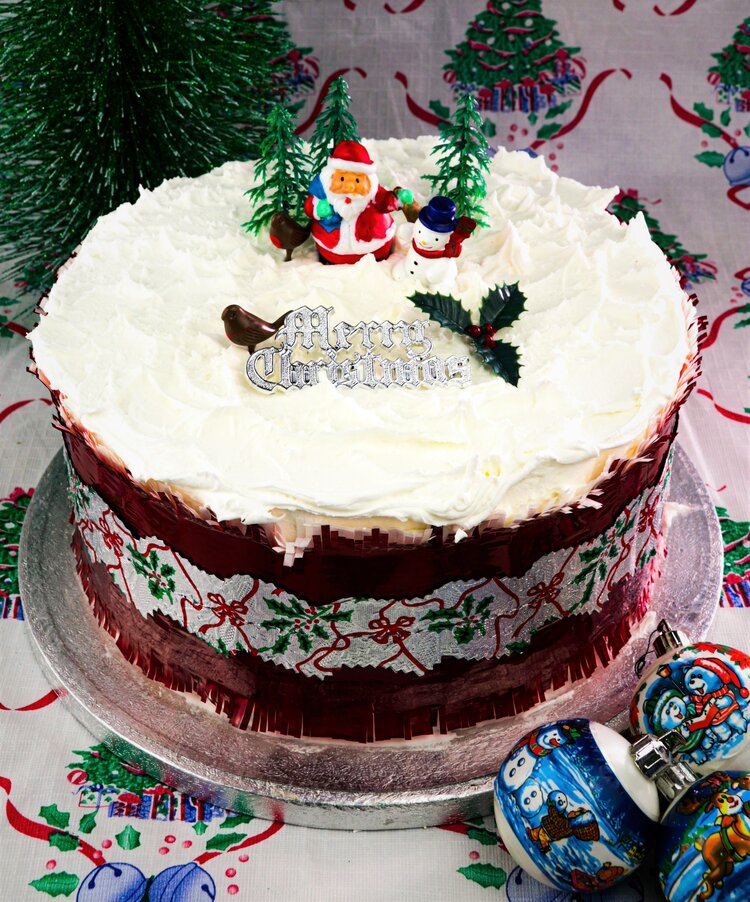 CHRISTMAS BROWNIE BUNDT CAKE:

BEKI'S BROWNIES

– £35
Available for collection only on 22 December from Warwick Market, this absolute showstopper of a cake would make an amazing gift for whoever is hosting Christmas this year.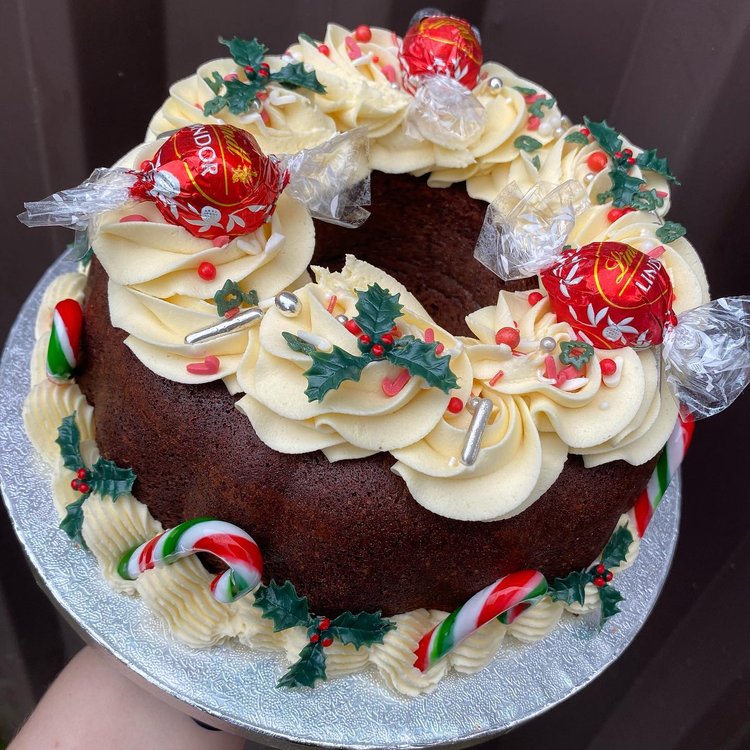 SUSHI MASTERCLASS AT

YAKINORI

– £65 PER PERSON
Know someone who loves sushi? Book them in for a sushi making masterclass at the brilliant Yakinori Solihull for an unforgettable experience learning how to make their favourite food. Start with a Japanese breakfast, followed by a 2-hour class preparing nigiri, sushi rolls, temaki hand rolls, sashimi, maki and futomaki. Enjoy your sushi and finish with a shot of sake!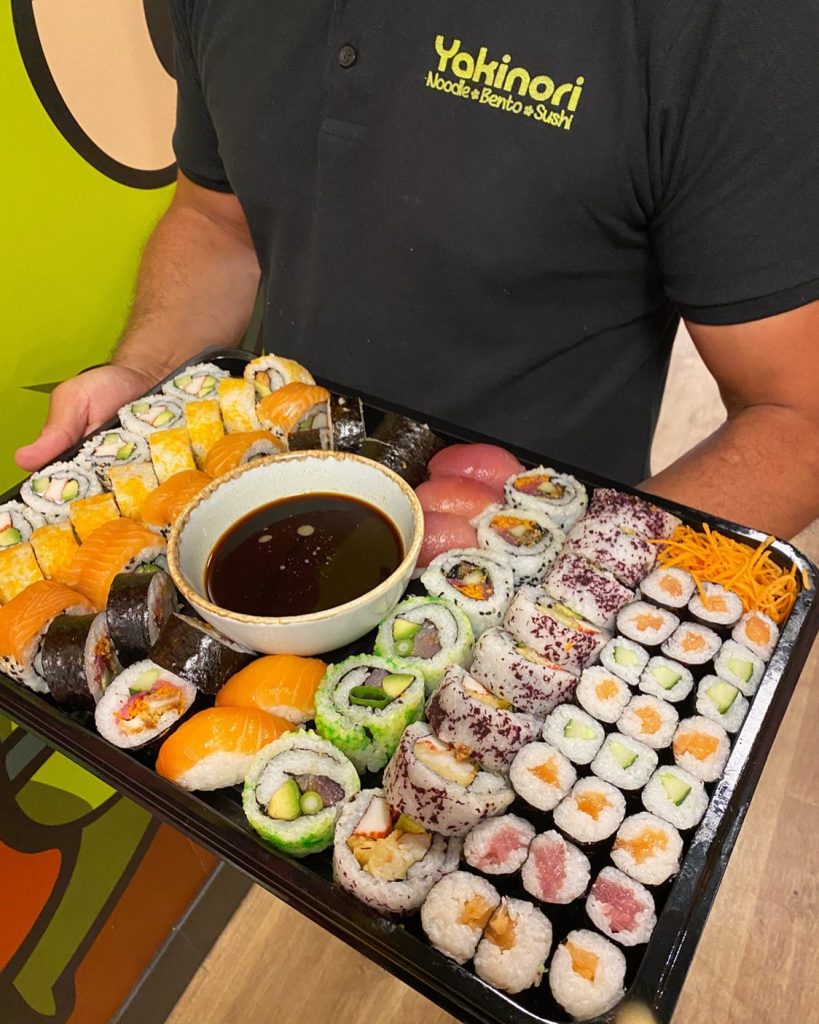 These EPIC cookies from From The Ground Bakery are vegan. Yep, that's right! If you want to spoil a vegan friend this Christmas (or you know, treat yo'self) head down to Red Brick Market in Digbeth to browse their amazing Christmas treats! Or order online and have them delivered to your door.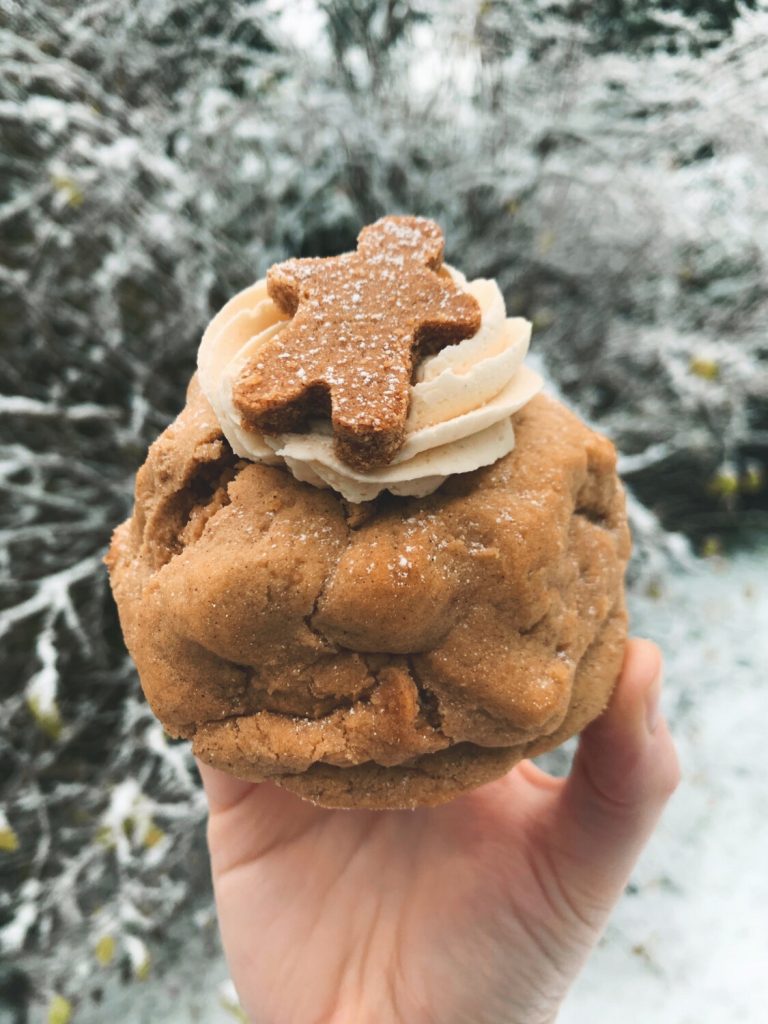 The Early Bird Bakery will be launching their Christmas shop on 1 December. Make sure you head over there to check out the delicious seasonal cakes and bakes available for delivery and in store collection.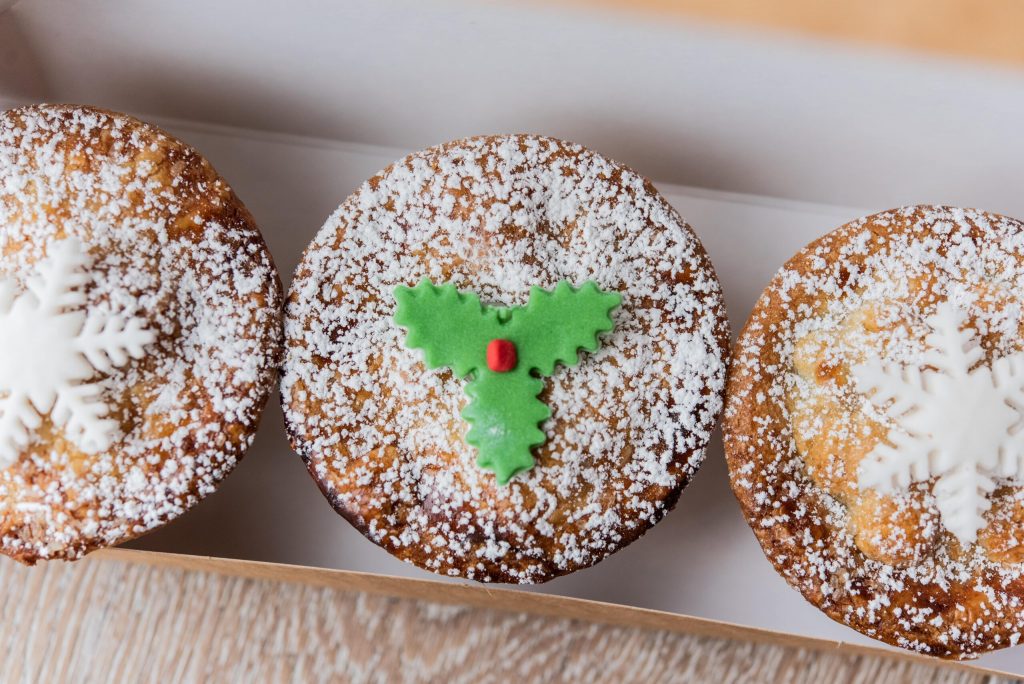 If you're hosting, or want to give a gift to someone who is, a whole cheesecake from the ace Urban Cheesecake is a great idea. Swerve the Christmas pud and go for a decadent cheesecake instead! Collection on 23 December from Hockley Social Club.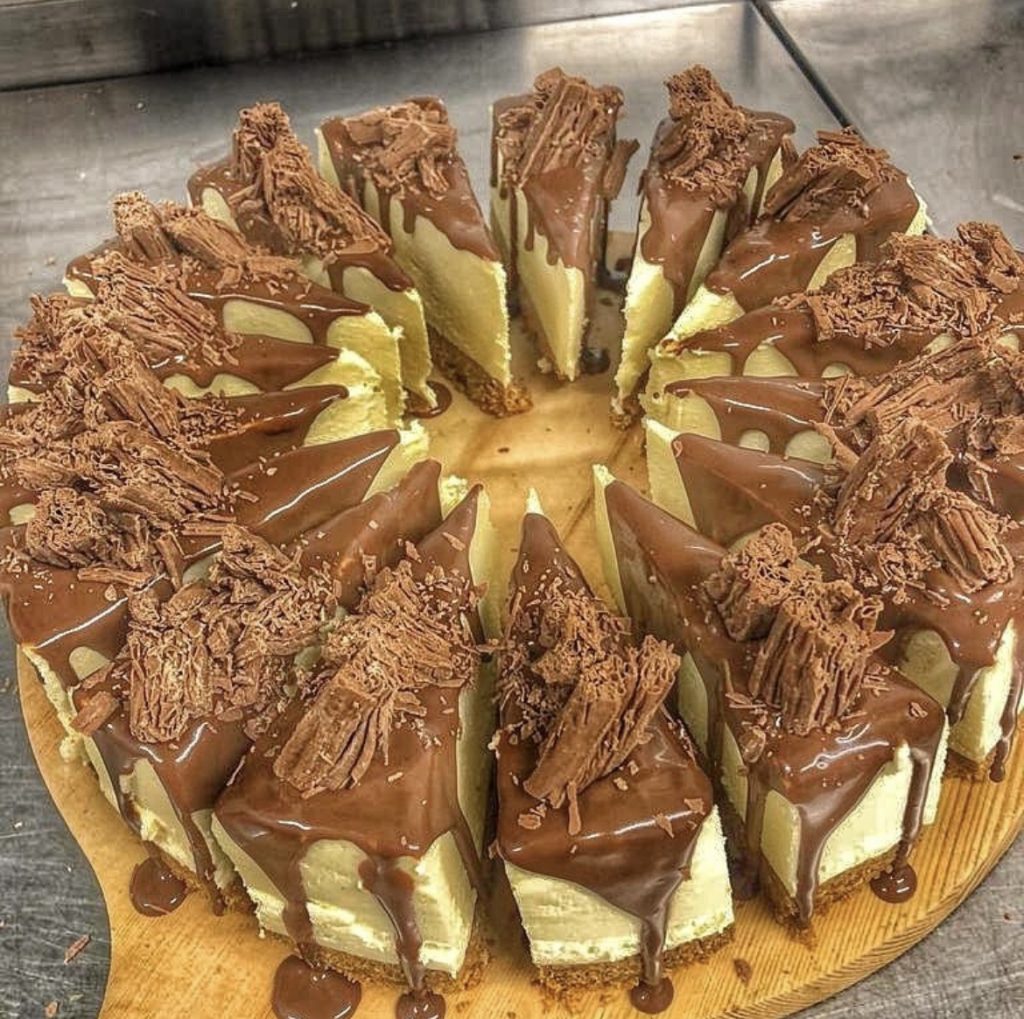 SMALL FESTIVE GRAZING BOX:

NIBBLE AND BITE

– £35
Containing everything you need for a delicious cheeseboard, this festive grazing box is a great gift for a foodie, a host or a cheese lover! There are lots of other grazing boxes available too from Afternoon Tea to brunch and more.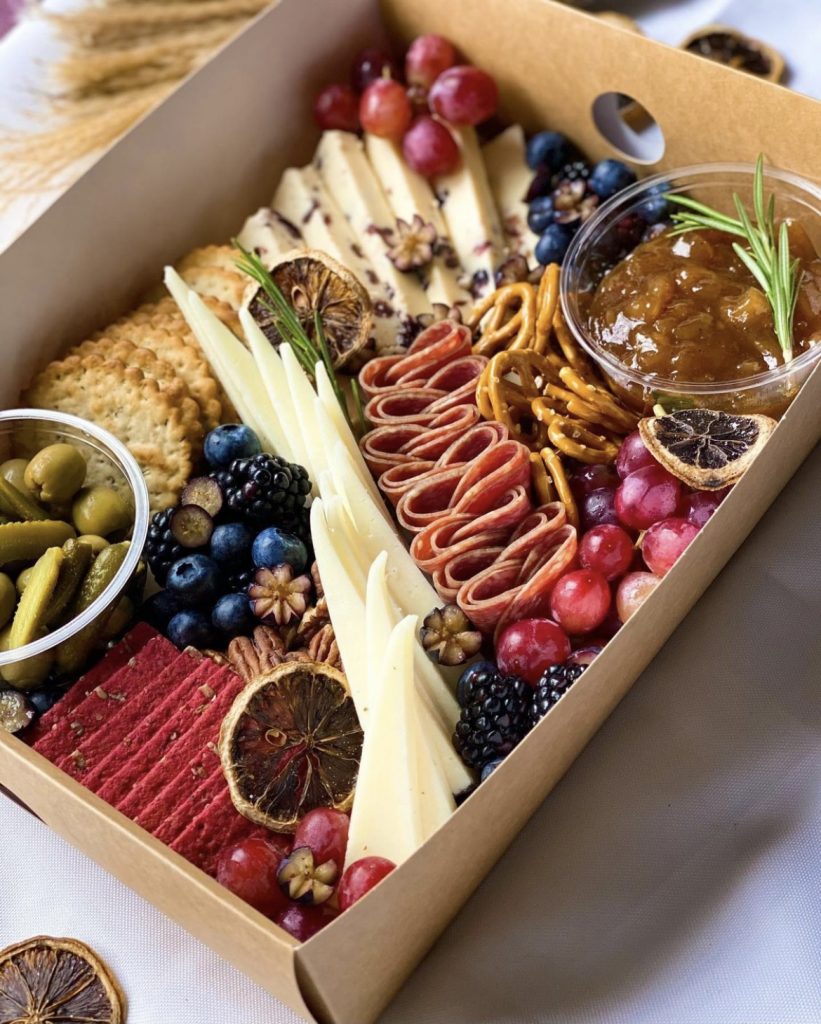 FOR THE DRINKS LOVER
If you know someone who loves their booze, we have some excellent suggestions for you. Whether they love to shake up their own cocktails or they fancy themselves as a bit of a sommelier, we have a gift for them all.
WHISKY TASTING VOUCHER FROM

GRAIN & GLASS

– FROM £60
Know someone who loves whisky? Get them a voucher for a whisky tasting with those in the know and they can up their knowledge and enjoy a fun evening out.
Give the gift of mead this Christmas. This traditional honey-based drink makes a delicious alternative to the usual tipples. The Pineapple Club is the place to go to discover the very best meads on the market and their friendly staff will be more than happy to help you out. Browse their in-store selection to choose the perfect gift.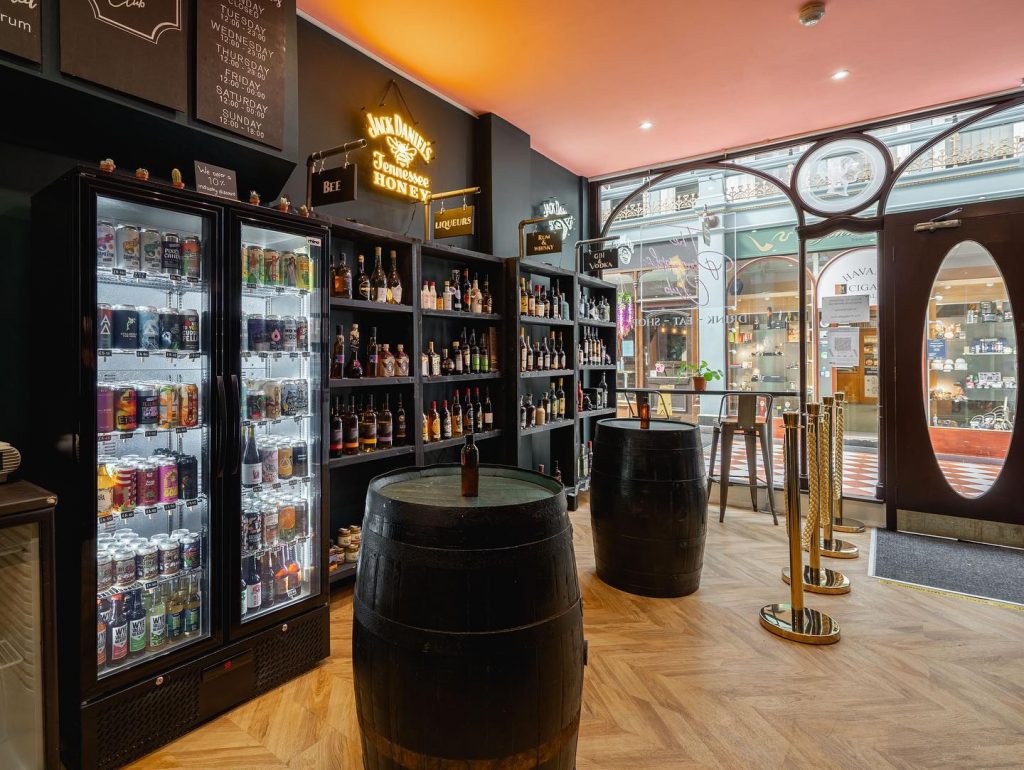 FOR THE WINE EXPERT IN YOUR LIFE WE SUGGEST A

TASTING CARD

FROM LOKI – FROM £5
Know a wine fan? Grab them a gift voucher from Loki, which can be exchanged in store for a tasting card, so they can enjoy the best wines all year long.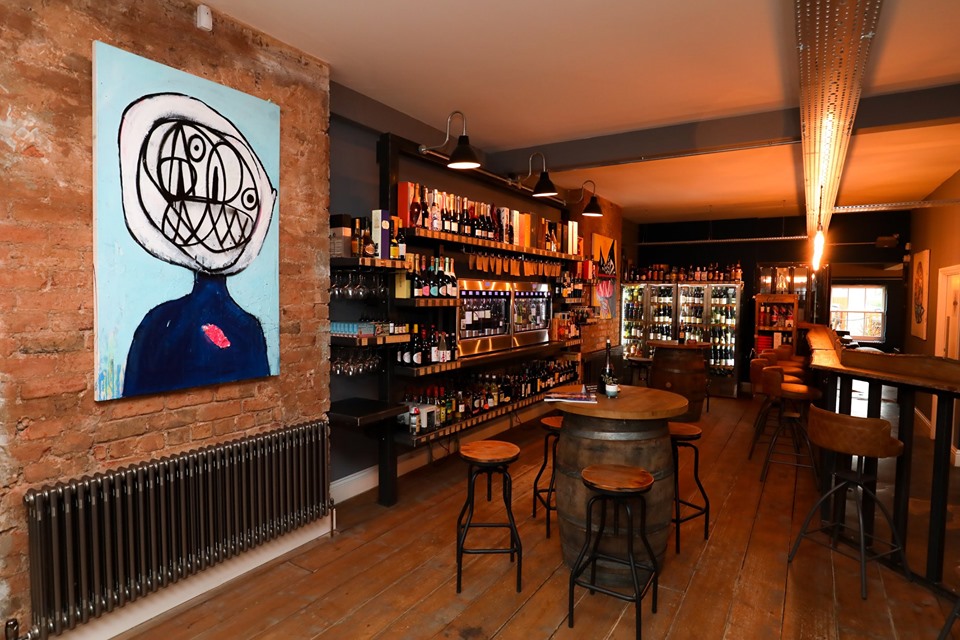 BOTTLED COCKTAILS FROM

FOX AND CHANCE

– 10% OFF WITH YOUR INDEPENDENT BIRMINGHAM APP
Cocktail fan? Grab them some delicious bottled cocktails from Fox and Chance so they can try some tasty tipples.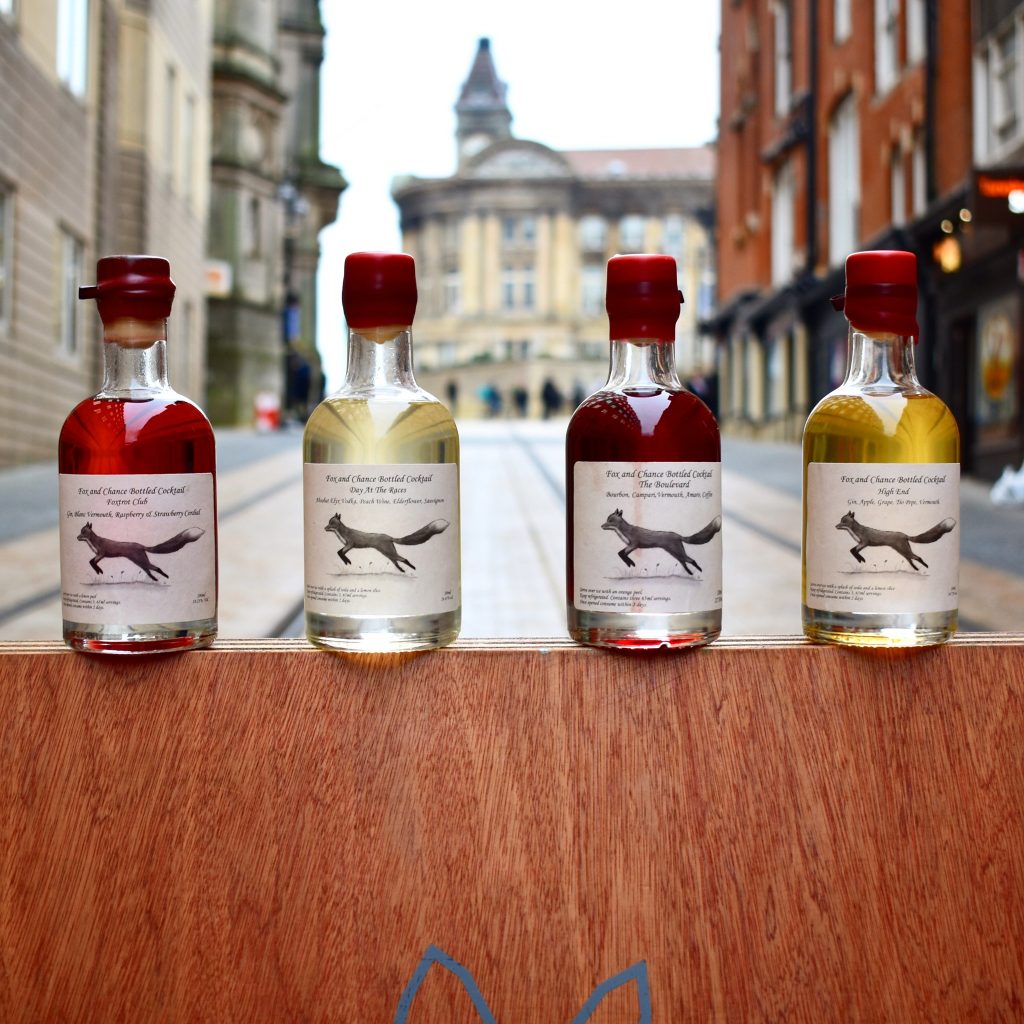 For the craft beer fan, grab them a cool branded pint glass from The Paper Duck so they can enjoy their favourite brews in style.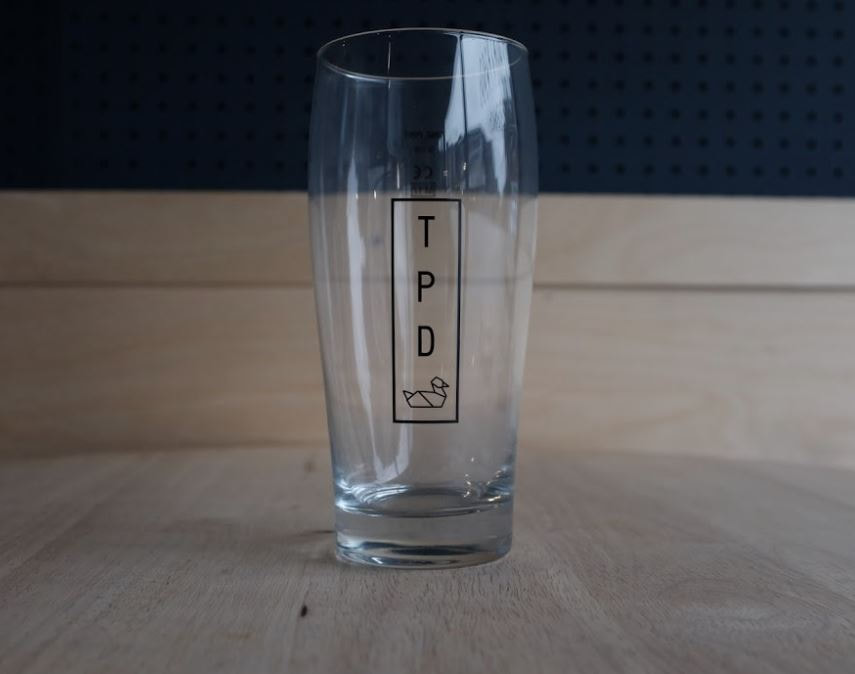 For the cocktail fan on your list, a voucher for next year's Birmingham Cocktail Weekend is sure to put a smile on their face. They can redeem it next July and enjoy a weekend of cocktail based fun!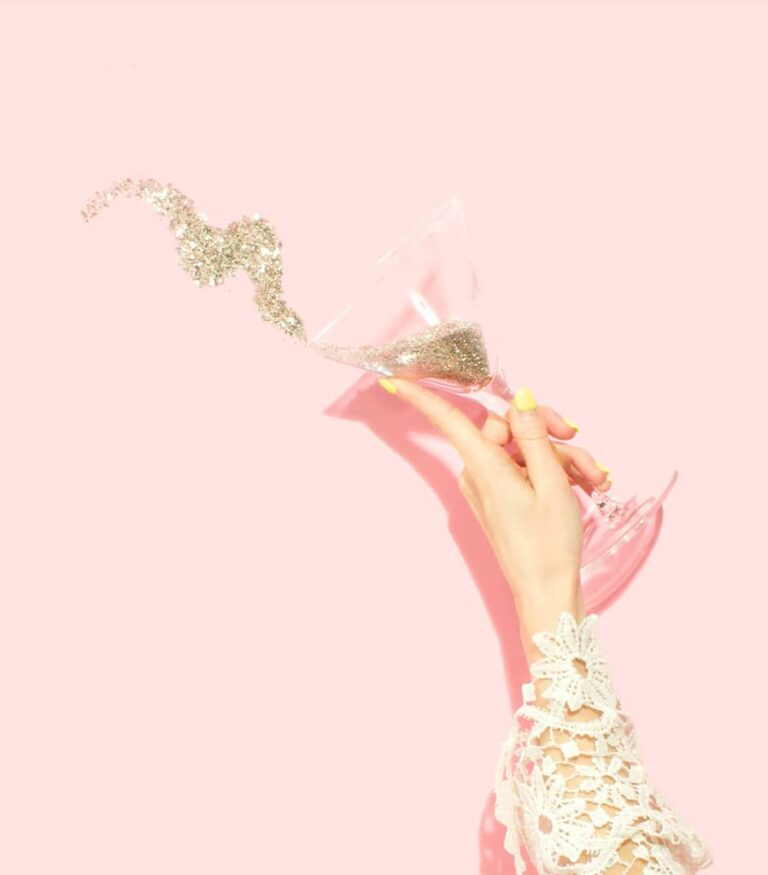 WINE BY THE BOTTLE FROM

CONNOLLY'S

– FROM £6.11
If your recipient has a favourite wine or likes to discover new ones, head to Connolly's to pick out a fantastic bottle.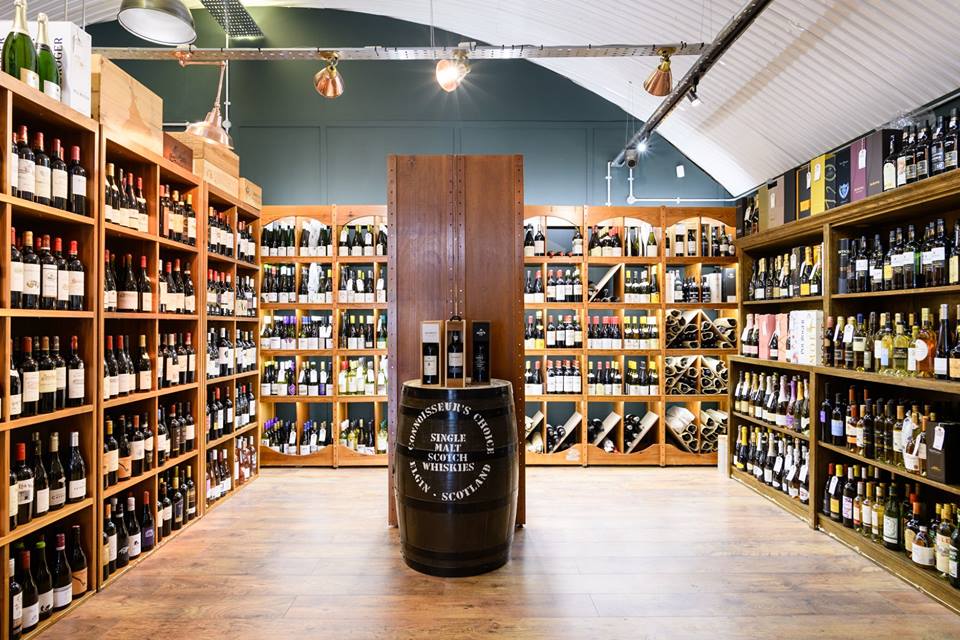 NATURAL WINE BY THE BOTTLE FROM

WINE FREEDOM

– FROM £9
If you know someone who loves natural wine, there's no better place to grab them a gift than the brilliant Wine Freedom.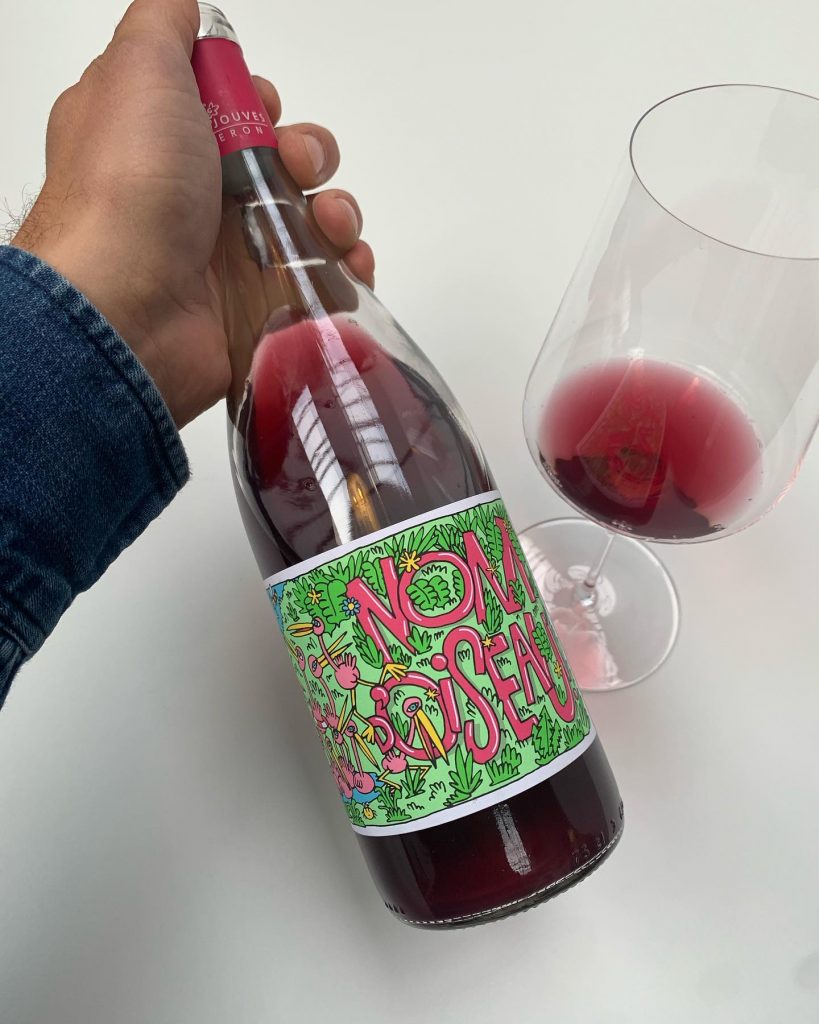 FOR THE CRAFT BEER AFICIONADO HEAD TO

STIRCHLEY WINES AND SPIRITS

TO PICK UP SOME UNUSUAL BOTTLES/CANS – FROM £1.49
Why not pick out a few different cans or bottles for the craft beer lover you know and make up your own little craft beer hamper. Head to Stirchley Wines for an unrivalled selection.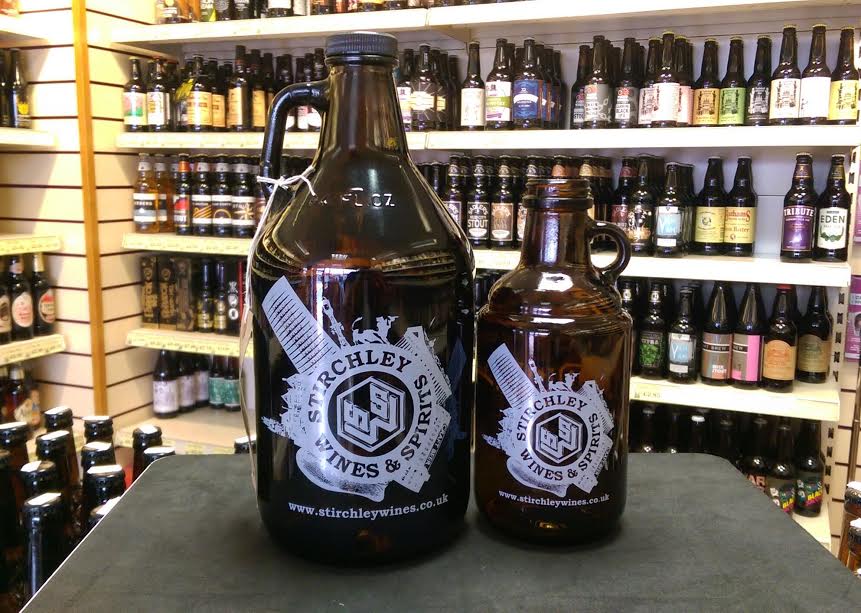 We love it when gifts come ready packaged for us – it takes out all the hard work. This is the ideal gift for a craft beer fan.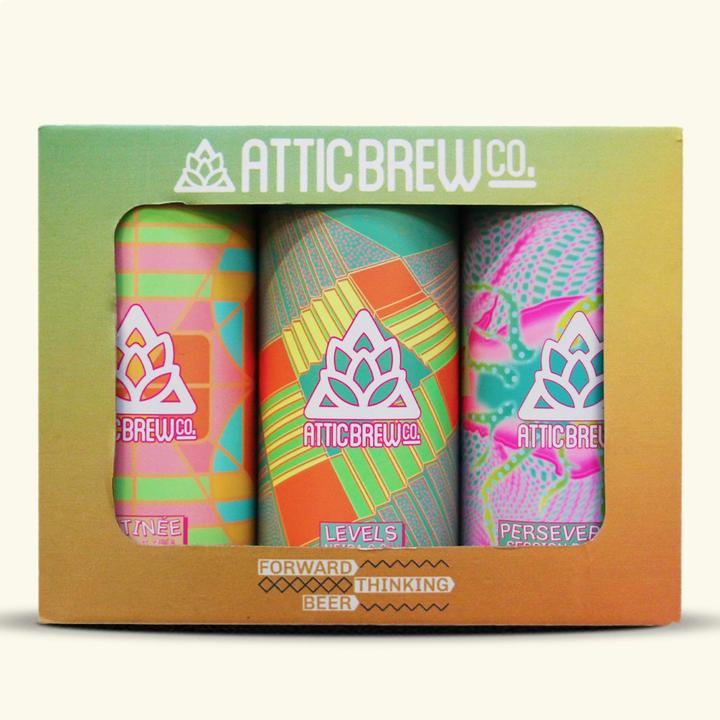 Know someone who loves Burning Soul? Get them a t-shirt so they can rep their favourite brewery wherever they go. Also available in black and purple.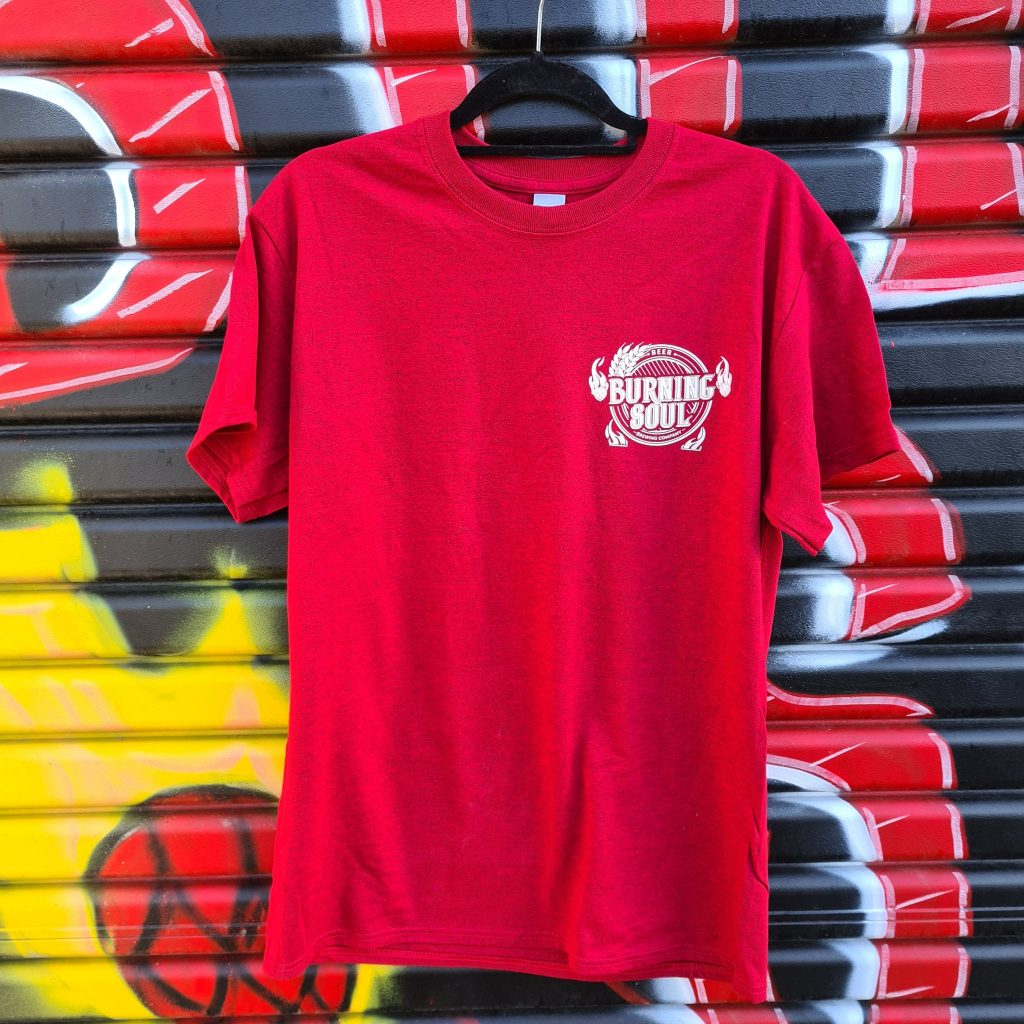 BLACK HONEY FROM

IKIGAI

– £36.50 (FOR 4 SERVES)
If you know a cocktail lover, why not treat them to some delicious cocktails from Ikigai that are ready made so all they need to do is chill and then pour out over ice. Ready in seconds. Our pick is Black Honey – a delicious mix of Lang's Banana Rum, Honey, Molasses and Giffard Banane de Brazil.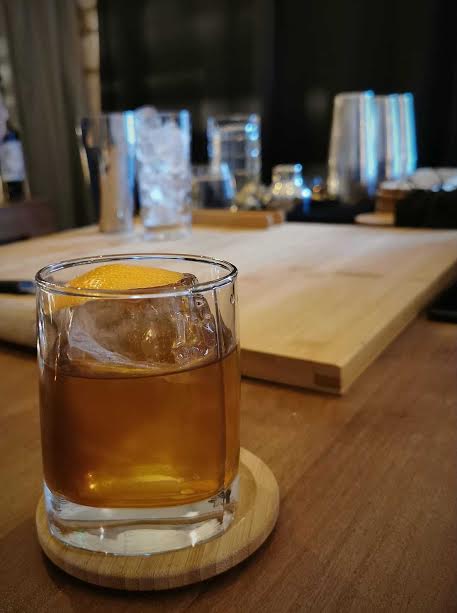 COCKTAIL MASTERCLASS AT

THE VICTORIA

– £25 PER PERSON (MINIMUM OF 2 PEOPLE)
If you know a cocktail fanatic who'd like to brush up on their skills, or someone who just loves a tipple or two, what could be more fun than a cocktail masterclass with the pros at The Victoria?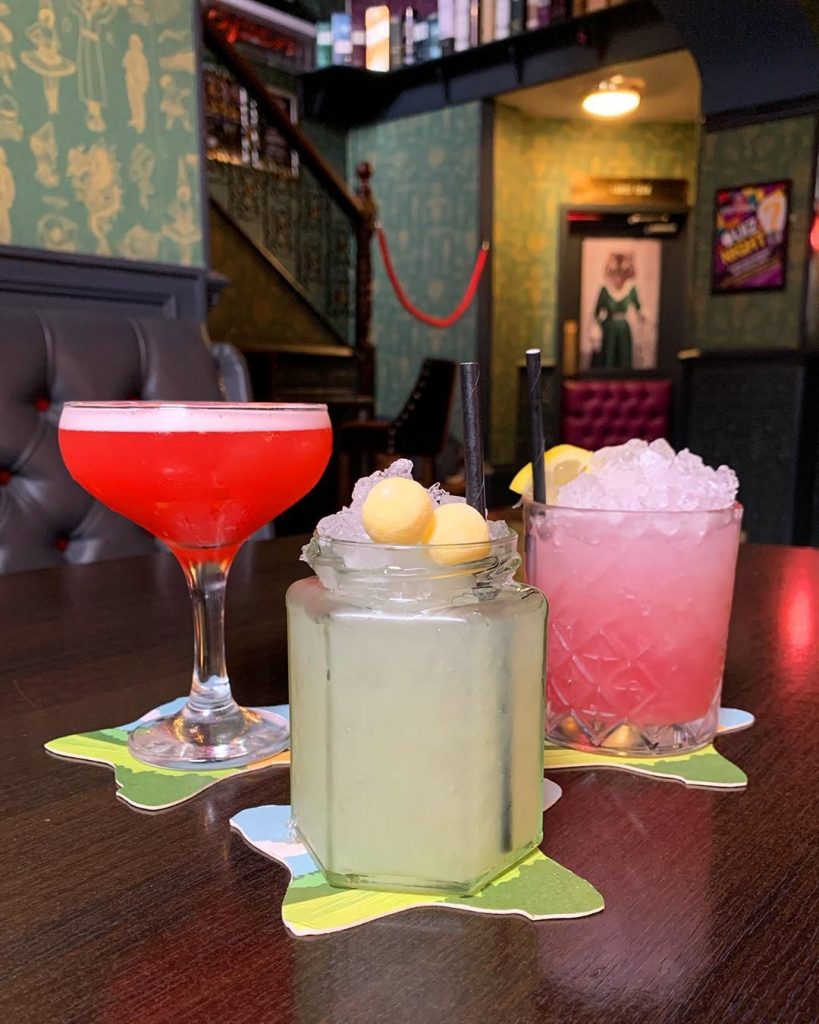 Christmas beer? What's not to love! The perfect stocking filler for a craft beer fan. Fun and festive (and tasty).
FLIPPED TO DEATH T-SHIRT FROM

TILT

– £20
If you know someone who loves heading to Tilt for all things craft beer, coffee and pinball – grab them some merch like this fun T-shirt and they'll be very happy on Christmas morning.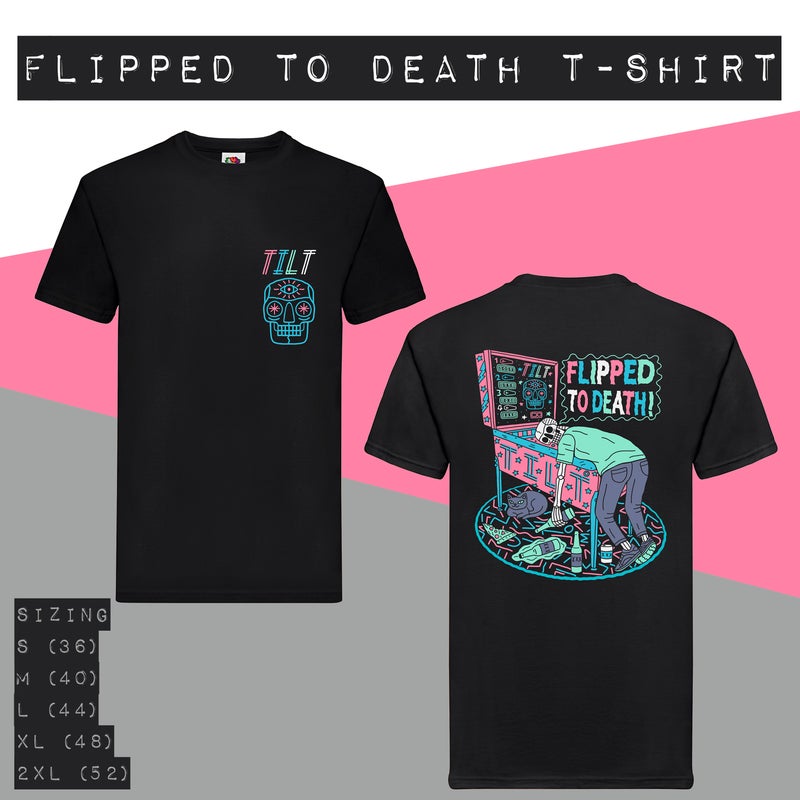 GIN, CHEESE AND CHOCOLATE TASTING AT

40 ST PAUL'S

– £30 PER PERSON
Three of our absolute favourite things, all in one. In this tasting, five gins are expertly paired with award winning cheeses and hand made chocolate truffles. The experience lasts for 2 hours. Email to enquire.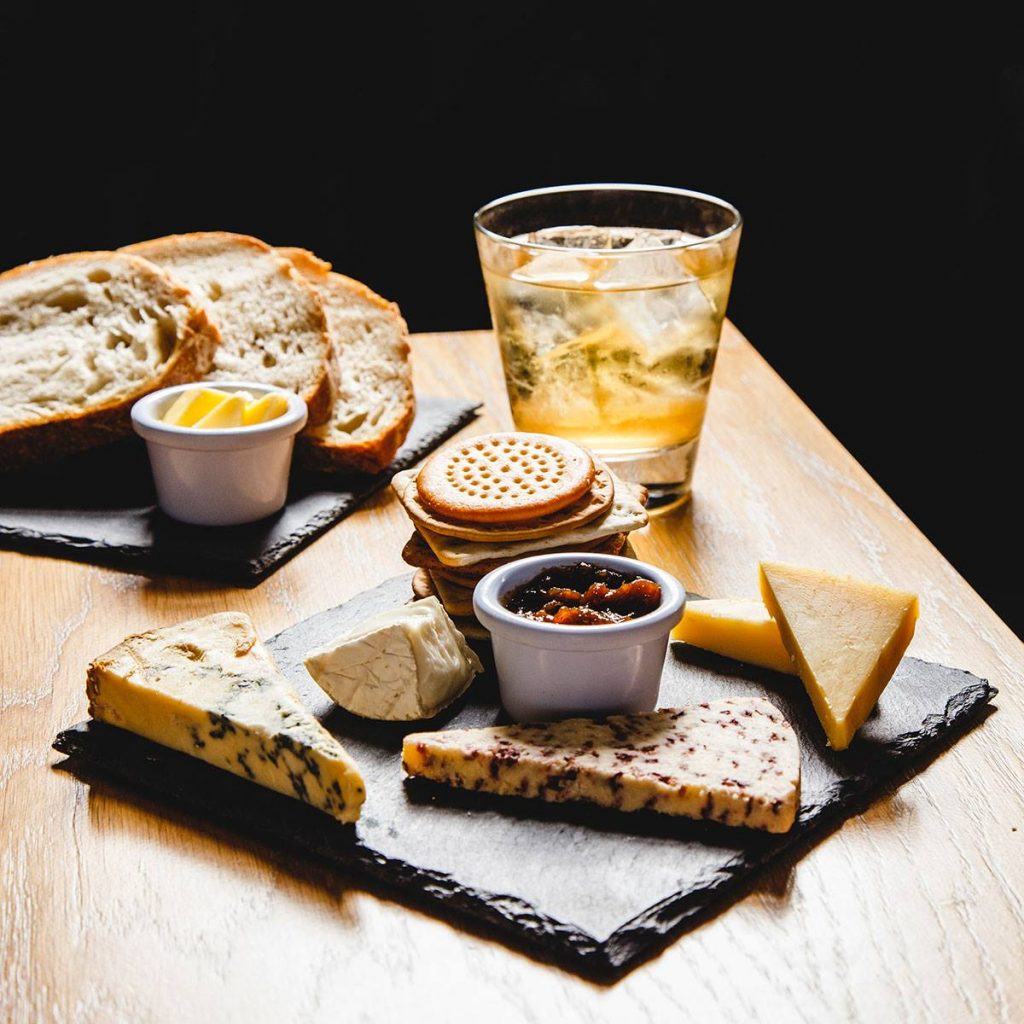 BOOK A BREWERY MASTERCLASS AT

SOMMAR BREWERY

– £25 PER PERSON
If you know someone who truly loves beer, book them a 2 hour masterclass, where the guide will take them through the history of beers, the brewing methods and how to pair them with food. A wonderful experience for a beer lover.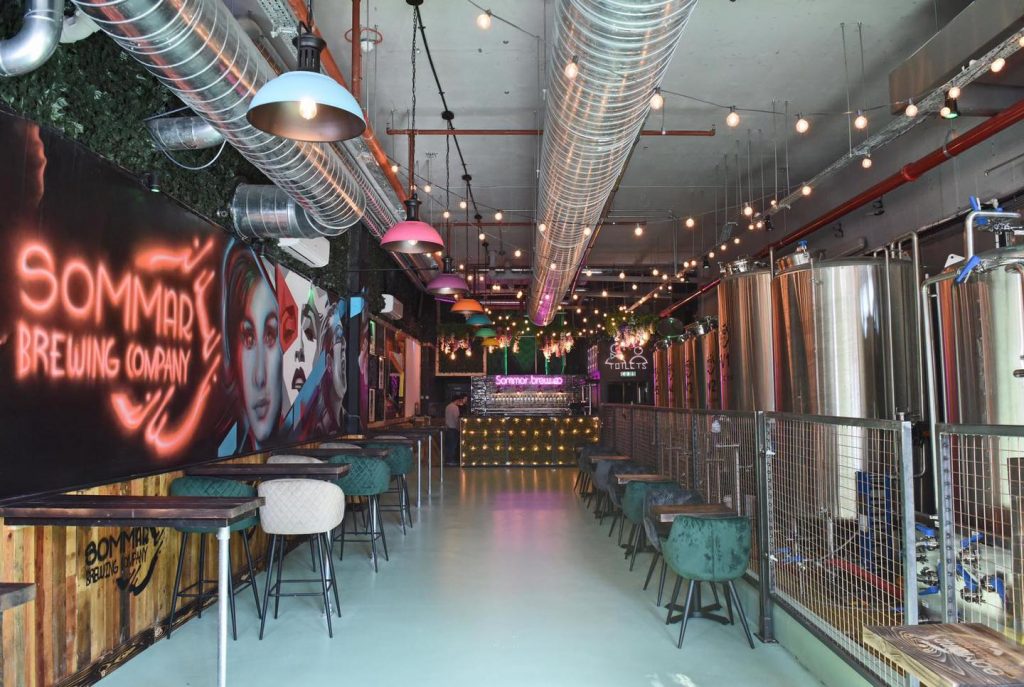 A great little gift for someone who likes rum, this gift set contains three 5cl bottles of Burning Barn Rum (1 each of Spiced Rum, Smoked Rum and Honey And Rum Liqueur). Help them discover their new favourite rum!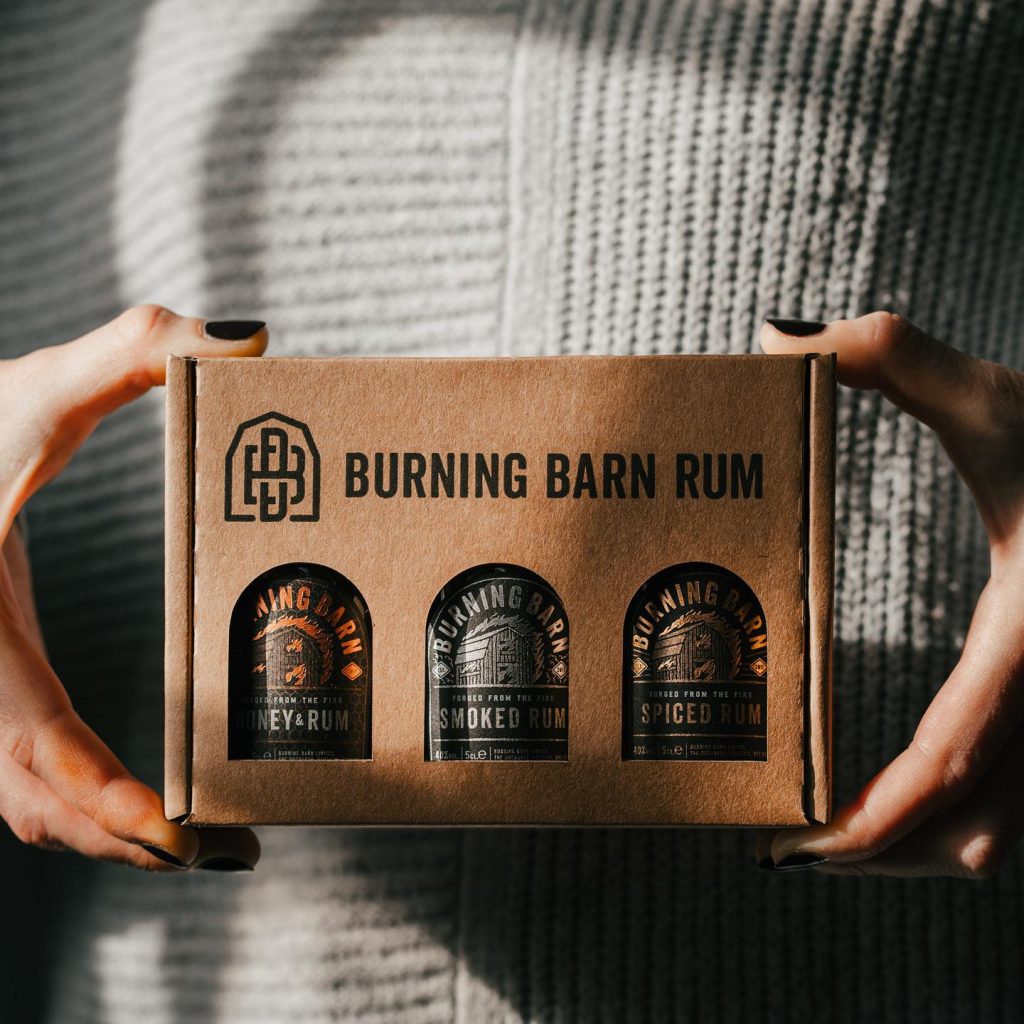 FOR THE COFFEE LOVER
We all know someone who can't function before their first (or maybe third) coffee in the morning, who frequents the city's finest coffee shops in search of that perfect cup. If this sounds familiar, here's our pick of the best gifts for a caffeine lover.
INDEPENDENT COFFEE GUIDE – NORTH, MIDLANDS AND NORTH WALES:

WAYLAND'S YARD

– £9.95
The Wayland's Yard online store is packed full of gifts that any coffee lover would be thrilled to receive, but we've chosen this lovely book – the ideal gift to help your coffee loving friend in their quest to discover the very best coffee around.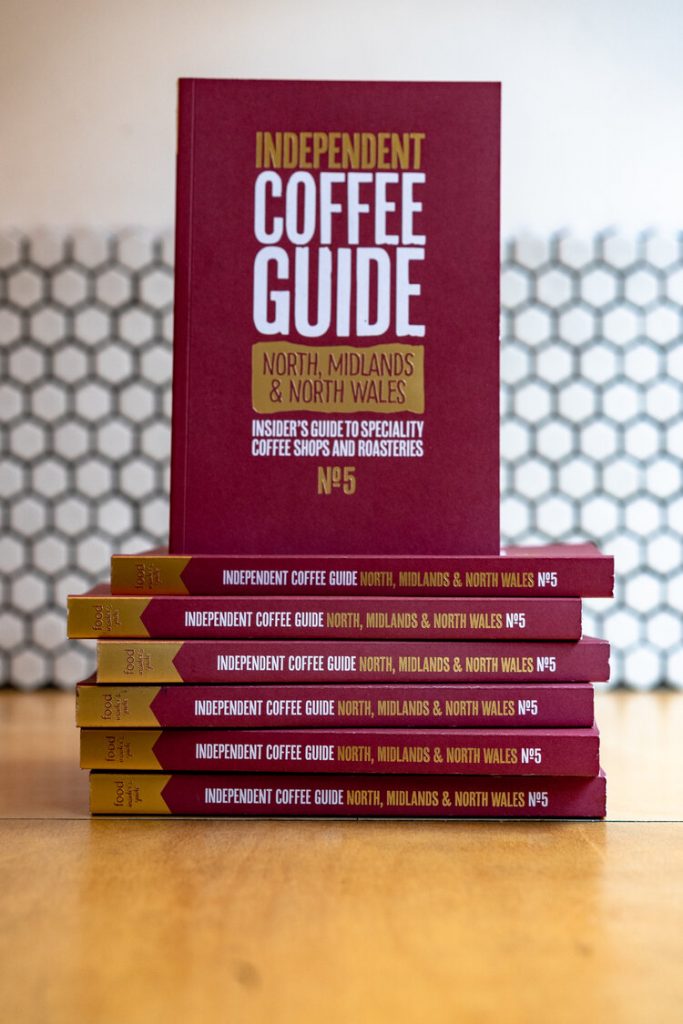 BAGS OF COFFEE FROM

Ū:WHO

– FROM £6.50
Coffee lovers will be thrilled with a bag of their favourite roast (or a new one to try) under the tree on Christmas morning. ū:who offer coffee subscriptions too.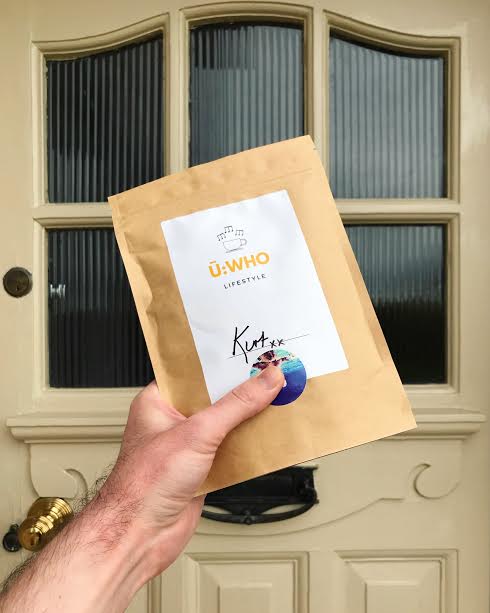 TWELVE DAYS OF COFFEE GIFT SET FROM

QUARTER HORSE COFFEE

– £50
Coffee obsessed? Get them this gift set from Quarter Horse for ultimate coffee enjoyment.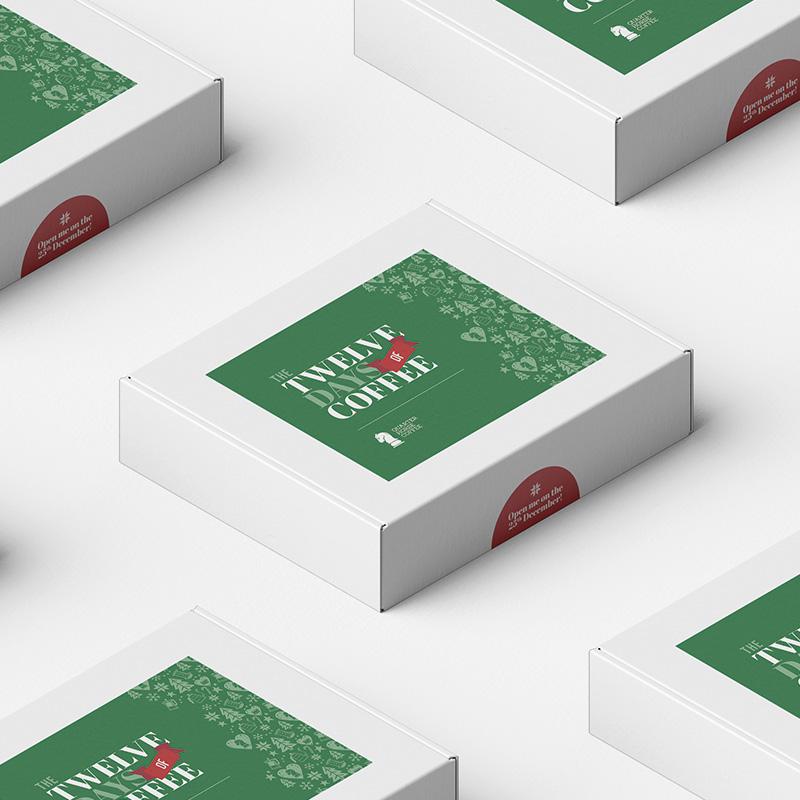 BAGS OF COFFEE FROM

FACULTY COFFEE

– PRICE IN STORE
The brilliant Faculty Coffee always have an ever-changing selection of coffees to purchase in store. Head to their shop to see what's on offer.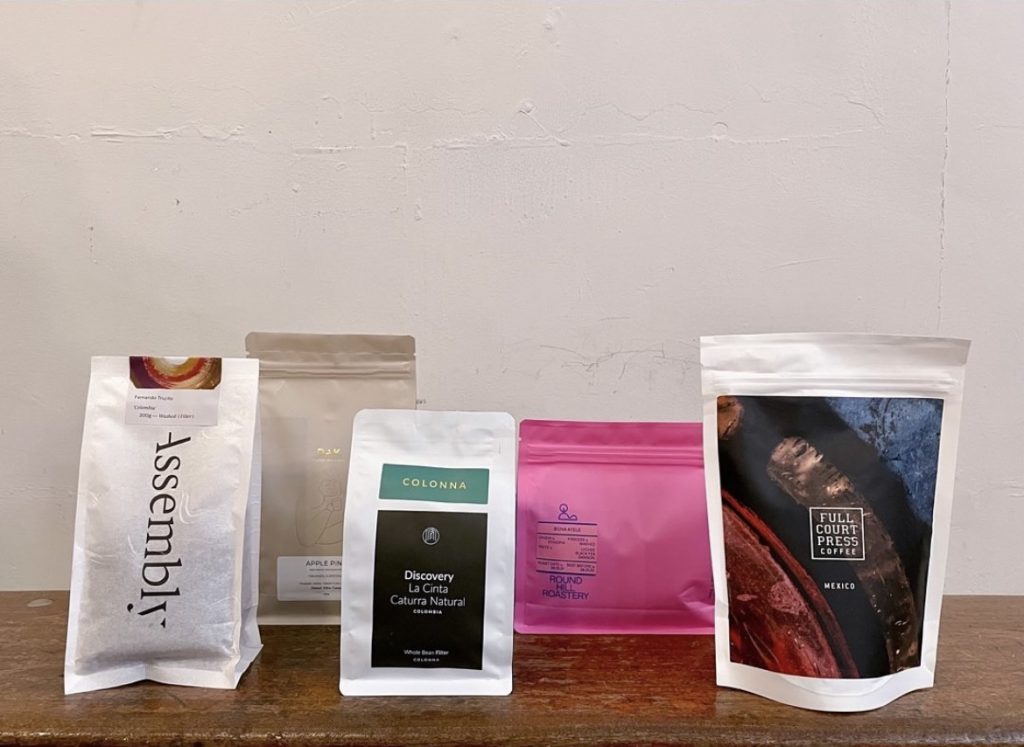 SELF CARE GIFT SET FROM

NGOPI

– £20
The ultimate coffee gift set, packaged and ready to slip under the tree, featuring soaps made from coffee grounds, a coffee scented candle and 5 different coffees to try.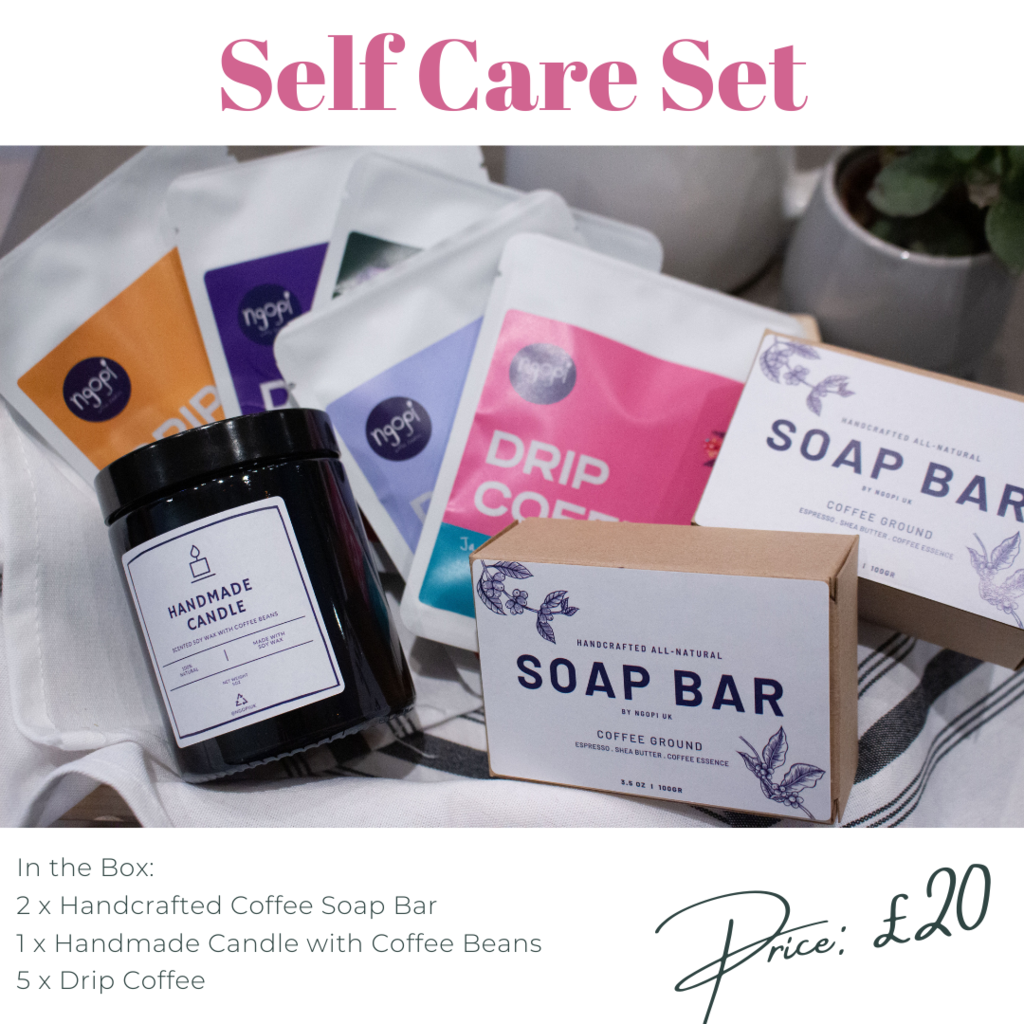 FRIEDHATS COFFEE GIFT SET FROM

THE COFFEE BAR

– PRICE ON REQUEST
This gift set curated by the coffee aficionados at The Coffee Bar will blow the minds of your coffee loving friends. Other coffee gift bundles are available too – go visit them in store to discover more.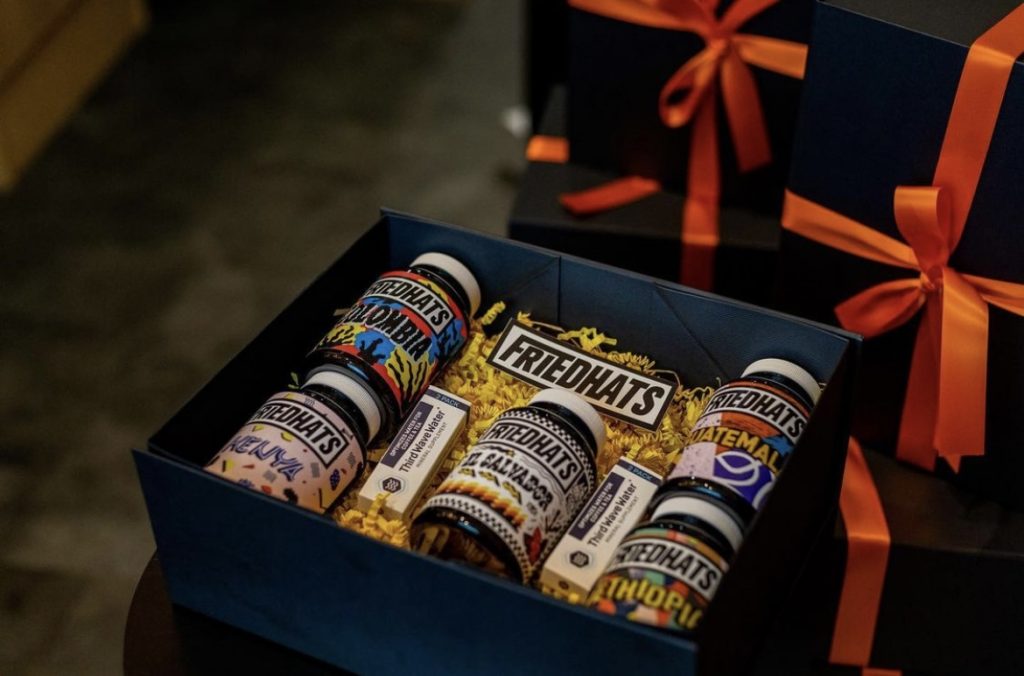 FOR THE CULTURE VULTURE
Is there a special someone in your life that loves to go the theatre, is always catching the latest exhibitions, or loves their music? Well, we have some ideas to make their Christmas the best one yet. If you have someone on your list who loves all things culture, then choose one of these gifts for them and show them how much you care.
TICKETS TO

THE NUTCRACKER

BY BIRMINGHAM ROYAL BALLET AT BIRMINGHAM HIPPODROME – FROM £30
There is nothing quite as magical at this time of year than watching the incredibly talented dancers from Birmingham Royal Ballet performing The Nutcracker. It's a Christmas classic and a truly unmissable show.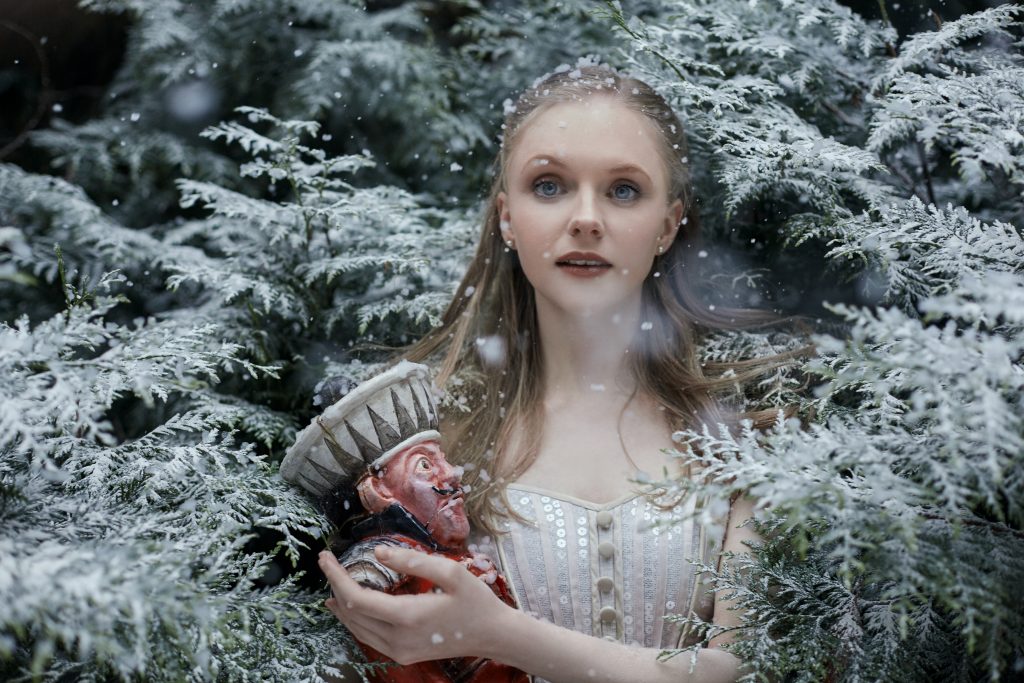 PHOTO: BELLA KOTAK
If you know a theatre lover, a membership to Birmingham Hippodrome is a wonderful gift. Memberships come in different levels and start at £50. Perks include discounted tickets, priority booking and invitations to special events.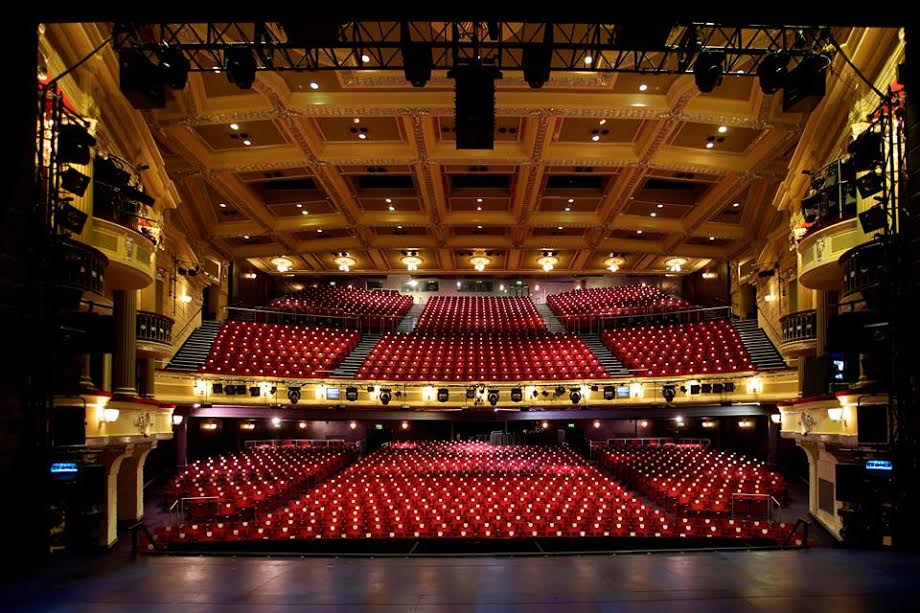 Sponsoring a seat at The REP is a thoughtful gift for a theatre fan and helps ensure the future of this wonderful theatre. You choose a message to be added to your plaque, which will be proudly displayed on your seat for the next ten years.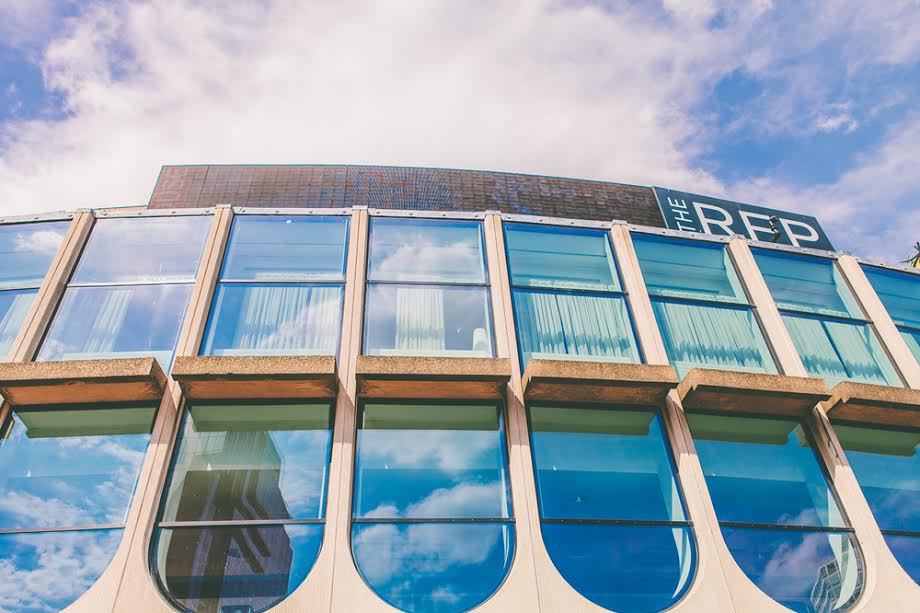 PHOTO: DAVE MUSSON
For the arts fan in your life, a membership to MAC is a great gift starting at just £25, and includes priority booking to best-selling shows, subscription to the MAC Friends' newsletter, a limited-edition pin badge and an annual Friends' social.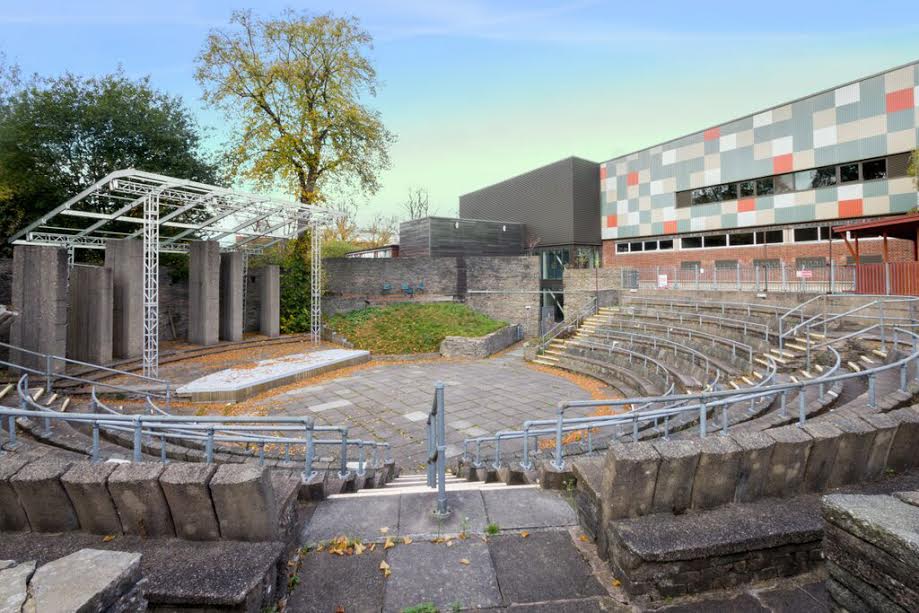 LOVE THEIR MUSIC? HEAD TO A LOCAL RECORD SHOP SUCH AS

SWORDFISH RECORDS

AND PICK UP SOME UNUSUAL RECORDS FOR THEM – FROM £3
For the music fan in your life, there's nothing like hunting down a hard to find, limited edition record – or picking up something to add to their growing collection. Either way, Swordfish Records is the place to go.
If you know someone who's into art, there's no better place to find the perfect gift than Ikon Gallery Bookshop. They have all manner of books on all things art and artists, as well as a lovely selection of gifts.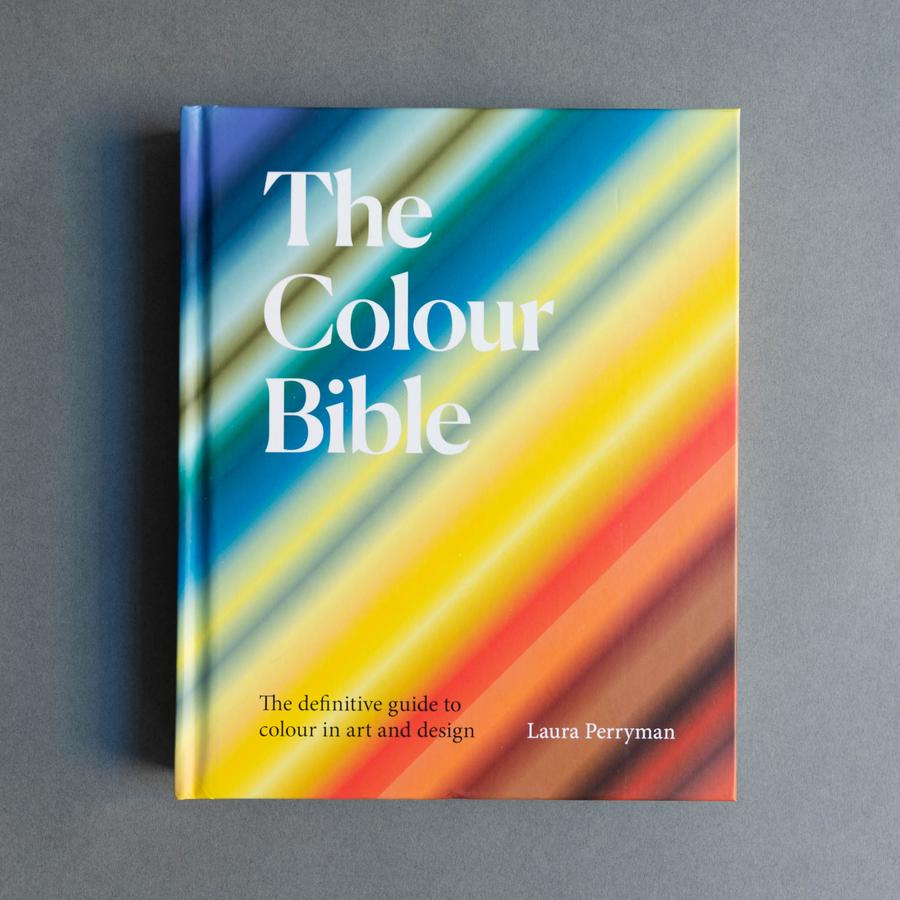 WALK BIRMINGHAM

BOOK BY BIRMINGHAM MUSEUM AND ART GALLERY – £9.99
If you know a keen walker or a history lover, this book is a great gift. Filled with 20 glorious walks around Birmingham designed to help you experience the city's history.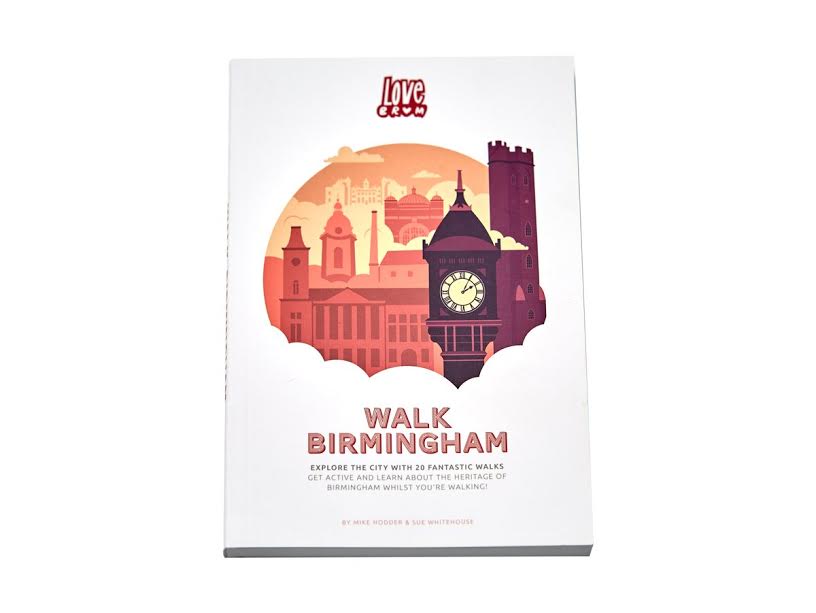 FOR THE JEWELLERY WEARER
Looking to buy something for a loved one who loves wearing jewellery? Well we have suggestions for them too. Whatever their style – classic or quirky, minimal or maximal, there's a great suggestion out there. From chic and timeless, to fun and vibrant, here are some great local jewellery makers.
ENGRAVABLE ART DECO PENDANTS:

V BY LAURA VANN

– FROM £79
V By Laura Vann make beautiful art deco-inspired jewellery, including these stunning pendants which can be engraved on the back for that extra personal, thoughtful touch.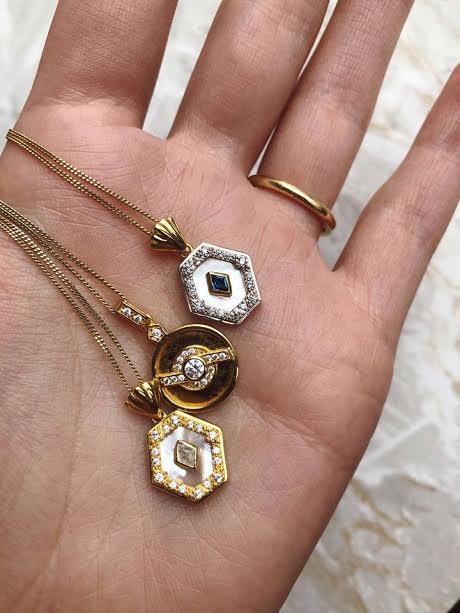 RESIN CHRISTMAS TREE EARRINGS:

LOVE KIKI DESIGNS

– FROM £7
Fun and colourful jewellery made from clay and resin are Love Kiki Designs' speciality. We just love these fun Christmas tree earrings for a statement adornment to your lobes.
BIRMINGHAM GLOBE SOUVENIR NECKLACE BY

FRILLY INDUSTRIES

– £40
If you know someone who loves all things quirky and is a proud Brummie, this statement piece is a show-stopper.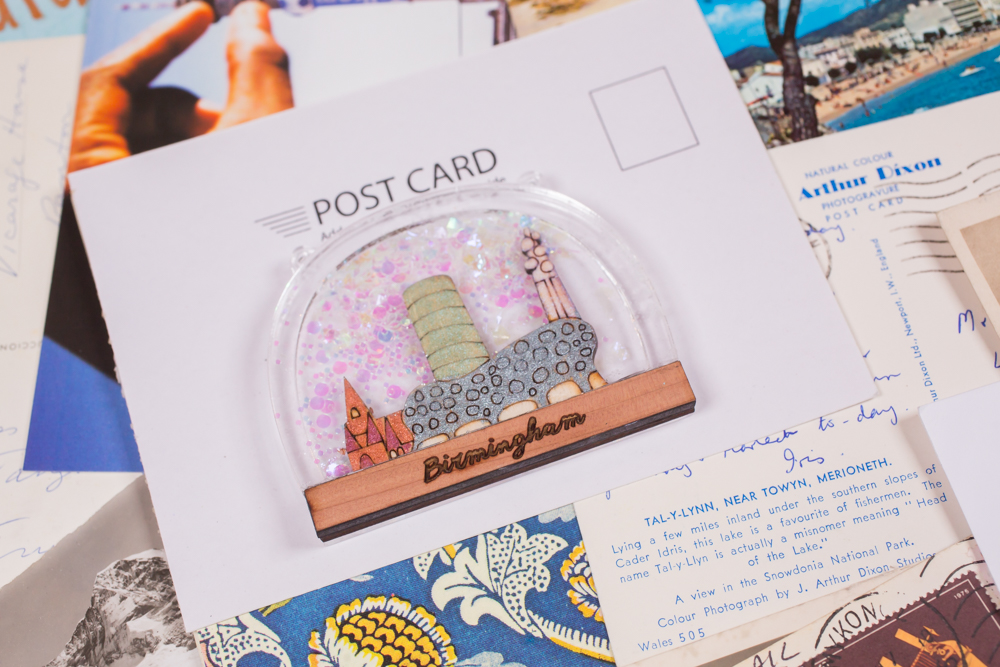 DIY JEWELLERY KITS FROM

WORKING CLASP

– FROM £27
It's fun to wear jewellery, but even more fun to make it yourself. This DIY kit is a great gift for someone crafty.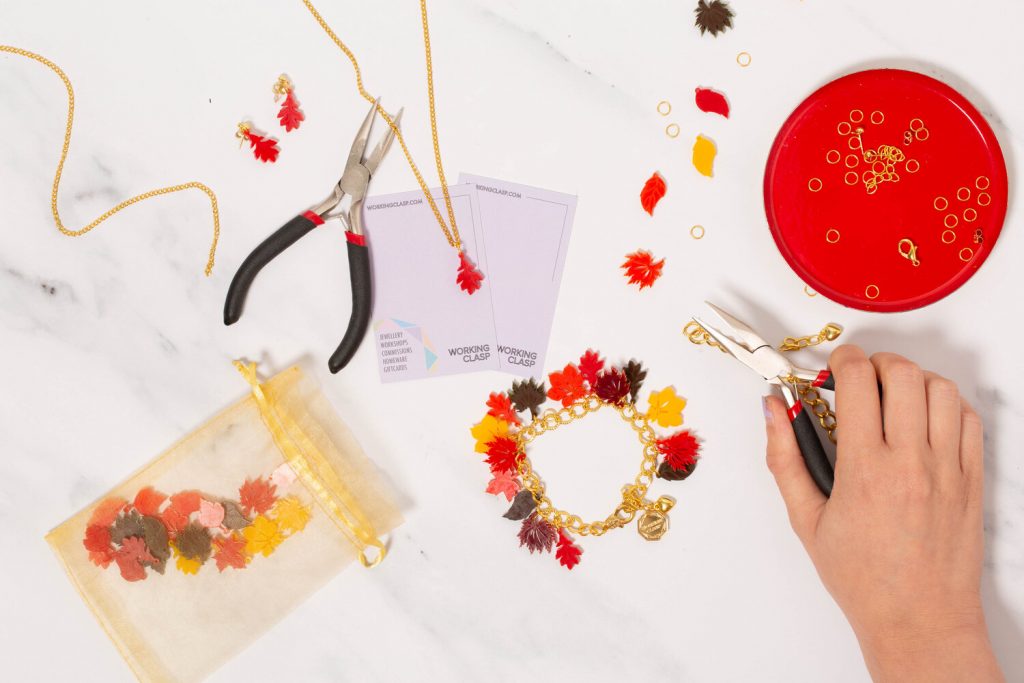 CONSTELLATION BIRTHSTONE DISCO INFERNO NECKLACE FROM

BUFF JEWELLERY

– FROM £85
This beautiful handmade necklace is completely customisable to include up to 5 birthstones, and available in both gold and silver. A personal, sentimental piece to be treasured.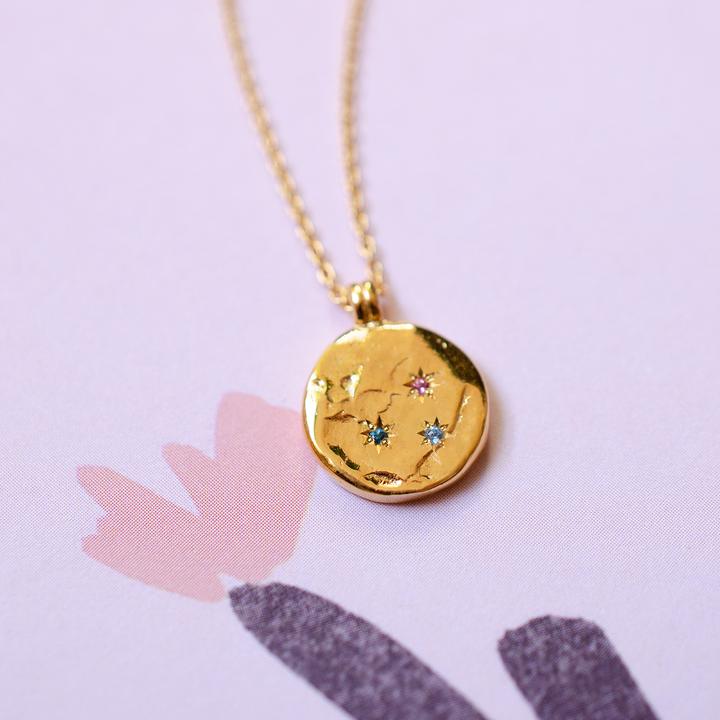 These statement earrings take inspiration from precious stones and jewels, but hand crafted from acrylic. They make a beautiful and fun gift.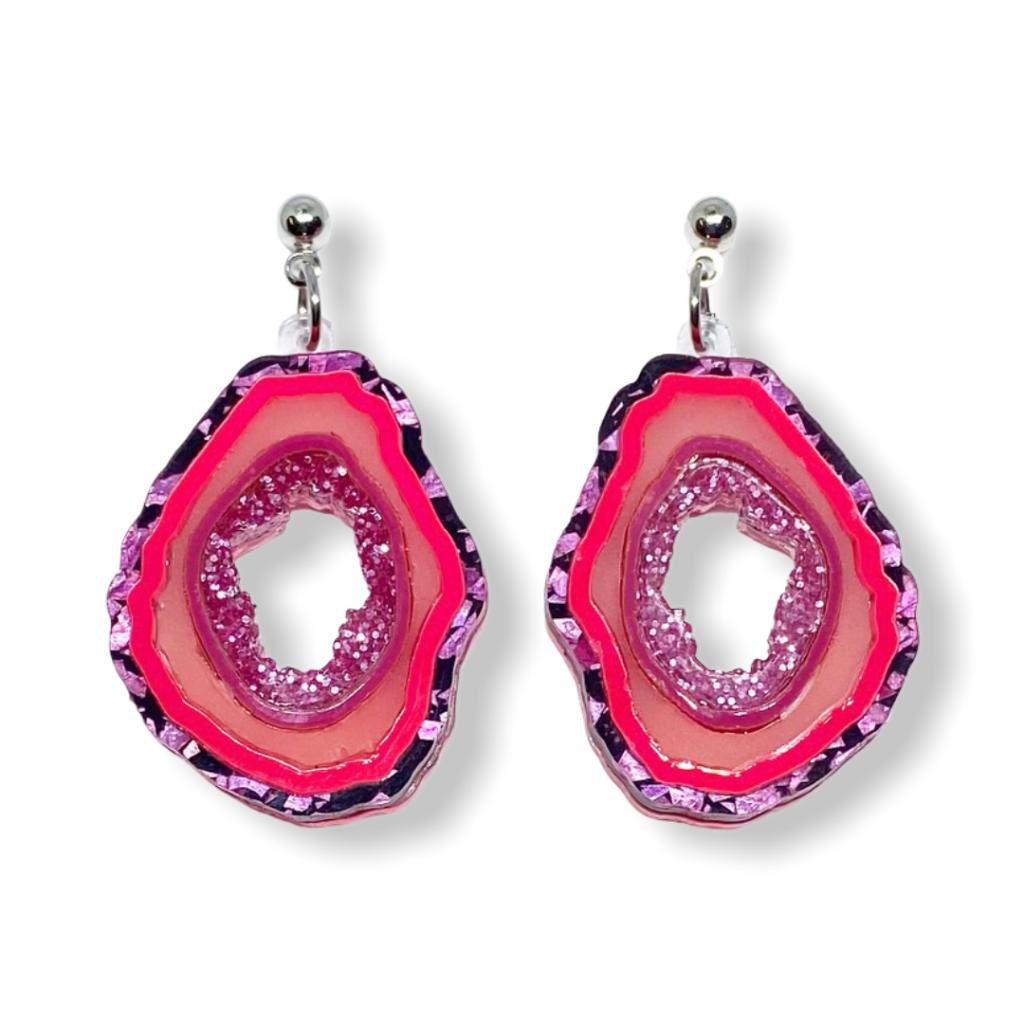 Hannah is a trained silversmith and jeweller making beautiful jewellery inspired by the natural world. This stunning acorn necklace is available in both sterling silver and 24ct gold plated.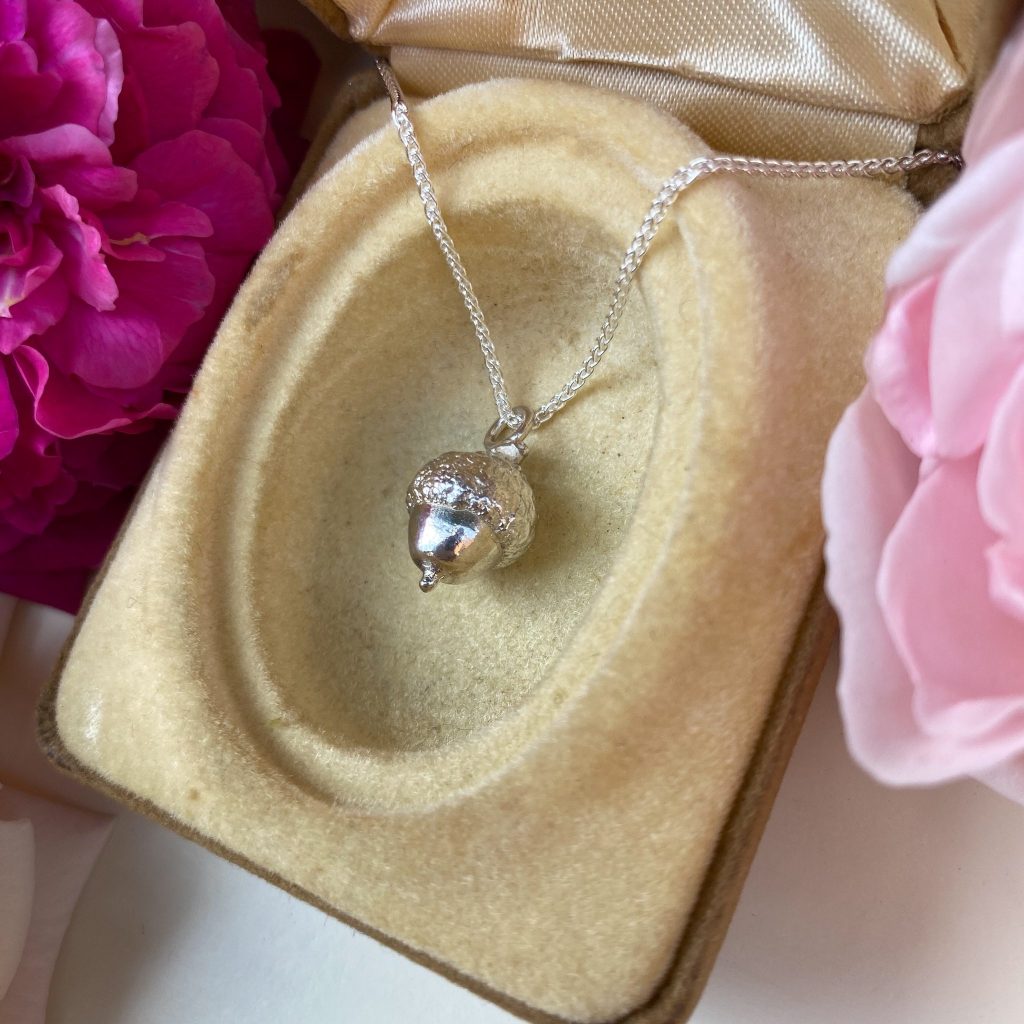 OUTLAW SKULL STUDS:

KILLRBANGZ

– £15
If you know someone who likes a little rebellion in their lives, these super cool pink skull earrings are destined to please. The laser-cut, swirly baby pink marble on these handmade earrings is a dream.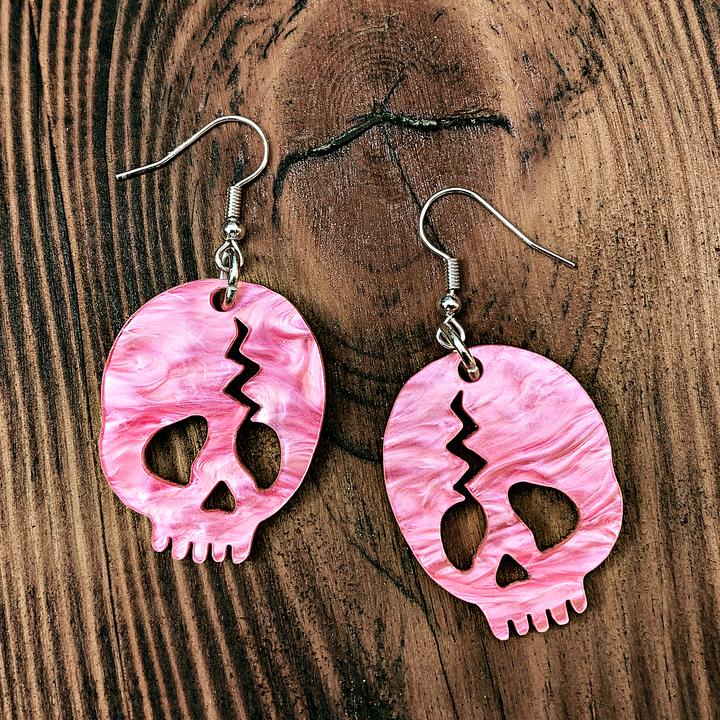 HANDMADE STERLING SILVER PEAR BLACK ONYX DROP EARRINGS:

THE NINE OF HEARTS JEWELLERY

– £50
Bryony's beautiful and unique pieces of jewellery are inspired by her love of skulls, antiquities and all things vintage. She hand crafts each piece herself, right here in Birmingham.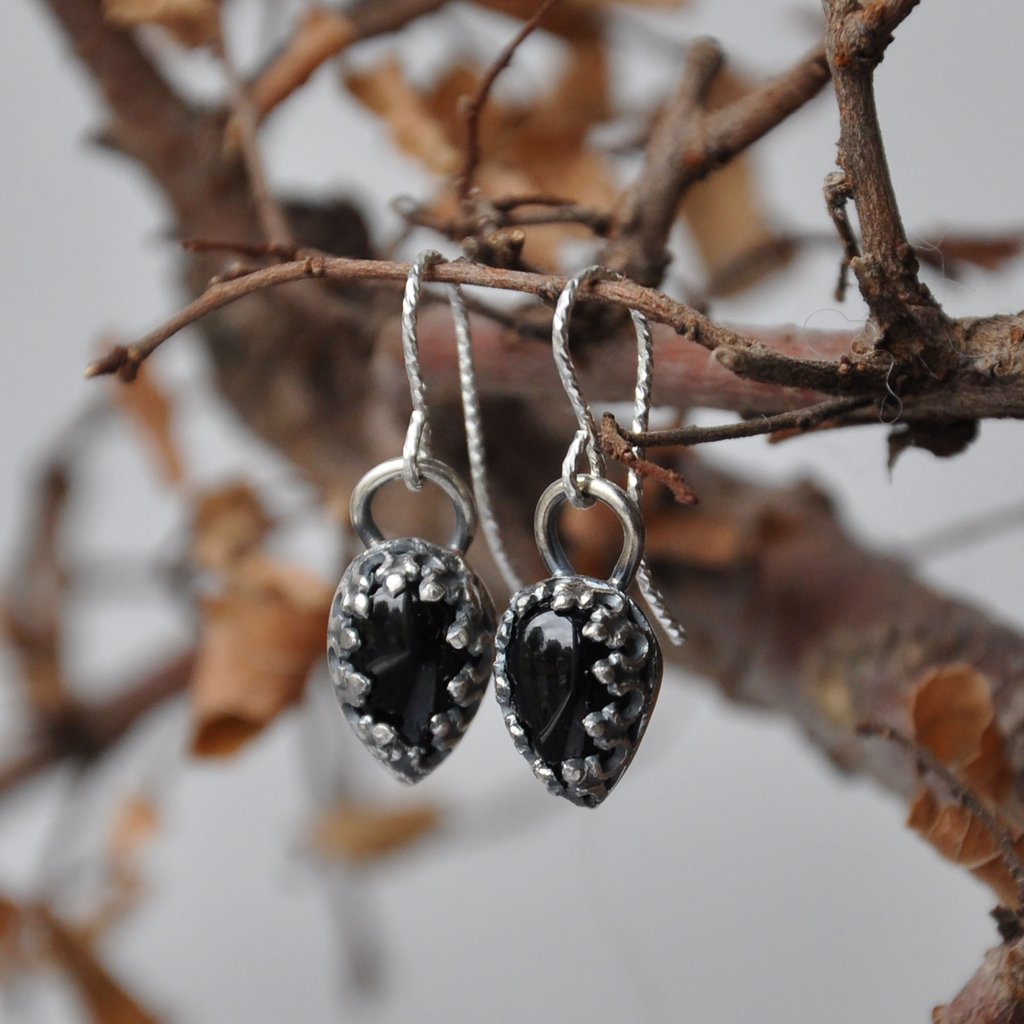 FOR SELF-CARE, BEAUTY AND GROOMING
From soaps to candles and beard kits, here are some suggestions for those who like a little pampering or could do with a relaxing treat.
CHRISTMAS BOX 'THE BEARD MAN – HYDRATE' FROM

SHEPHERDS

– £65
Help your bearded friend keep their whiskers in check with this gift set containing a handmade Kent 20t folding comb with pocket clip, Jojoba Beard Moisturiser, Argan Oil Beard Shampoo, and luxurious Escuyer Socks. There are 6 boxes to choose from with different products in each. Find them in Piccadilly Arcade to see all of their gift sets.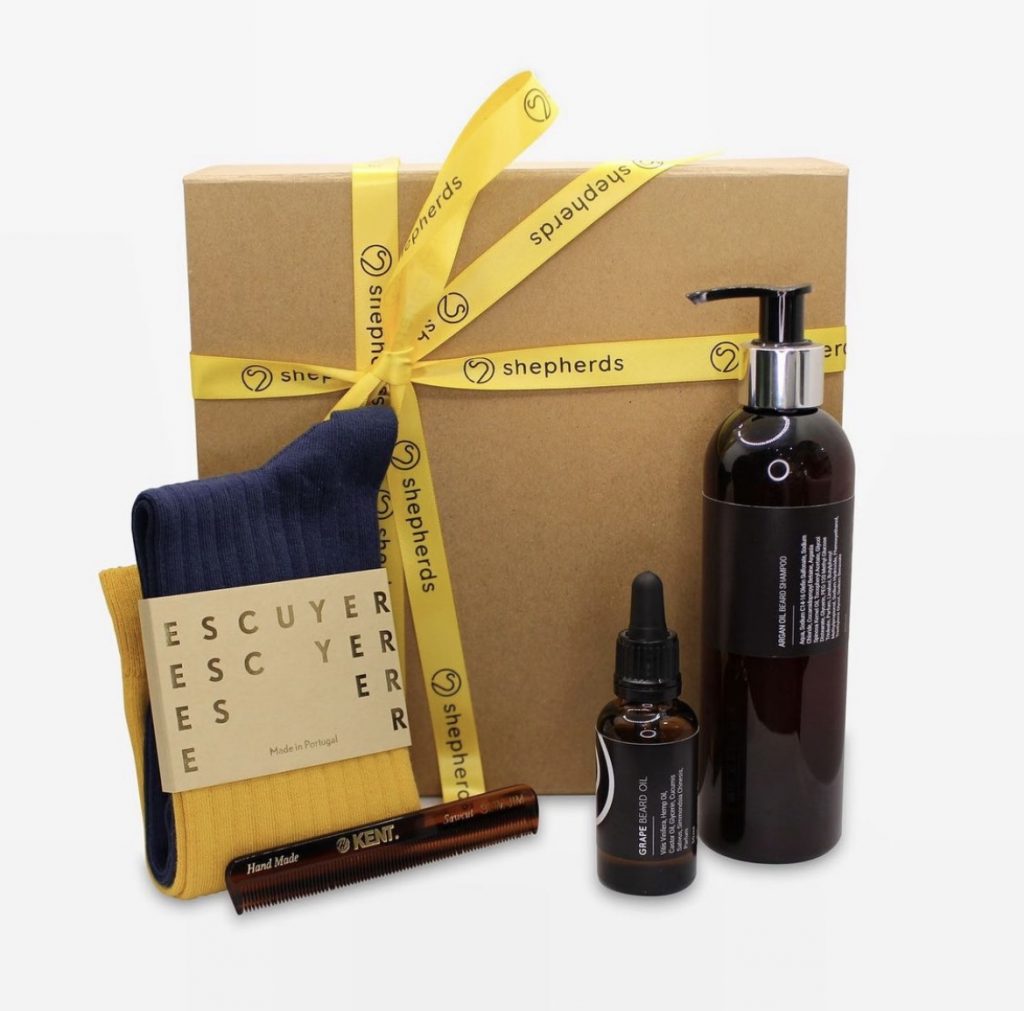 HAND CARE GIFT SET:

HARVEST

– £30
Harvest make some truly beautiful gifts, and this little set is no exception. Featuring a nail brush, soap and hand balm, this is a gorgeous set for pampering winter-ravished hands.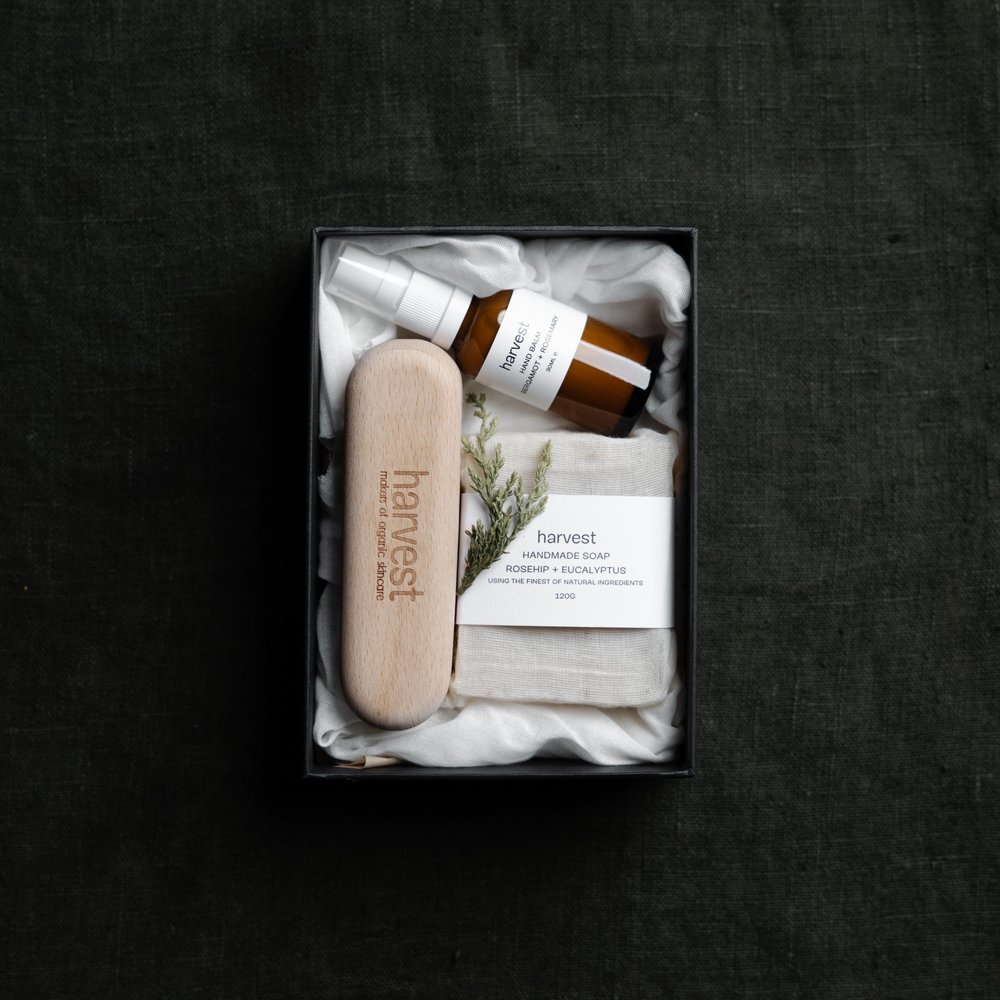 XMAS TRIO OF HAND-POURED ORGANIC SOY WAX CANDLES FROM

CHIESA CANDLES

– £30
You just can't go wrong with a lovely candle as a gift and these hand-poured organic candles are fragranced with the warming scents of winter spices for extra cosiness.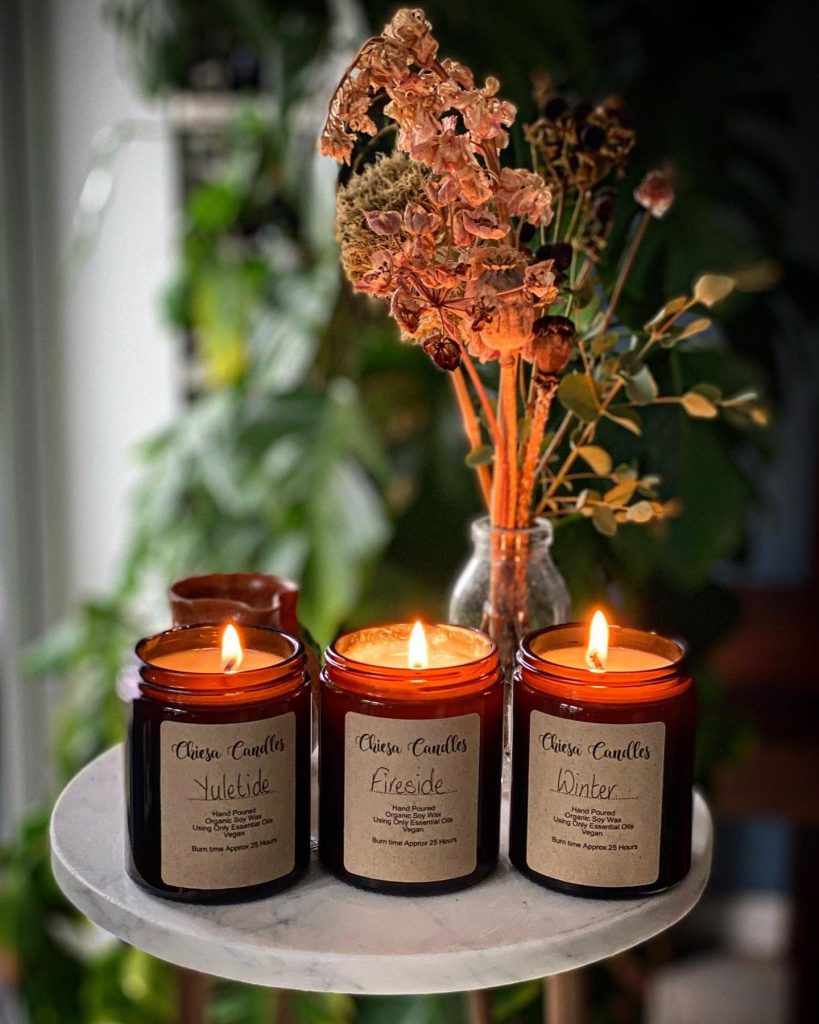 QUEEN BEE GIFT SET:

LET IT BEE

– £30
This lovely little pampering set features a pair of pure beeswax candles, a large pot of body balm, a lip balm and a handmade soap. These all natural products are made using honey and beeswax from local hives.
DAMN HANDSOME BEARD KIT FROM

THE BARBER HOUSE

– £25
If you know someone who likes to keep their facial hair in tip-top condition, this beard kit from The Barber House is the perfect gift this Christmas.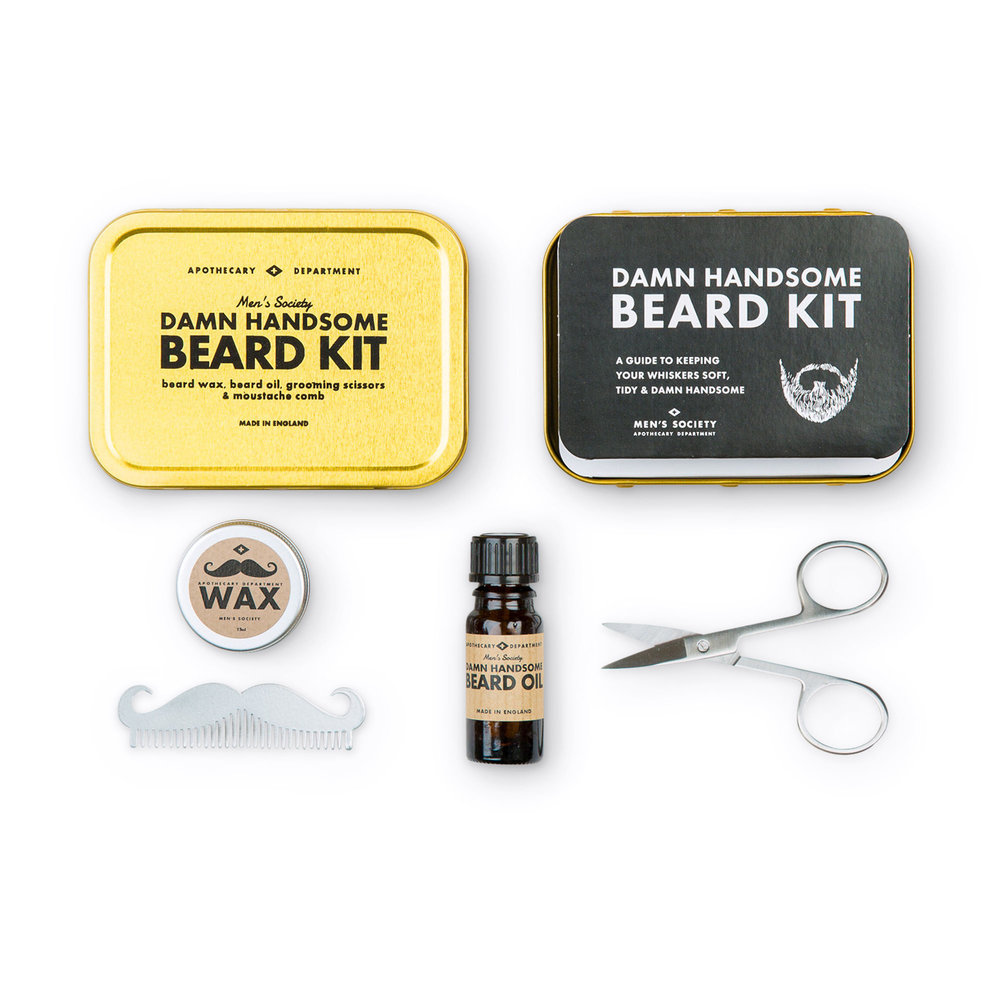 FOR THE FASHIONISTA
Want a gift to make the most stylish person in your life happy? We have just the thing. Whether they're into the latest styles or love accessories, there are plenty of choices that don't involve heading to the usual high street stores. Here are our top picks for fashionable finds.
"BIRMINGHAM" TEE FROM

PROVIDE

– £30
Design aficionados, Provide, create some of the finest Brummie merch we've ever seen. Grab this awesome Birmingham tee for your proud Brummie pal.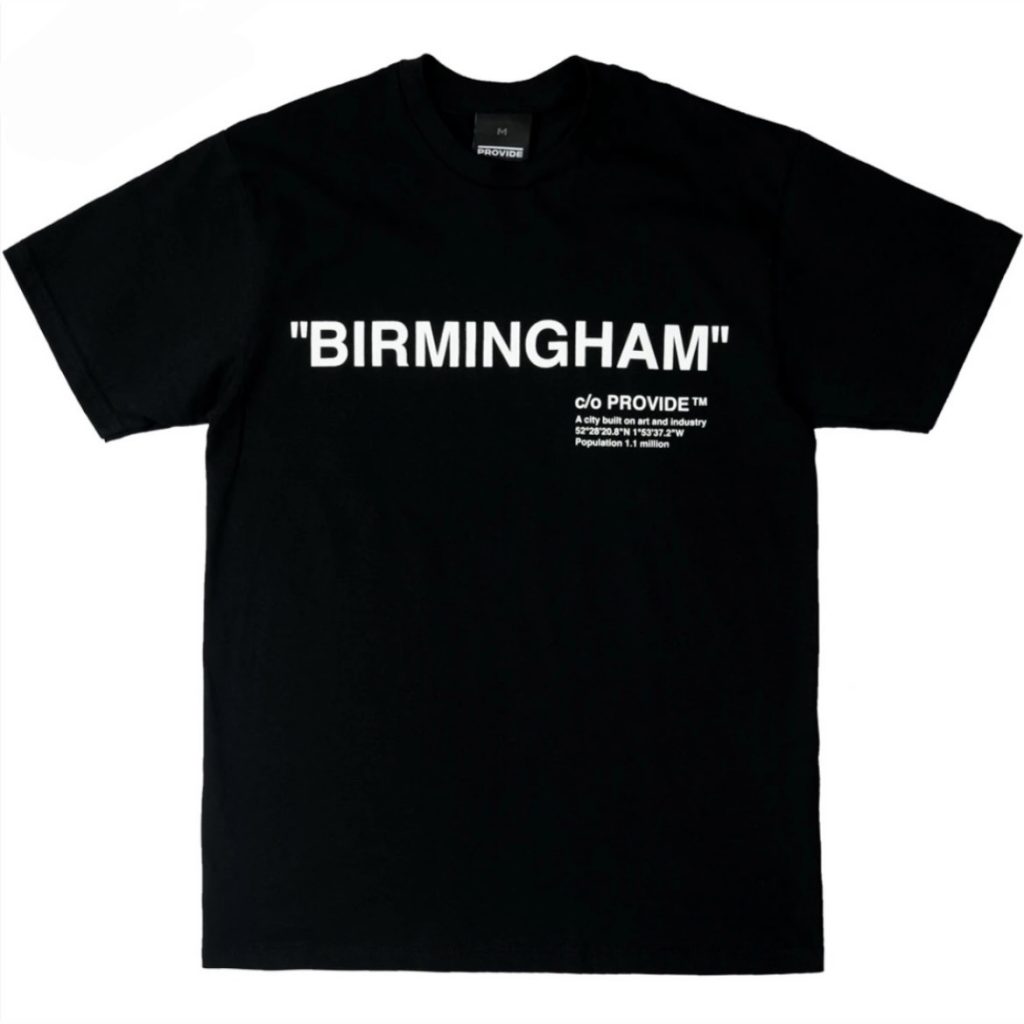 FOR CLASSIC CLOTHES THAT NEVER GO OUT OF STYLE:

LIQUOR STORE
Liquor Store is your one stop shop for all those high quality, timeless wardrobe staples and have you covered from head to toe. For the fashionista in your life you can't go wrong with a gift from here.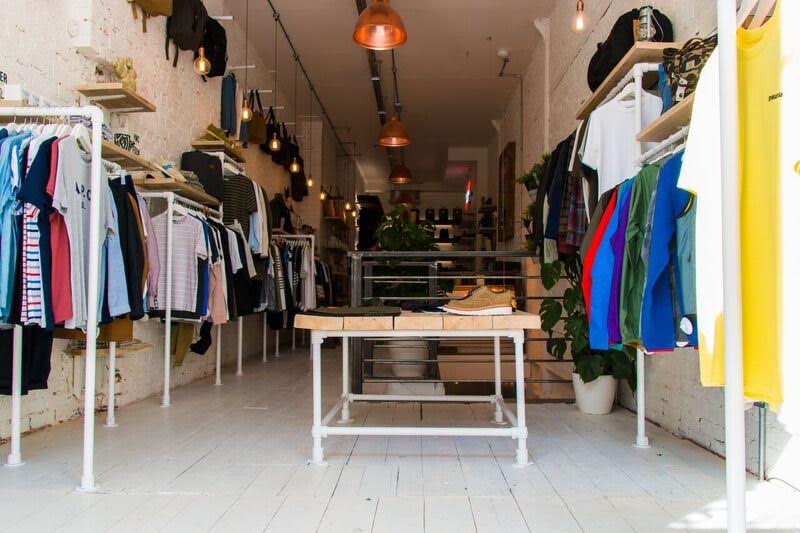 A fun and cosy addition to anyone's winter wardrobe, this cute beanie will keep heads warm and put smiles on faces. Check out Connie's store for more beautiful, embroidered pieces.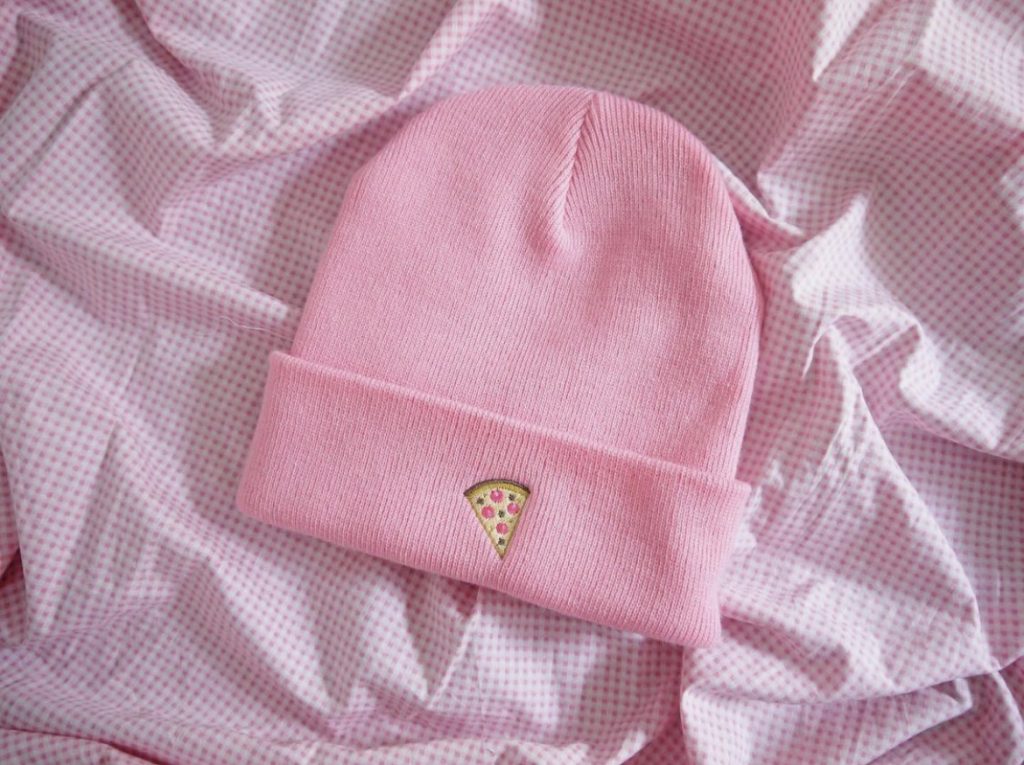 GRAFFITTI TEES (WITH £2 OF EACH SALE GOING TO SIFA FIRESIDE):

GRAFFITEESUK

– £26.99
For a gift that's sure to please the recipient and is doing good, check out these awesome and stylish tees.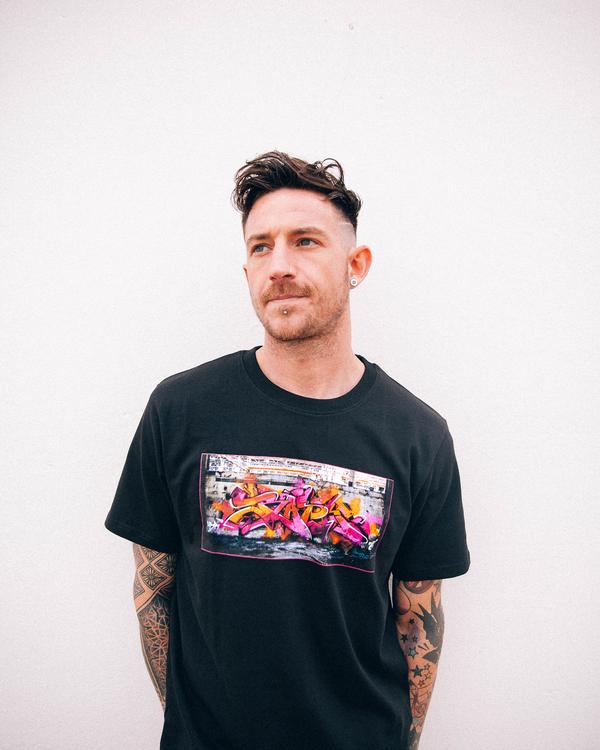 KIDS' ORGANIC COTTON BEANIE:

MINI MINI KIDS

– £18
As cute as it is cosy, this beanie is an adorable gift for a little one in your life.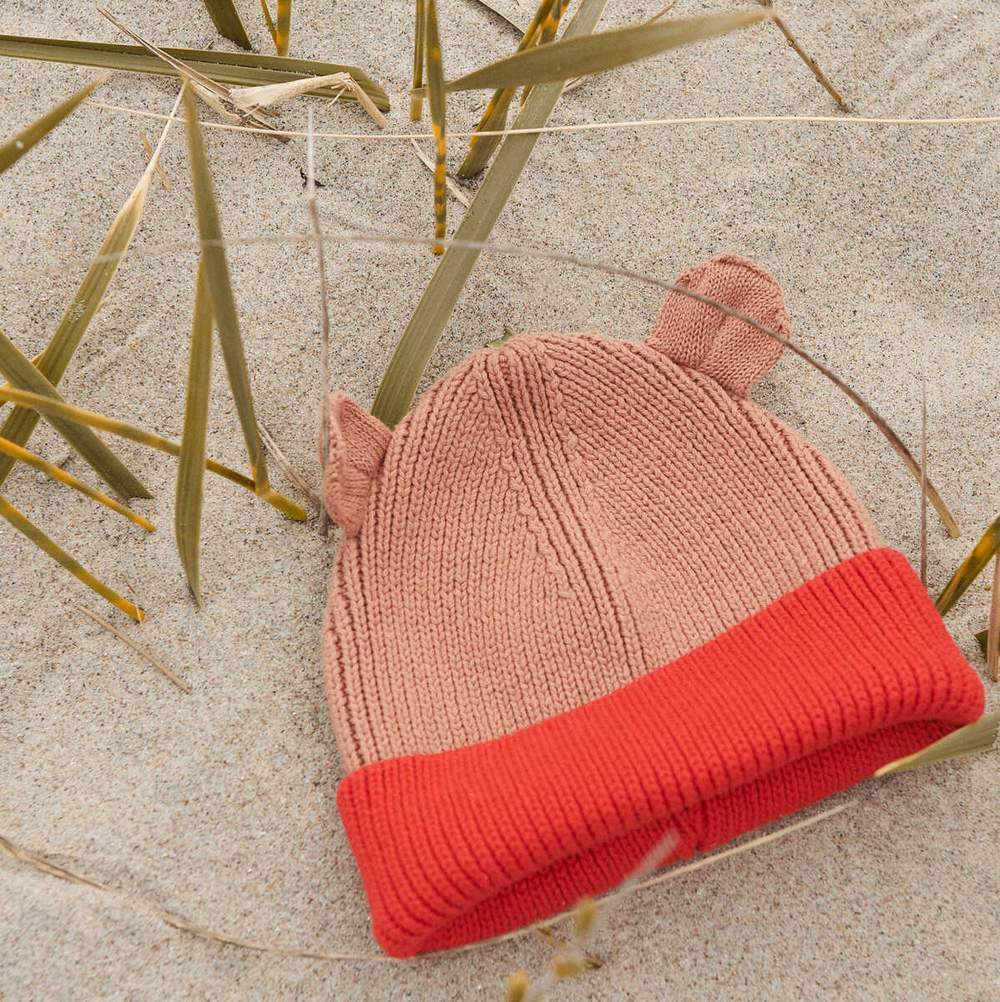 This simple black beanie, featuring the Stag Digbeth logo is a stylish addition for the winter and a cosy gift.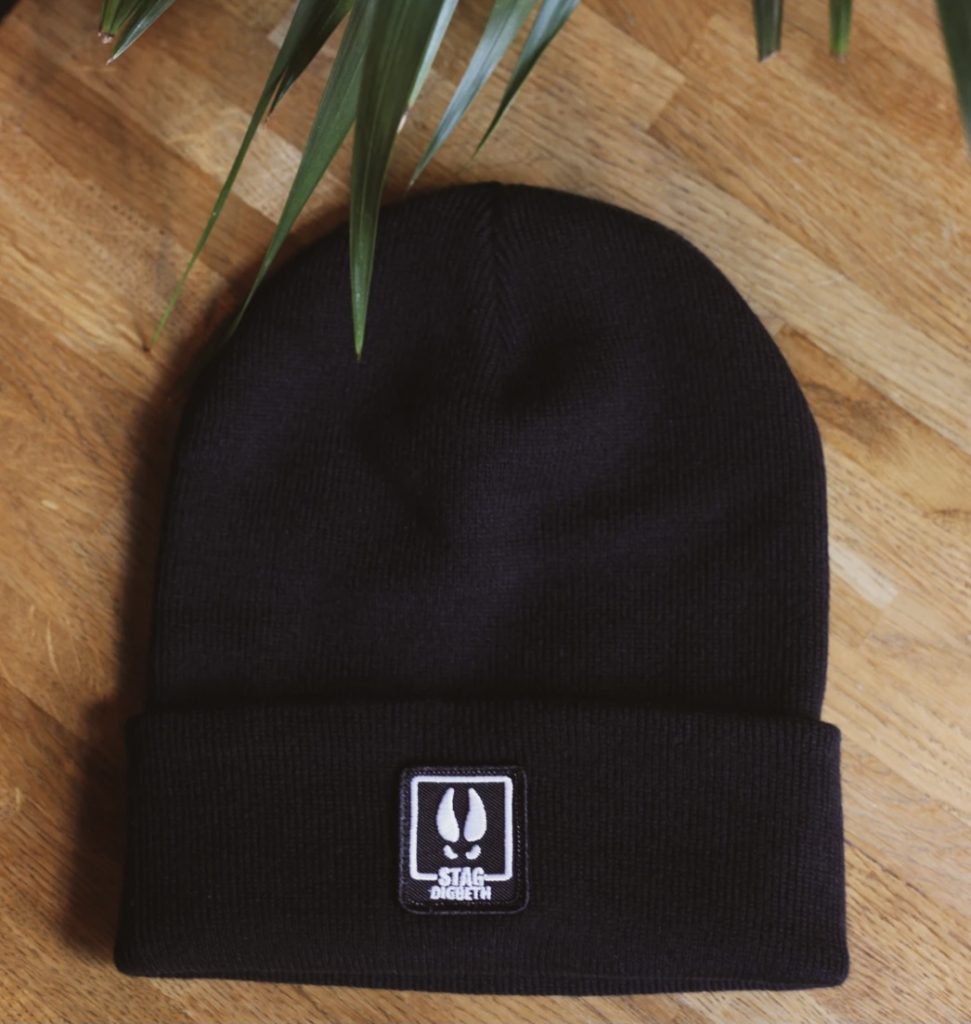 Everyone needs a cool tote bag or two in their lives and this chic version featuring a mural of Northern Soul club, The Night Owl, is just the ticket.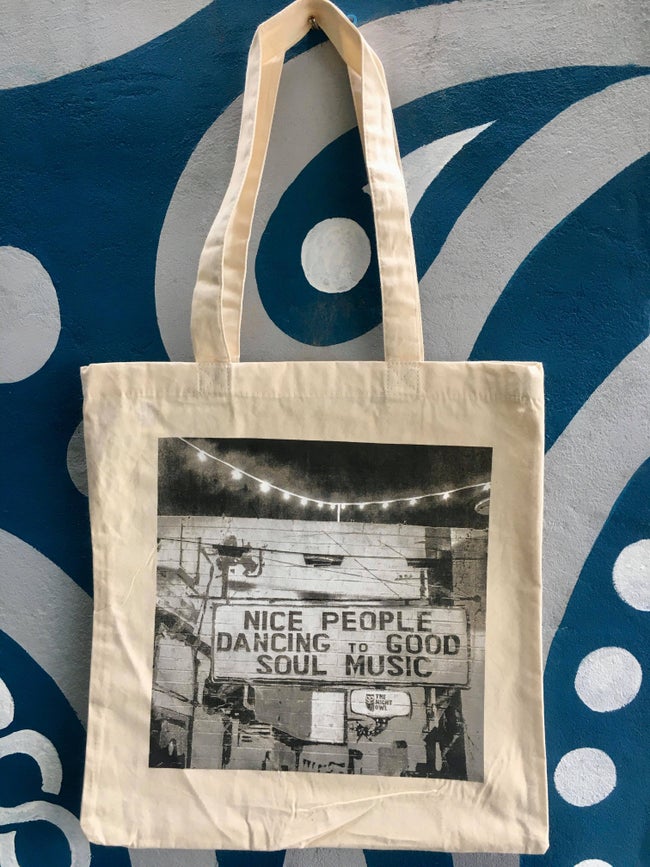 DINO DUNGAREES WITH STRIPED TRIM:

CHIDDLERS BOUTIQUE

– £20
Know a mini fashionista in the making? Grab them a pair of these dino dungarees for ultimate cuteness, cosiness and stylishness. All items are handmade by owner, Caroline.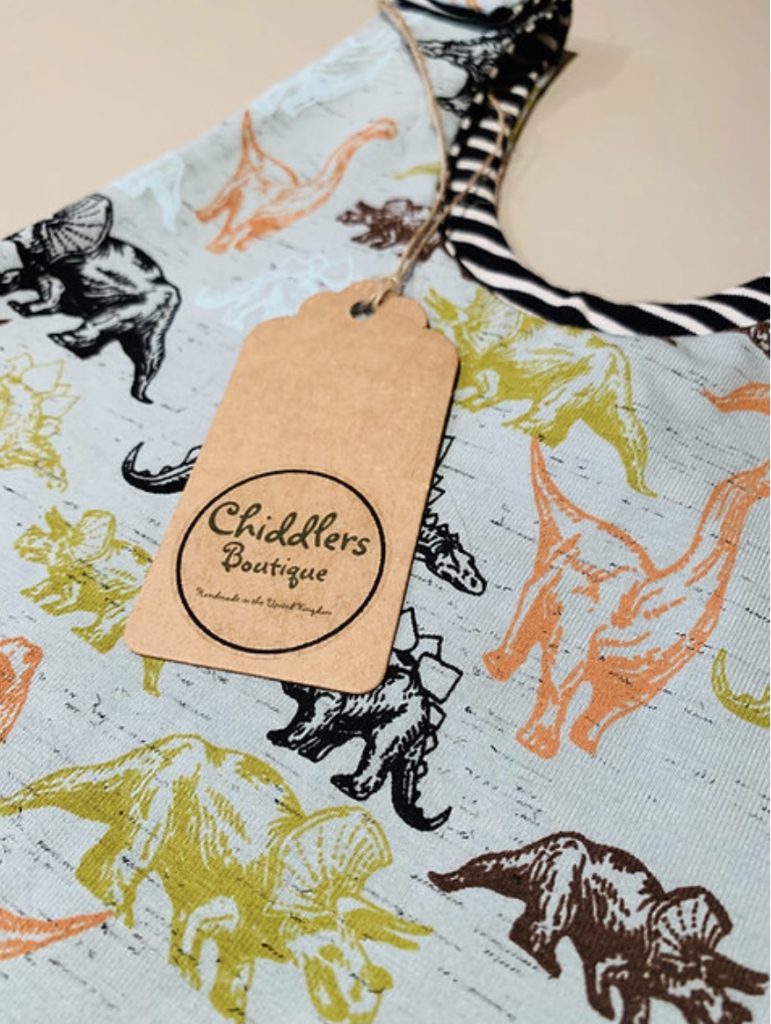 LEATHER CREDIT CARD SLIP, HANDMADE RIGHT HERE IN BRUM:

B18 LEATHER

– £33
Handmade and stylish, but also practical, these credit card are a great little thoughtful gift.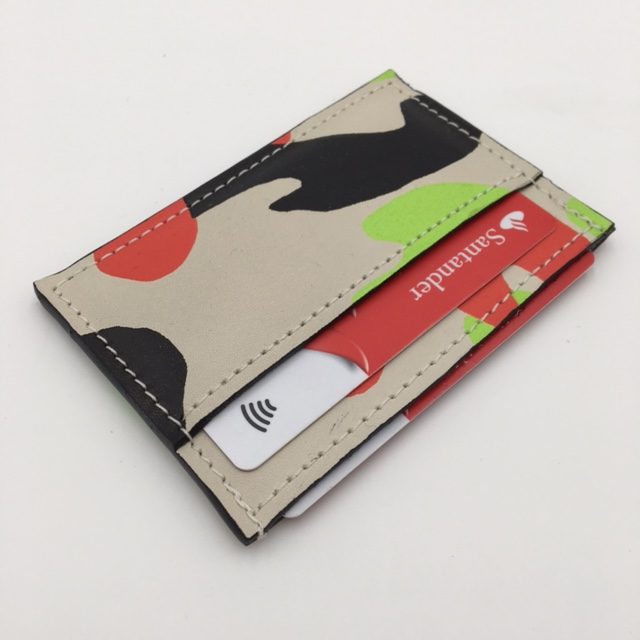 HANDMADE COSMETIC BAG:

SOFT ACCENTS

– £11
Whether travelling or keeping the bathroom tidy, a great wash bag or make-up bag is a must. These beautiful handmade cosmetic bags make a lovely gift.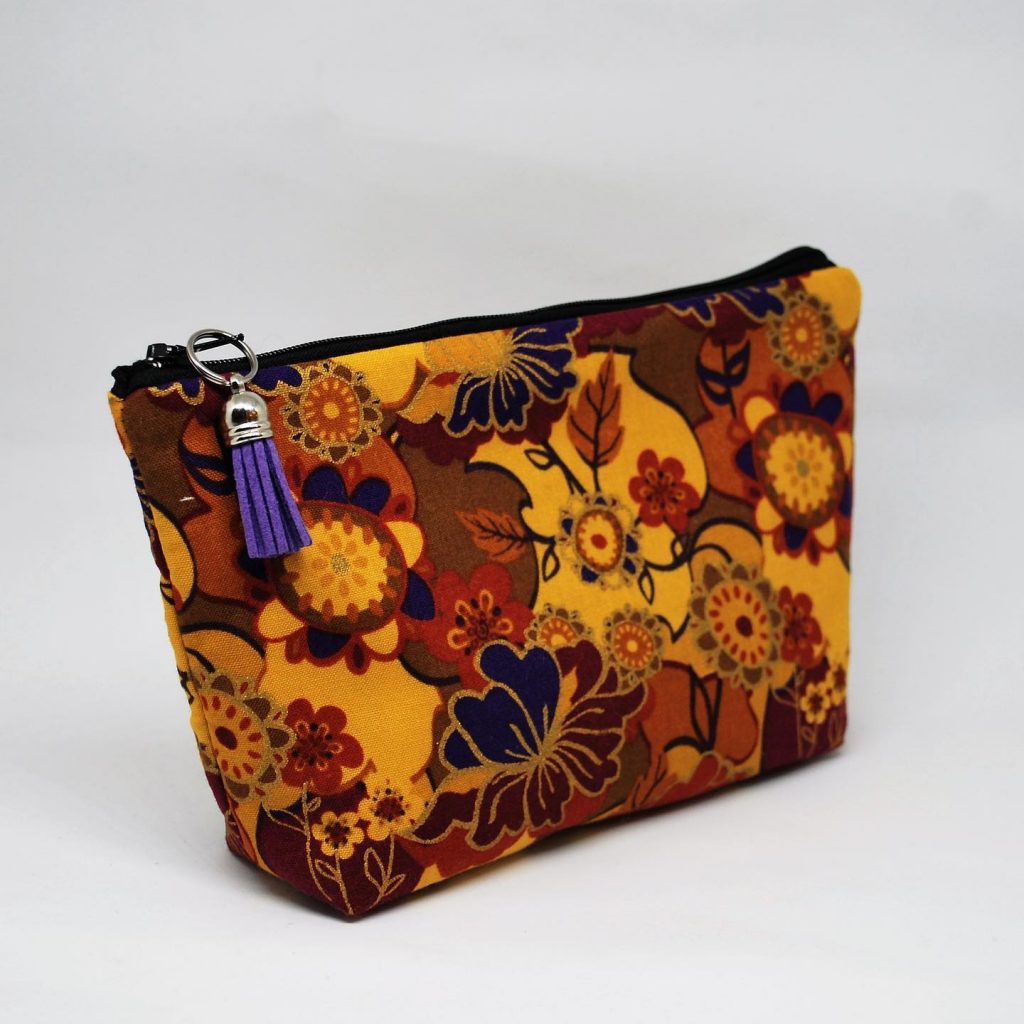 FOR THE BUDDING INTERIOR DESIGNER
Need a gift for the interiors lover in your life? We've got you covered. If you're looking for a gift for someone who is houseproud and loves to add those special touches to their home, we have some great suggestions from amazing local designers and retailers. Find them something they can treasure forever and put in pride of place in their home.
FOR BEAUTIFUL CHRISTMAS WREATHS:

ISHERWOOD & CO

– FROM £60
For someone who loves the festive season, order them a stunning Christmas wreath from Isherwood and Co. They can enjoy it throughout the festive season. Add optional fairy lights for added sparkle.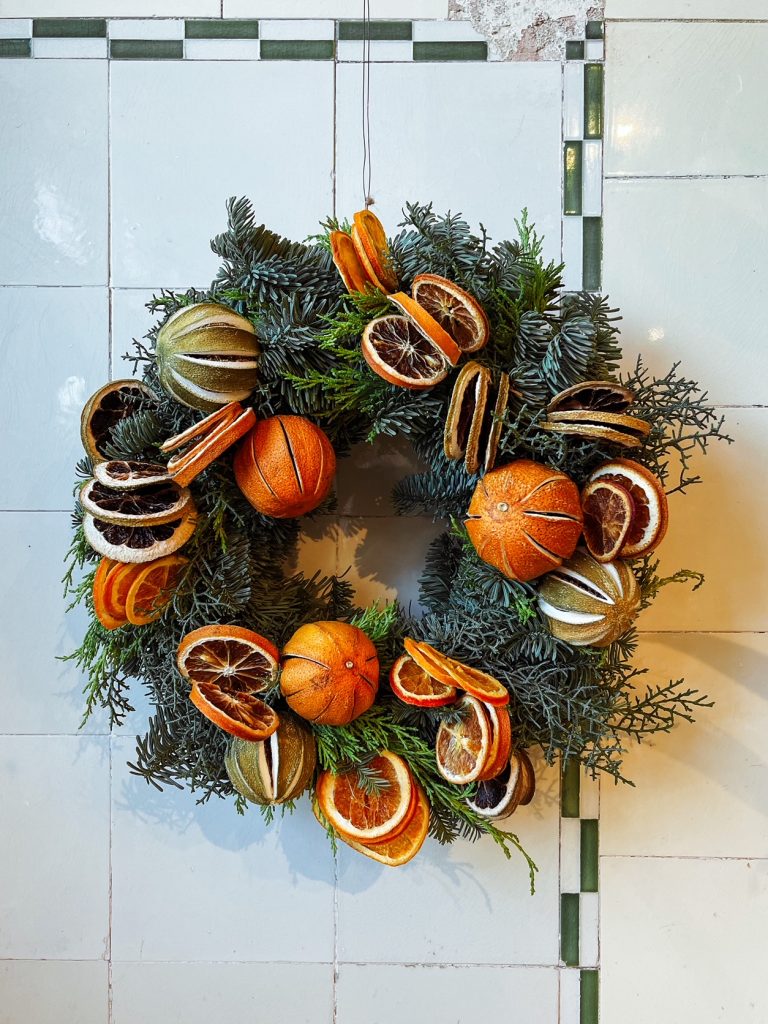 A houseplant makes a lovely gift at any time. Find a beautiful selection of plants at Isherwood and Co, including the (hard to kill) Snake Plant.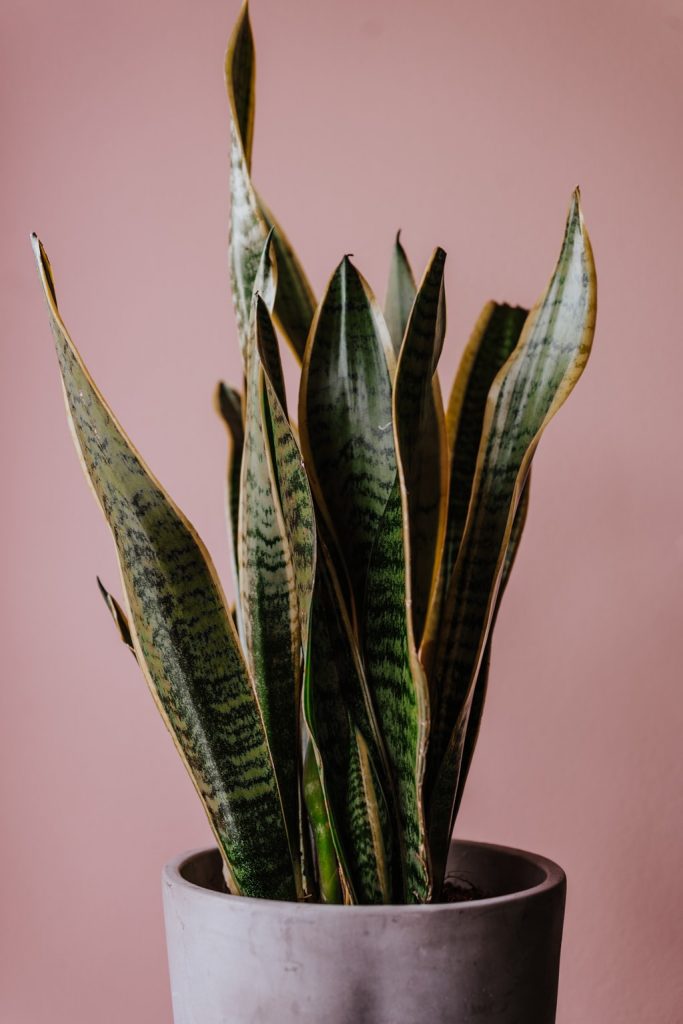 If you know someone who loves flowers, or you fancy sending a beautiful bouquet to someone to let them know you're thinking of them at this time of year, take a look at these beauties from Flowers At Moor Street.
Local potter, Katie, creates the most beautiful hand-thrown ceramics (mugs, vases, candle holders and more) in small batches. They sell out quickly so keep your eyes peeled for when she updates her shop.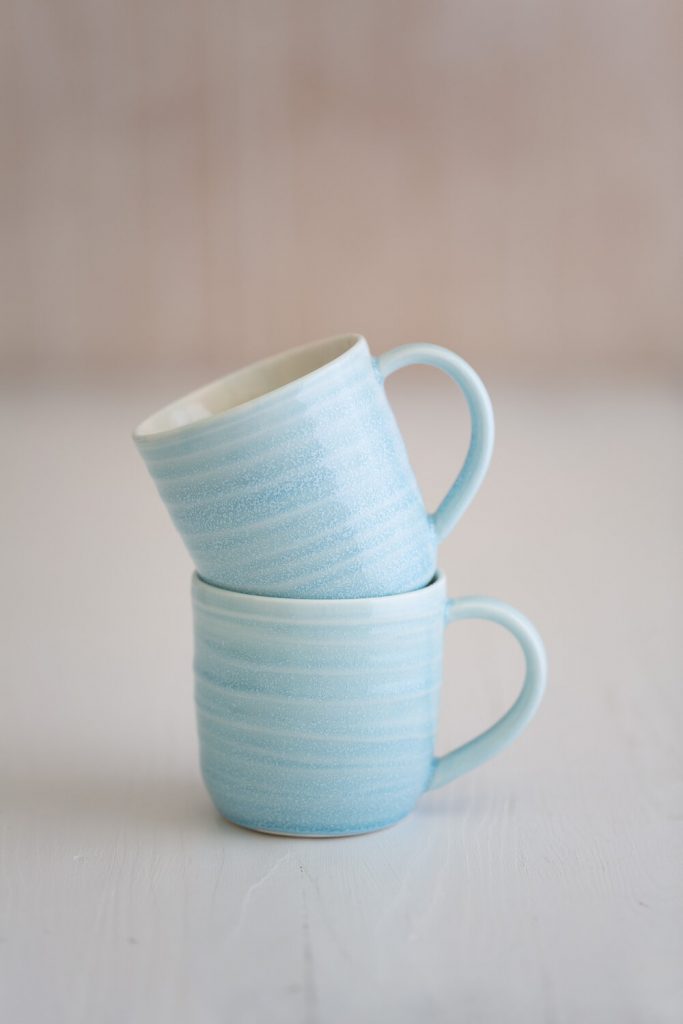 ANTHURIUM PEACH FLAMINGO PLANT:

JUNGLE

– £10.99
An easy care, beautiful plant – this would make a great gift for a plant lover. Lots of other lovely houseplants and plant pots are available too.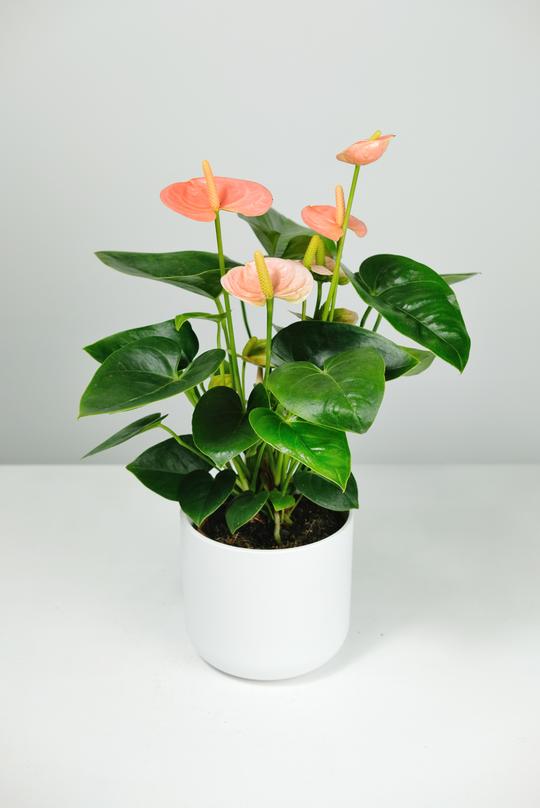 For a lovely festive gift for the home, a DIY wreath kit is fun. This one contains lots of gorgeous festive foliage and flowers, beautifully illustrated instructions and some hot chocolate. The recipient will have fun getting creative and making a beautiful wreath for their home. DM Kayleigh to order.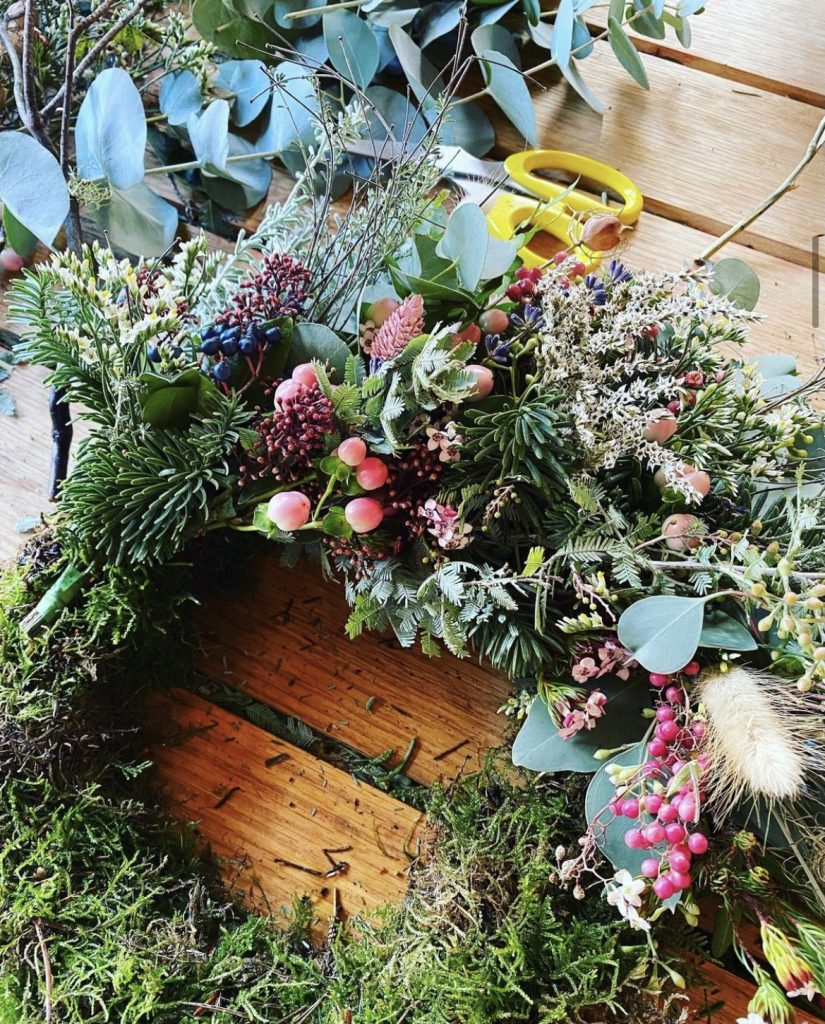 BLACK AND WHITE FABRIC CABLE JAM JAR LAMP:

THE WORKSHOP BELOW

– £35
These stylish jam jar lamps make a stylish addition to any room. Choose from a range of different coloured cables to fit the decor of your loved one's home and light up their Christmas.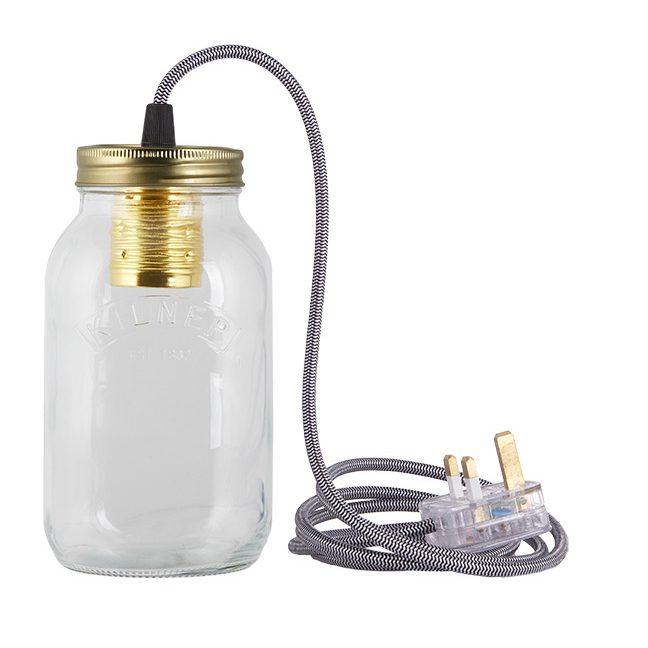 LUCKY PABLO ON LOCKDOWN PRINT:

LUCKY PABLO

– FROM £15
Fun, bright and quirky artwork for the fun, bright and quirky individual in your life. These lovely prints make a great gift.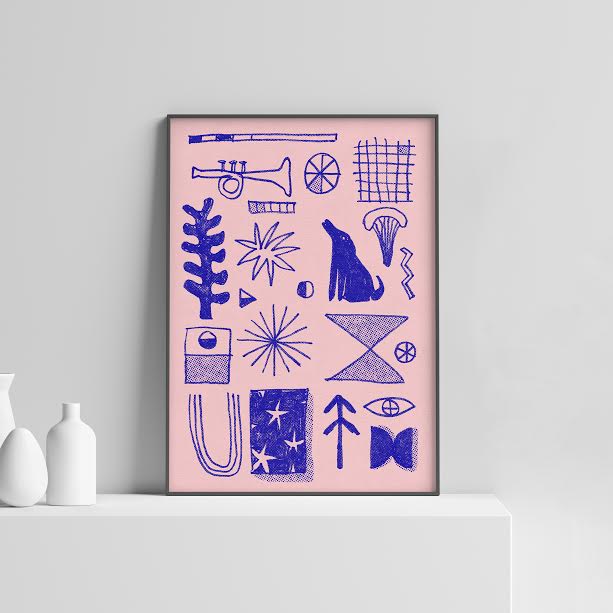 Cheeky and fun – this print is a fun addition to any blank space that needs filling.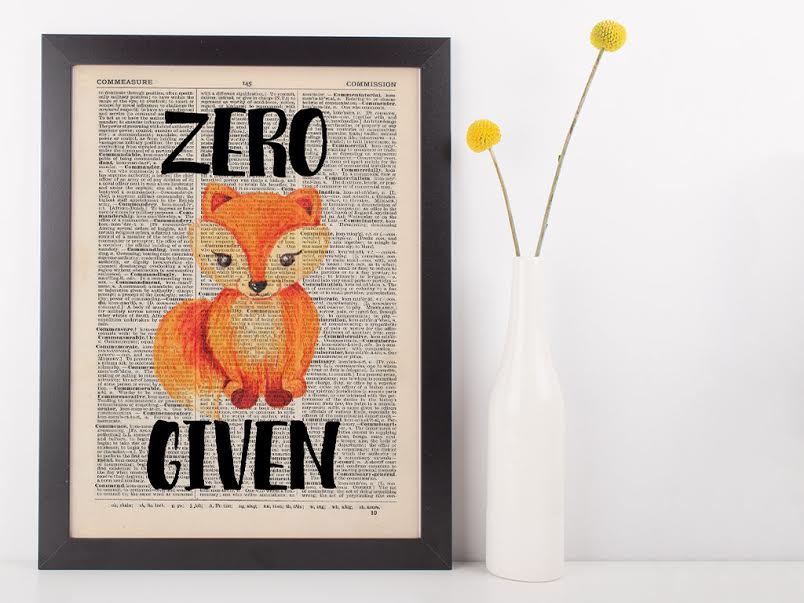 This fun print features 96 rap superstars with their names they were assigned at birth (rather than their superstar alter egos).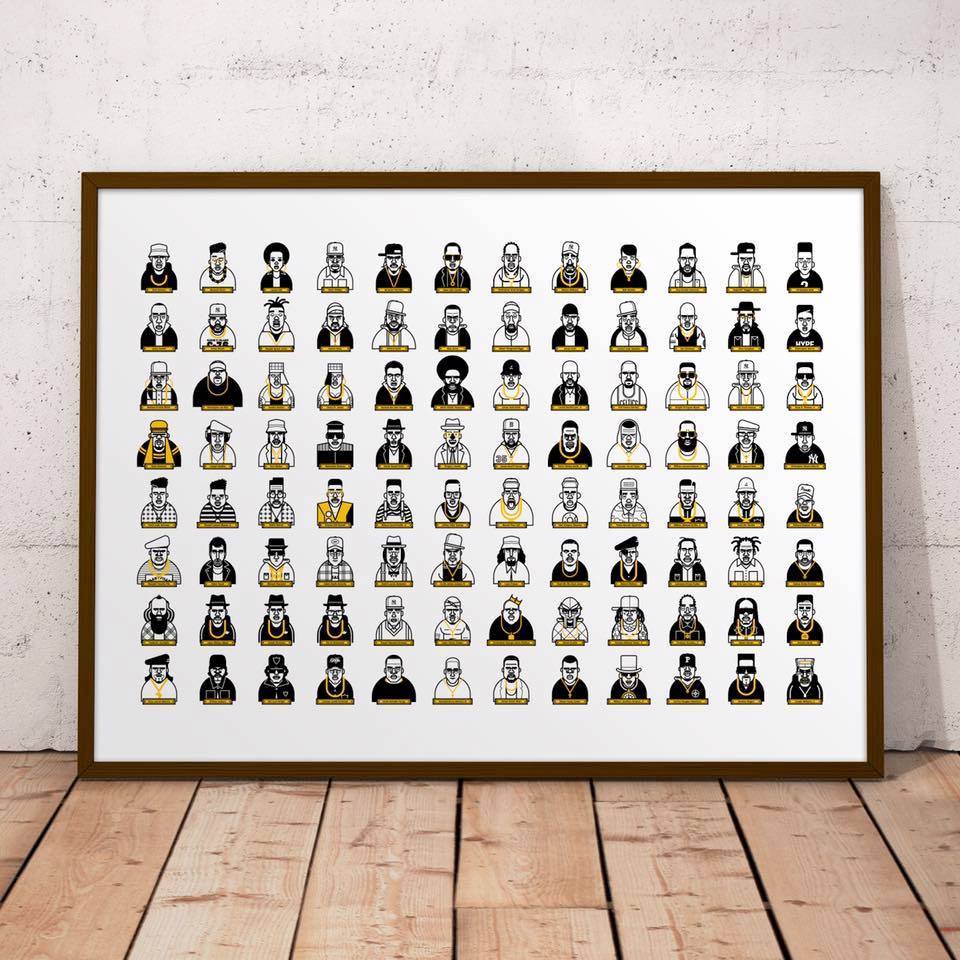 BESPOKE LETTERING WALL ART FROM

ANDREW J MASON
– FROM £30

For something colourful and personal, these beautiful hand-painted letters are a beautiful addition to any room.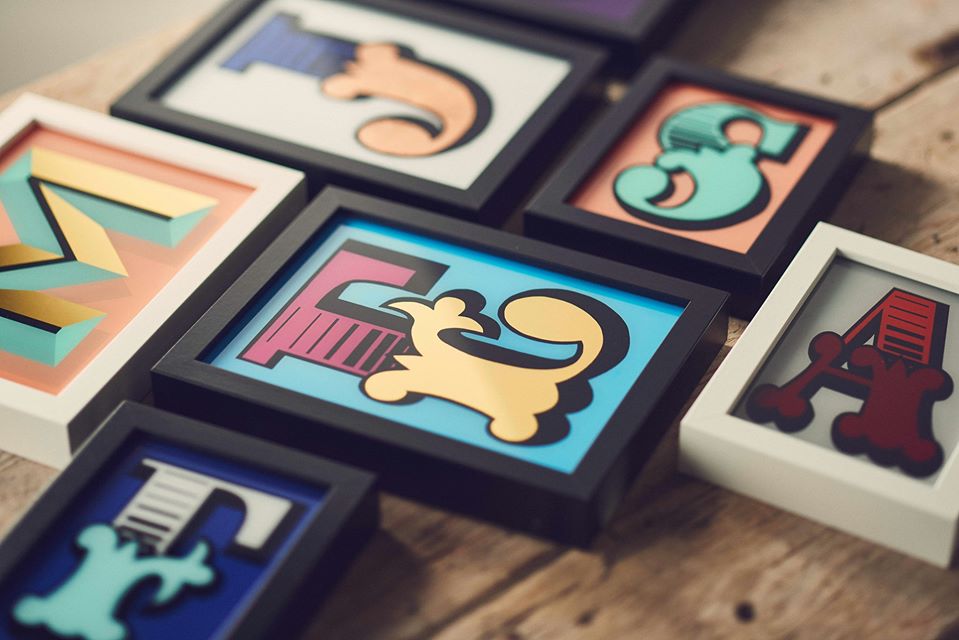 FERM LIVING ORB WATERING CAN:

KIN HOME

– £75
For that person in your life who collects houseplants, a chic indoor watering can will help them to care for all their 'plant babies'.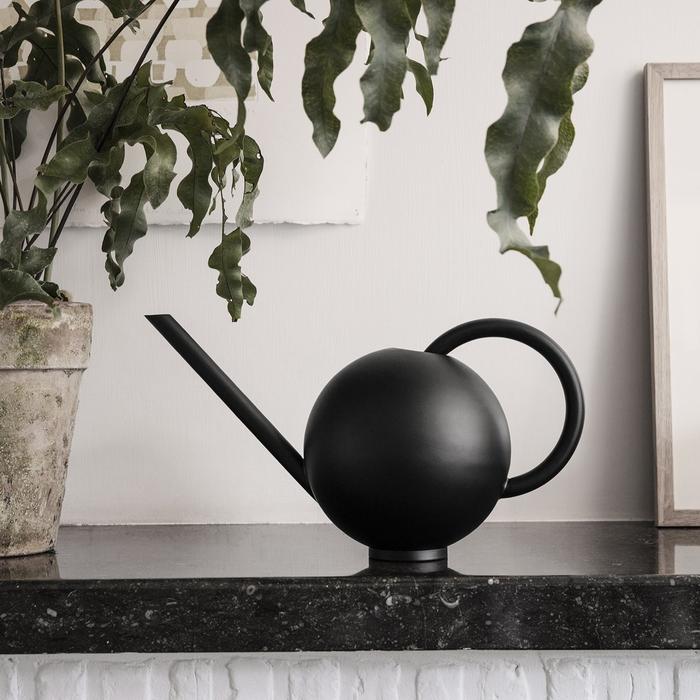 MARIMEKKO OIVA SUUR UNIKKO MUG SET OF 2:

MINIMA

– £39
Mugs are another gift that you can't go wrong with and this pretty set is beautifully designed and functional.
COOEE DESIGN CERAMIC VASE:

HEDGE

– FROM £25
If you know someone who loves flowers, a vase makes a great gift. These vases are a slightly more unusual design than your typical vase – a great statement but subtle piece.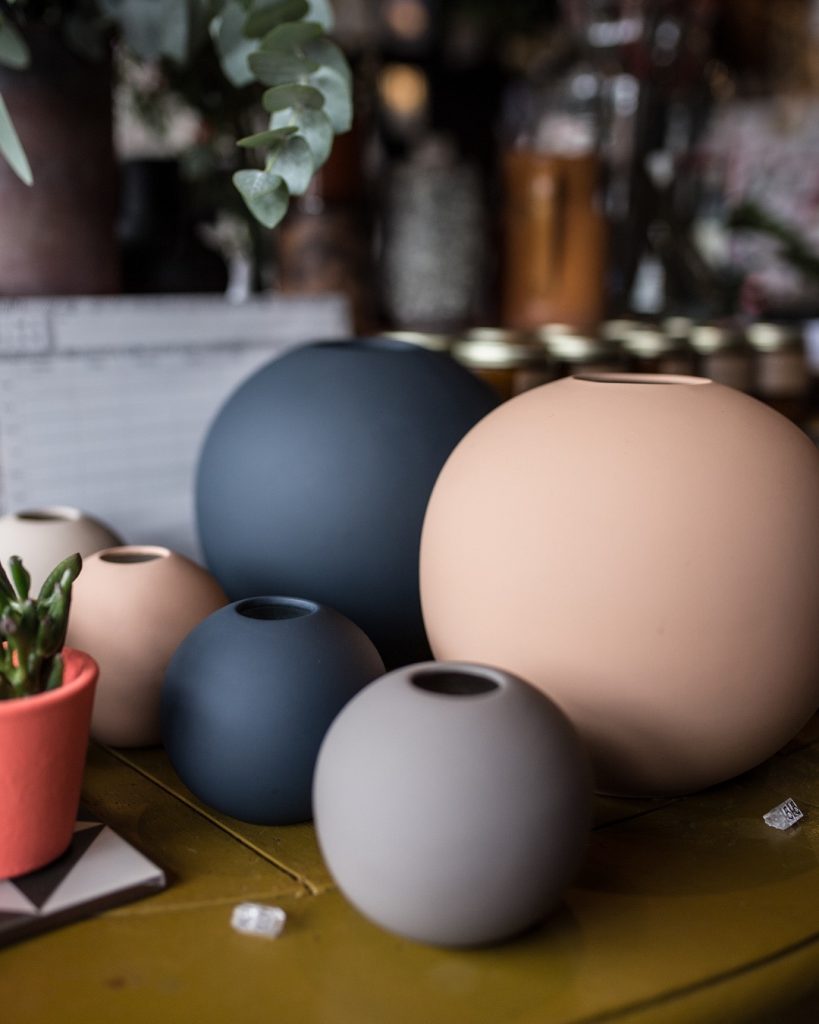 FOR THE PROUD BRUMMIE
This is possibly our favourite category. If you know someone who is born and bred Brummie, and damn proud of it (as they jolly well should be), then we have some incredible gift ideas for you. Made by Brummies, for Brummies, this is a selection of gifts that give a not-so-subtle nod to our hometown and will definitely put a smile on the face of that special someone on the big day.
GAS STREET BASIN PRINT BY

BRUMHAUS

– FROM £55
Everyone loves a Brumhaus! We can't get enough of this print of Gas Street Basin in Brumhaus' signature style. Check out his shop for more beautiful designs and gifts (from mugs to cushions and more).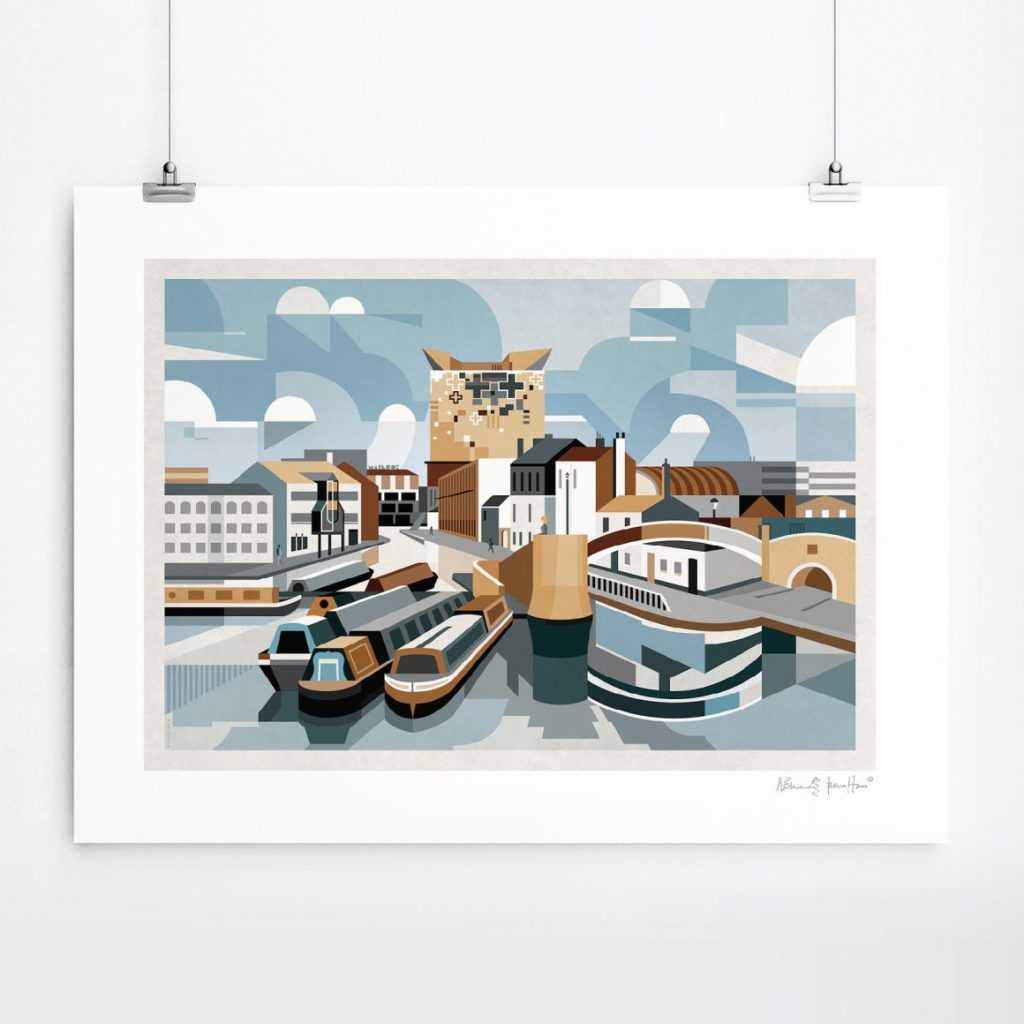 The brilliant Rotunda Industries have some awesome, and super stylish Brummie merch on their site. This cosy sweatshirt is just one of their lovely designs and would make a great gift.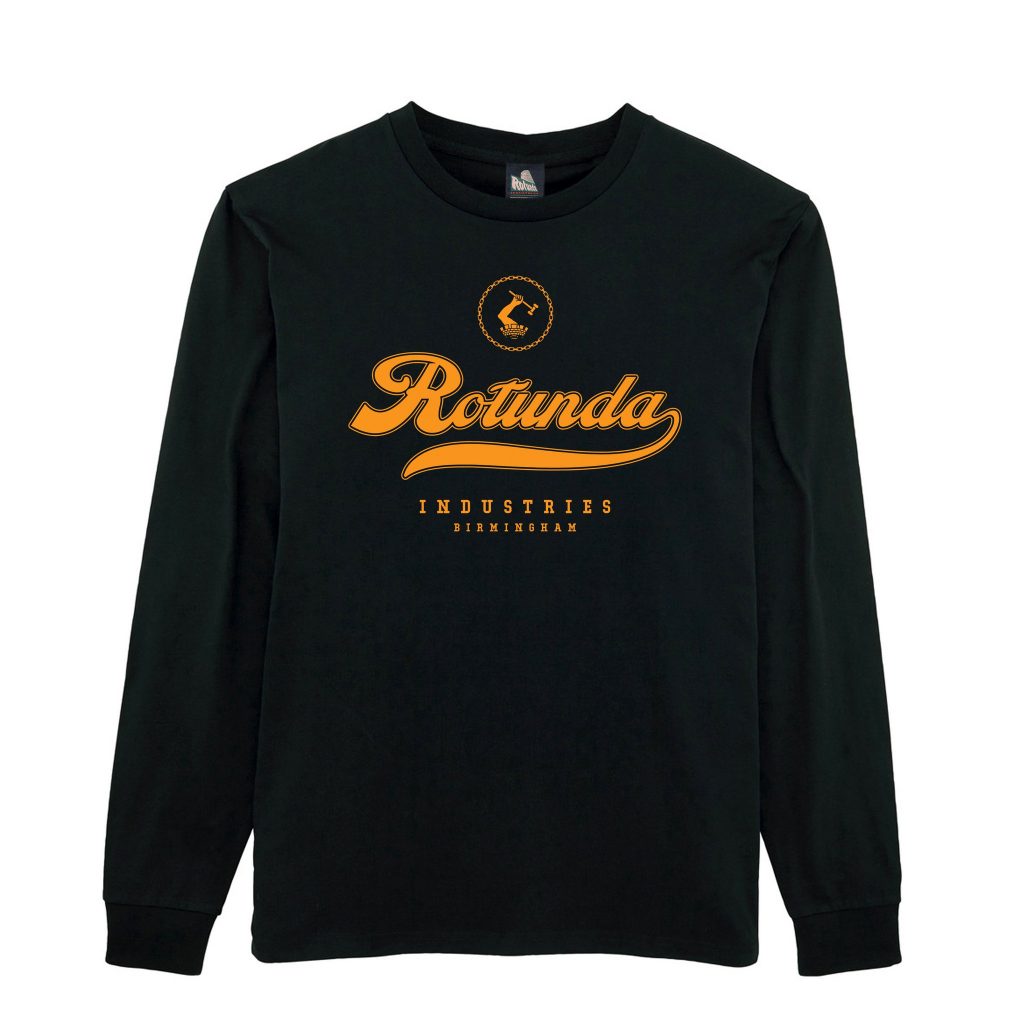 THE BIRMINGHAM TOLKIEN TRAIL ILLUSTRATED MAP BY

TOM WOOLLEY

– £20
A fun print for that LOTR fan in your life – this beautifully illustrated map by brilliant local artist Tom Woolley is the perfect gift.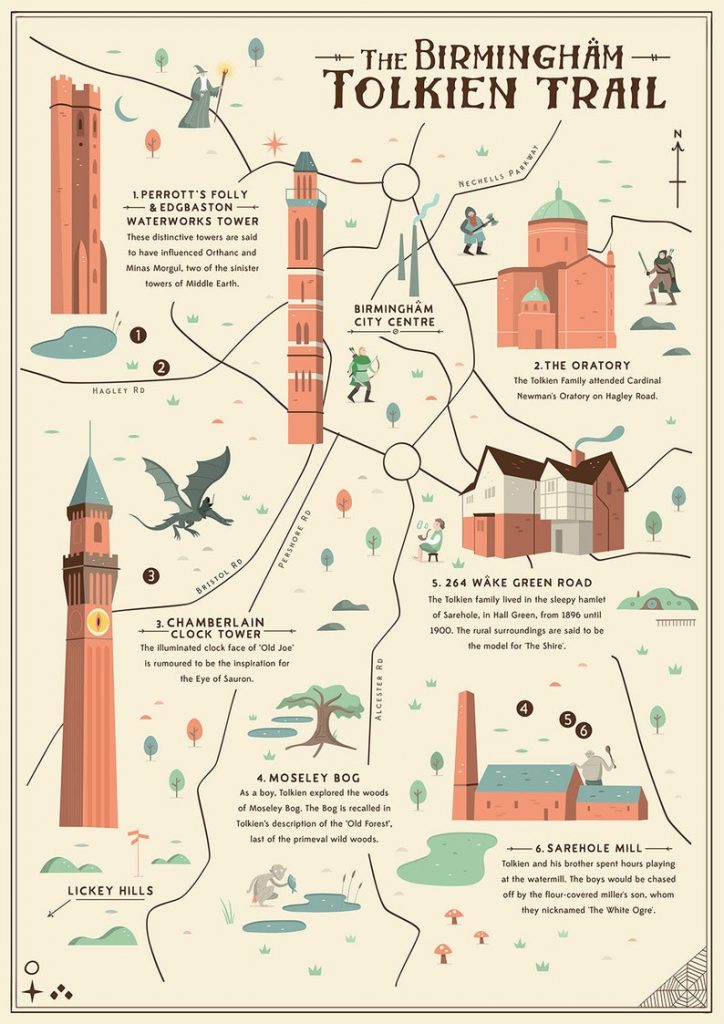 BIRMINGHAM WORDS TEA TOWEL FROM

DOT MOTH

– £9.50
Practical, fun and showing off your Birmingham roots. We LOVE these tea towels!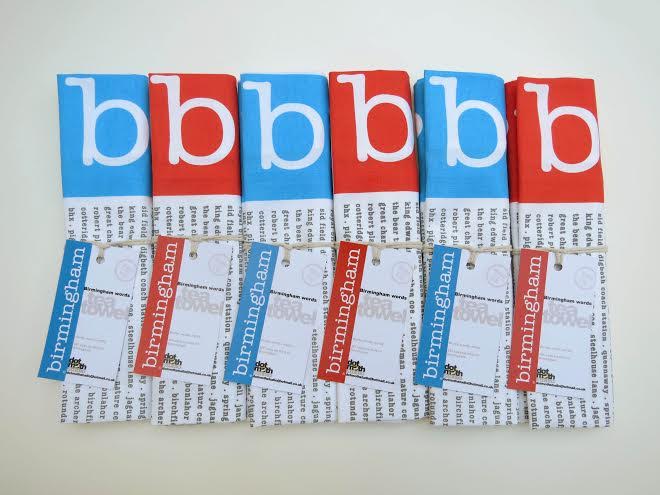 YES BAB ECO GLITTER T-SHIRT FROM

PUNKS AND CHANCERS

– £25
If you don't have at least one Punks and Chancers tee, are you even a Brummie? This fun and festive eco glitter tee is the ideal addition to everyone's wardrobe.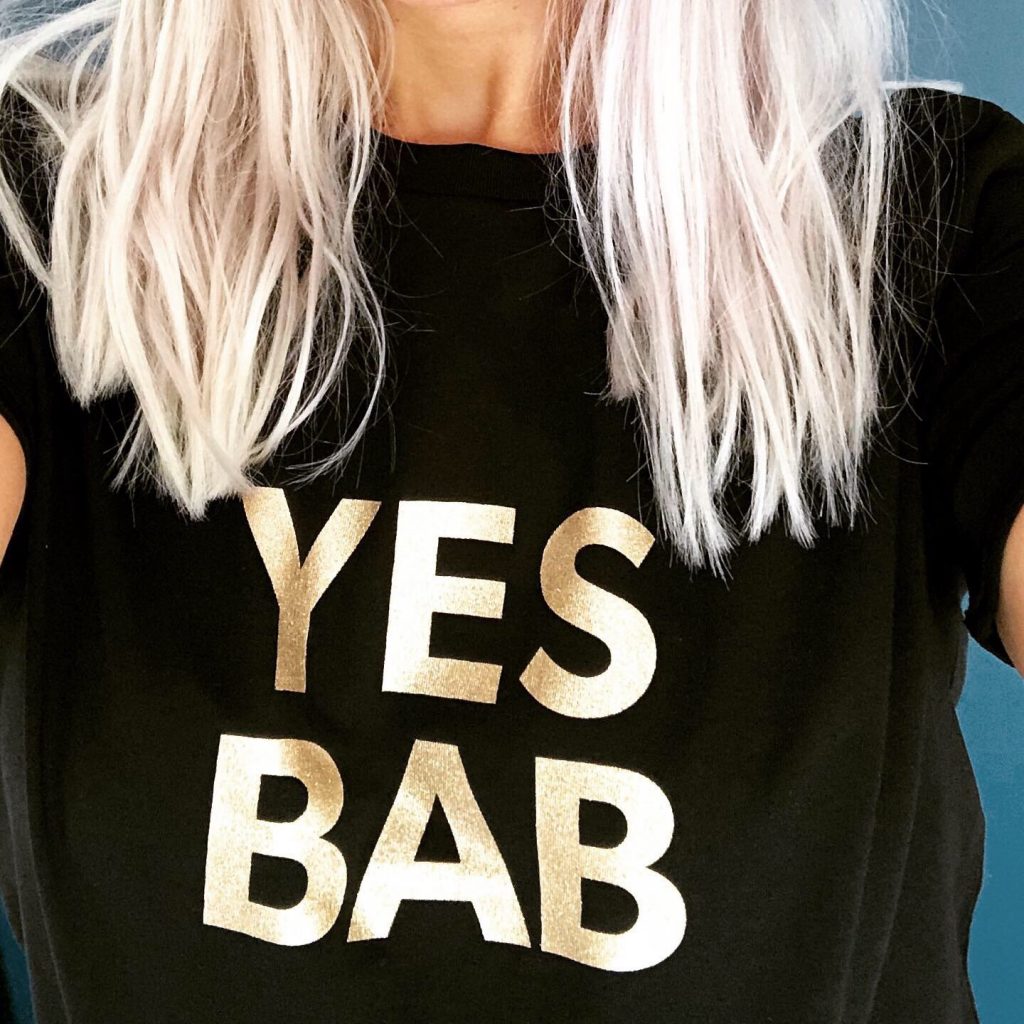 OLD SNOBS NIGHTCLUB WATERCOLOUR PRINT BY

DRAW MY CITY

– £25
Old Snobs, we miss you! If you know someone who misses Old Snobs too, memorialise this special place with this watercolour print. Other landmarks are available too.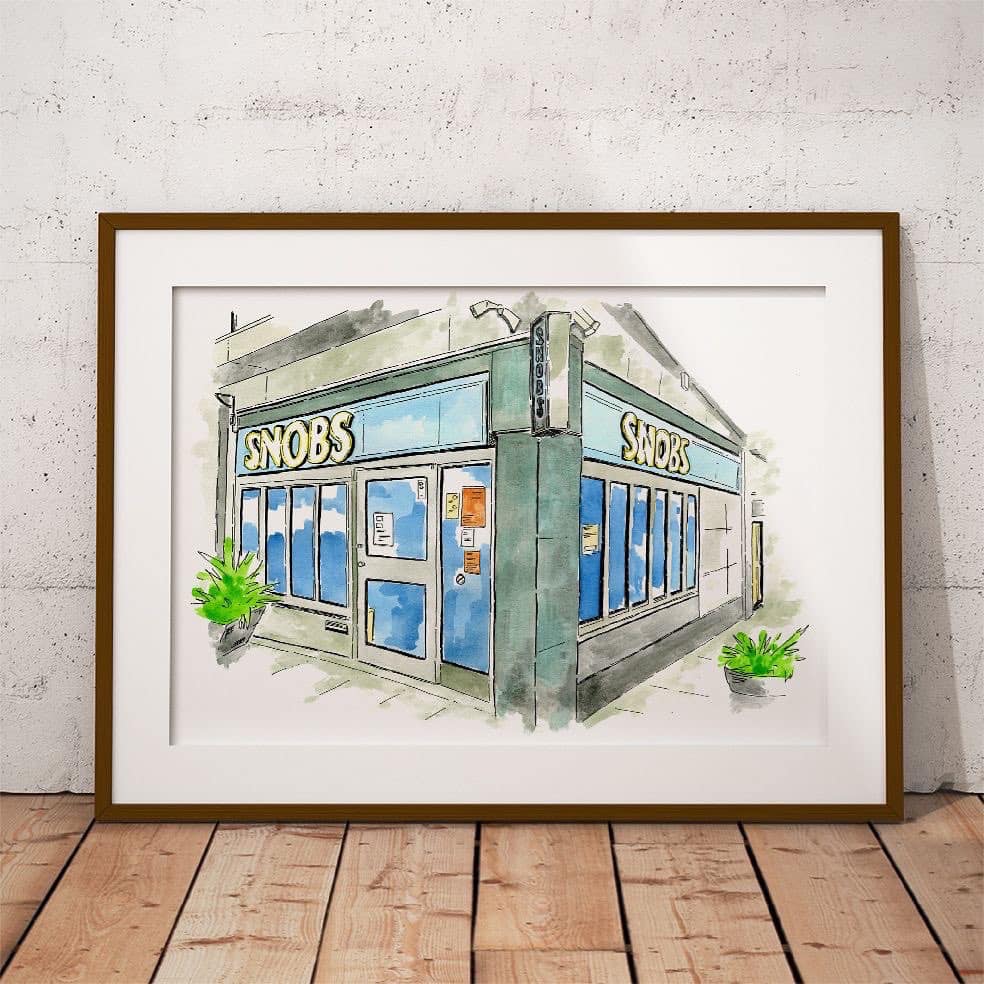 BIRMINGHAM ALPHABET PRINT BY

SHELLI GRAHAM

– FROM £18
An A-Z of all things Brum? We'll take 10 of these prints please. And then we'll gift them to everyone we know.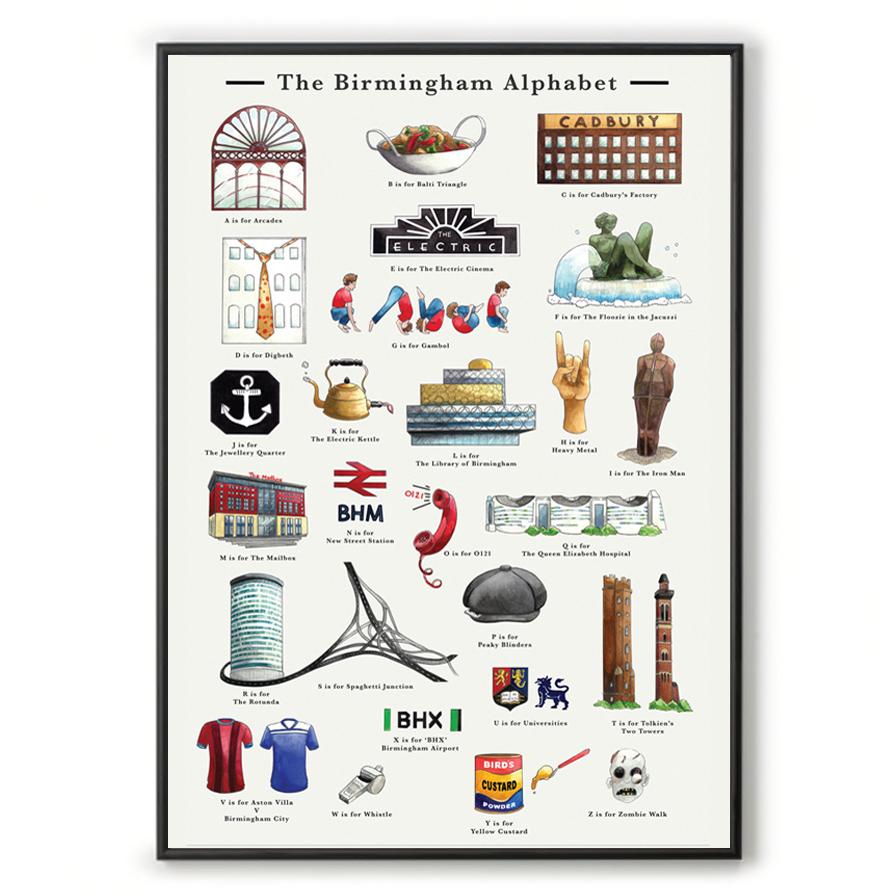 BENNY'S BABBIES POSTER (CREATED BY COLD WAR STEVE) FROM

BMAG

– £15
This poster screams FUN from the top of the Rotunda. All of our favourite Brummies in one poster, surrounded by our favourite Birmingham landmarks? We couldn't have dreamed anything better.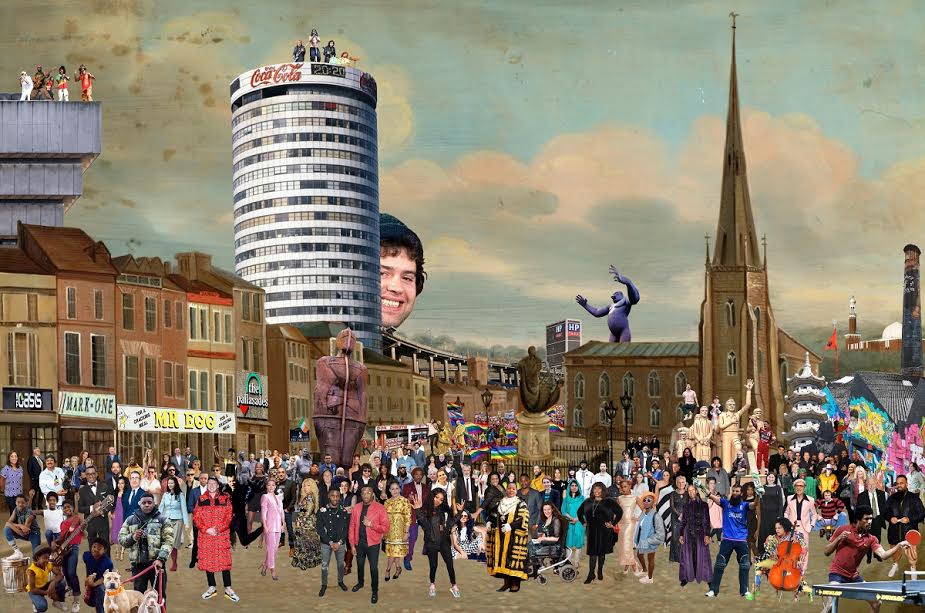 BIRMINGHAM PHOTOGRAPHIC PRINTS FROM TALENTED LOCAL PHOTOGRAPHER

ROSS JUKES

– FROM £50
Ross Jukes is known for his striking photographs of Birmingham and one of his prints makes a very welcome addition to any home.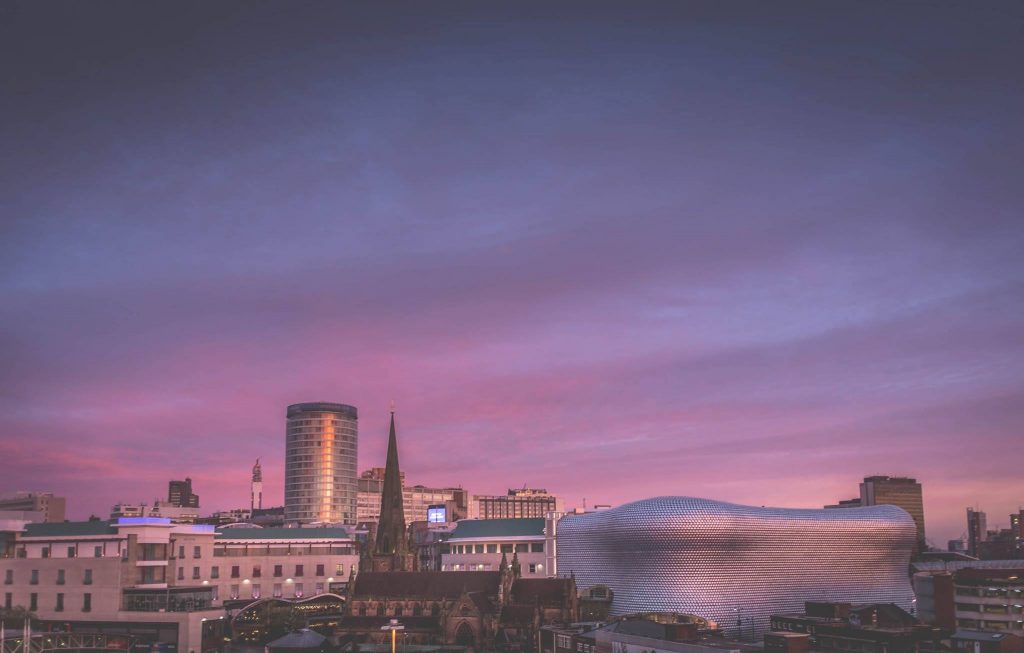 BIRMINGHAM PHOTOGRAPHIC PRINTS FROM TALENTED LOCAL PHOTOGRAPHER

SAM HENDERSON

– PRICE ON REQUEST
Sam Henderson (better known as shendergram on Instagram) captures some truly stunning scenes in Brum and you can request them as prints through his Insta page.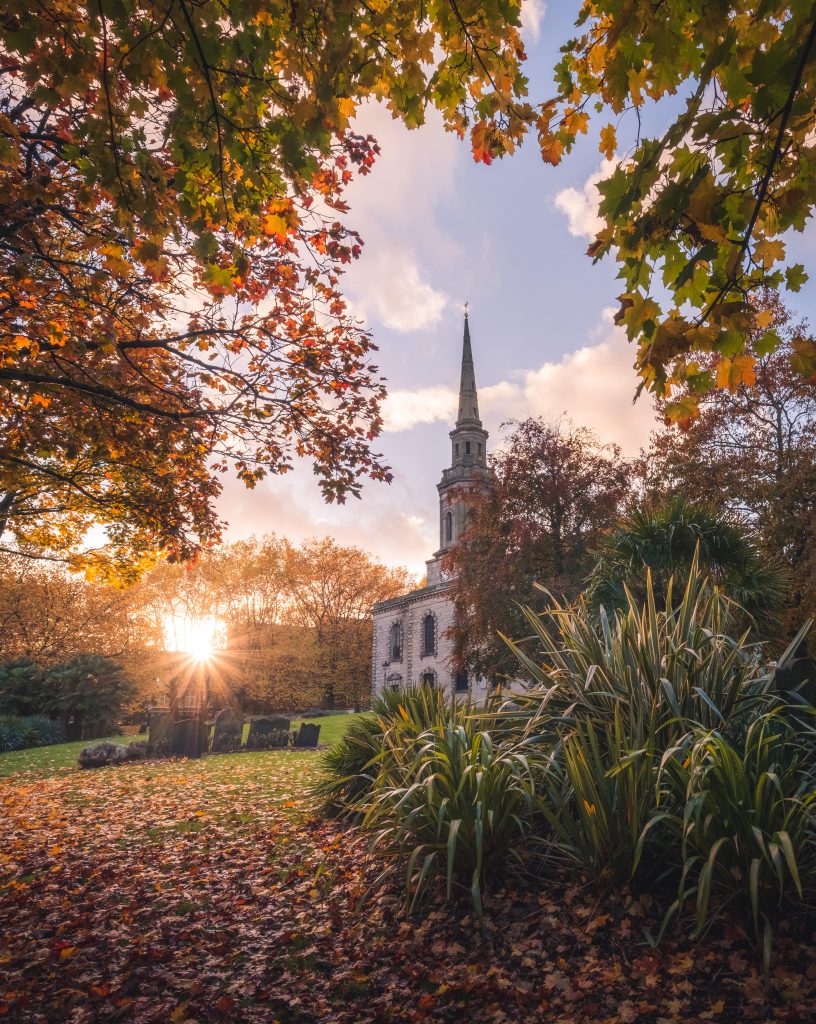 THE PRINCE OF WALES MOSELEY PRINT:

FAYE QUINN DESIGN

– FROM £10
A beautiful piece of art for the wall encapsulating their favourite Birmingham pub – what's not to love? Prints of The Old Crown, Hare & Hounds and The Fighting Cocks are also available.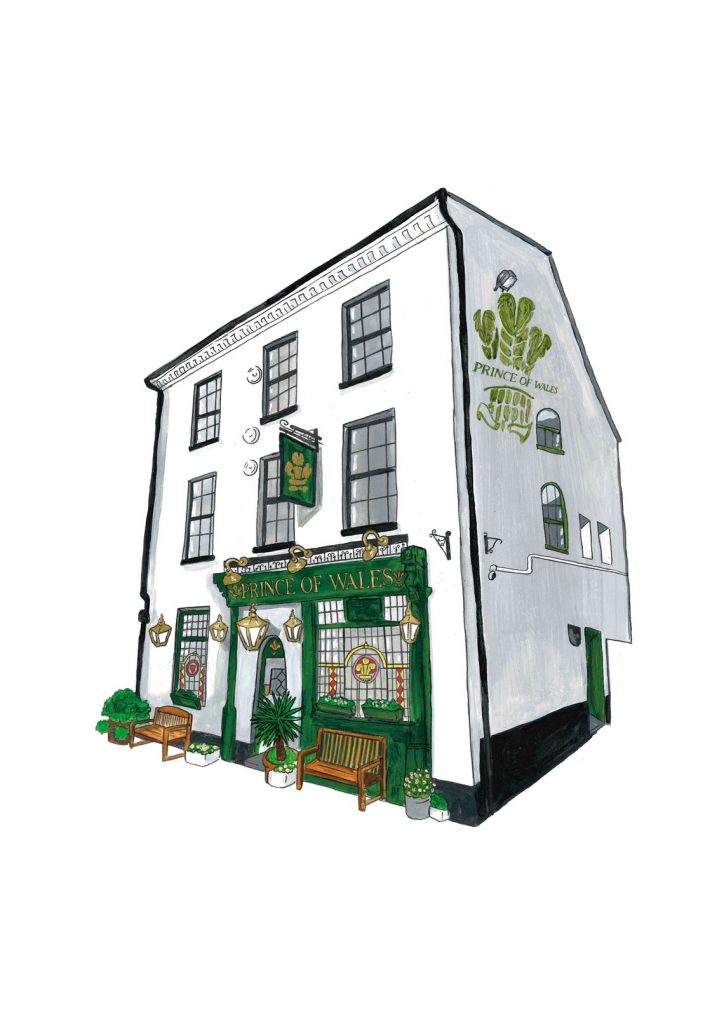 DIGBETH PRINT GIFT BOX:

ABBIE SEVERN

– £25
This lovely little gift box contains a framed, A5 mini Digbeth detail print, gift wrapped and ready to go (with free delivery). There's a choice of prints and frame colours too.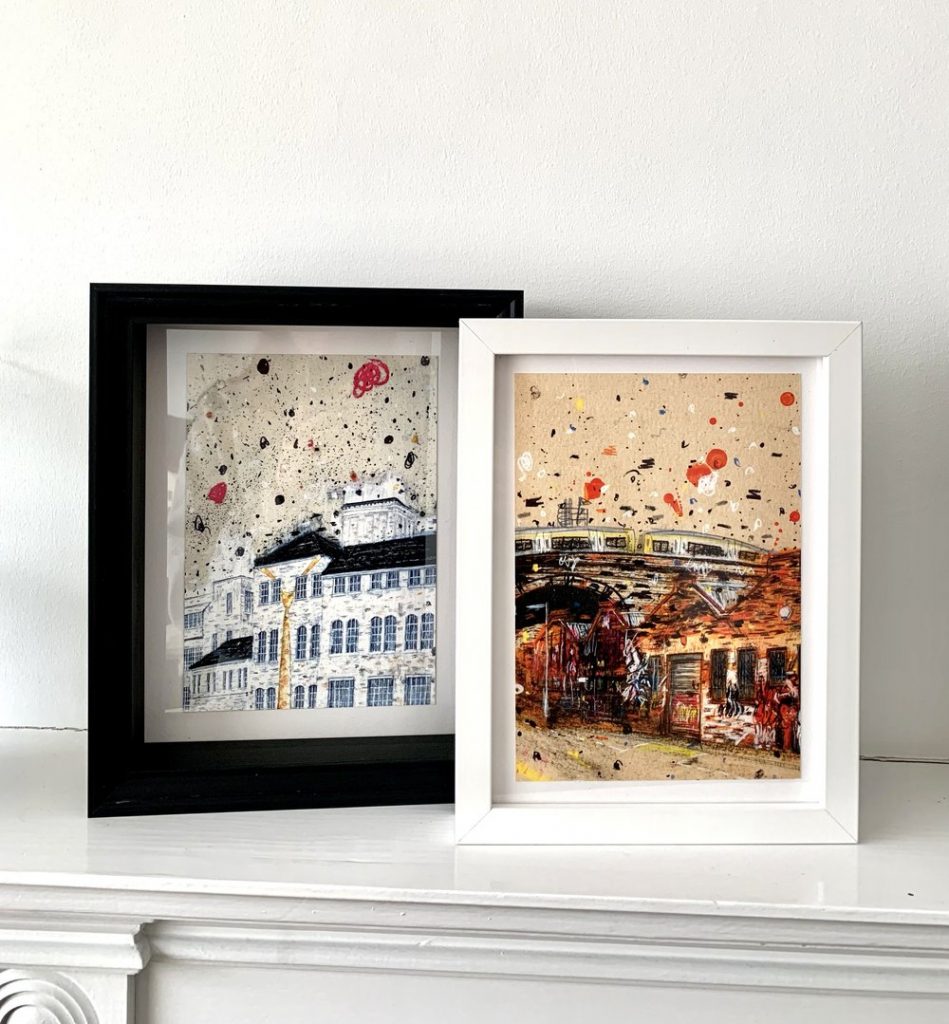 BIRMINGHAM BLUE HOUR PRINT FROM TALENTED LOCAL PHOTOGRAPHER

VERITY MILLIGAN

– £50
Verity Milligan captures the beauty of Brum like no one else. Her stunning photographs are available as prints and make a lovely gift.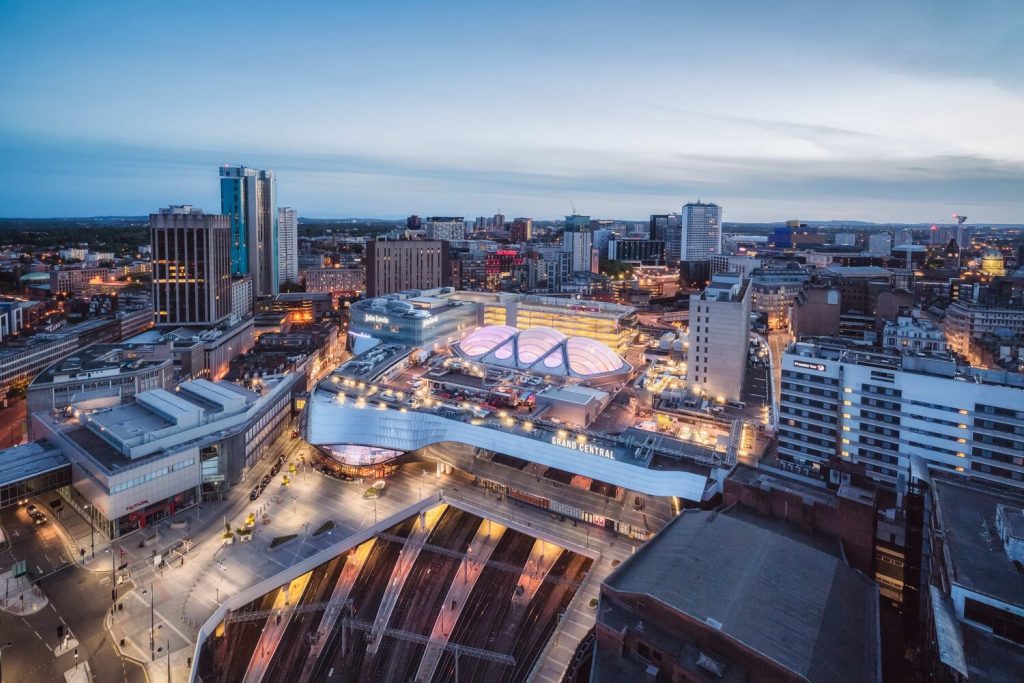 A MATTER OF OPINION PRINT BY

PAUL STRINGER

– FROM £10
Another brilliantly talented local photographer, Paul Stringer, also sells beautiful prints of Birmingham. Pick up a wonderful, striking photographic print for your friend/family's walls.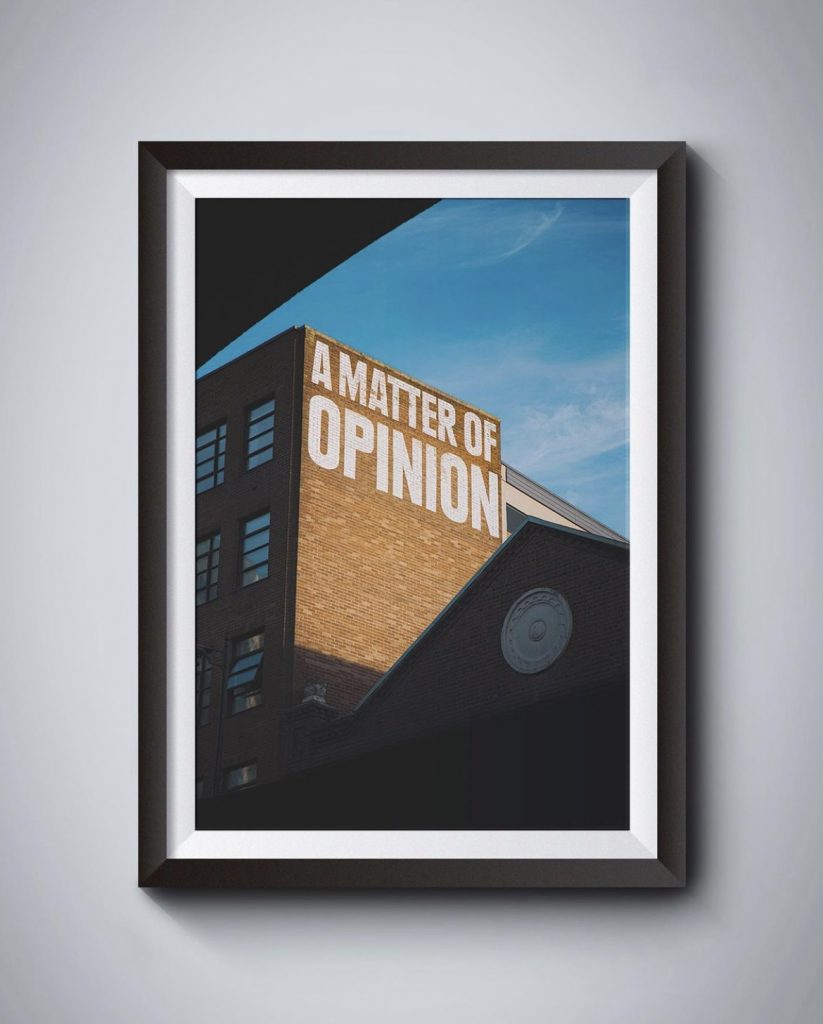 SNOBS

T-SHIRT – £10
We all know someone who loves a night at Snobs (who doesn't, right?) but did you know you can buy them merch?! A great secret santa gift – this t-shirt is a must.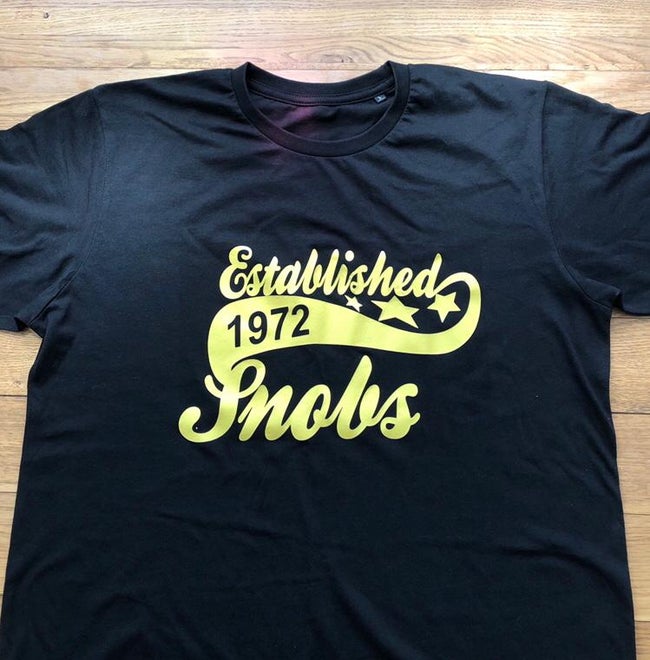 STOCKING FILLERS
Sometimes those little extras are the best bits. The small stocking fillers that have had just as much thought behind them as the bigger gifts can be just as fun and exciting – and we have a great selection of stocking fillers for you.
CHRISTMAS CHOCOLATE TRUFFLE BOXES FROM

THE CHOCOLATE QUARTER

– FROM £6.50
Beautiful handmade chocolates are always a lovely gift. Grab one of these beautiful Christmas boxes for the chocolate lover in your life.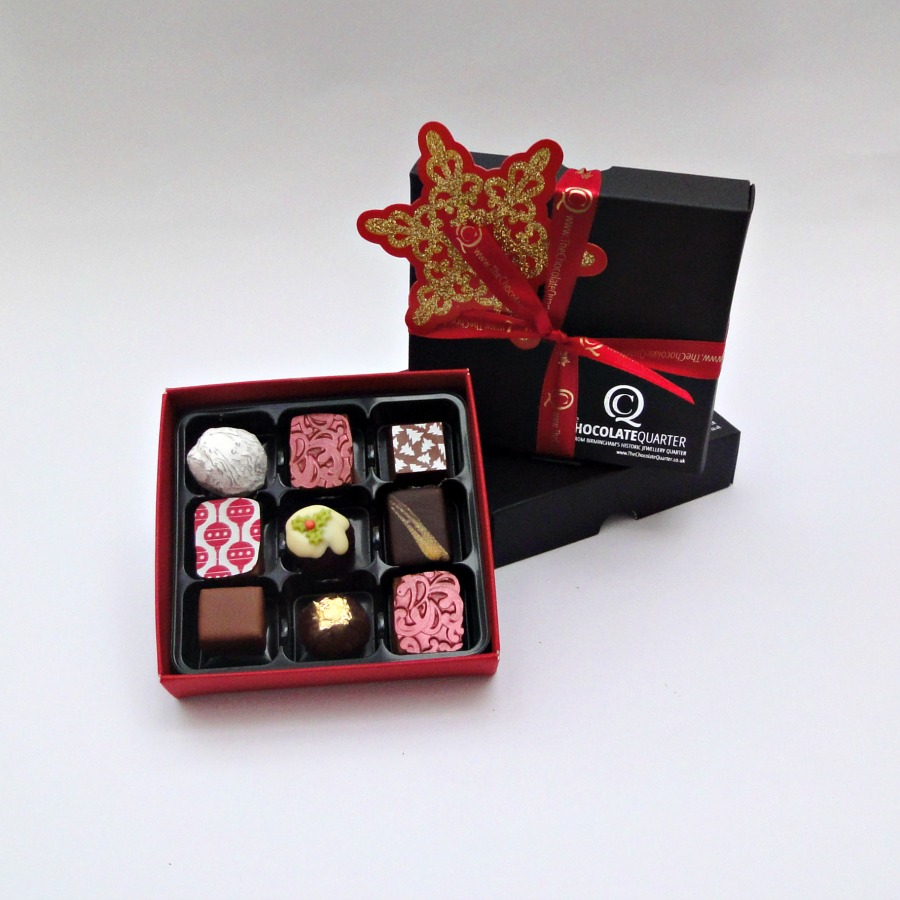 Sweet tooth but not a big fan of chocolate? Get them some delicious fudge from Sweetmeat Inc. – it truly is the best fudge we've ever tasted.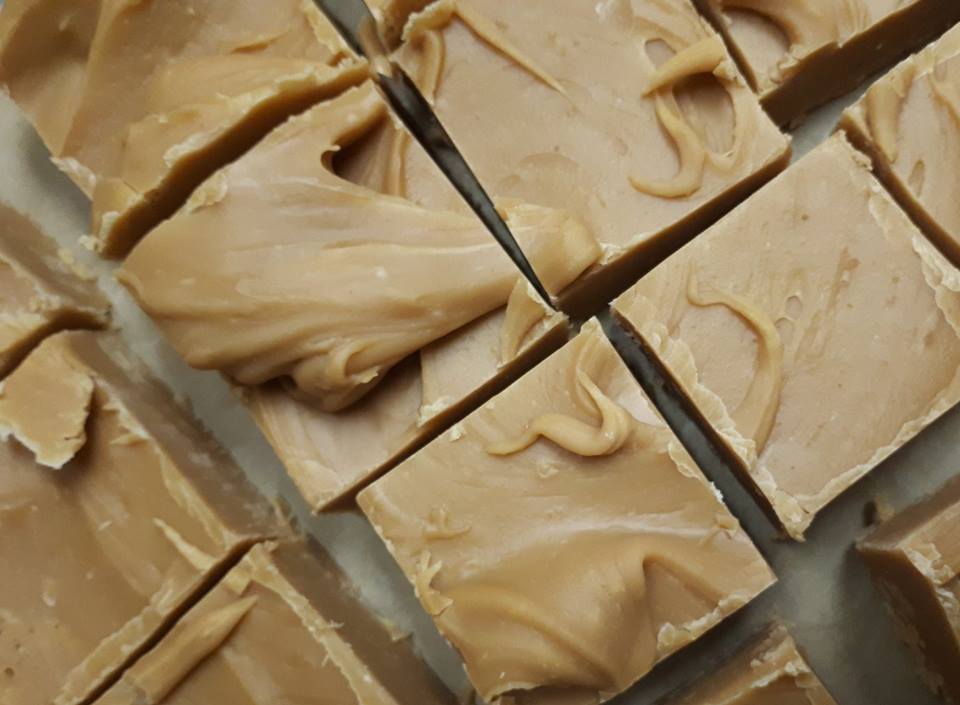 TRIPLE MINI MIX OF CHOCOLATE BARS FROM

BEANU

– £8.50
For the chocolate connoisseur, bean to bar is the way to go and these mini bars from Beanu make a great stocking filler.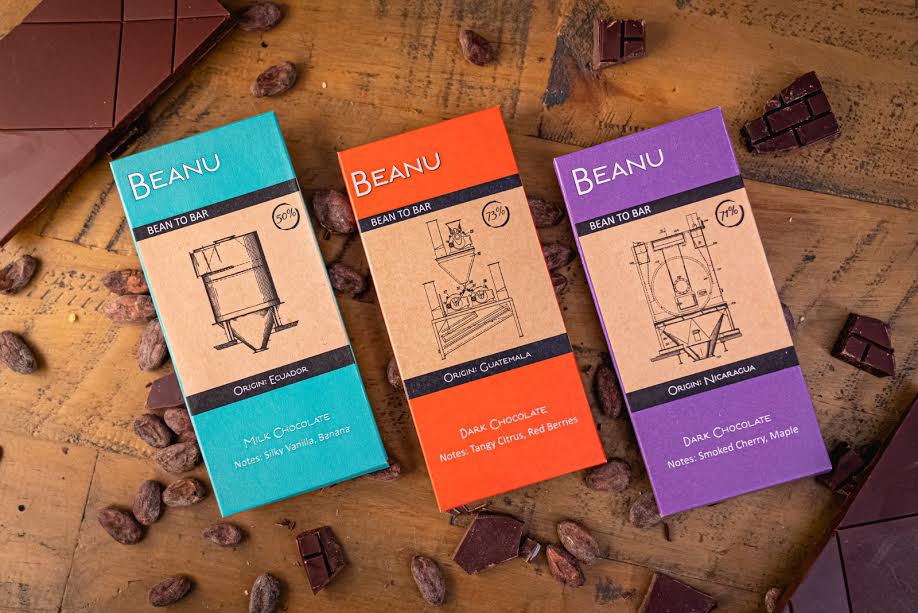 Who doesn't love a wonderful new book to get stuck into? The Bookshop On The Green has a fantastic selection of bestsellers, fiction, non-fiction, and a particularly good children's section. So why not pop into their shop in Bournville to pick up some gifts (or you can shop online too).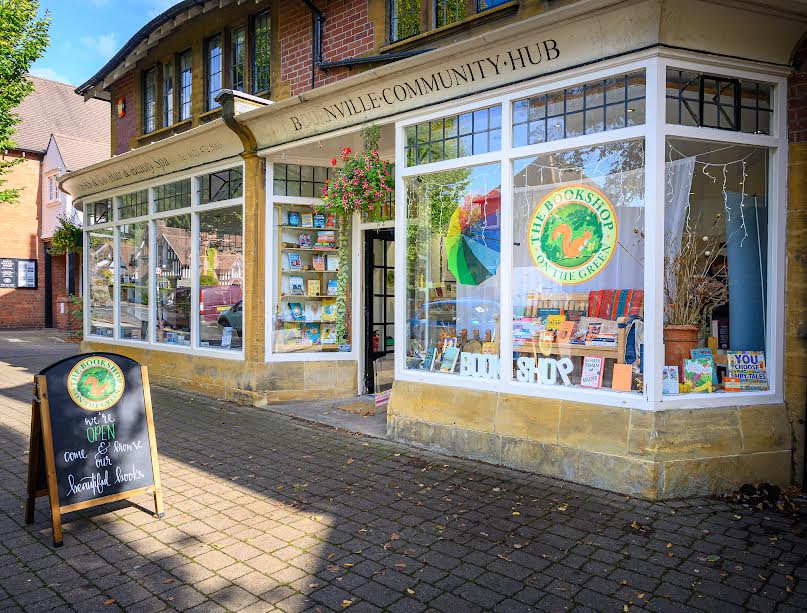 BOX OF CHRISTMAS MACAROONS FROM

MISS MACAROON

– FROM £22
Miss Macaroon make beautiful French macaroons and help to create employment opportunities for young people in need. A truly delicious taste-good and feel-good gift.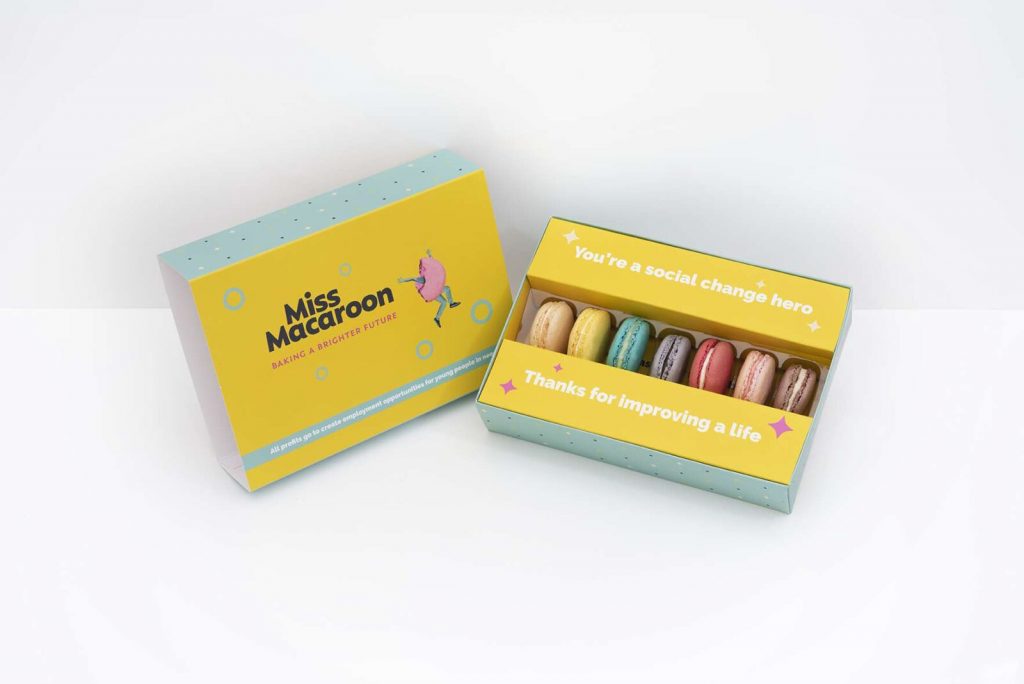 ZERO WASTE PAMPER ME PARCEL FROM

THE CLEAN KILO

– £24
Zero-waste supermarket The Clean Kilo are known for their eco credentials. If you're looking for a lovely eco-friendly gift this year, check out their zero waste parcels.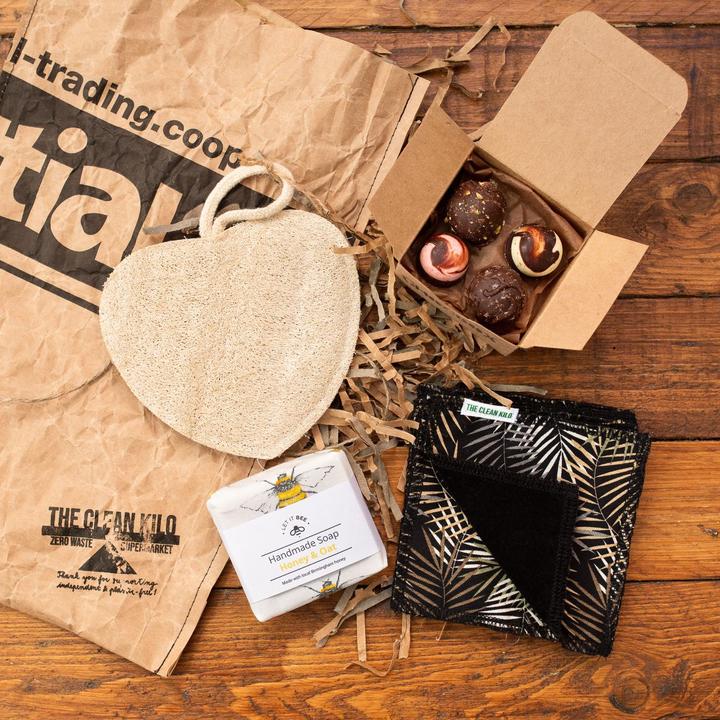 These little chocolates are as adorable as they are delicious. 1683 Chocolate Place have a whole range of luxury, artisan chocolate gifts to choose from.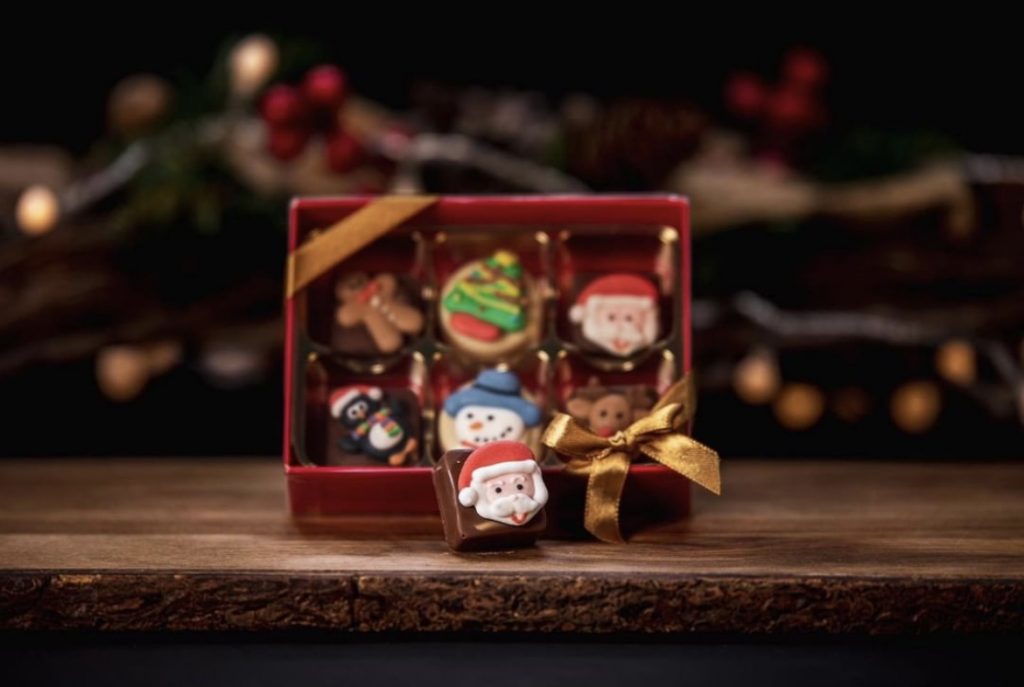 ARNOLD THE ALPACA BOOK BY

GLYNN PURNELL

– £6.99
A great little stocking filler for a child, this book by local chef and author Glynn Purnell is a heart-warming tale, and the second kids book by Glynn. You can request a signed copy via email.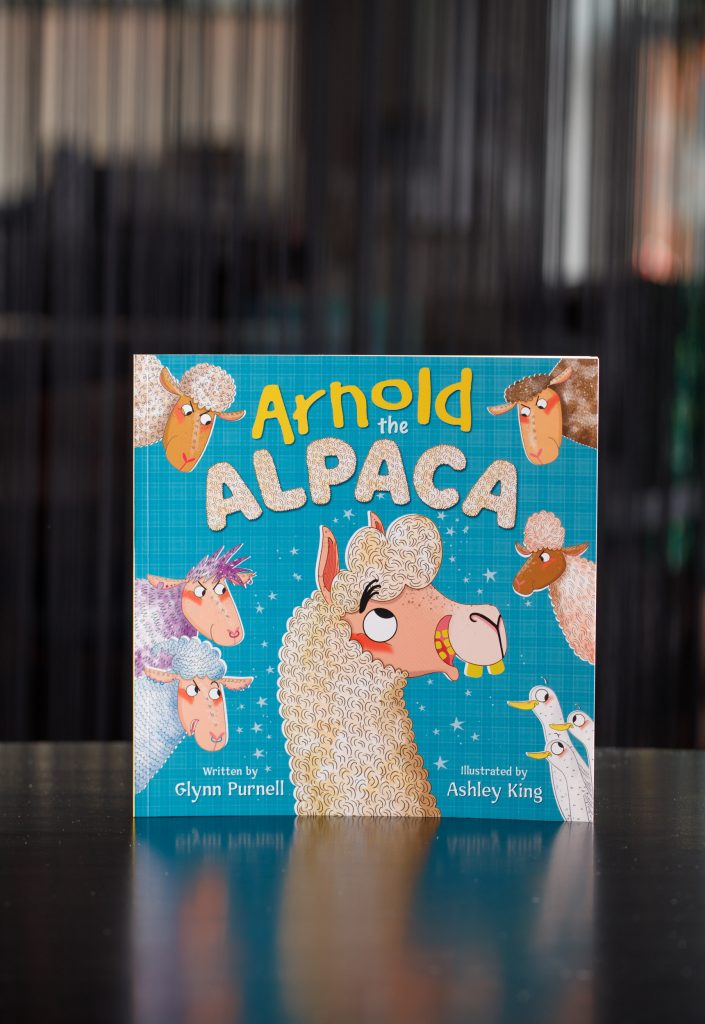 HOUSEPLANT WATERCOLOUR KIT FROM

FOLK LIKE THESE

– £26
For the creative one in your life, an art kit from Folk Like These is a lovely, thoughtful gift to help them practice their skills and have some fun.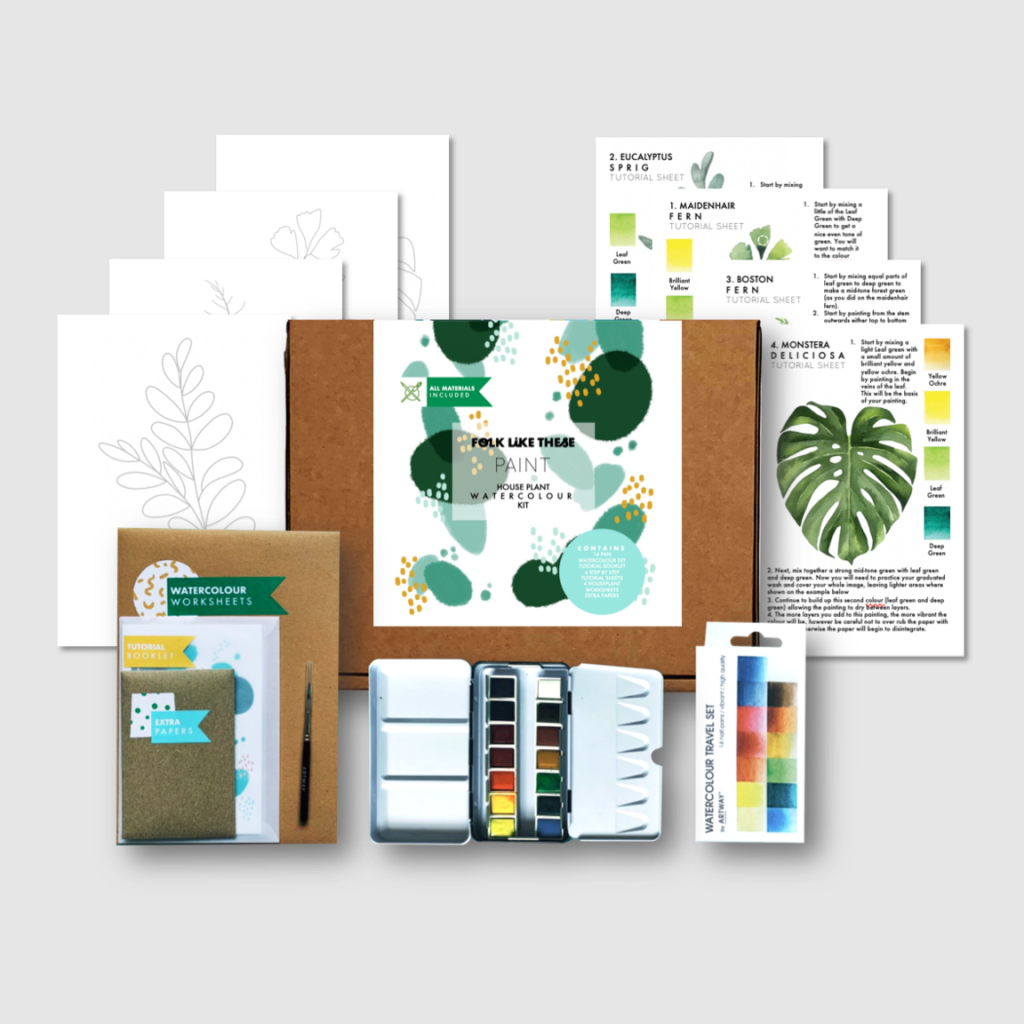 GIFT VOUCHERS FOR JEWELLERY MAKING CLASSES AT

THE QUARTERWORKSHOP

– FROM £5
The Quarterworkshop offer fun jewellery making workshops where participants can learn new skills and create their own piece to treasure forever. Gift vouchers are available to put towards these classes.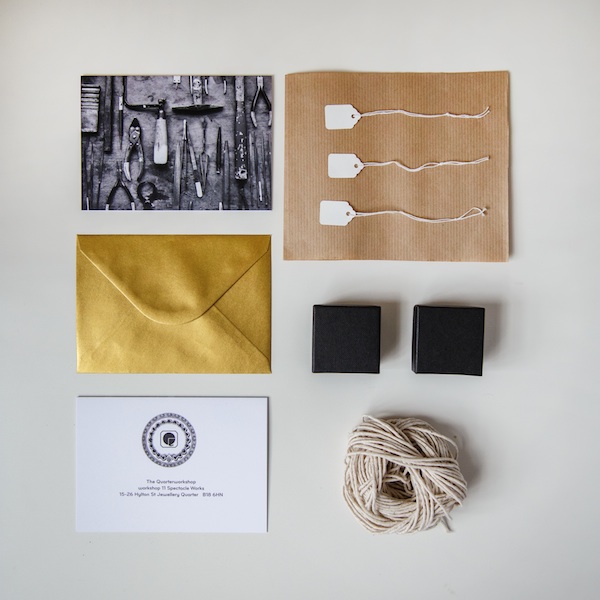 1KG CREATE YOUR OWN VEGAN PICK 'N' MIX FROM

ALLEWAY'S CONFECTIONARY

– £9.90
Alleway's Confectionary have all manner of vegan goodies available from pick 'n' mix to chocolate and popcorn. Choose the perfect sweetie combo for your pick 'n' mix loving friend.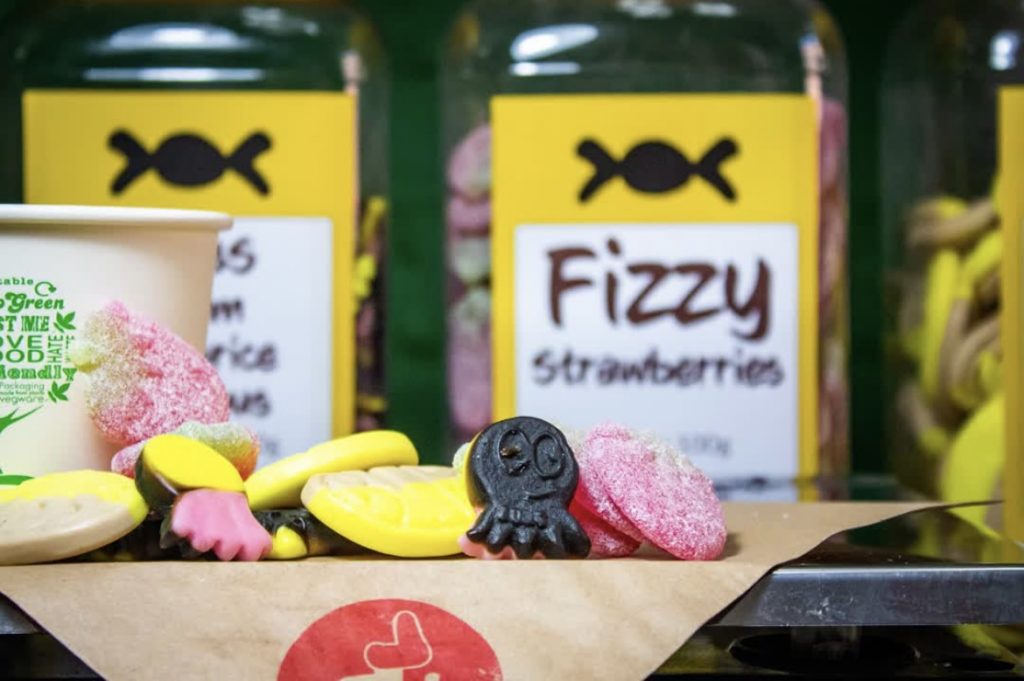 MATCHES IN GLASS BOTTLE FROM

LIV'S

– £14.50
These cute matches in a glass bottle make a lovely little stocking filler. Gift with a candle or on their own, either way they're pleasing on the eye. Liv's is packed with gorgeous Christmas gifts, decorations and more.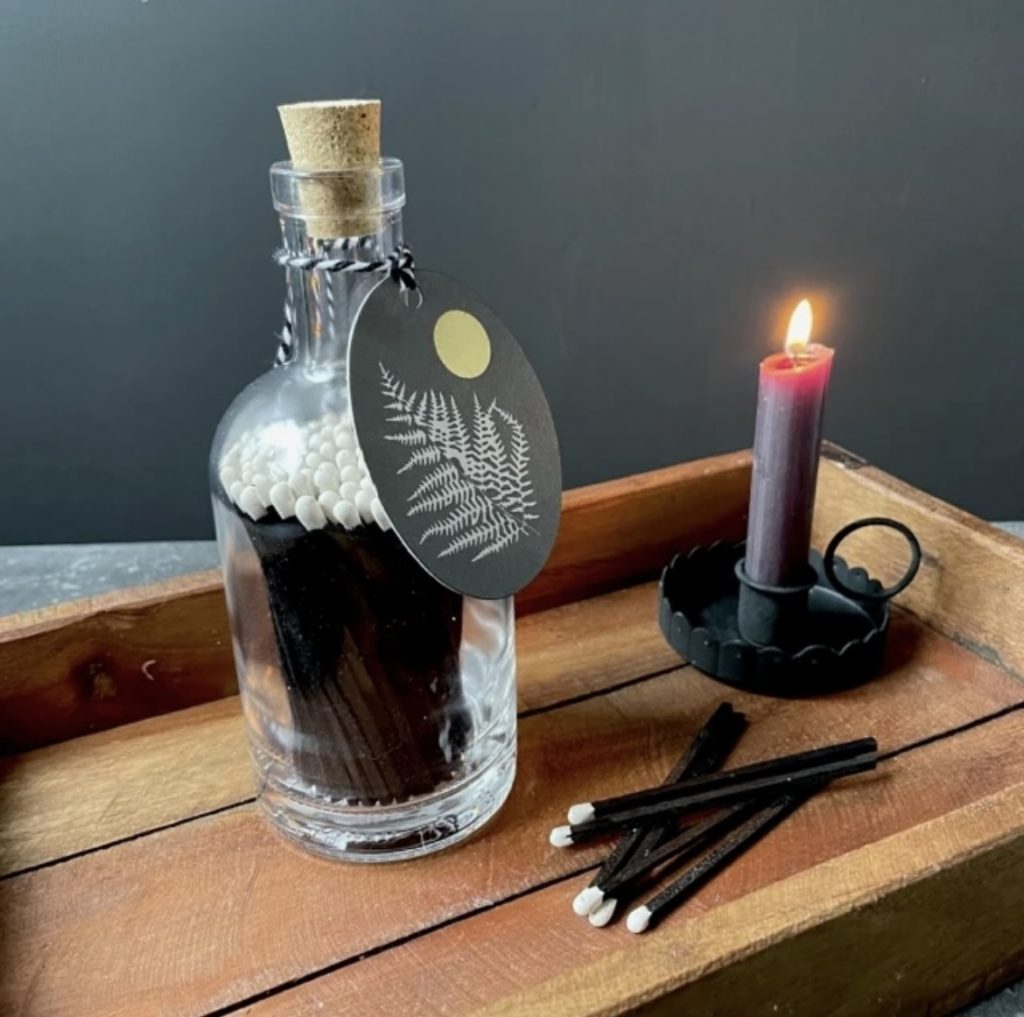 HANDMADE COLOURING BOOK FROM

ROOTS0121

– £10
A fun stocking filler, this is not your average colouring book. Colouring can be very therapeutic and relaxing, and this is a quirky option.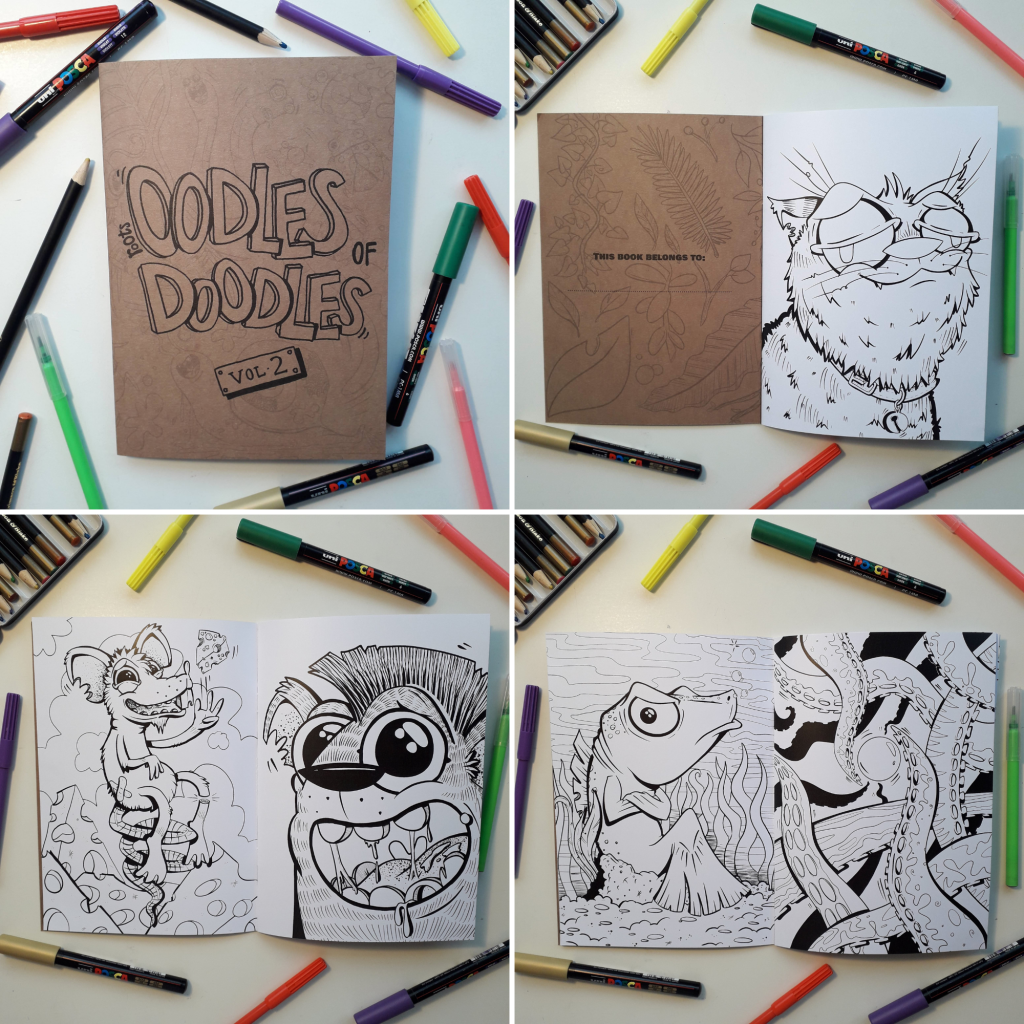 These fun notebooks are a little nod to the iconic and historic swimming pool, and also a useful stocking filler. The pale blue pages are the perfect place to jot down those notes and reminders you need to remember.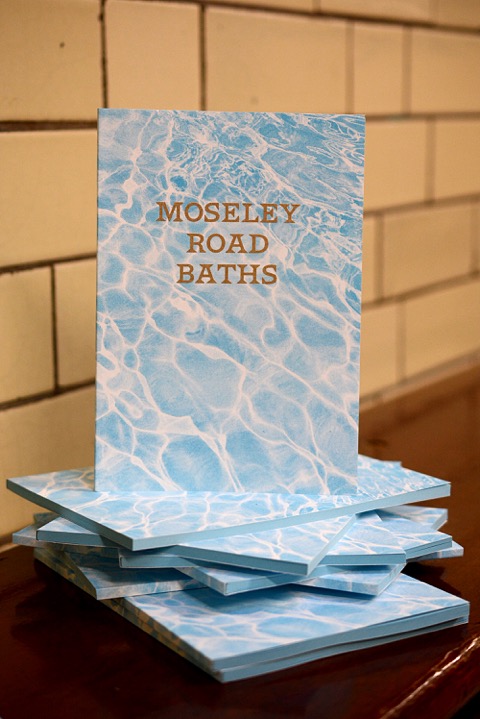 SPREADABLE GIN FROM

DRIFTROOM

– £9.99
For the person who has everything – liven up their breakfast with gin & tonic marmalade! Driftroom have a great selection of quirky gifts to browse too – great for those hard-to-buy for people.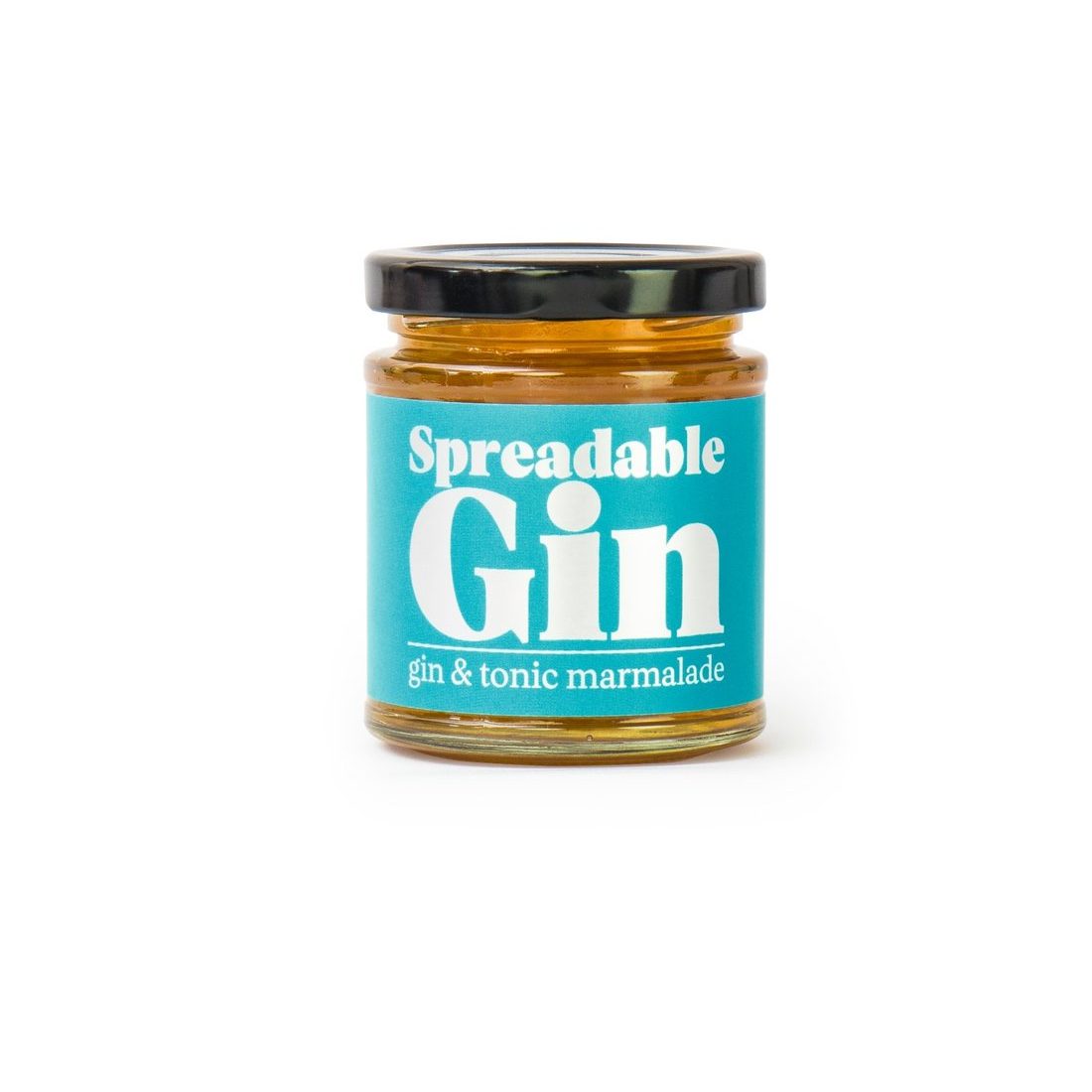 CERAMIC TOUCAN SALT AND PEPPER SHAKERS BY HANNAH TURNER:

SMITHSONIA

– £23.95
These fun salt and pepper shakers are sure to liven up someone's dinner table. Smithsonia, in the stunning Piccadilly Arcade, is packed full of treasures and wonders and is well worth a visit to hunt out those unique gifts you won't find anywhere else.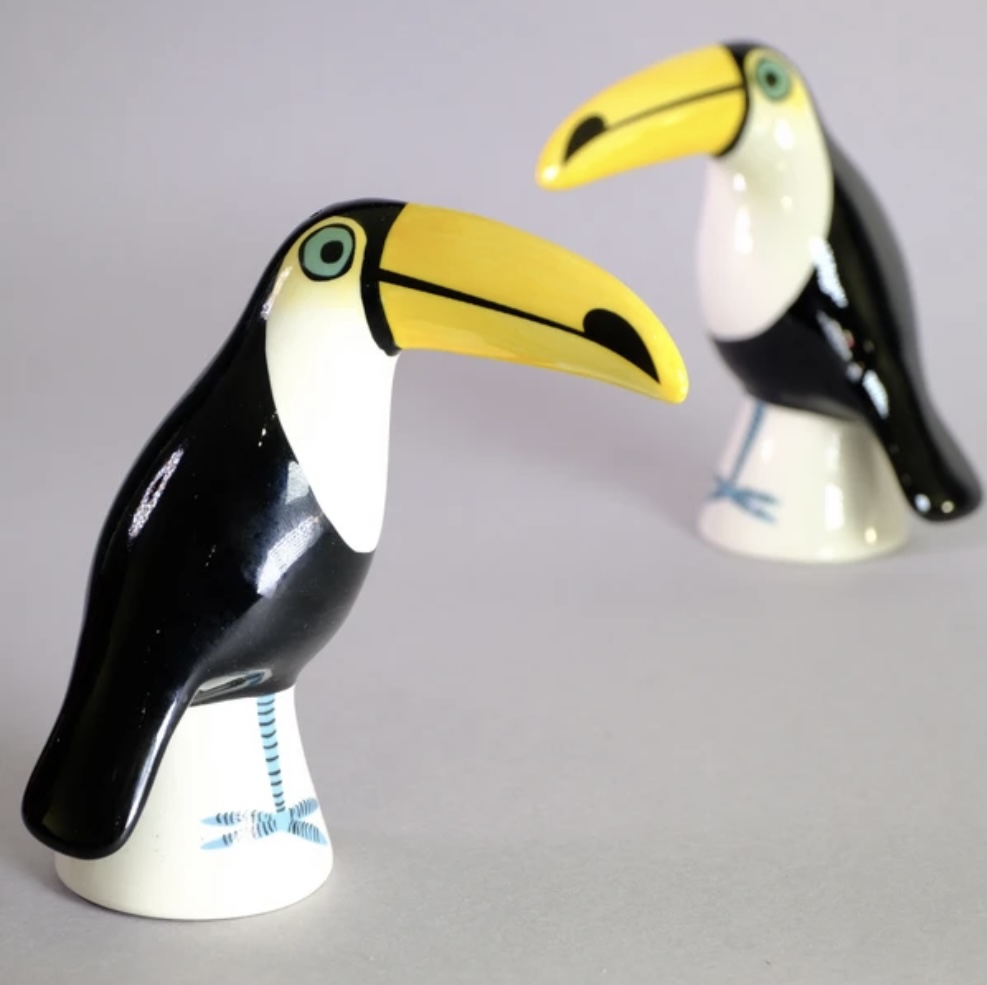 PALM READING COASTER SET FROM

ZEN

– £11.99
For the spiritual person in your life, you can't beat a gift from Zen. From crystals to incense, they have it all. This coaster set, inspired by the mystical art of palm reading is a fun and practical gift.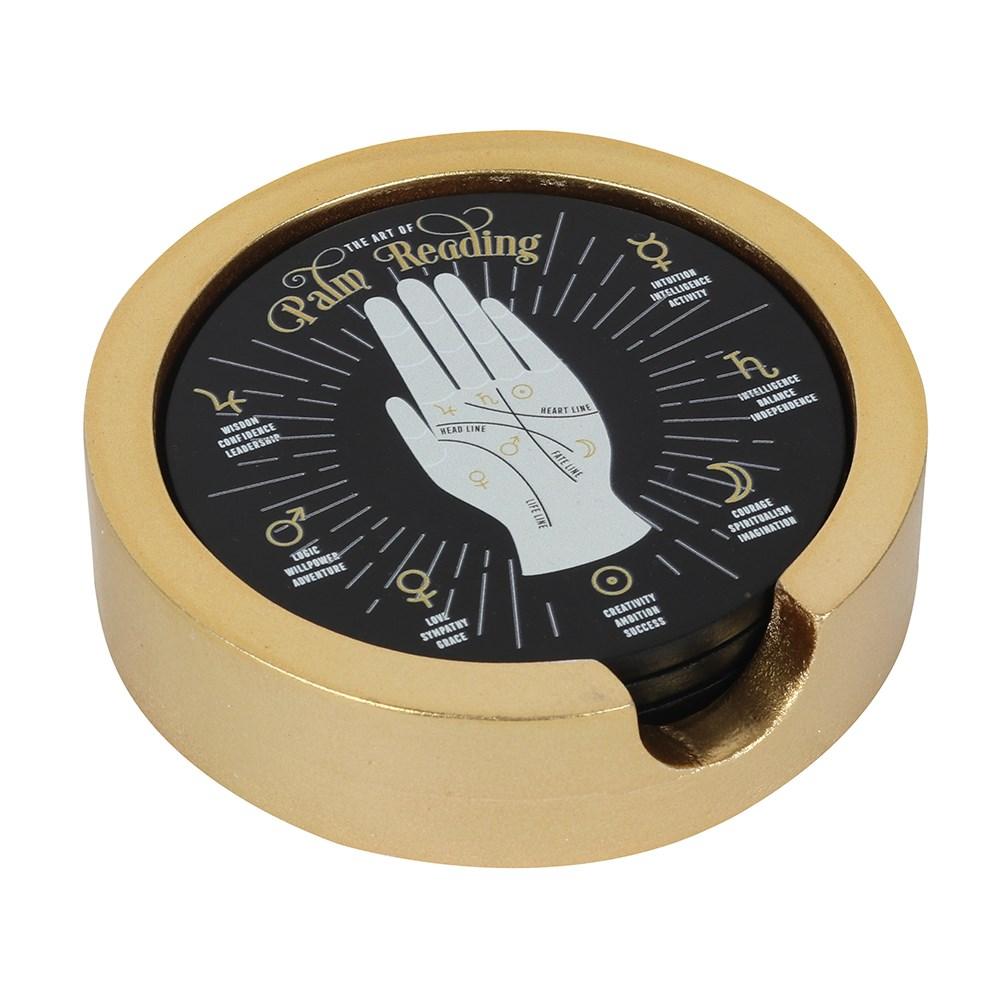 SET OF A5 KRAFT METALLIC WEATHER NOTEBOOKS:

SPARROW AND WOLF

– £12
A great little stocking filler for a stationery lover, you can't go wrong with some stylish little notebooks.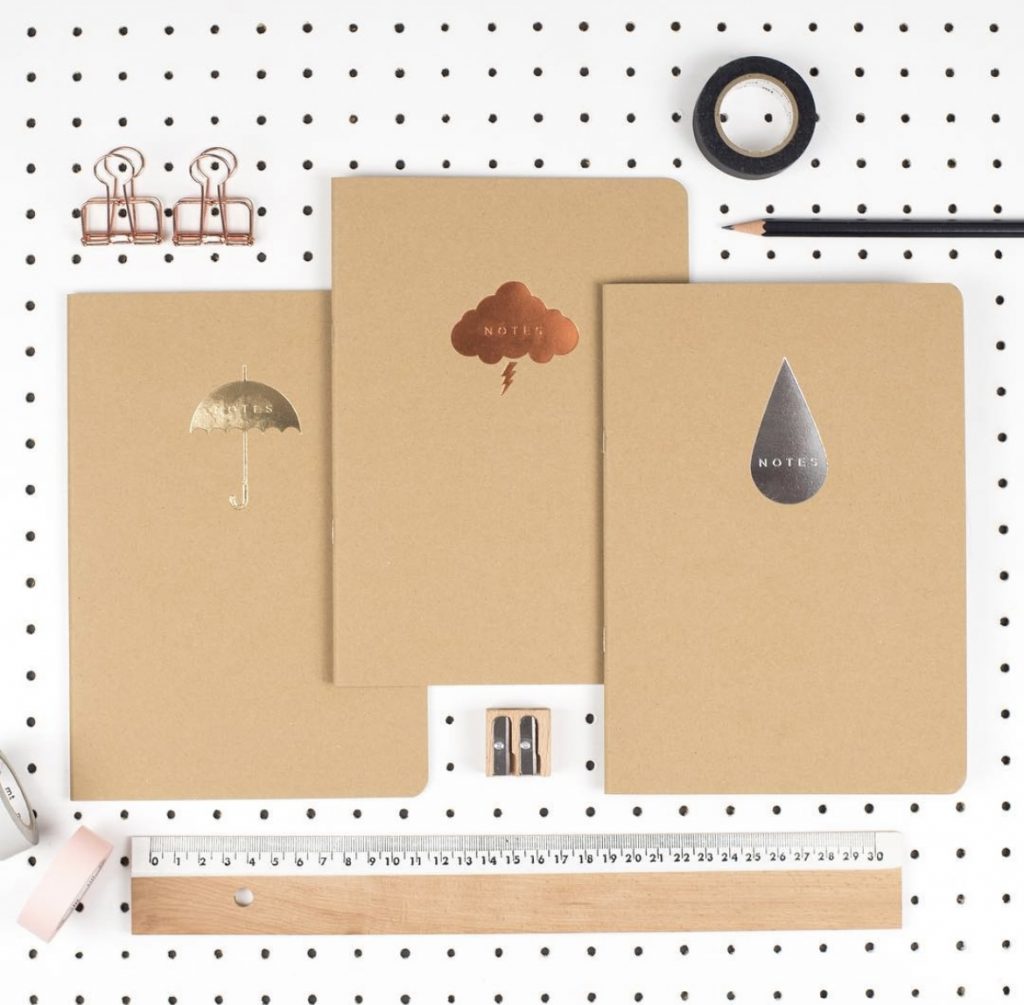 SIGNATURE 69% DRINKING CHOCOLATE:

WNDER

– £14
If you know someone who loves hot chocolate, this drinking chocolate from Wnder makes a wonderful gift. The perfect pick-me-up for the cold weather made from the finest cacao from Guatemala.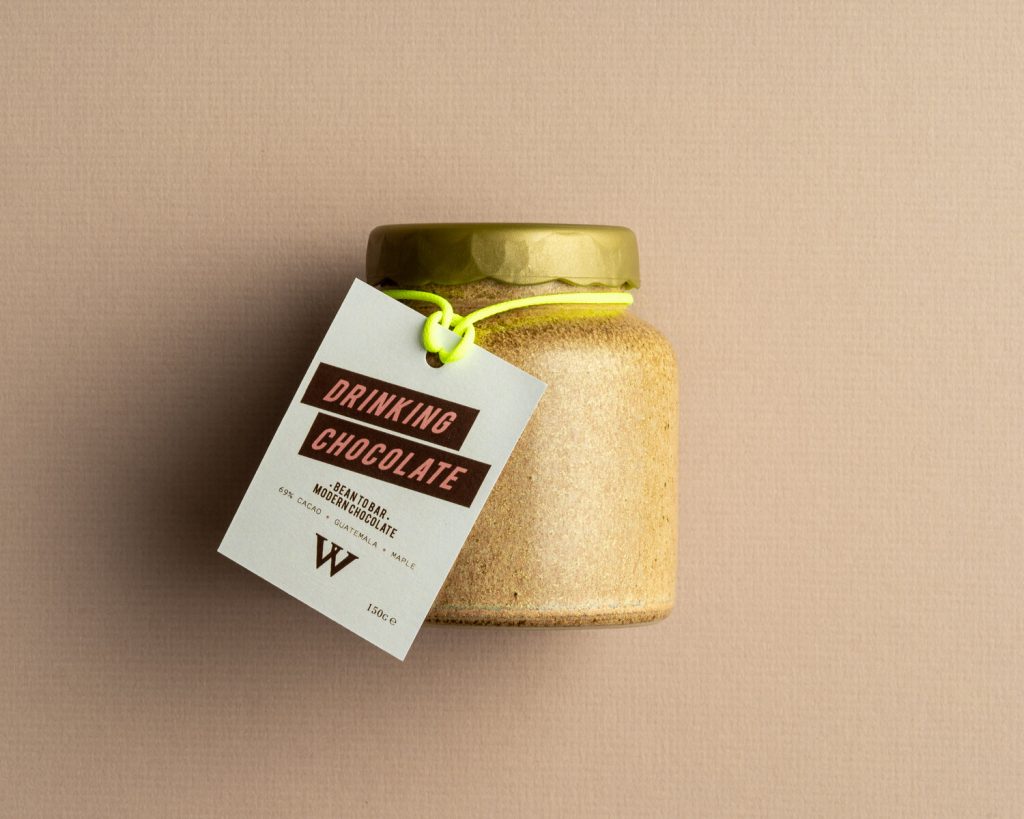 BIRMINGHAM MAP KEYRING FROM THE

BMAG SHOP

– £4.99
Give the gift of local and let your loved one carry Birmingham with them wherever they go with this keyring. The BMAG online shop is another fantastic shop packed with all sorts of wonderful gifts inspired by Birmingham, their museums, and the city's history.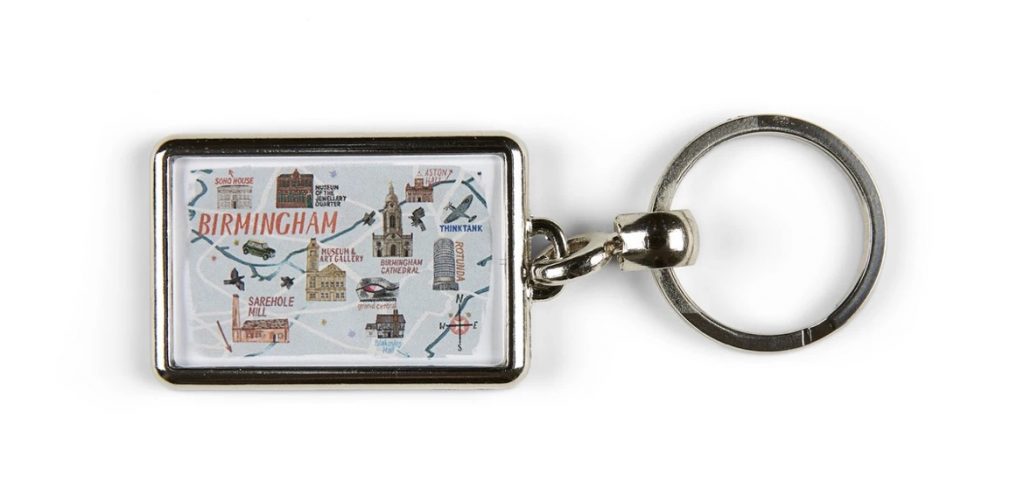 CHRISTMAS CARDS
For that extra little Brummie touch – send all of your out-of-town friends a little slice of your favourite city with a Brummie Christmas card.
BOURNVILLE GREEN CHRISTMAS CARD:

PAPERFABLES

BY MILAN TOPALOVIC – £3.50
Milan's signature illustrations make beautiful Christmas cards which will wow your loved ones.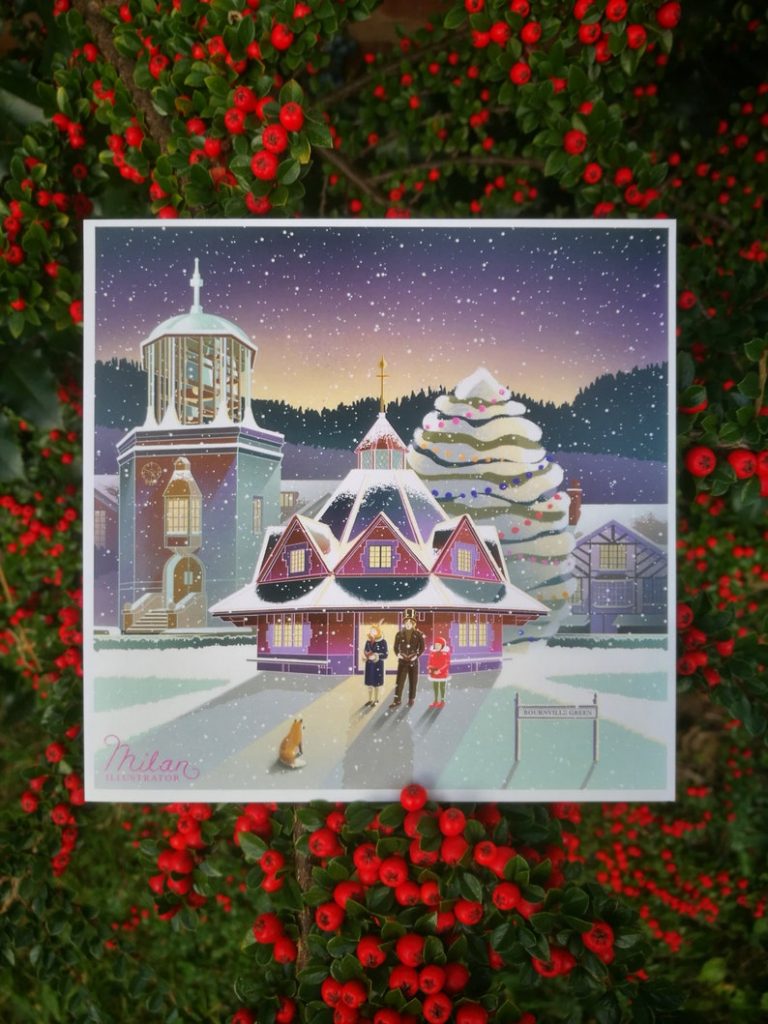 ILLUSTRATED CHRISTMAS CARDS –

PROVIDE

– £10
Fun, simple, bright cards from the legends at Provide.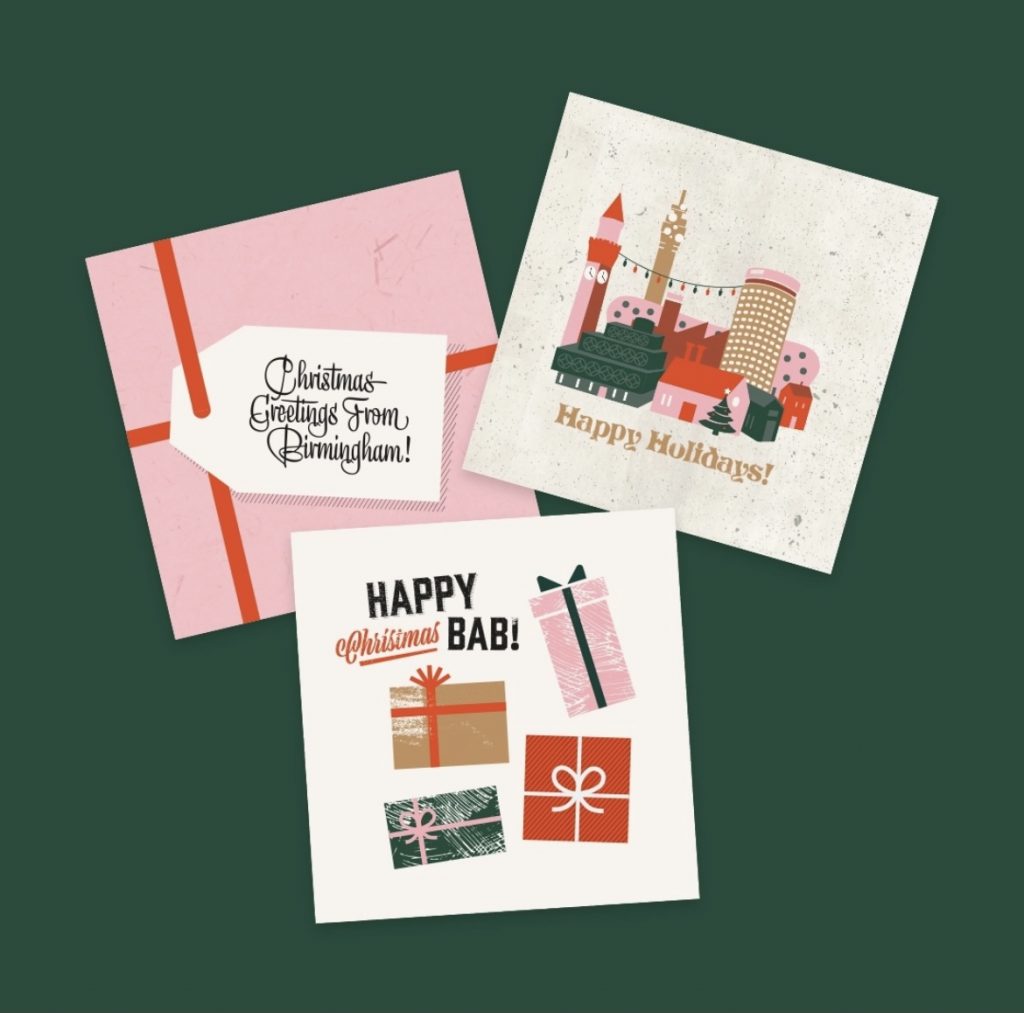 MERRY XMAS BAB CARD FROM

SPARKLYMOUSE

– £2.80
For something a little different to the usual snowy scenes and robins – festive colours, embroidered design, heartfelt greetings. Merry Xmas Bab!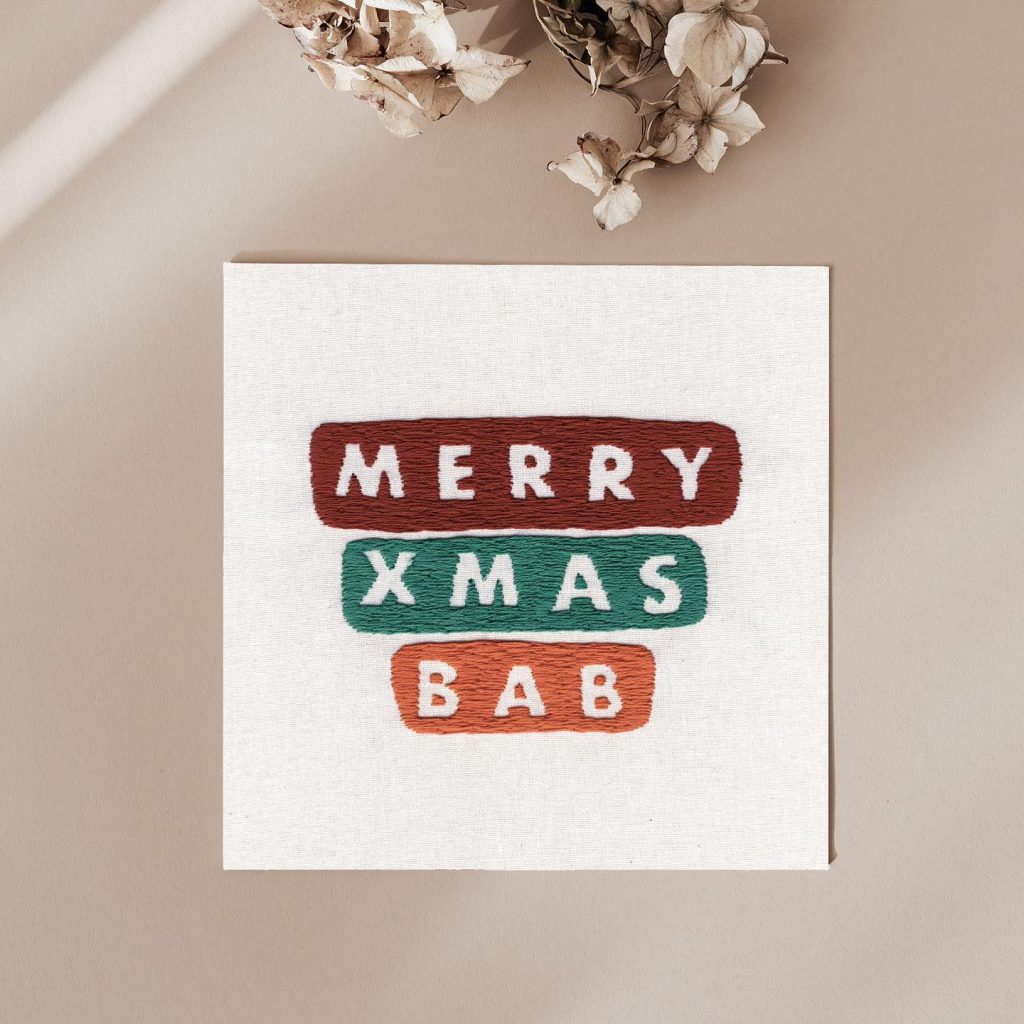 For the beer lover in your life.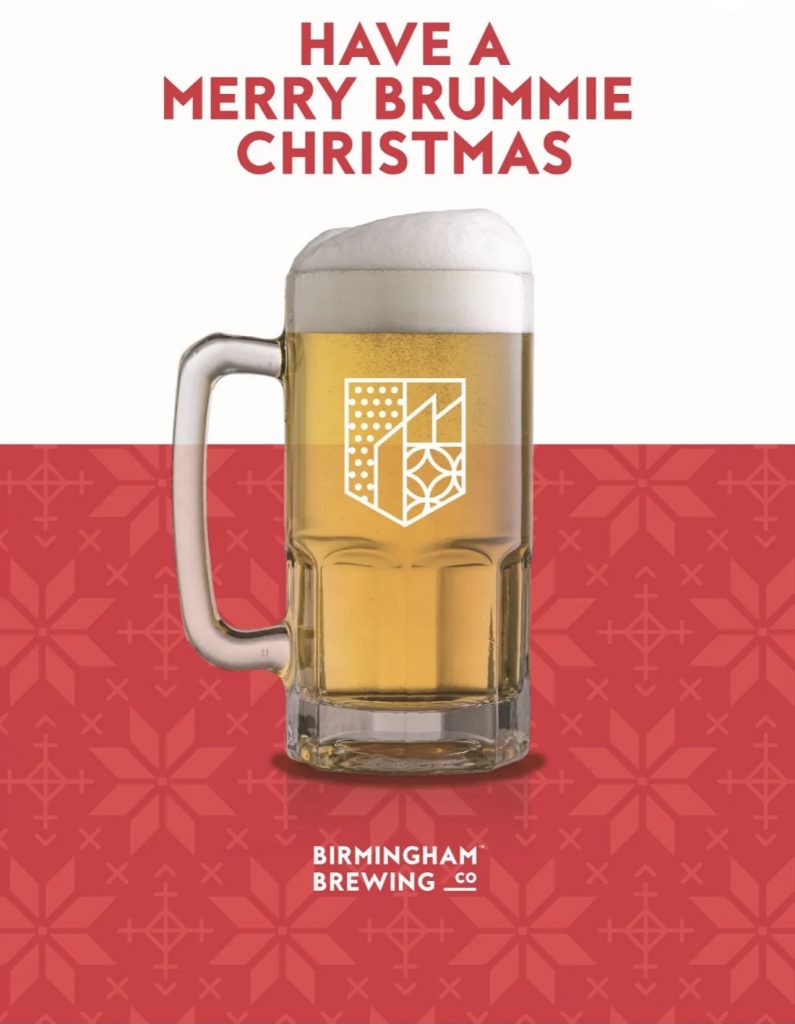 For something a little more rebellious than the usual cutesy cards.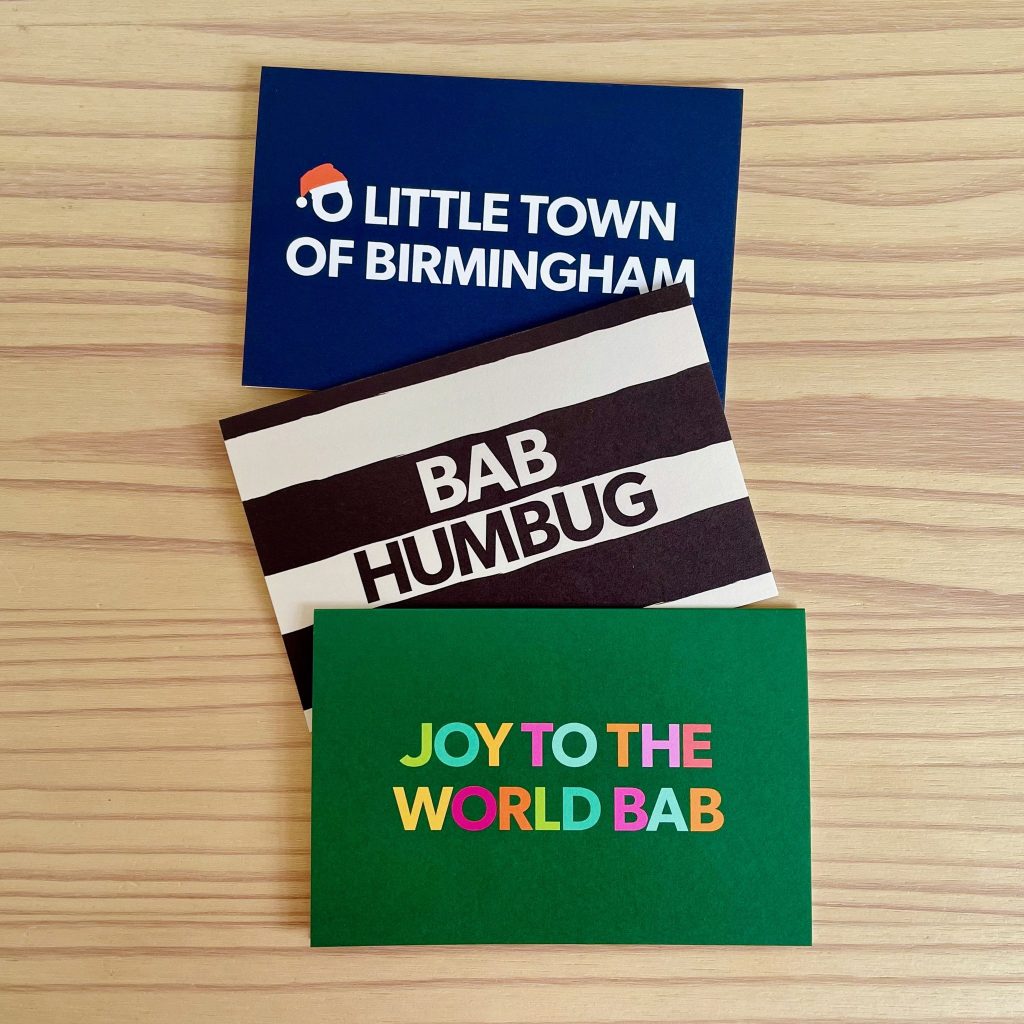 BRUTALIST CHRISTMAS CARD PACK:

SAMBROWNDESIGN

– £8
Celebrate the season by sending your mates a classic Birmingham brutalist building. It's bound to be a talking point.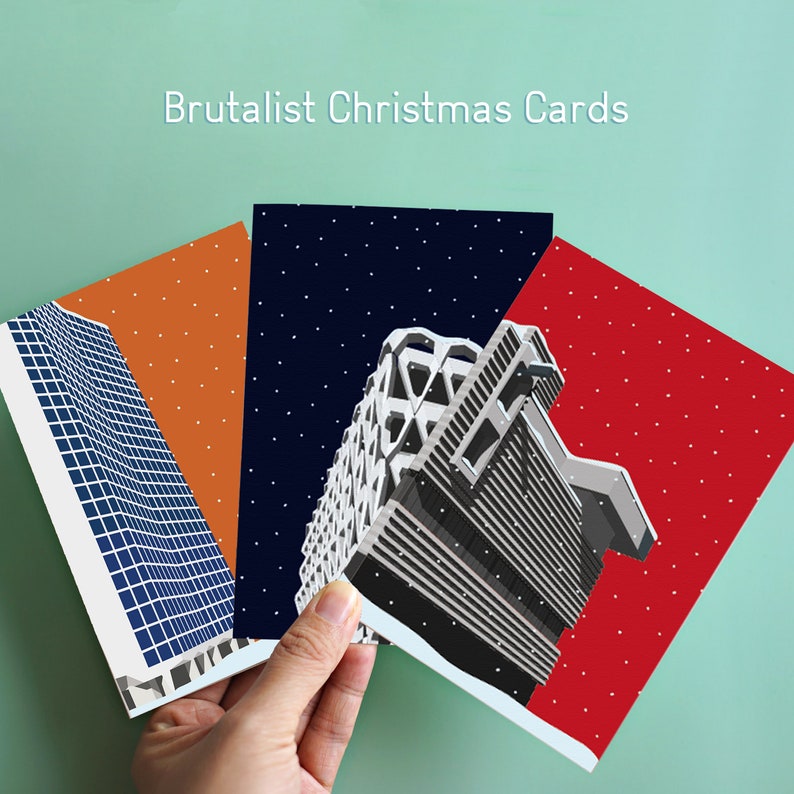 MERRY CHRISTMAS BAB PLANTABLE SEEDED CARD FROM

BLOOMING HECK

– £3.95
Brummie greetings printed on eco-friendly, plantable seed cards. The love lives on after the season is over.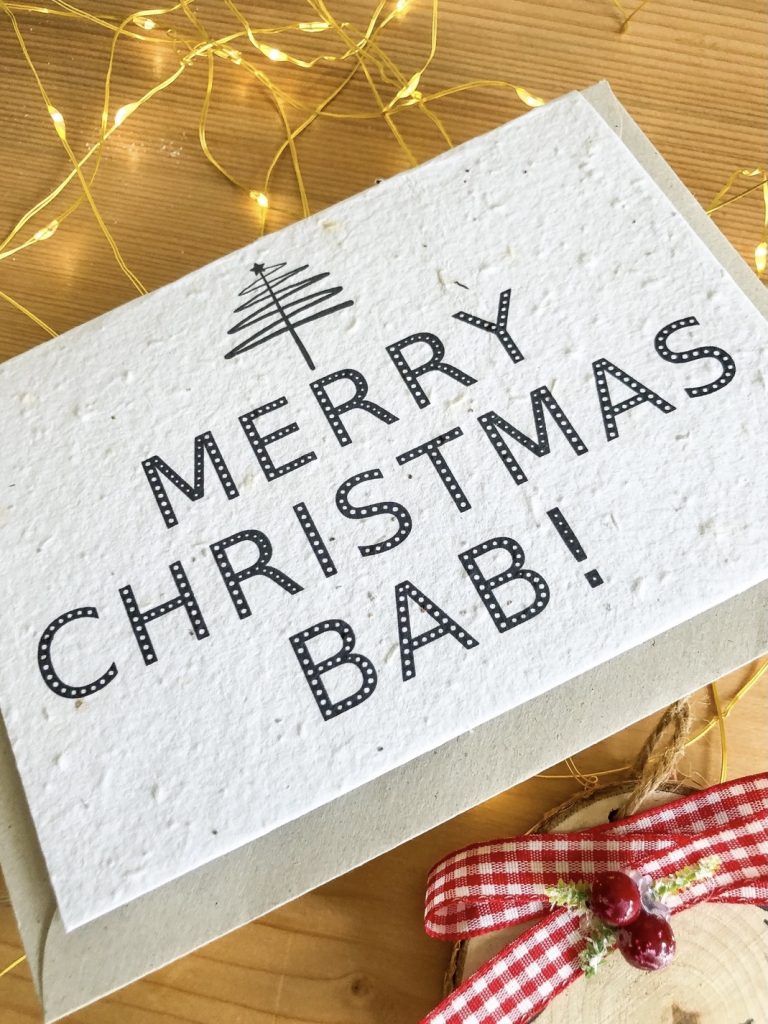 BIRMINGHAM SKYLINE CHRISTMAS CARDS –

MADEONTHECANAL

– £3
Simple designs, Brummie landmarks and fun festive elements all combine to make a beautiful card.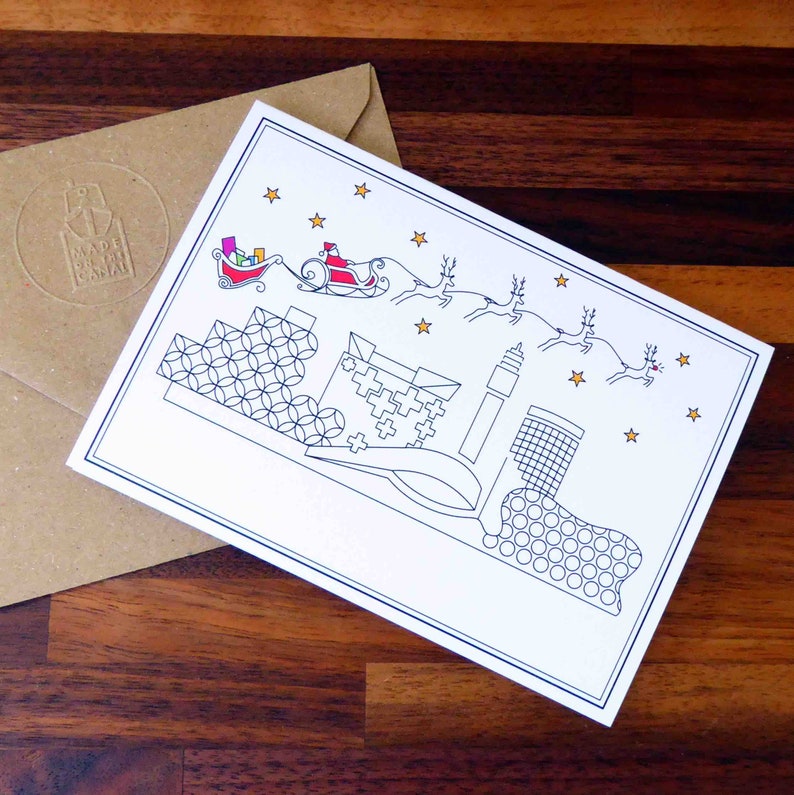 GIFT VOUCHERS
Last but not least, most independents (including lots of fantastic restaurants, bars, shops and services) will be offering some form of gift voucher at this time of year. This gift guide is already a lengthy one, so we won't include every single independent who is offering a gift voucher. If you have a favourite independent you want to share with your loved ones, or they have a favourite place themselves, a gift voucher makes a wonderful and thoughtful gift that they can enjoy at a later date.
If you need some restaurant inspo, check out this mouth-watering guide to 50 dishes you need to eat in Birmingham Part 1 and Part 2 – scroll down the list, pick a restaurant that takes your fancy, and grab a gift voucher to treat that special someone. Be sure to check out our guide to Brum's best craft beer bars, breweries and taprooms too, and best cocktails bars, for more gift voucher inspo.
SUPPORT US IN OUR MISSION TO SUPPORT LOCAL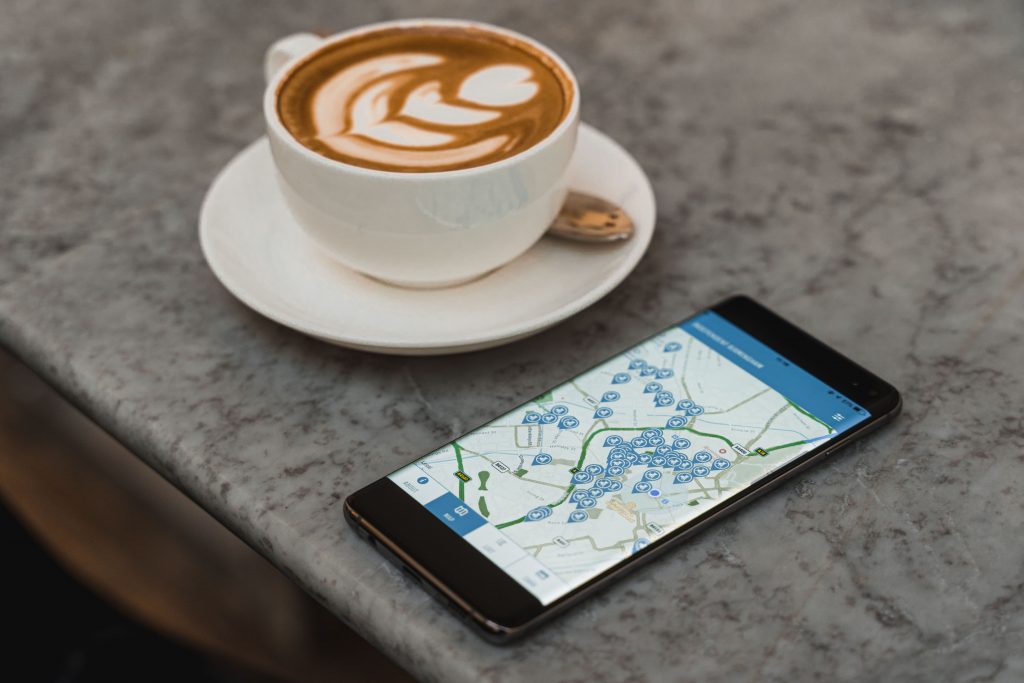 Download the Independent Birmingham App now and enjoy up to 25% off (alongside exclusive 2-for-1 offers, freebies, and more) at over 170 of the very best independents across Birmingham and Solihull – all for just £1.99 a month!
Download the IB App here.
The IB App features a list of over 170 terrific independents across Birmingham and Solihull for you to discover and support (with more added all the time), alongside an interactive map, filters (so you can filter by category, day, and area) and a Wish List so you can create your very own bespoke 'to visit' list. IB Membership is just £1.99 a month and it helps to keep this vital platform alive and allows us to keep doing what we do best – supporting Brum's marvellous independents, and shining a light on our wonderful city.