We've enjoyed the pseudo-Spring in February and now March is upon us.
Spring is in the air, with the promise of longer, warmer days to come and as the weather improves (hopefully, although we can't rule out any snow), everyone is keen to wake up from the winter hibernation and get out there and explore. So here's our round-up of the best things to do this March. Read on, for Birmingham and for glory.
Buy The Brand New IBcard – March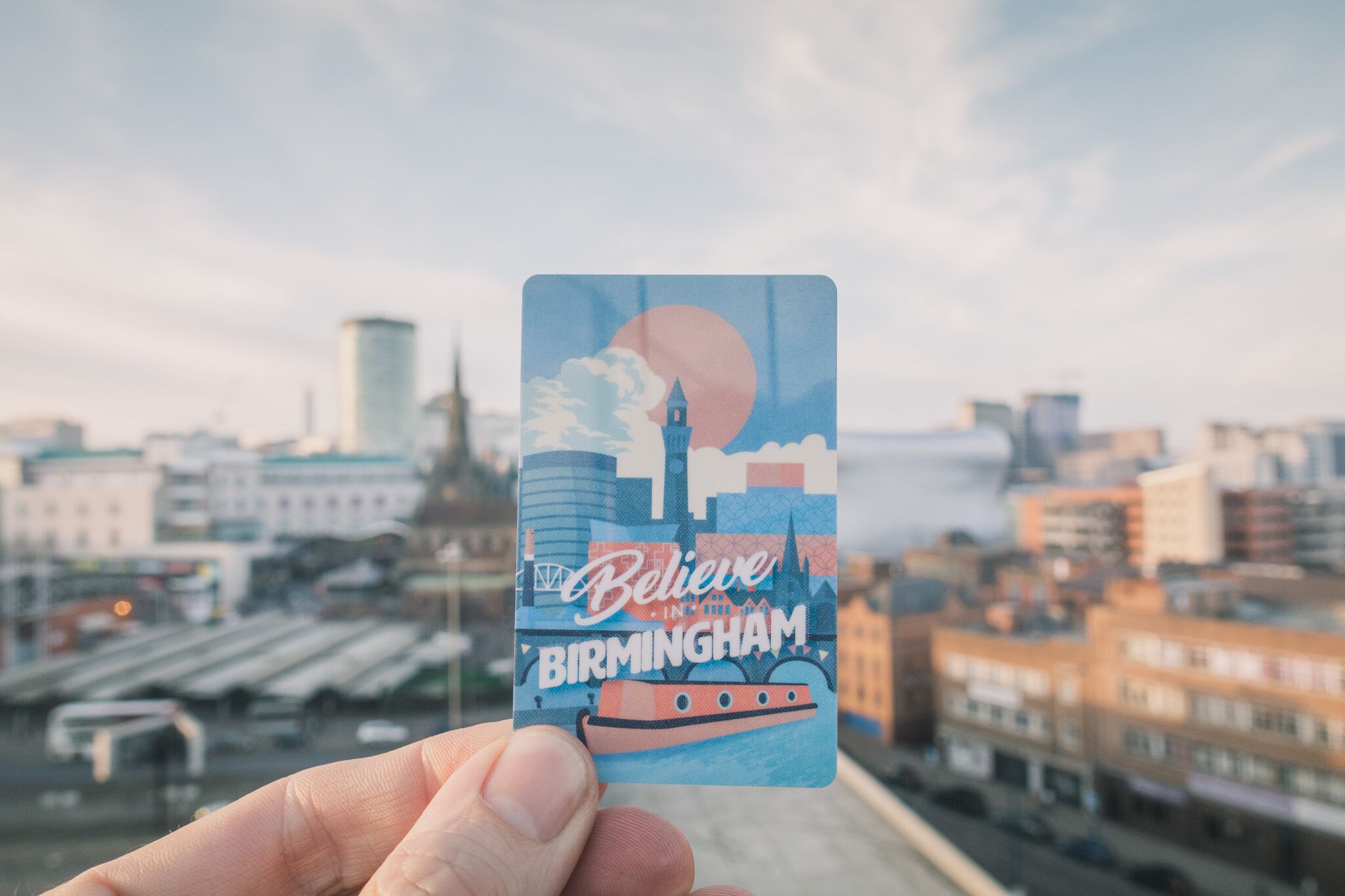 It's that time of the year again folks. The time when we lovingly unveil our brand new design for the wondrous, wallet-friendly, pocket-sized, lifestyle product that we have been culturing for the past 5 years. Our 6th design is a beauty, and we hope you love it as much as we do. Reminiscent of the vintage travel posters of yesteryear, this design is our own little postcard of Brum, featuring her iconic buildings and, of course, a canal. Designed by talented local artist Lil & Brun, our 6th design is currently on sale for the special price of £12, or two for £18 (for a limited time only – usually £15 or two for £20) and is your key to the city. Enjoy fantastic year-long discounts and deals at over 110 of the finest indie establishments in the city, and get a cool piece of artwork for your wallet (that just so happens to encourage you to support local businesses). Win-win.
Grab your key to the city here.
Foil, Arms And Hog At Birmingham Hippodrome – 28 March
If you're looking to inject a heck-load of comedy into your life, look no further than this hilarious show coming to Birmingham Hippodrome at the end of the month. Foil, Arms and Hog are Ireland's top comedy trio, and following a sell-out tour in 2017, they're back in the UK with their brand new show: Craicling. Although best-known for their YouTube videos (where they've had over 100 million online hits!) in which they perform their own comedy sketches, they're most proud of their live shows. Craicling is a fast-paced sketch show featuring a tutorial in how to hold a baby, a Gregorian chant about drunken monks, and a step-by-step guide on how to kill an actor. We're hailing this as a must see. Just don't blame us when you come home sore from all the belly-laughs! Tickets are just £19, grab them here.
Grease Sing-A-Long At The Mockingbird Cinema – 8 March
A Grease sing-a-long? Tell me more, tell me more! We've got chills, they're multiplying. We're losing control at the thought of singing along to all of our favourite Grease hits and reminiscing over this cult classic. If you've never seen Grease, first of all you need to take a long hard look in the mirror and give yourself a stern talking to, and secondly you can rectify this mistake by grabbing your pals and heading to The Mockingbird Cinema and Kitchen. We all have that one friends who thinks they know all of the words (when actually they don't), but luckily for them of all the words will be on the screen to aid your sing-a-long skills. Join the T-Birds and the Pink Ladies, grab a drink from the bar for some Dutch courage, and have a good ol' sing to your heart's content. Oh, and did we mention it only costs £2.95?! Bargain. Grease is the word. 
Tickets, and info, here.
TAPS – 29 – 30 March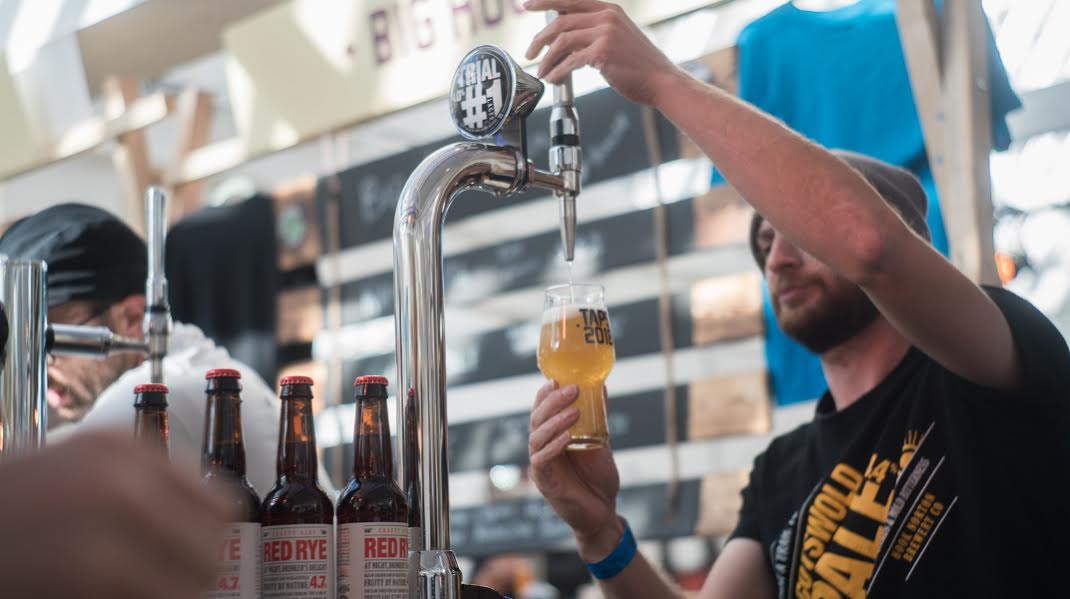 Following their inaugural event back in September, TAPS festival is back. Brought to you by the team behind the legendary Digbeth Dining Club, TAPS is a two-day celebration of beer, street food and music. Think bars filled with world class beer, the tastiest street food in the biz, and some banging tunes to keep you in the mood (for more beer and street food, of course). With breweries such as Beavertown Brewery, Dig Brew Co. and Siren Craft Brew already announced, it's set to be a good'un. Tickets include glassware and an event programme. Grab your tickets here.
Eat G&T Pancakes At The Jekyll & Hyde – 5-8 March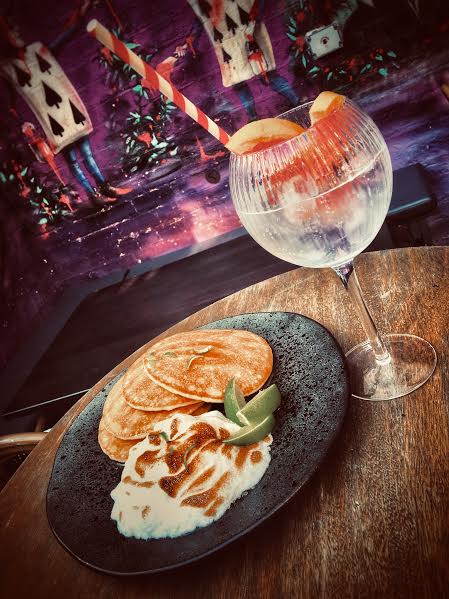 Love gin? Love pancakes? Then this event is definitely the one for you. Pancake Day (or Shrove Tuesday, to be all official) is probably our absolute favourite day of the year, and gin legends The Jekyll and Hyde are serving pancakes with Gin and Tonic cream (yes, you heard us correctly – G&T pancakes!!!). All proceeds from pancake sales will be given to local charity Love Brum – so not only do you get to eat something ridiculously tasty, but you're also doing your bit for charity. We like your moves. Available from Tuesday 5 March until Friday 8 March. Plan the whole of your week around this news.
Cook Like A Michelin Star Chef – March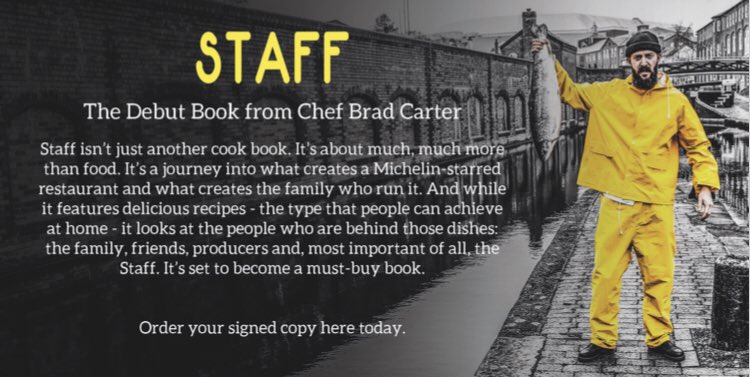 That handsome chap Brad Carter of Carters of Moseley fame has written a cook book, full of ace recipes and stories from the man himself. It's available for pre-order on the Carter's website. Grab yourself some shelf candy for your kitchen and go support a brilliant ambassador for Brum at the same time.
Pre-order your book here.
Eat Tasty Greek Food At Baked In Brick – 4 March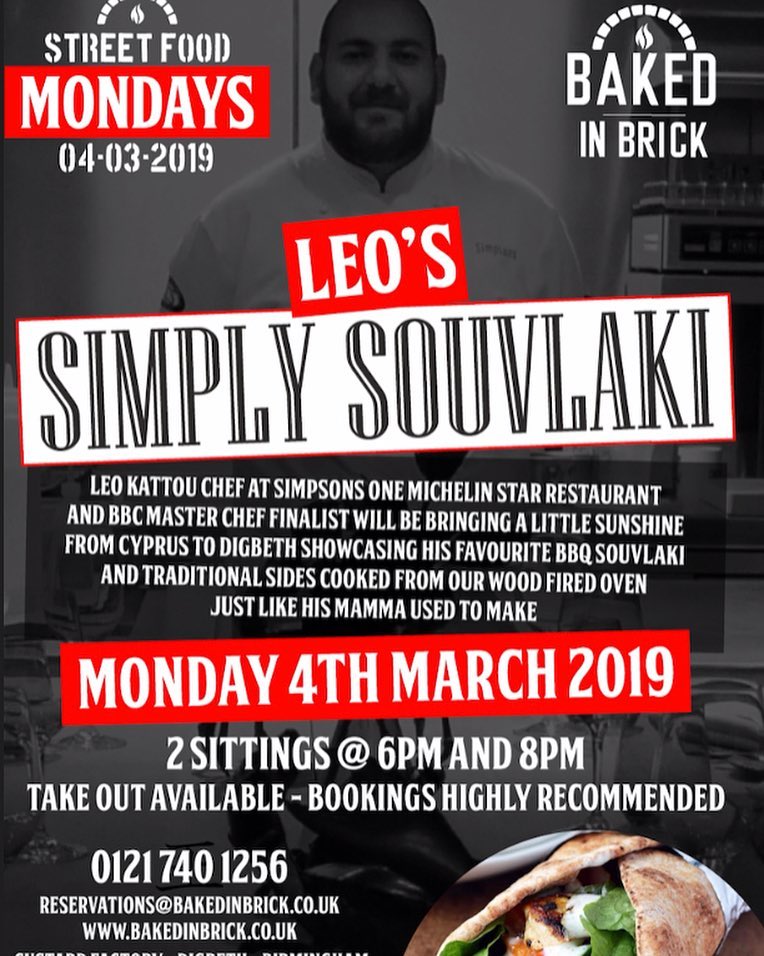 On Monday 4 March Leo Kattou (of 1 Michelin Star Simpsons and Masterchef: The Professionals fame) will be taking over Baked In Brick for an unmissable pop-up. Think BBQ Souvlaki and traditional Greek sides, all cooked from a wood-fired oven. Booking is highly recommended, and you can do so at: reservations@bakedinbrick.co.uk
DISCLAIMER: At the time of writing this, we're pretty sure there are only one or two tables left. Try your luck and book the very last ones, before it's too late.
Get Crafty With A Bouquet Workshop At Loki Wine (Edgbaston) – 30 March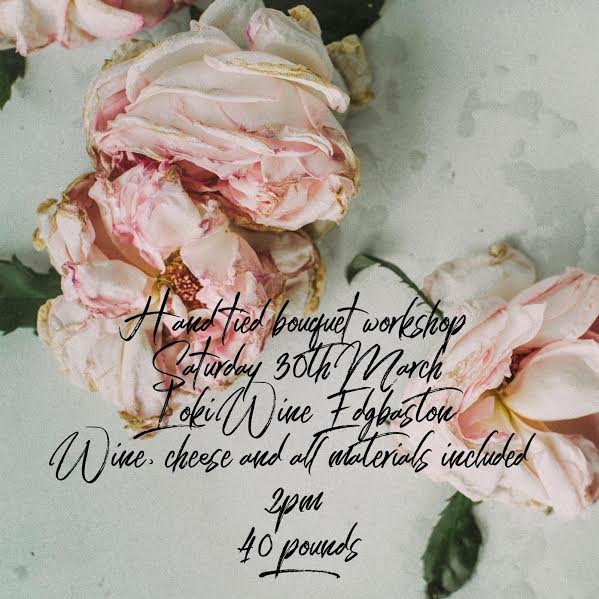 On Saturday 30 March (2pm), Loki Wine and Deli (Edgbaston) welcome Blossom by Kayleigh to their wine bar, who will be hosting a hand-tied bouquet workshop. Drink wine, and get crafty on a Saturday afternoon in spring, and you'll be winning at life. Tickets are £40, which is a steal. Head to Loki Wine's website for more info.
It's Blooming Mother's Day – 31 March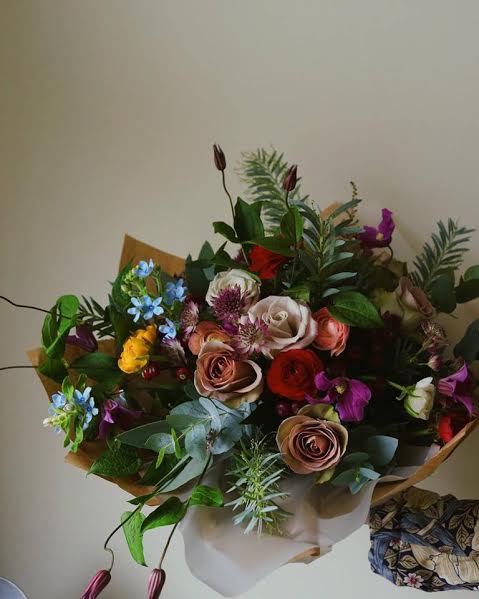 This is your early warning – Mother's Day is at the end of the month, so you officially have four weeks to sort out a little something to thank your best friend for being there for you, and for all of the wonderful things she does. Nothing says "I Love You" like a beautiful bunch of seasonal blooms, and you're spoilt for choice for fantastic florists in the city. Our pick of the bunch (get it?) are Flowerology, Bloom Collective, and Isherwood & Co. Get those orders in nice and early to guarantee delivery in time. You can thank us later.
Drink Wine At Birmingham Wine Weekend – 22-24 March
Love wine? How about enjoying a whole weekend dedicated to that glorious grape juice? Count us in. The premise is simple: grab yourself a wristband, journey your way around as many of the 20+ participating venues as possible, and enjoy lots and lots of wine. Your wristband allows you access to exclusive serves from each venue and can be used throughout the weekend, allowing you to dip into the festival for just one evening, or take advantage of the whole three days. Enjoy old favourites and discover some new ones along the way too, in some of Birmingham's best bars. Find out more, and get your wristband, here.
Go Drink The New IB Cocktail Of The Month At 18/81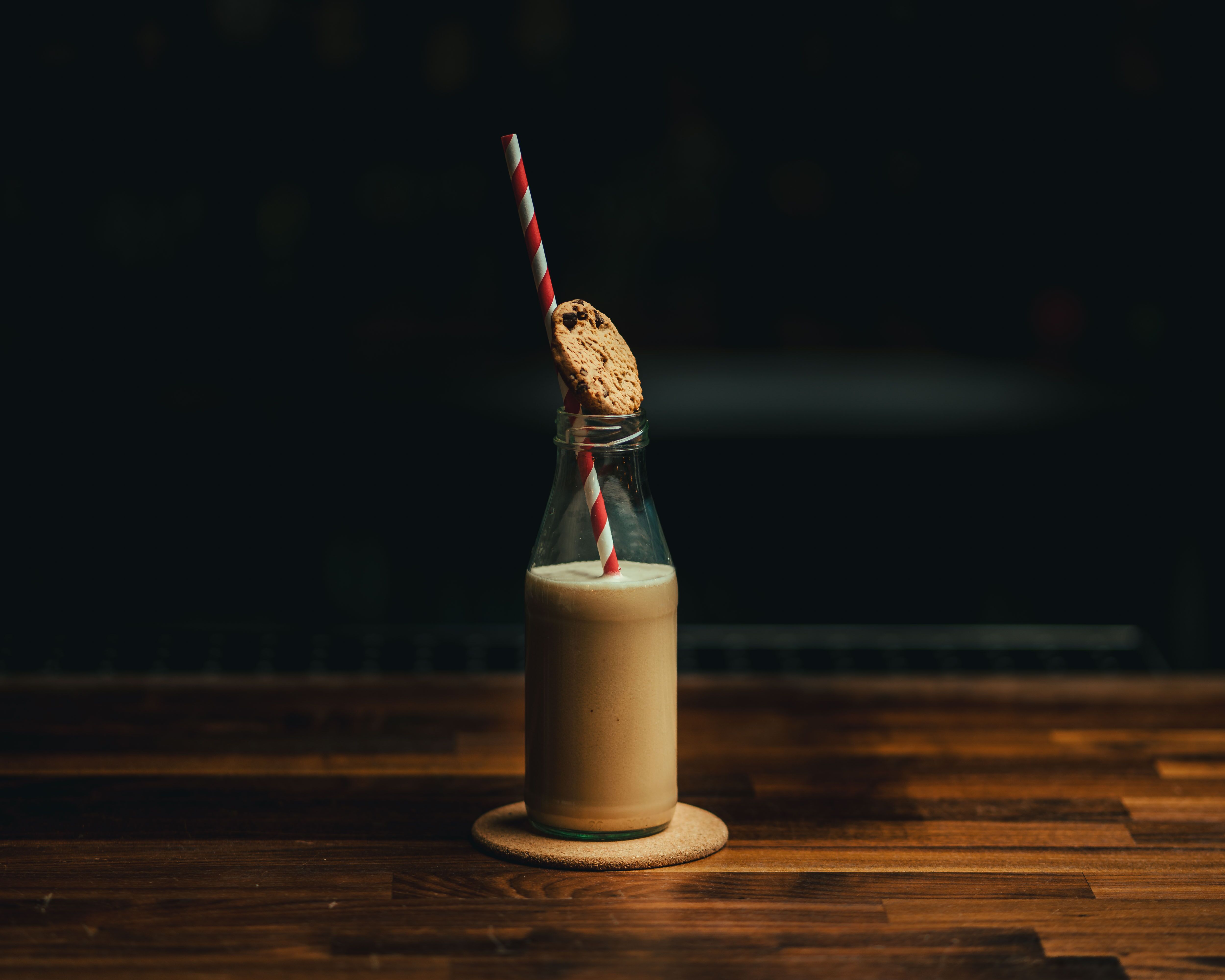 Every month, cult cocktail bar 18/81 creates a super tasty (and ridiculously Instagrammable) off-menu cocktail of the month, exclusively for IBcard holders. This March, grab your IBcard and go drink: Cookies & Cream. A stunning combination of Aged Rum, Dark Chocolate Madeira and Vanilla Bean Bitters, shaken together with Chocolate Chip Cookie-infused Light Cream. Our bellies are rumbling at the mere thought of it. And yes, of course there's a dairy free option!
Your next move: grab your IBcard, go and find this brilliant cocktail bar on Thorp Street, then go drink this boozy ode to your childhood.
Jameson Whisky Presents: Snatch At The Electric Cinema – 15 March
In honour of St Patrick's Day, The Electric Cinema are inviting you to celebrate in style by joining them for a special screening of Snatch. The film, directed by Guy Ritchie and starring Brad Pitt and Jason Statham, among others, is full of snappy dialogue, dark comedy and irreverent characters. The film centres on two intertwined plots: one centred around a group of criminals fighting to track down a stolen diamond, and the other where a boxing promoter finds himself under the thumb of a violent gangster. Sit and back and enjoy this brilliant crime caper, whilst you sip on a complimentary Jameson Whisky cocktail. Nice one.
Grab your tickets here.
Good Dog At Birmingham REP – 6 – 9 March
Mum's promised him that bike so even when school or home-life bites, he knows to keep his chin up, his head down and his shirt clean. Because in the end, everyone who's good gets what they deserve. Don't they? Set during the early noughties, good dog tells the story of growing up in a multi-cultural community, and the everyday injustices that drive people to take back control. Delicately observed and written by Arinzé Kene, this tale of growing up amid poverty visits the REP following an acclaimed premiere in 2017. Grab your compulsory tickets here.