Pizza Is Life. Fact!
When you get the craving for that delicious disc of doughy, cheesy joy, you have to go get your fix, or it'll be on your mind 24/7 until you do. We get it, we suffer with pizza cravings ALL THE DAMN TIME. That's why we've compiled this list for you. Use it as a guide whenever you feel those pizza pangs in the pit of your rumbling stomach, to lead you straight to the hotspot that will banish those pizza cravings for another day. Save it as a tab on your phone, heck – print it out as your own personal directory if you must (not actually recommended as places open and close on the regular, and we're all about saving those trees), and when you feel the urge for a ridiculously awesome pizza, whip it out and let it lead you to where you need to go. We could wax lyrical about pizza all day, every day, but let's cut to the chase.
Read on, for pizza and for glory…
Note: Whilst many businesses have now reopened, some are yet to do so. Social distancing is still in place and very important, please check each individual business' website for their up-to-date opening times and safety measures prior to visiting. Some businesses may require you to make a booking in advance.
Otto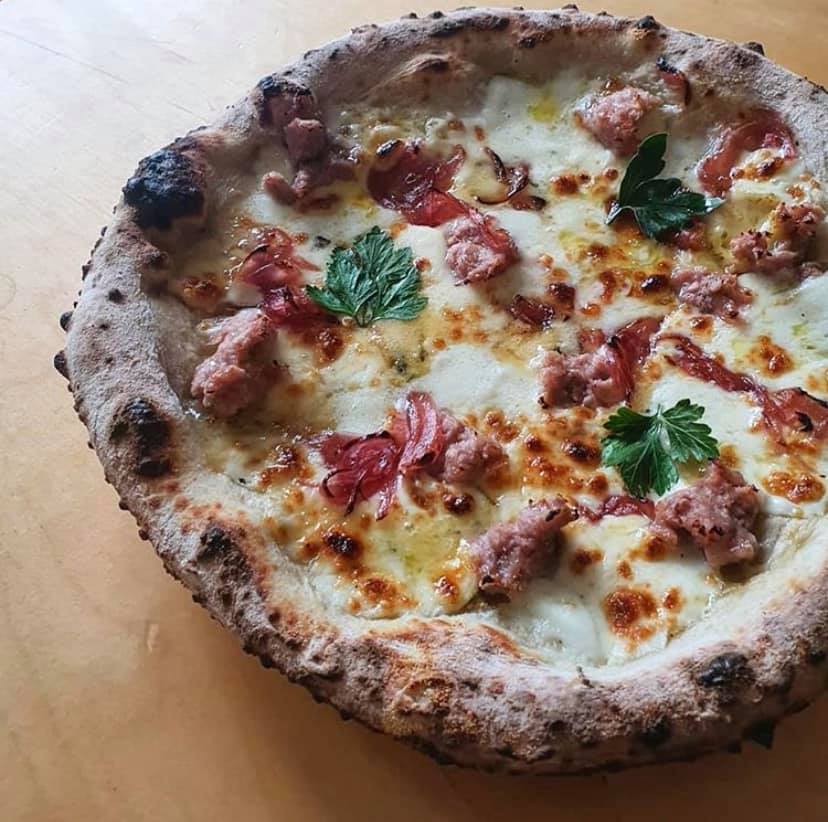 One bite of an Otto pizza and you'll be seriously considering whether you've somehow died and gone to pizza heaven. This cosy JQ pizzeria oozes rustic charm, with wooden tables, fairy lights and candles giving the place a relaxed, effortlessly cool vibe. There isn't a word for how incredible the pizzas are, you just have to take our word for it and go and try them for yourself. They have a menu that changes with the seasons, and they create delicious specials. Using the finest ingredients from the UK and Italy, and leaving their dough to prove for 72 hours, makes for one hella tasty pizza. Cooked to perfection in their wood-fired oven, these pizzas are pure magic.
Baked In Brick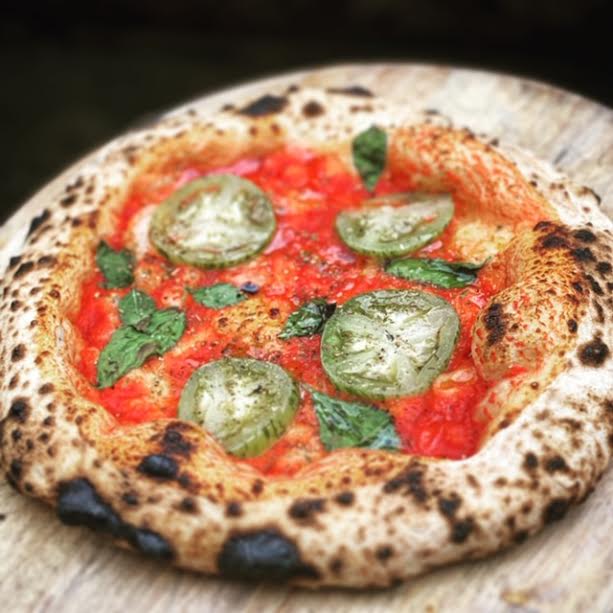 Award-winning street food trader Baked In Brick opened permanent digs in The Custard Factory and the whole of Birmingham rejoiced. Their laid-back restaurant offers delicious wood-fired pizzas, as well as a selection of fantastic street food style dishes and small plates. Their pizzas are incredible and their menu changes seasonally, reflecting the ingredients that are available at the time. If you're looking to try something a little different to the usual suspects, we highly recommend their Aubrey Allen beef shin ragu and wild mushroom calzone (it's an award-winning dish for a reason, folks), but keep an eye on their specials too.
IB Deal: 15% off the bill
POLI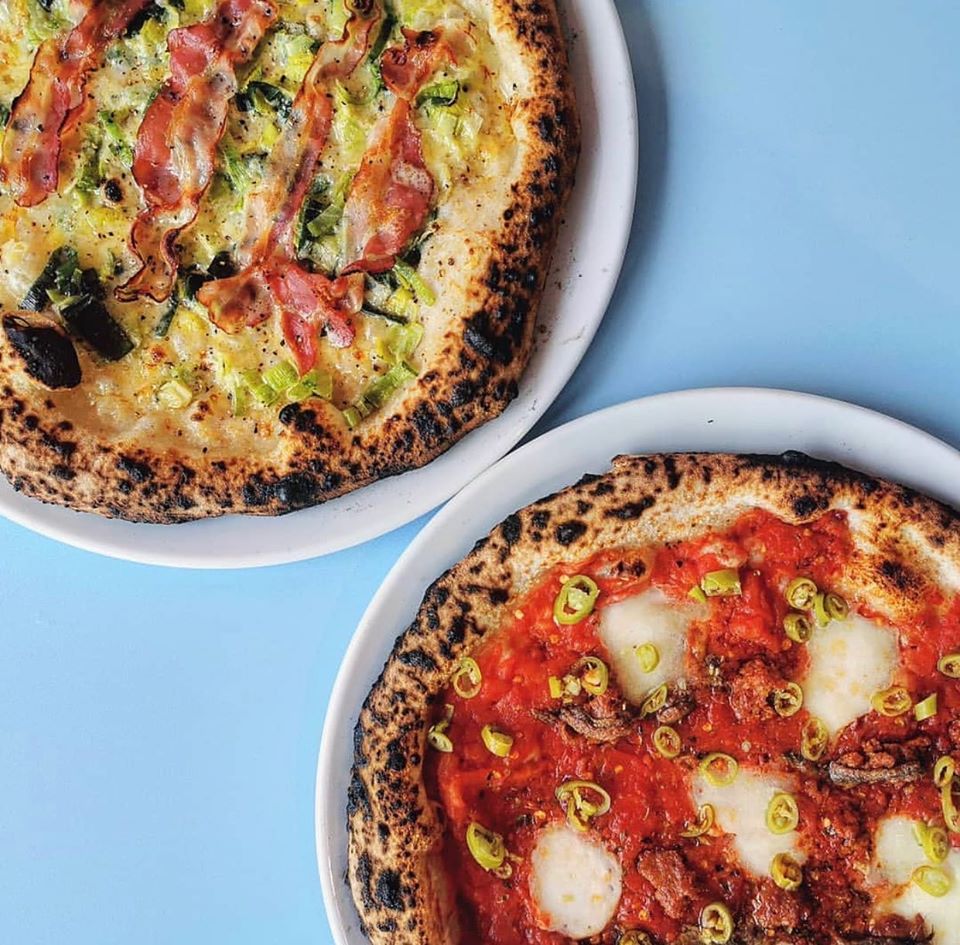 POLI are known for cooking up some of the most delicious pizzas in Brum. Their wood-fired, sourdough pizzas really get our hearts racing and have foodies flocking to this fantastic pizzeria. This neighbourhood pizza joint is by the team behind Grace + James, so naturally they serve some beautiful glasses (or bottles) of wine to accompany your pizza. We highly recommend that if you're making a pilgrimage to POLI, you make sure you go there hungry, because not only are their pizzas sensational, but they also serve some incredible, seasonal small plates and sides. One look at the menu will have you ordering one of everything – and if you're not, you're doing it wrong.
Peacer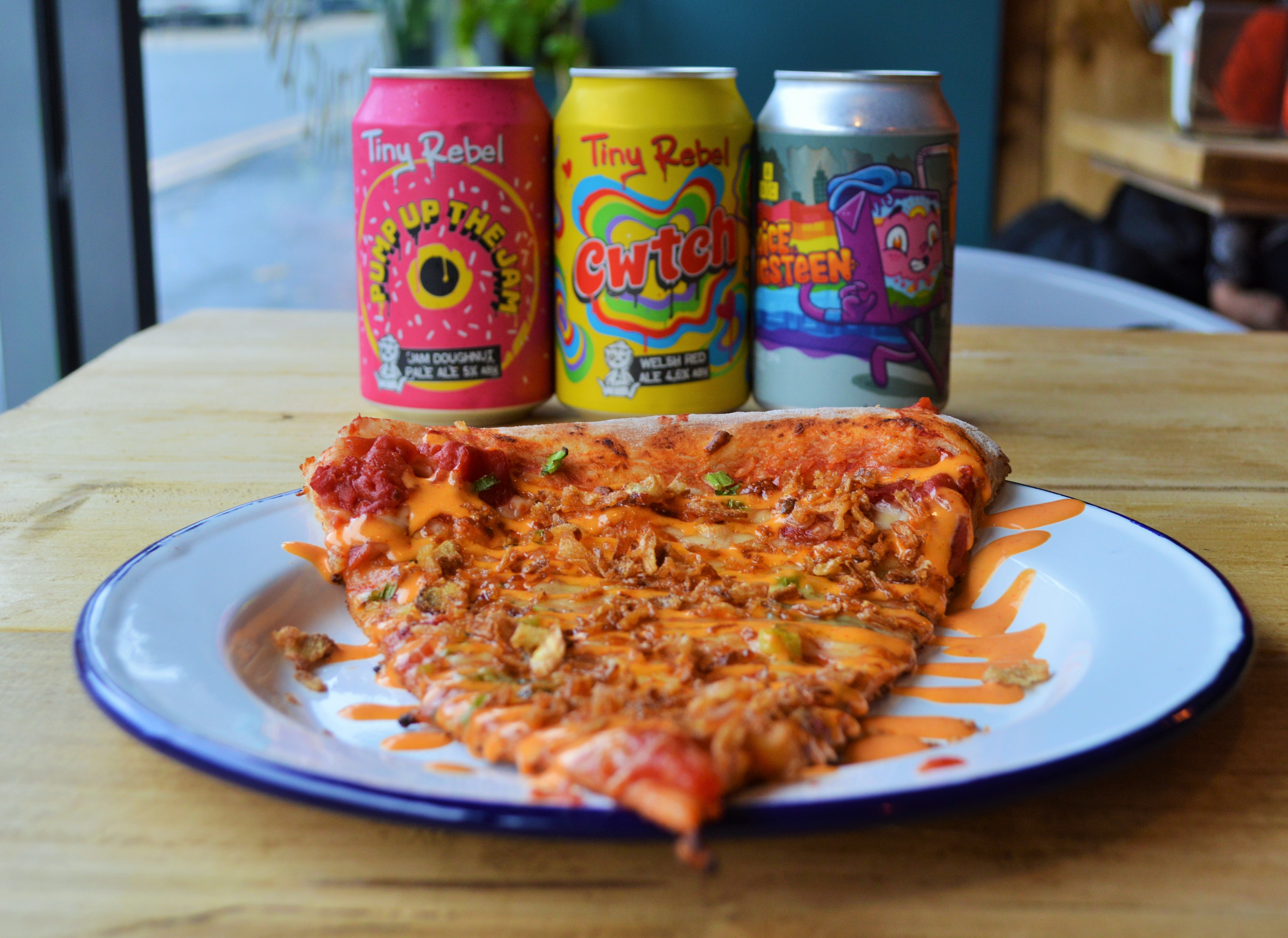 This laid-back eatery serves 20" pizzas by the slice, in a style made famous in the many pizzerias across New York City. Fast and convenient for a quick lunch on-the-go, you can just grab a quick slice and then head off on the rest of your busy day. If you're in less of a rush, you can also eat in at this casual dining spot, and take your time. All of the pizzas here are vegetarian (and some vegan) as they don't think their pizzas need meat to be incredibly yummy – and they're absolutely right.
IB Deal: Any 2 slices + any side + a drink for just £9.95
Alicia's Microbakehouse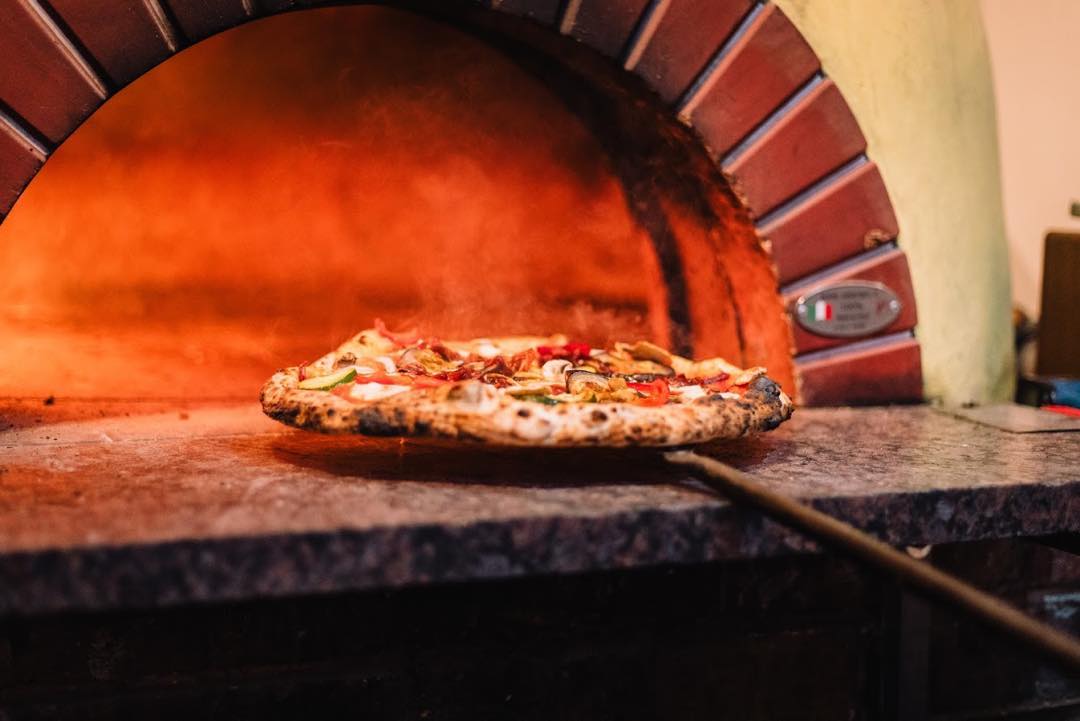 This artisan pizzeria focuses on simple, high-quality ingredients to bring you the best tasting pizzas. They started life as a bakery, baking sourdough loaves, but soon moved into the pizza world, using their knowledge of dough to create outstanding pizza bases. The speciality dough is allowed to rest and develop for a minimum of 24 hours to give it a light texture and bubbly crust. If you haven't tried one of their pizzas yet, go find them right now.
Dough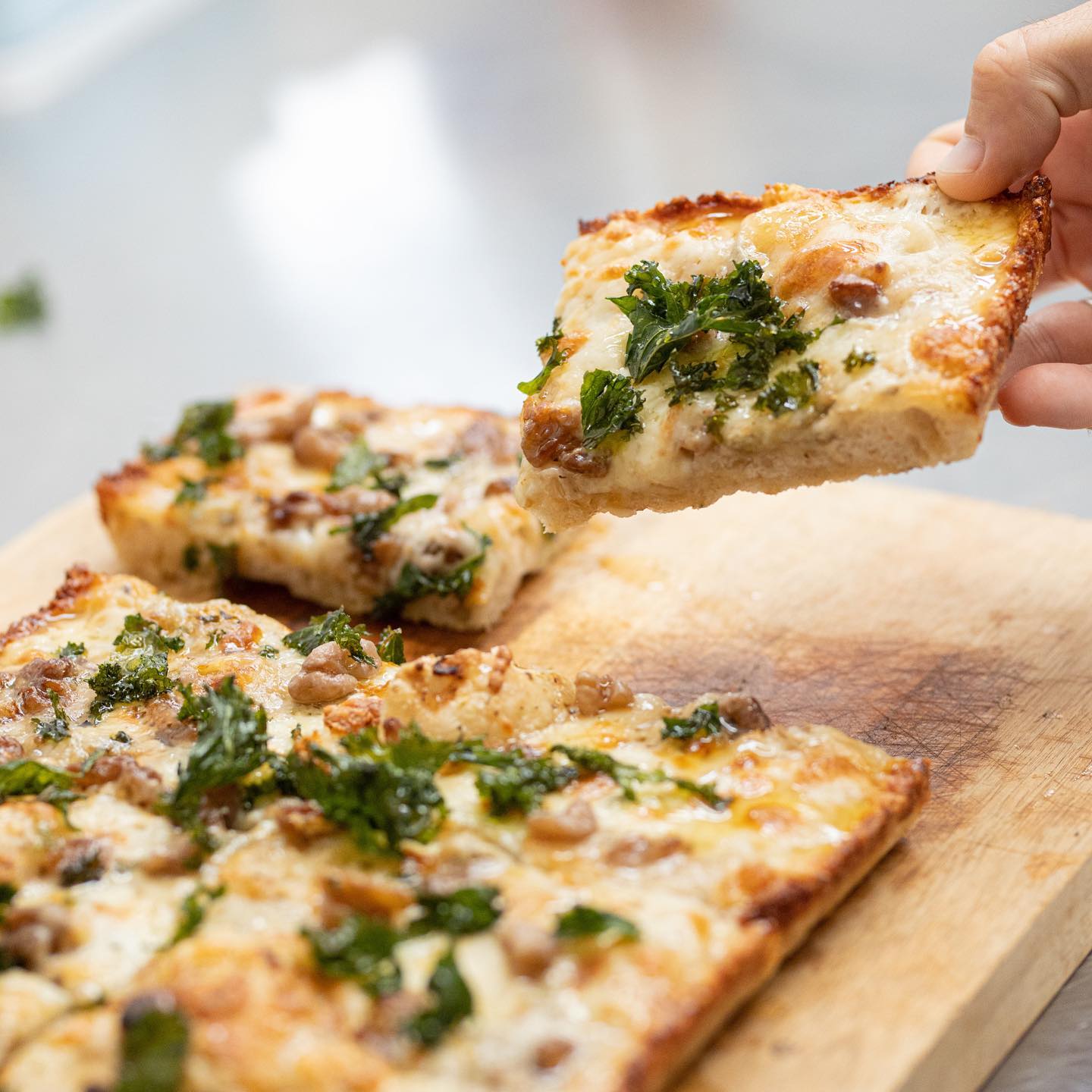 Sister to Dig Brew Co., Dough is there to satisfy your hunger with their epic 20" pizzas and Detroit-style pizza slices. Perfect for sharing with your pals as you sink a few beers, or just to eat by yourself if you're really, really hungry (we won't judge), their giant pizzas are the stuff pizza-y dreams are made of. Pro-tip: their dougballs are incredible too. The perfect accompaniment to your pizza.
IB Deal: FREE doughballs (of your choice) when you purchase any 20" pizza
Laghi's Deli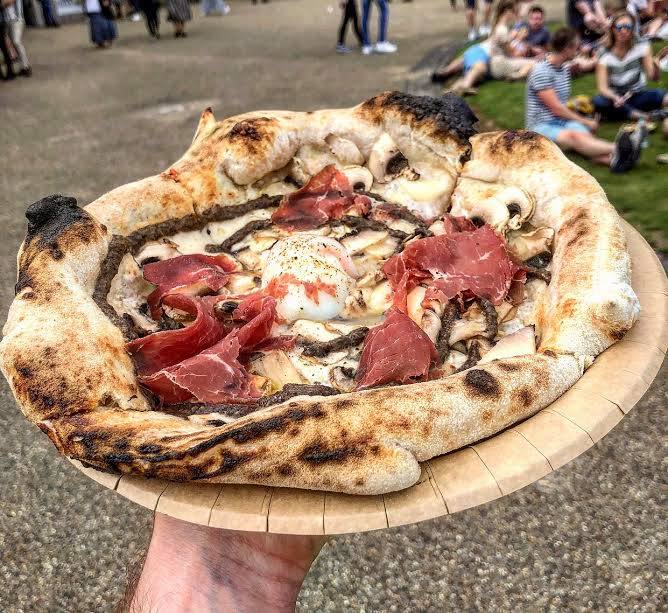 Photo Credit: The Food Fiend (IG:@thefoodfiend_)
If you're looking for the most authentic Italian pizzas this side of Rome then Laghi's Deli is the place to go. This family-run restaurant is filled with true Italian spirit (and incredible Italian smells) – and is all about sharing delicious food with loved ones. Freshly made to order, using the finest ingredients from Italy (and a whole heap of love), their authentic Neapolitan style pizzas are simply to die for. One bite and you'll be hooked for life. Which is dangerous, considering they do take-away pizzas too…
IB Deal: 10% off the bill (Monday – Thursday) OR 20% off all take-away pizzas (anytime)
Mulino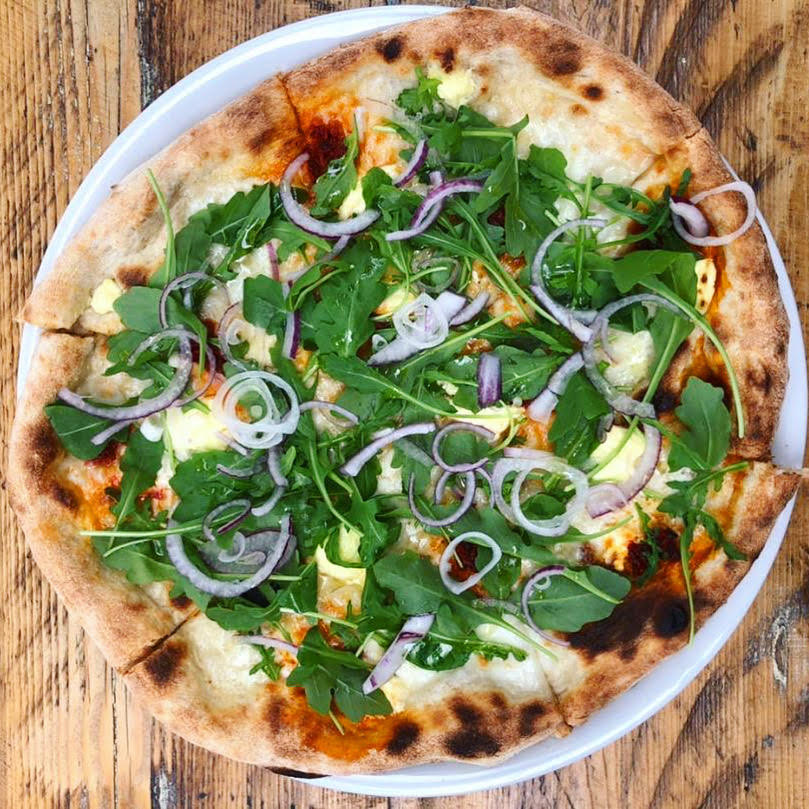 From the team behind the aforementioned Laghi's Deli comes Mulino. As you would expect, Mulino is also a truly authentic Italian restaurant and here they serve all the P's: pizza, pastries and Prosecco. Found on Level Two of Millennium Point, get your authentic Italian pizzas to eat in or take away. While you're there, grab a hand-rolled, freshly baked croissant too – you can't beat them.
Digbeth Dining Club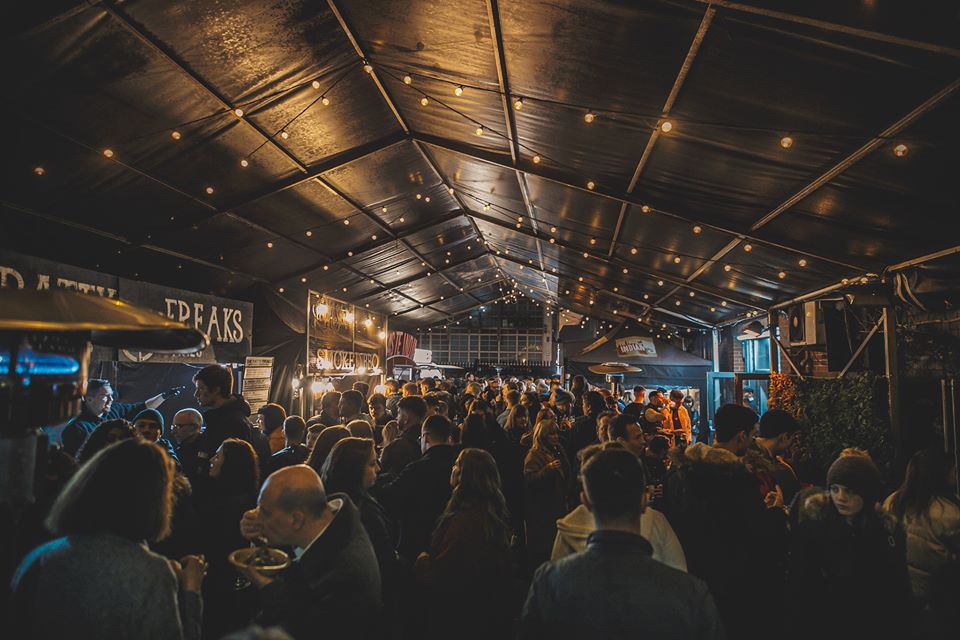 The street food kings have a regularly changing line-up of awesome street food traders to satisfy your food cravings, so always check their line-up to see who's slinging the street eats each week. Whilst there isn't always a pizza option, when there is a pizza option, it comes from some of the best street food pizza slingers around. Look out for Handmade Pizza Co., Bare Bones Pizza, Wandering Pizza Co., Martin Bros Pizza Co. and more.
IB Deal: 50p off each street food dish at all vendors
Sarehole Mill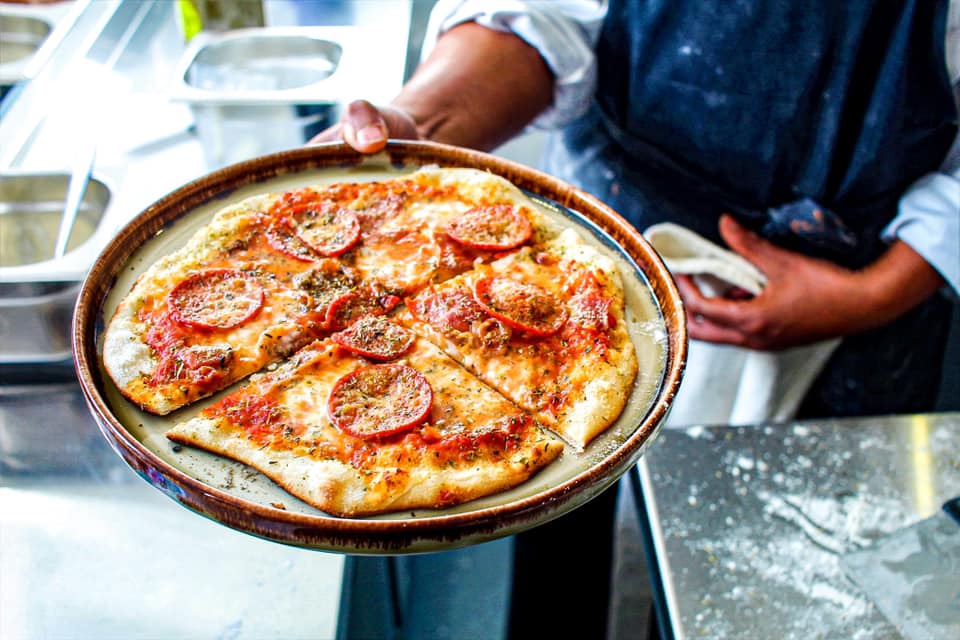 We can't think of a more picturesque place where you can partake in a pizza. The wonderful, historic site of Sarehole Mill serve delicious, freshly baked pizzas from their on-site cafe (The Millers Tearoom) and it's the perfect excuse to drop in for a visit (although you don't have to be visiting the Mill to stop by the tearoom). In conjunction with re-opening their newly restored, original bakehouse in 2020, they opened a brand new modern bakehouse at the same time, which means after nearly 150 years, they are baking once again on this historic site and you can sample the delights – lucky you! Their pizzas are beautiful, and we think best enjoyed in the fresh air of the courtyard, overlooking the grounds of the mill. Get ye to Sarehole Mill for pizza and a view.
The Plough
This wonderful gastro pub in Harborne is a firm favourite for many locals. Alongside some pub classics, they have a good selection of pizzas on their daily menu, with lots of vegetarian and vegan options, as well as mighty meaty creations – so there's something for everyone (they even have a fish option too). All of their pizzas are made on homemade hand-stretched dough, using fresh ingredients and toppings. Delicious!
IB Deal: 10% off food, 8am – 5pm (Monday – Friday)
La Vera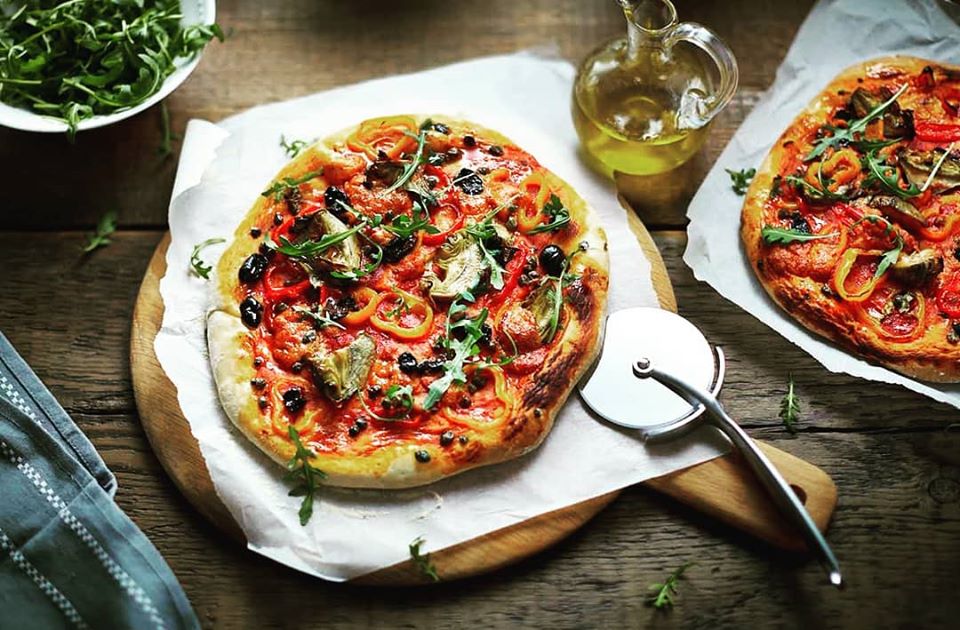 At La Vera, they are passionate about bringing a traditional taste of Italy to the streets of Birmingham. They import their ingredients from Italy and use traditional methods to create pizzas that give customers the same experience as they would find in Naples. They work hard to make fresh, great tasting, top quality pizzas for their customers to enjoy. If you haven't been here before, make sure you go check them out and step into this little corner of Italian goodness.
Cucina Rustica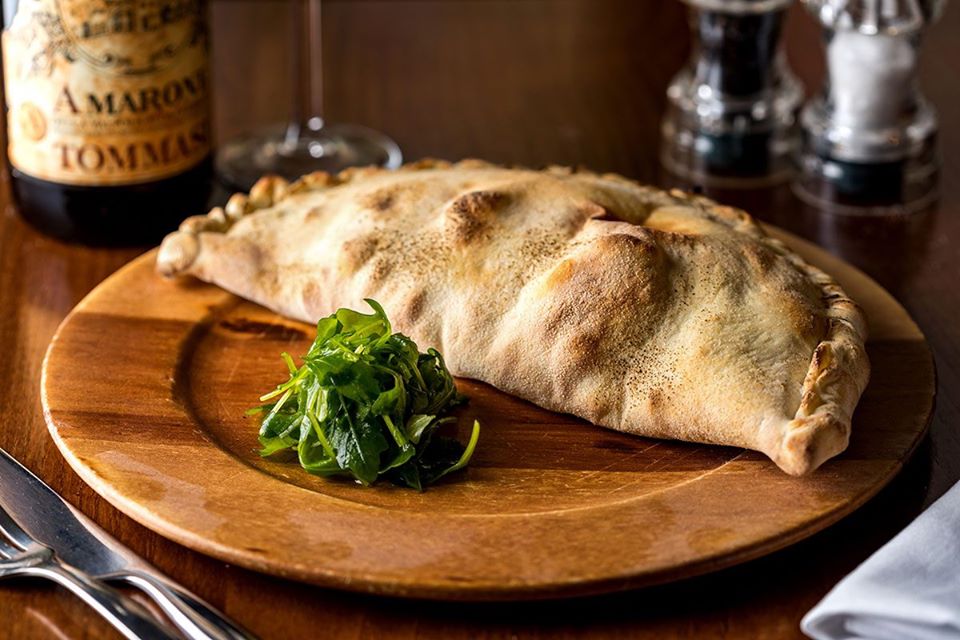 This family-run Italian restaurant takes pride in both their food and their hospitality, in true Italian style. They source the best, freshest ingredients to create their authentic Italian dishes, cooking them with the respect they deserve. The beautiful restaurant is the ideal place to enjoy a traditional Italian treat, and their pizzas are truly a treat. Made fresh to order, if you can't find one you like on the menu, you can ask for your own combination of toppings instead.
Ristorante Caffe Gustami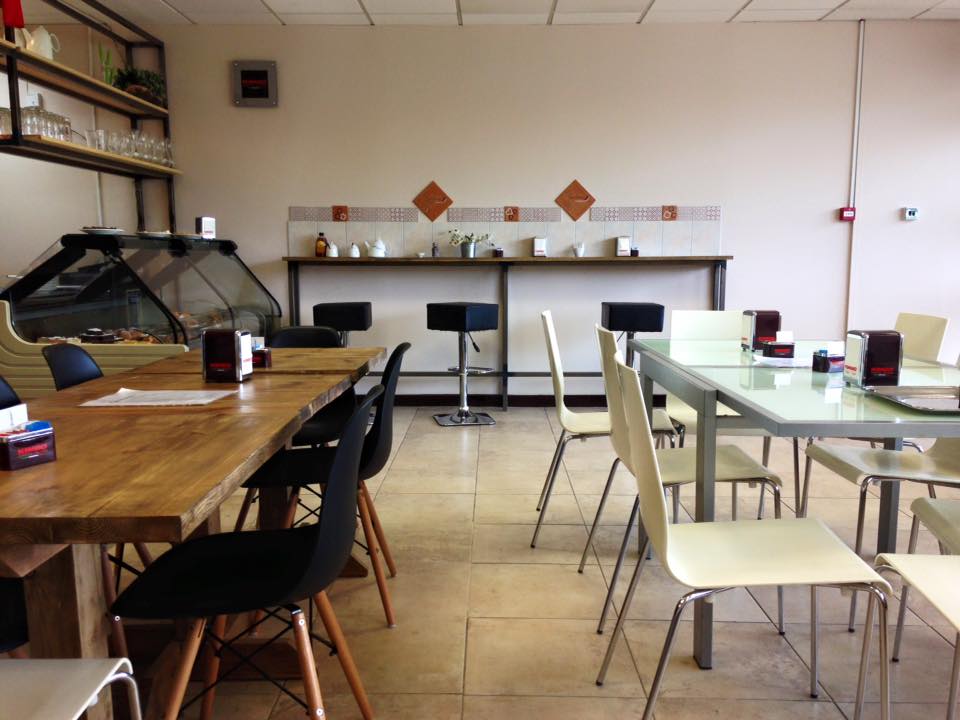 This hidden gem of a restaurant is just a stone's throw away from the city centre, and well worth the short trip to feast on the delicious Italian delicacies within. This family-run restaurant offers a selection of traditional, wood-fired pizzas for you to enjoy, including the option to create your own bespoke pizza by choosing any four toppings you'd like. To finish your meal, what could possibly be better than following your tasty pizza with… another pizza! That's right, they also have a sweet pizza topped with Nutella too. Oh hells yeah!
The Dark Horse
This Moseley-based pub is all about cooking tasty pub food well. They only have 4 pizza options – 2 veggie/vegan ones and 2 meat-based ones, but why over complicate things with endless options? They know their pizzas are tasty, and it's great for your indecisive mate who can never choose what to have as they only have a few options to choose from. Order your favourite pizza, grab a beer, and enjoy. What could be better?
IB Deal: 15% off craft beer and food
The Village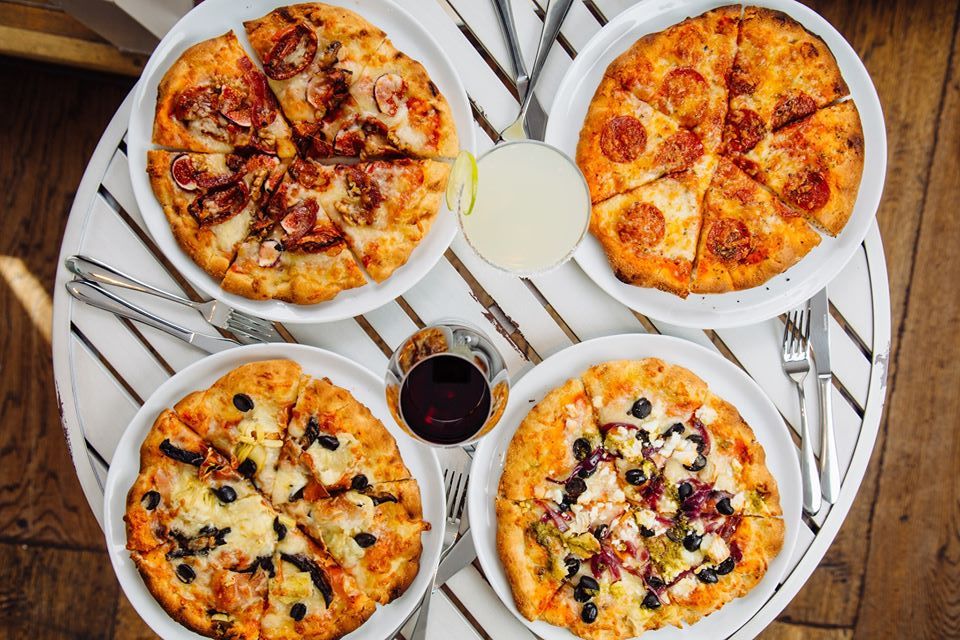 This charming, Moseley gastro pub has had a makeover and a menu overhaul, and we're here for it. The lovely pub serves all manner of tasty treats, including some fantastic wood-fired pizzas. Using classic flavour combinations, they have a select menu of pizzas – but all of the options on their short but sweet menu are instant hits. If you're yet to check out The Village, we highly recommend a visit.
IB Deal: 10% off food (Monday – Friday)
The Old Crown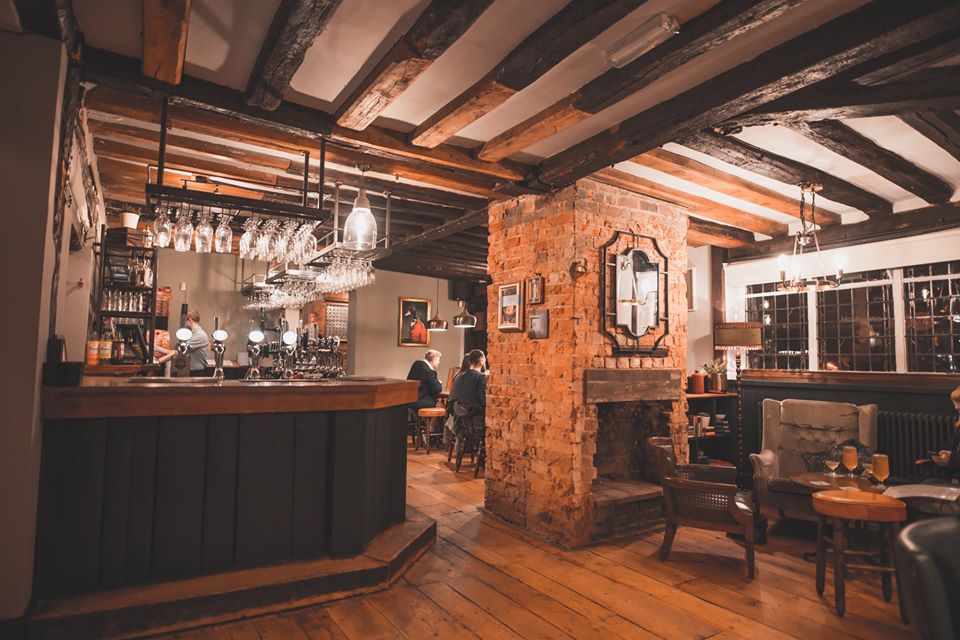 Photo Credit: Monica Martini
Birmingham's oldest pub is a great place to stop off for a bite to eat while exploring everything the city has to offer. Full of quirky old world charm, but with a contemporary edge, this pub is a true landmark of Brum. If you call in here for some food, they have a great selection of tasty pizzas on their menu, with veggie and vegan options available too. They have lots of crowd-pleasing classic pizza flavours, so you're sure to find an option you like.
IB Deal: 15% off all food
Dropshot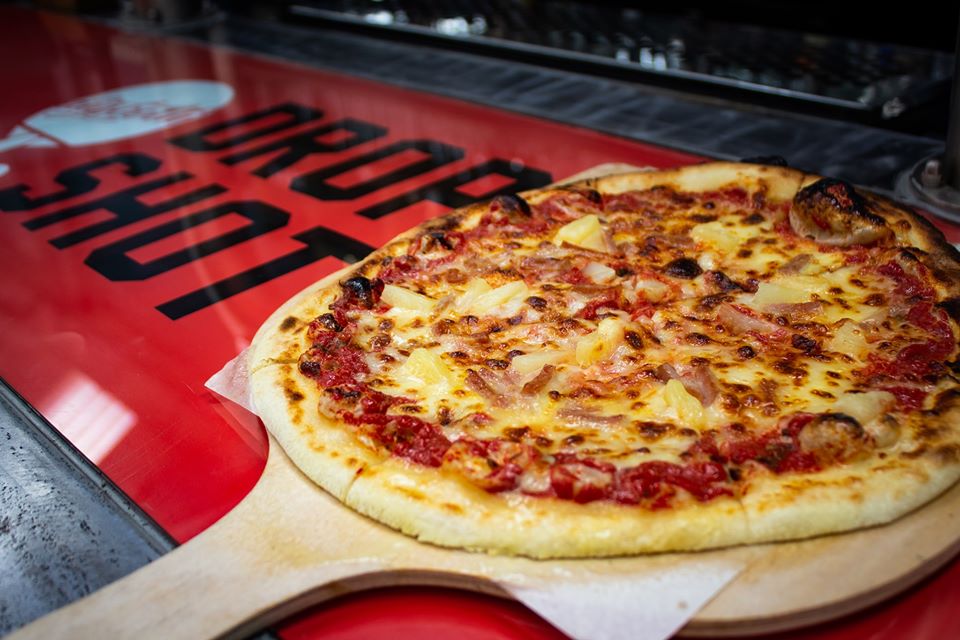 Ping Pong, Pool, Pints and Pizza – all of the best things in life begin with 'P', and you can get them all at Dropshot. This Digbeth-based activity bar has everything you need for a great night. Grab some drinks from the bar, place your pizza order, and play some games with your mates. Pizza makes every activity better: fact!
IB Deal: 10% off food, drinks and activities
The Loft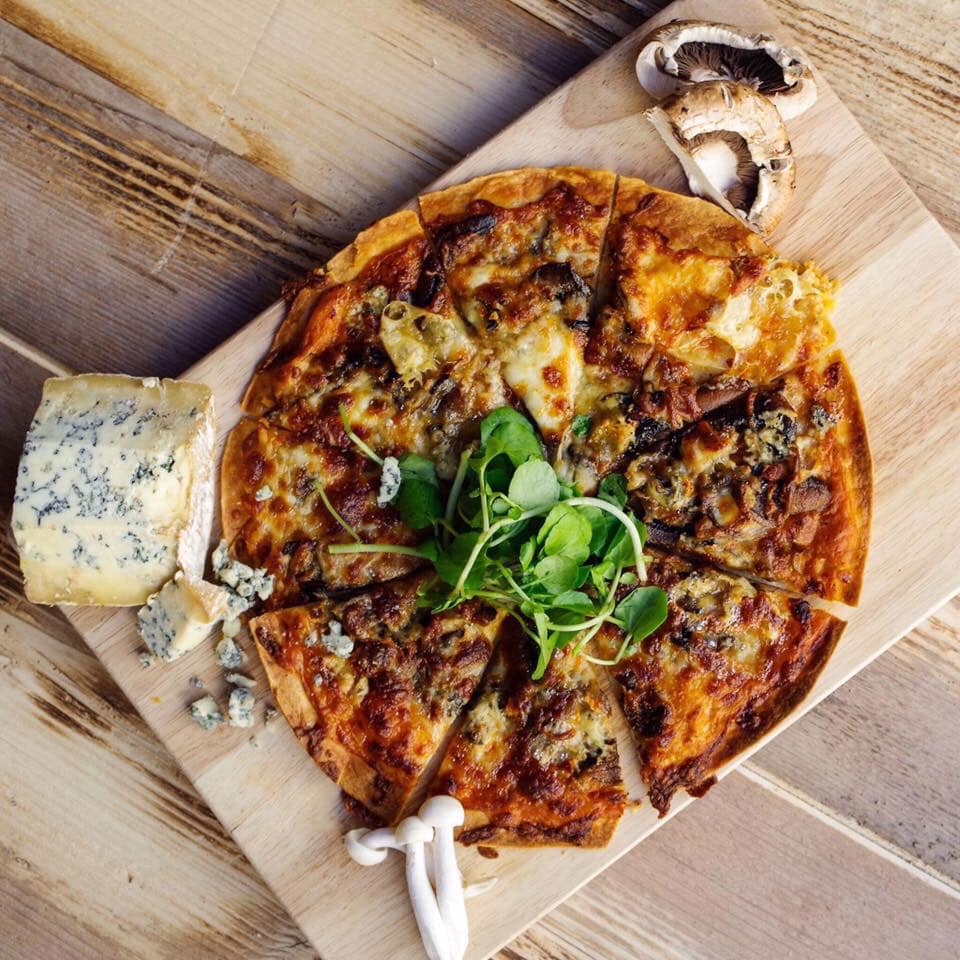 This cocktail bar is well-known on the drinks scene as a place to sip on delicious, boozy concoctions. But what do you do when you've had a tipple or two and you start to feel peckish? Order pizza, that's what! The perfect snack to tuck into as you enjoy your cocktails, to keep the hunger at bay, and keep you dancing into the night. Now that's how you do it.
IB Deal: 25% off food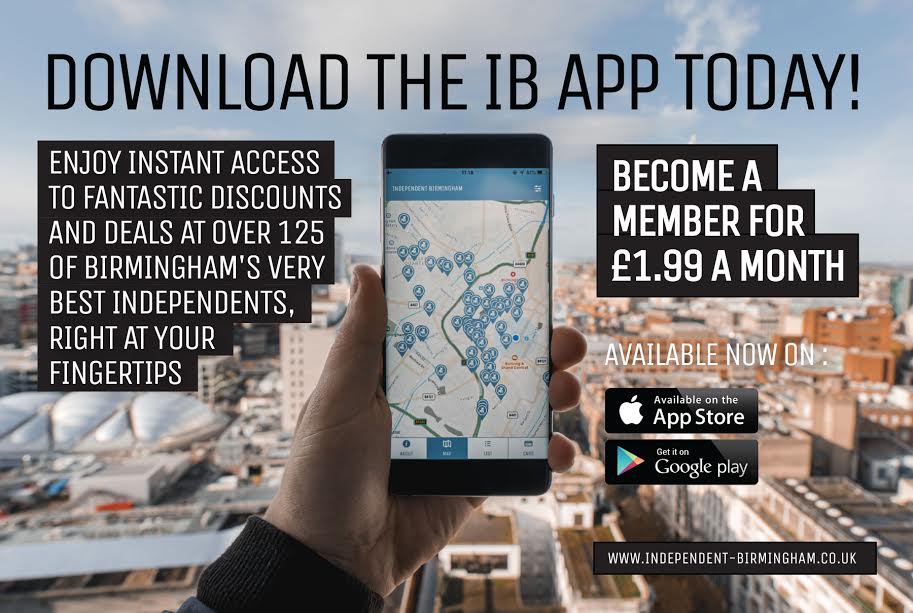 If you like to discover new hidden gems and support local, download the Independent Birmingham App.
Enjoy up to 20% off (alongside exclusive 2-for-1 offers, freebies and more) at over 125 of the very best independent cafes, bars, restaurants, pubs, theatres, cinemas, hotels, shops and experiences in Birmingham – including: Digbeth Dining Club, The Electric Cinema, Carters, Indian Brewery Snowhill, Birmingham Hippodrome, Adam's, Zindiya, The Meat Shack, Baked In Brick, BoneHead, Purnell's Restaurant, Chakana, Tiger Bites Pig, Bodega Cantina, Stirchley Wines And Spirits, Wayland's Yard, Purnell's Bistro, Midlands Arts Centre, 40 St Paul's, The Plough, Hare and Hounds, Birmingham Repertory Theatre, The Jekyll And Hyde, The Rose Villa Tavern, Cherry Reds, The Prince of Wales, The Loft, Laghi's Deli, Medicine Bakery, The Paper Duck, The Clean Kilo, The Early Bird Bakery and many more.
To download the IB App for just £1.99 a month on Apple, click here. 
To download the IB App for just £1.99 a month on Android, click here.