Don't you just hate those mornings where you rush out of the house, late for that 9am meeting, only to realise halfway to work that in your haste you've forgotten to tuck into the most important meal of the day.
Rather than despair at the 7 (or was it 8?) times you snoozed your alarm and worrying about the rumbles that will inevitably erupt from your empty belly at the quietest point of your all important meeting with the big boss, fuel your body and mind in the best way possible. A wholesome, filling (and extremely delicious) breakfast awaits you in the city centre, let us tell you more…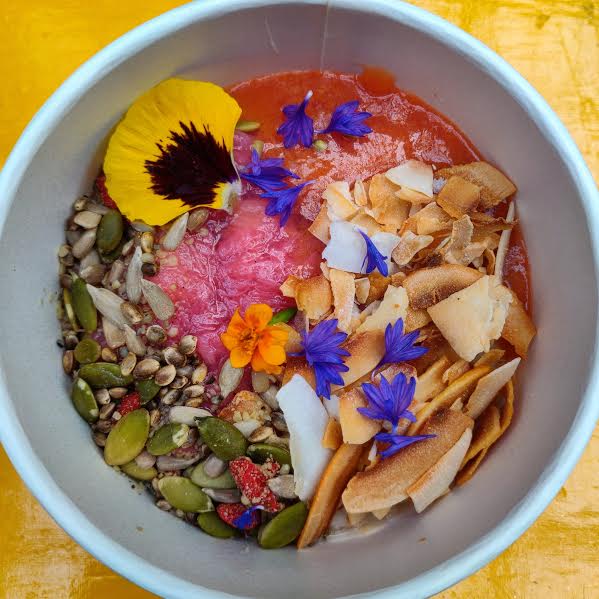 Introducing Morridge.
Located in The Great Western Arcade, Morridge is the convenient breakfast provider that will make all of your porridge dreams come true.
Porridge is definitely having a moment, and we are fully committed to jumping on the porridge band wagon. Porridge isn't exactly something new – but long gone are the days of the bland, lumpy porridge of the past. Porridge has had a glorious revival, and about time too we say. Now, its cool to eat your oats, whether that's hot, or cold in a hipster overnight-oats dish (hashtag healthy), and our bodies and minds are thankful for it.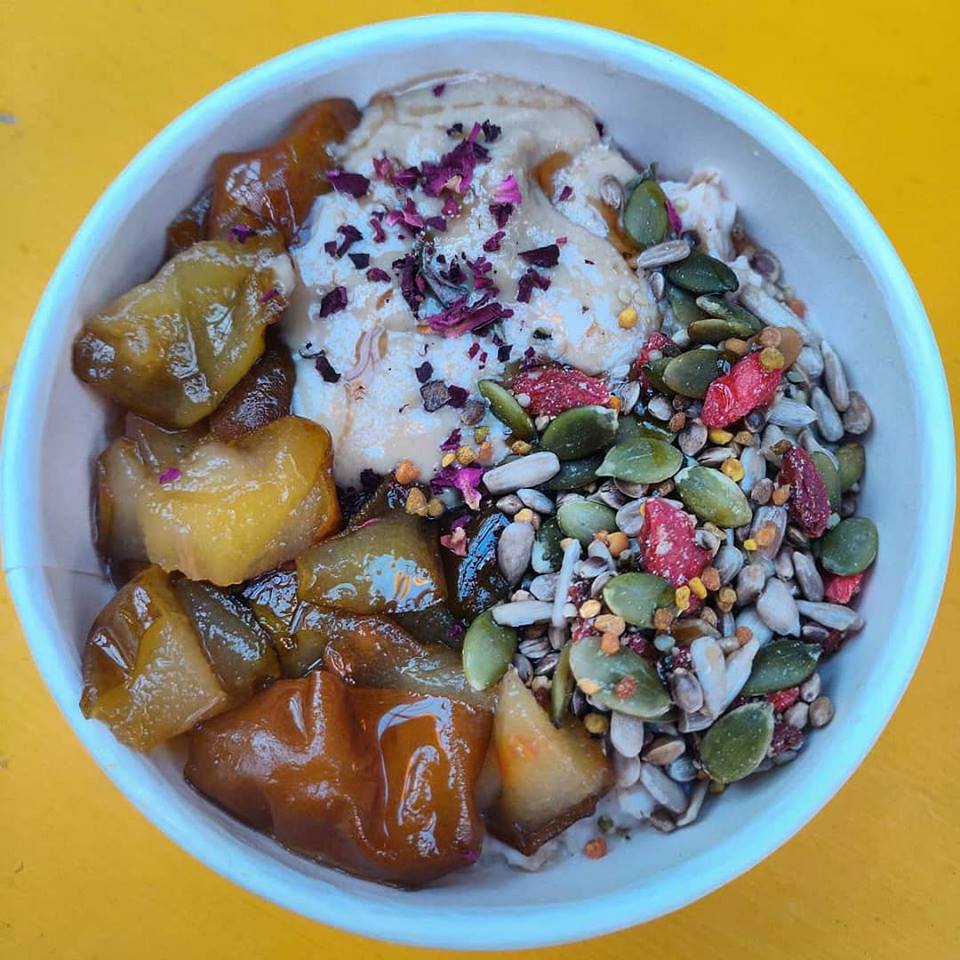 There's nothing like skipping breakfast to make you realise just how much food helps to fuel your body and mind, and of course the right foods work even better. That slump in concentration at 10am? Probably because you forgot to eat breakfast. So do yourself a favour and head to Morridge. Choose from the menu of glorious toppings and customise your own porridge dish to your own tastes. Or, if you prefer to have the decision taken out of your hands, choose from the delicious combinations on the menu.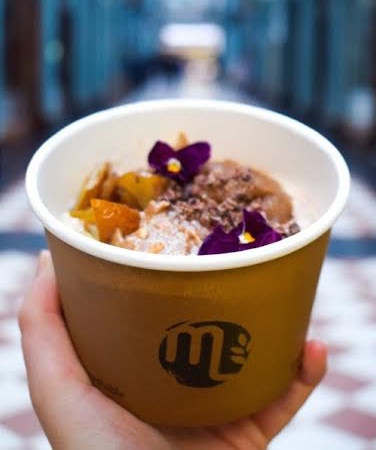 Morridge was founded by Naomi Morris (Morris + porridge = Morridge) when she saw a gap in the market for a tasty, healthy, filling breakfast option to fuel commuters, students and tourists on their way to meetings, lectures or a day of exploring. Situated in the hub of independent culture that is The Great Western Arcade, Morridge is the ideal stop-off for many of Birmingham's offices and just a stone's throw away from the bustling Colmore Business District.
Whilst studying for her Culinary Arts Management degree, Naomi quickly realised that porridge provides the perfect base for exciting and creative flavours, textures and toppings. Having gained experience in professional kitchens all over the globe, as well as in the street food world, and observing how popular oat-based dishes were in other cities across Europe (with dedicated porridge cafes), she found herself in the position to be able to set up her own business and jumped at the chance to pitch her tricycle in GWA.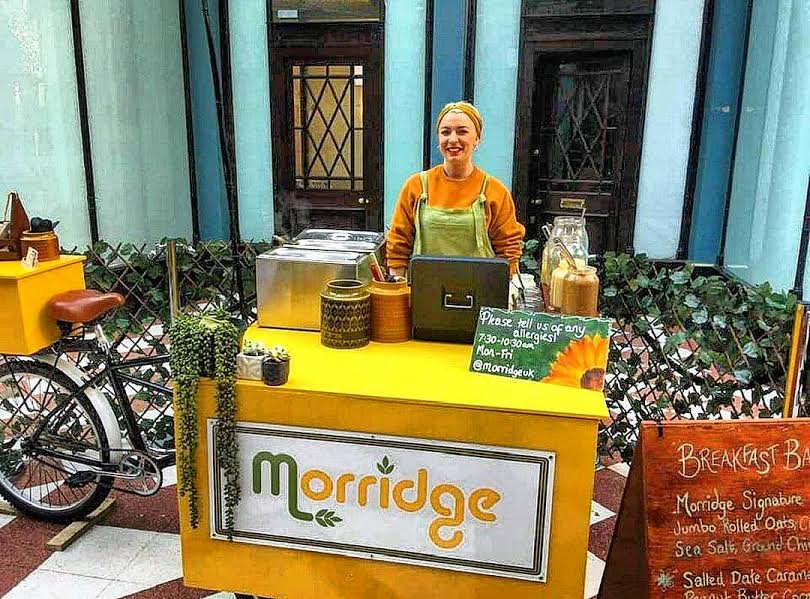 When you enter Great Western Arcade, you can't fail to spot Naomi's eye-catching trike which has been specially converted to help her prepare delicious breakfasts on the spot. With a vegetarian and vegan menu packed full of local, seasonal, fresh and organic ingredients, this is a fantastic place to fuel up for the day. Choose from a range of delicious toppings to add to Naomi's signature Morridge base (Pimhill Farm Organic Jumbo Oats, Cinnamon, Sea Salt, Ground Flax and Chia Seeds).
If you're a chocaholic you could try the chocolate, salted date caramel and cacao nibs toppings. If you prefer something a little fruitier and exotic try the rhubarb, blood orange curd, toasted coconut, mixed seeds and goji sprinkles option. Or, go all out with what we're hailing as the 'carrot cake for breakfast' option, topped with spiced carrot curd, walnuts, raisins, vanilla and cinnamon cream cheese and candied carrot (hell, yeah!). But with a variety of toppings to choose from, don't feel restricted to the suggestions on the menu – mix and match to your heart's delight and create your own perfect breakfast.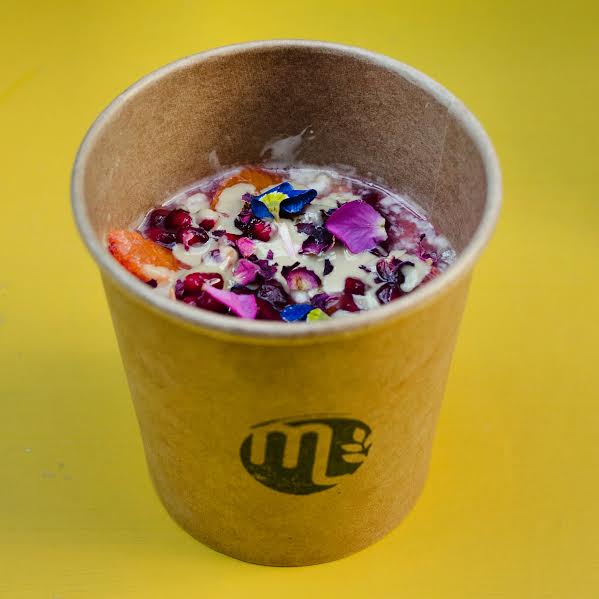 If you're in the mood for something cold for breakfast, there is also a lighter option available of homemade granola, yoghurt and the seasonal fruit compote of that week. Plus, don't miss out on the 'Pancake Special' on Fridays – oat and spelt pancakes with chocolate fudge sauce and a variety of toppings. We're salivating just writing this.
With prices ranging from as little as £2.50 – £3.90, this is a ridiculously affordable option for a wholesome and nutritious breakfast. Plus, all of the spoons and pots are compostable as Naomi cares for the environment as well as her customers. So next time you're considering breakfast, do yourself a favour and head to Morridge and treat yourself to the glorious breakfast you deserve.
Now offering Independent Birmingham Membership Card holders: 10% off the bill.