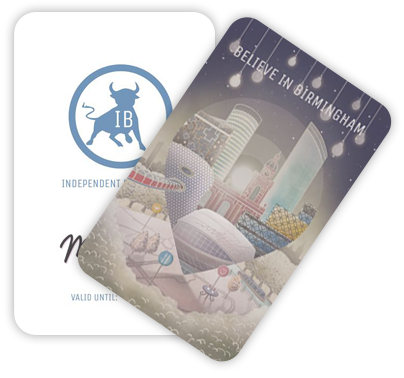 Our Card
Become an Independent Birmingham member
for a whole year – just £15 for one
or grab two for £20.
Celebrating Birmingham's independent culture. Inspiring you to shop local and rediscover your city, one hidden gem at a time. Believe In Birmingham.
Events
Event
Gindependent Birmingham Presents: Gin Battle
1st Dec - 3rd Dec 2017
5:30pm - 12am
1, 2, 3, 4, we declare Gin War! Following on from the huge success of our Independent Birmingham Festival at Aston Hall (which saw 2000 people descend on the iconic...
Discover
Event
The Independent Birmingham Festival At Aston Hall (SOLD OUT)
17th September 2017
12pm - 7pm
GUESS WHO'S BACK, BACK AGAIN, IB'S BACK, TELL YOUR FRIENDS. That's right folks, after the storming success of our inaugural Independent Birmingham Festival, which took place at The Bond Company...
Discover